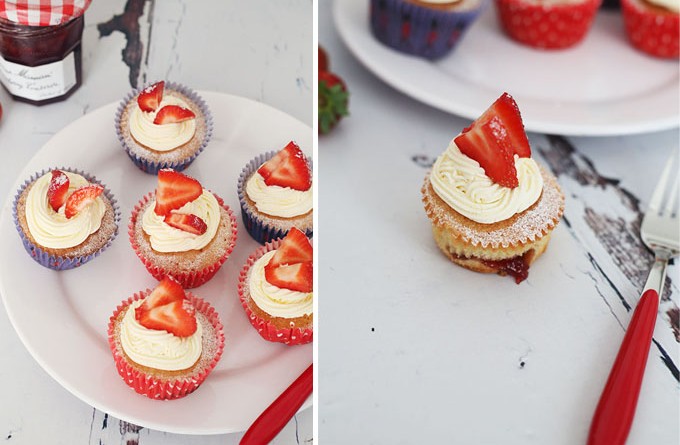 Bringing to the table her GBBO inspired star bake, Olivia shares her spin on the traditional Victoria Sponge cake…
Inspired by the Great British Bake Off, (we're smitten with Norman) this bank holiday we're planning on baking up a storm! What better place to start than a classic Victoria sponge? A scrumptious crowd pleaser with fresh whipped cream and strawberries, it pairs perfectly with a cup of tea come afternoon.
Putting a spin on the traditional recipe, the wonderful Olivia (blogger at What Olivia Did) is here to kindly share her recipe for mini victoria sponge cupcakes. Perfect for a tea party or a tempting treat, they are (almost) too pretty to eat…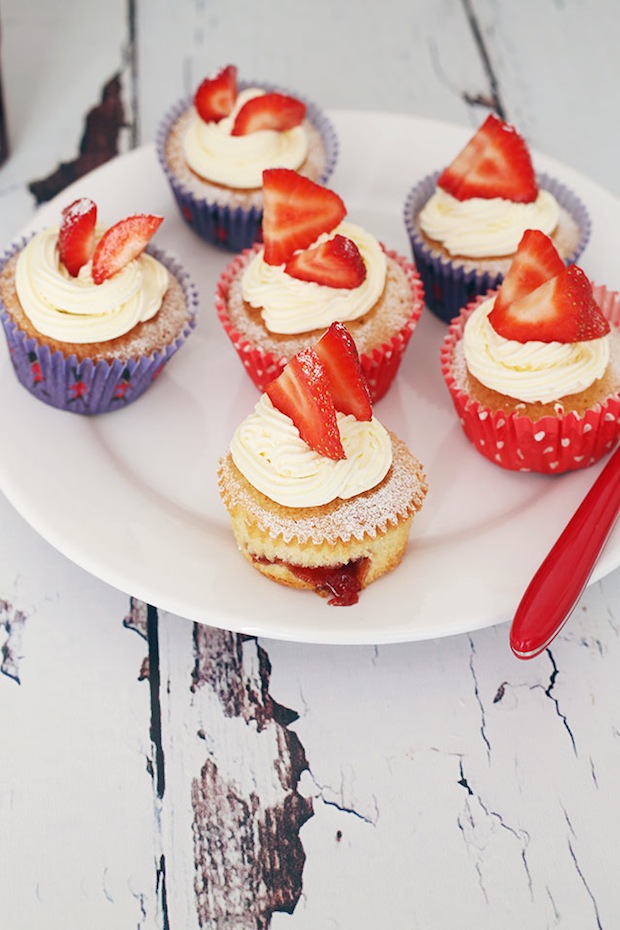 Ingredients 
For the cake:
- 100g self raising flour
- 1 pinch of baking powder
- 100g unsalted butter at room temperature
- 100g caster sugar
- 2 eggs
- strawberry jam
- big cupcake/muffin cases
For the topping:
- 300ml double cream
- 2 1/2 tablespoons caster sugar
- chopped strawberries
- icing sugar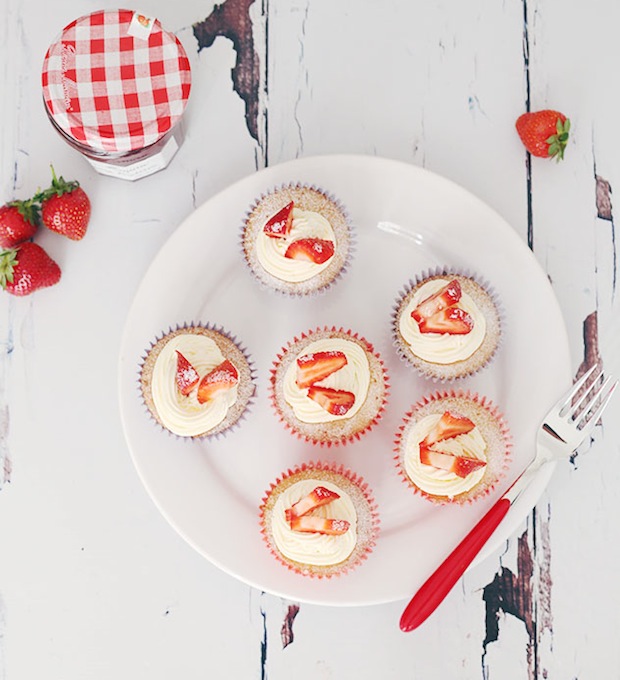 Method:
1. Before you start, pop your oven on 180 degrees (fan assisted) and get going!
2. Crack the eggs into your bowl, and add the flour, sugar, baking powder and butter into a bowl and mix until light, fluffy and well combined. Be careful not to over mix though- just until combined is usually best, or until the mix easily drops off of a spoon.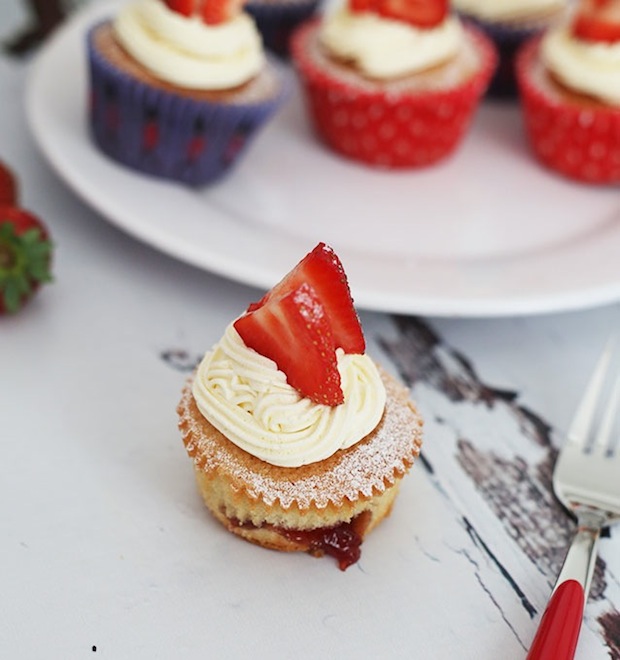 3. Prepare your cupcake cases in a baking tray, and spoon a tablespoon of cake mix into each case. Follow by a teaspoon of jam (or a wee bit less) and then follow with a final spoon of cake mix to cover the jam, like a sandwich.
4. Once complete, pop the cakes in the oven for about 20-25 minutes- checking regularly after 20 minutes. Once the cupcakes are golden, and a skewer comes out clean when removed- take your cakes out and leave them to cool completely.
5. Whilst the cupcakes are cooling, pour your double cream into a bowl and begin whisking (preferably using an electric mixer, or handheld whisk) until it begins to thicken. Gradually add your tablespoons of sugar until peaks form and the mix becomes thick and a little durable.
6. Once the cakes have cooled- pipe, spread or spoon your whipped cream onto the top of each cake (I piped them using a simple kit from the supermarket) and then chop your strawberries to go on top of that. Finish with a sprinkling of icing sugar- and enjoy!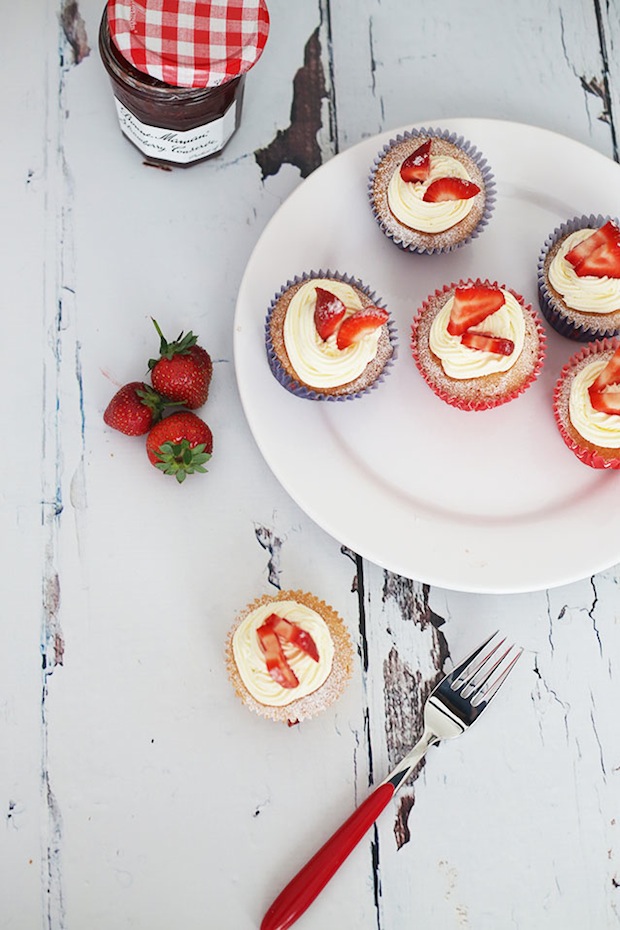 How delicious do Olivia's mini victoria sponge cakes look? We could certainly polish off one (or three) with a cup of tea! Hand's up who thinks Olivia should enter next years GBBO – we think she would definitely score a star bake. Keep up to date with her latest recipes on her blog What Olivia Did and keep an eye on her twitter and the hashtag #bakewithliv for an exciting competition that will be happening over the weekend…
Why not try your hand at creating your own strawberry jam with our tried and tested recipe here.
Browse the NEW Laura Ashley range of bakeware here.