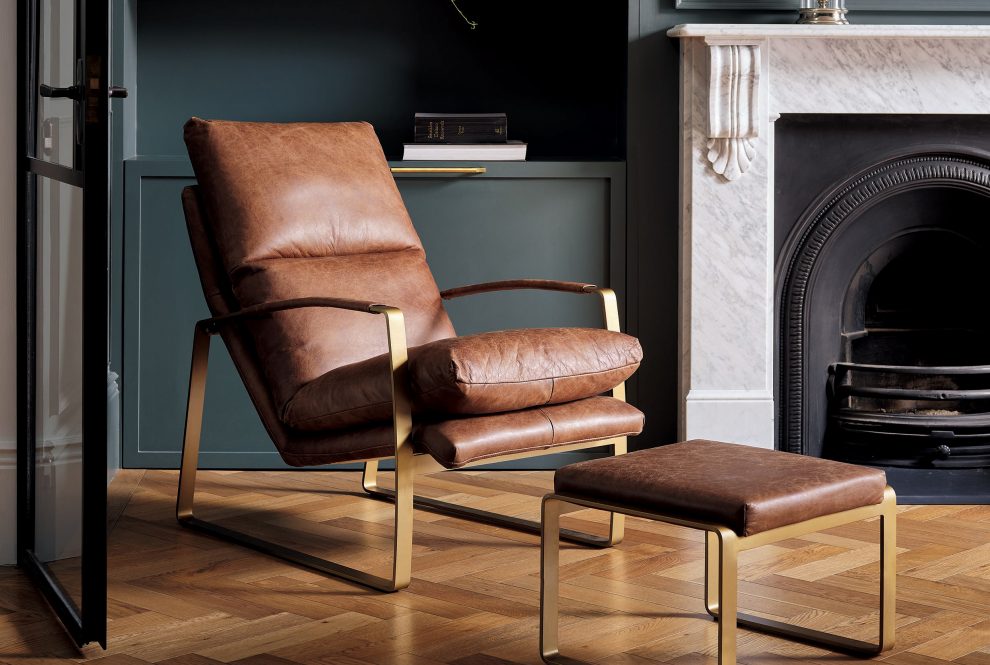 Give your home a glamorous touch by using leather furniture read more
Whether you're looking to decorate a modern-minimalist space or a victorian-style living area, leather furniture is perfect for adding a timeless touch to your interior, regardless of the style or theme. Leather furniture has been used for centuries without ever going out of fashion and continues to be popular in homes of all styles and colour palettes.
There is just something about leather that is accessible and easily adaptable. In certain instances it can add a rustic and natural touch to an interior and in other schemes in can add an elegance and opulence to a more neutral space.
Because leather furniture is able to seamlessly fit into a number of interior schemes it continues to be a popular choice for interior lovers everywhere. If you want to add some leather furniture into your interior scheme, follow our easy leather furniture tips to get started:
Choose your leather shade
Before you begin purchasing your leather furniture it's important to plan out what leather shade and style you would like to use in your home. To do this it's best to match a few leather swatches up against your colour palette to narrow down what type of tones would look best.
When choosing a shade of leather your colour choices might include natural, hazelnut, chestnut, mahogany, walnut, tan, and charcoal. Other shades might be associated with a period or classic look like Colorado leather, heritage, vintage, Arizona, and harvest.
When choosing your shade it's also important to observe the style of leather you would like to use. Perhaps you want a smooth leather without a clearly visible grain or maybe you like to look of an aged leather with a more cracked appearance and textured natural markings.
Our own leather range feather many distinct styles, perfect for any home:
Whitworth Leather
This leather is aged two-tone full grain aniline. It has been deliberately distressed and features a dry and cracked appearance that will naturally age and crackle with use to create a unique contemporary product.
Distressed Leather
A high-grade, full-grain aniline leather specially treated after upholstery with six stages of hand staining and waxing to emphasise the aged look of an antiqued chair. All natural marks and scars present in the hide are left fully exposed, and there will be significant variances in texture and shading individual to each piece testament to the genuine origin of the product which ensures no two products are alike.
Nubuck Leather
A top grain aniline leather that has been sanded on the outside to create a slight nap, giving a soft and luxurious feel; nubuck has all the characteristics of a top quality leather, such as shading and scars.
Antiqued Leather
A high-grade, full-grain matt aniline leather with natural marks and scars left fully exposed to ensure a unique appearance. This leather features significant variances in texture and shading which are individual to each piece.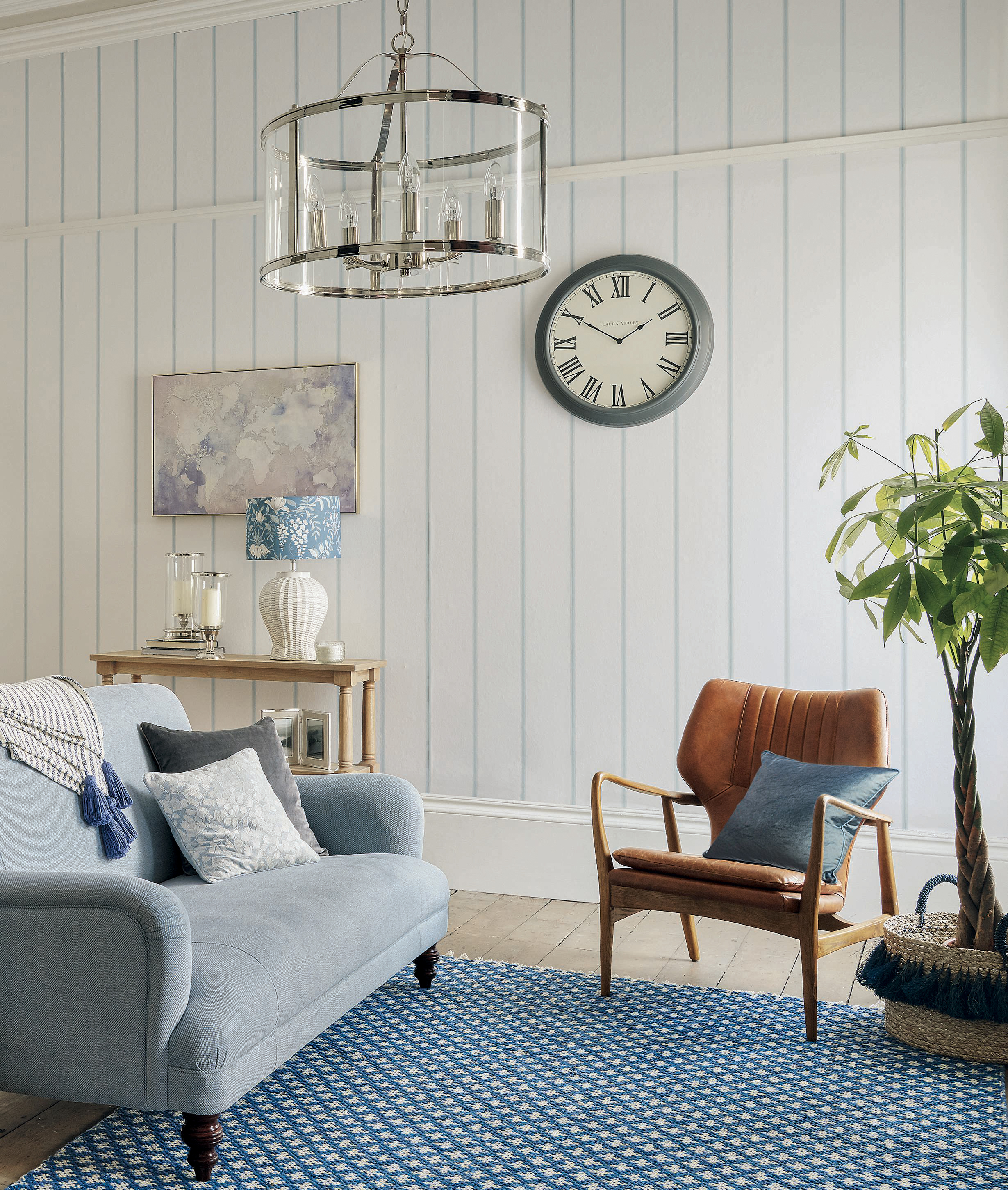 Use light walls to strike a contrast
For a fresh look with elements of contrast, pair your leather furniture with a light background to let the pieces really shine. In our Parterre collection we have used a light leather to create a look of laid back living while still maintaining some contrast and subtle drama in the roomset.
For a more abstract and striking look consider using charcoal or dark leather furniture against a light background. This stark contrast will allow your to play with shape and proportion. For a more heritage look, a mahogany shade or a leather hue with a reddish undertone against a cream wall is a great choice.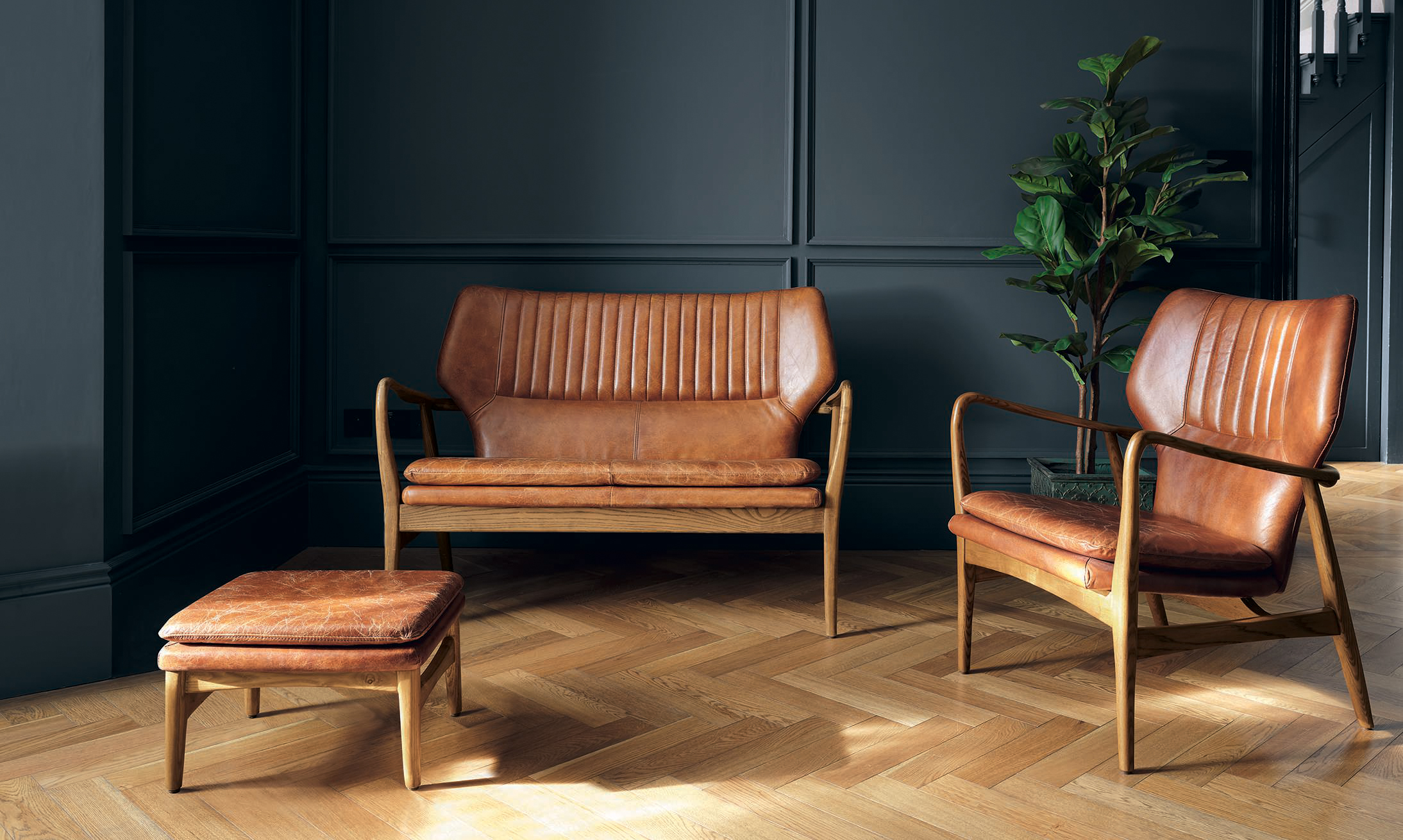 Use dark walls to create mood and atmosphere
Dark walls are in vogue at the moment and textured furniture is known to perfectly complement these darker shades. Using leather is a great way to add to the luxury and romance that a dark colour scheme promotes and looks great when used with metallic accents and mood lighting.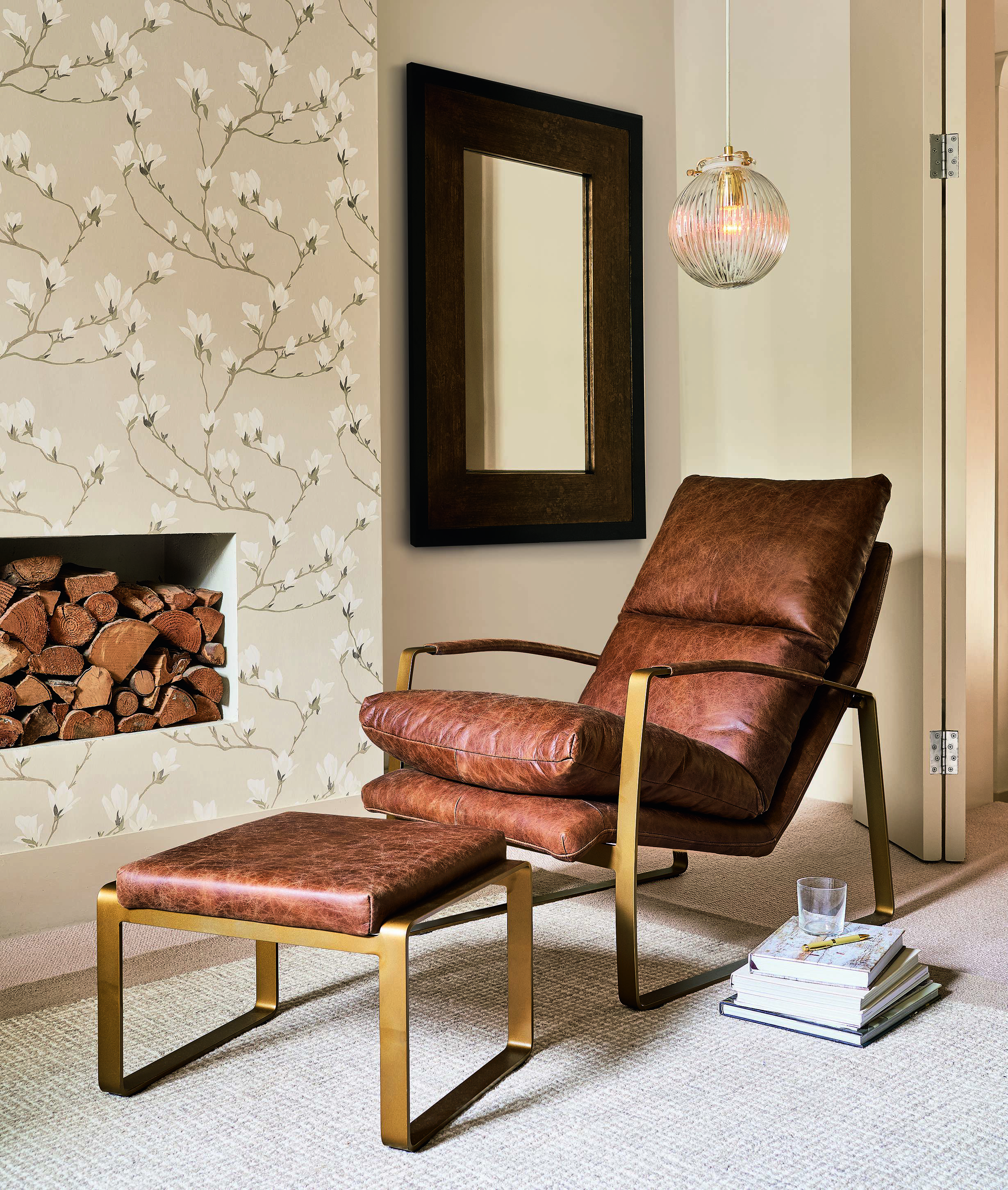 Pair with wood for a more rustic look
If you want to incorporate your leather furniture into a country farmhouse interior, try pairing it with natural wood for a more rustic look. Wood tones really pick up the brown hues and details of your furniture. They also give a more natural edge to your pieces by highlighting the texture of your leather fabric.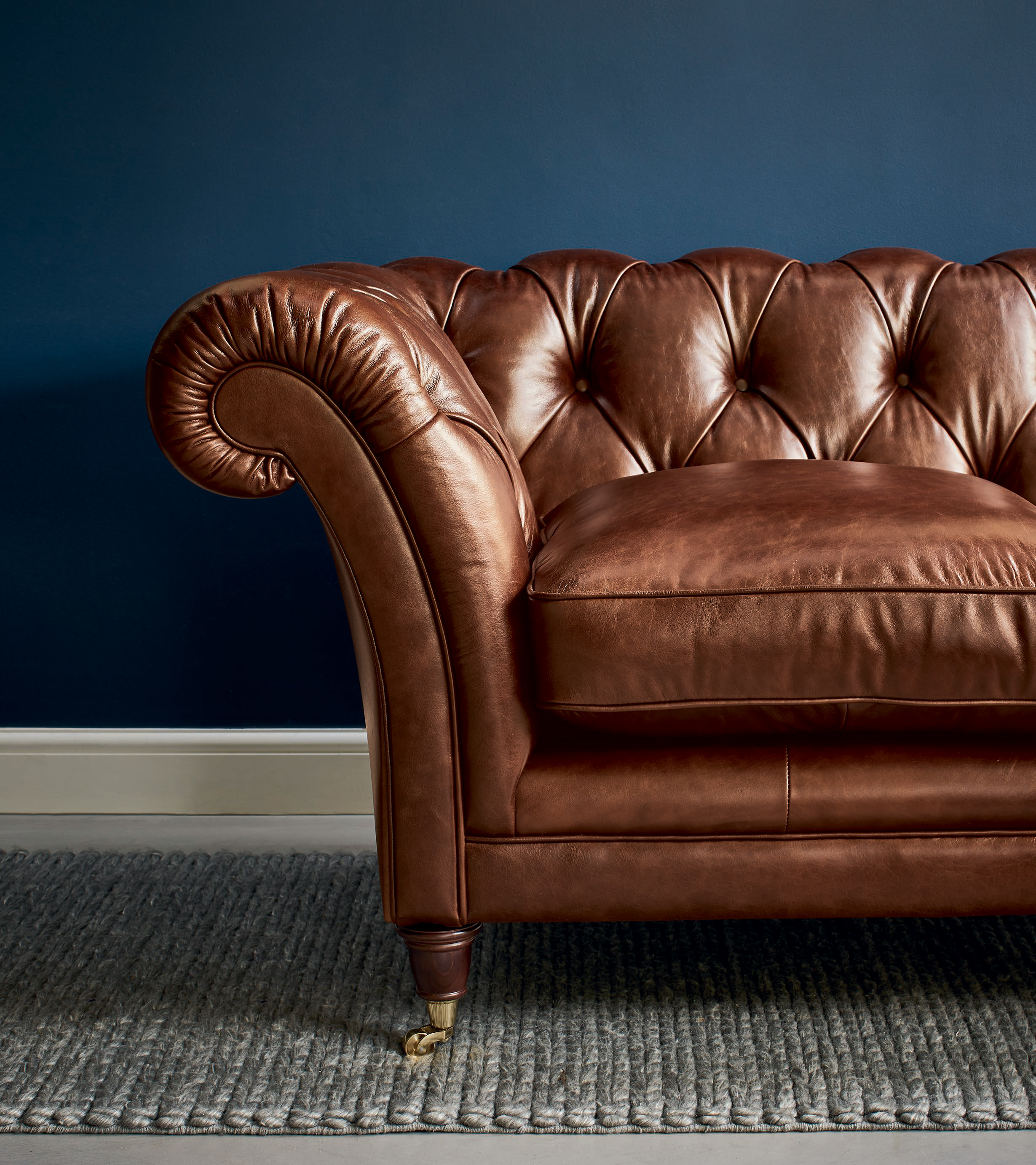 Pair with texture
Leather pairs well with both block colours and more textured/patterned accessories. You can use textured home items like rugs, embroidered cushions, throws and kubu baskets to give your leather a more luxurious look and create a textural accent in your home. When using your textured accessories just make sure that there is a sense of balance in your rooms to avoid a cluttered and overcrowded look.
Would you like to use leather furniture in your home? Let us know in the comments below.