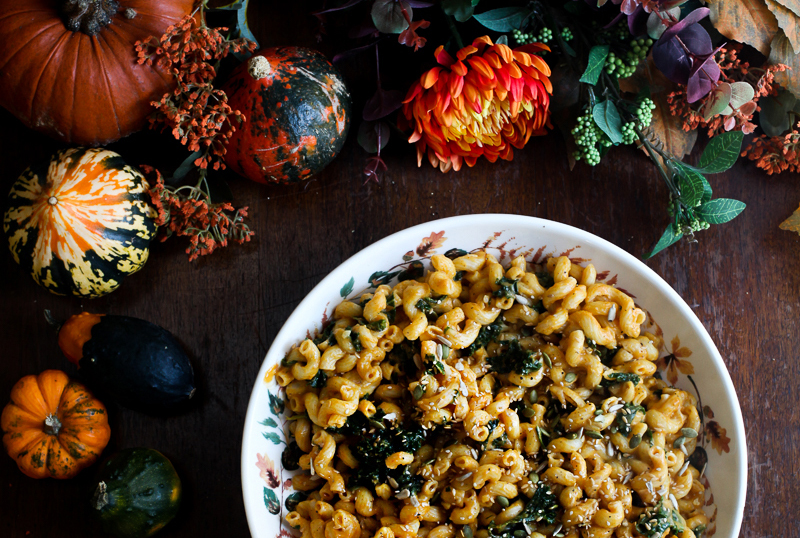 There's more to pumpkins than spooky decorations; put your leftovers to good use in this delicious vegan Mac 'n' Cheese recipe... read more
It's Halloween season which can only mean one thing… pumpkins! We pick them, we carve them, we put them around our homes for decoration, but what happens once Halloween is over? Pumpkins are packed full of vital vitamins and veggie goodness, so here's how to put your leftover pumpkins to good use, as Aimee from Wallflower Kitchen shares her favourite recipe for Vegan Pumpkin Mac 'n' Cheese with Kale…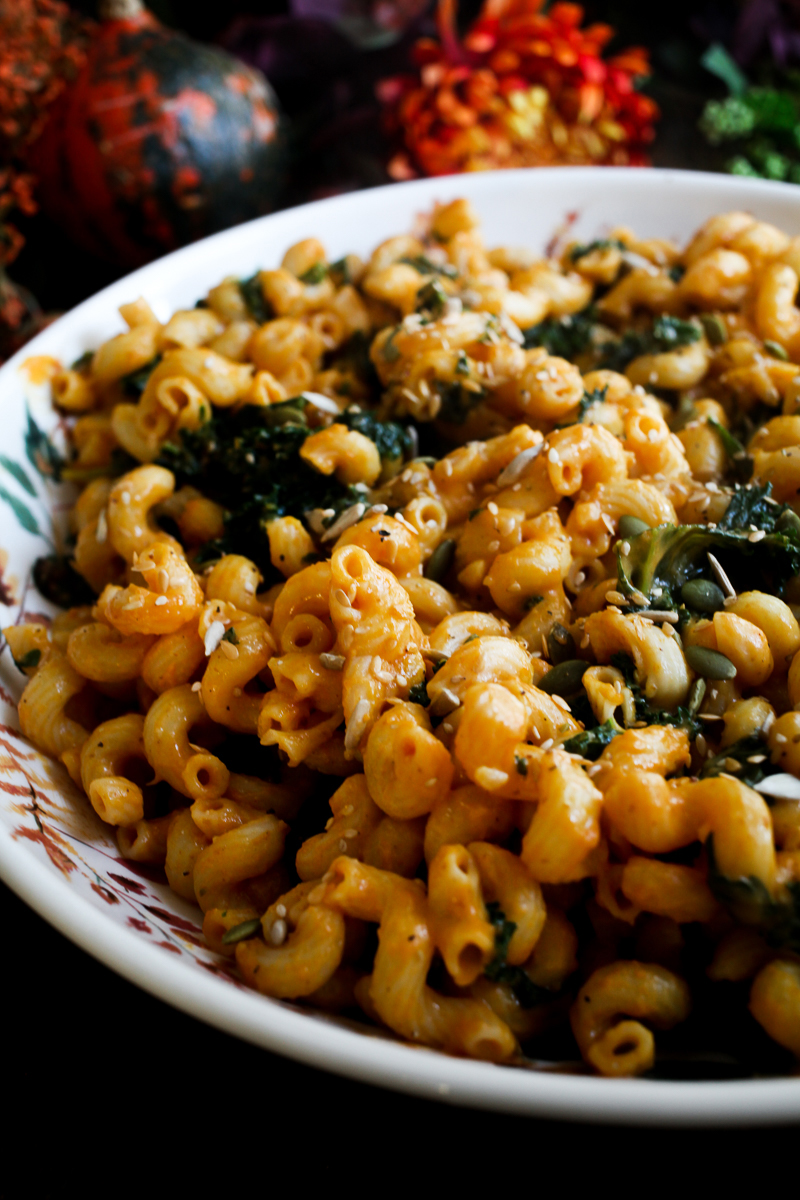 You might not think it, but it turns out pumpkin is the perfect addition to Mac 'n' Cheese. It's smooth, creamy and adds a sweet but earthy flavour to create the silkiest, tastiest pasta sauce! Even if you think you don't like pumpkin, you've got to try this…
Now, I know I called this "Mac 'n' Cheese" but there isn't any actual cheese in this. Not even any fake cheese. But somehow, this combination of ingredients creates a familiar, cheesy taste and texture. I won't lie, it's not the same as classic dairy Mac 'n' Cheese but it's just as good, in its own right. If you can get hold of some nutritional yeast (found in health food stores and most supermarkets) it also adds a lot of extra cheesy flavour, plus it's very good for you too.
I also added some kale which not only makes this extra healthy but adds a wonderful contrasting texture and flavour. The crunchy, earthy green mixed with the smooth, soft glowing orange of the pumpkin sauce. I like to top mine with some seeds for a more crunchy texture.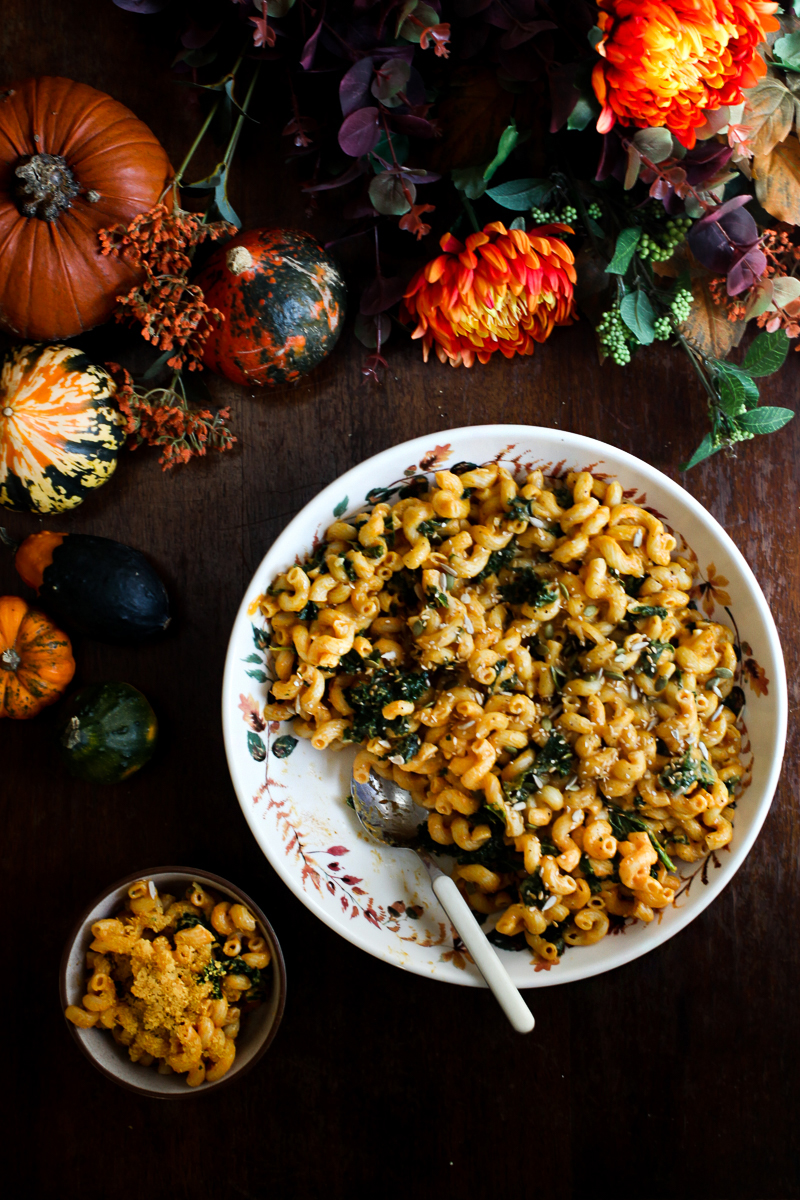 To help serve this giant portion of deliciousness, I'm using the Laura Ashley Cockerel Serving Bowl! And to decorate the table, I chose this beautiful Autumn Bouquet and a mismatch of pumpkins and squashes.
This would make a great dish to share with friends or a make-ahead dinner/lunch for the week, which can easily be reheated or eaten cold.
Ingredients
2 tbsp olive oil
1 tbsp cornstarch or arrowroot powder
250 ml full-fat coconut milk or other unsweetened dairy-free milk
300 g cooked pumpkin or squash, mashed or blended (or you can use 300g tinned pumpkin after Halloween season has ended)
1/4 tsp ground nutmeg
1 tsp dijon mustard
1 tbsp balsamic vinegar
1/4 tsp ground turmeric
1 tsp onion powder
2 tsp garlic powder
1/2 tsp salt
1/4 tsp black pepper
500 g dried pasta (such as macaroni or fusilli)
120 g kale, washed and chopped
To Serve
5 tbsp mixed seeds (optional)
3 tbsp nutritional yeast flakes (optional)
Method
1. Add the olive oil to a medium saucepan on medium heat. Stir in the starch and mix with a wooden spoon until dissolved.
2. Stir in the milk until well combined and it begins to thicken. Then mix in the rest of the ingredients, except for the pasta. Stir until you have a thick, glossy, smooth mixture and remove from the heat.
3. Meanwhile, cook the pasta according to the packet's instructions. During the last two minutes of cooking, add the kale to the water.
4. Drain the pasta and kale then mix with the sauce for a minute until well combined. Top with the seed mix and nutritional yeast (for an extra cheesy flavour) and serve!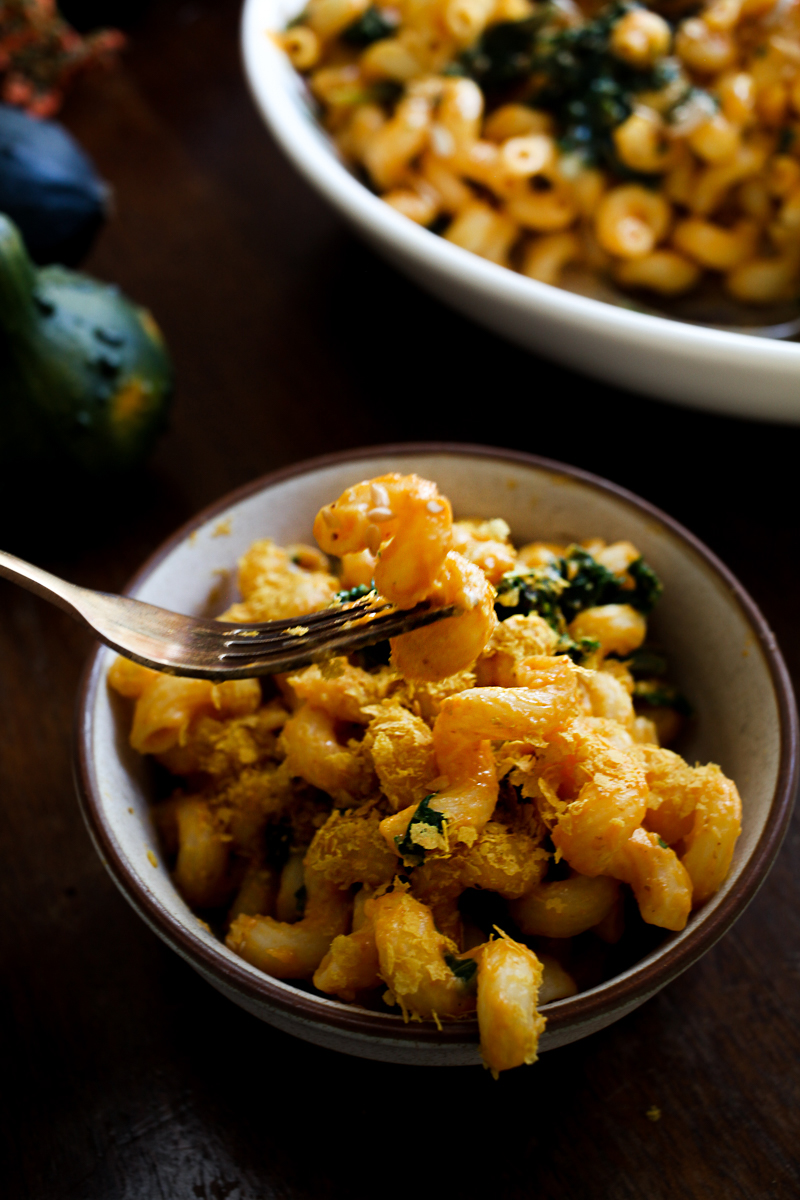 It's really that easy! How will you be using your leftover pumpkins? Tweet us your squash solutions or tag us in your pumpkin projects: @lauraashleyuk
For more of Wallflower Kitchens delicious recipes, head over to her website.