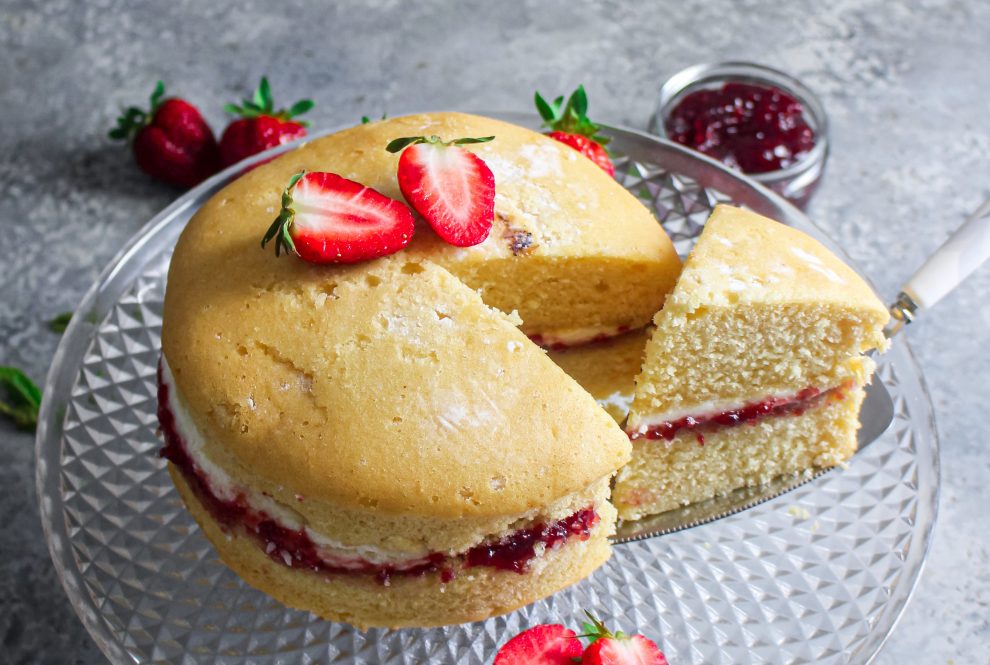 A fluffy sponge cake with a delicious strawberry and coconut filling that will have you going back for seconds. read more
A Victoria sponge cake is a classic cake favourite—perfect for serving at any afternoon event. Expert foodie blogger Amelia LittleJohn of Nourishing Amelia knows that it is not always easy to cater to everyones needs⁠—especially when it comes to food intolerances and lifestyle choices. Being a vegan herself, Amelia has created a scrumptious Victoria sponge cake for us that is both delicious and suitable to enjoy as a vegan and non-vegan. The fluffy sponge is perfectly complemented by a layer of sweet strawberry jam and a deliciously creamy maple and coconut yoghurt layer.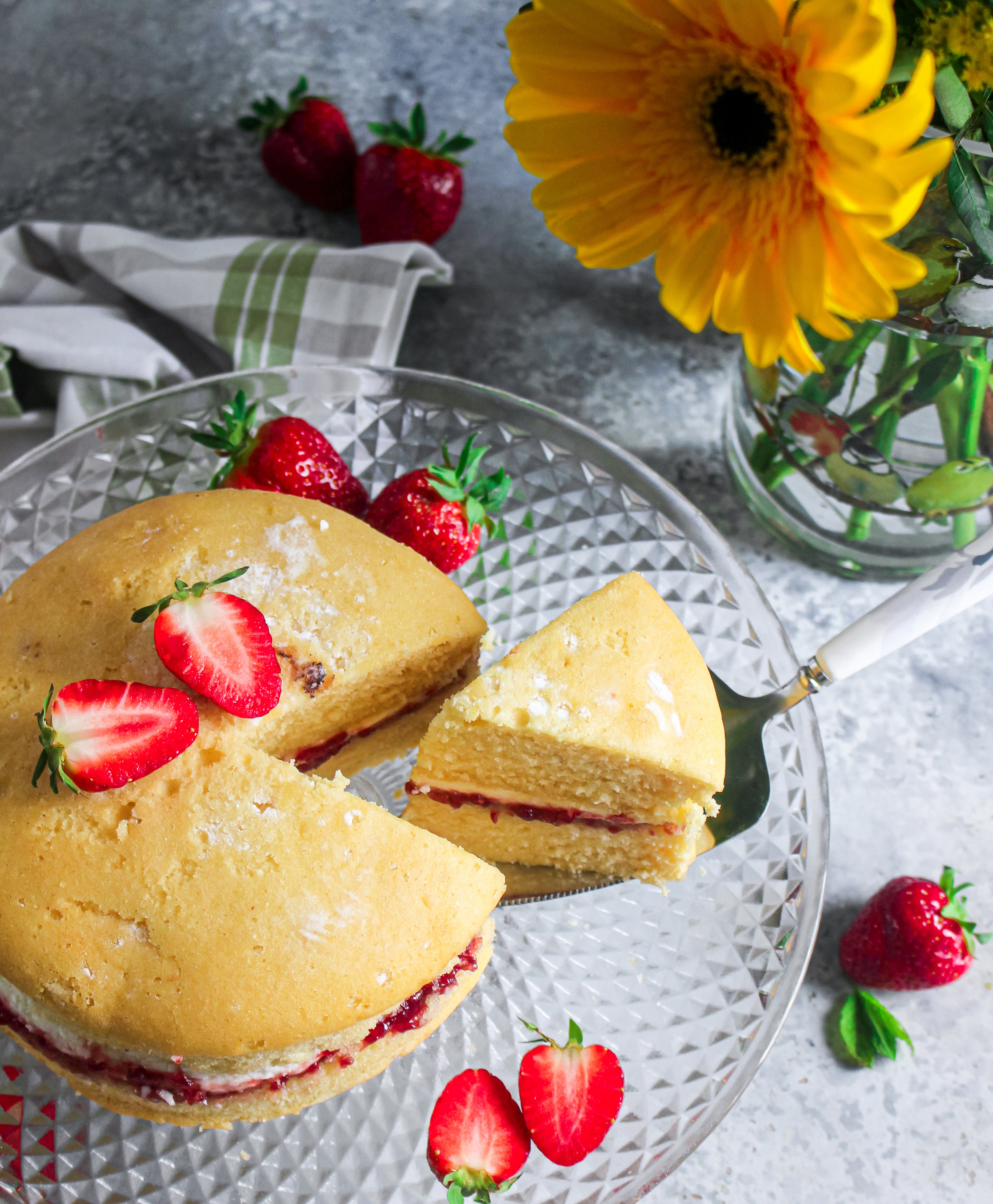 Vegan Victoria Sponge Cake
Ingredients
Sponge Cake
– 300g gluten free flour
– 1 tsp xanthan gum
– 100g coconut sugar (or other granulated sugar)
– 50g vegan butter or coconut oil
– 300ml almond milk (or any other plant based milk)
– 1 tsp vanilla extract
– 2 tsp baking powder
– 1 tsp bicarbonate of soda
– 1 tbsp lemon juice
– Pinch of salt
Filling
– 4 tbsp coconut yogurt
– 1 tbsp maple syrup
– 3 tbsp strawberry jam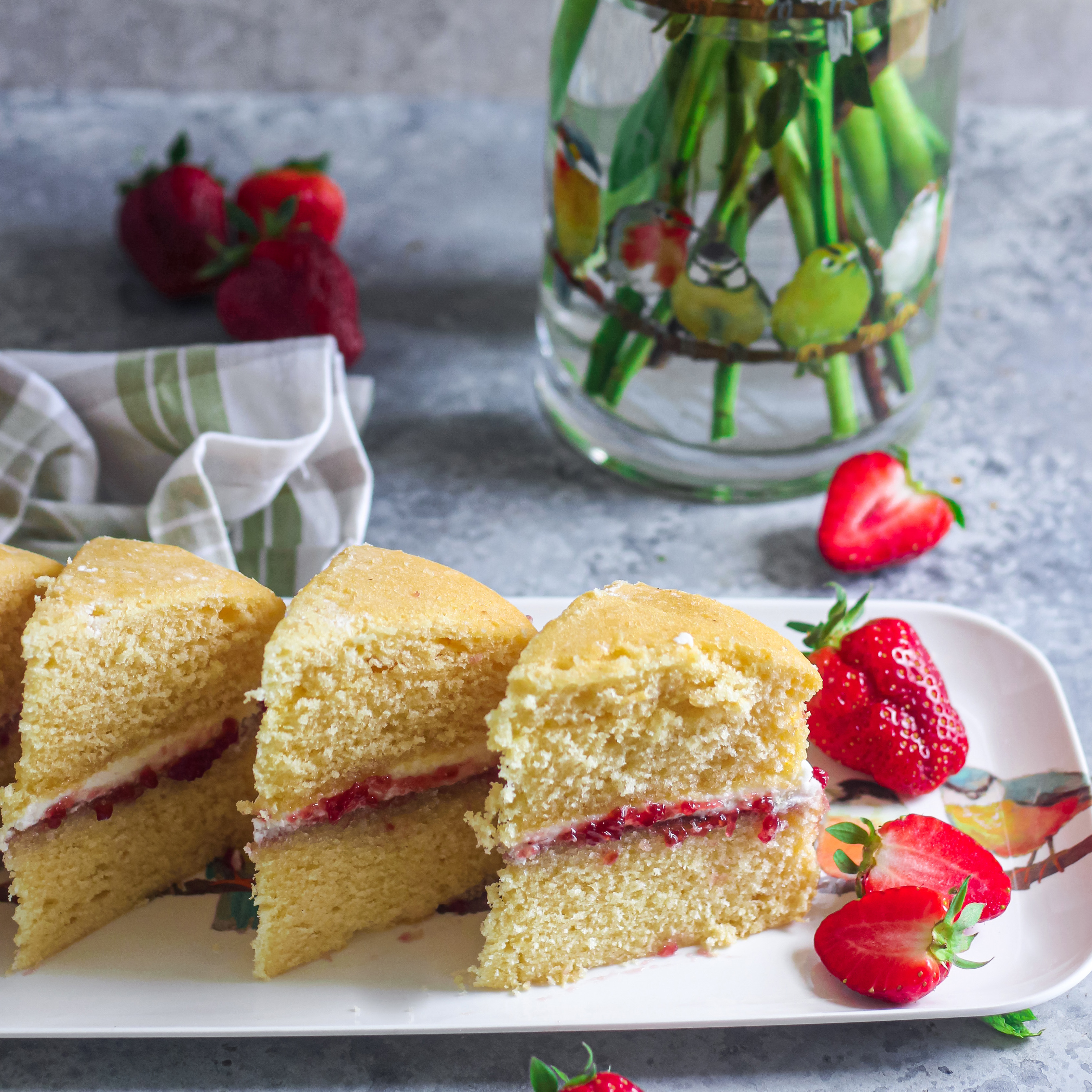 Method
1. Pre-heat the oven to 180 degrees celsius.
2. Sift the flour into a mixing bowl and mix with the xanthan gum, baking powder, bicarbonate of soda, coconut sugar and pinch of salt.
3. Add the vegan butter, almond milk, lemon juice and vanilla extract to a separate bowl and whisk together.
4. Combine the dry and the wet ingredients together and mix well until smooth.
5. Line 2 cake tins (I used 14cm) or grease with coconut oil.
6. Divide the cake batter evenly between the two tins.
7. Place in the pre-heated oven to bake for around 25-30 minutes or until golden brown and cooked in the middle. (To test this you can insert a knife into the centre, if it comes out clean it's cooked)
8. Allow the cakes to cool for 10 minutes before removing from the cake tins. Allow to completely cool on a cooling rack.
9. To make the filling, simply mix the coconut yogurt with the maple syrup then spread onto the top of one of the cakes.
10. Flip the other cake upside down and spread the strawberry jam onto the bottom side. Sandwich the two cakes together – with the coconut yogurt layer being at the bottom.
11. Top with fresh strawberries (optional) and serve!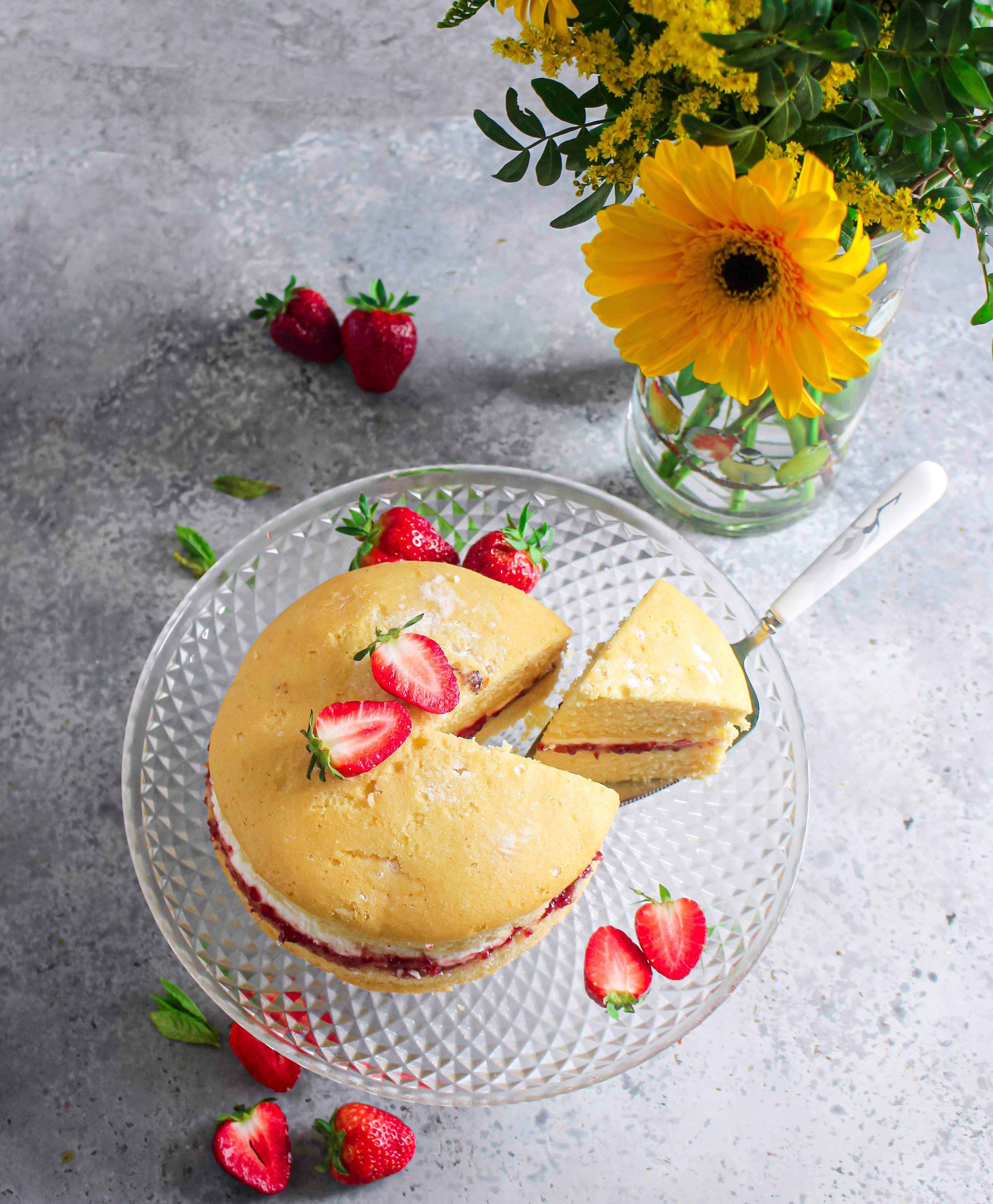 This recipe was created by foodie blogger Amelia LittleJohn of Nourishing Amelia using our Garden Birds collection.
Are you going to try this recipe out at home? Let us know in the comments below.