Stick to your New Years Resolutions by giving yourself a boost with these delicious granola bars read more
Start the New Year right with these delicious and healthy Cashew and Coconut Granola Bars by vegan menu-maven Amy of Nourishing Amy. Sweetened with maple syrup and given a caramel undertone with dates, these bars are sure to keep all your Christmas cravings at bay while you get back on track after the indulgence of the holiday season.
Plus as it is currently #Veganuary, these bars are perfect for vegans, vegetarians and anyone going meat and dairy-free this month.
Sticky, raw and delicious granola bars that are quick and easy to make and packed with good-for-you ingredients. These snack bars are naturally vegan, gluten-free free from any refined sugars making them a healthy and impressive quick breakfast option or afternoon treat. Enjoy these with friends and family or make a big batch to enjoy throughout the week. They contain only 9 easy to find ingredients and take 10 minutes to make – perfect for busy days.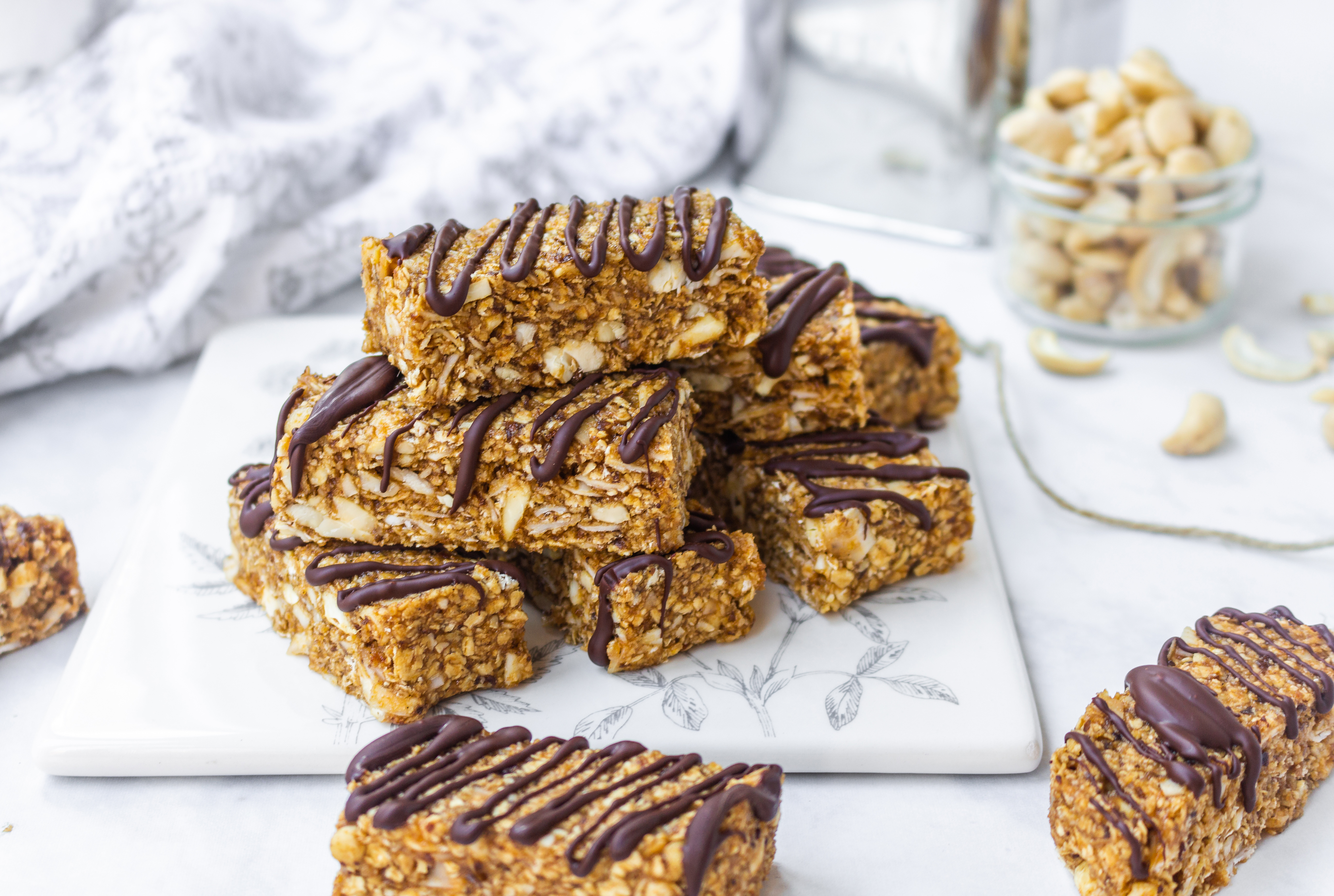 Vegan Date Cashew and Coconut Granola Bars
Makes 12
Ingredients
– 200g (1 cup) pitted dates
– 60g (1/4 cup) cashew butter
– 100g (1/2 cup) maple or coconut syrup
– 1 tsp vanilla essence
– 150g (1 cup) cashew nuts
– 150g (1 ½ cup) oats
– 40g coconut flakes
– Pinch of salt
– 50g chocolate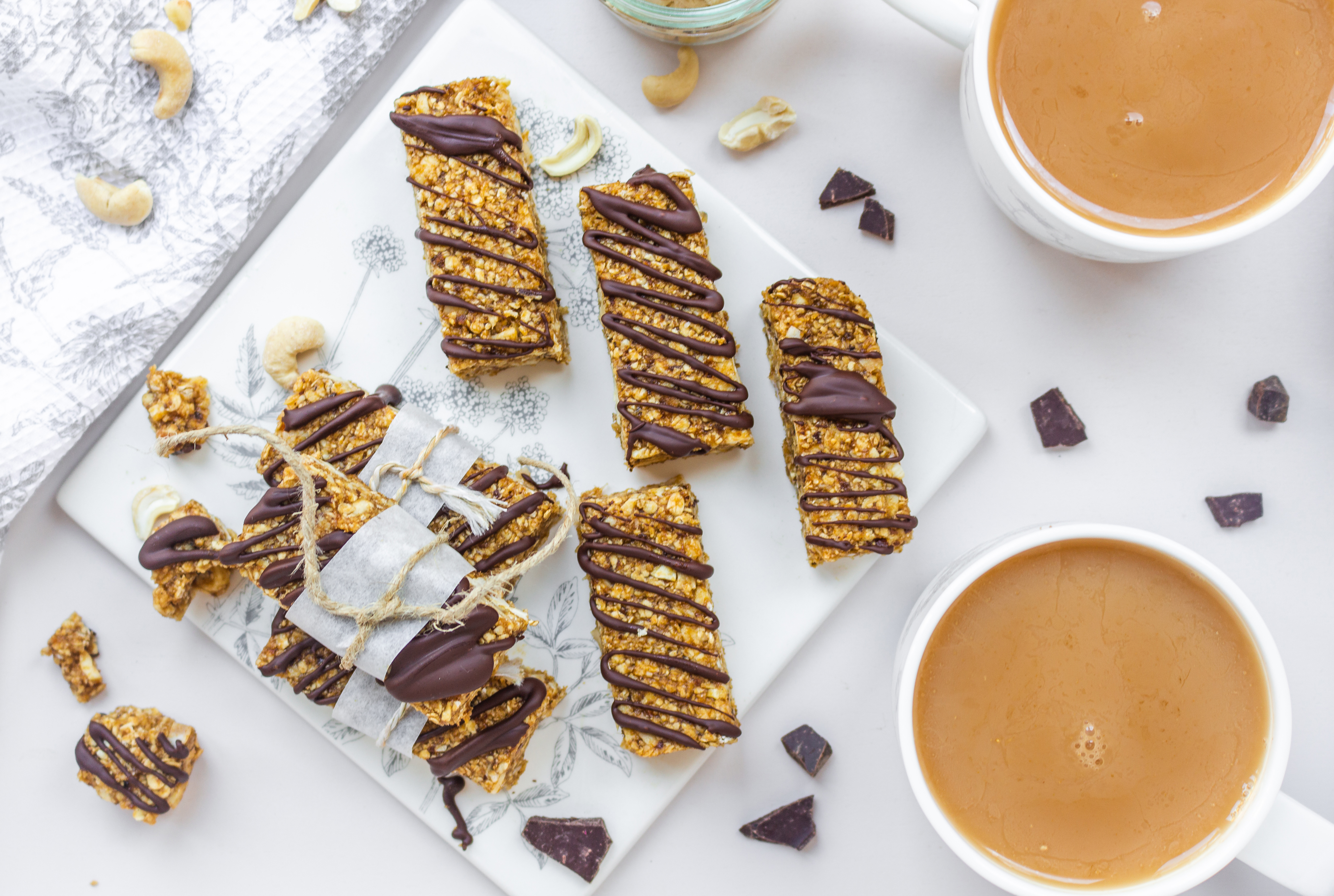 Method
1. Place the dates to a bowl with boiling water and soak for 10 minutes until soft.
2. Add the cashew nuts to a food processor and blitz to break them up slightly. Transfer to a mixing bowl with the oats, coconut flakes and a pinch of salt.
3. Add the drained dates to the food processor and blend until jammy. Now add in the cashew butter, maple or coconut syrup and vanilla essence and blend until smooth. Pour over the oat and cashew mixture and stir with a spoon until the mix comes together.
4. Transfer the granola bar mixture to a lined dish and press down firmly and smooth over the top. Use some parchment paper to help with the stickiness and use the base of a large glass to press down flat. Cover and allow to set in the fridge for 1-2 hours.
5. Slice into bars and drizzle with the melted chocolate.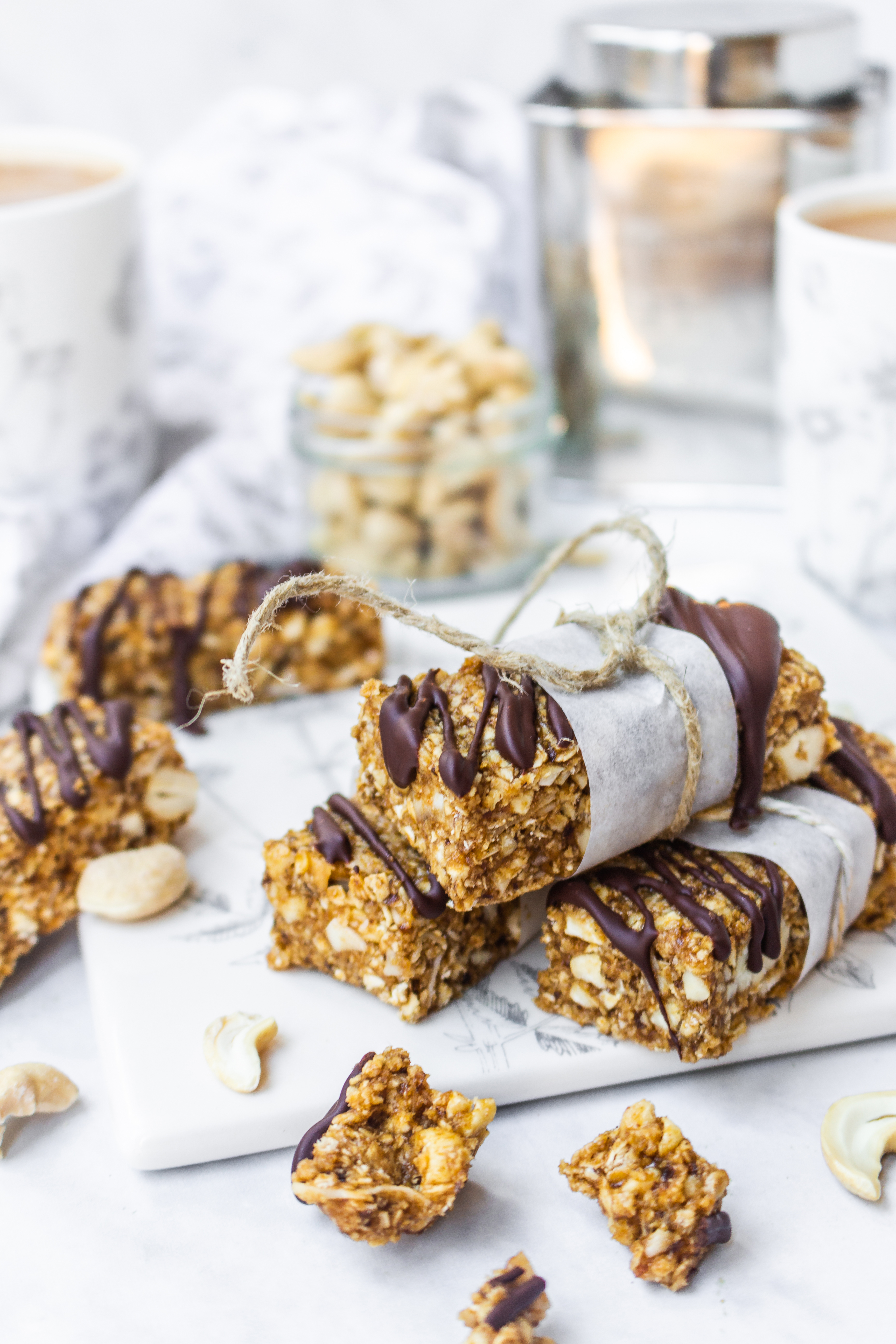 This recipe was provided by Nourishing Amy who used our Lisette collection to stage her images. Check out the rest of the collection here.
Would you like to try making these granola bars? Let us know in the comments below.