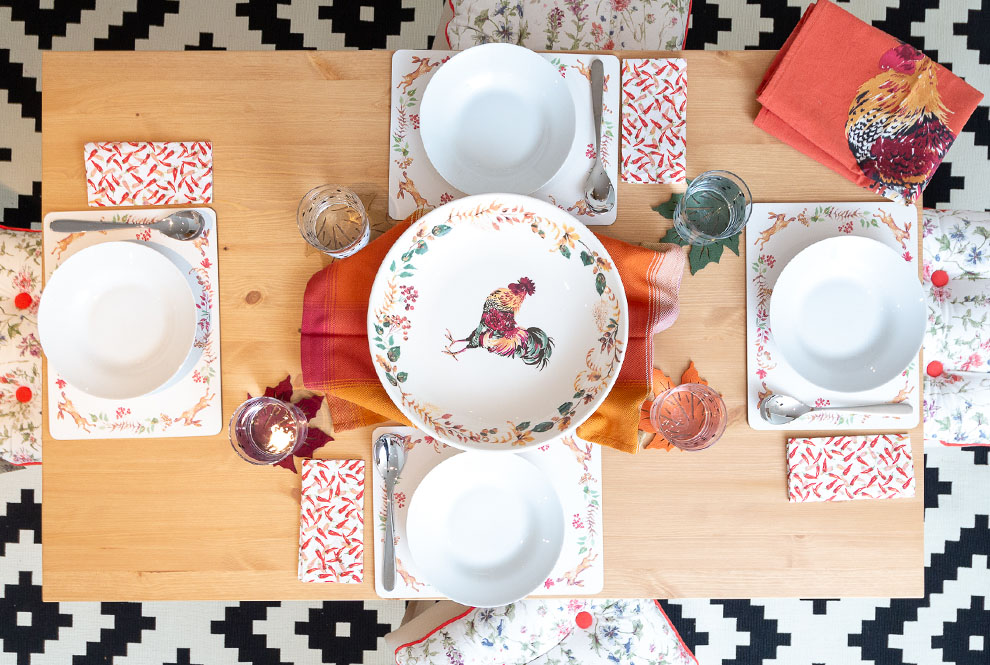 Vicki Psarias from Honest Mum shares her favourite recipe for a warming autumn soup read more
I'm a longtime fan of Laura Ashley's famous homeware and furnishings (the wallpaper which adorned my childhood room was Laura Ashley's signature florals, which would now, no doubt, be deemed as vintage). And over the years, I've come to inherit an ever-growing, treasured timeless collection of homeware pieces from my mother.
These items span antique one-offs (a re-upholstered chaise longue I now can't live without) and many more modern and *cough*, vintage pieces gifted over the decades, all marking memorable milestones in my life. Take the Laura Ashley dinner set I brandished on the first day of uni, my comfort blanket if you like that equally marked my new independence moving from Leeds to London. So determined was I to wow my housemates in the halls of residence at Goldsmiths, University of London with dinner parties (which I did, cooking for some 15 hungry students at one time, in Freshers Week) before carnage at the Student Union makes me laugh as it's quite obscure when you think about it. Food though, and that dining set became an ice breaker in those early days, I, far from home and my mum's cooking (along with every other student), those meals proving to be the catalyst to making lifelong friends. It appears I was always the mother of the group, whatever my age.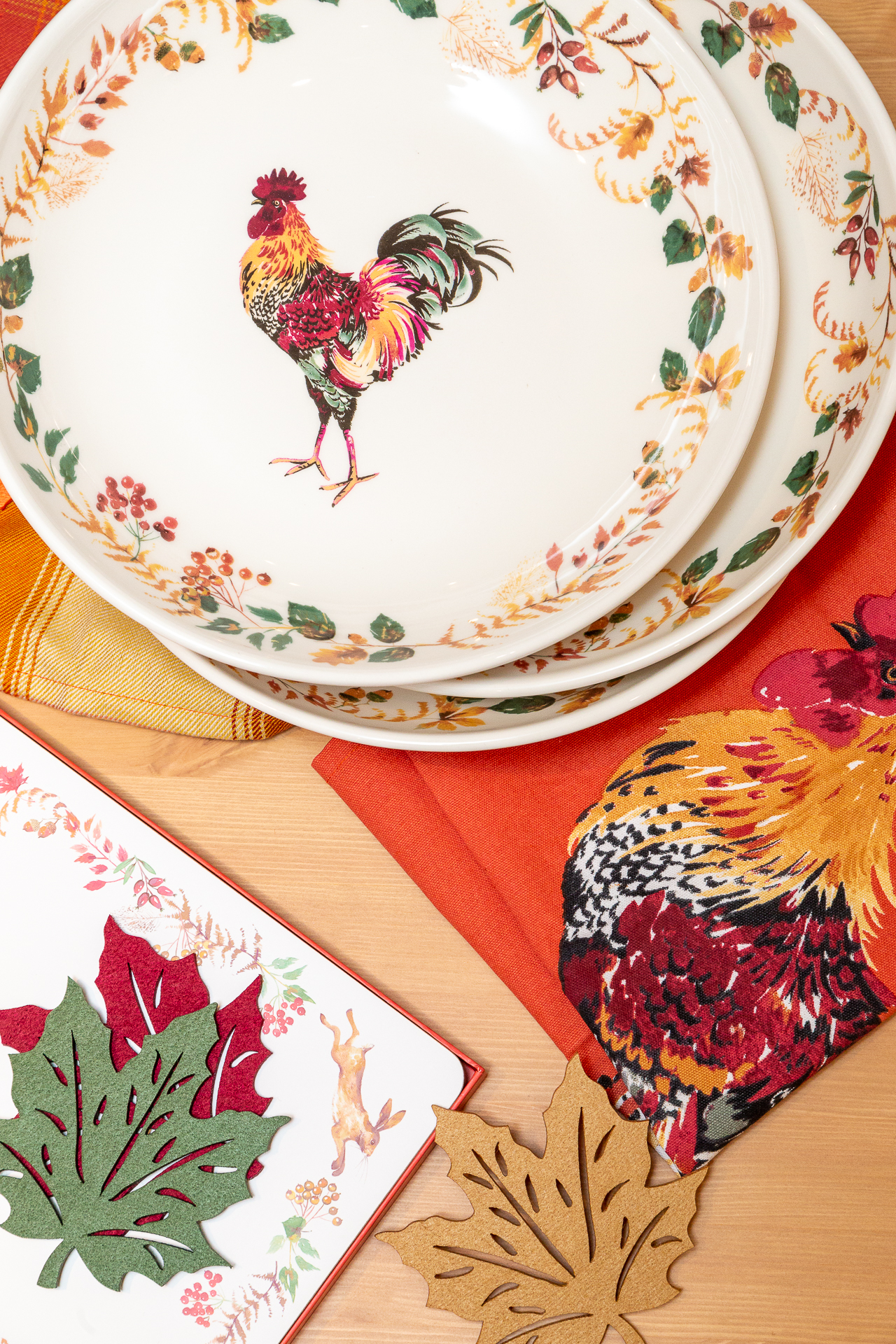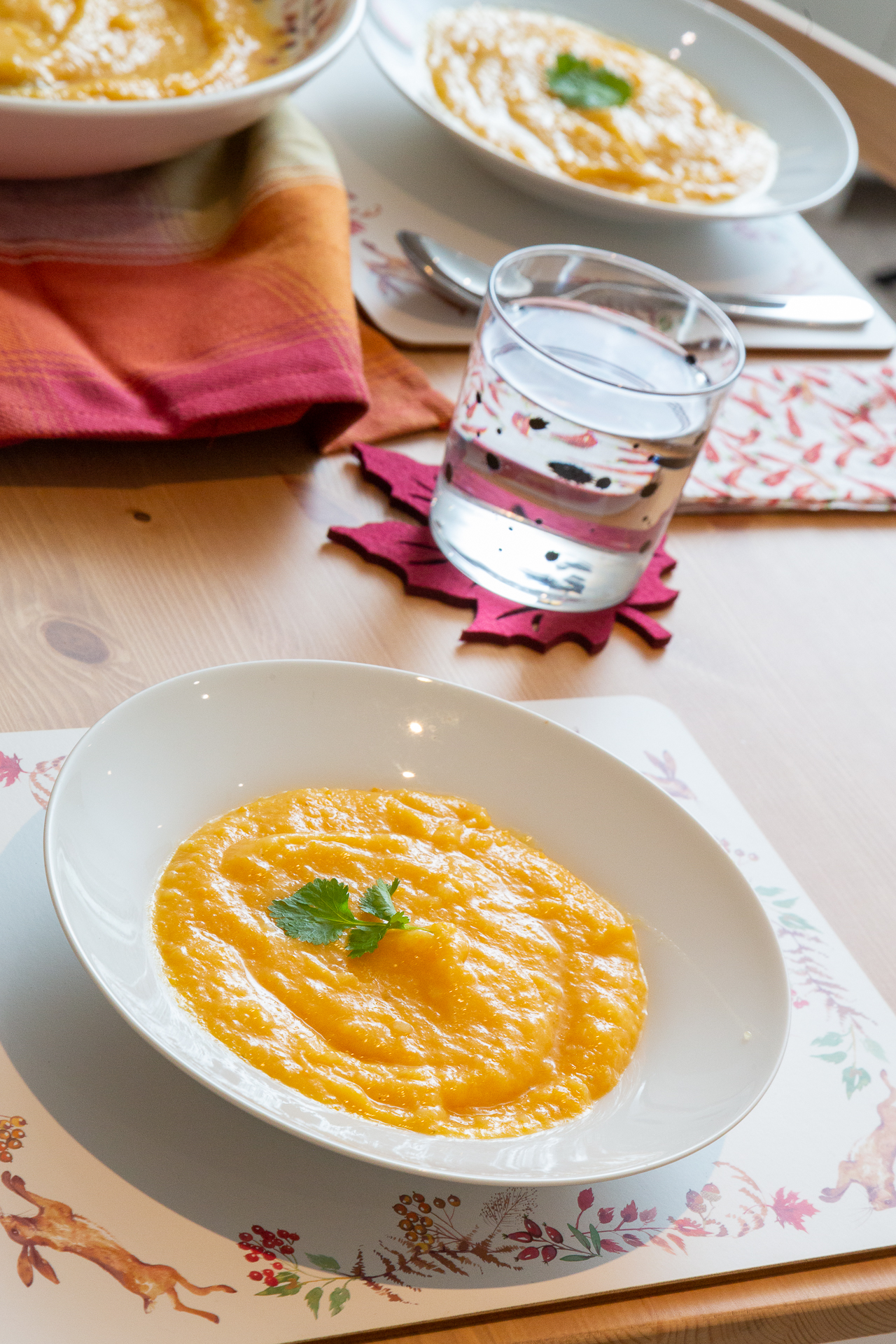 I have of course added to my collection since then, most recently with this autumnal array of pretty Hare Corkback Placemats, Cockerel Serving Bowls and Cockerel Tea Towels, seen here dressing the dining table and welcoming in my favourite russet-hued season.
A recent move has seen a reinvigorated interest in home decor (I'm currently cheating on fashion with furniture Sex and the City style) and as you can see, I've conjured up an autumnal wonderland in our new home, rather like a festive grotto but a far more classier affair with golden Felt Leaf Coasters, towels, bowls and placemats adorned with hares and cockerels, and of course, matching soup to boot!
Bliss.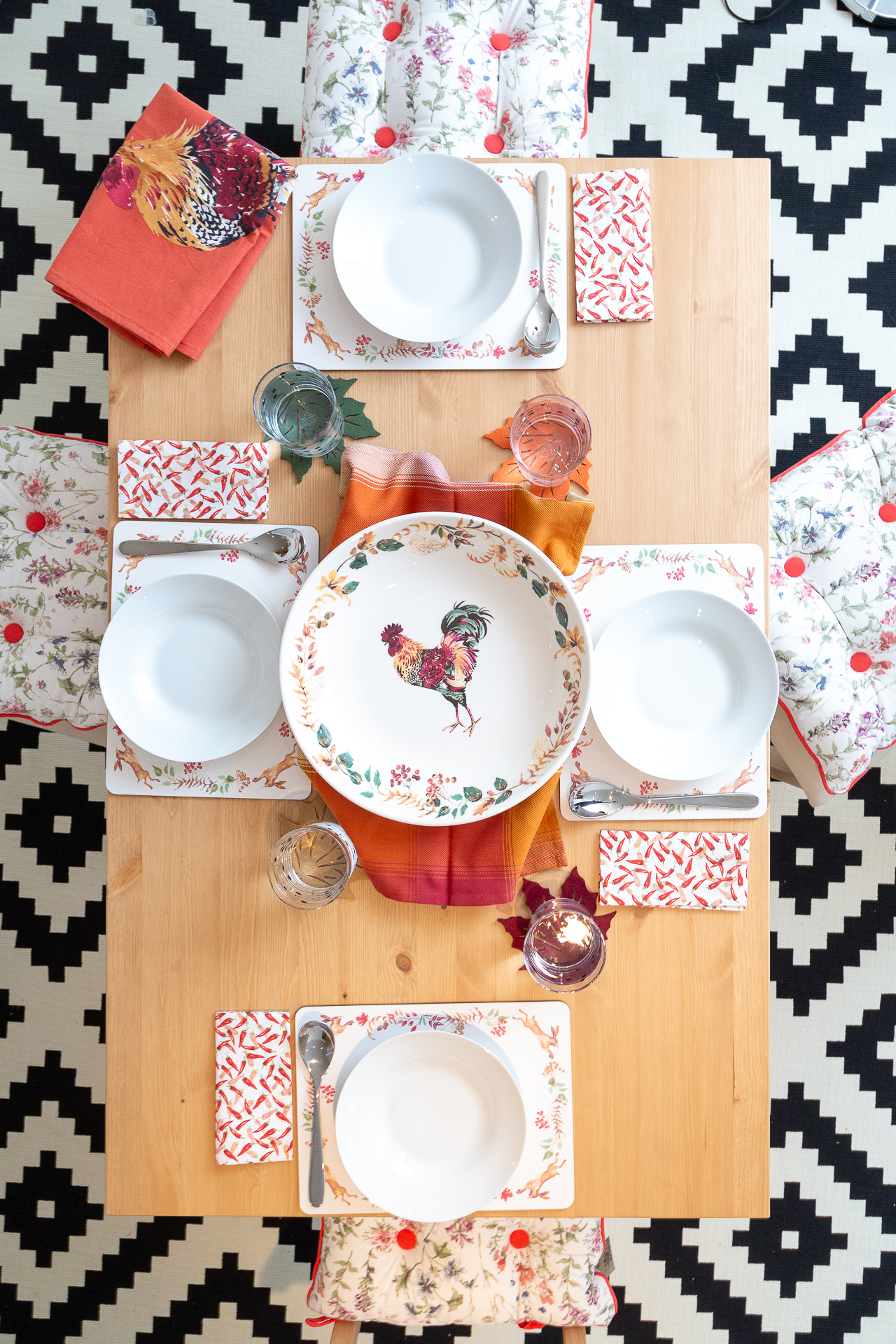 As with every year, I've fallen for fall once again (I had to get that in), and nothing gets me in the spirit of, 'coat-wearing, woolly sock bearing' harvest season than this plant-based/vegan carrot and parsnip soup (which the kids gobble up, asserting it looks like custard, which it does, and asking for 'real life custard' once they've relished the last drop).
Perched on the sublime Meadow Flower Sienna Seat Pads, my only fear when it comes to this amber broth of goodness is whether it might end up on said seats with unsolicited Jackson Pollock-like sprays of nectar by the mini artists: the kids, but so far, so good with no spills. And breathe.
If you'd like to recreate this, so far, tranquil scene, then do search the Laura Ashley site and follow the recipe below, not forgetting to rip huge chunks of warm ciabatta for dipping into its orange depths, (while getting veggies into the kids #winwin) and do freeze the excess for several easy-to-heat suppers for when the rain falls and you just can't face the supermarket.
Enjoy and happy autumn!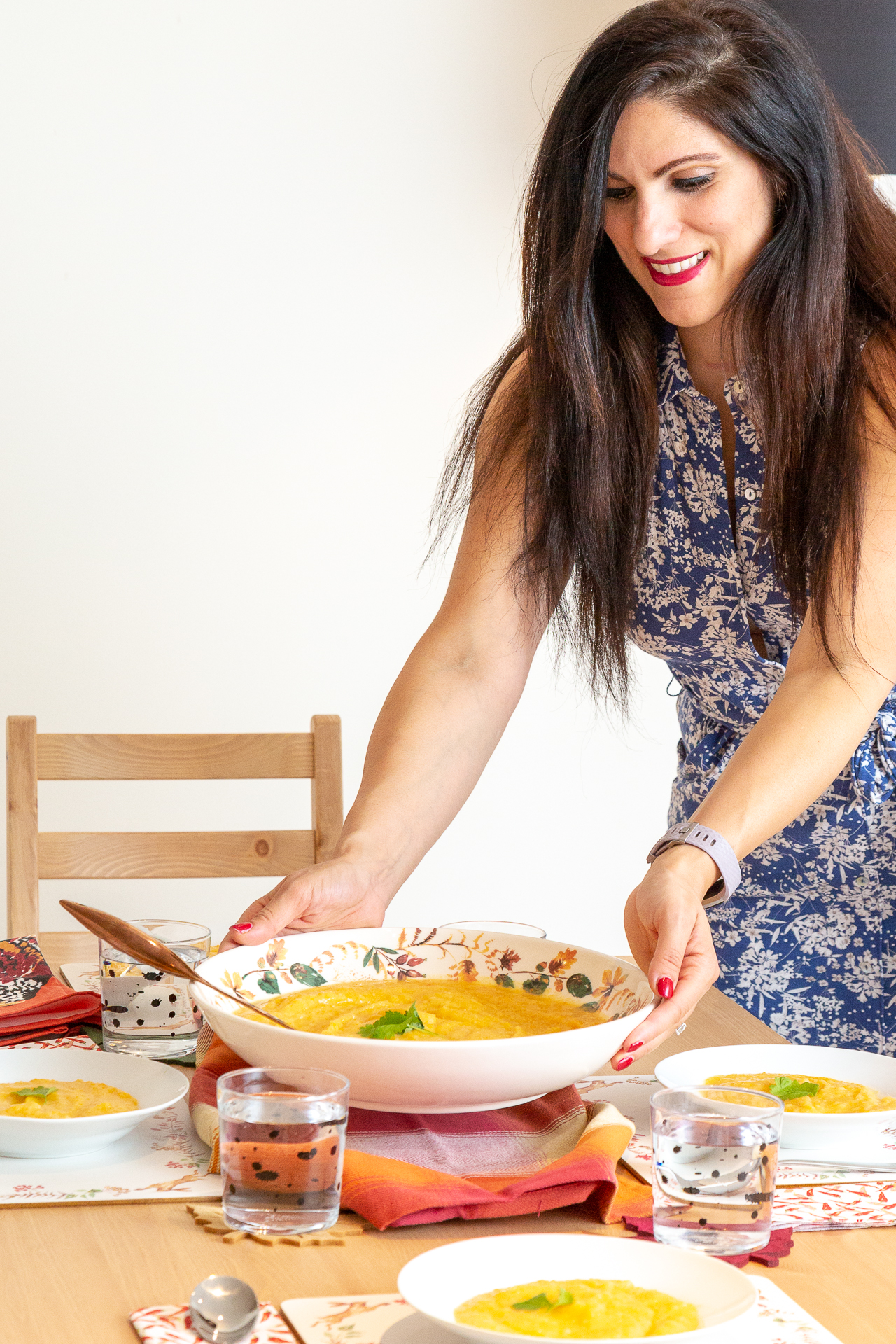 Vegan Carrot and Parsnip Soup
Ingredients: serves 4
4 tbsp extra virgin olive oil
1 large onion, chopped roughly
2 cloves garlic, finely chopped
6 large parsnips, peeled and chopped into chunks
4 large carrots, peeled and chopped
2 large potatoes, peeled and chopped
Pinch of sea salt and freshly ground black pepper
3 pints of organic vegetable vegan stock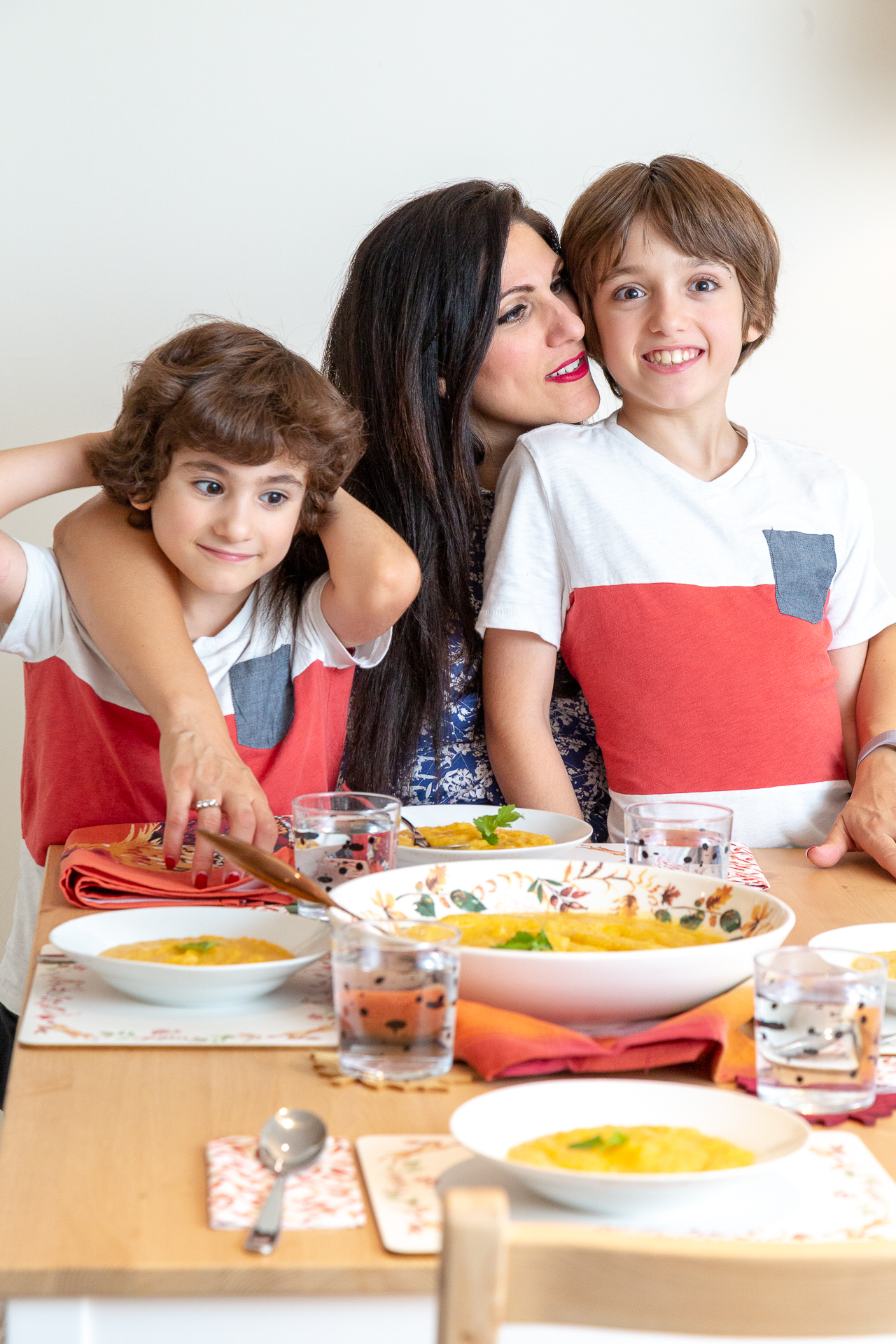 Method
Heat the oil in a large saucepan, adding the onions and garlic. Fry for a few minutes then add the parsnips, carrots and potatoes and gently fry, stirring occasionally to release their flavours. Season with salt and pepper.
Pour in the stock, turn the heat down, cover with a lid ensuring the stock covers the vegetables. Lower the heat and simmer until the parsnips, carrots and potatoes are cooked through. Test with a fork (they should be soft).
Remove from the heat, allow to cool a little and gently blend in a food processor or with a hand blender. Taste and season further.
Pour into bowls and garnish with coriander.
What do you love most about Vicki's recipe? Let us know your thoughts over on our social media accounts @lauraashleyuk or by tagging #lauraashley