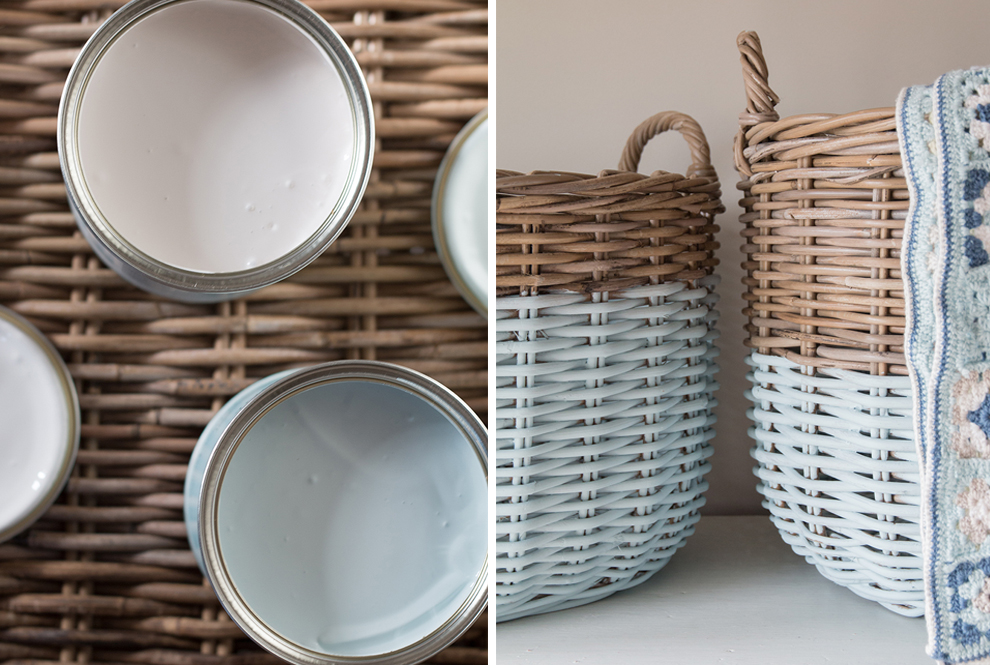 Fancy a simple but impressive craft...? read more
What do you get when you give a really talented blogger some baskets and paint? An amazingly easy craft which, as you can see, is super easy to do (although I bet you never thought of doing it!). The talented blogger in question is the wonderfully creative Laura from We Made This Home who came across the idea of upcycling baskets from Pinterest (for more inspiring crafts, follow our Make & Do board!). Without further ado, here is Laura to talk us through her creation…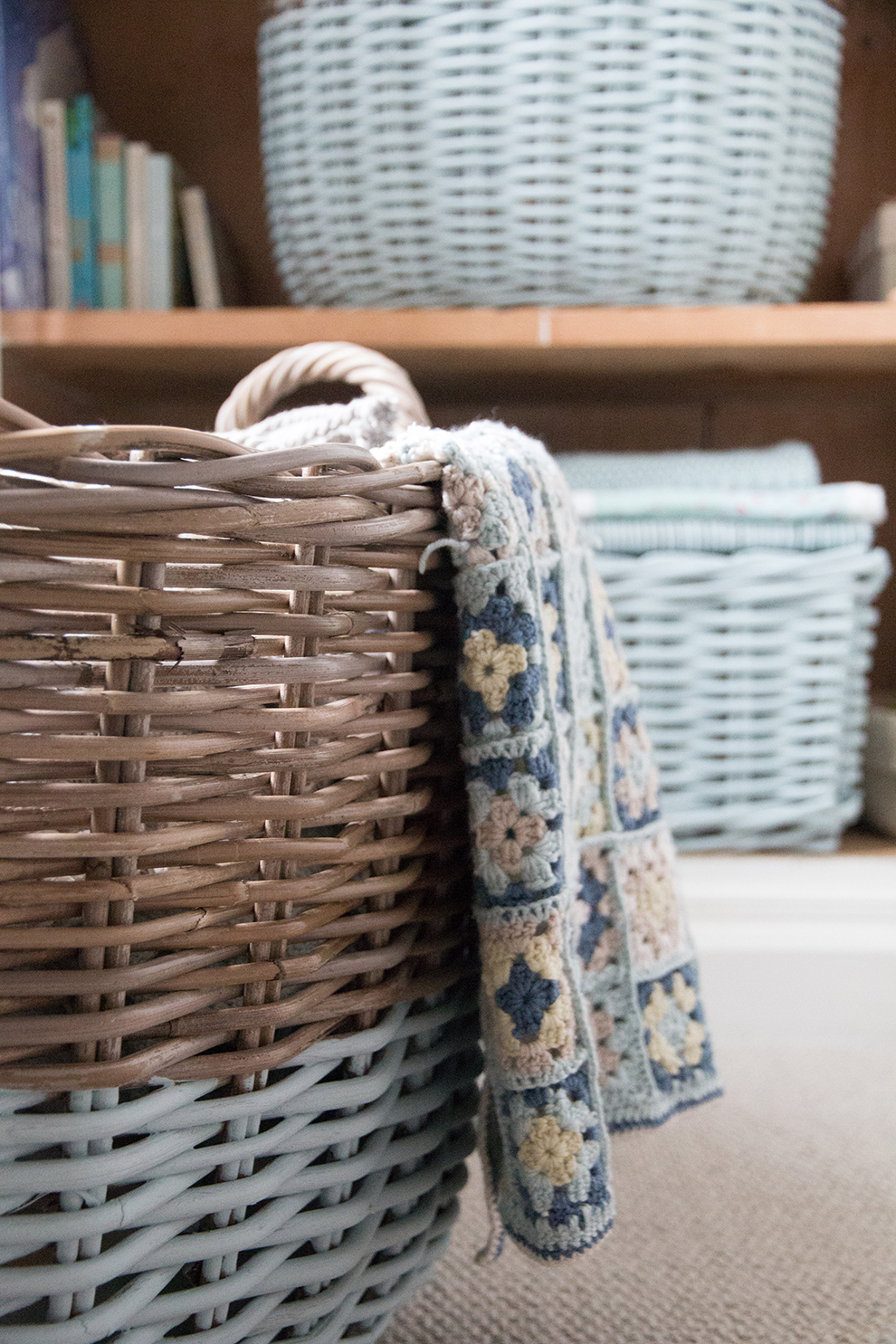 I fell in love with wicker storage baskets many years ago when we stayed at a hotel in Iceland; all the comfy chairs in the sitting room had a basket in reach, full of cozy blankets to snuggle up warm whilst waiting for the Northern Lights to appear and illuminate the night sky. Sadly, low cloud coverage meant we did not get the chance to see the Northern Lights, but I did, however, decide to recreate that cozy feeling back home and ever since our trip we have had a basket next to our sofa filled with cozy blankets to wrap around us when we feel a little chilly.
Wicker baskets are a stylish and practical storage solution that can add an extra layer of colour and texture to a room whilst keeping things tidy. With a little one and all his toys I have found a real need to keep things organised so that our day flows easily between play time and time to relax at the end of the day. Storage baskets are great for scooping up toys, smaller baskets for small items like building blocks, larger baskets for blankets and trunks are perfect for books and magazines. I recently spotted some really fabulous painted storage baskets on Pinterest and wanted to recreate the look.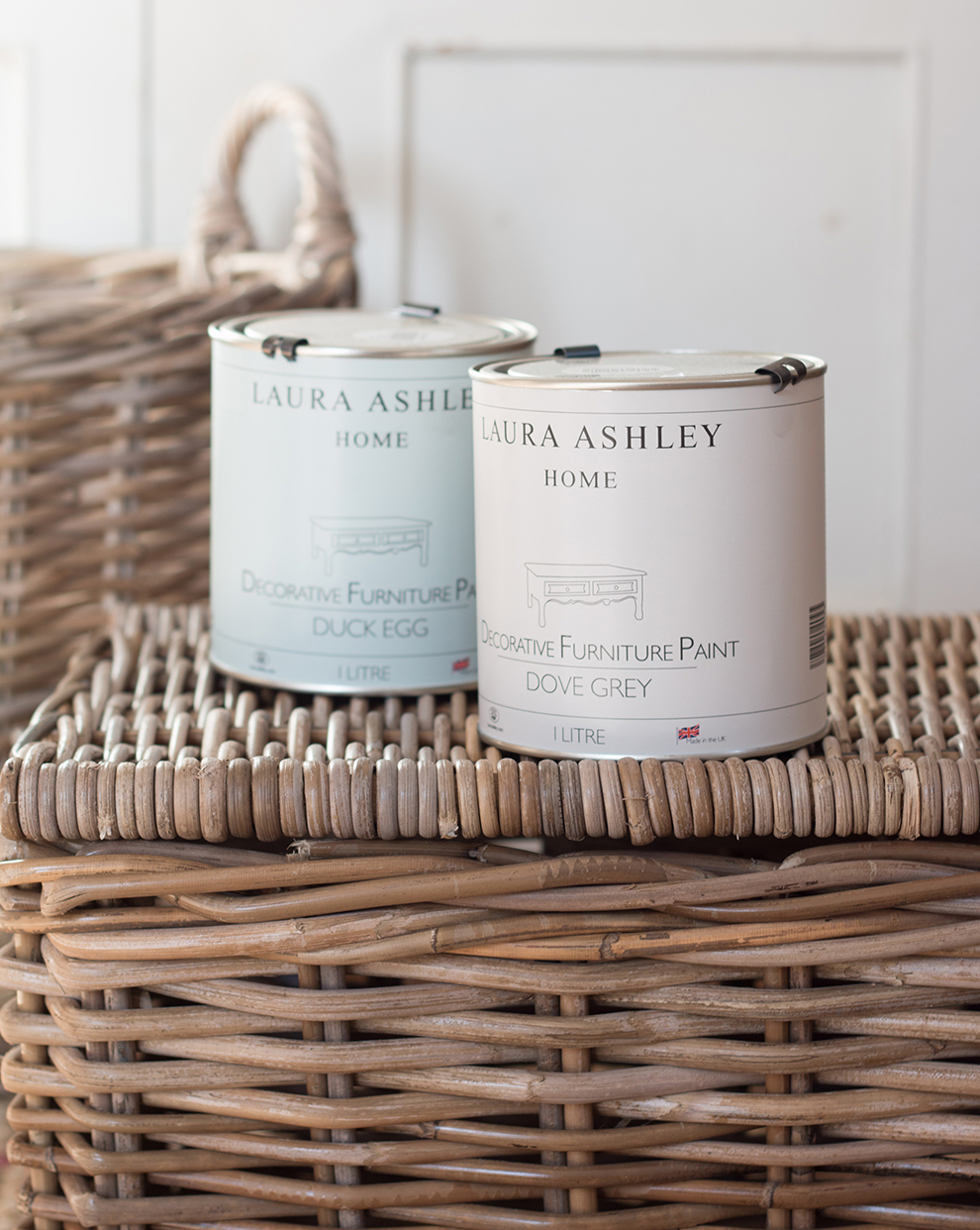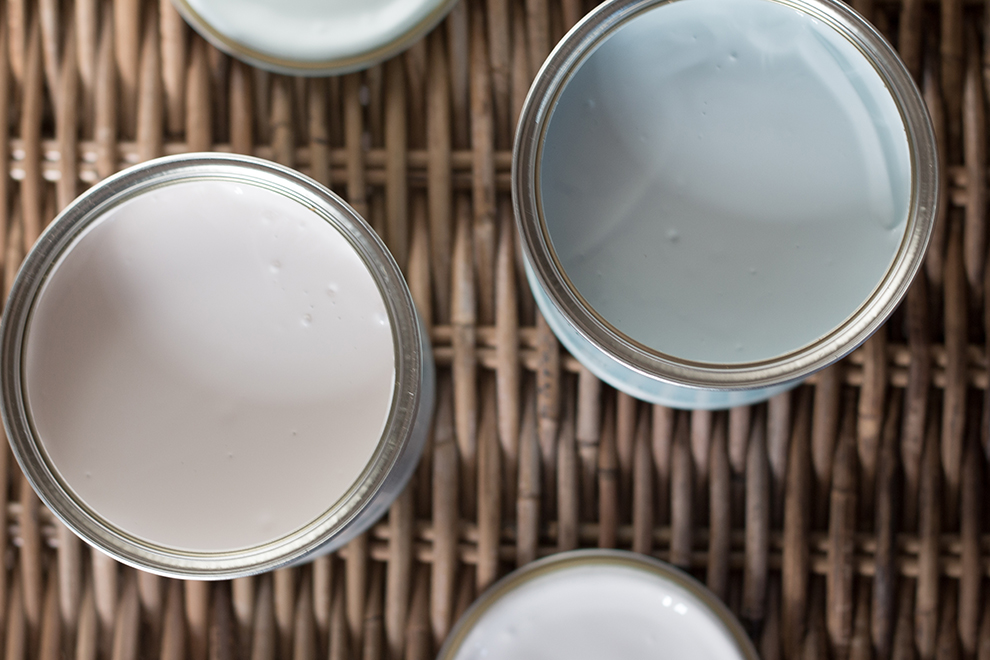 Quick and simple craft projects are my favourite kind of project, I love putting my own creative stamp on something ordinary. This week I tested out the Laura Ashley decorative furniture paint on the Kubu wicker storage baskets and I absolutely love the result.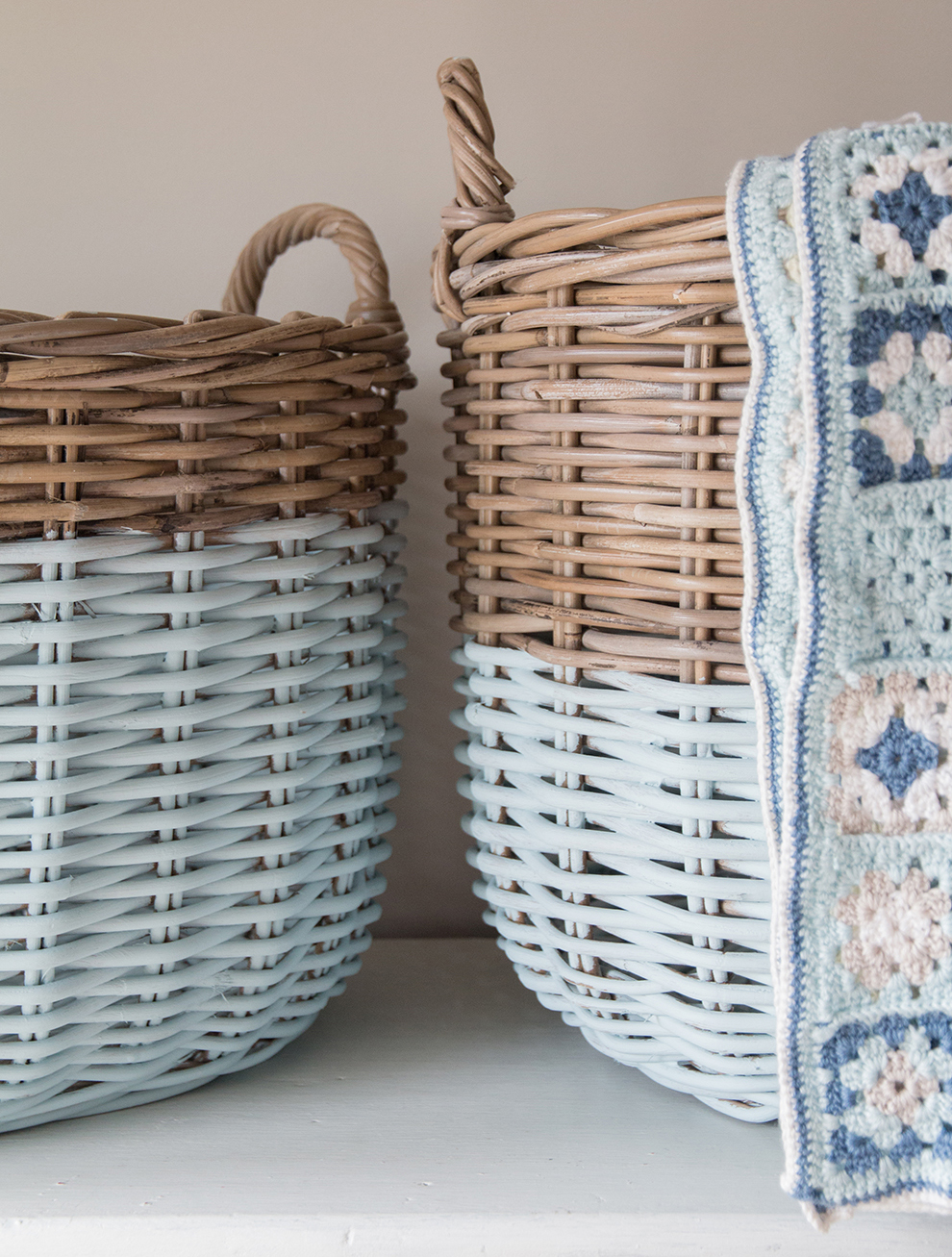 I masked off areas of the baskets with masking tape and painted them with a small paint brush, working simultaneously between the inside and outside to avoid drips collecting between the wicker. Once I had finished painting the baskets I removed the masking tape before the paint had chance to dry to avoid the paint chipping off.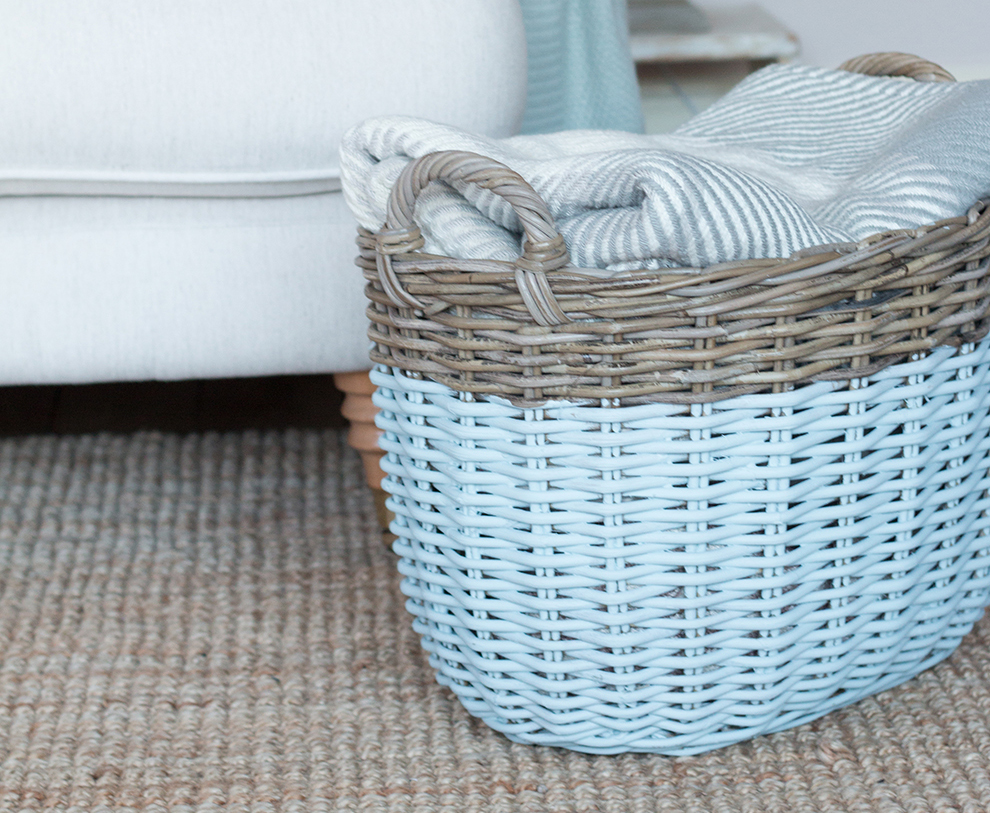 Kabul Oval Basket painted in Duck Egg filled with blankets (we love this Dylan Check Steel Throw!)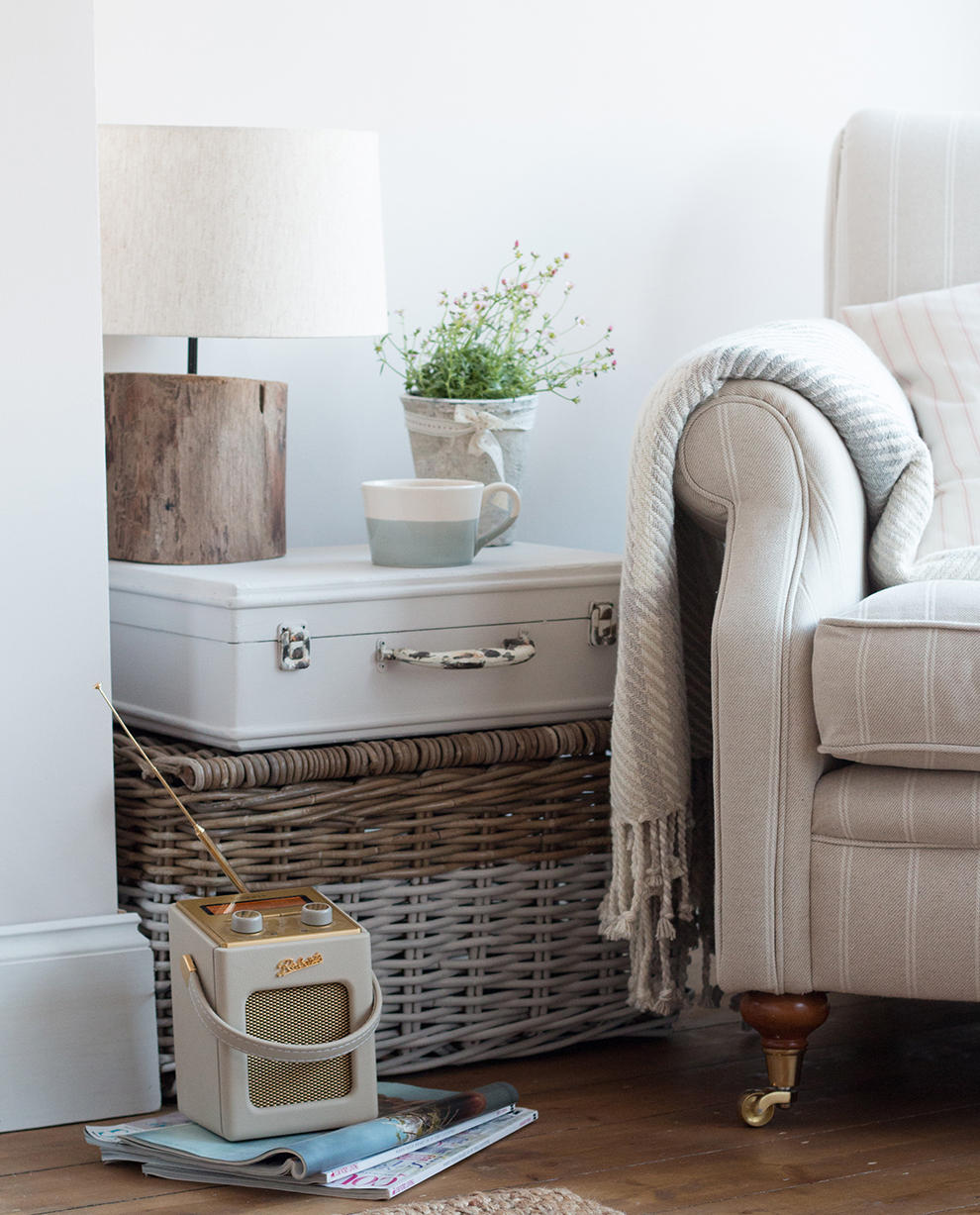 I am thrilled with this tidy little corner, the light from the large window washes in and brightens the room even on the greyest of days and the addition of this rustic storage solution fills me with great joy. I have painted the bottom third of the large Kubu Trunk in Dove Grey leaving the top part clear, I love the contrast in colour. I have also painted an old suitcase in the same paint to work with it.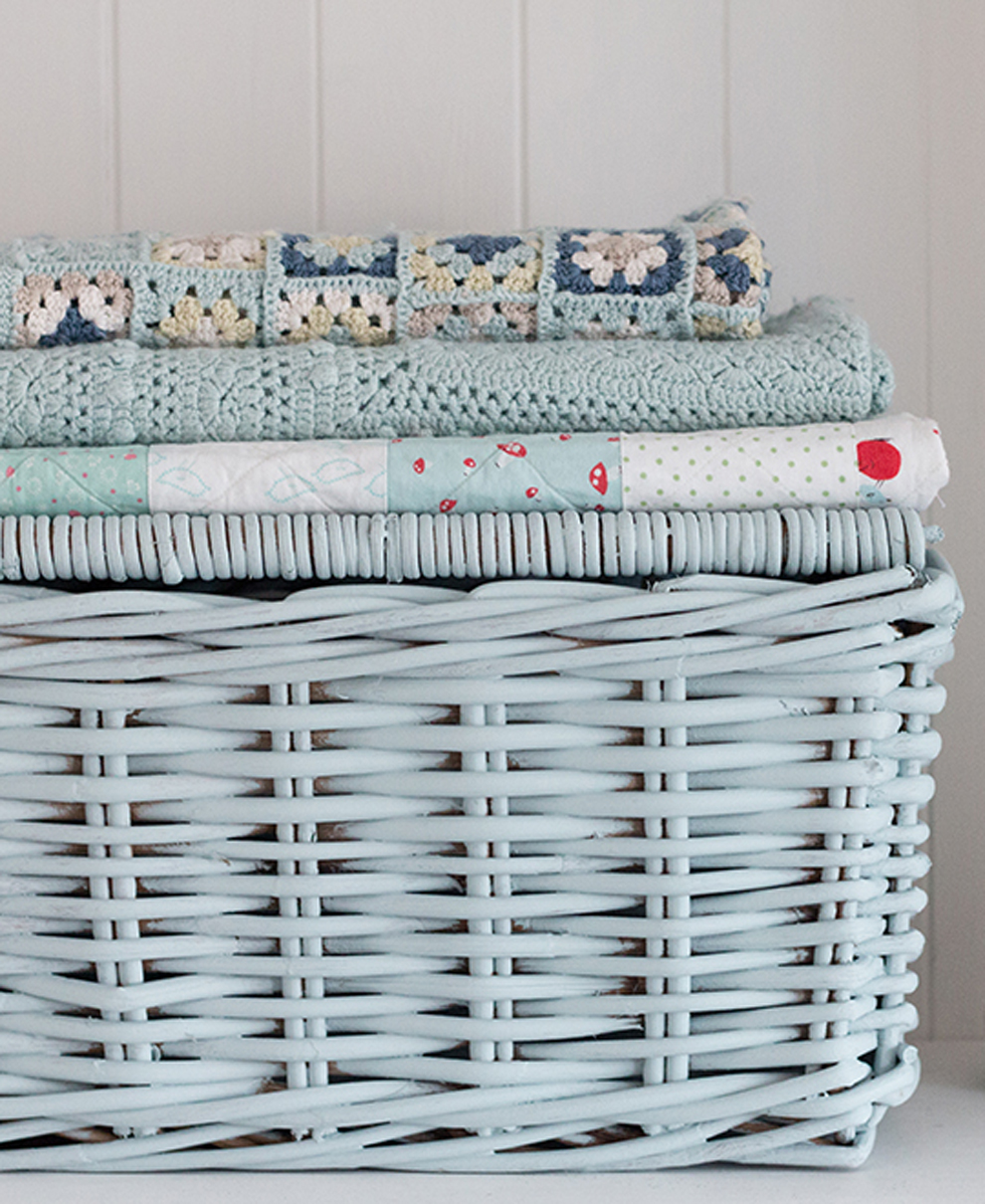 The painted storage baskets in Duck Egg also work brilliantly in my son's room, keeping all this things neat and organised.
Have you tried the Laura Ashley Decorative Paint? What are your favourite quick and simple craft projects? Let us know below or on Twitter @LauraAshleyUK. And thank you Laura for showing us this wonderful creation!