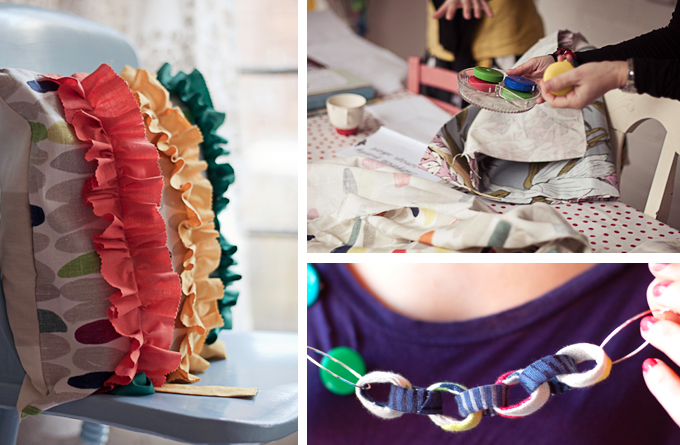 Our crafty friends at Creative Open Workshops in Birmingham host a Laura Ashley 'make + do' afternoon. read more
Welcome back to another Laura Ashley Creative Open Workshop! If you missed our Autumn guest post- we invite local crafters to our studios in Birmingham for a relaxed afternoon of making wonderful items out of the latest array of Laura Ashley fabrics (whilst enjoying a friendly cuppa and a homemade cake of course!)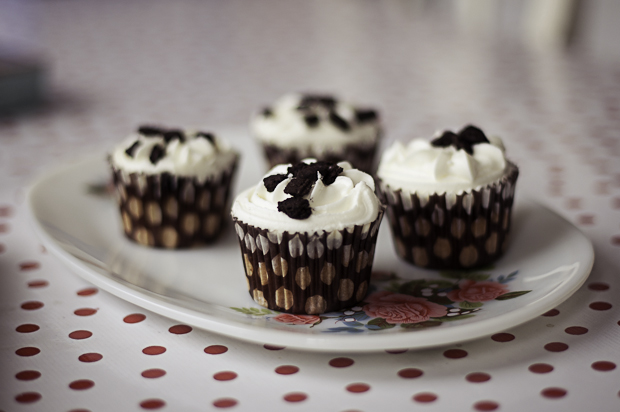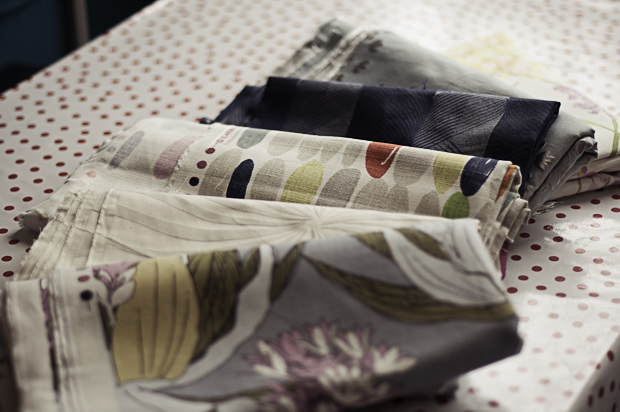 A striking piece of fabric has the ability to transform the simplest items into absolute masterpieces to treasure. A basic make up bag will bring out a bold pattern in the framing of its shape, whereas a wrap-around skirt will give it room for a balanced impact. Off set against plain cottons will often accentuate colour and pattern, which is why we love to mix & match our fabrics for craft projects at the studio.
Laura Ashley's latest fabrics range includes floral outbursts, bold multicoloured polka dots as well as gentle pastel geometric. Needless to say excitement hit the studio when we were asked to work with such a vibrant range of fabrics.
Our usual classes feature a specific project everyone will learn to make in an afternoon or evening, with enough room for everyone to give it their own personal feel. But in order to show off all the fabulous new Laura Ashley fabrics we gave people the opportunity to each work on something different during the session, with projects ranging from decorative birds to a sun hat and pair of shoes!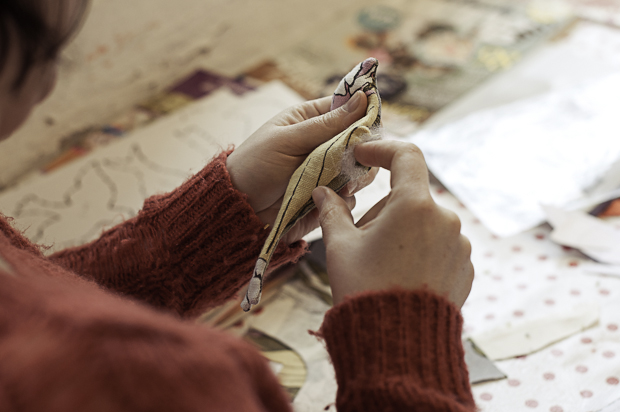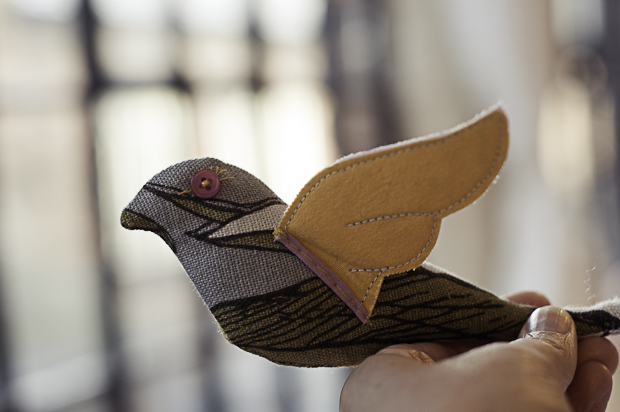 Decorative bird made from Larissa Floral Linen/Cotton Fabric
Our absolute favourite is the Wallace Dual Purpose Fabric, without a doubt! This linen fabric is particularly suitable for making curtains, upholstery and soft furnishings.
The popular Wallace Dual Purpose Fabric Natural/Multi
Designer-maker Madeline Norris, who creates her own handmade range under the name Meeni (www.meeni.co.uk), chose to make a beautiful ruffled cushion cover.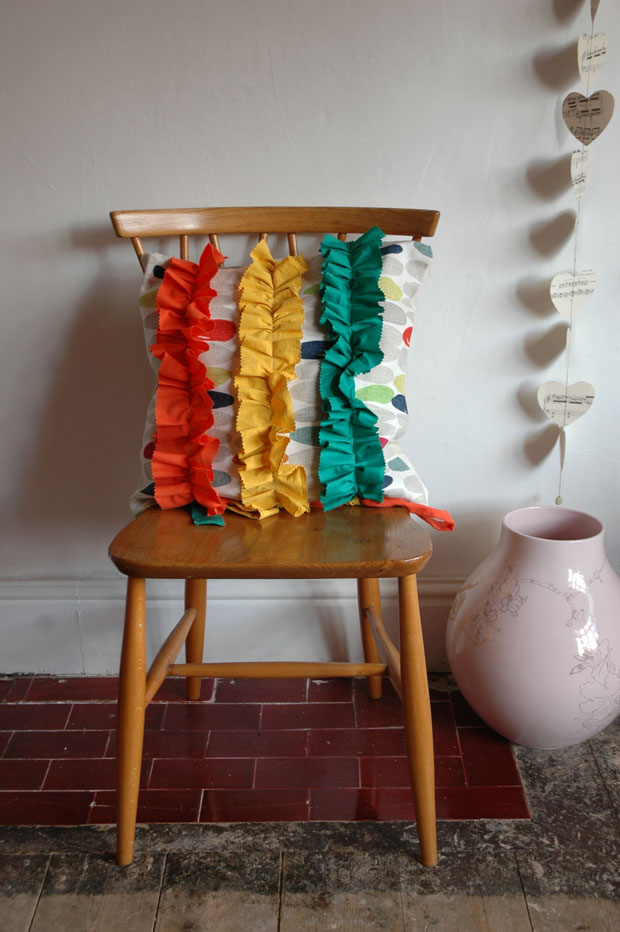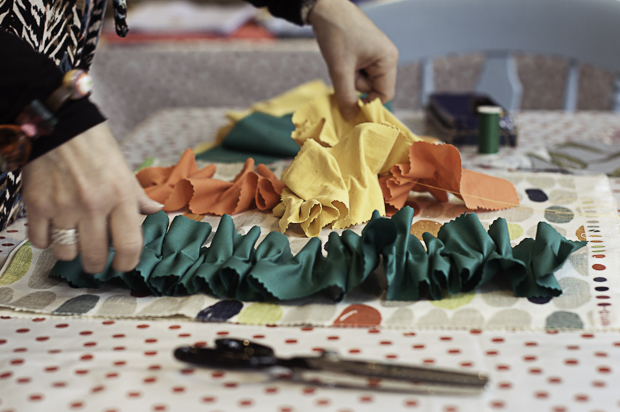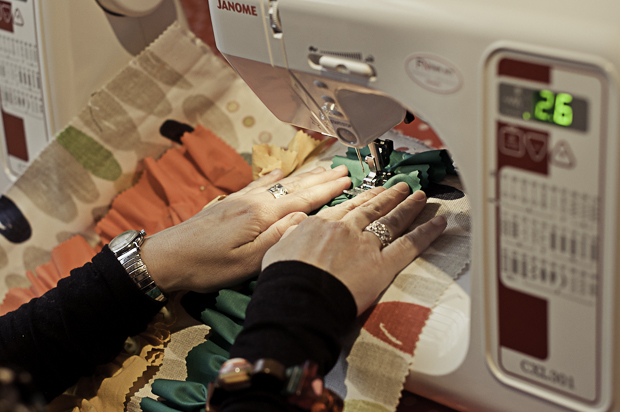 Madeline says:
"I chose the LA fabric because I liked the bold, slightly retro design, also the mix of colours in the fabric. I do like making cushion covers and this was an opportunity for me to experiment with a new design. Because of the bold design of the LA fabric I felt this shouldn't be mixed with another pattern. However, I did want to add some detail and that's why I added the ruffles and ties in complementary plain fabrics."
We found the Wallace linen so versatile that we even transformed it into a new pair of espadrilles, by designer-maker Gosia Weber (www.gosiaweberhandmade.co.uk). Gosia is known in the West Midlands for her bright coloured leather handbags, but felt up for a challenge so repurposed a pair of old shoes. The end result being a bright uplifting pair of espadrilles for the summer! She has lined the shoes with Serpentine Jacquard Viscose/Silk Fabric Sapphire and is echoed in the navy blue ribbon straps…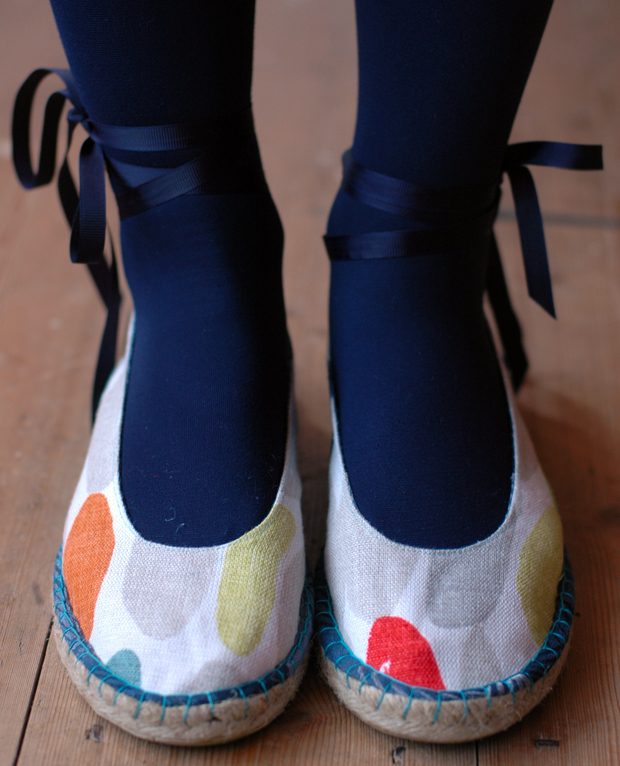 (You can join Gosia at our studio on Wednesday 6 June to make your own bespoke fabric espadrilles if you fancy having a go yourself!  Click here for more details)
To demonstrate the fabric works equally well on a small scale I decided to make one of my chainlink necklaces using the Wallace and Serpentine fabrics. I am a bit of an accessories addict and love to match my jewellery to each outfit. Making fabric jewellery is absolutely perfect! I made my necklace to match a sculptural skirt I made with the Wallace linen… which also looks pretty fabulous in combination with Gosia's espadrilles!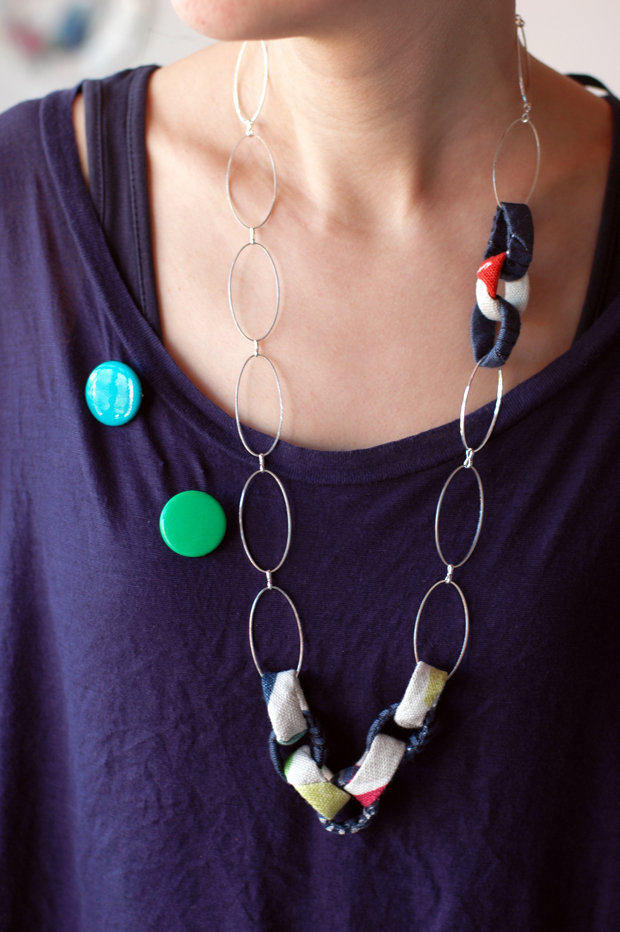 Give sharp curves, such as in these chain links, a smoother finish by cutting the fabrics on the bias. They have then been stitched into place by hand to interlink them all. The fabrics stand out especially against the oversized silver chain.
All finished project photos were shot by our in house photographer Erin Power. As well as a photographer, Erin is also an avid knitter. She also made the large Tote (Wallace/Serpentine fabrics).  It is imperative to have a large project bag for an assortment of knitting needles and plenty of skeins of wool! The bright organic shaped dots are accentuated by adding a bag base in the navy blue Serpentine fabric.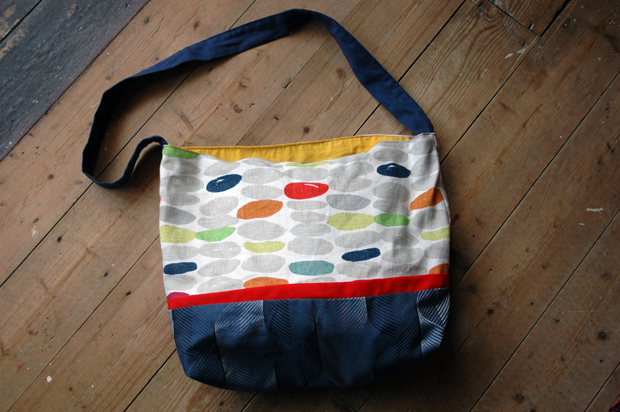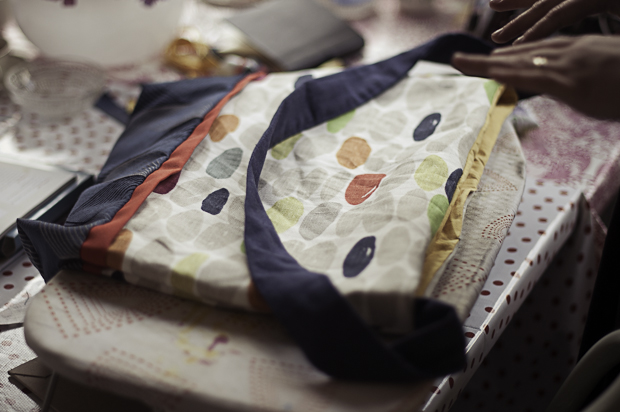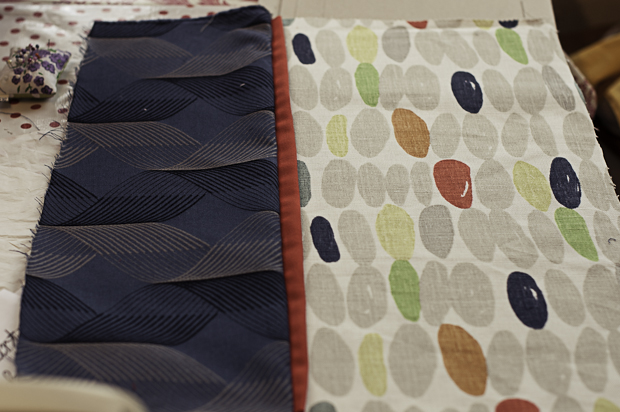 Wallace Dual Purpose Fabric Natural/Multi  and Serpentine Jacquard Viscose/Silk Fabric
We asked photographer Melanie Martin (www.melaniemartinphotography.co.uk) to join us for the afternoon and take pictures of us all crafting along. She even shot a little video to give an impression of how lovely the afternoon was.
See you next season!
Francine Schokker
Owner
Creative Open Workshops
Have you made anything out of Laura Ashley fabric? If so we would love to see your results! Send us a picture to social.media@lauraashley.com