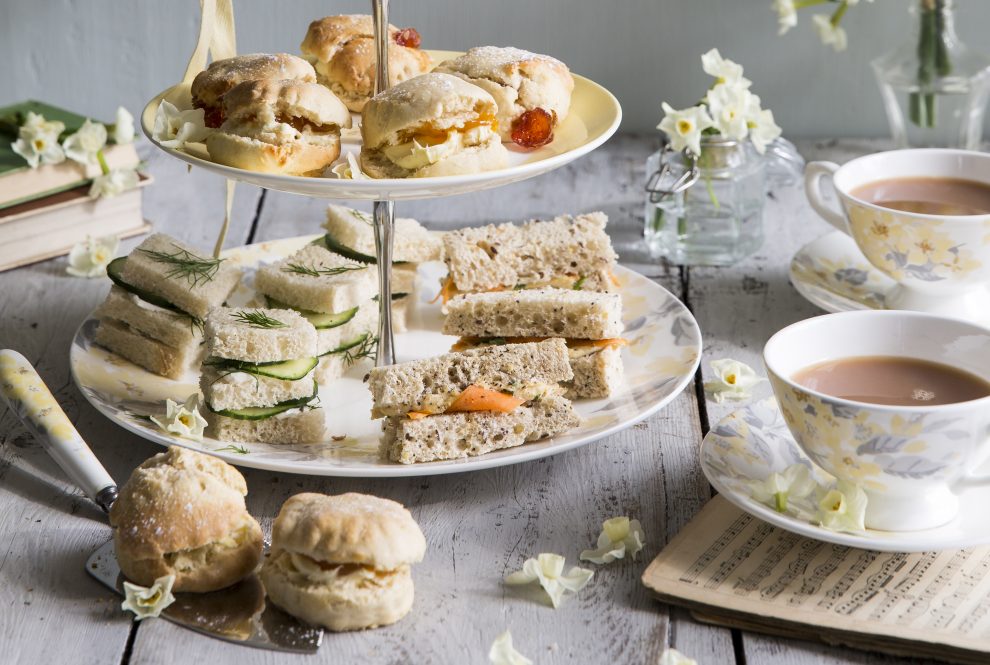 Make Mum smile this Mother's Day with a delicious & easy Afternoon Tea Recipe read more
Treating your mum to a homemade afternoon tea means you get to indulge together! With a little thought and care you can elevate the humble sandwich and make strawberries indulgent and of course, no afternoon tea is complete without scones! Serve with clotted cream, jam and steaming pots of tea, this is an easy and thoughtful way to make Mum happy this Mother's Day.
Served on the Laura Ashley Apple Blossom Dining Range, this stylish sunshine yellow collection helps to present your food beautifully for parties and or celebratory meals. Below, food blogger, Catherine Frawley's shares the perfect recipe for a homemade Mother's Day Afternoon Tea that will be sure to please…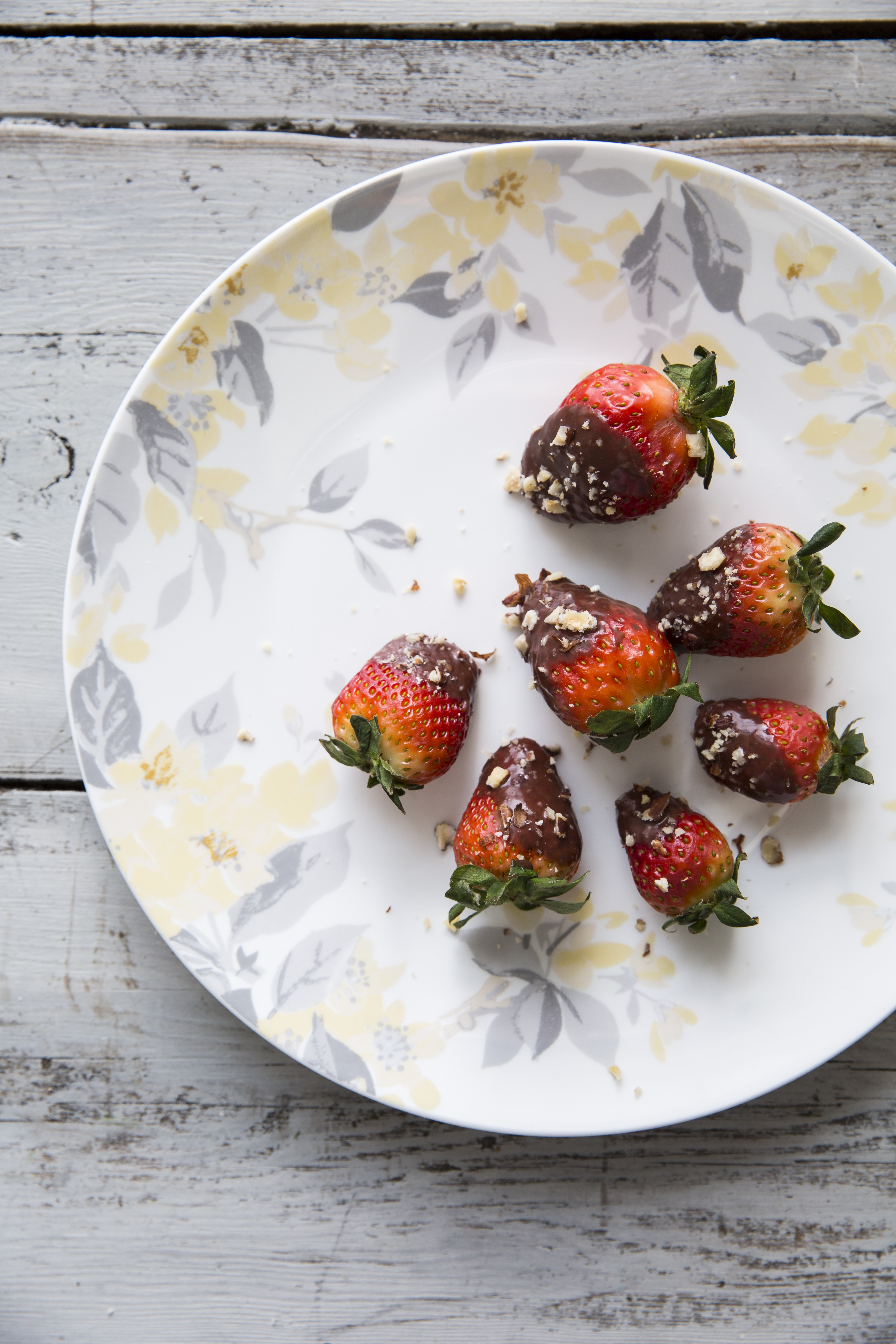 Chocolate & Hazelnut Dipped Strawberries
Ingredients
• 200g Strawberries
• 50g milk chocolate, melted
• Small handful of hazelnuts, finely chopped
Method
1. Line a small baking tray with parchment.
2. Bring a small saucepan of water to the boil, rest a large glass bowl on top (make sure the water isn't touching the bottom of the bowl). Add the chocolate and slowly melt.
3. Remove the bowl from the water and dip each strawberry into the chocolate, lay it on the parchment and sprinkle the hazelnuts over, repeat until all the strawberries are done.
4. Place the tray in the fridge to set the chocolate.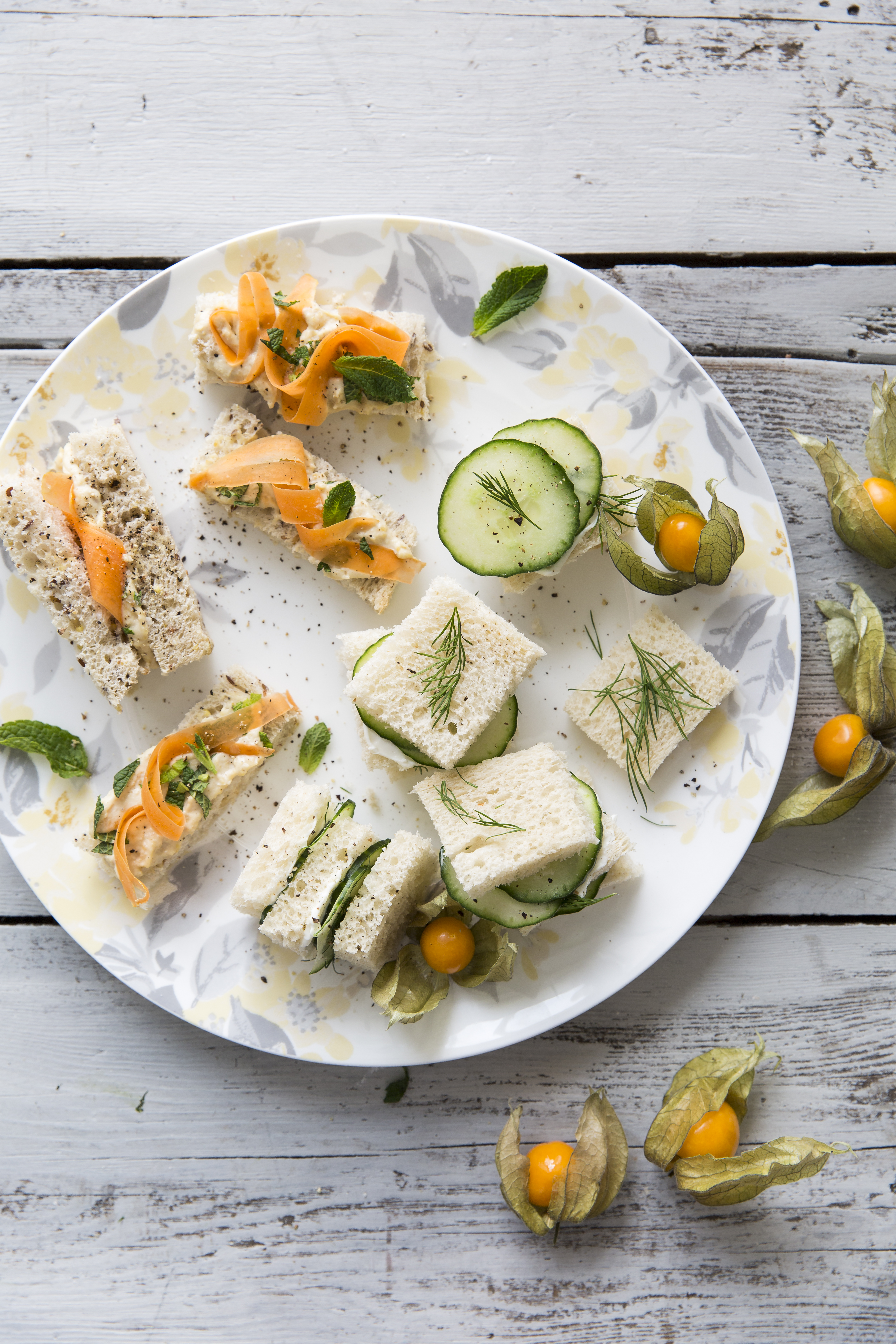 Cucumber, Cream Cheese & Dill Stacked Sandwiches
Ingredients
• 6 slices good quality white bread
• 3 inch of Cucumber, thinly sliced
• Cream Cheese
• Fresh dill to garnish
• Salt & Pepper to taste
Method
1. Cut the crusts from the bread then cut each slice into 6 equal squares, you need 3 squares per stack.
2. To make one stack, spread cream cheese on two squares, on top add two slices of cucumber, a sprig of dill and a little seasoning. Stack the two square and then place the third square on top and garnish with a little more dill. Continue until you have 2-3 sandwich stacks per person.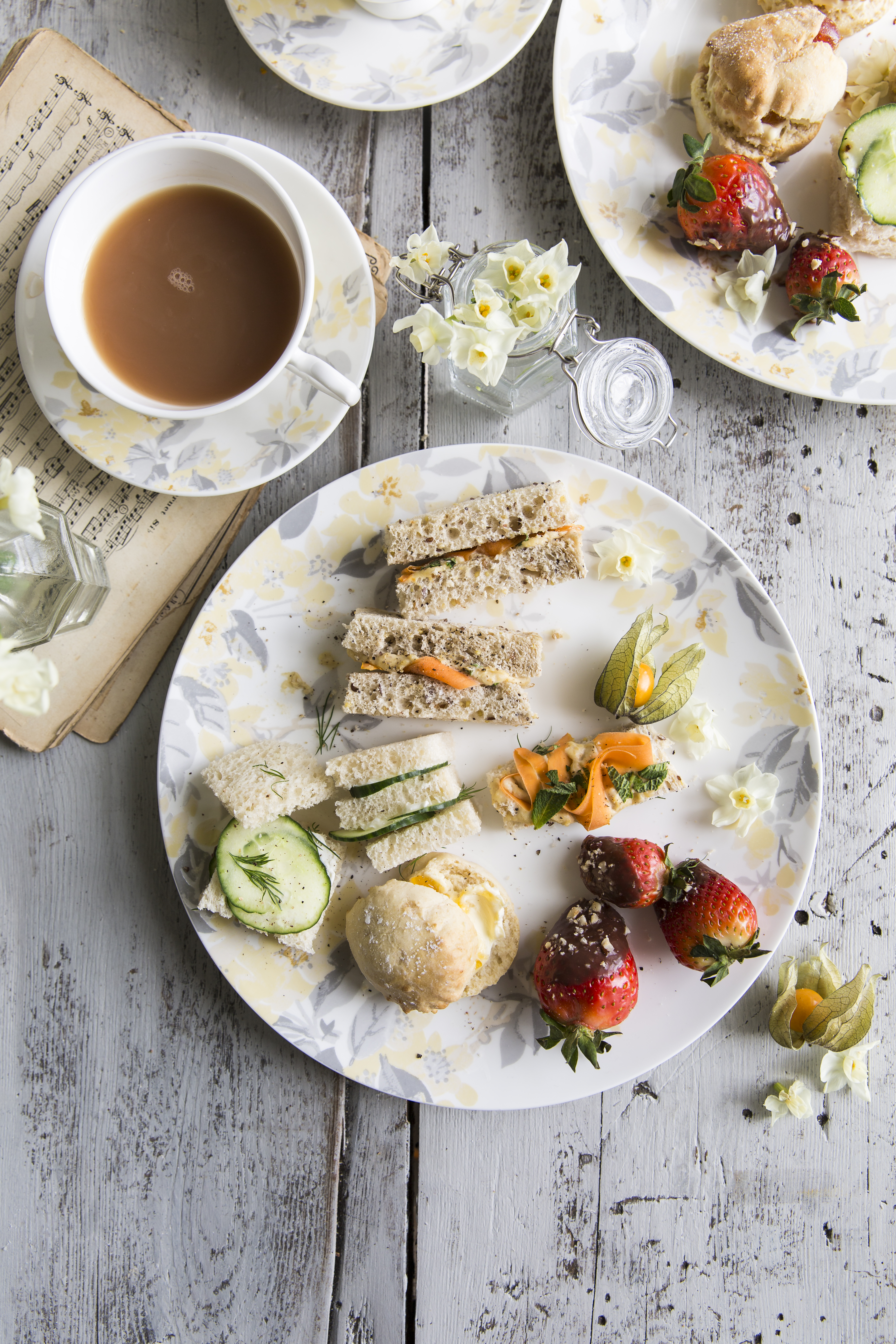 Carrot, Hummous and Mint Finger Sandwiches
Ingredients
• 6 slices good quality seeded bread
• 1 large carrot, cut into ribbons
• Hummous
• Fresh mint to garnish
• Salt & Pepper to taste
Method
Cut the crusts from the bread then cut each slice into equal rectangles. To make one sandwich, spread hummous onto one rectangle, top with twisted ribbons of carrot, add some chopped mint, season and top with another piece of bread. Continue until you have 2-3 sandwiches per person. Garnish with some fresh mint.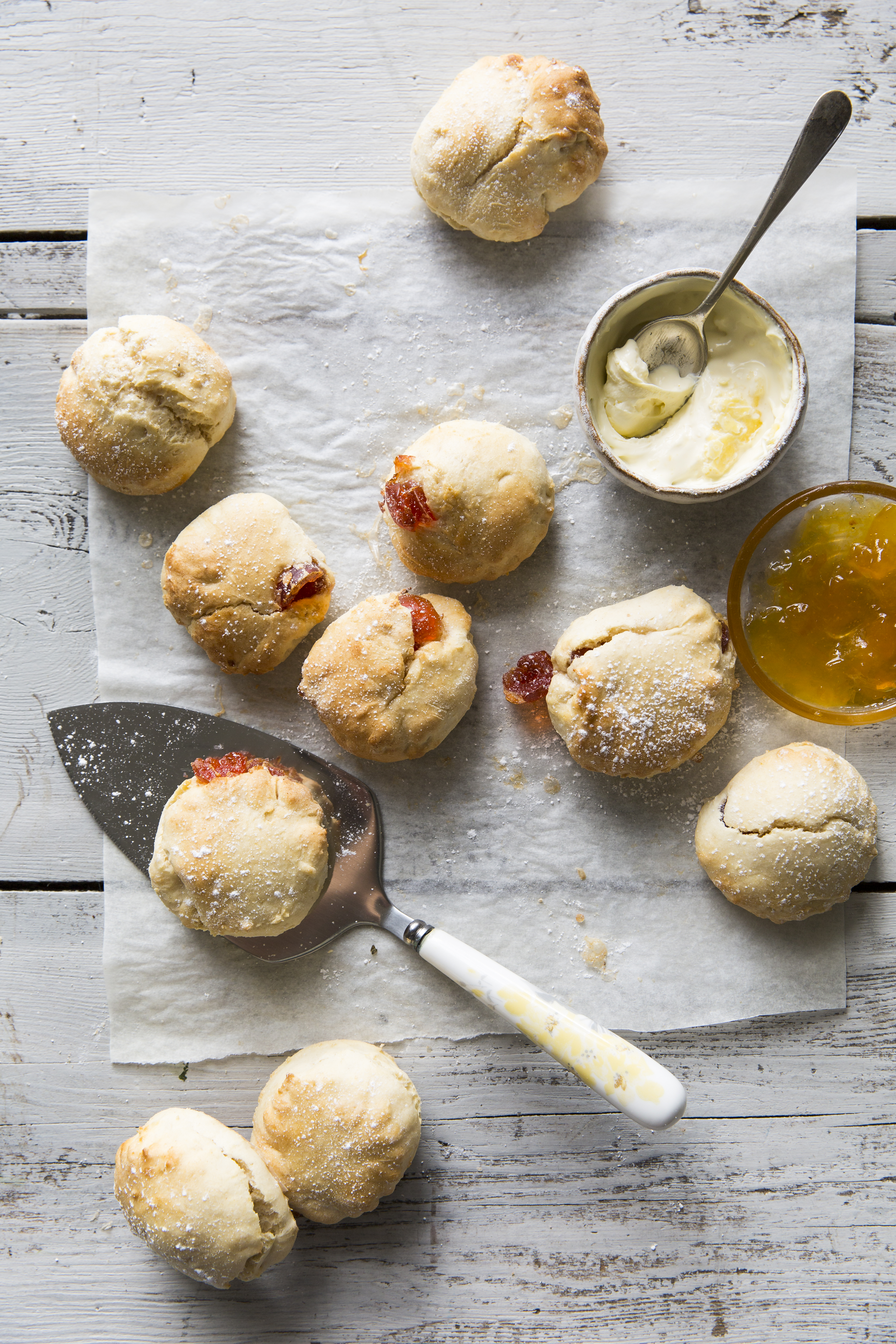 Cherry Scones with Clotted Cream & Apricot Jam
Makes 10 small scones
15 min prep
12-15 min bake time
Ingredients
• 225g self raising flour
• ½ tsp baking powder
• 25g caster sugar
• 55g butter, softened
• 150ml milk, plus a little more to glaze
• 30g glace cherries
• icing sugar to dust, optional
• serve with clotted cream and jam of your choice
Method
1. Line a baking sheet with parchment, and preheat the oven to 200C
2. Put the flour, baking powder and sugar in a large bowl. Add the butter and rub with your fingertips until you have a fine bread crumb texture. Add the milk and cherries and stir until a soft dough forms.
3. On a floured surface, roll the dough gently to about 2cm thick and use a 5cm fluted cutter, cut as many scones as possible placing them on the parchment. Brush the tops with milk and then bake for 12-15 minutes or until golden. Cool on a wire rack, dust with icing sugar and serve warm with clotted cream and jam.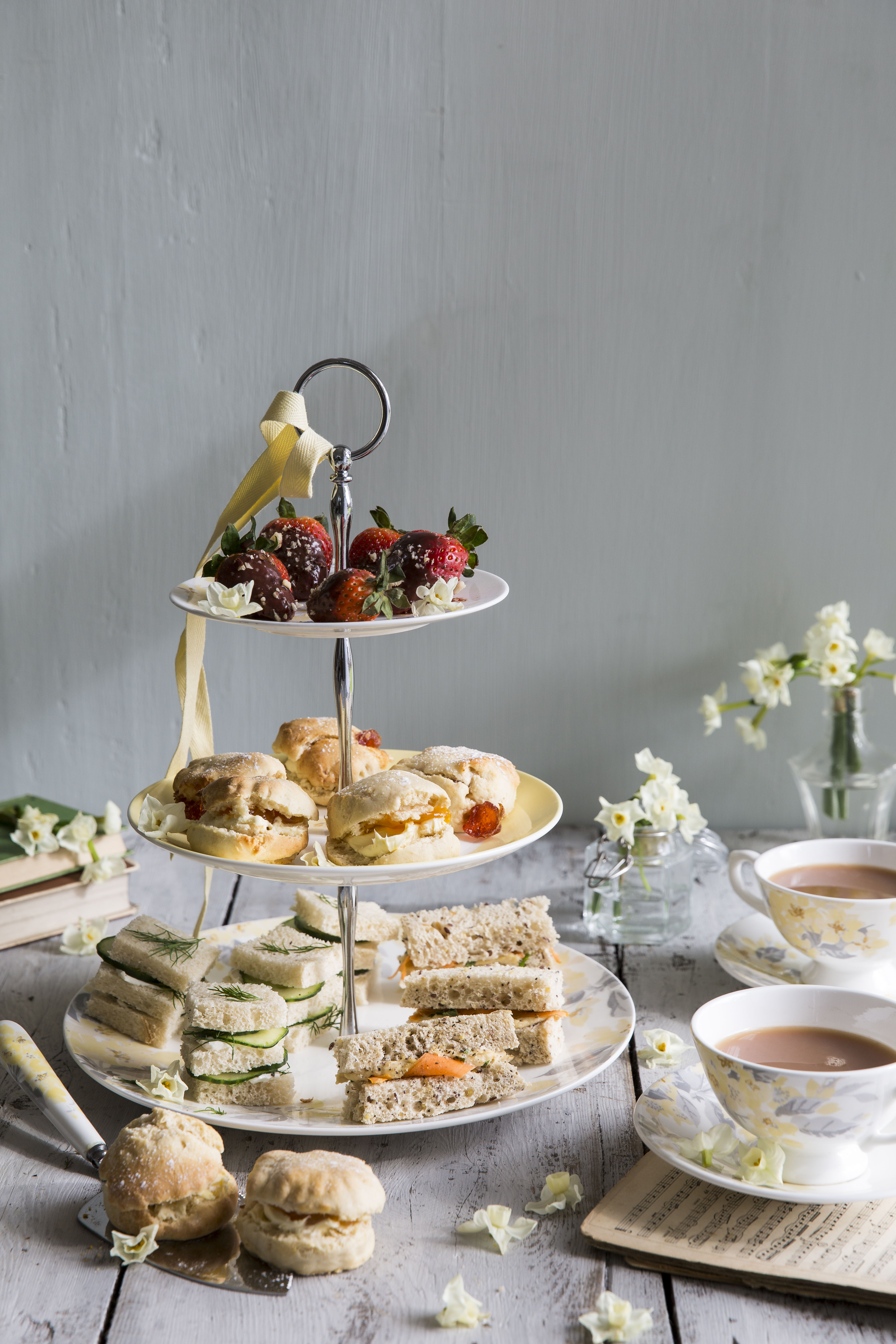 How will you be treating Mum this Mother's Day? Let us know in the comments below…