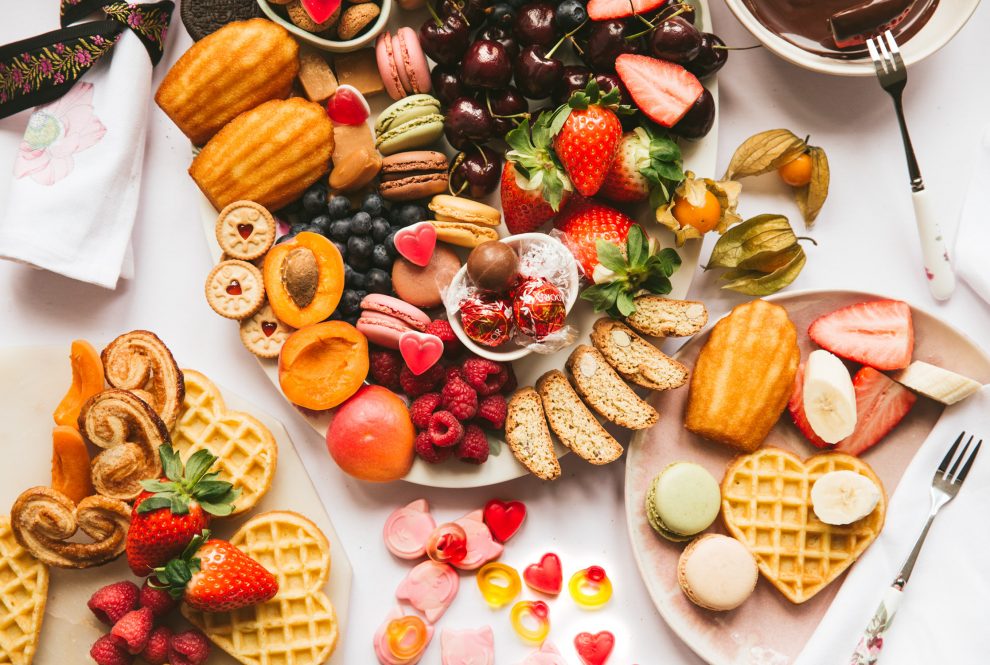 Impress the one you love with this stunning platter read more
Valentine's Day is just around the corner so why not get creative this year and surprise your special someone with a delicious Valentine's-themed grazing platter. Grazing platter lover and foodie blogger Amy Treasure has some easy tips on how to create a platter that tastes delicious and looks beautiful.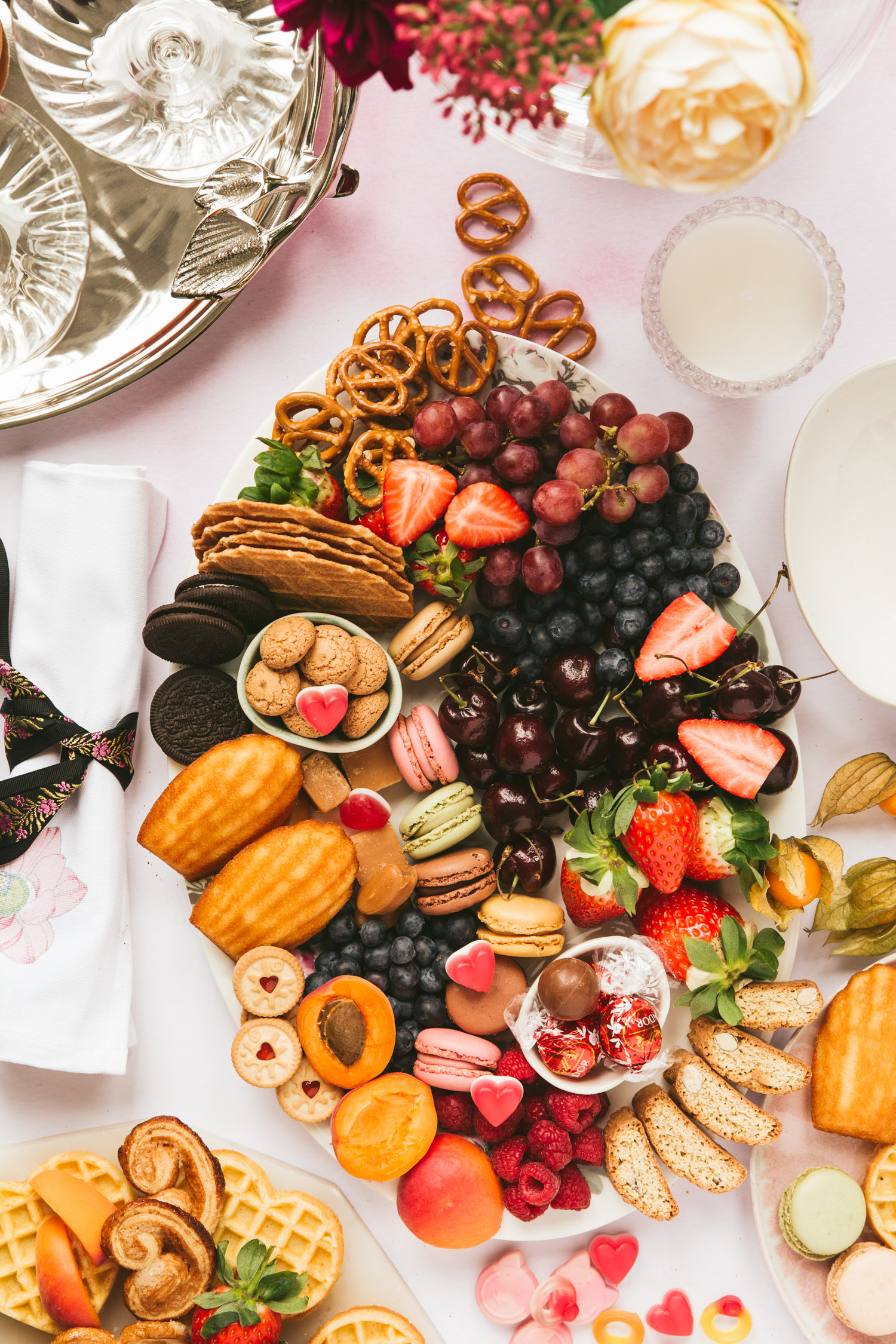 This year why not treat your Valentine to a beautiful grazing platter filled with colourful fresh fruit and tempting treats, with an irresistible warm chocolate fondue on the side. Pop open a bottle of bubbly and cosy up for a romantic date night at home with this sweet selection just for two.
I'll be sharing my tips for how to create a perfect platter that is simple to put together, requires next to no effort and makes an eye-catching centrepiece.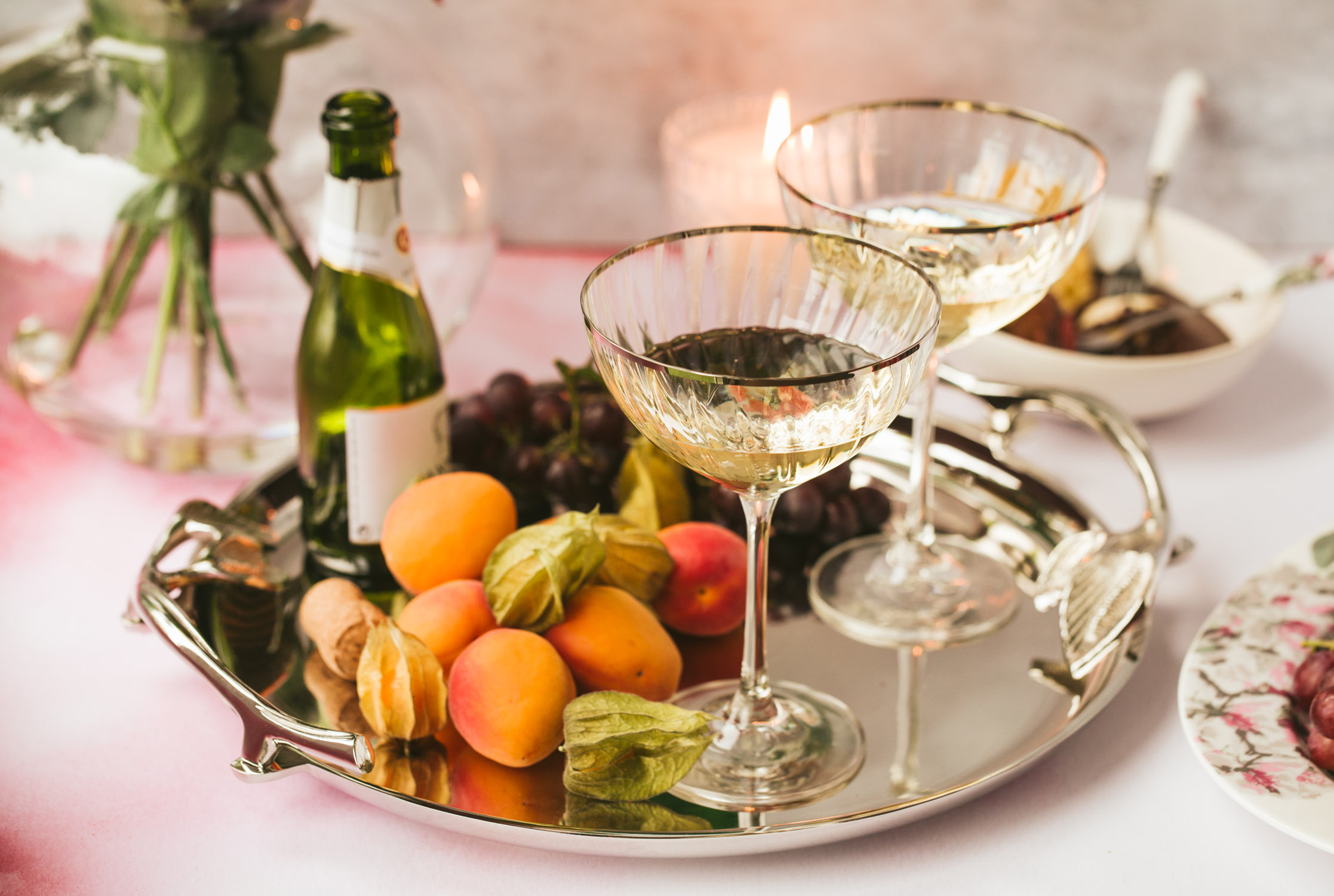 Making a grazing platter is much easier when you have a theme in mind and Valentines Day lends so much scope to getting creative.
A good platter has a wide variety of treats in different colours, shapes and textures. At this time of year it's so easy to find heart-shaped goodies in the shops. And what epitomises Valentine's better than a heart-shaped waffle?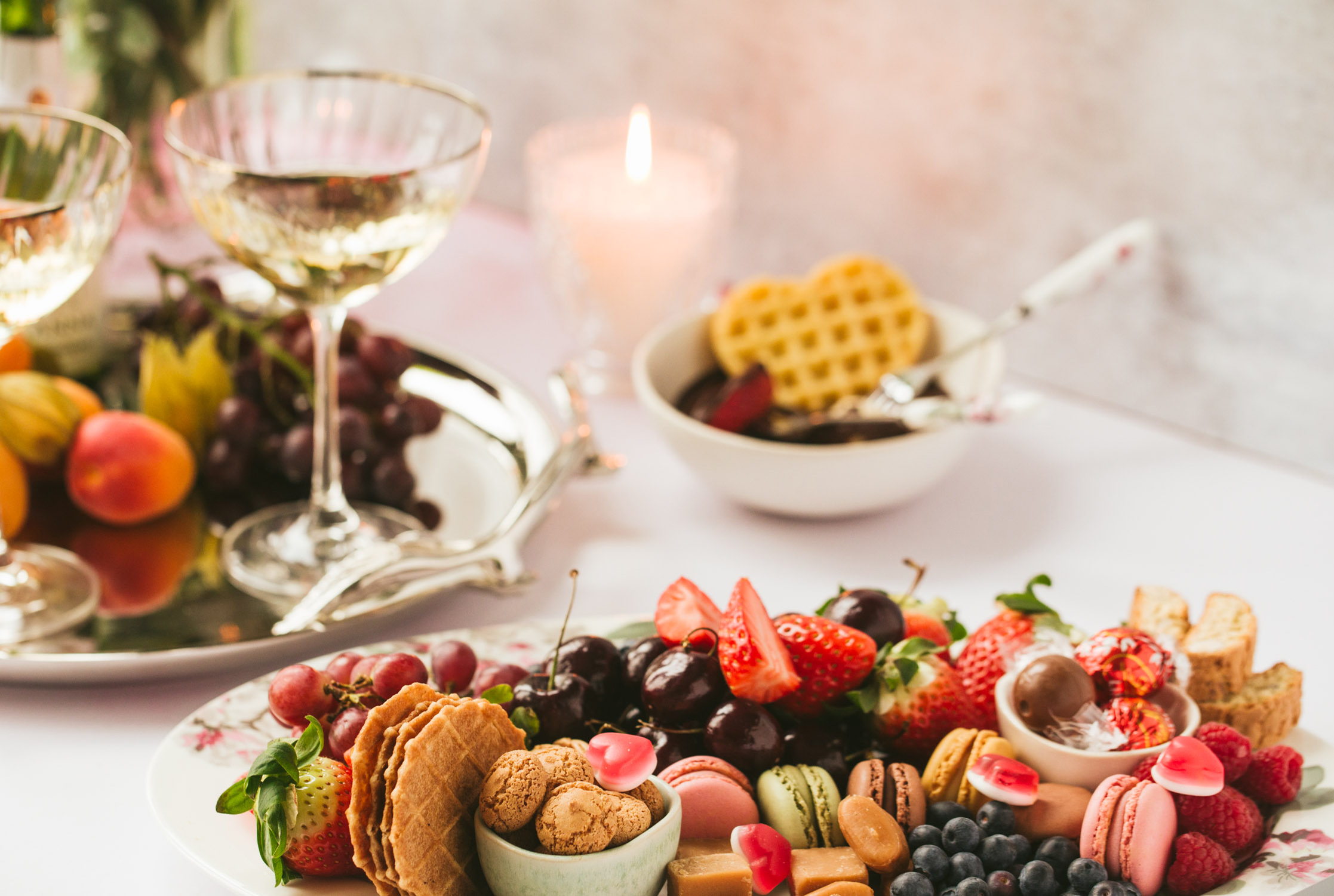 What to put on a dessert grazing platter
– Fresh fruit: a selection of strawberries, raspberries, bananas, apricots and cherries. Or any other fruit that's in season.
– Cookies and Biscuits: oreos, shortbread, biscotti, macarons, cantuccini and wafer biscuits work well.
– Small cakes: small bite-sized cakes such as Madeleines or mini Victoria sponge.
– Pretzels: chocolate dipped or salted.
– Sweets: caramels and fudge are great for dipping and don't forget to look our for some tiny jelly hearts and rings!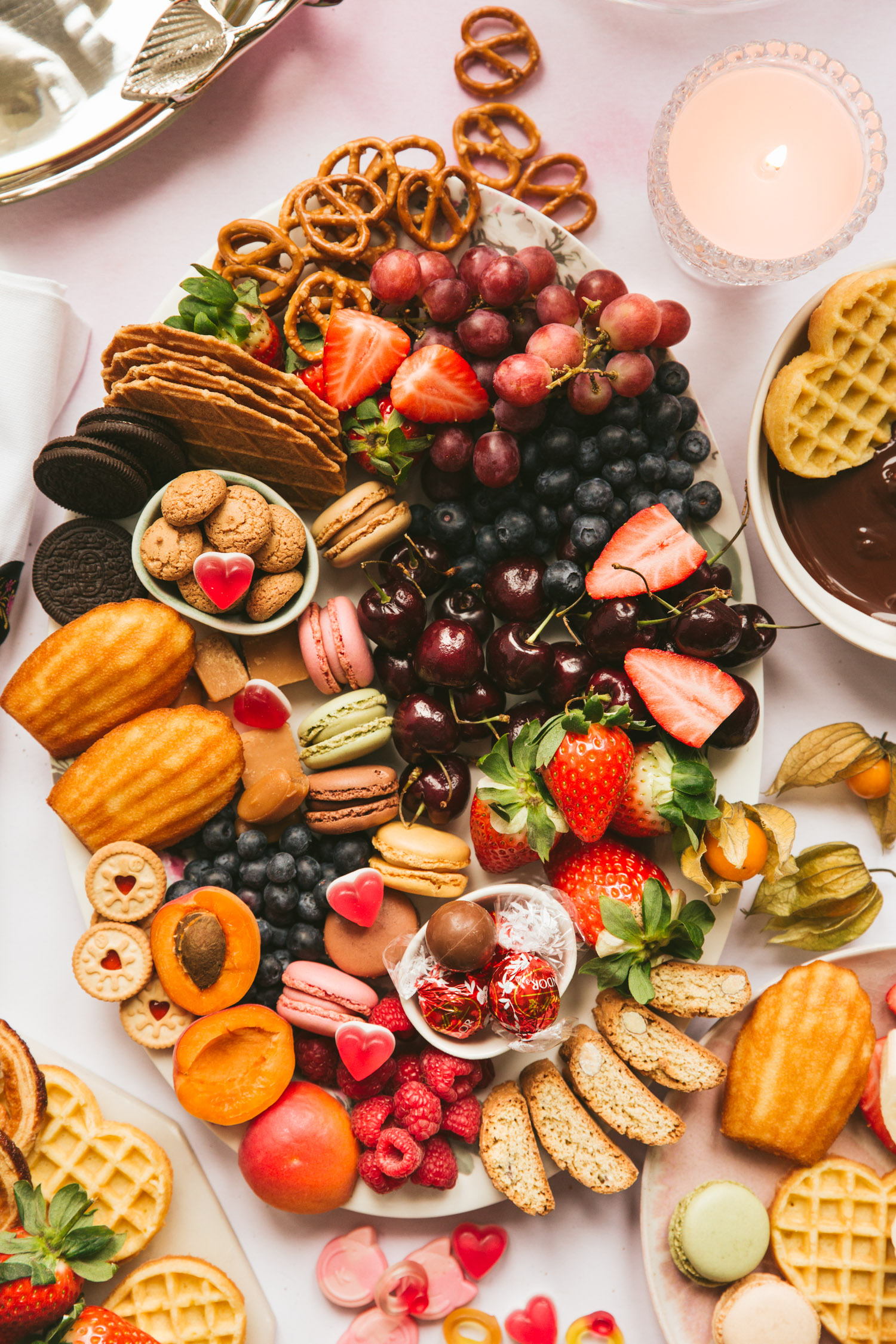 How to make a Valentine's Day grazing platter
Now you have all your sweet treats, it's time to put your masterpiece together. I'm a big fan of Laura Ashley tableware, it's pretty and very chic. I have a lot of love for the amazing serving platters and trays, they are wonderful quality, just the right size and always look classy.
Whenever I use Laura Ashley pieces for photo shoots or dinner parties I get lovely comments and the different ranges work so well together which means I can easily mix and match different pieces and still have a cohesive feel.
For this post I'm showcasing some pieces from the Adeline range. It's soft, charming and a wonderful choice for a special Valentine's table setting. The Adeline Oval Platter is a brilliant size for a grazing platter. As you can see I managed to squeeze lots of goodies on there.
Begin with an empty platter and place a couple of small bowls or cupcake cases on it. Next, take any larger items and put them on to the platter to act as a framework. Group items in piles or curved lines. Add foods in groups, aiming to vary it so the different colours aren't all displayed next to each other.
Once you can see how much space you've got left fill any gaps with smaller items.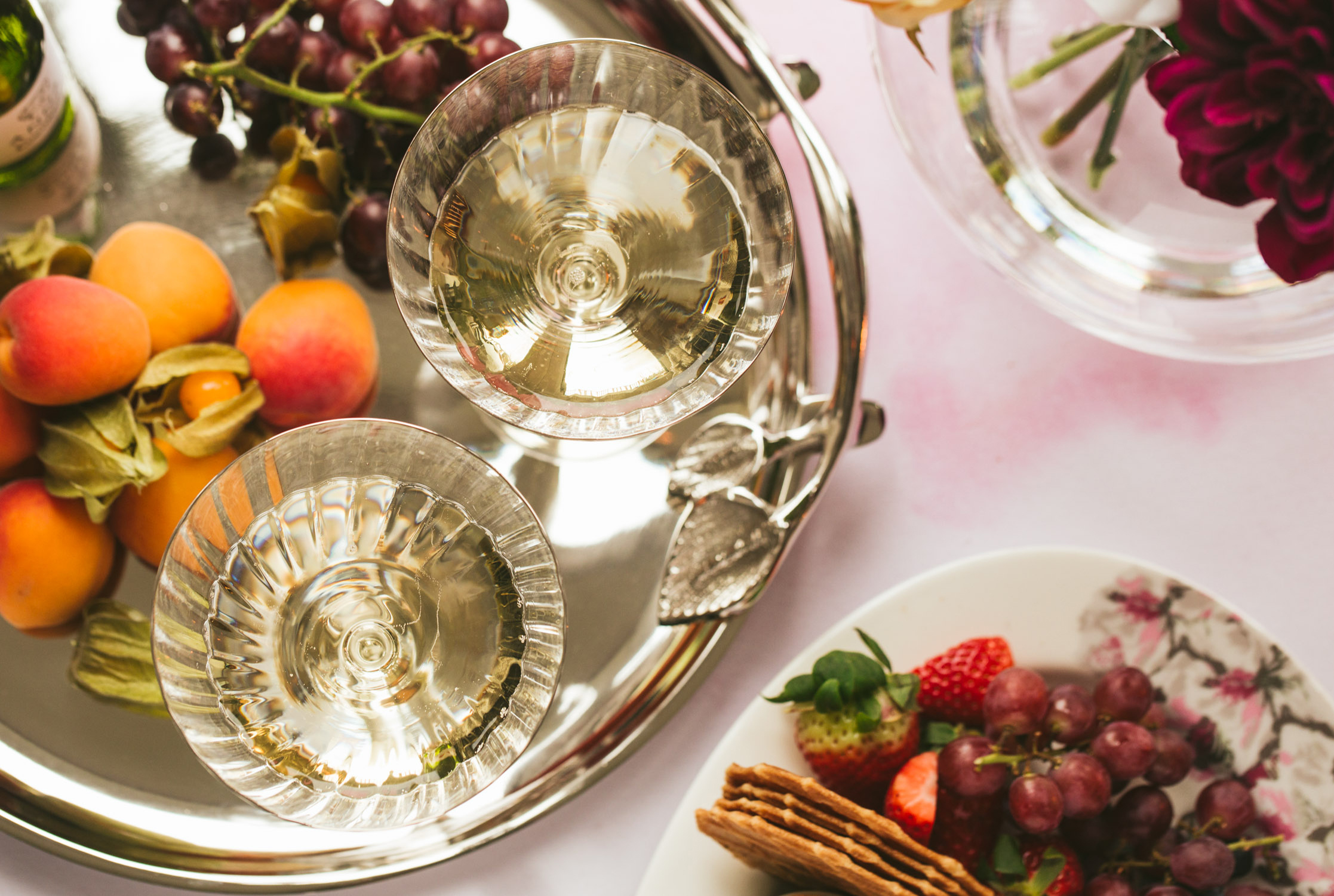 Put the platter in the centre of the table with a bowl of chocolate fondue beside it. The Adeline Cake Forks make fantastic fondue sticks. They are a great size for picking up pieces of fruit or small cakes and dipping them into the warm chocolate sauce.
For a final flourish on your Valentine's table spread, set up a couple of Champagne Saucers and indulge in a glass or two of bubbly, I love the art deco feel of these glasses. I displayed the drinks on this beautiful Silver Serving Tray which adds a really luxurious touch. I can see myself using the tray for lots of different occasions in the future.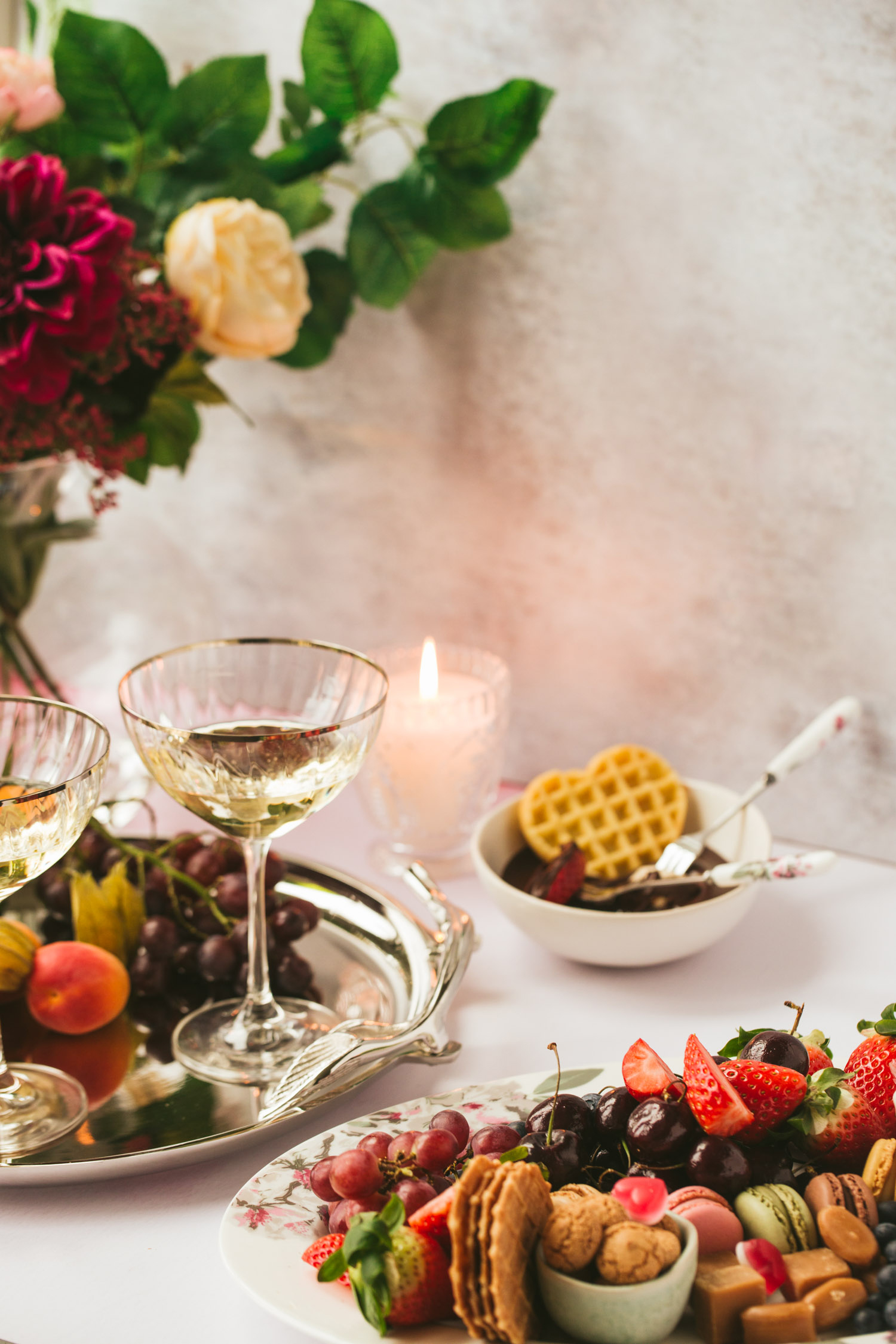 Light a candle and finish the table with some gorgeous flowers. There's nothing more romantic than beautiful roses and dahlia. These Laura Ashley flowers come ready to display in a large fish bowl glass vase and would actually make a perfect present for your Valentine – hint, hint!
A platter full of fruit and biscuits is wonderful but having a delicious chocolate sauce to dip everything in makes it even better. It's so easy to make a divine chocolate fondue. Here's how…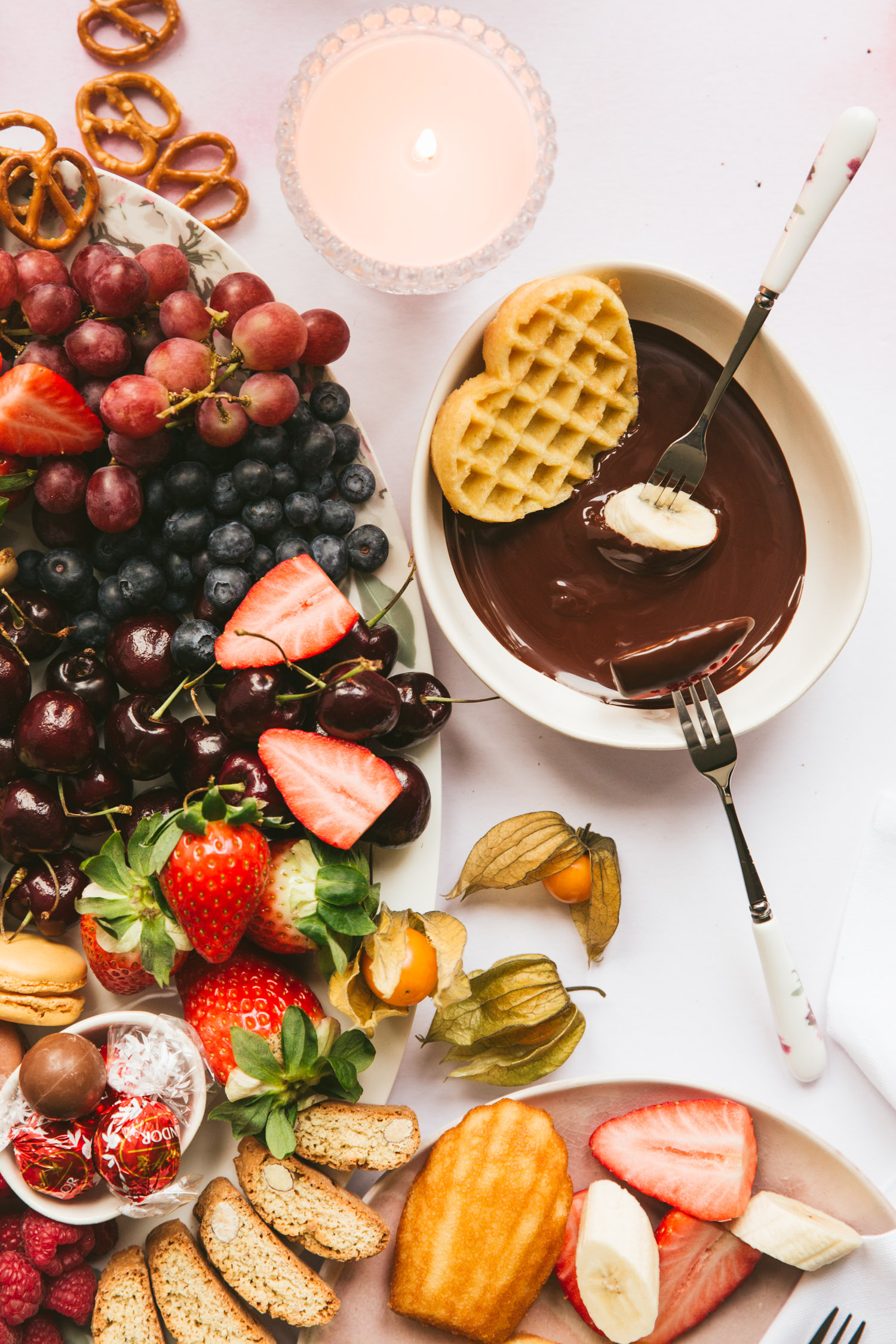 Chocolate Fondue Recipe
Ingredients
– 300g good quality dark chocolate (at least 70% cocoa)
– 300ml double cream
Method
1. Chop the chocolate into small pieces and add them to a mixing bowl.
2. In a small saucepan, heat the cream until just below boiling point.
3. Pour the cream over the chocolate and allow it to sit for about 5 minutes.
4. Whisk well until all the chocolate has melted and combined with the cream.
5. Pour the chocolate sauce into a serving bowl and start dipping!
6. If the chocolate sauce hardens you can reheat it in 10 second bursts in the microwave, mixing well until it's melted again.
I hope you love this easy chocolate fondue recipe as much as I do. Who will you share a grazing platter with this year?
Happy Valentine's Day!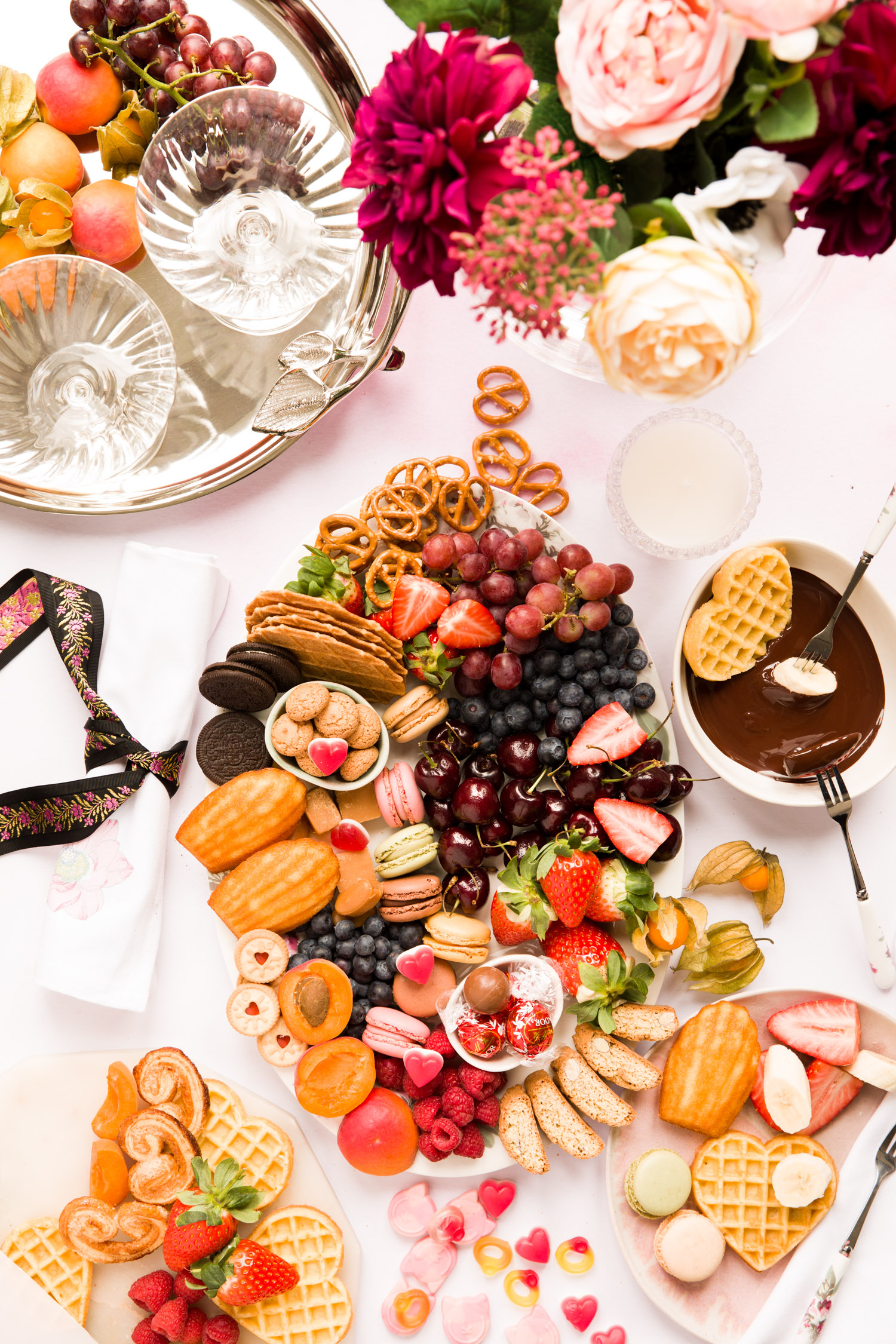 This post was made in collaboration with Amy Treasure of Tempting Recipes using our Adeline range.
What do you think of this idea? Is this something that you would like to be surprised with? Let us know in the comments below.