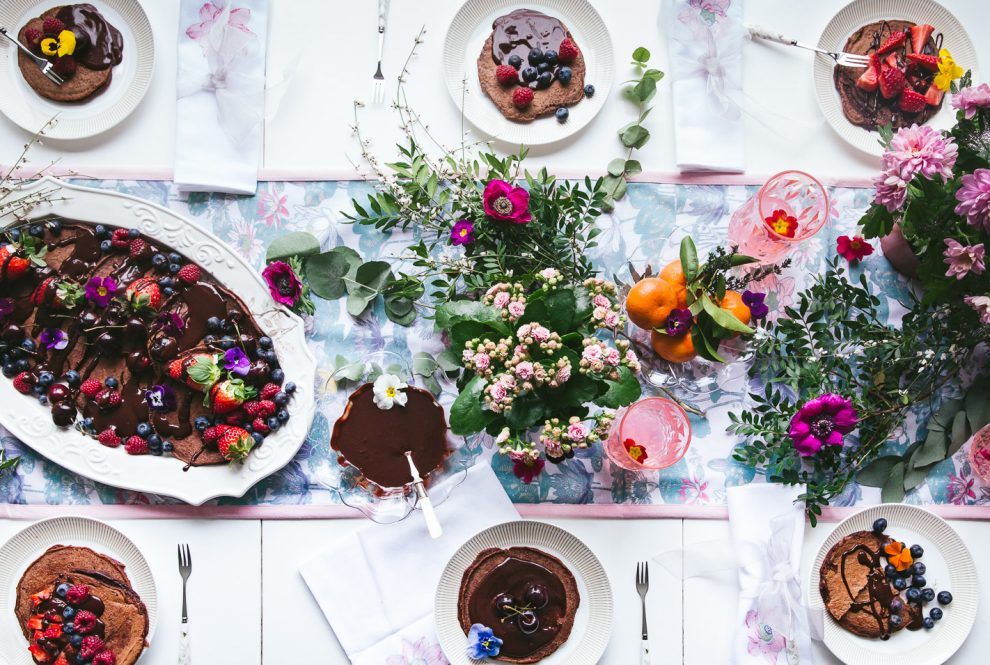 Eggs, flour, milk at the ready: here's your recipe for the best pancake day yet read more
Baking blogger Amy Treasure shares her delicious recipe below for Chocolate Pancakes with a Rich Chocolate Sauce…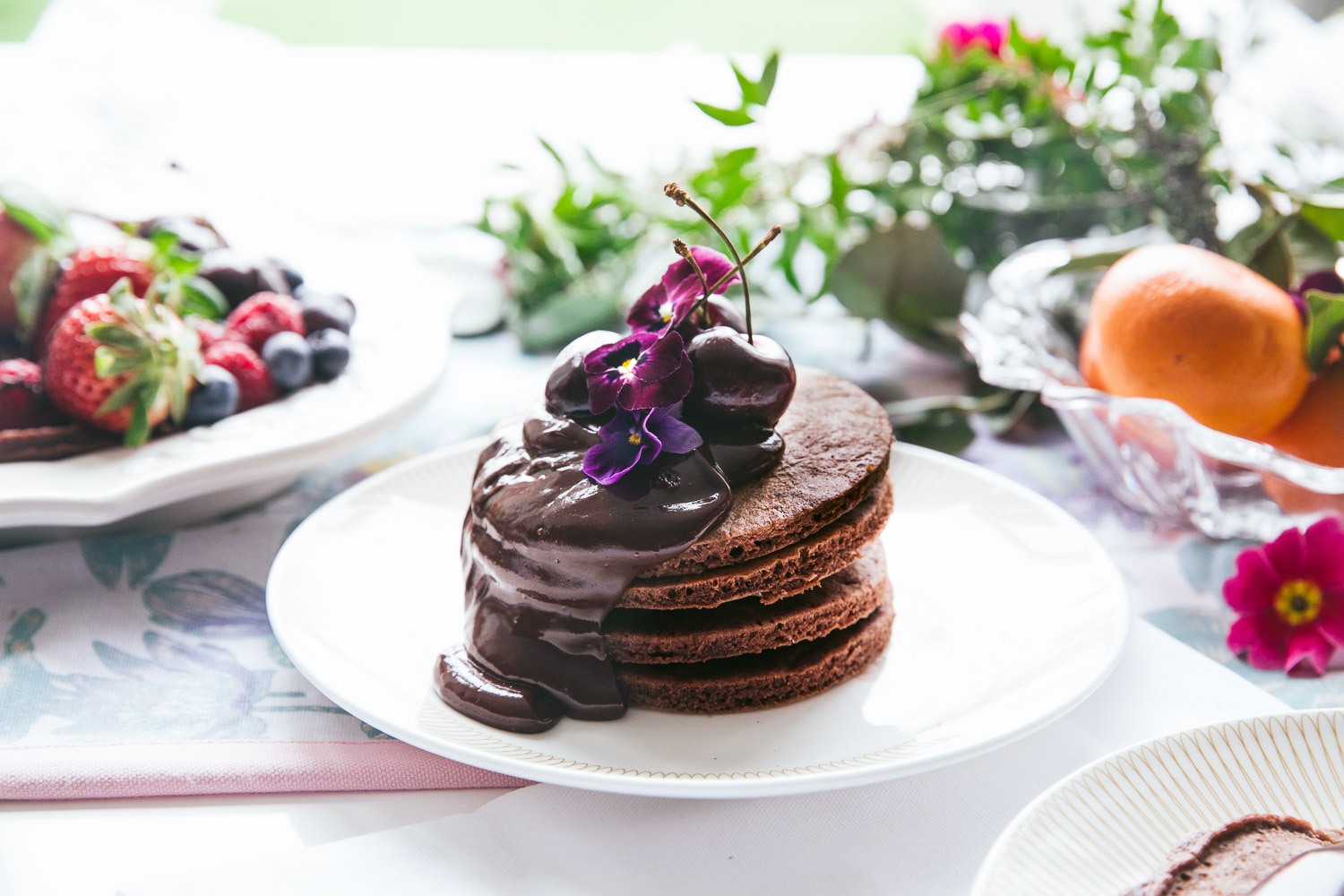 Amy's Pancake Day Feast
It hardly seems like Christmas is very far behind us, yet here we are celebrating Shrove Tuesday already. Pancake day is an exciting time, the Tuesday before Ash Wednesday; the beginning of lent and the big countdown to Easter!
I adore traditional pancakes with just a touch of lemon juice and sugar but I also enjoy experimenting by making colourful ombré pancakes or, the children's favourites: chocolate pancakes served with a rich chocolate sauce.
As pancake day falls on a weekday we tend to have the aforementioned simple pancakes with lemon and sugar and save the chocolate version for weekends.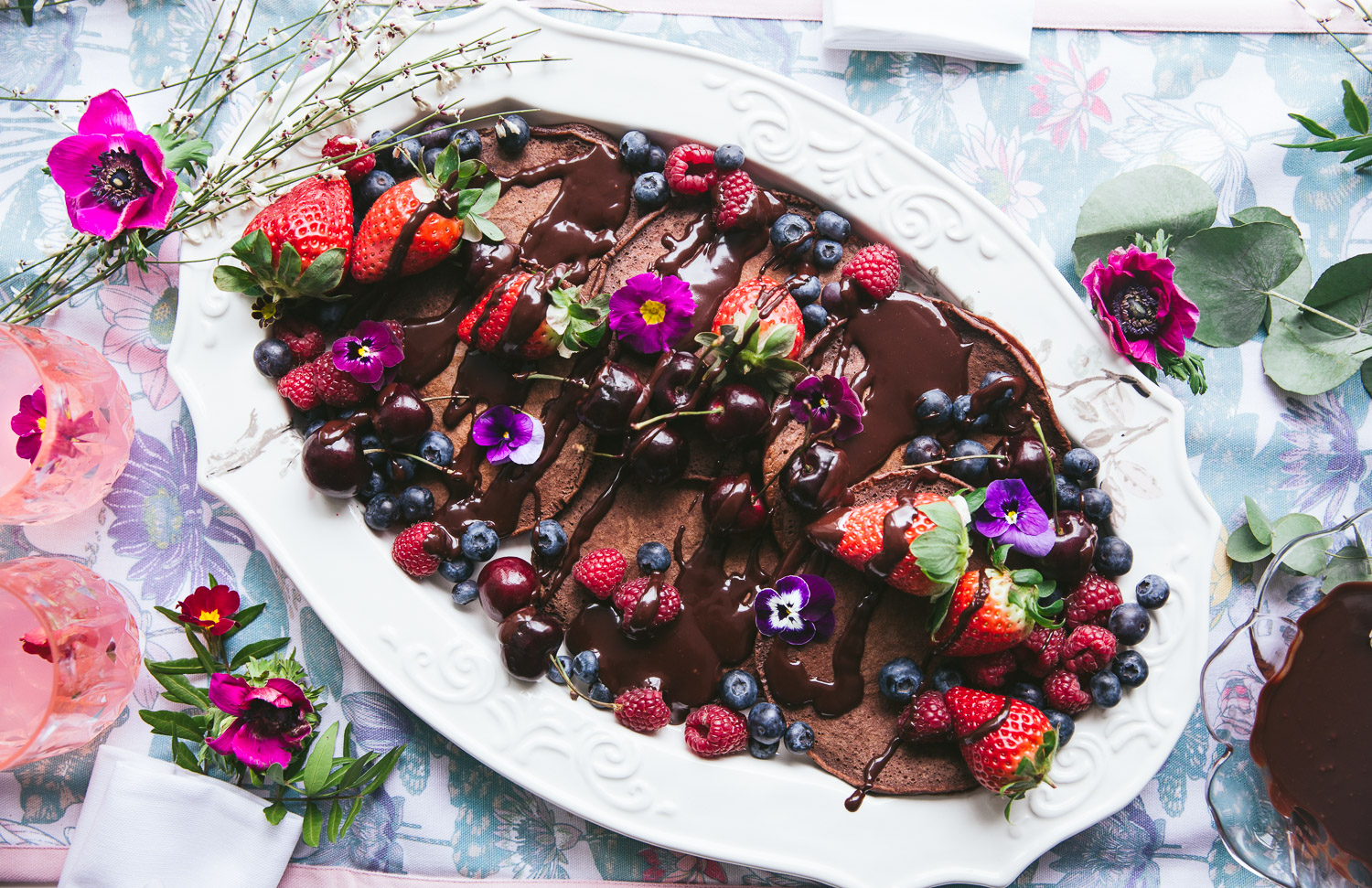 On the weekend I can spend a little more time dressing the dining table and turning things into grander affair! And there's nothing like the Belvedere dining range from Laura Ashley to make your table look spectacular.
I used the Soft Truffle Serving Platter as a beautiful centrepiece, it's a good size and has space to fit enough pancakes for 6 people to serve themselves. I teamed the platter with matching cake plates and forks set. The cake plates have a beautifully ornate floral design with detailed gold-coloured edging. For glasses, I chose to use the light pink acrylic tumblers and high ball glasses. Being acrylic they're great for kids and so authentic looking, they will be brilliant for using at picnics in the summer. For a final touch, I used the acrylic Daisy bowls to serve the chocolate sauce and fruit.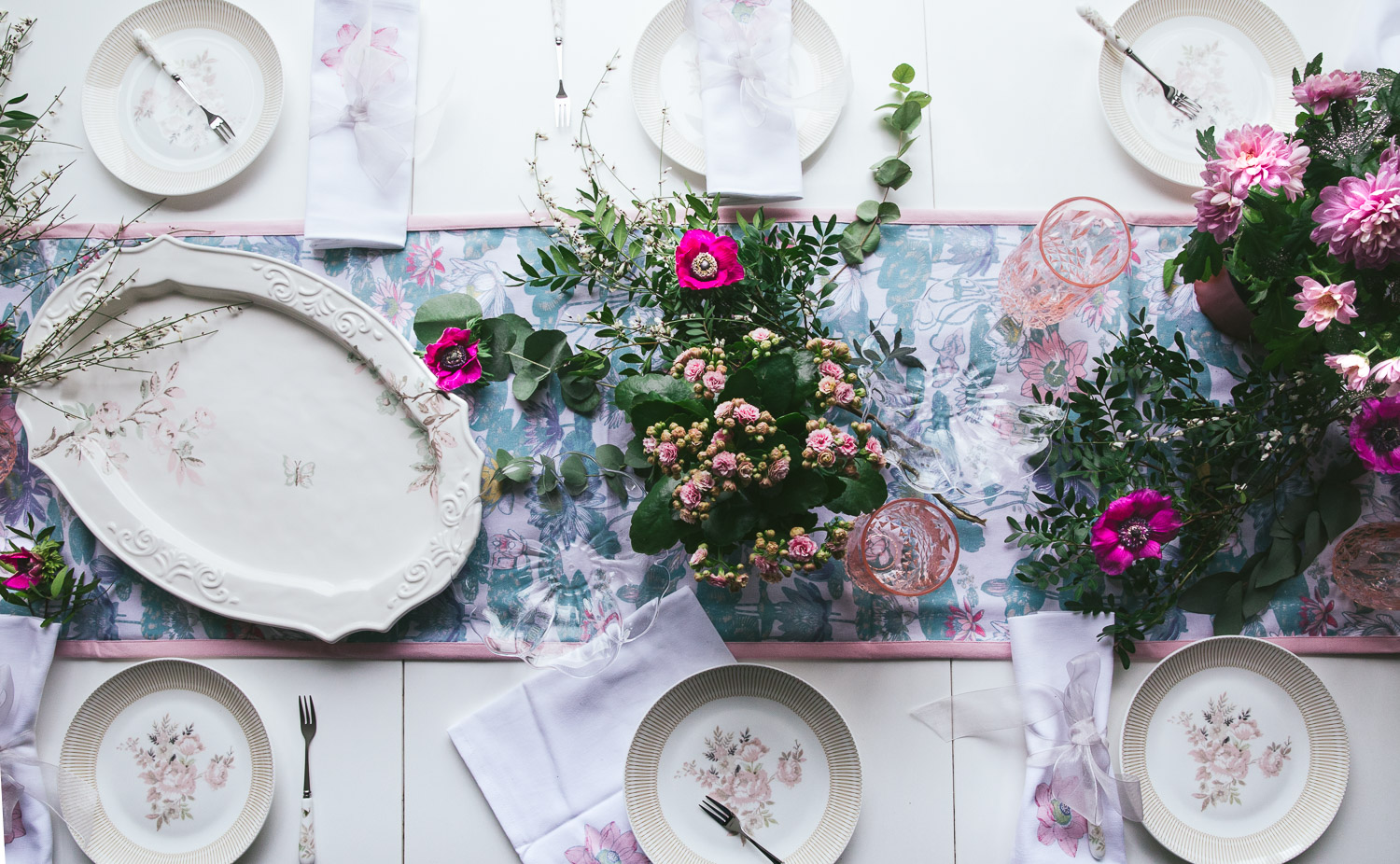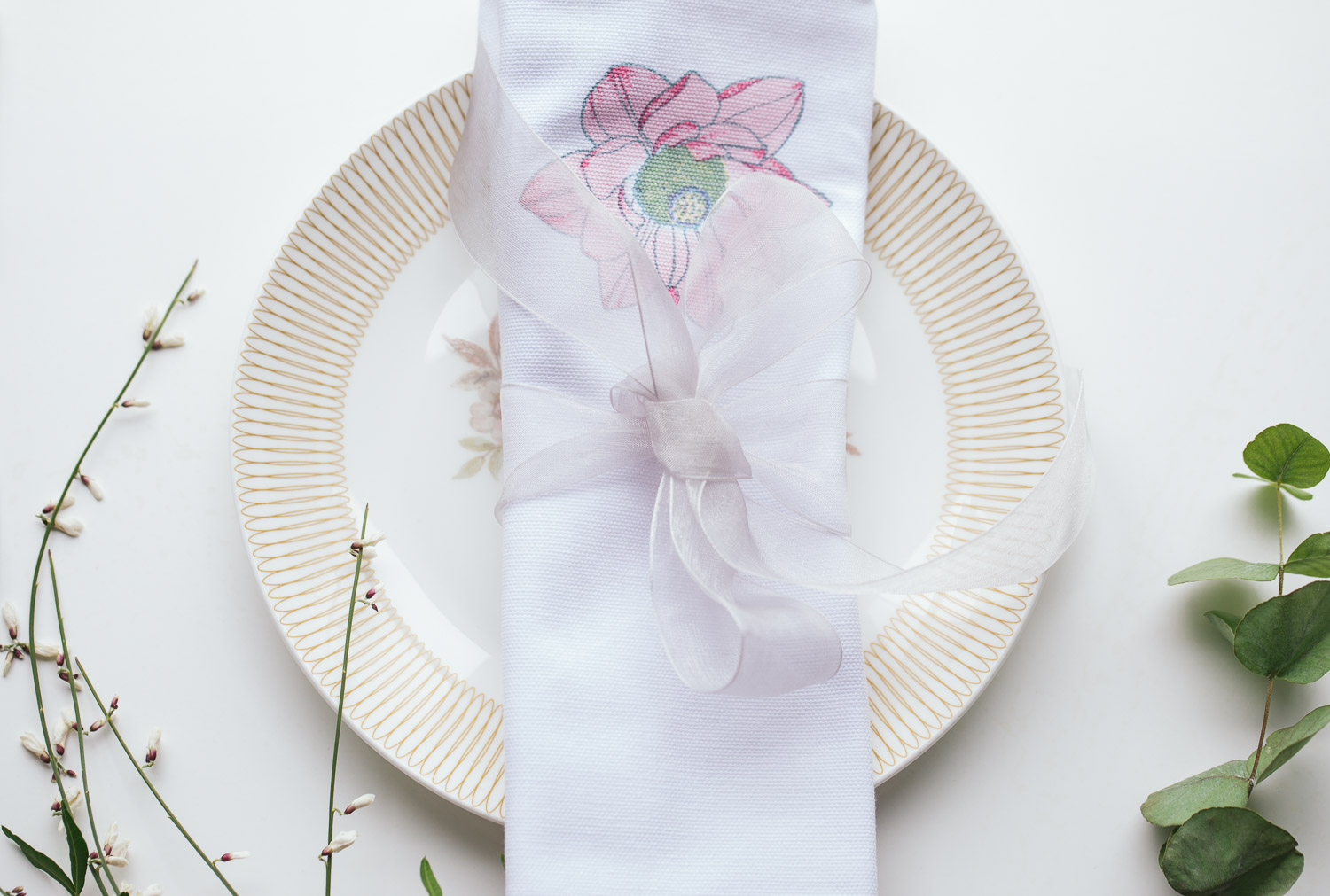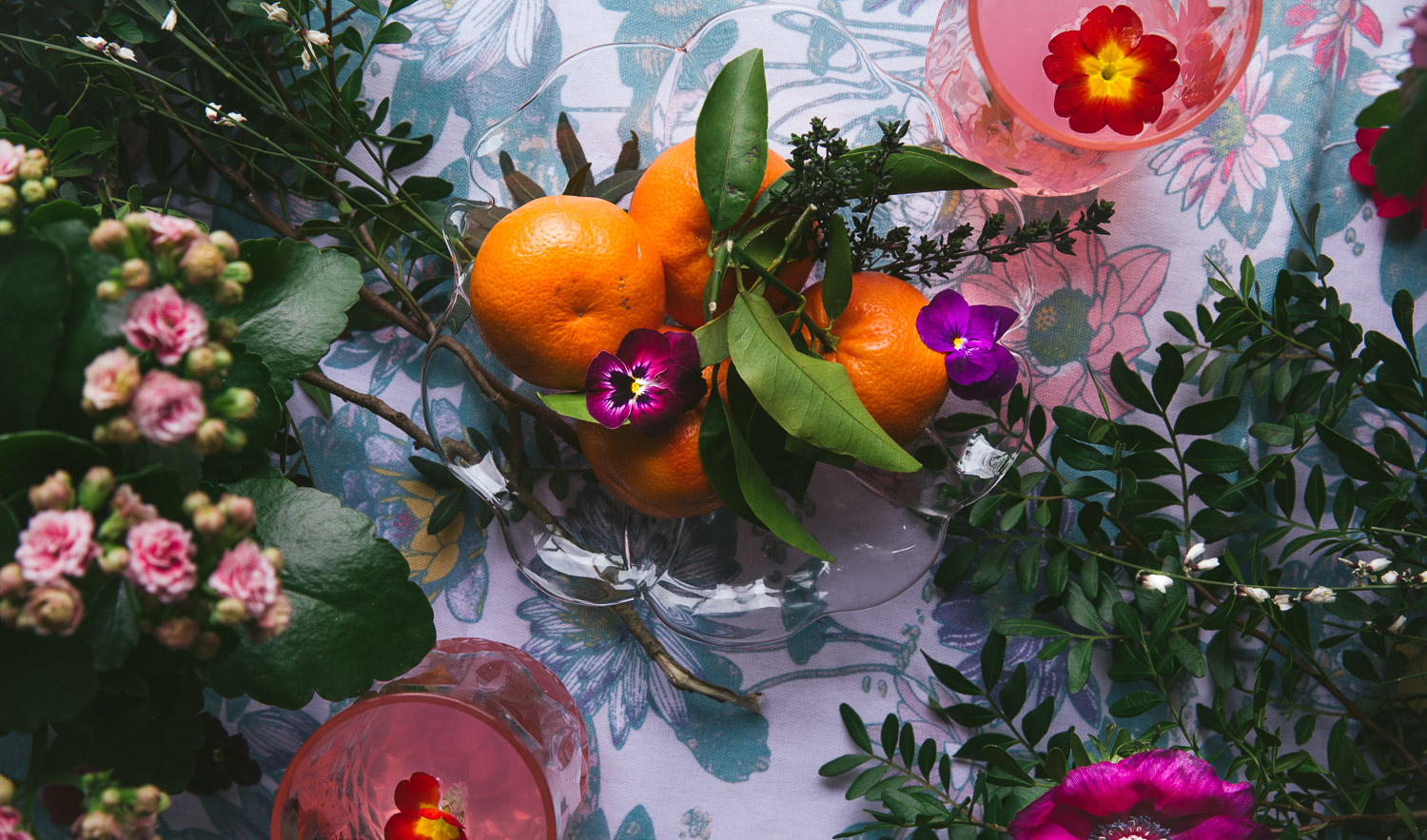 I love how the Belvedere range is so soft and neutral, it's very charming and pretty.
As you can probably tell, I'm a fan of matching tableware, however, because the whole dining range from Laura Ashley is so classy it can easily be mixed and matched.
Use a table runner and napkins in different colour-ways and patterns to give your whole table scene a lift.
Mixing and matching different pieces is really fun and means you don't have to stick to the same range every time yet you'll still enjoy a lovely cohesive theme.
Now that you have lots of ideas for a beautiful table setting, let's get on with making the double chocolate pancakes, shall we?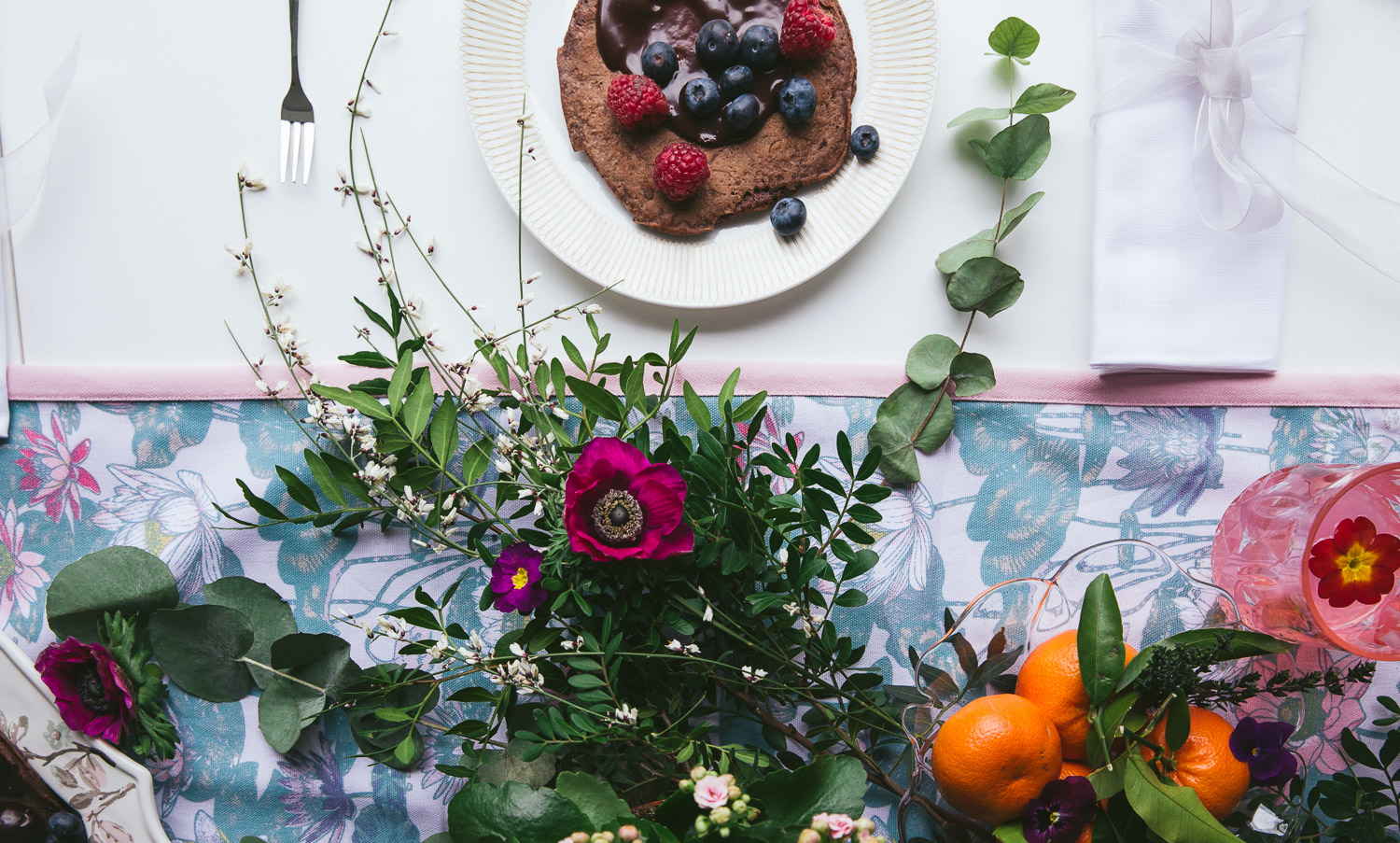 INGREDIENTS (makes 8 pancakes)
• 200g self-raising flour
• 40g cocoa powder
• 75g caster sugar
• 1/2 teaspoon baking powder
• pinch of salt
• 330ml whole milk
• 1 teaspoon vanilla extract
• 1 large egg
• knob of butter for frying
INGREDIENTS (chocolate sauce)
• 200g dark chocolate (I use Lindt 70% cocoa)
• 50g butter
• 200ml double cream
• 4 tablespoons light brown sugar
• 4 tablespoons boiling water
METHOD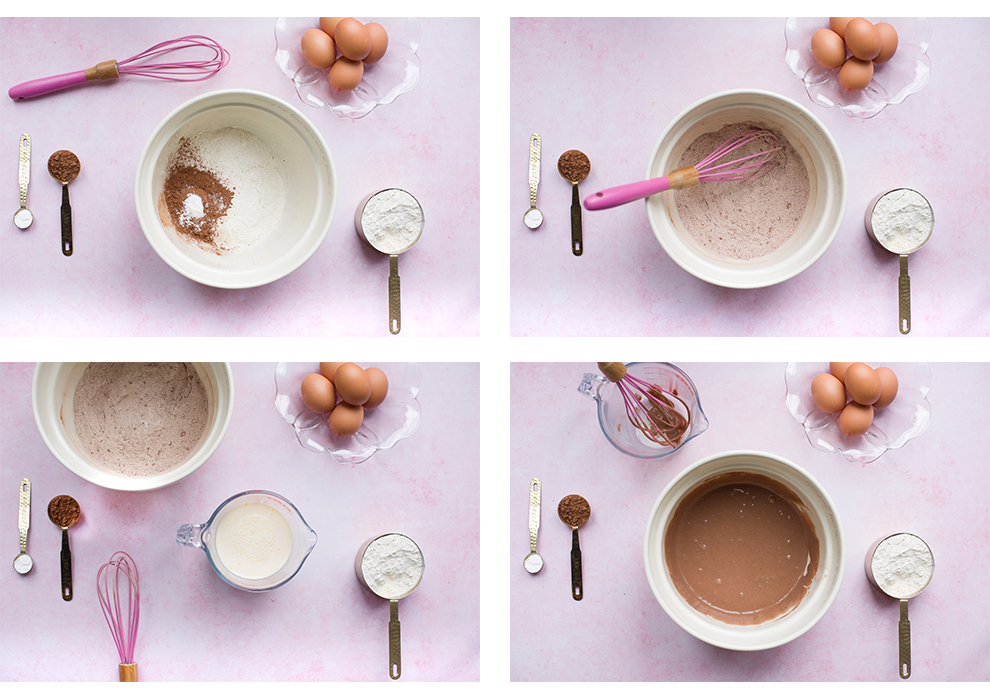 • Put the milk, vanilla extract and egg into a jug and whisk together.
• Pour the wet ingredients into the dry ingredients, whisking as you pour.
• Continue to whisk until you have a smooth batter with no lumps.
• Heat a frying pan over a high heat and add a small knob of butter.
• When the butter has melted and is bubbling pour on a ladle full of pancake batter.
• The batter will naturally form a circle. As we don't want the pancakes too thin, don't be
tempted to swirl the pan – just leave the batter to cook for a couple of minutes and then flip it
over and cook for another minute or two on the other side.
• Repeat until all the batter has been used up.
For the chocolate sauce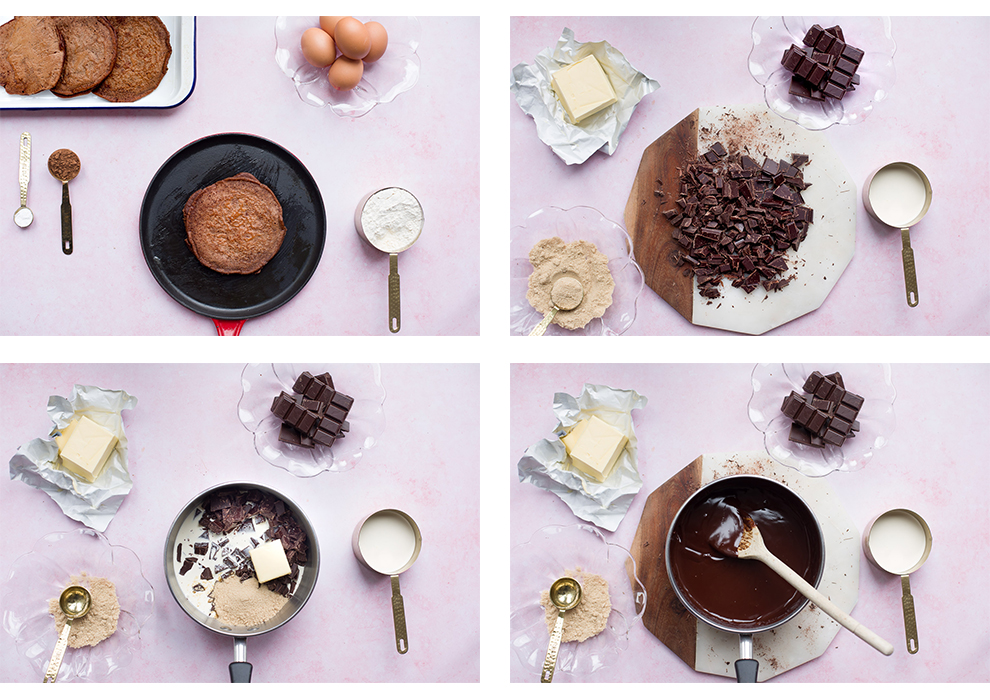 • Roughly chop the chocolate and put it into a saucepan along with the butter, cream and sugar.
• Heat on a very low heat and stir continuously until the chocolate and butter have melted.
• Remove from the heat and beat in 4 tablespoons of boiling water to make a thick, glossy,
and pourable chocolate sauce.
To serve, top the pancakes with fresh fruit and drizzle over plenty of chocolate sauce.
Happy pancake day!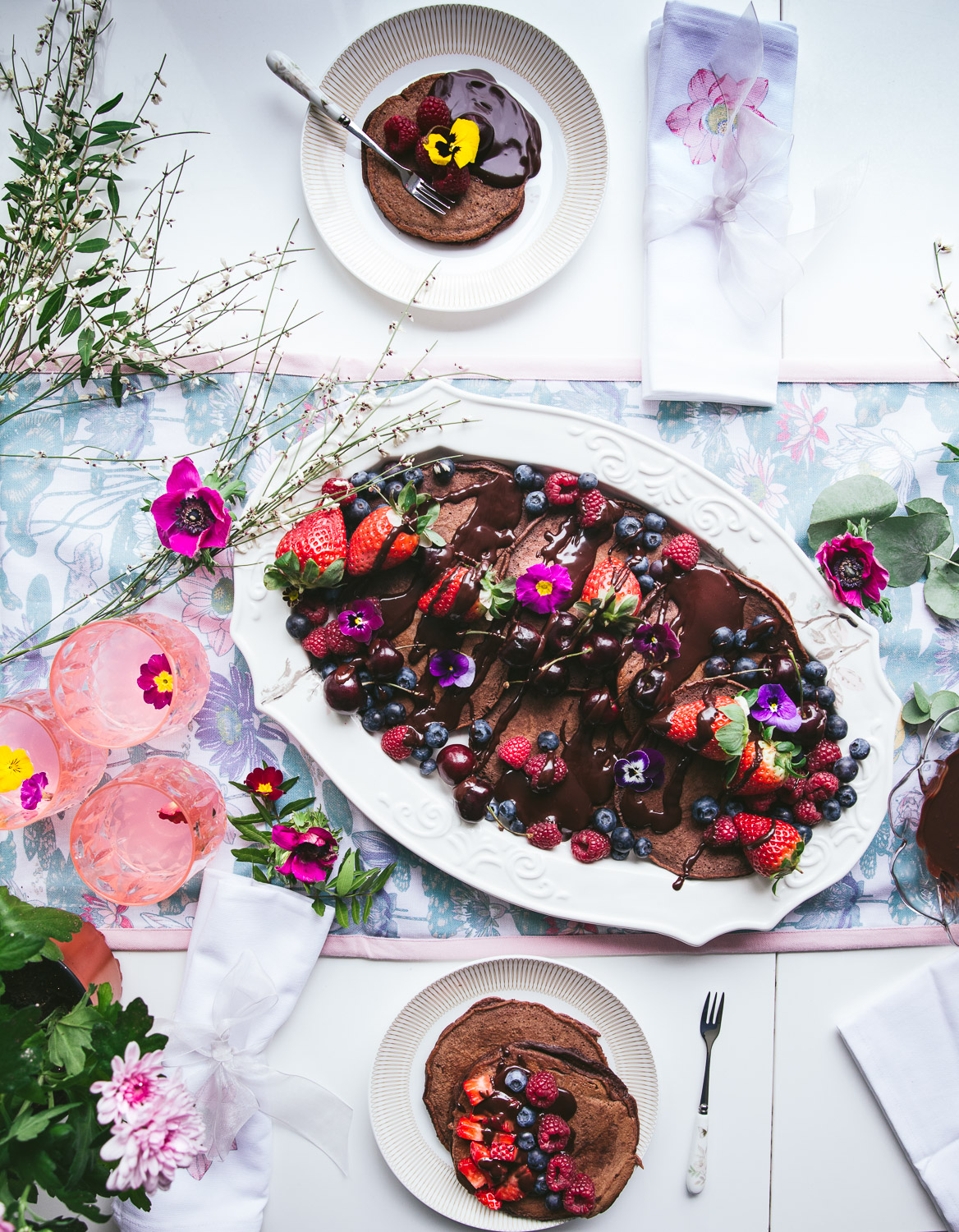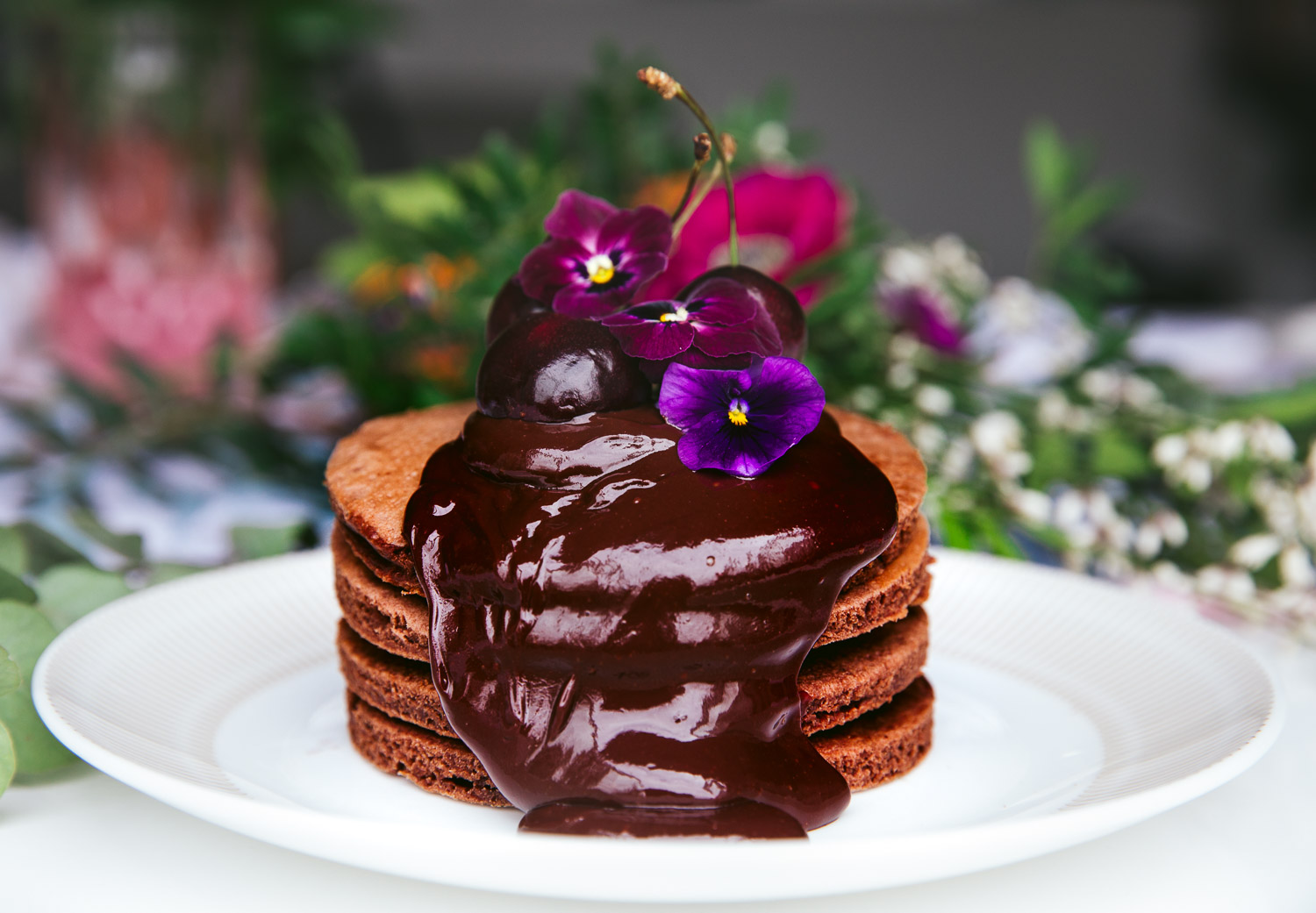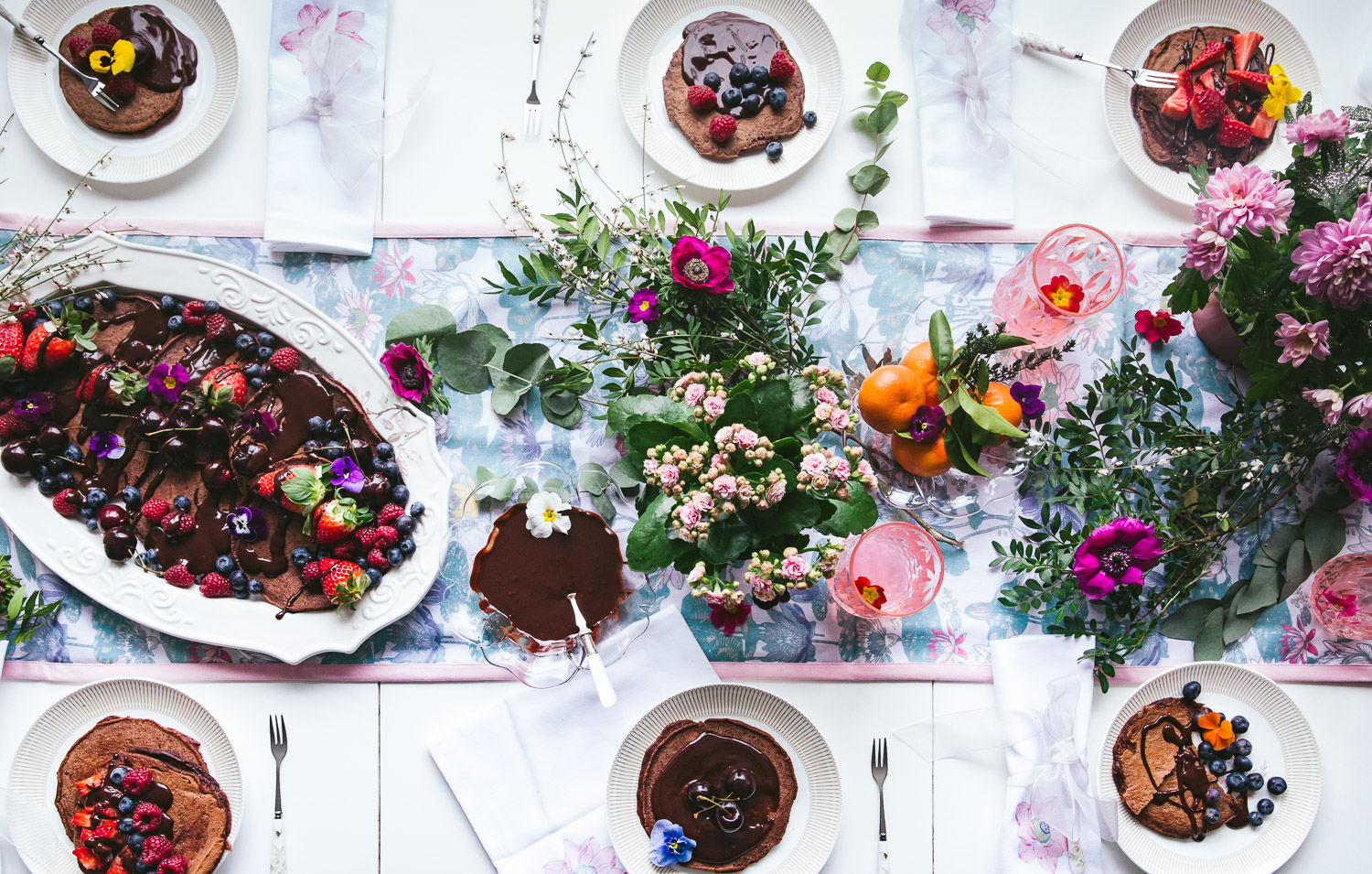 Inspired by this delicious recipe? Try it at home and let us know how you get on! Don't forget to tag us in your pictures: @LauraAshleyUK & @AmyTreasureBlog