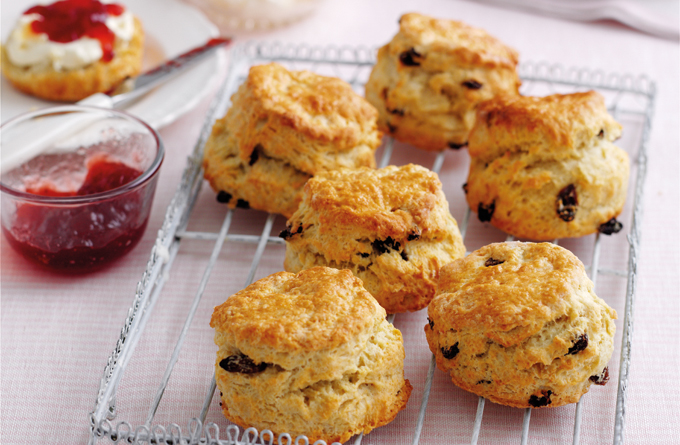 Master the perfect summer scone with the help of Mary Berry's fruity scone recipe... read more
The classic British scone will always have a place in our heart and in our stomachs! The best thing about them is their versatility, from high tea to picnics they lend themselves so well to all the seasons. This month we'll be devouring our homemade scones outside; a mid afternoon al fresco snack with friends or at a garden party…
Fruit Scones Recipe
My favourite way to serve scones is split open, rather than sandwiched together. That way, you get lots of jam and cream. They're best served warm, or make them ahead and reheat in a low oven. For plain scones, simply omit the sultanas.
Ingredients:
– 75g (2 1/2 oz) butter, chilled and cut into cubes, plus extra for greasing
– 350g (12oz) self-raising flour, plus extra for dusting
– 1 1⁄2 tsp baking powder
– 30g (1oz) caster sugar
– 75g (2 1⁄2 oz) sultanas
– about 150ml (5fl oz) milk
– 2 large eggs, beaten
Method
1. Preheat the oven to 220°C (fan 200°C/425°F/Gas 7). Lightly grease a large baking sheet.
2. Make a light crumbly dough: Put the flour and baking powder into a large chilled mixing bowl. Add the cubes of butter, keeping all the ingredients as cold as possible. Rub the butter in lightly and quickly with your fingertips until the mixture looks like fine breadcrumbs. Stir in the sugar and sultanas.
3. Pour 100ml (31⁄ 2fl oz) of the milk and all but 2 tablespoons of the beaten egg into the flour mixture. Mix together with a round-bladed knife to a soft, but not too sticky dough, adding a bit more milk if needed to mop up any dry bits of mixture in the bottom of the bowl.
4. Turn the dough out onto a lightly floured work surface, lightly knead just a few times only until gathered together, then gently roll and pat out to form a rectangle about 2cm (3⁄4in) deep.
5. Cut out as many rounds as possible from the first rolling with a 6cm (21⁄2in) cutter (a plain cutter is easier to use than a fluted one) and lay them on the baking sheet, spaced slightly apart. Gather the trimmings, then roll and cut out again. Repeat until you have 10 scones.
6. Brush the tops of the scones with the reserved egg. Bake for about 10 minutes, or until risen and golden. Remove and cool on a wire rack.
TIPS FOR GREAT SCONES
Scones need a light touch or they can become tough and heavy, so handle them as little as possible. Roll them out quite thickly to start with; they never rise as much as you think they will. As the
dough is quite deep, dip the cutter in flour before cutting out each scone to prevent the dough from sticking to it.
This recipe is an extract from Mary Berry's Cookery Course book