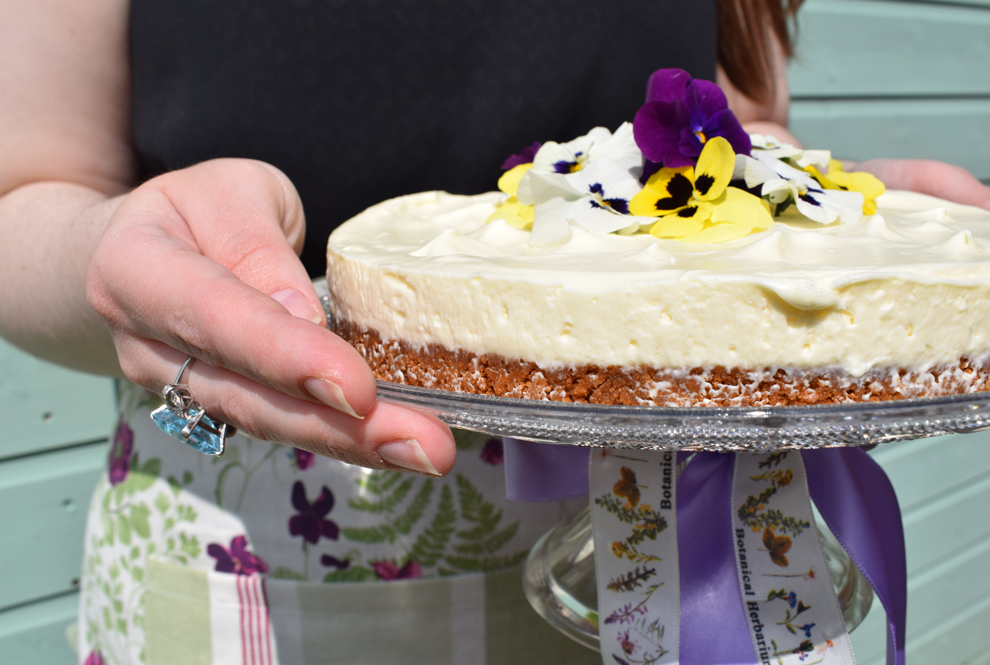 Blogger Louise shows us how to make the perfect lemon cheesecake... read more
For those lovely summery days (if we ever see the sun again) the perfect dessert has to be a nice refreshing cheesecake. The only problem we find is, one slice is never enough! Keen to see what a great cheesecake looks like we asked the fabulous Louise from The Vintage Room to share her delicious lemon cheesecake recipe with us, using a few Laura Ashley baking accessories to help…
When Laura Ashley asked me to take a look at their kitchen items to see if anything caught my eye I immediately fell in love with their beautiful Parma Violets range. I have a great fondness for vintage style florals and this range fits the bill perfectly! I was very excited when the box of goodies arrived and I couldn't wait to put them to use!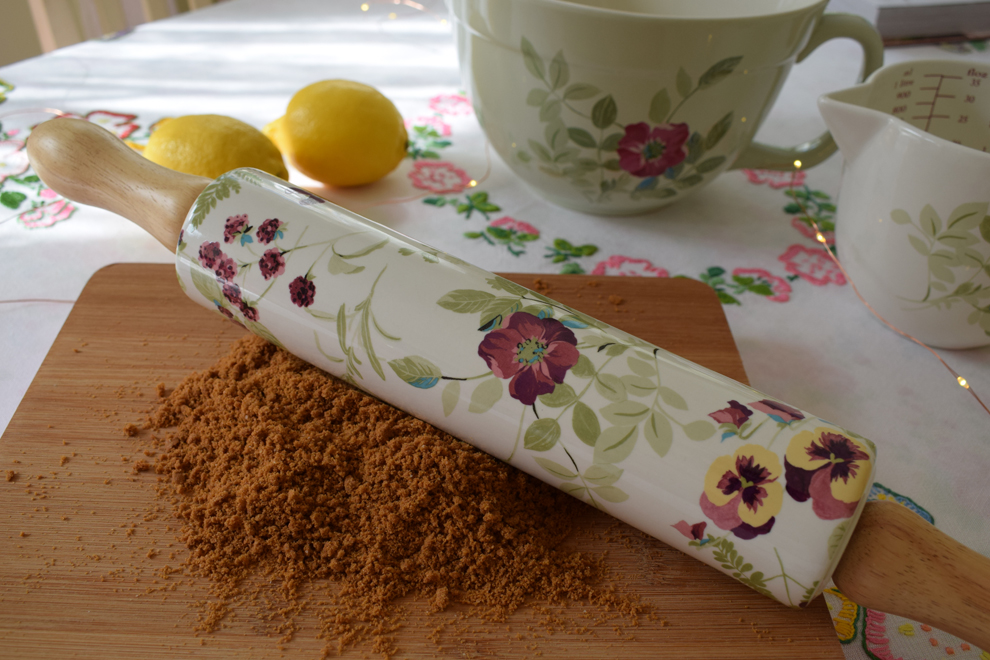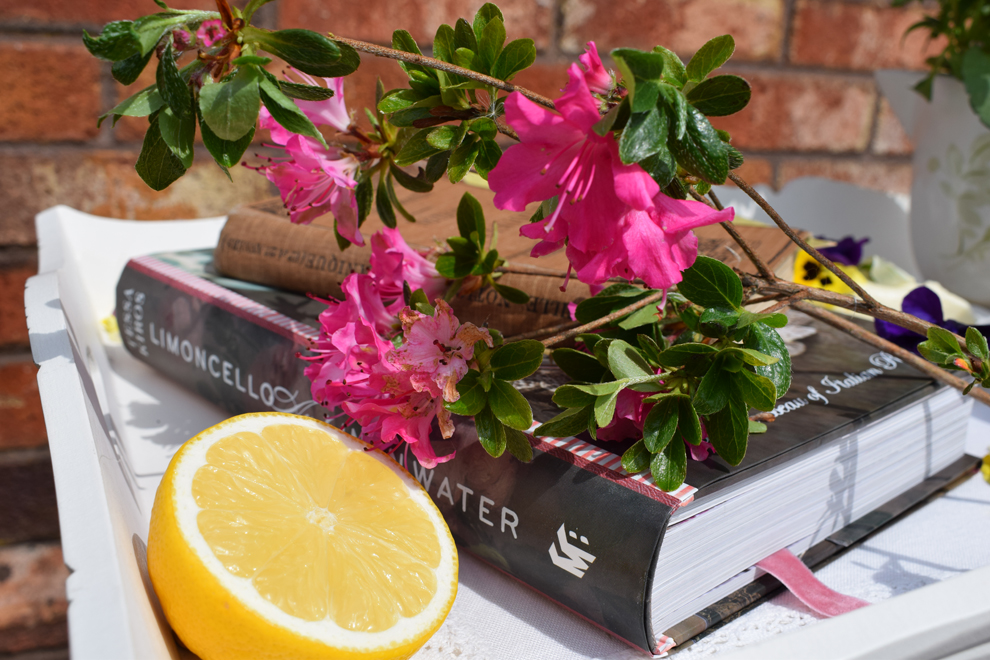 I love to bake and particularly enjoy making cakes and desserts so this was the perfect opportunity to get out my cookbooks for a browse through. One of my favourite cookery writers is Tessa Kiros, her books are packed full of the most gorgeous pics of beautiful vintage items and yummy recipes. I had such a wonderful surprise one morning when the postman knocked on my front door with a parcel for me and when I opened it, it was a copy of Tessa's stunning 'Limoncello and Linen Water' cookbook from my beautiful friend Natalia who lives in Sicily. Natalia has a business called Pink Essence Cake Couture and she herself is a superb and extremely talented cook and cake maker and I keep telling her that she should actually be writing her own book! So…..the recipe which I have chosen to share with you is from this gorgeous book and it's called Lemon Pie although to my mind it's more of a cheesecake. I love recipes that don't have lots of fancy ingredients and don't require much prep and this one is perfect on both counts!
Ingredients
125g butter
125g Marie (Petit Buerre) or digestive biscuits
250ml whipping cream
340g condensed milk
Juice of 2 large lemons
The Parma Violets items which I'd been sent were perfect for using in this recipe and I've taken step by step pics to show you them in action.
Instructions
1. Crush biscuits with rolling pin ( I used Lotus biscuits as that's what I prefer as a cheesecake base)
2. Melt butter and add crushed biscuits, mixing well.
3. Spoon base mix into a loose bottomed tin and press down until even
4. Put in fridge whilst preparing lemon mixture
5. Whip cream with an electric mixer until fairly stiff then add condensed milk and use hand whisk to incorporate into cream.
6. Quickly whisk in lemon juice and you will see the mixture thicken.
7. Pour lemon mixture over biscuit base and level before covering with cling film and put into fridge until set.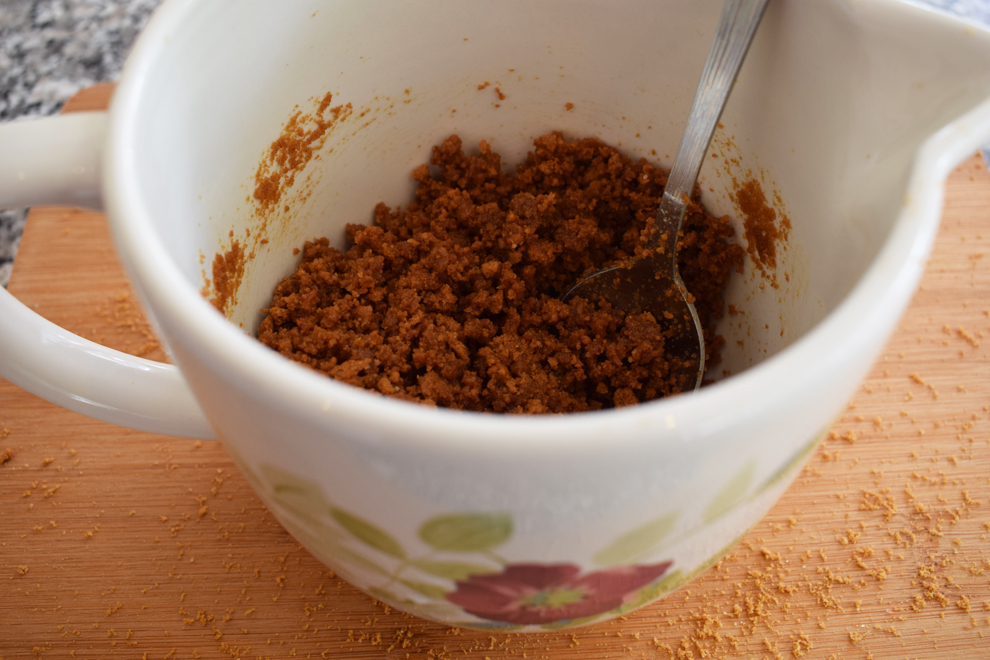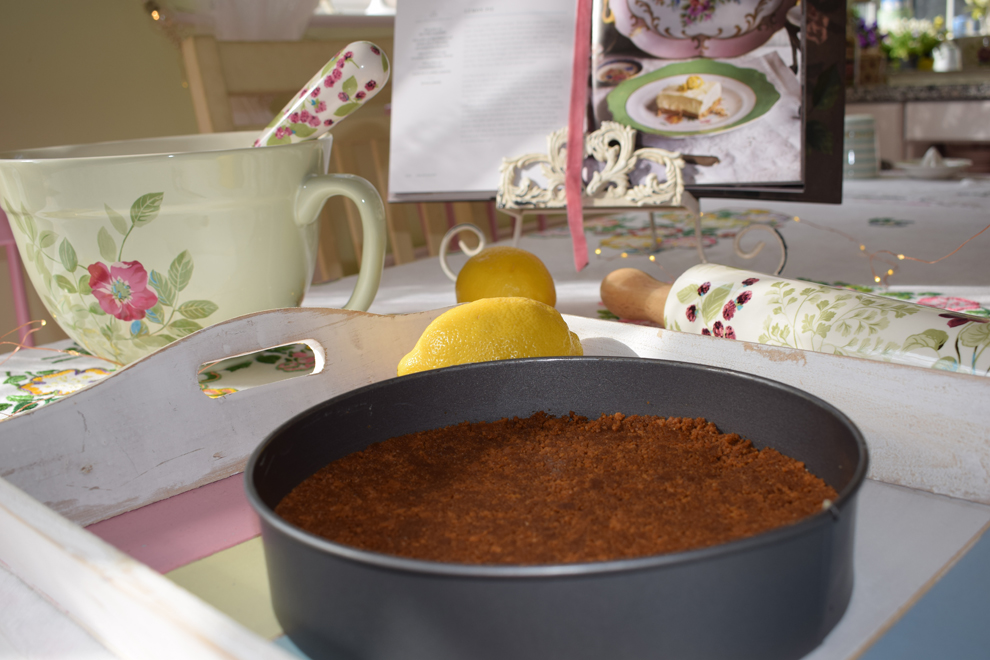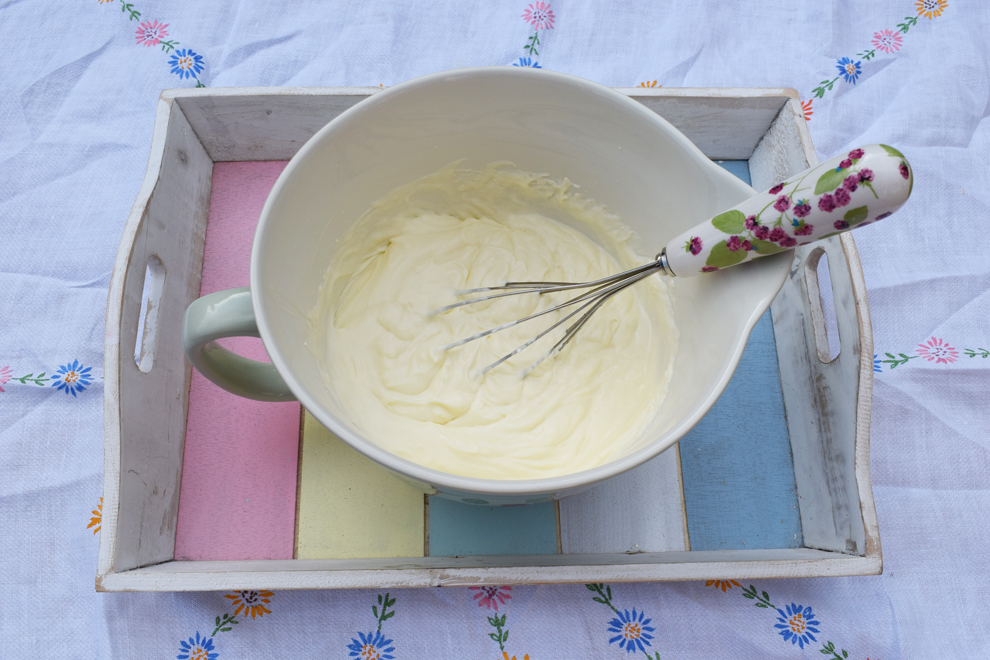 On this occasion I decided to decorate the cheesecake with edible flowers to make it look super pretty and summery. It's one of those desserts which is perfect for those lazy summer evenings in the garden and always goes down a treat with family and friends. I'm lucky enough to live near the wonderful Slemish Market Garden so I headed there to pick up some edible violas and of course snapped a few pics while I was there and even persuaded another customer to model the very pretty Parma Violets apron much to the amusement of her little girl!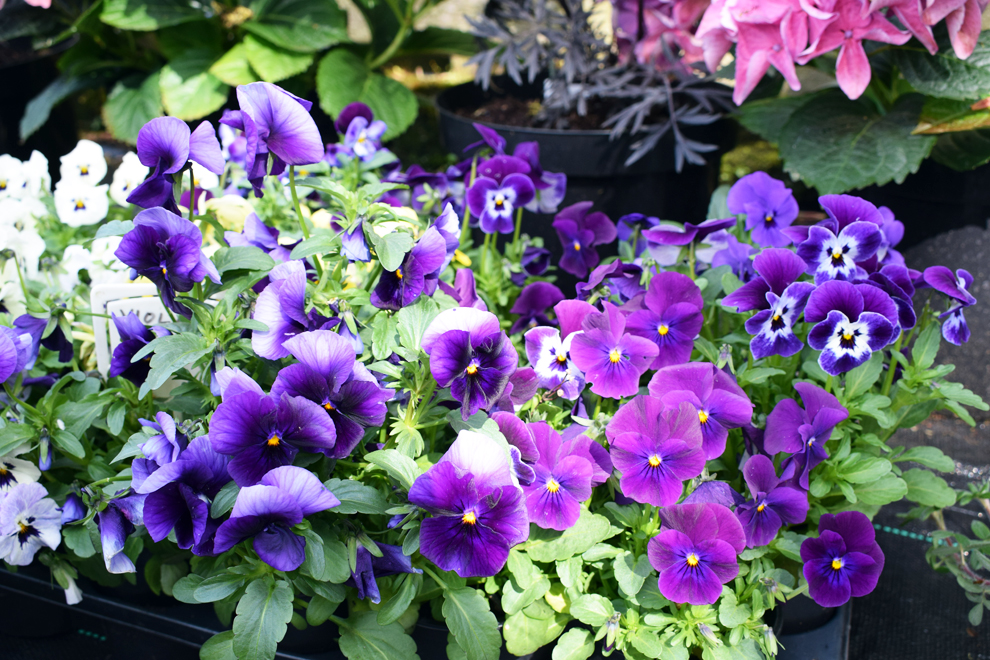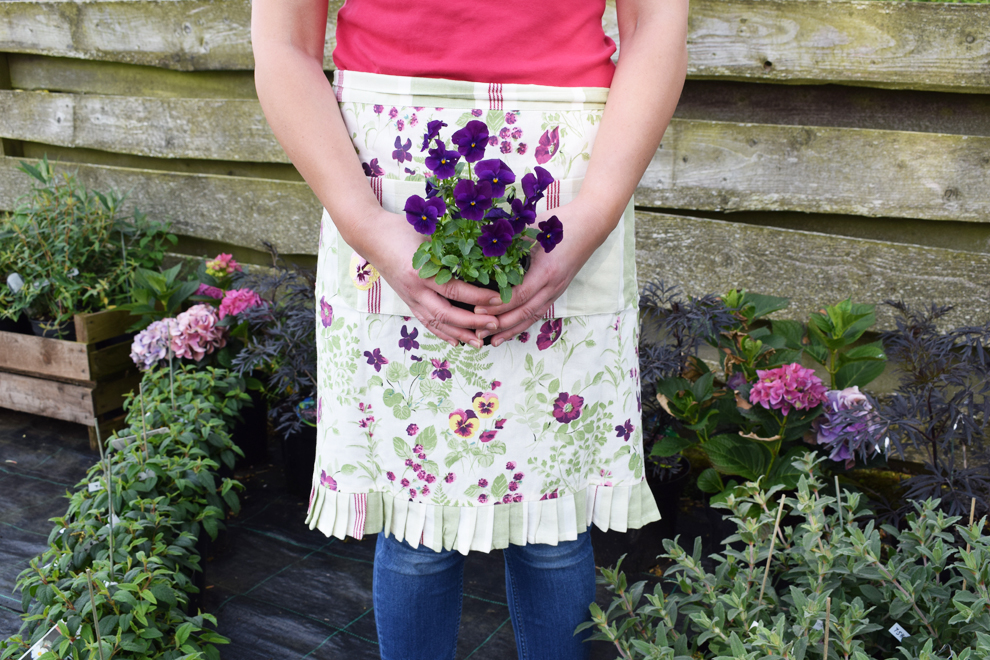 You can use the flowers just as they are or you can make sugared flowers, which last up to 3 months in a sealed container. Just always be careful to buy them from someone who knows you are using them as a food item so that you know they haven't been treated with pesticides.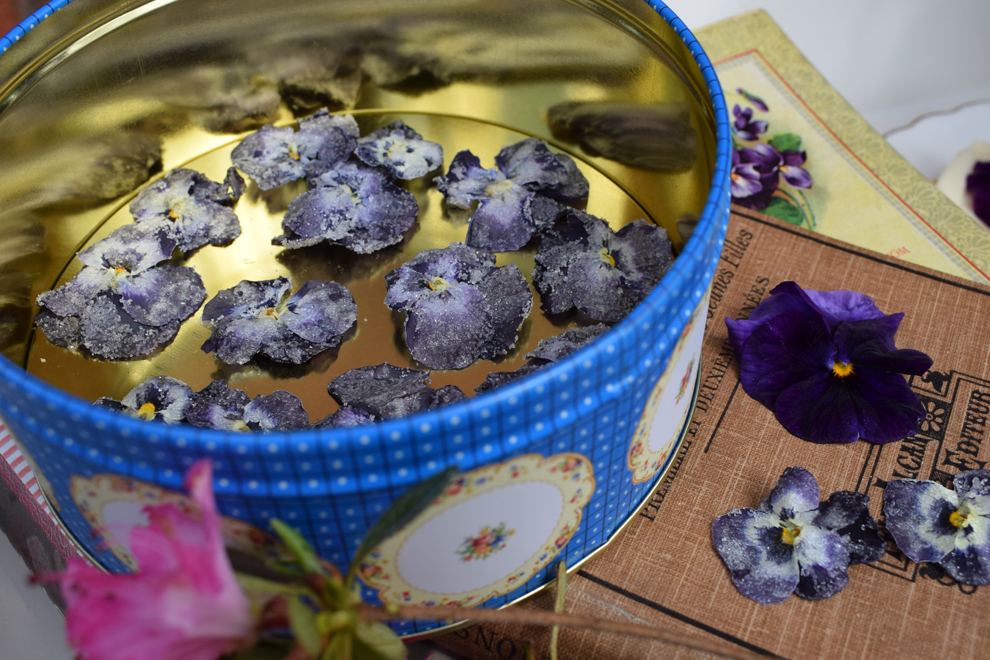 To make sugared violets first of all choose flowers with nice clean petals and snip them off with scissors. Then make an eggwash by whisking an egg white with a tablespoon of water. You then brush the eggwash onto petals with a small paintbrush and sprinkle superfine sugar over all parts of the flower. Place carefully onto a tray lined with baking parchment and leave to dry for 24 hours. They are very pretty and ideal for decorating desserts, cakes and cupcakes.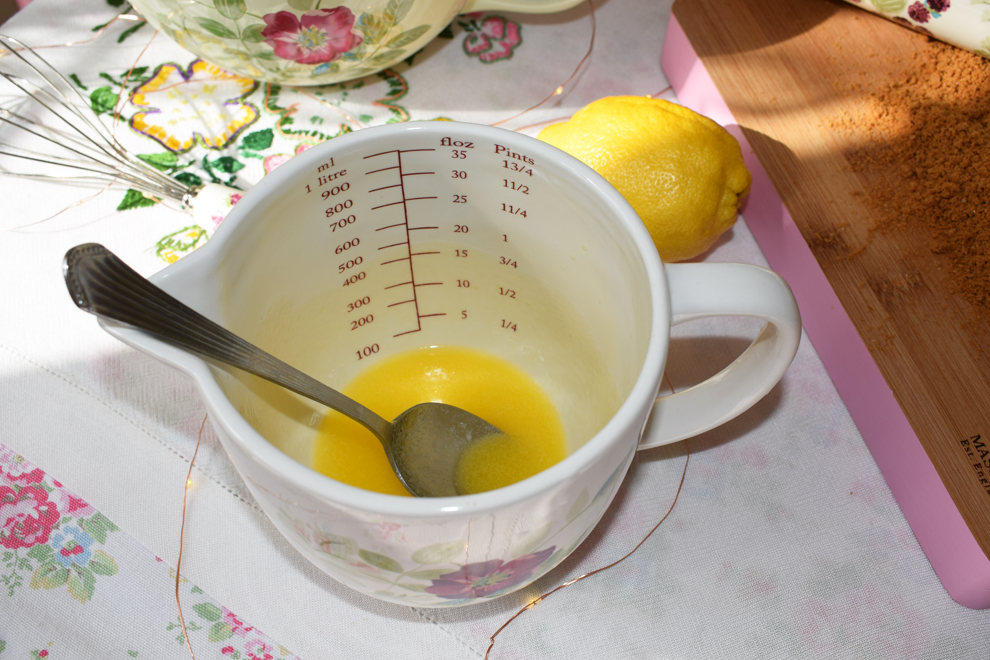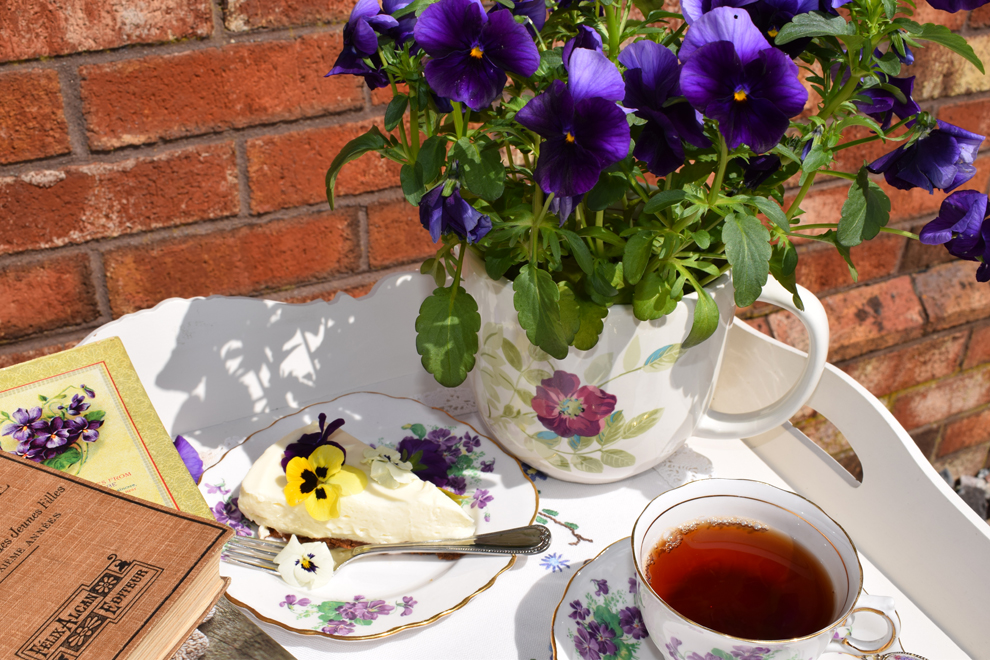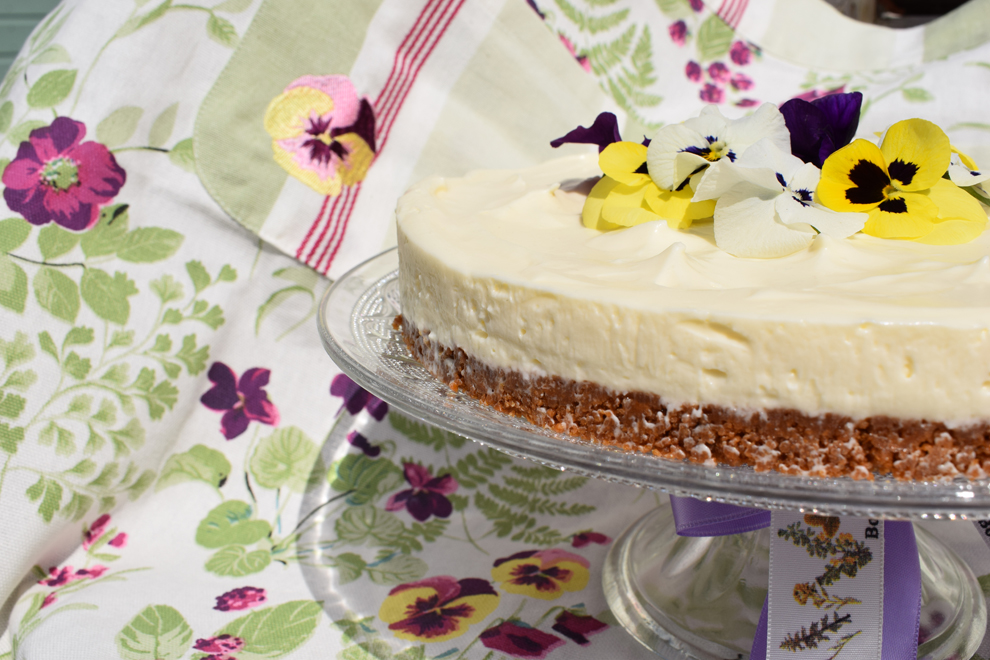 I decorated the cheesecake with fresh flowers and have kept the sugared ones to use for my next batch of cupcakes. As I have a large collection of vintage china I thought it was only fitting that I enjoyed a slice with a cup of tea in a lovely old Colclough teacup patterned with pretty violets. As usual I had plenty of willing volunteers to taste test the cheesecake and my friend Emma called for a piece on her way home from work and gave it a big thumbs up! Hope you've enjoyed reading and if you're looking for a no fuss, easy dessert then this is the perfect recipe!
Louise xxx
How tasty does this cheesecake look? Massive thank you to Louise for showing us how to make the perfect cheesecake. Are you inspired to try making this? Let us know below or on @LauraAshleyUK