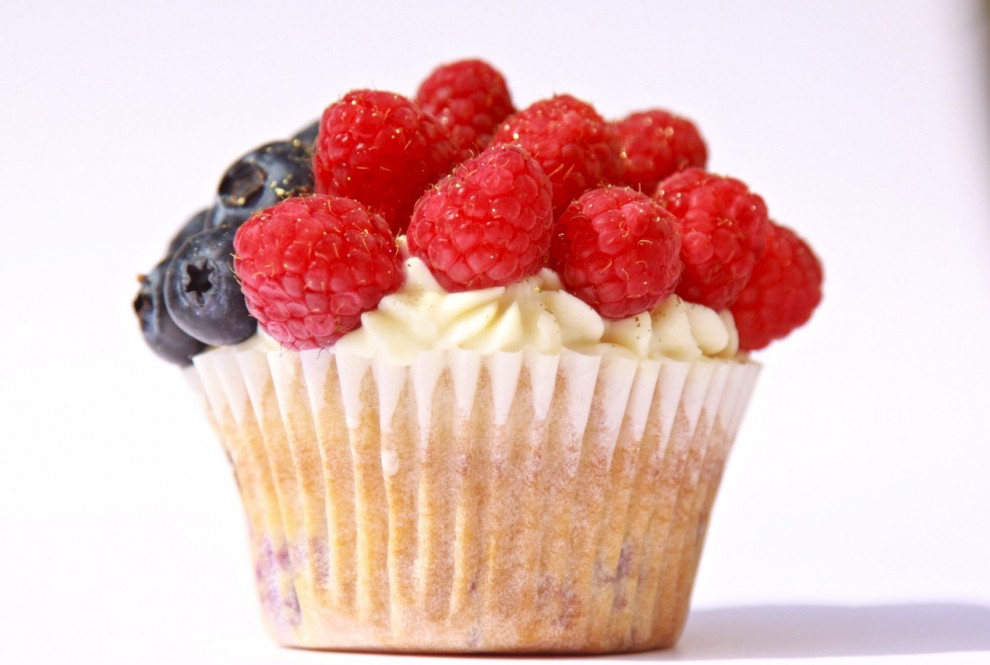 These delicious cupcakes are perfect for serving to guests or keeping all for yourself! read more
Kiss Me Cake is West London's answer to personally baked cupcake cakes, baked in small batches with a generous dollop of care. Ally (owner and chief baking officer) prides herself on supporting local farmers by buying all produce locally and using natural ingredients that have no preservatives or artificial colourings.
Ally has been baking since she was a small girl so we were delighted to get a slice of her baking know‑how with her delicious berry cup cake recipe below.
Ally says "The berries in this recipe will burst in your mouth as you bite into your cup! The bouncy poppy sponge is delicious with a cup of earl grey tea, or served as an impressive dessert for a Tea Party. Follow, devour and enjoy!"…
Cupcake Ingredients
Makes 12 Berry Cups
175g soft butter
175g golden caster sugar
2 large eggs
225g self‑raising flour
1 tsp baking powder
1 tsp vanilla pod
142ml carton soured cream
3 x 125g punnets blueberries
Dollop of Lemon Curd (optional)
Sprinkle of Poppy seeds (optional)
Step By Step
The Mix
Preheat the oven to fan 160C/ conventional 180C/gas 4. Add Cup cases to 1x 12 cup tin. Mix the butter and sugar with an electric mixer till light and fluffy, then add one egg at a time with a little sieved flour and repeat with the second egg and the rest of the flour. Mix again with the electric whisker. Add baking powder and vanilla to the mix. Beat with an electric mixer for 2‑3 minutes, or with a hand electric beater for 1‑2 minutes, until lighter in colour and well mixed. Beat in 142ml of soured cream, then stir in half the blueberries with a large spoon. Add poppy seeds for an extra poppy crunch! Add an optional dollop of Lemon Curd for an extra zingy taste. Using a large table spoon or a piping bag, add the mixture into the cup cases so that the mix is 2/3rds full in each case. Bake for 30-35 minutes until risen, slightly golden and feels firm to the touch and springs back when lightly pressed. Cool for 10 minutes and then take out each cup case from the tin. Finally to finish, cool on a wire rack and get ready for frosty time!
Kiss Me Cake Cream Cheese Frosting
To ice 12 cups (Generous dollops of Icing)
– 450g Full Fat Philly Cheese
– 50g Icing Sugar (Sieved)
– Big Dollop of Lemon Curd (3 tbsp)
– Raspberries (optional)
Mix the cream cheese on it's own to loosen the cheese up. Add the sieved icing sugar followed by the lemon curd and mix well. Add frosting to piping bag and squeeze away on to cooled cups! (be patient as the frosting will melt if the cups are too warm) Scatter with the remaining blueberries and optional raspberries for added decoration. The cups will keep in the fridge for a couple of days. Bring cups to room temperature for about an hour before serving. Guaranteed scrummy feedback from this delicious recipe!
Would you like to try making this cupcake recipe at home? Let us know in the comment below.