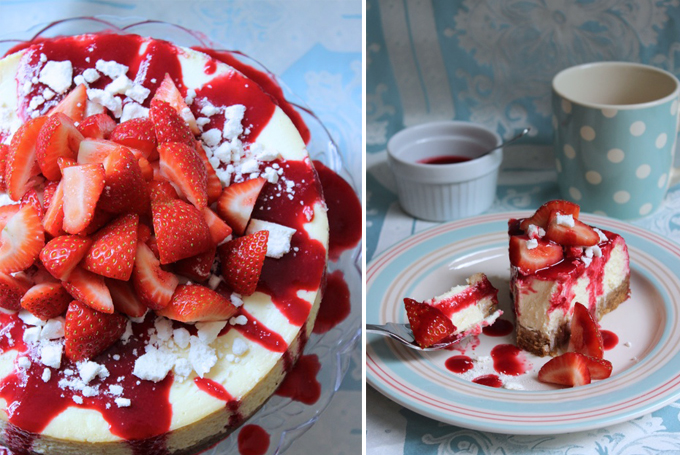 Serving up a scrumptious treat for summer, Jessica shows us how to rustle up her spin on an English dessert classic... read more
With an array of alfresco summer feasts in the diary, our mind's turn to what scrumptious dessert to bring to the occasion. Serving up a wonderfully sweet treat on the blog today, Jessica the baking extraordinaire behind the blog 'What Jessica Baked Next,' shares her delicious spin on a English classic Eton Mess…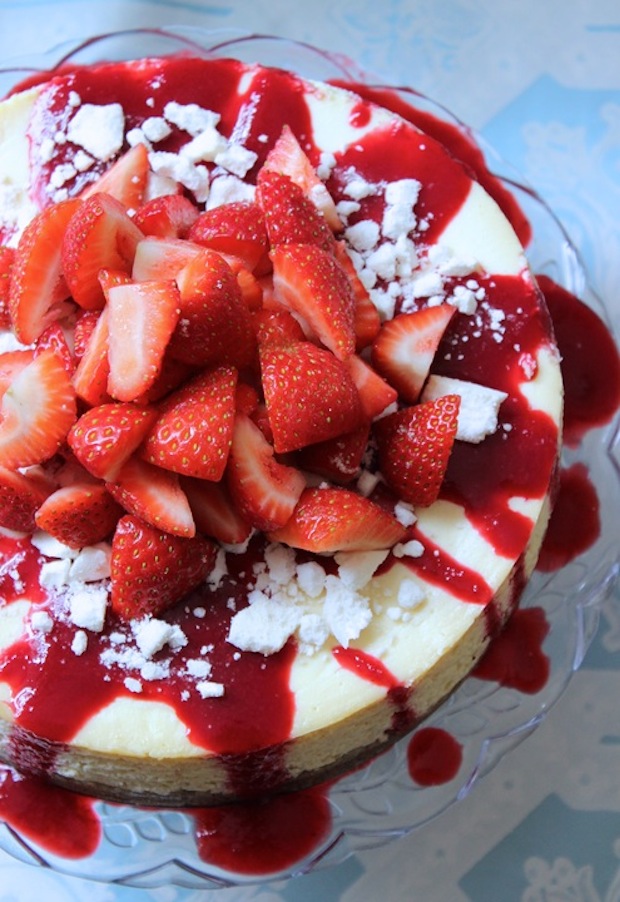 Dessert, cheesecake and summer – quite easily, my three favourite things. Whipping up a classic summer dessert, there was certainly one idea that sprang to mind instantly, Eton Mess. Possibly the most quintessentially 'English' dessert out there – luscious, fresh summer berries mixed with whipped cream and crumbled meringue. If that doesn't sound like the perfect dessert.. then I don't know what does! And, as I'm the world's biggest cheesecake fan, I thought it would be fun to combine my two favourite desserts and create an Eton Mess Cheese Cake. Light, summery and very decadent with the fruit and meringue topping, this decadent cheesecake simply tastes amazing…
Ingredients
Base
– 250g of crushed digestive biscuits
– 100g of unsalted butter, melted
Filling
– 600g of full- fat soft cream cheese at room temperature
– 250g of Italian ricotta at room temperature
– 3 large free- range eggs
– Zest and juice from 2 large lemons
– 200g of caster sugar
Raspberry coulis
– 300g of frozen or fresh raspberries
– 1 heaped tbsp of icing sugar
– 2 tbsp of each lemon juice and water
To decorate
– Fresh strawberries, sliced
– Crumbled meringue pieces
Using my favourite baked cheesecake recipe, I use ricotta for the mix, adding lemon zest and juice to give the cheesecake an extra burst flavour, perfect for summer. A crumbly, sweet digestive biscuit base is followed by a smooth, creamy layer of lemony ricotta mix and then topped off with a drizzle of fresh raspberry sauce, crumbled meringue and chopped fresh strawberries. This recipe is great for any occasion and it's sure to be enjoyed by anyone who tries a slice.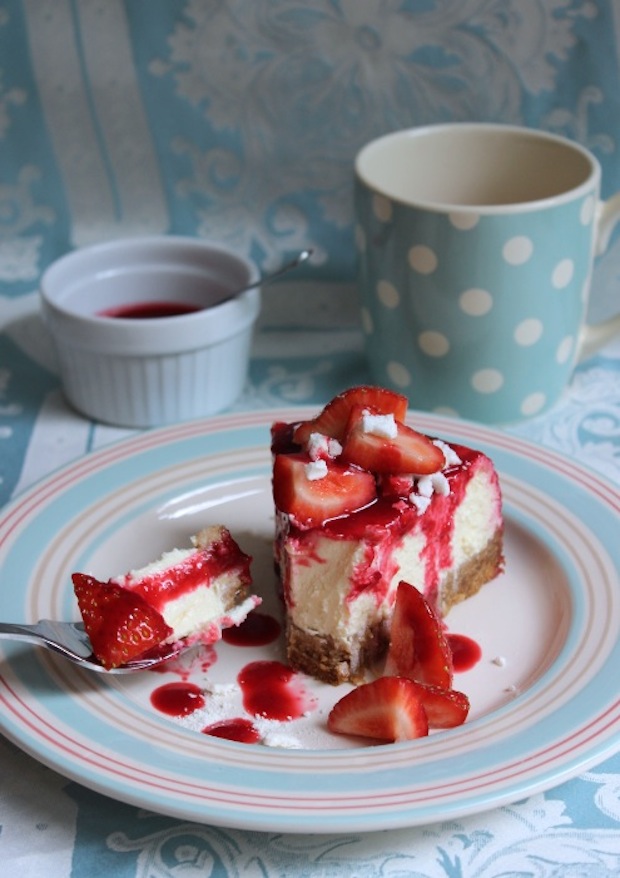 Instructions
1. Start by making the base: crush the biscuits until you have fine crumbs- you can do this in a food processor or in a disposable bag with a rolling pin. Mix the biscuit crumbs into the melted butter. Press down into a 23cm springform cheesecake tin and make sure it's really well compact. Place in the fridge whilst you make the filling.
2. For the filling: Mix the ricotta, cream cheese lemon zest and juice, eggs and caster until you have a really smooth mixture. Carefully pour the filling on top of the chilled base. Before baking, fill a deep baking dish with boiling water and place at the bottom of your oven. Bake at 140 degrees C Fan for 1 hour 10 minutes. Once baked, the cheesecake should be set around the outside, but should still have a slight wobble in the centre.
3. Then turn off the oven, leave the oven door open a little and allow the cheesecake to cool to room temperature. Once fully cooled, cover with some tin foil and place in the fridge to finish setting overnight- this is the vital step to stop the cheesecake top from cracking.To serve: Once the cheesecake has set overnight it will even more well set and will cut a lot easier- I serve the cheesecake with some raspberry coulis. Then top with strawberries and crumbled meringue.
My Top Eton Mess Tips
Always fill a baking dish with boiling water and place at the bottom of your preheated oven. This creates a steamy environment in the oven and the cheesecake will bake more evenly. Once the cheesecake has cooked for the full amount of time, turn off your oven, leave the cheesecake inside with the door ajar. It will slowly cool down to room temperature and won't crack on top- never put a warm cheesecake straight in the fridge. When decorating, top with the sauce, crumbled meringue and strawberries just before serving. Note: the cheesecake can be made in advance and left to chill in the fridge completely covered for 2 days before decorating with the toppings.
Gloriously delicious, this cheesecake is a great Summer dessert. It's fresh, fruity and very moorish. Enjoy!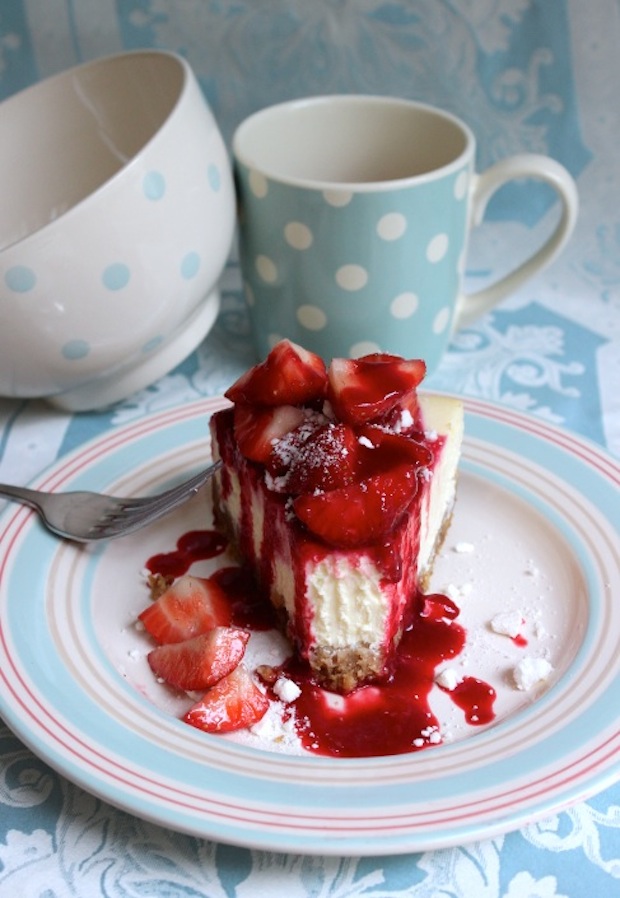 Make sure to book-mark Jessica's blog to peruse her other delicious creations, her Paprika Roasted Potatoes is top of our list.
Are you tempted to recreate this Eton Mess Cheesecake? Let us know in the comments below.