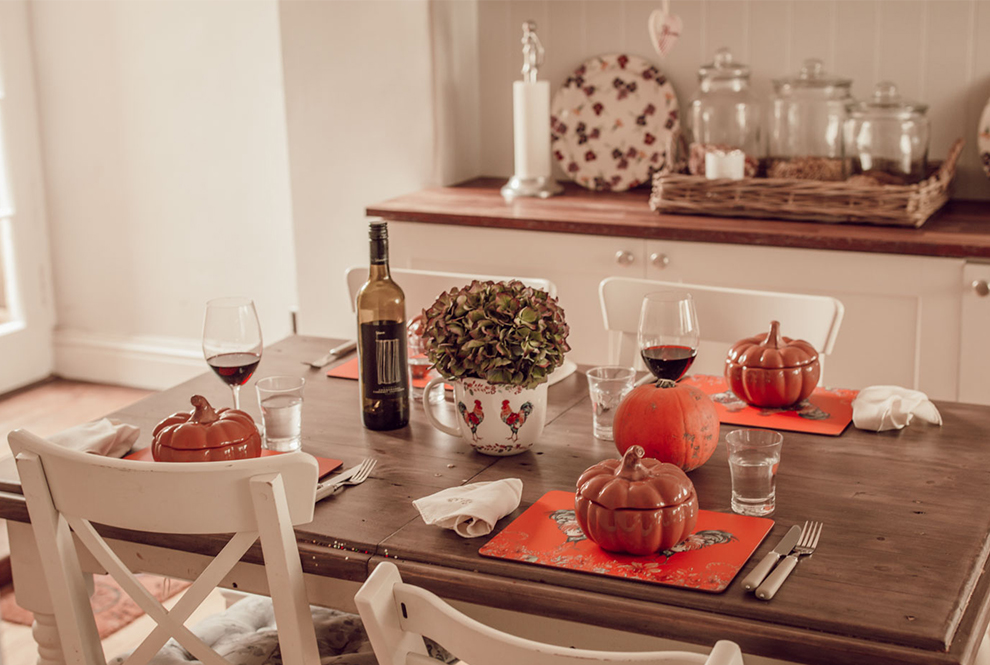 Sara Quaglia shares a must-try meal the whole family will love read more
Autumn is just around the corner, so it's time to start decorating, getting ready and learning new seasonal recipes for the months ahead. Sara Quaglia shares a recipe even her little children love. Keep reading to learn how to make her delicious Italian mushroom risotto.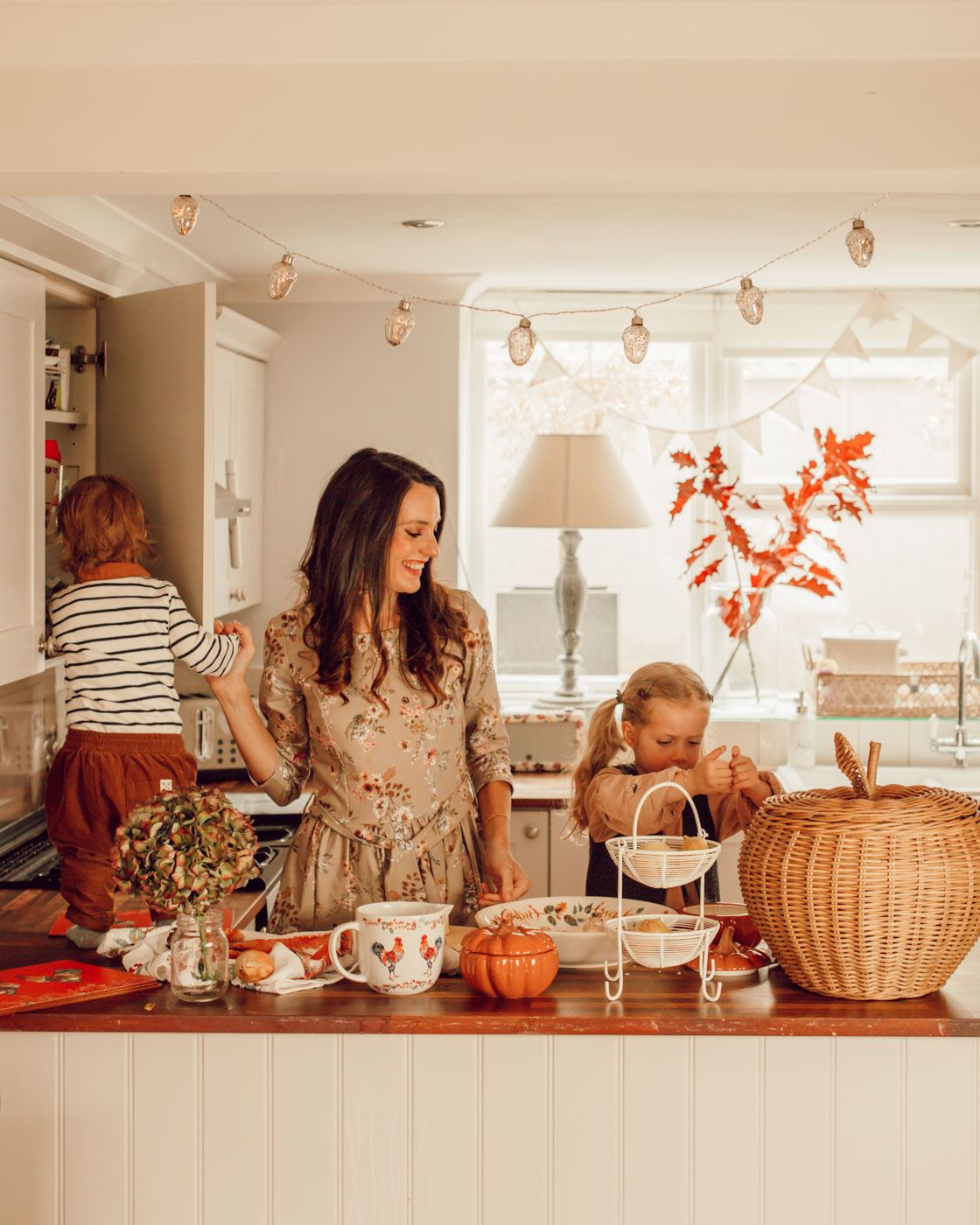 Autumn is one of my favourite seasons, if not THE favourite. I know that for some it's a bit depressing to let the summer go. However, for me, September is when a new year starts. It's the time for projects and ideas. The time to fill your wardrobe with cosy knitwear and create a welcoming atmosphere indoors.
I always decorate my house for autumn. I adore adding dried hydrangeas, pumpkins and taking out cupboards with candles. I take inspiration from the Americans who seem to be the masters of autumnal decor.  Anyone that knows me, knows that I'm not a big fan of cooking, nor is it something I shine at. However there are some dishes that are part of my traditions and I take joy to make them as they remind me of my childhood in Italy.
Where I'm from, in September and October, a lot of villages host autumn fairs where you can buy seasonal products such as truffles, mushrooms, chestnuts and, of course, pumpkins. I remember as a child I would often attend those fairs on a Sunday and afterwards we'd head to my grandmothers for a huge Sunday lunch.  Being an expat means that it's hard for us to have family gatherings however, when the days are getting shorter, I take great pleasure in cooking with the kids. They love it but they eat all the ingredients so I always have to count for some extra!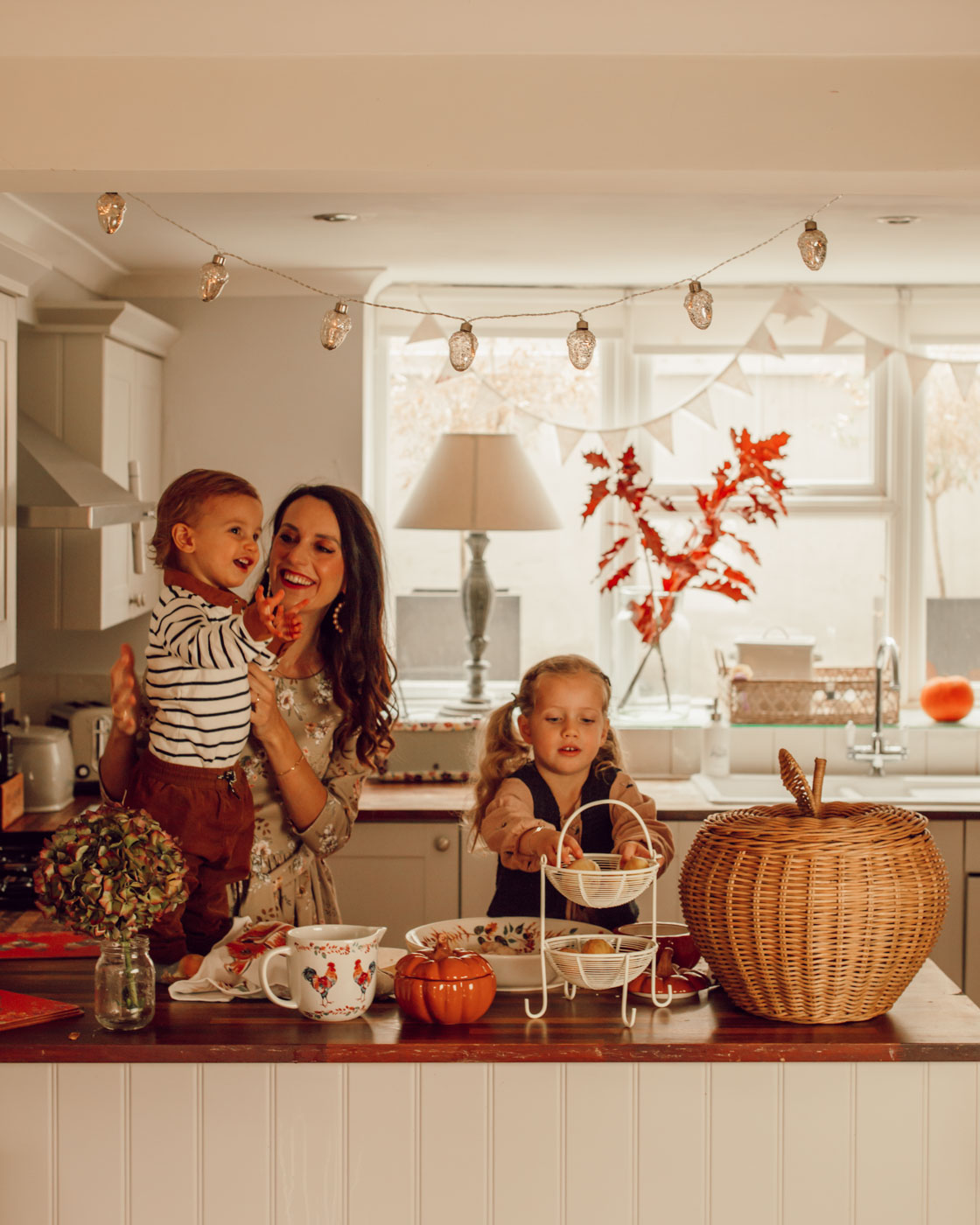 One of my favourite autumnal dishes is a mushroom risotto — we make it so often in Italy. It's so creamy and yummy that even Harvey (aka the worst eater) loved it! He was sitting for 10 minutes trying his best to feed himself, I think that we might have broken a record there! I thought it would be lovely to share the recipe with you so that you can try it as well.
Ingredients for 6
* 400 gr. of rice
* 400 gr. of mushrooms
* 100 gr. of butter
* Olive oil as needed
* Garlic
* 1 yellow onion
* 1 liter of vegetable broth
* 1 glass of white wine
* 100 gr. of parmesan cheese
* Salt and pepper
* Parsley
* 100 ml. double cream
Method
Add the oil, the crushed garlic, the chopped onion and half of the butter in a big pan, let it fry until golden. Add the rice and the glass of wine and stir for 5 minutes.
Start adding the broth little by little and keep steering, after 5 minutes you can add your fresh mushrooms.
Keep stirring and slowly pour in the cream. Keep adding the broth when needed and let the rice cook for another 15 minutes. Keep stirring to avoid that the rice sticks together.
When the rice is ready, turn off the fire. Add salt and pepper as needed, add the fresh parsley, the parmesans cheese and the rest of the butter. Let the rice rest for 5 minutes, stir and it's ready to be served!
Enjoy it with a glass of red wine!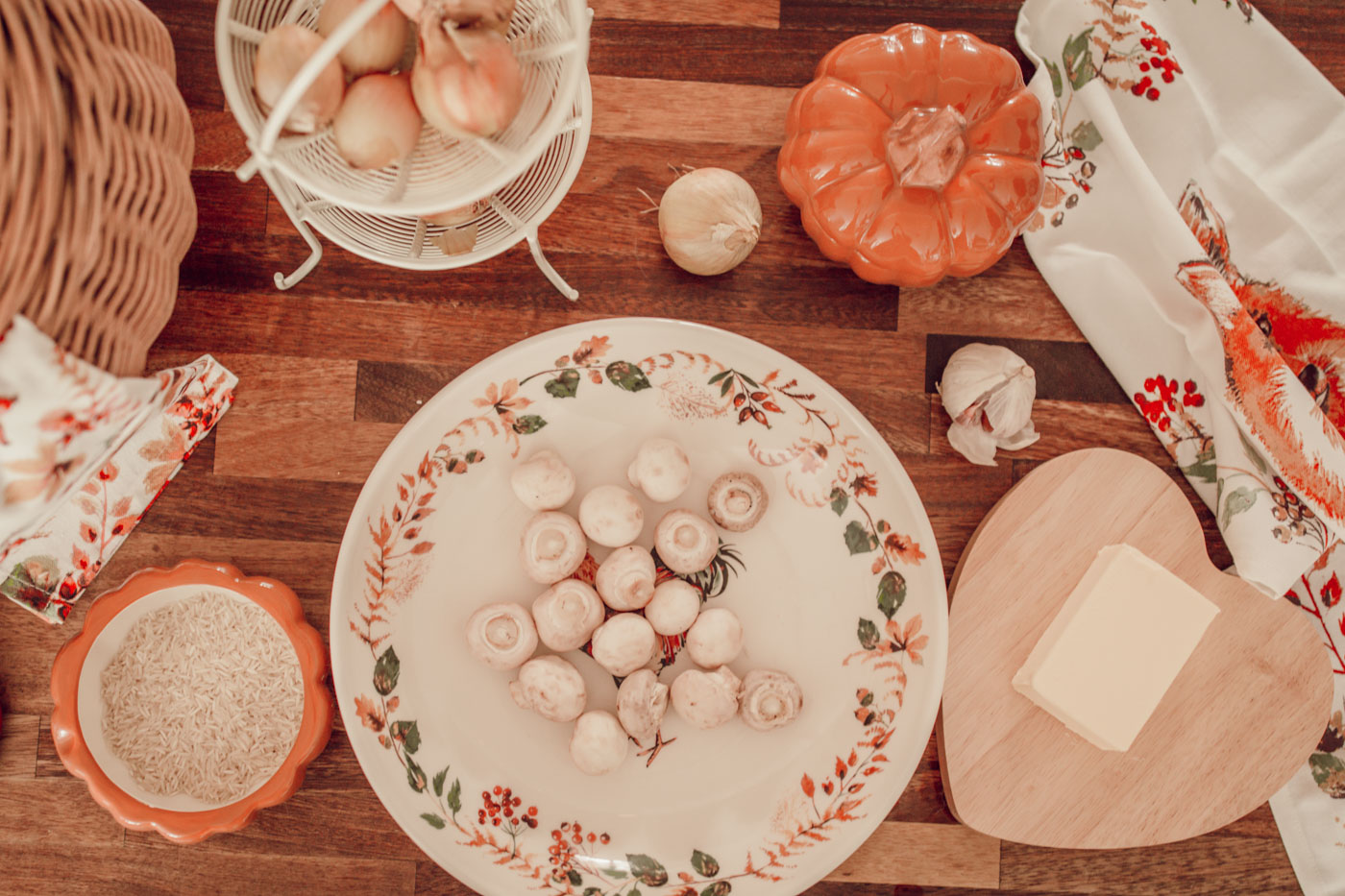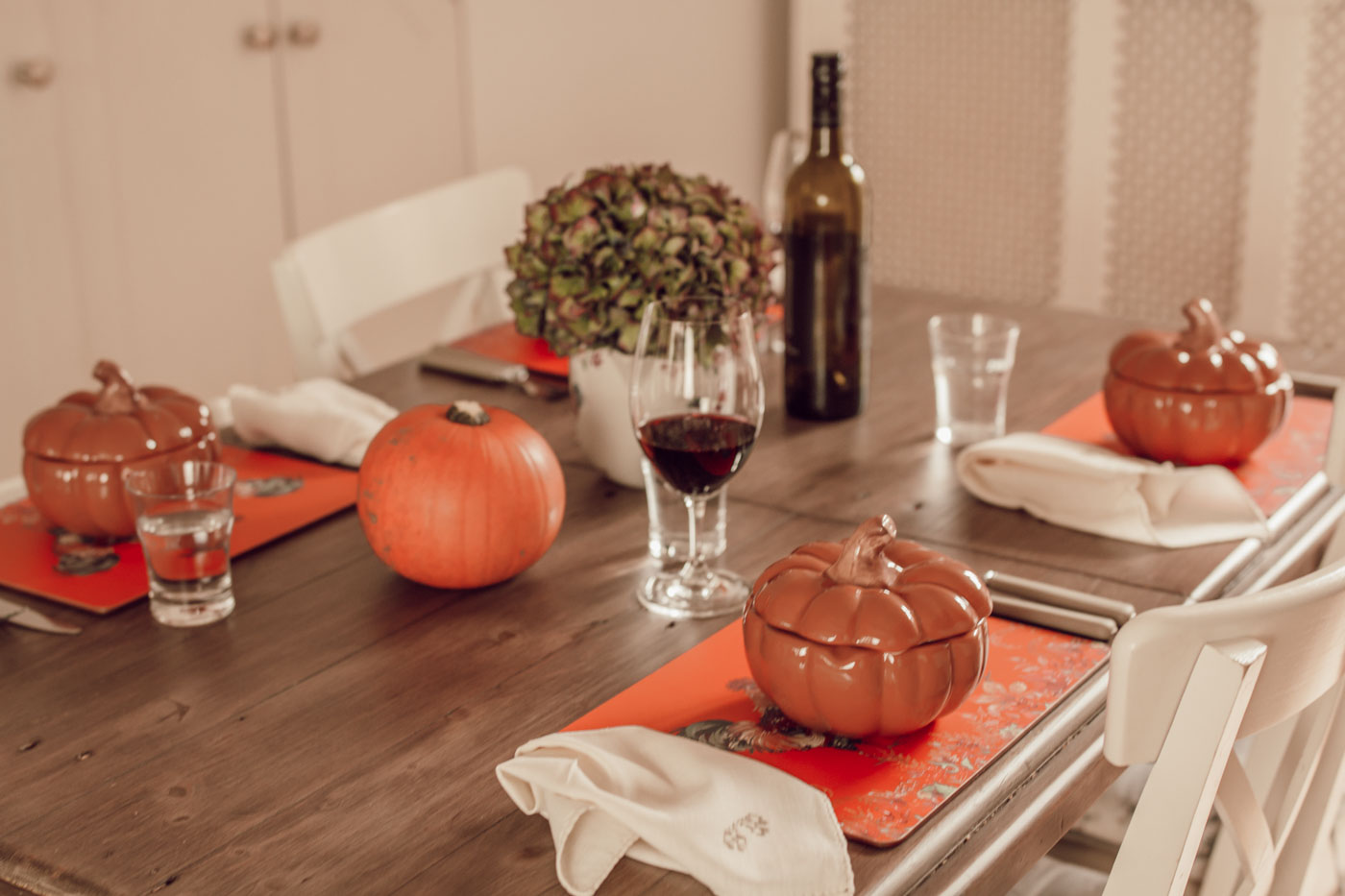 Creating the perfect autumn look
As you can see, to give my kitchen that cosy look I used the Laura Ashley autumnal range: it fits my  style perfectly with country vibes and all things pretty.  I served the rice inside the Pumpkin Soup Bowl. They are so pretty and perfect to keep the food warm and I always keep them out on display in my kitchen.
To set up a cozy dining table, I used the Cockerel Set Of 4 Corkback Placemats, they are so adorable and make my reclaimed table look fab. It's a great idea to have the Cockerel Serving Bowl with the Cockerel Measuring Jug placed inside and use it as a flower vase. My grandmother used to lay similar displays on the table and I love the idea. I used dried hydrangeas which are great and last forever!
Finally, to keep the kitchen in a proper order, the Fox Tea Towels Set of 2 are the most stylish design ever. I'm in love with their adorable designs and they look so posh too!  Dining with some cozy, warm lights, what is better than fairy lights? I hung the Acorn Wire Lights on the kitchen ceiling and I turn them on every evening or whenever the weather is grey and dull (which is very often here in London).
The large Apple Rattan Storage Basket is a huge hit in my kitchen: it helps to keep all the ugly and boring bits out of sight (mail, toys, craft materials, you name it: it's in there, ahah!). It's the perfect storage solution for any room really.
As always, Laura Ashley offers the most stylish range to decorate and to make your home a cozy, family friendly place where you can't wait to spend some quality time with your loved ones.
What do you love most about this recipe?  Let us know your thoughts over on our social media accounts @lauraashleyuk or by tagging #lauraashley