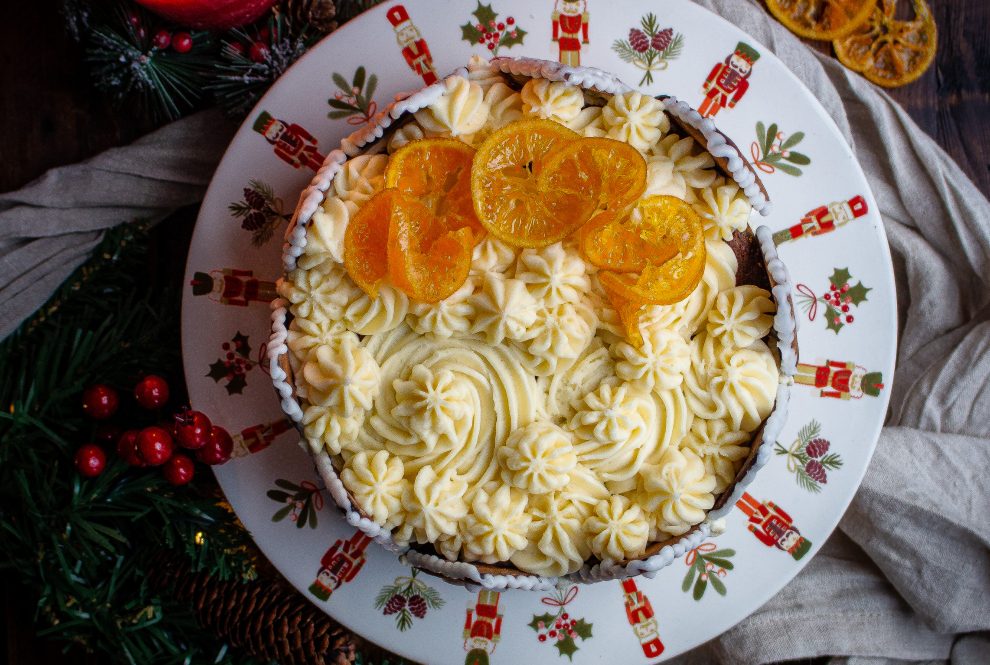 Stun your guests with this stunning gingerbread Christmas cake read more
For the 9th bake of Christmas Laura Ashley gave to me… 9  pieces of Christmas gingerbread cake.
Over the next month we'll be bringing you a variety of festive bakes every week as part of our 12 Bakes of Christmas blog series. So keep your eyes peeled on the Laura Ashley Blog for plenty of scrumptious Christmas eats.
Christmas simply isn't complete without Christmas cake and gingerbread so why not combine them this year and 'wow' your guests with a stunning gingerbread decorated Christmas cake. Food blogger Sofia Evemalm of Cloudberry Ramblings has created a recipe for a Scrumptious Gingerbread Christmas cake that is not only delicious but a feast for the eyes as well.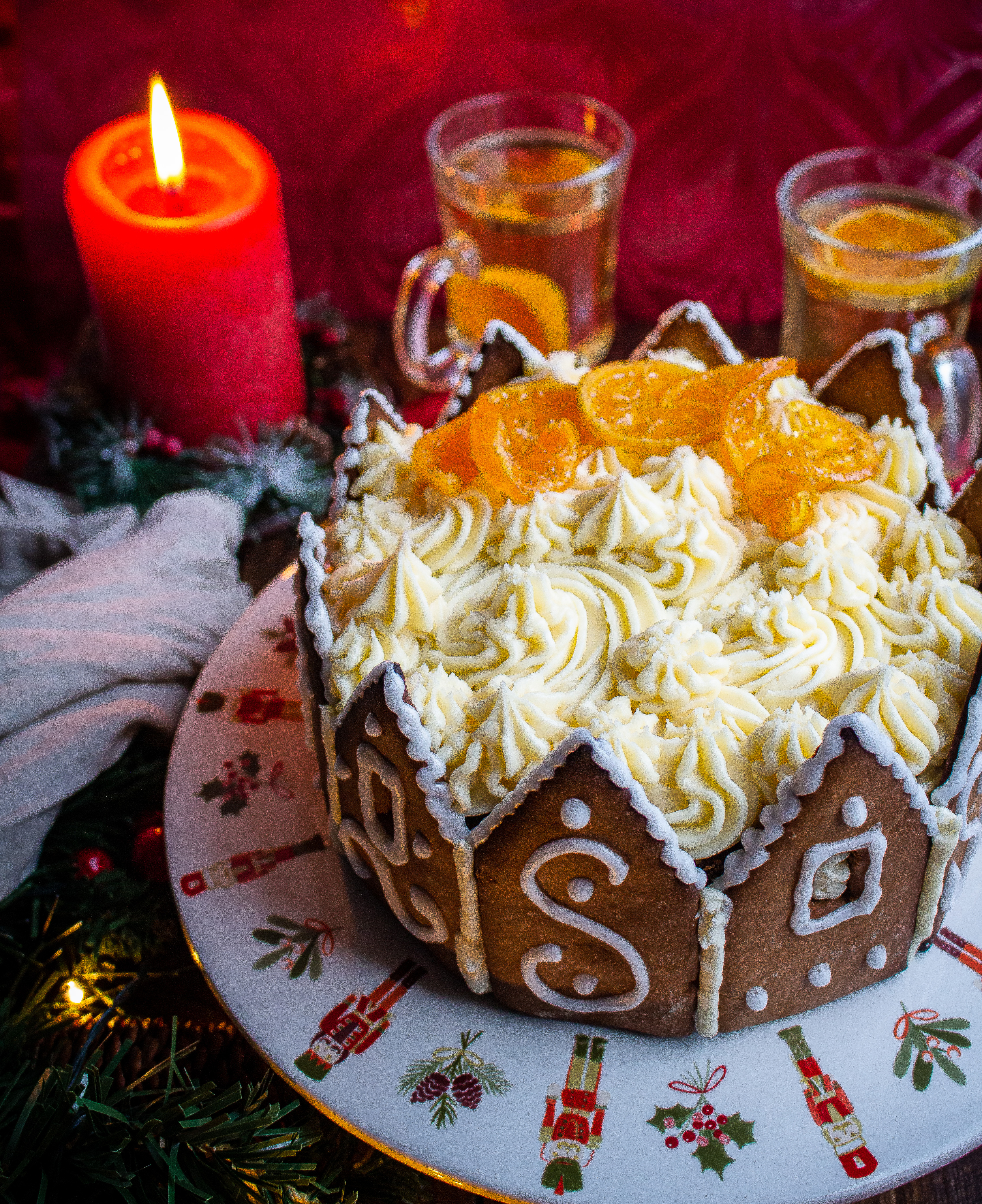 Gingerbread cake with brandy buttercream and candied satsumas
It's finally December and, for me at least, this is just the time to get into the Christmas spirit. In two days, it's St Lucy's day which is especially celebrated in Scandinavia. Part of the celebrations naturally involves eating – mostly saffron buns and gingerbread. So, I'm happy to include several different types of gingerbread in this cake. It does take some work and there are quite a few components to it, but if you don't want to make the whole thing you could make the actual cake on its own, or even just the biscuits.
In the pictures the cake is served with white mulled wine which was made with the spice pouches that were part of the Laura Ashley mulled wine gift set, as well as some added cinnamon and satsumas.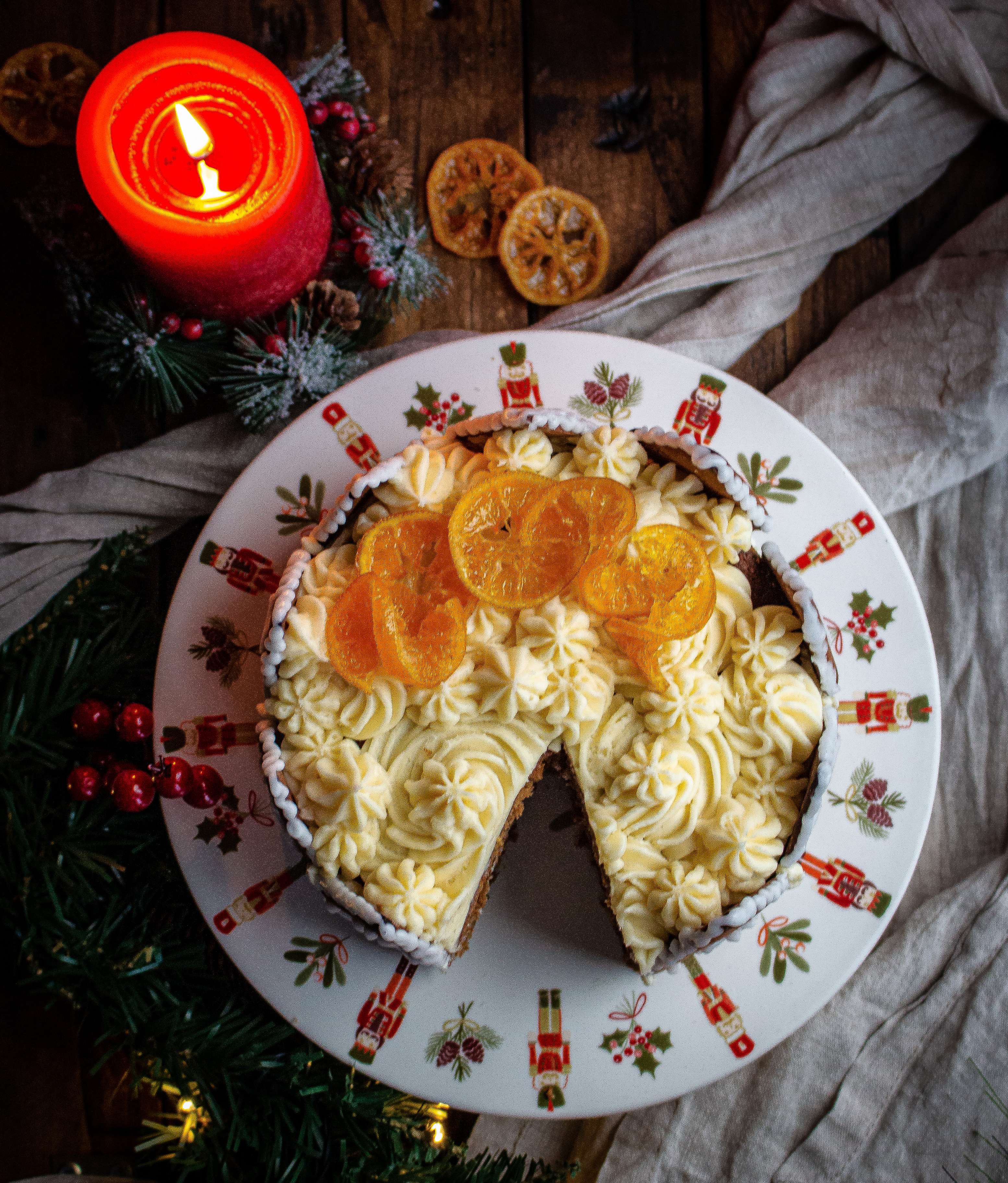 Gingerbread Christmas cake
– Butter and breadcrumbs to line the cake tin(s)
– 300ml plain flour
– 150ml caster sugar
– 1 tsp ground cinnamon
– 1 tsp ground ginger
– 1 tsp bicarbonate soda
– 100g butter
– 100ml double cream
– 100ml milk
Gingerbread biscuits
– 50g butter
– 30g golden syrup
– 30ml brown sugar
– 40ml caster sugar
– 1 tsp ground cinnamon
– 1 tsp ground ginger
– ¼ tsp ground cloves
– ¼ tsp ground cardamom
– ¼ tsp bicarbonate soda
– 250ml plain flour
Gingerbread icing
– 100ml icing sugar
– 1tbsp lemon juice
Brandy buttercream frosting
– 250g butter
– 1l icing sugar
– 50ml brandy
Candied satsumas
– 3-4 satsumas
– 120ml caster sugar
– 125ml water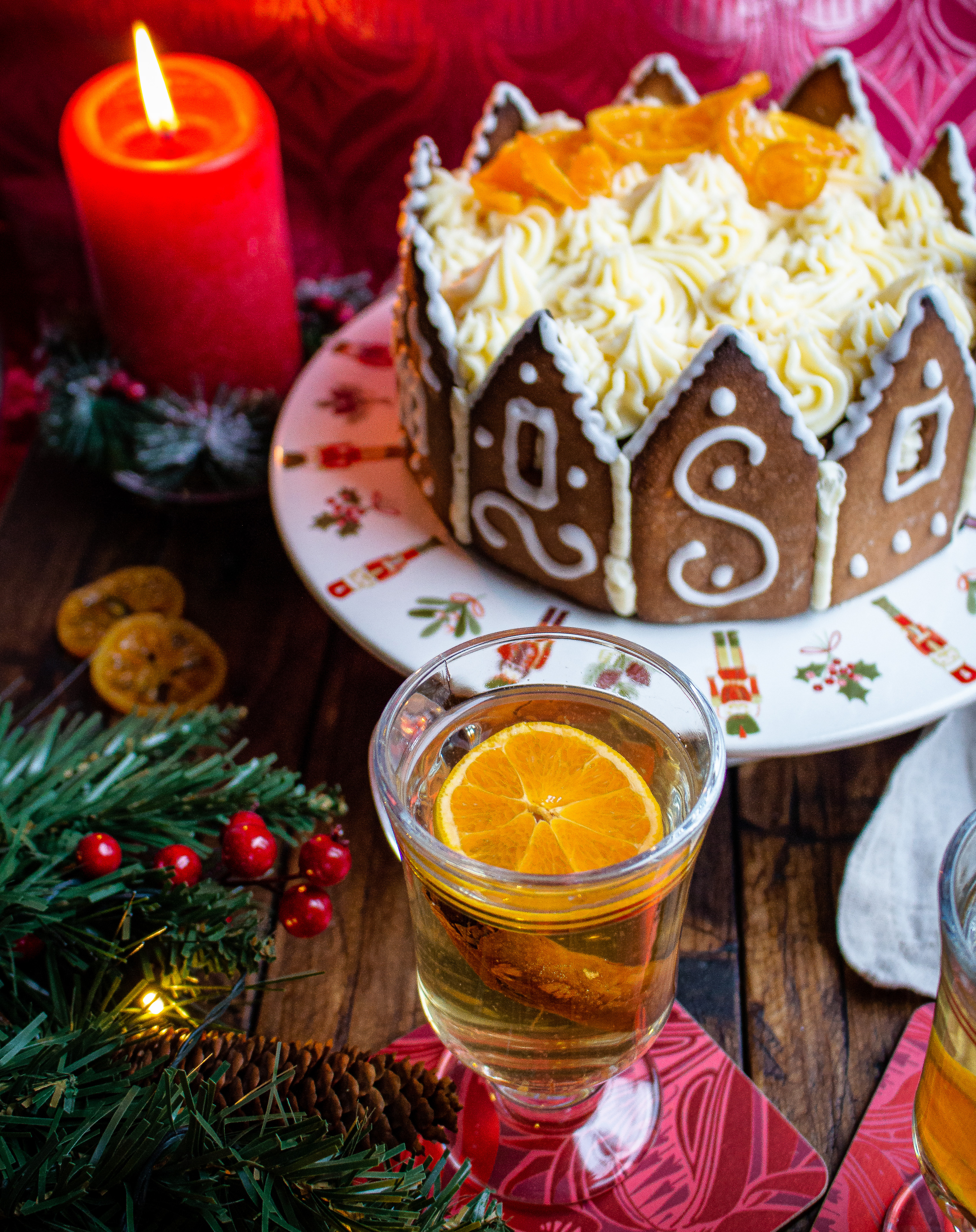 Method
Make the gingerbread biscuits first since the dough needs to be prepared at least a day in advance. Melt the butter together with the syrup, sugar and cream. Boil over medium heat for a couple of minutes then add the spices to the mixture. Leave to cool slightly. Add the remaining dry ingredients and stir everything until a soft dough is formed. Wrap in plastic and leave in the fridge overnight or up to a couple of days. Remove the dough from the fridge at least an hour before baking.
Knead the dough, adding more flour if it's too soft and adding a couple of splashes of milk if it is crumbly. Roll the dough out to ca. 0.3-0.5cm and cut into the desired shapes. Bake in the oven at 200c for 5-8 min. To decorate, make a simple icing without eggs by stirring together icing sugar and lemon juice and piping it onto your gingerbread biscuits (but make sure they are completely cooled first!).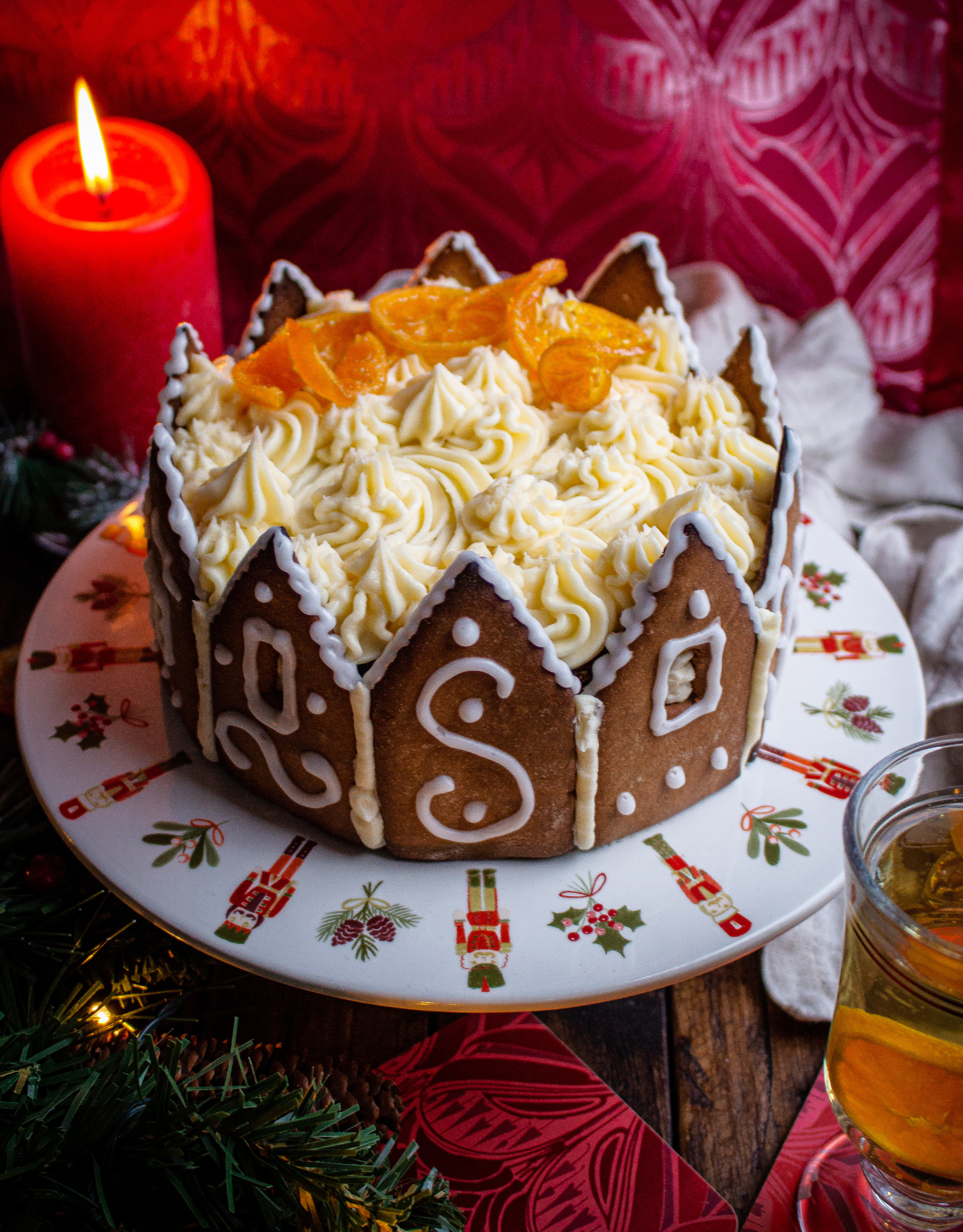 To make the cake, turn the oven to 175c and line two cake tins (18cm) with butter and breadcrumbs. Stir together all the dry ingredients. Melt the butter and add double cream and milk. Stir the dry ingredients into the butter mixture until completely smooth (do not whisk). Divide the batter between the prepared cake tins and bake in the oven for 30-40 min.
For the frosting, make sure that the butter is softened, then whisk it. Add the icing sugar to it, alternating with the brandy until reaching the desired consistency. Leave to cool slightly if it's too soft. Pipe onto one of the cakes for the filling then carefully place the other cake on top. If using gingerbread decorations, use some of the frosting as glue. Finally, pipe the remaining frosting onto the top layer.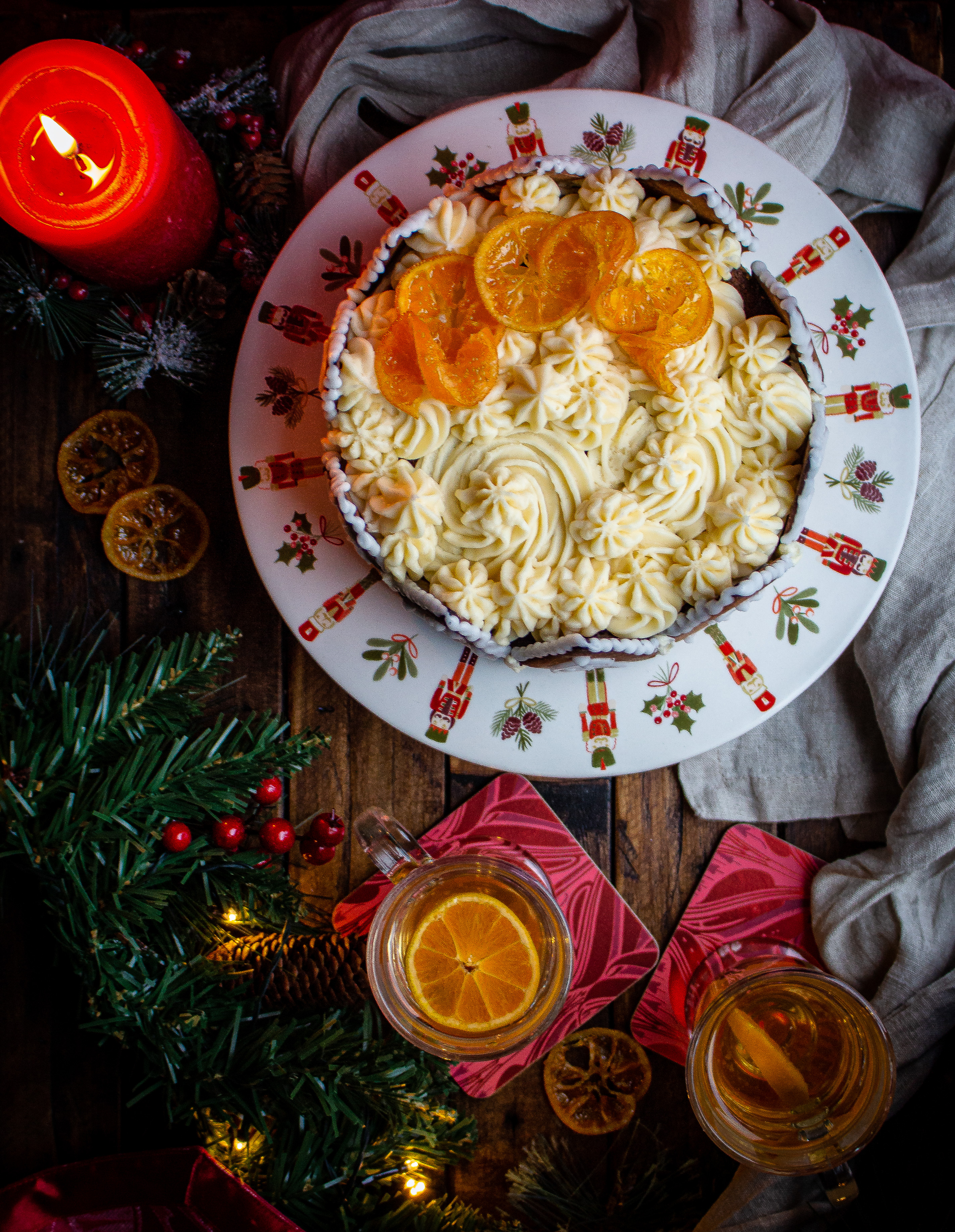 To make candied satsumas, first turn the oven to 100c. Heat sugar and water over medium heat until the sugar has dissolved completely. Slice the satsumas and pour boiling water over them, then dry completely. Add to the sugar mixture and boil over medium heat until the peel is translucent (ca. 15-20min). Remove the slices and place on a baking sheet, leaving them to dry completely in the oven for 20-30 min. Use to decorate your cake. Enjoy!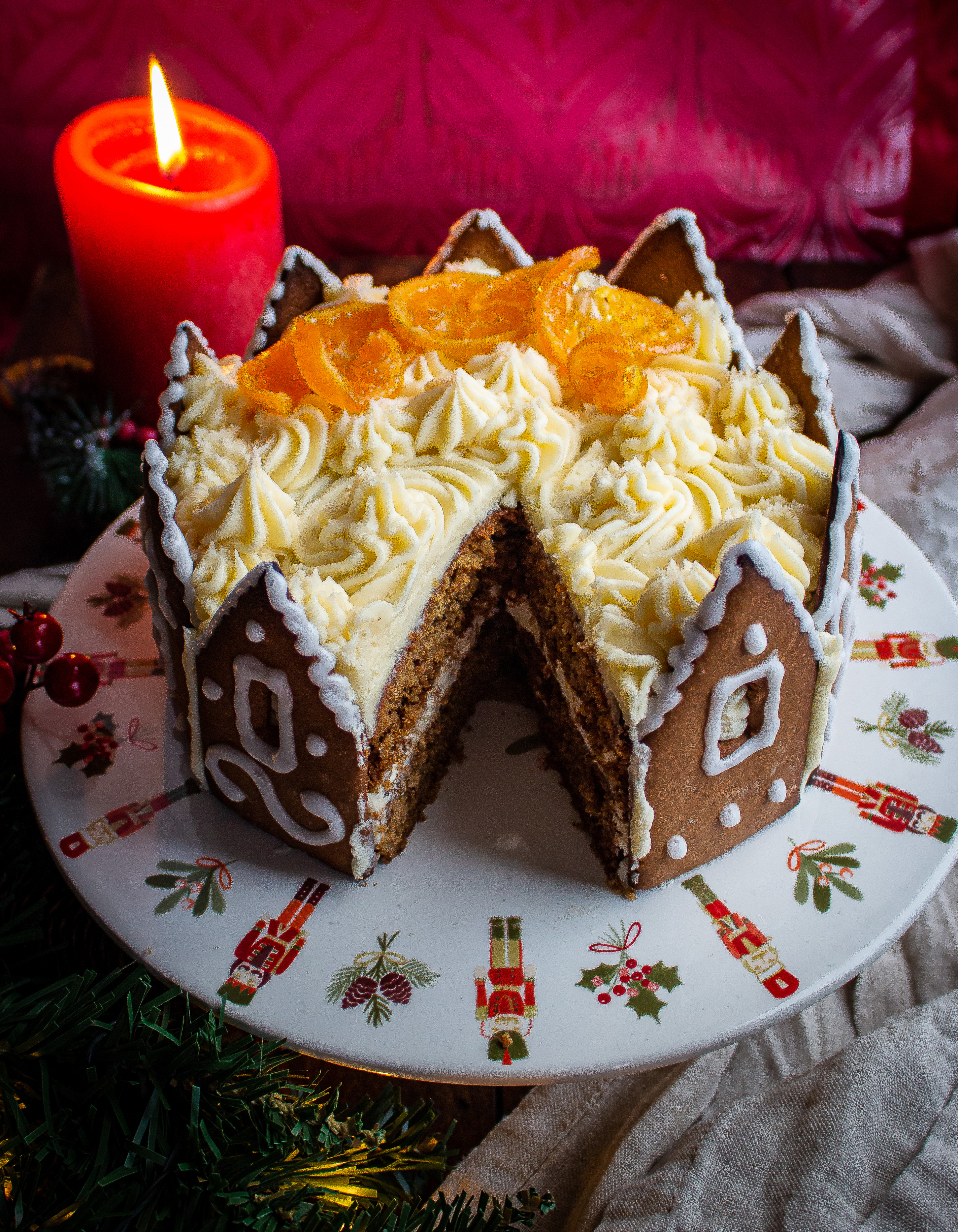 This Christmas cake recipe post was made in collaboration with Sofia Evemalm of Cloudberry Ramblings of using our Christmas collections.
What is your favourite type of Christmas cake? Let us know in the comments below.
To create the perfect festive table for your home, check out the dining ranges in our Christmas Shop.
Follow along with our 12 Bakes of Christmas series and share your creations on our social media channels with the hashtag #LauraAshleyChristmas.