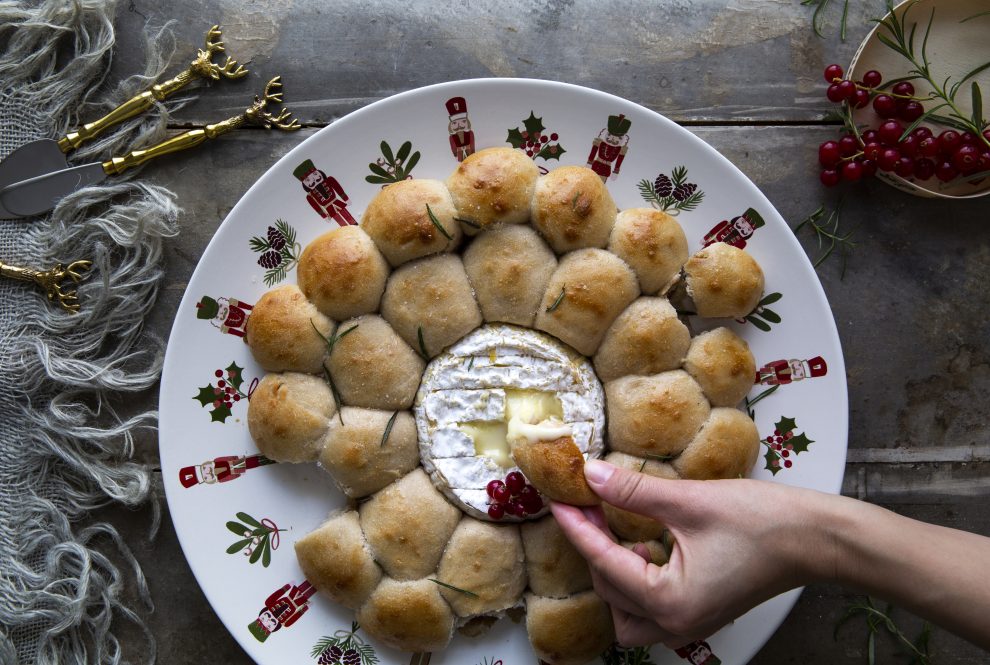 This delicious bread wreath is the ultimate savoury snack for any festive celebration read more
For the third bake of Christmas Laura Ashley gave to me… a garlic and chestnut filled bread wreath.
Over the next 2 months we'll be bringing you a variety of festive bakes every week as part of our 12 Bakes of Christmas blog series. So keep your eyes peeled on the Laura Ashley Blog for plenty of scrumptious Christmas eats.
This delicious bread wreath by Catherine Frawley of Borrowed Light is the perfect recipe if you want to add a savoury element to your Christmas spread. The pull apart style of the bread is perfect for entertaining and the delicious melted camembert makes the perfect cheesy dip.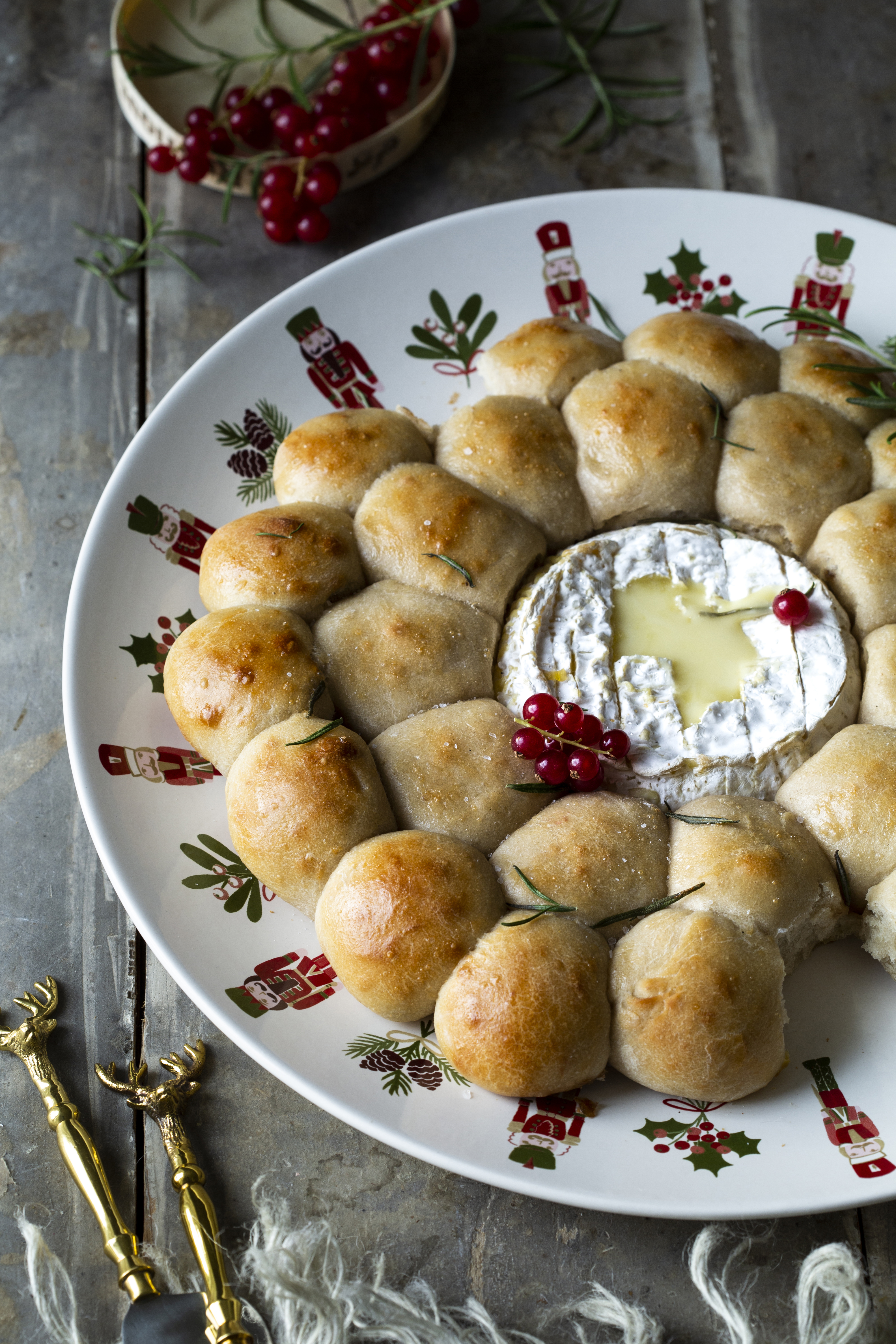 Garlic & Chestnut filled bread wreath with Camembert
Hands on Time, 30 mins
Proving 1 hour + 30 mins
Cook Time 15 mins
Ingredients
For the dough
– 500g strong white bread flour, plus extra for kneading
– 7g fast action yeast (sachet)
– 1 tsp caster sugar
– 1 tsp salt
– 350ml lukewarm water
For the Filling
– 1 head of garlic
– 50g chestnut puree
– 1 tbsp caramelized onion chutney
– 1 tbsp olive oil
– salt and pepper
– 1 Camembert round in a wooden casing
– 1 egg, beaten
To Garnish, optional
– Redcurrants or fresh cranberries
– Sprigs of fresh Rosemary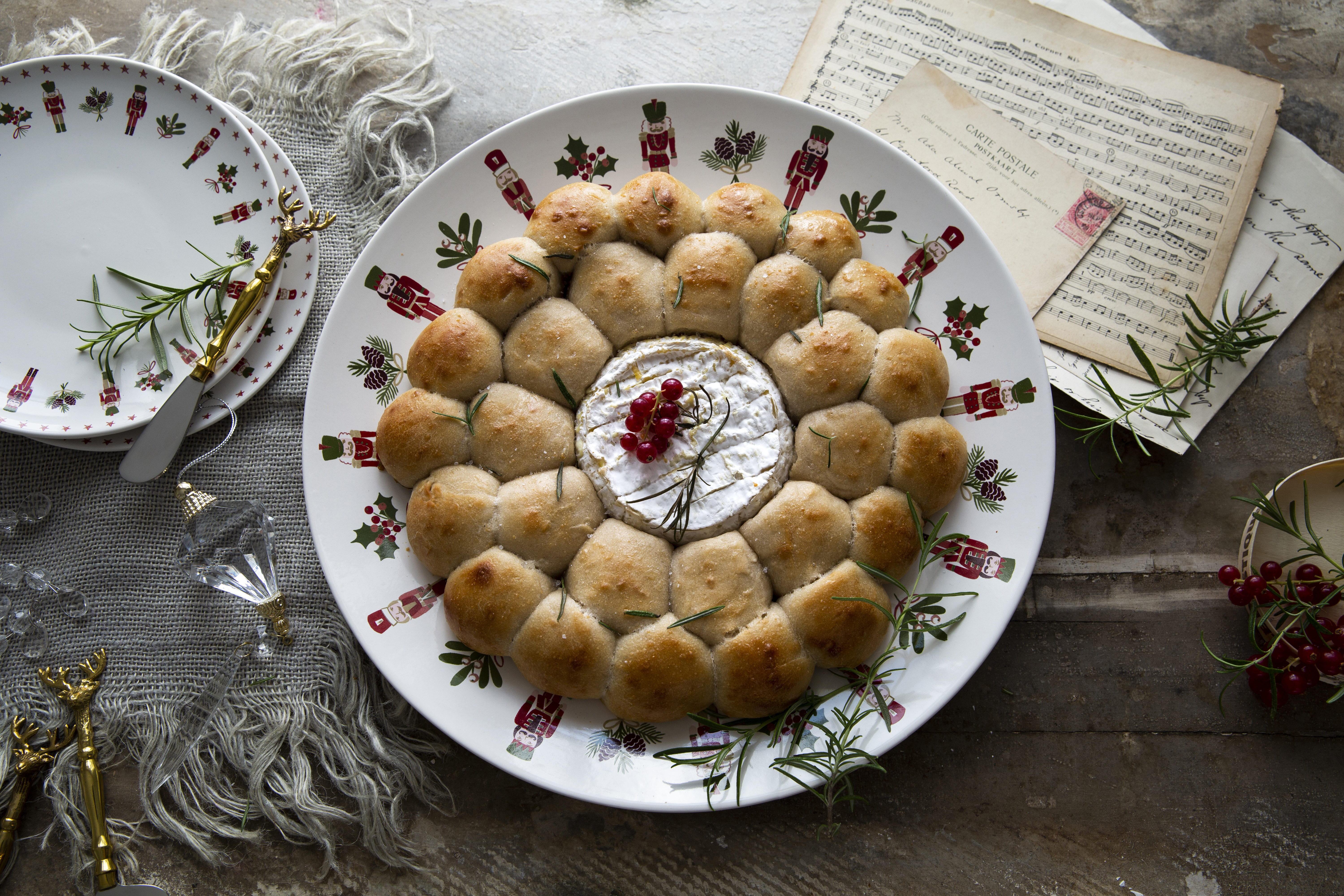 Method
In a large bowl, add the flour, yeast, sugar and salt. Briefly stir then form a well in the centre and add the water. Mix together until the dough comes together in a sticky ball.
On a floured surface, tip out the dough and knead for 8-10 minutes or until the dough is smooth and springy to touch.
Place in a clean bowl, cover with a tea towel and allow to prove in a warm area for 1 hour, or until it has doubled in size.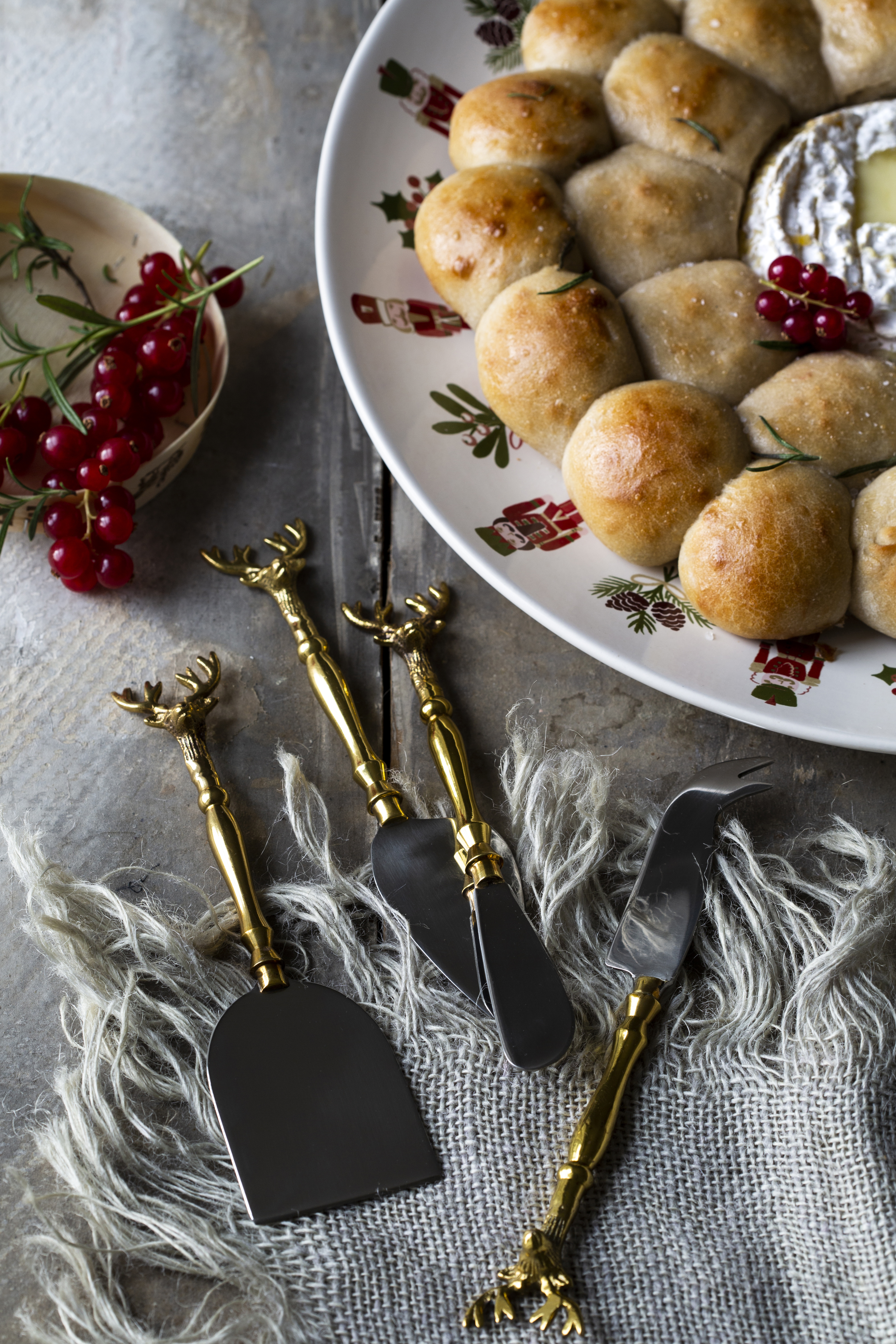 Meanwhile make the filling. Separate the garlic cloves, remove most of the skins and chop off the woody ends. Lay them out on a baking tray, drizzle with olive oil and sprinkle with a little salt and pepper, roast for 30 mins. Remove from the oven, allow to cool slightly and slide the cloves out of their skins, place in a bowl and mash with a fork. Add the remaining filling ingredients and mix until combined. Set aside until ready to use.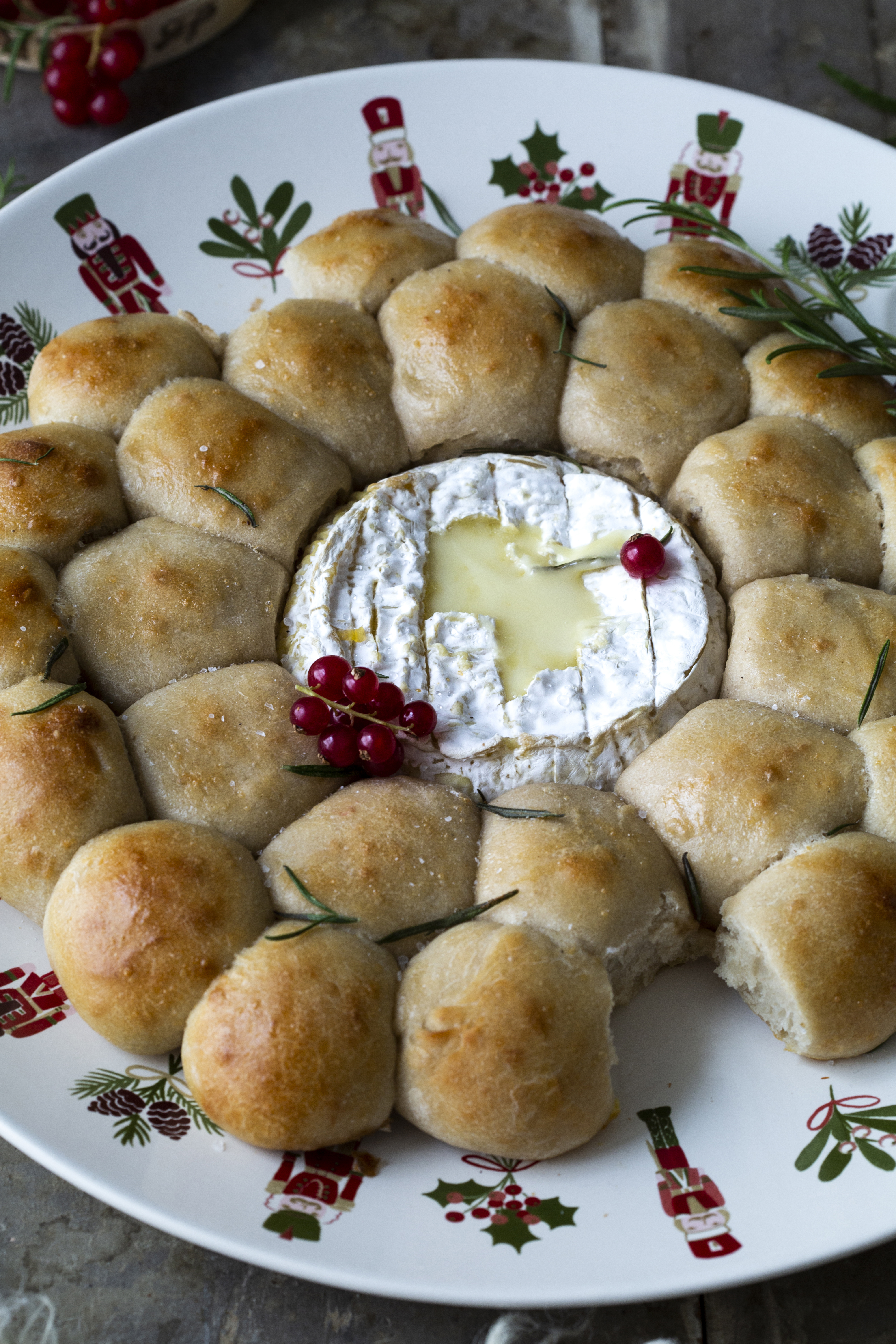 When the dough is ready, turn out on to a floured surface, you will need around 30 balls to complete the two rings so weigh your dough and divide it by 30 and then weigh out each ball. With floured hand lightly roll the dough in a ball and press the centre with your forefinger to create an indent, fill with a teaspoon of filling. Pinch the dough together to seal the filling, repeat until all the balls are filled.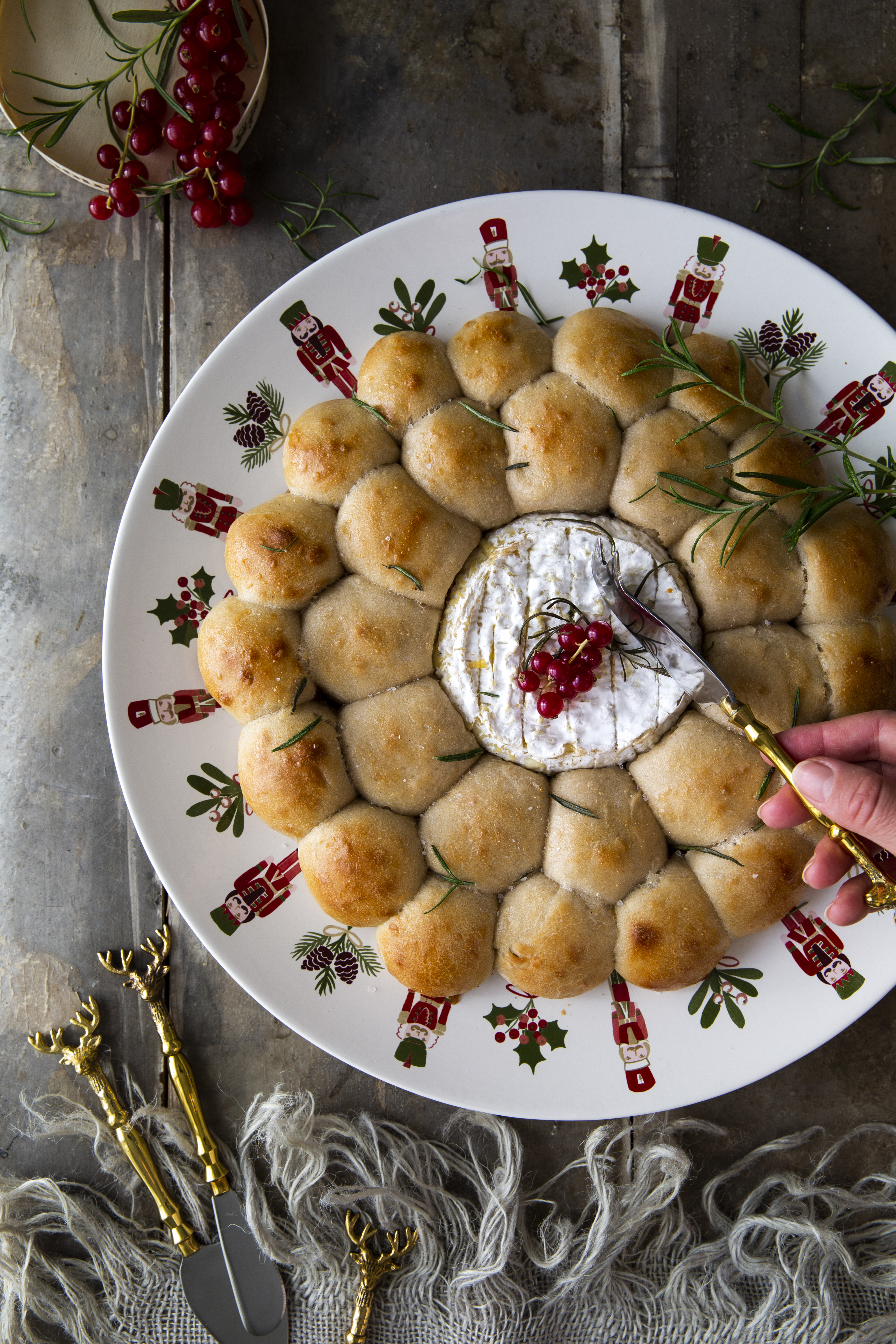 Line a baking sheet with parchment then place the wooden lid of the Camembert in the middle. Arrange the dough balls around it in two rings. Cover with some oiled cling film and allow to prove again for 30mins, in a warm area.
Pre-heat the oven to 200C / 180C Fan. Remove the wooden carton and replace with the unwrapped Camembert. Pierce or slice the skin and poke some Rosemary sprigs through. Brush the rolls with the egg, then bake for 12-15 mins or until golden brown.
Remove from the oven, transfer to a serving platter. Garnish with redcurrants or cranberries and a little extra rosemary, serve immediately.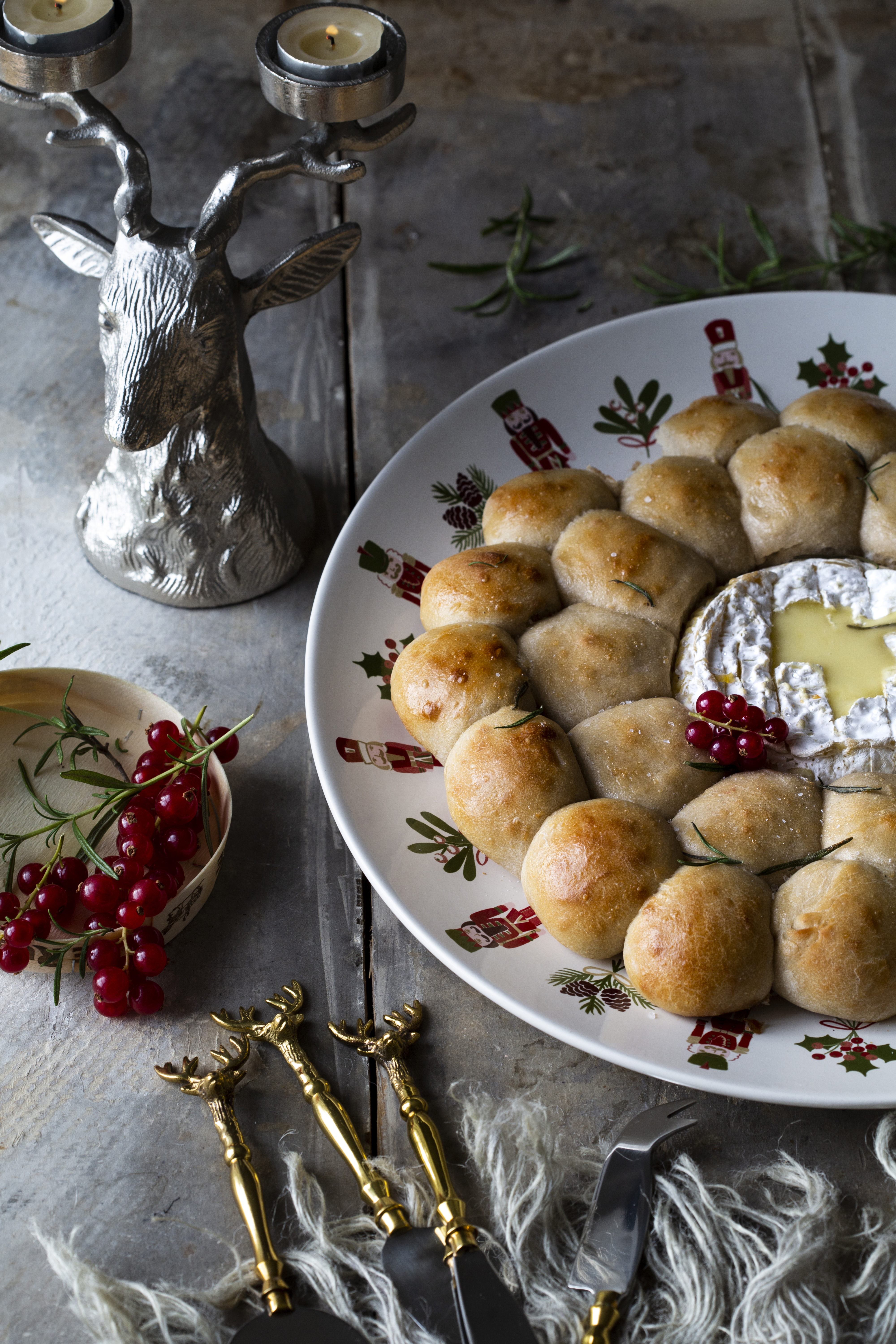 This recipe was created in collaboration with Catherine Frawley of Borrowed Light using our Large Stag Tealight Holder, Stag Cheese Knives Set of 4, Large Nutcracker Serving Platter, and Nutcracker Cake Plates Set of 4.
Would you like to try your hand at creating this savoury bread wreath? Let us know in the comments below.