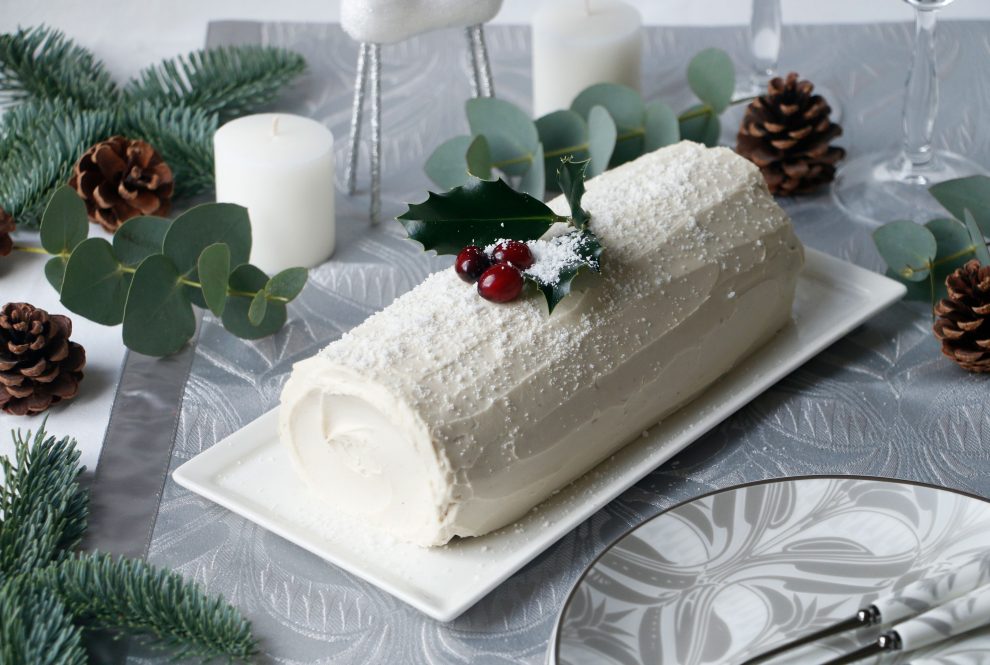 Keep the festive traditions of old alive this year with this scrumptious Yule Log recipe read more
For the 8th bake of Christmas Laura Ashley gave to me… 8 Yule Log slices.
Over the next 2 months we'll be bringing you a variety of festive bakes every week as part of our 12 Bakes of Christmas blog series So keep your eyes peeled on the Laura Ashley Blog for plenty of scrumptious Christmas eats.
To celebrate a truly traditional Christmas a festive yule log is a staple for the Christmas table. This stunning and delicious yule log by Hana Mendes of Nirvana Cakery is an absolute showstopper and best of all it's vegan & gluten-free (perfect for catering to every Christmas guest's needs).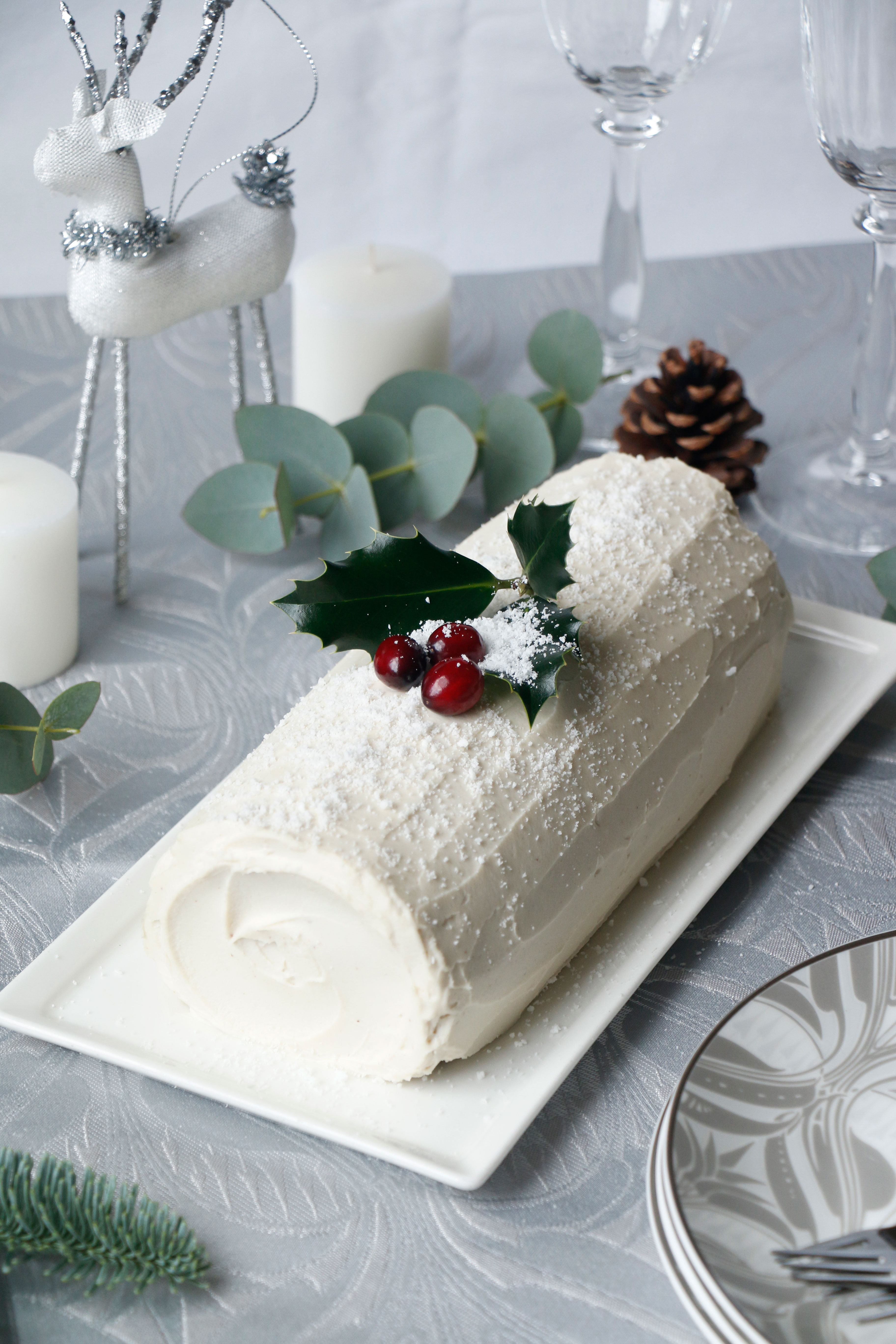 Yule log is one of the most special Christmas recipes to make as it both looks festive and has a unique wow-factor to impress your guests. While the classic yule log is covered with chocolate ganache, I think making it white looks even more stunning.
This recipe is gluten-free and vegan and requires layering plant-based ingredients to make it truly successful. But don't be put off, it's not as complicated as it might look.
For the gluten-free mix I've used ground almonds, brown rice flour, buckwheat flour and tapioca flour. You can replace this with a shop bought gluten-free mix if you prefer. To bind the batter well and make it strong to roll I've used a mix of flax egg, aquafaba (brine from a can of chickpeas) and apple sauce.
Christmas Yule Log Recipe
Chocolate sponge
– 50g ground almonds
– 35g brown rice flour
– 35g buckwheat flour
– 30g tapioca flour
– 30g cacao or cocoa powder
– 1/2tsp baking powder
– 1/2tsp bicarbonate of soda
– 1/2tsp cinnamon
– pinch sea salt
– 75g coconut sugar
– 1tbsp ground flaxseed + 3tbsp water
– 60ml aquafaba
– 60ml olive oil
– 60ml apple sauce
– 1tsp apple cider vinegar
– 3tbsp water
White chocolate frosting
– 300g cashew nuts, soaked for at least 4 hours
– 270ml coconut cream
– 60ml maple syrup
– 2tsp vanilla
– 120g vegan white chocolate (you can substitute with cacao butter)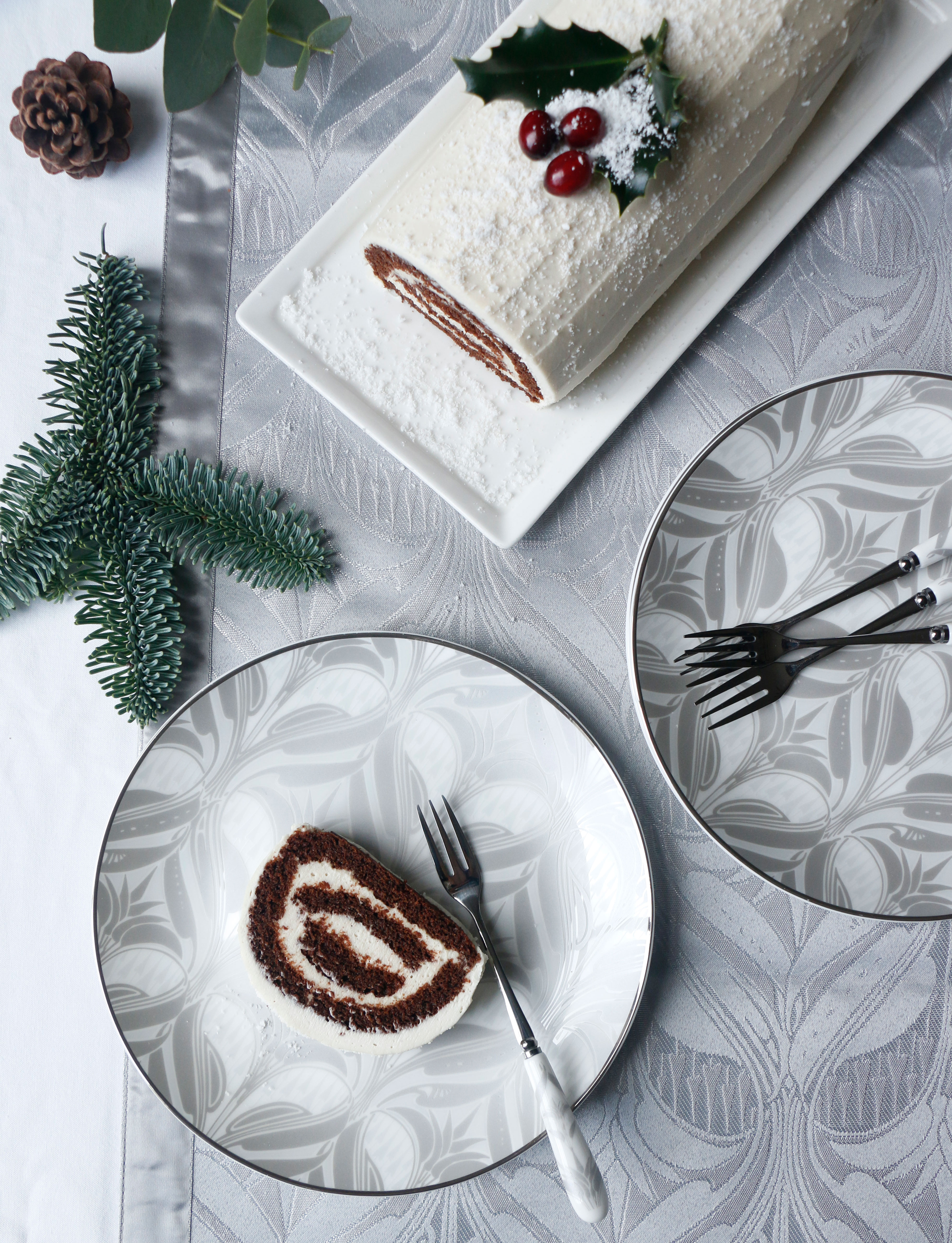 Method
1. Preheat the oven to 180°C.
2. Line a 25 x 35cm Swiss roll tin with baking paper.
3. Mix 1tbsp ground flaxseed with 3tbsp water and set aside to thicken.
4. In a large bowl whisk together ground almonds, brown rice flour, buckwheat flour, tapioca flour, cacao, baking powder, bicarbonate of soda, cinnamon, salt and sugar and set aside.
5. In a small bowl whisk together the gelled flax egg, aquafaba, olive oil, apple sauce and apple cider vinegar.
6. Add the wet mix to the dry mix and mix until well combined. Add 1tbsp water at the time until you have pourable but not too thin consistency.
7. Pour the mixture onto your prepared tin and level out the surface.
8. Bake for about 10 to 12 minutes or until a cocktail stick comes out clean.Remove from the oven.
9. Straight away dust the top with little sugar, lay a sheet of baking paper on top followed by a damp tea towel. Place baking sheet or something flat on top to help you to flip the cake over. Now carefully peel the baking paper from the top. Dust with little sugar and place another sheet of baking paper on top of the cake. Using a rolling pin carefully roll the cake over the pin and wrap with the tea towel. Leave to cool down for about 20 minutes.
10. Once cooled carefully unroll the cake and spread with 2/3 of the frosting leaving 1/3 to frost the top of the log. Using the help of the paper carefully roll the cake into a roll. Don't worry if it cracks just keep rolling as tightly as you can. Optional step that I recommend, wrap the log tightly in baking paper and cling film and place into fridge for at least 4 hours or overnight to set. The longer you leave it to set the neater slices you will have.
11. Once set place onto a serving dish and using spatula spread little frosting to crumb coat the log first.
12. Place into fridge for about half hour to set. Now dollop the remaining frosting on top and sides and using spatula smooth the frosting all along the log. Place back into the fridge before serving.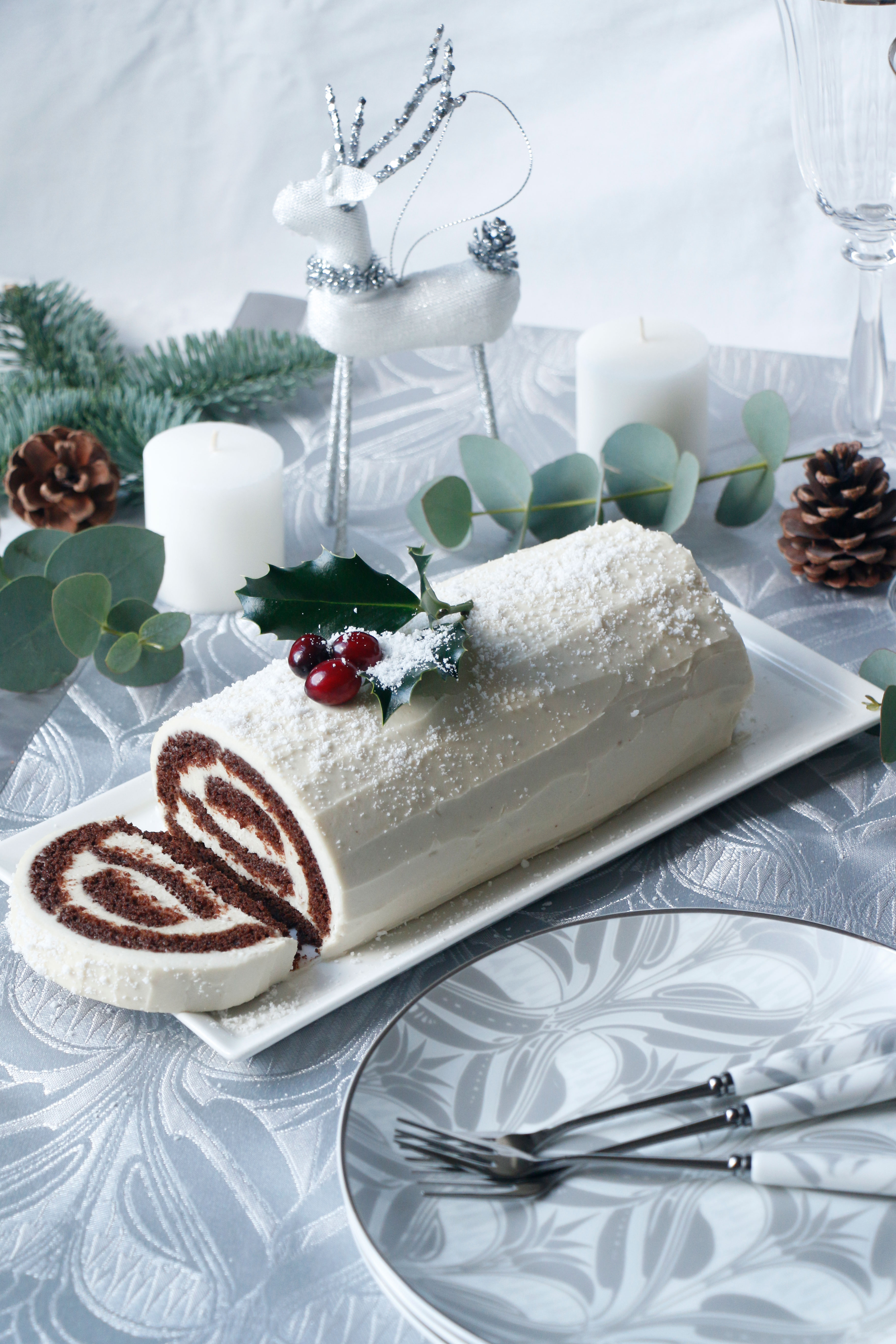 Cashew Frosting
1. In a double boiler gently melt the white chocolate.
2. Rinse the soaked cashews well under running water and place into high speed blender. Add coconut cream, maple syrup, vanilla and blend until smooth. Stop and scoop the sides of the blender as needed.
3. As the ingredients start to warm up, the mix will loosen and becomes easier to blend. Add the melted white chocolate and blend until just incorporated.
4. Scoop the mix into a small bowl, cover and refrigerate for few hours or overnight.
5. When you're ready to frost the cake, whip the mix for couple of minutes until fluffy. The texture will change as you whip. If the frosting doesn't get thick enough, place it into the freezer for 15 minutes and whisk again, repeat until you have desired consistency.
6. Decorate the log with fresh cranberries and your choice of foliage.
7. Blend some desiccated coconut and sprinkle on top and around to resemble snow.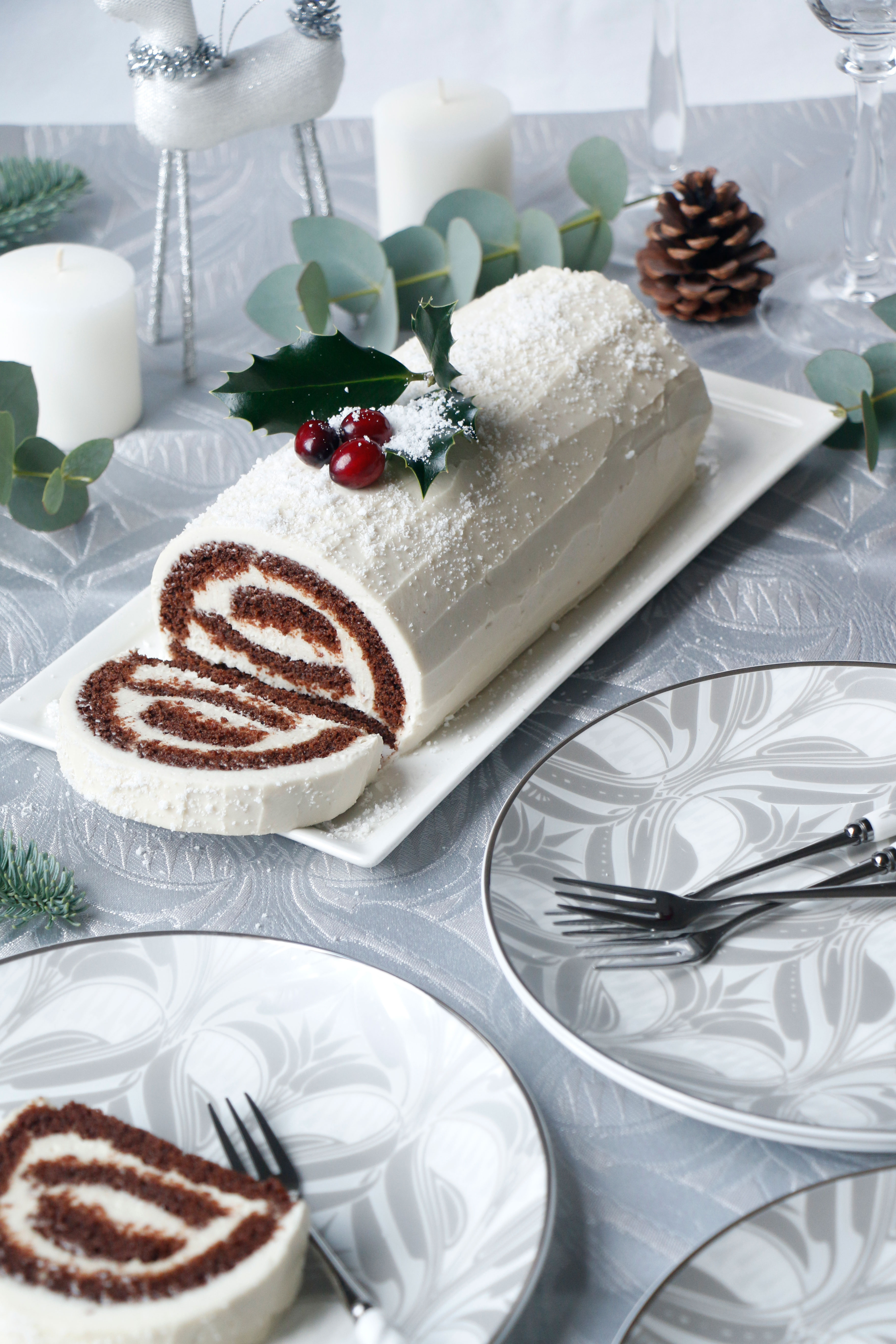 Top Tips
When using the coconut cream in the recipe, use the solid part from a can of full fat coconut milk refrigerated overnight. You can also buy coconut cream, just make sure it's thick coconut cream not runny, it can vary with different brands. You can choose to make the frosting with white chocolate or with cacao butter and they both work well in this recipe.
Once baked spread generous amount of frosting and roll it with the help of the baking paper into a roll, don't worry if it cracks, keep rolling. The extra step of wrapping your log and leaving it to set in fridge before frosting the top really helps it set. I just leave it overnight and frost it the day after.
I don't feel that it needs too much decoration, but few red cranberries and a little sprig of something green looks really pretty and add a touch of colour. Please note that the holy sprig I've used is only for the decoration. For the snow effect just blend some desiccated coconut and sprinkle on top. I hope you enjoy the recipe.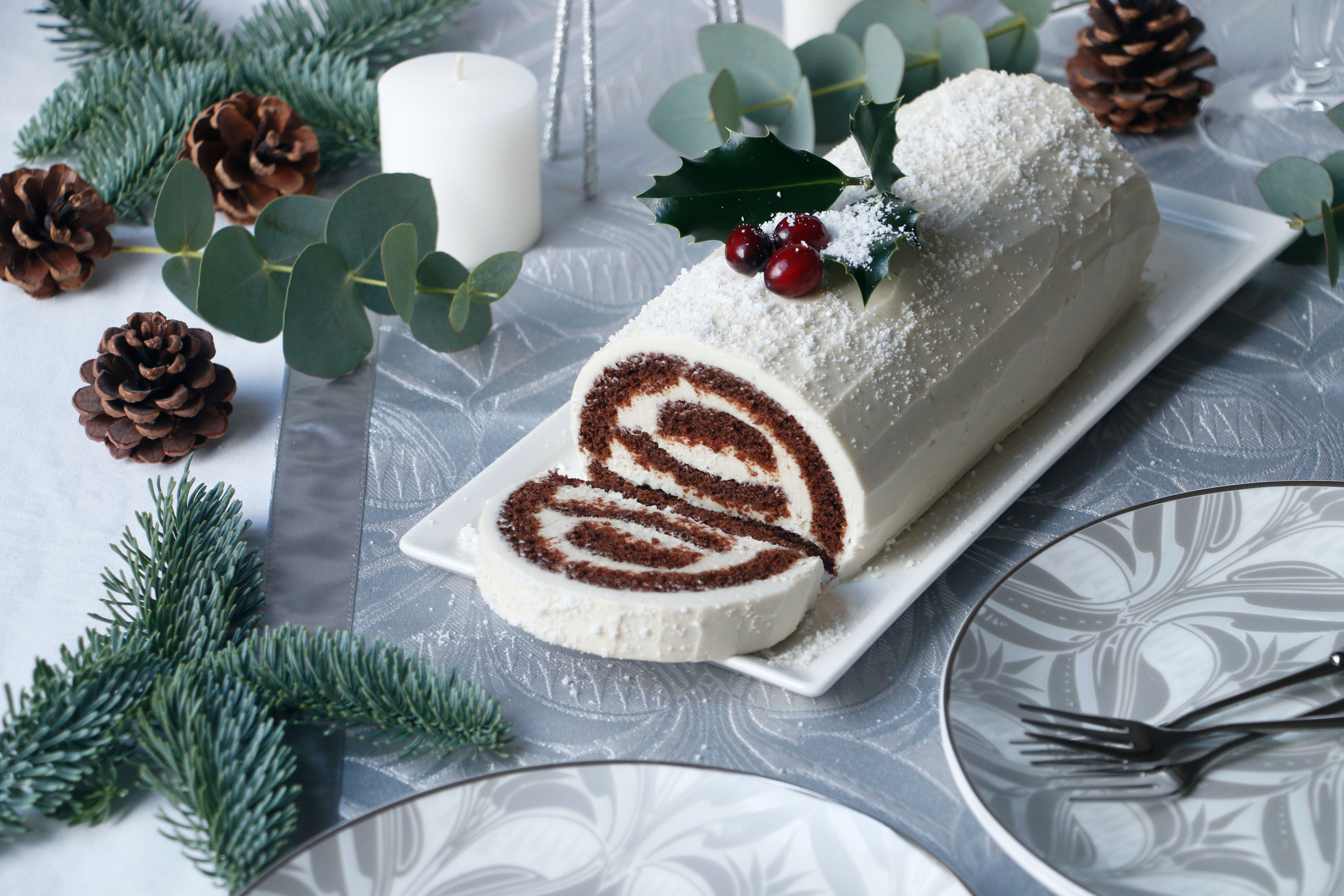 This recipe was made in collaboration with Hana Mendes of Nirvana Cakery who used our Silver Scroll Christmas dining accessories for styling.
Are you planning to make a yule log this year. Let us know in the comments below.