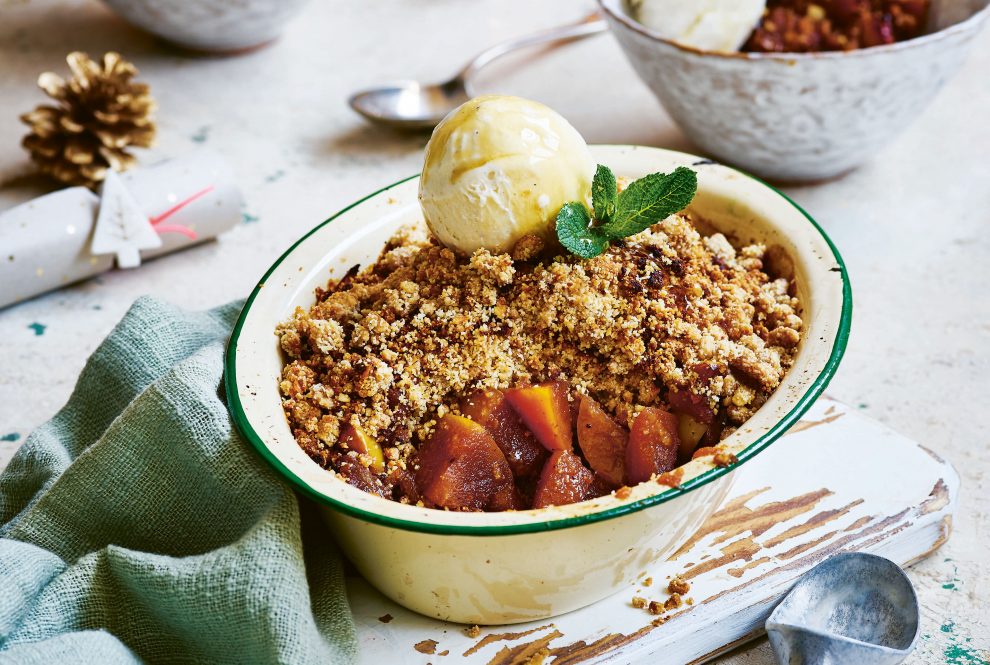 With it's spiced apple filling and crumbling pastry, this apple crumble recipe makes the perfect comfort dish. read more
For the first bake of Christmas Laura Ashley gave to me… a festive Cinnamon-Spiced Apple Crumble.
To start off our 12 Bakes of Christmas blog series we are featuring this delicious vegan, apple crumble—not only to start getting in the festive spirit but to also celebrate #WorldVeganDay. Over the next 2 months we'll be bringing you a variety of festive bakes every week. So keep your eyes peeled on the Laura Ashley Blog for plenty of Christmas eats.
Cinnamon-Spiced Apple Crumble
With it's spiced apple filling and crumbling pastry this recipe makes the perfect comfort dish for the cooler Autumn weather. Created by chef, Youtuber and author Gaz Oakley, the crumble recipe is both vegan and gluten-free, so it is a great dish to serve when entertaining guests with food intolerances.
This is a great dessert option if you're looking for something slightly healthier. It's gluten free and refined sugar free but still divine.
Serves 4
Cooks in 40 minutes
Difficulty 2/10
Ingredients
– 5 crisp eating apples (such as Braeburn)
– 100g (scant 1/2 cup) coconut sugar 2 tbsp coconut oil
– 1 tsp vanilla bean paste or 1 vanilla pod
– 2 tsp ground cinnamon
For the topping
– 75g (scant 1/2 cup) rice flour
– 75g (3/4 cup) almond flour (or coconut flour if nut-free) pinch of sea salt
– 115g (1/2 cup) vegan spread 100g (scant 1/2 cup) coconut sugar 45g (1/2 cup) gluten-free porridge oats
Method
Preheat your oven to 180°C (350°F). Core the apples, then cut three of them into 1cm (1/3in) cubes and grate the other two. Leave the skin on as that's where the best flavour is!
Put the coconut sugar into a large saucepan placed over a medium heat and wait for the sugar to melt down. Keep an eye on it to make sure it doesn't burn; it should only take 2 minutes. Add the coconut oil followed by the grated apple and cook for a couple of minutes for the apple to almost melt down.
Stir in the vanilla pod and seeds and cinnamon and cook for 1 more minute while stirring, then add the cubed apple. Turn the heat down to its lowest setting, pop the lid on and cook for 15 minutes, stirring every now and then. Remove the vanilla pod.
Meanwhile prepare your topping. Put the flour, ground almonds and sea salt into a large mixing bowl and stir to combine. Add the spread and use your fingers to rub together until it starts to become like breadcrumbs. Stir in the sugar and the oats.
Once the apples have softened, pour the filling into an 8cm (3in) deep 23cm (9in) baking dish. Cover with the crumble topping, then bake in the oven for 15 minutes, or until the crumble is golden. Serve with vegan ice cream or custard, garnished with a sprig of mint.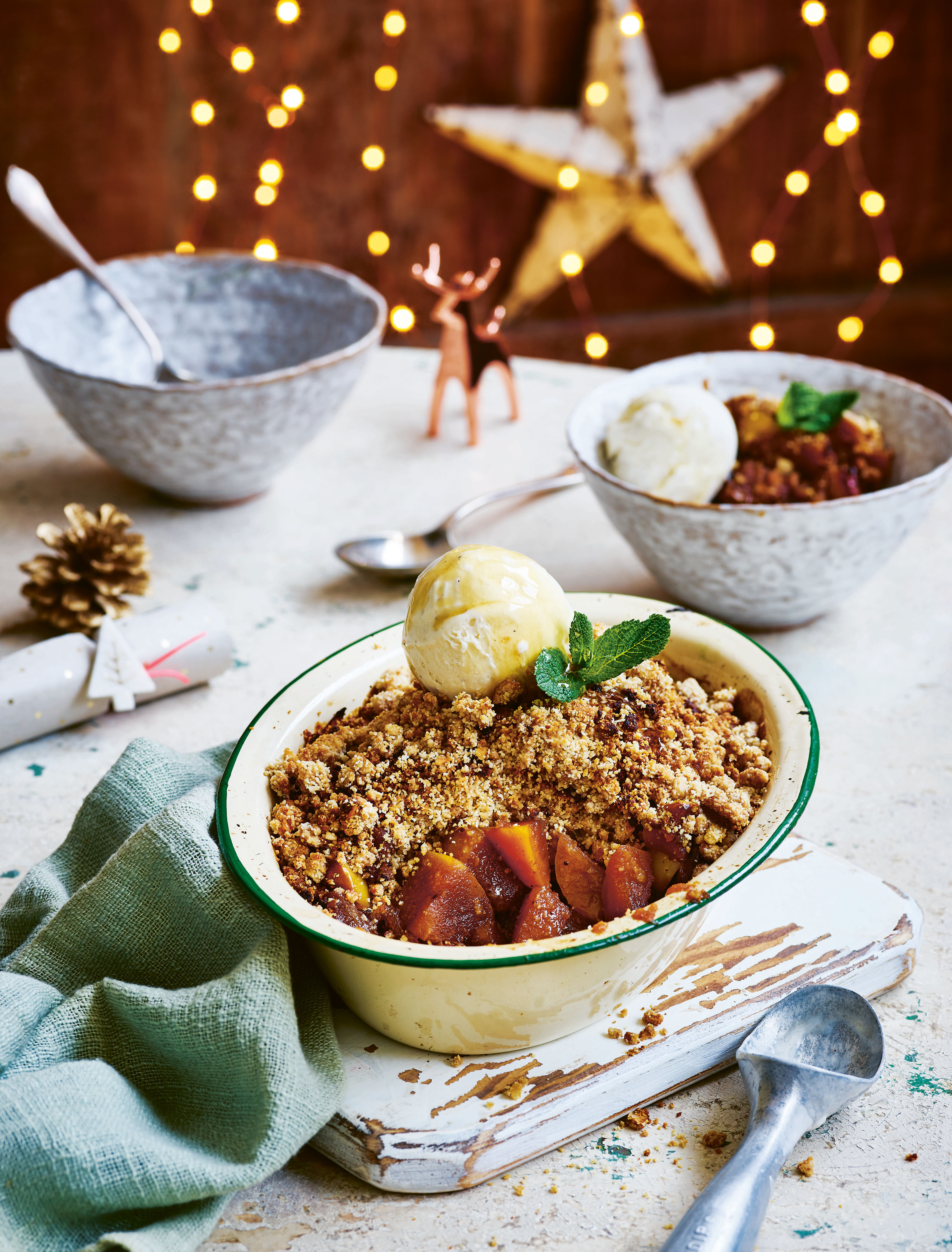 This yummy recipe is just one of many in Gaz Oakley's new festive recipe book, Vegan Christmas, where Gaz has some delicious alternatives to the traditional Christmas fare: including vegan options for your traditional roast turkey and a delicious Christmas pudding recipe.
Vegan Christmas: Over 70 amazing recipes for the festive season by Avant-Garde Vegan by Gaz Oakley (Quadrille, £15)
Photography by Simon Smith
Would you like to try this apple crumble recipe out at home? Let us know in the comments below.
To create the perfect festive table for your home, check out the dining ranges in our Christmas Shop.
Follow along with our 12 Bakes of Christmas series and share your creations on our social media channels with the hashtag #LauraAshleyChristmas.