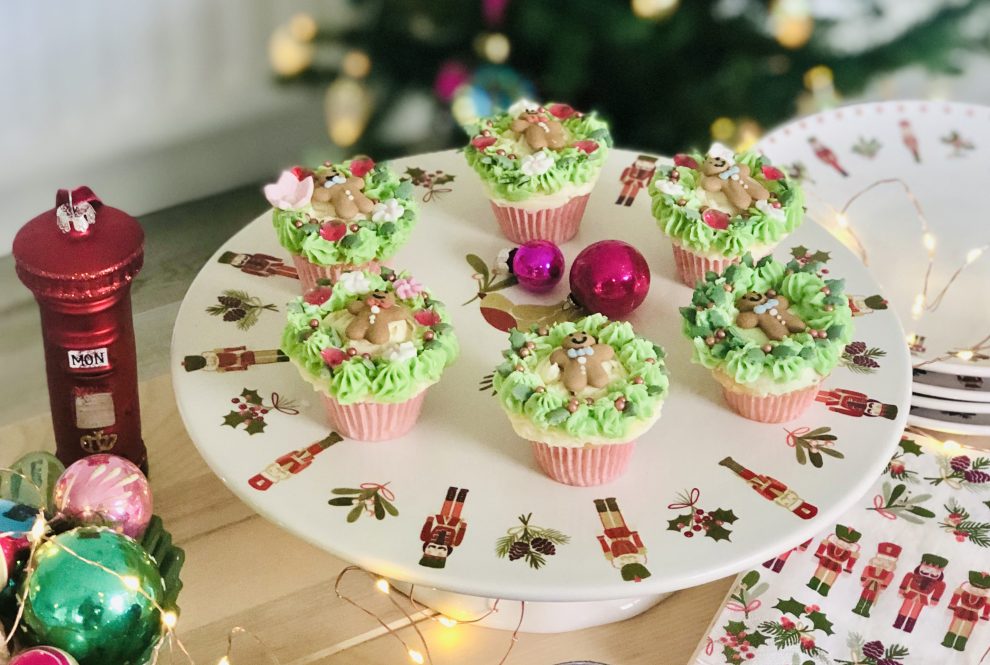 These delicious vanilla cupcakes with salted caramel frosting are the perfect indulgence this National Cake Day read more
For the 5th bake of Christmas Laura Ashley gave to me… 5 Christmas Wreath Cupcakes.
Over the next 2 months we'll be bringing you a variety of festive bakes every week as part of our 12 Bakes of Christmas blog series  So keep your eyes peeled on the Laura Ashley Blog for plenty of scrumptious Christmas eats.
To celebrate #NationalCakeDay we enlisted the help of cupcake extraordinaire Louise Mair of The Vintage Room. These delicious vanilla cupcakes are the perfect indulgence this National Cake Day with their delicious salted caramel frosting and festive decorations.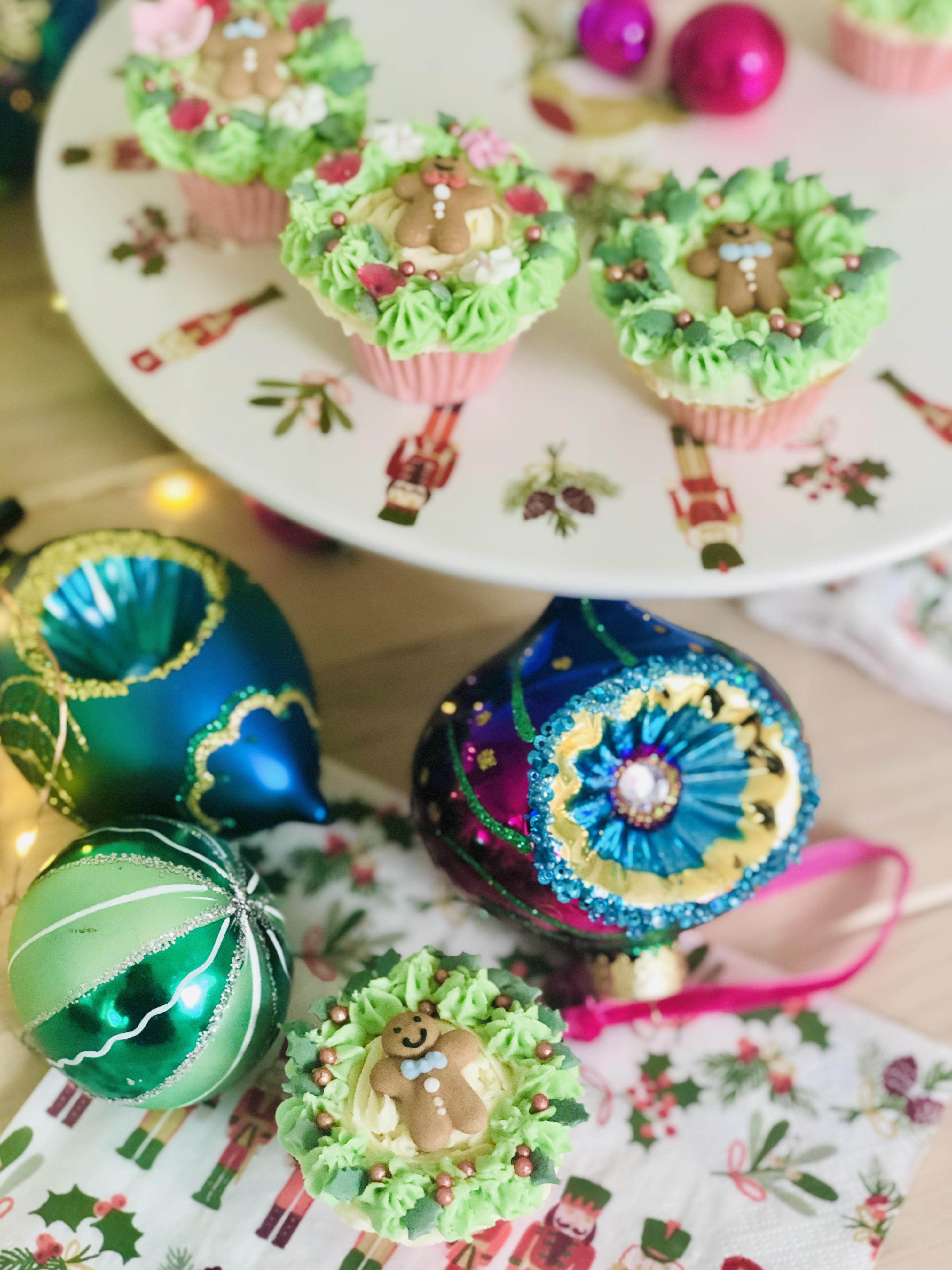 Festive Christmas Wreath Cupcakes
I always have lots of visitors at this time of year and love baking yummy seasonal treats to offer friends with a cup of tea. I like to make cupcakes with a little twist and these salted caramel ones decorated with the yummiest frosting are always a winner!
You can either make 12 of the large muffin size or a larger quantity of smaller ones and I made a mixture of both sizes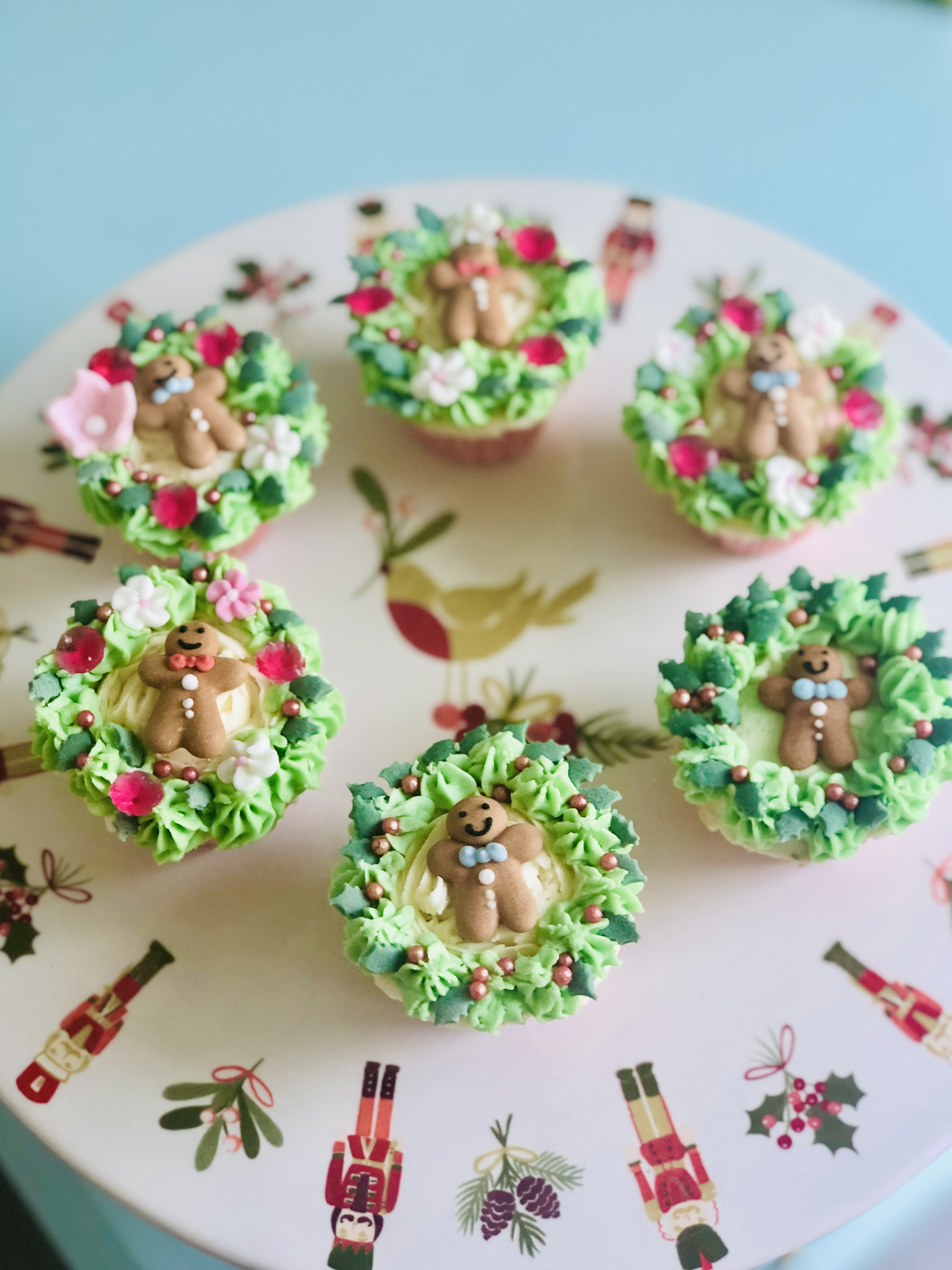 The Cupcakes
Ingredients
– 150g unsalted softened butter
– 150g golden caster sugar
– 3 eggs
– 150g self raising flour
– Half teaspoon baking powder
– 1 teaspoon vanilla extract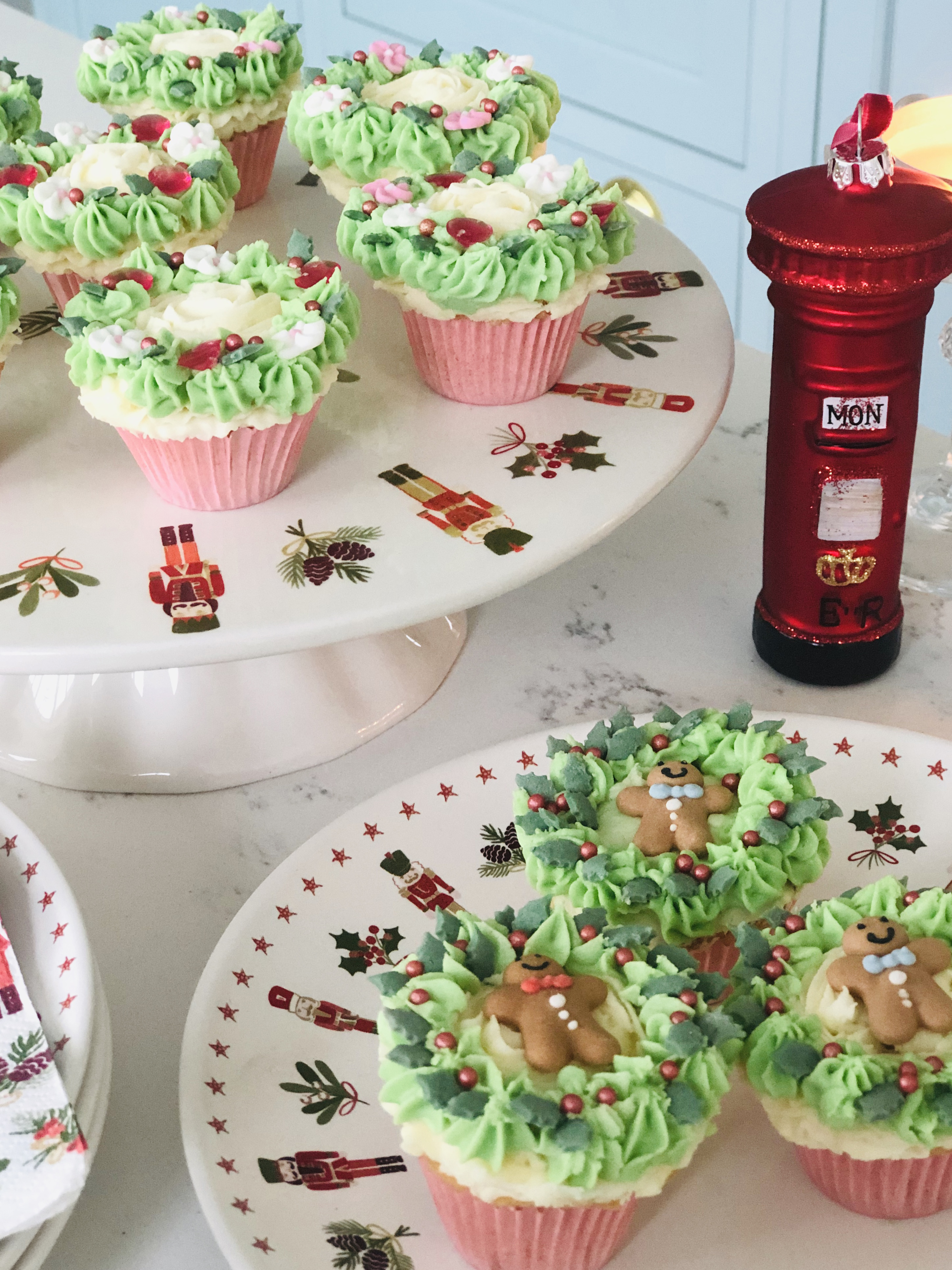 Method
1. Put butter, sugar & vanilla extract into electric mixer and beat for couple minutes until well combined.
2. Then add eggs, one at a time whilst still mixing. Once eggs all mixed through add sifted flour & baking powder and fold into mixture until all combined.
3. Divide mixture evenly into muffin cases and bake for approx 15-20 minutes at 175 degrees.
4. Once cupcakes have cooled , cut out a little circle on top and put a teaspoon of salted caramel into cupcake before placing cut out circle back on top.
Now for the frosting which is the piece de resistance of these Christmas wreath cupcakes.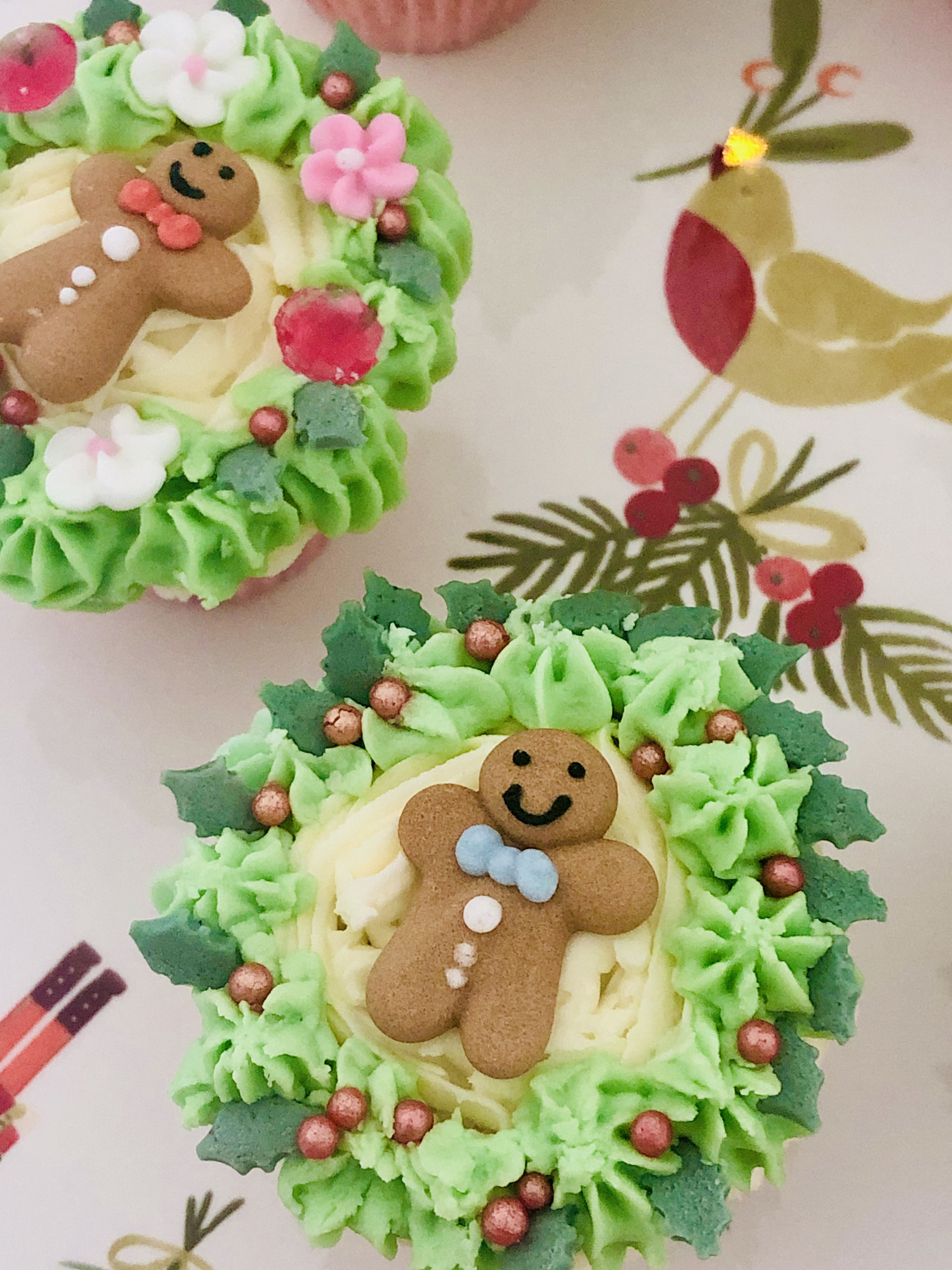 Salted caramel frosting
Ingredients
– Half cup of unsalted butter
– Half cup of double cream
– One cup light brown sugar
– Half teaspoon of sea salt flakes
– Three and a half cups icing sugar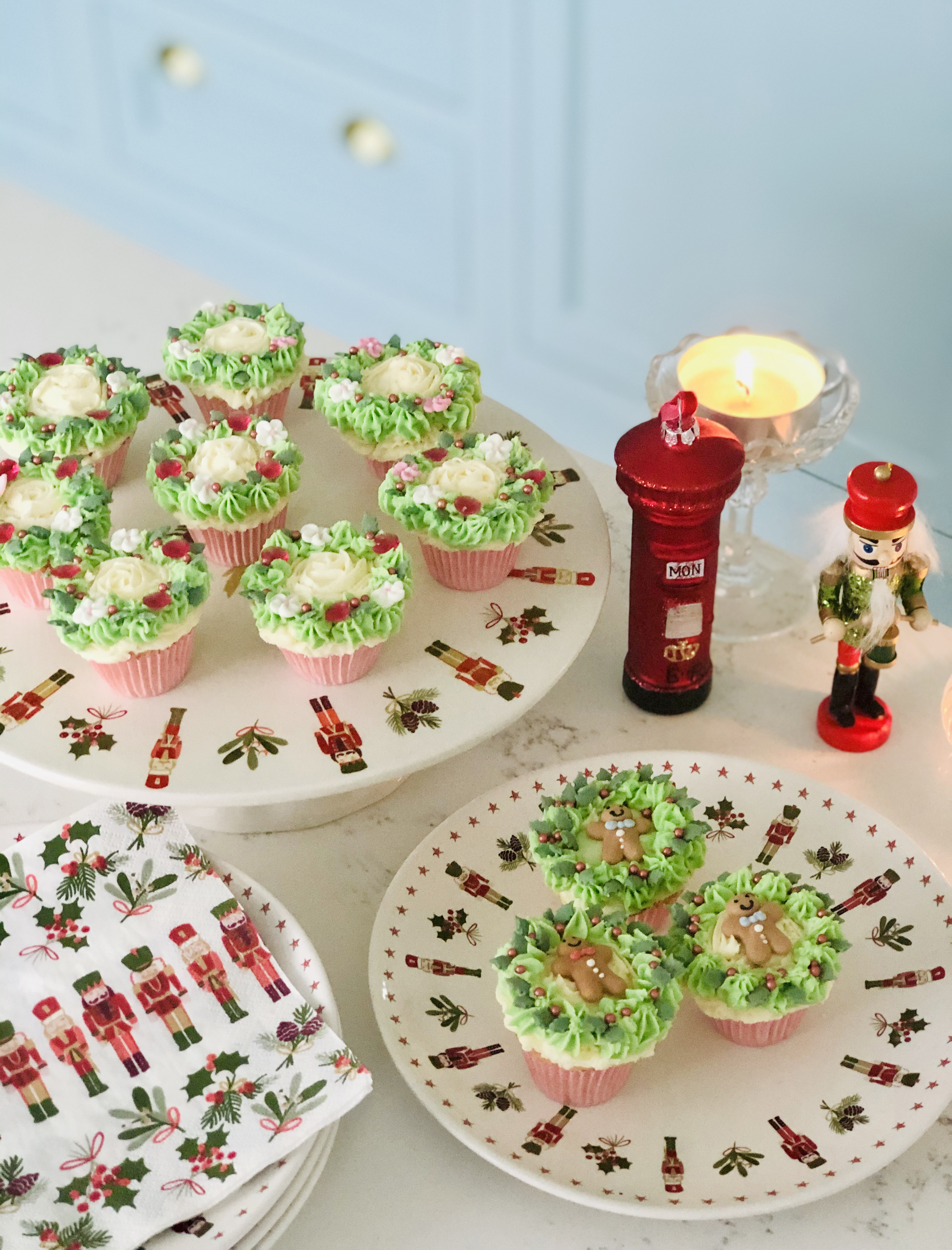 Method
1. Put butter, cream, brown sugar & salt into a pan. Put pan over medium heat stirring occasionally until sugar has melted. Then bring to slow simmer for 4 minutes.
2. Remove from heat and cool for 2 minutes before transferring mixture into bowl of electric mixer and whisk on medium speed whilst gradually adding sifted icing sugar.
3. Once you've added all icing sugar increase speed and beat for 5 minutes.
4. Put bowl with frosting into fridge for 15 minutes and then decorate cupcakes with it.
5. To give these ones a proper festive twist I then used green butter icing to pipe little wreaths onto them and added sugar holly leaves, edible gems & tiny gingerbread men.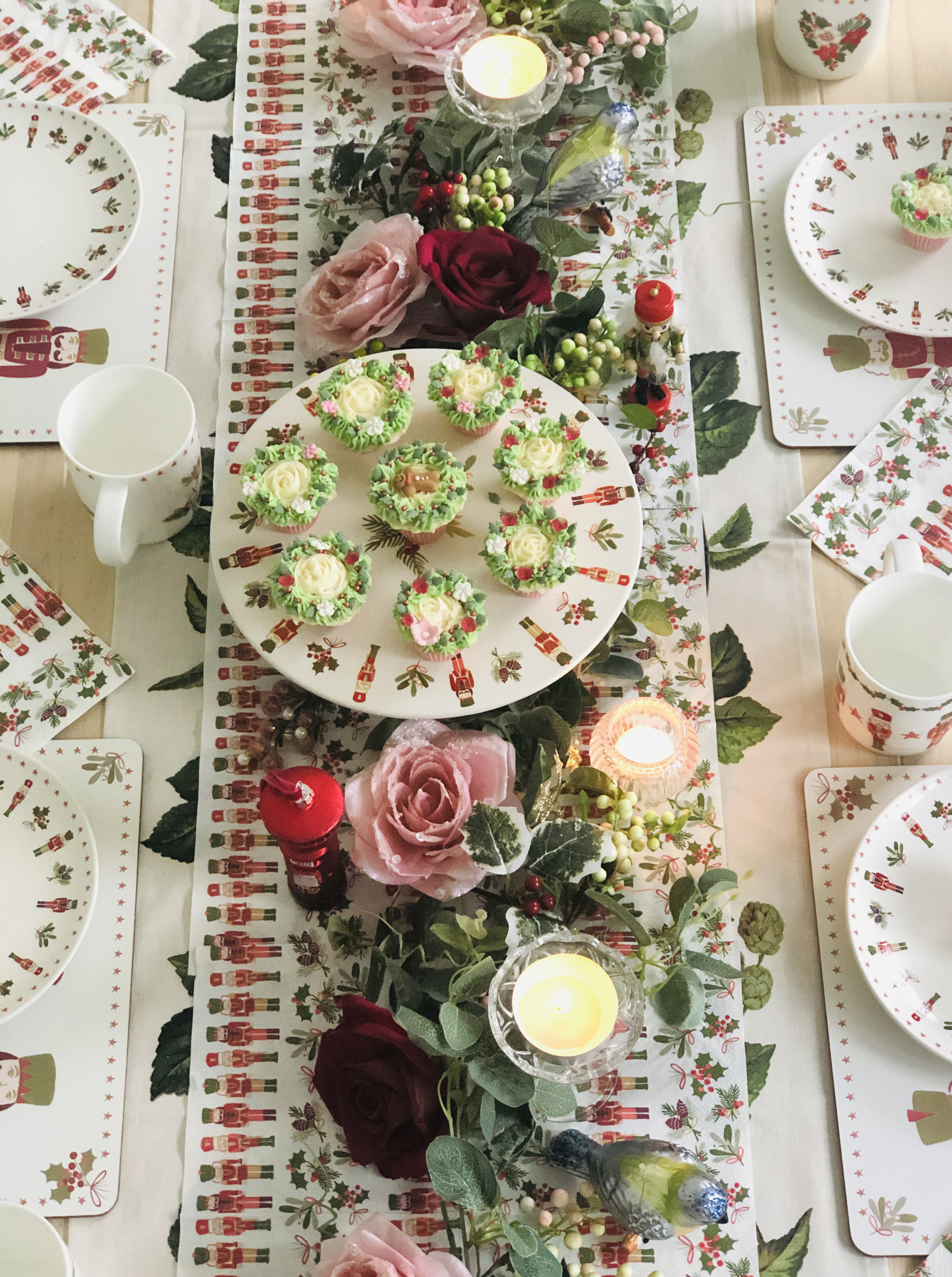 Do you like the decorations on this Christmas cupcake? Let us know in the comments below.
To create the perfect festive table for your home, check out the dining ranges in our Christmas Shop.
Follow along with our 12 Bakes of Christmas series and share your creations on our social media channels with the hashtag #LauraAshleyChristmas.