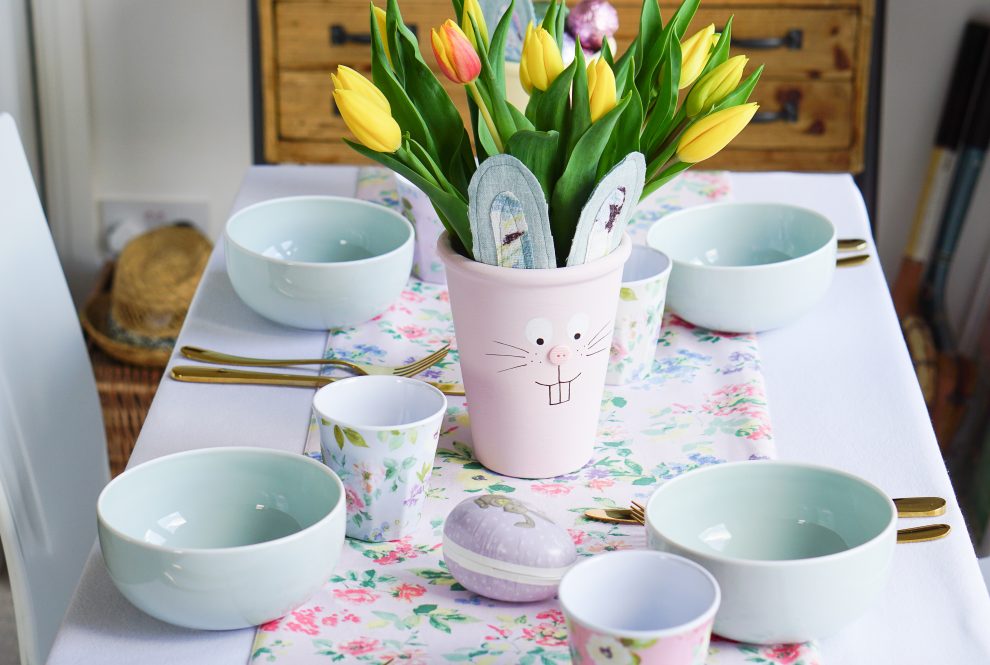 Hop into Easter with these adorable pastel bunny pots! read more
Nothing says spring like pastel hues, fresh tulips and floral prints. With this in mind, blogger and crafter Rachel Southern of The Ordinary Lovely has used Laura Ashley paints and bespoke printed materials to create a tutorial for some adorable painted bunny pots that are sure to bring some Easter fun to your Easter Monday spread. These pastel pots are so easy to make—you can even get the kids involved with the painting and design. So, let's hop straight in.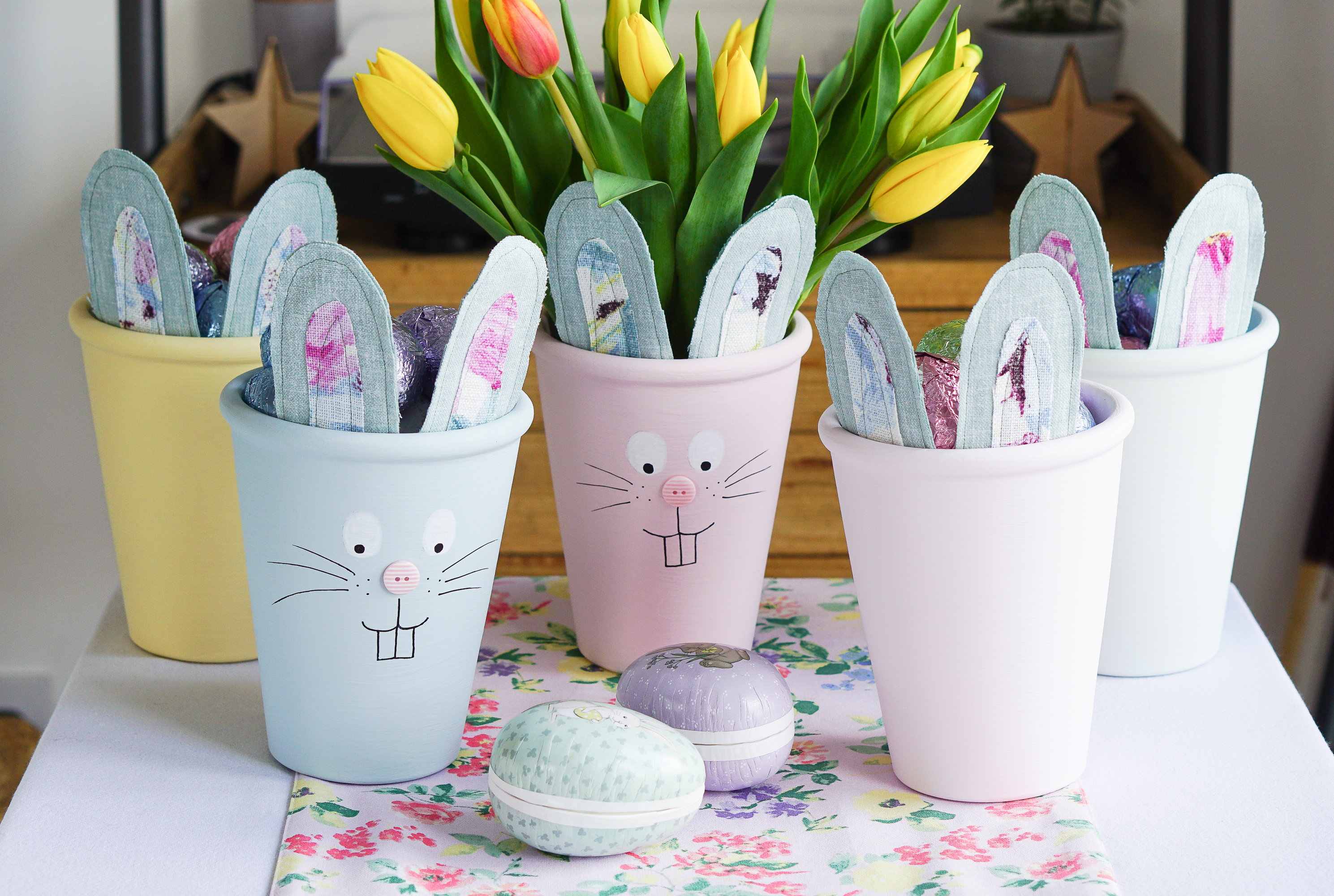 We're a household that relishes any opportunity to dine as a family and indulge in sweet treats, particularly of the chocolate variety. Throw in a love of pastels, crafts and pretty tablescapes and this time of year is a dream come true for me. We might not be overly religious – the boys are keen attenders of Sunday school (the biscuits on offer have nothing to do with it, of course) – but Easter is our feast. And the centrepiece for our table this year? Pastel bunny pots … featuring chocolate eggs and an abundance of beautiful tulips.
Want to know how to make them? Let me talk you through the steps.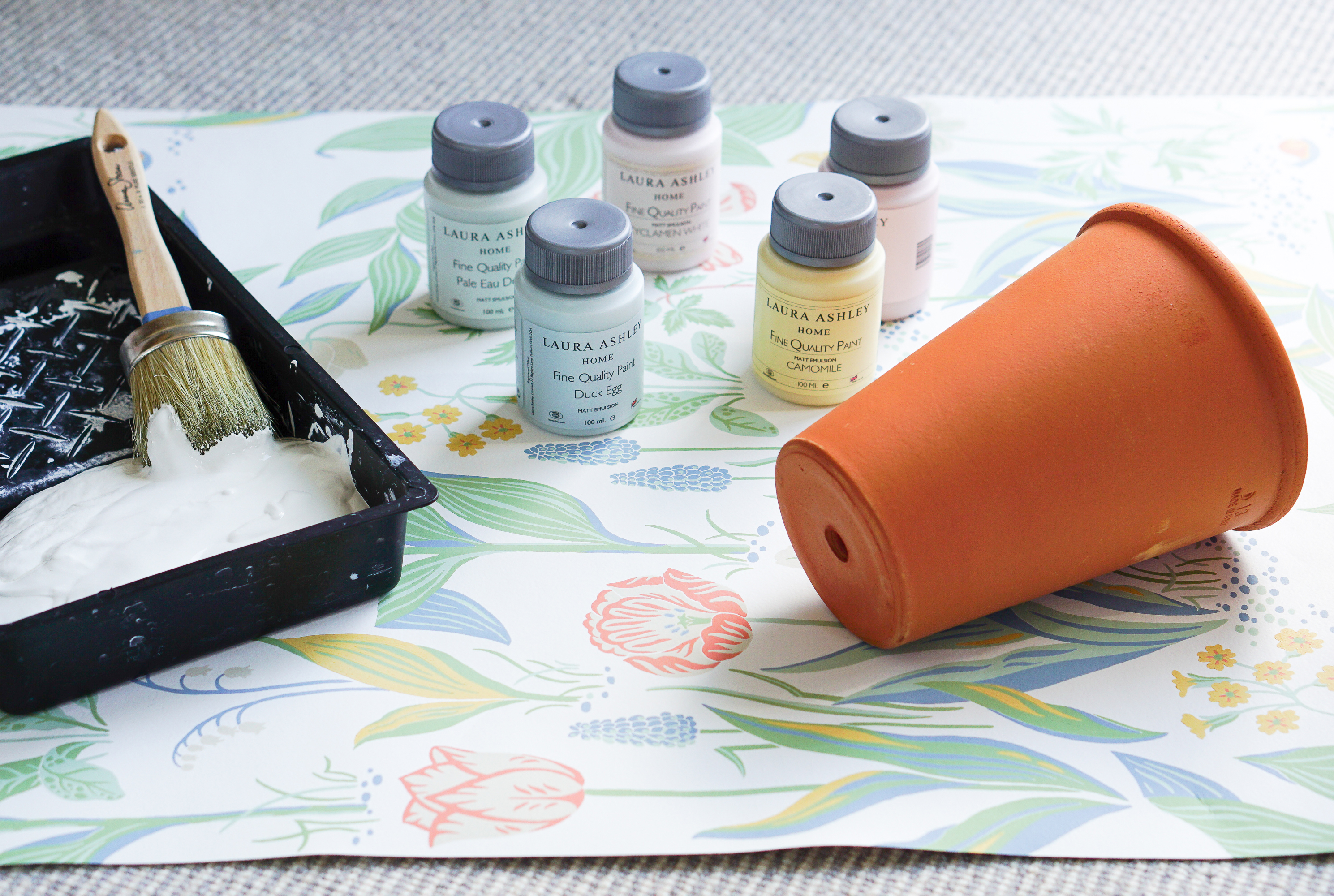 First up, I bought five cheap and cheerful terracotta pots from my local garden centre and chose five tester pots of my favourite Laura Ashley paint colours, perfect for Easter and springtime: pale eau de nil, duck egg, cyclamen white, camomile, and blush.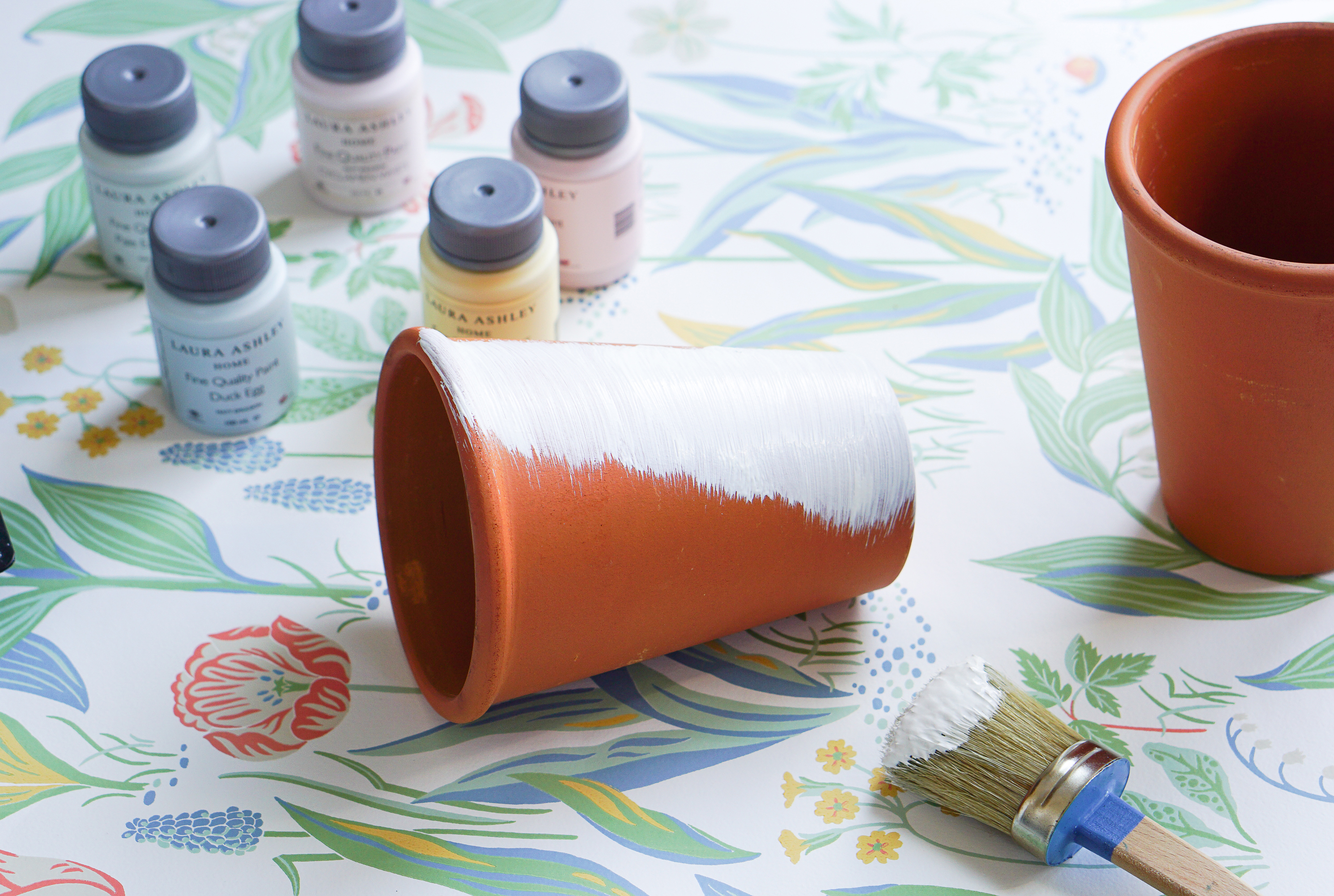 In order to show off the true potential of the paint colours, I quickly painted the pots with a coat of white paint (stolen from my boys' craft cupboard, not an expensive variety).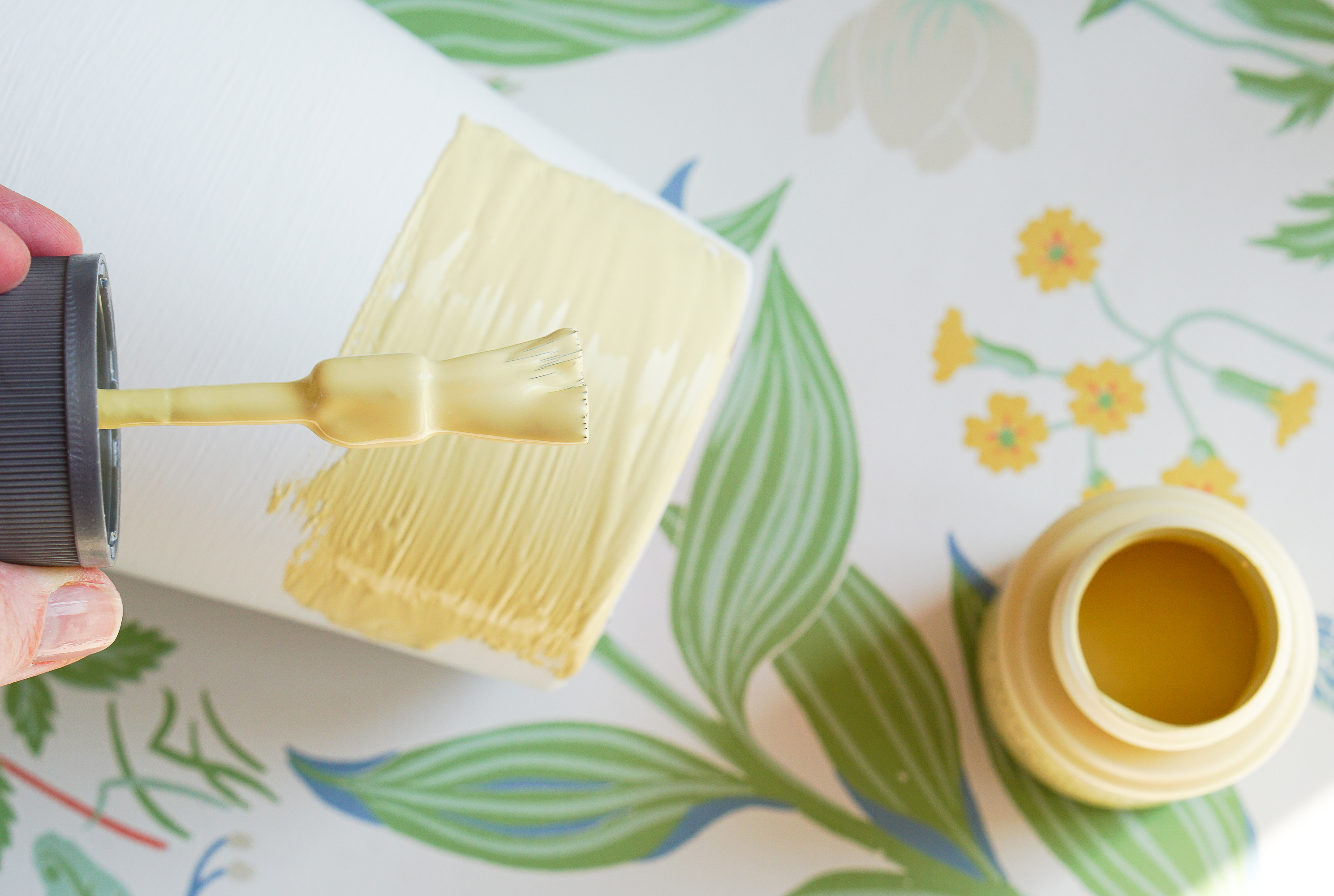 Once the white coat was dry, a single layer of the Laura Ashley paint was enough to make the pots look pastel-tastic. The paint is thick, creamy and a joy to paint with. I particularly love the camomile. I need to find a wall or two in my house to use it on.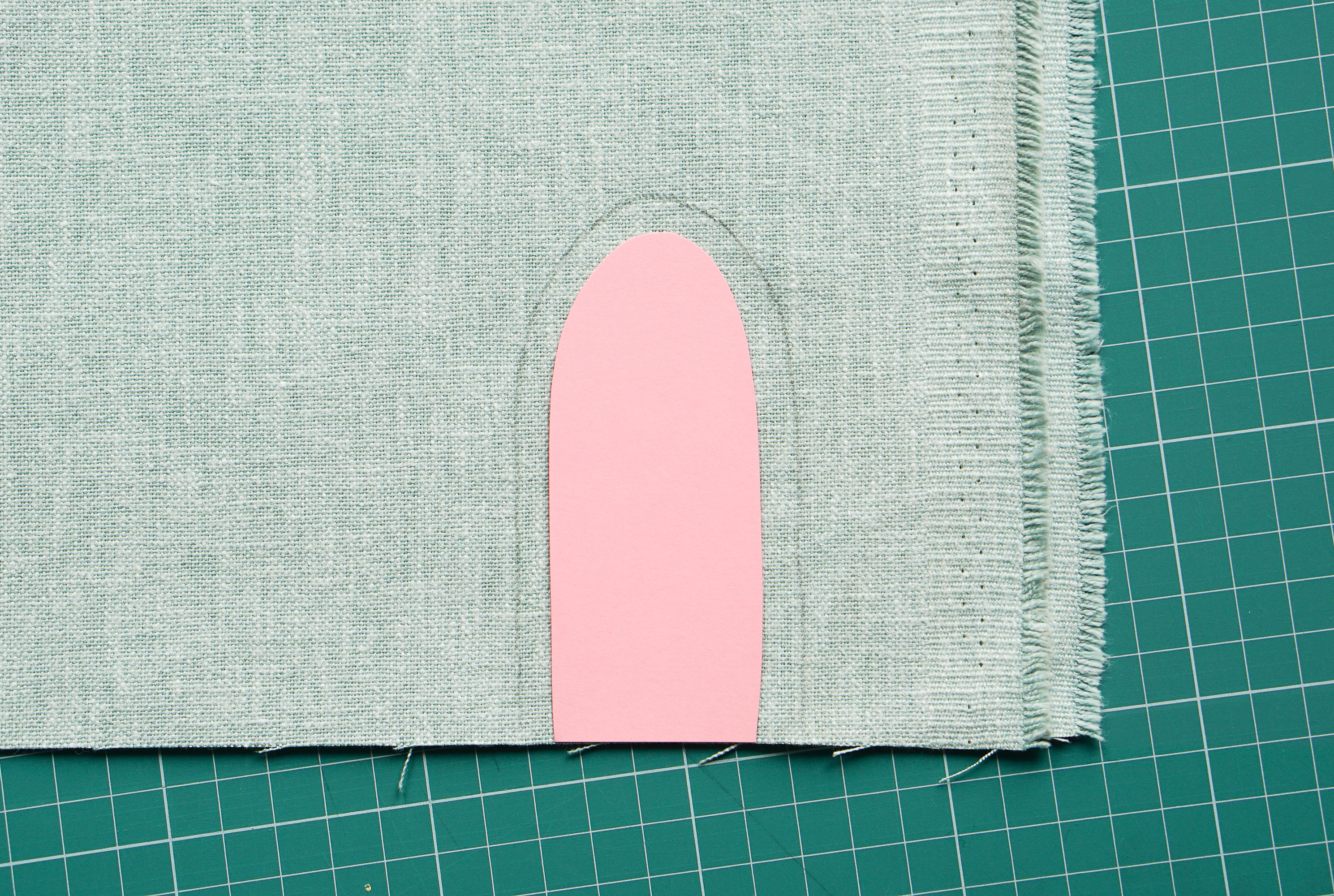 The bunny ears are a little more complicated – easier with a sewing machine but doable, nevertheless, by hand. First, I created a bunny ear template out of cardstock and cut out two per pot. For scale, the ones in my example are just over 10 cm in length/height. Next, I doubled up my fabric and drew around the template leaving a gap of approximately 0.5 cm.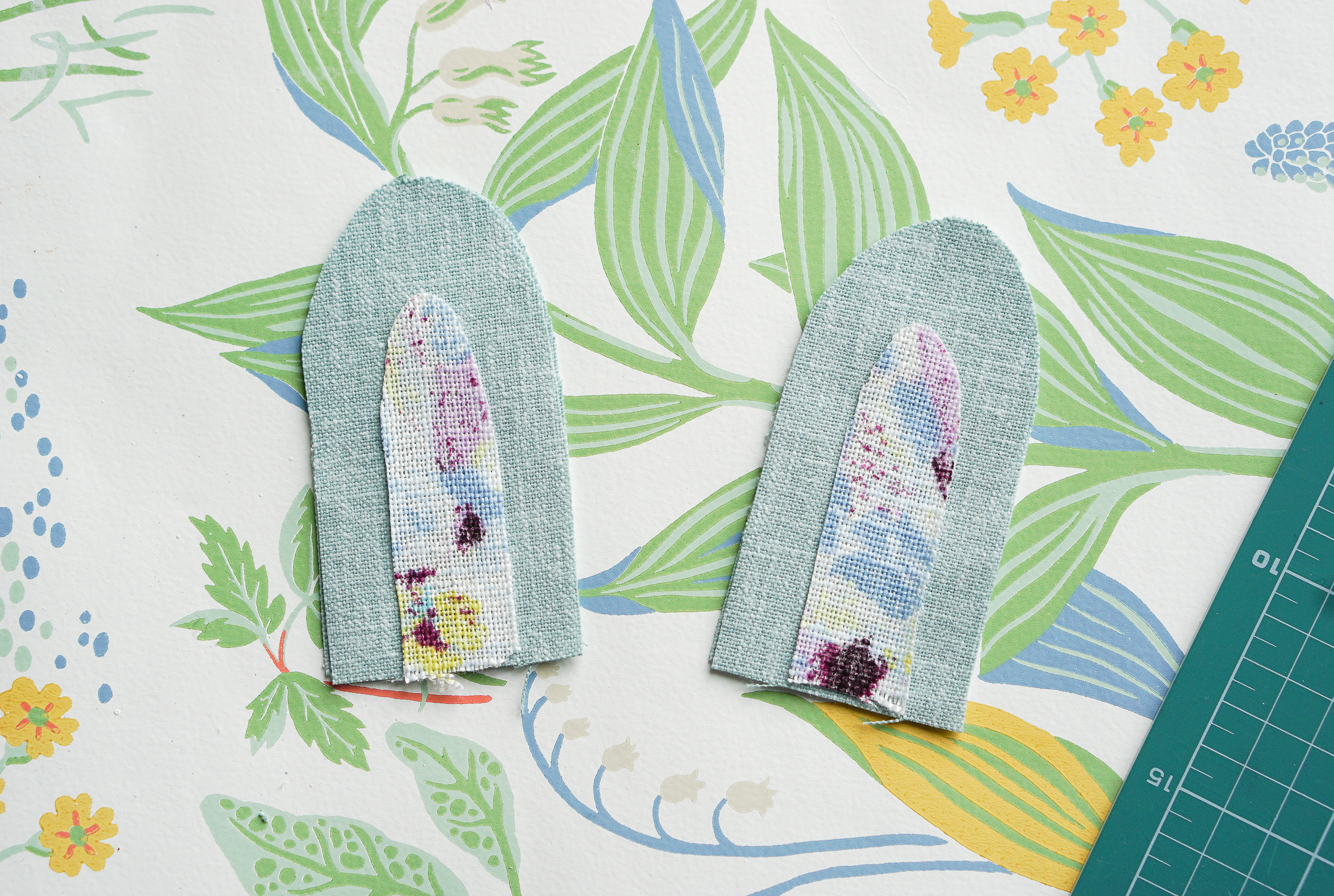 I then chose a complementary fabric (Cosmos off-white/grey fabric) – something floral for springtime – and cut out bunny ear shapes 0.5 cm smaller than my template.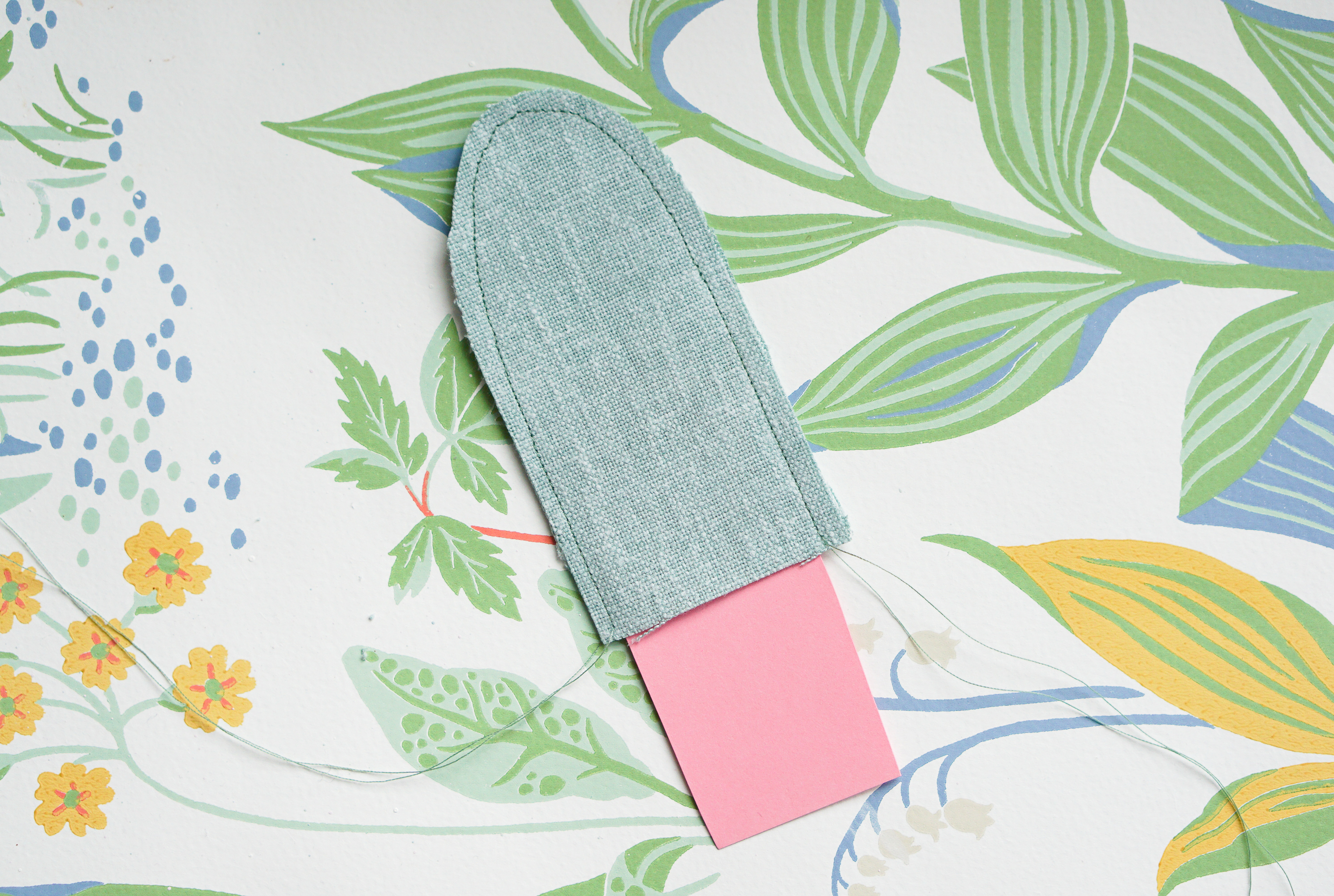 Next, I sewed the back and the front of the ears together, leaving the bottom open. I'm not the most precise sewer in the world and I don't think that you really need to be to make cute bunny ears. A more rustic finish is equally as lovely. Then I popped the cardstock in the middle of the two layers in order for the ears to stand up neatly when glued to the pot. If floppy ears are your thing, obviously you can skip this step.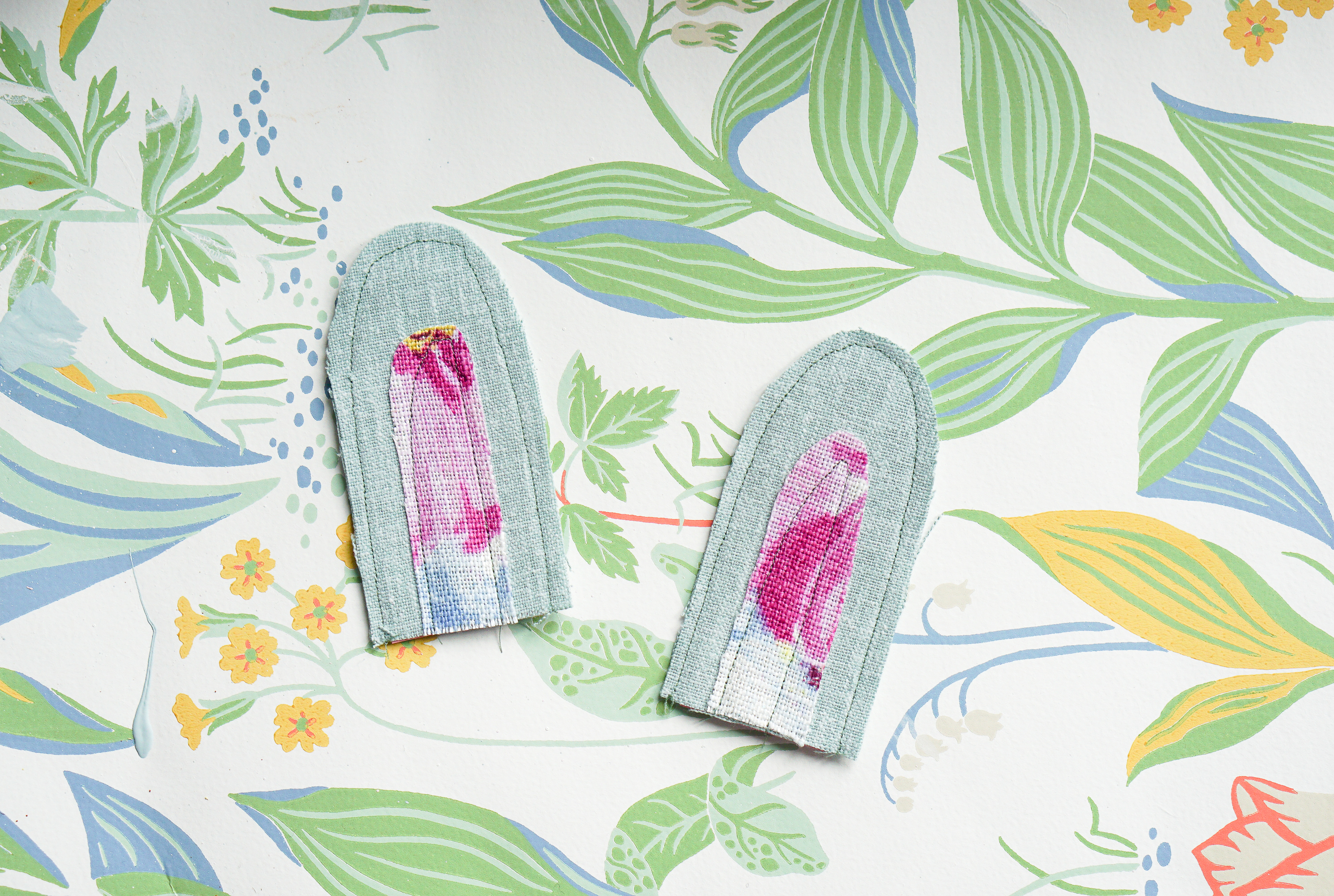 To finish the ears, I added the floral fabric. Again, not perfectly sewed, but still super pretty. You could hand stitch or use fabric glue, if you'd prefer.
After gluing the ears to the inside of the pot came the most nerve-racking part … drawing on the bunny face. I used a button for the nose and paint pens to add the eyes, mouth and whiskers. I'm not going to lie, it takes a steady hand. Deep breath before you start!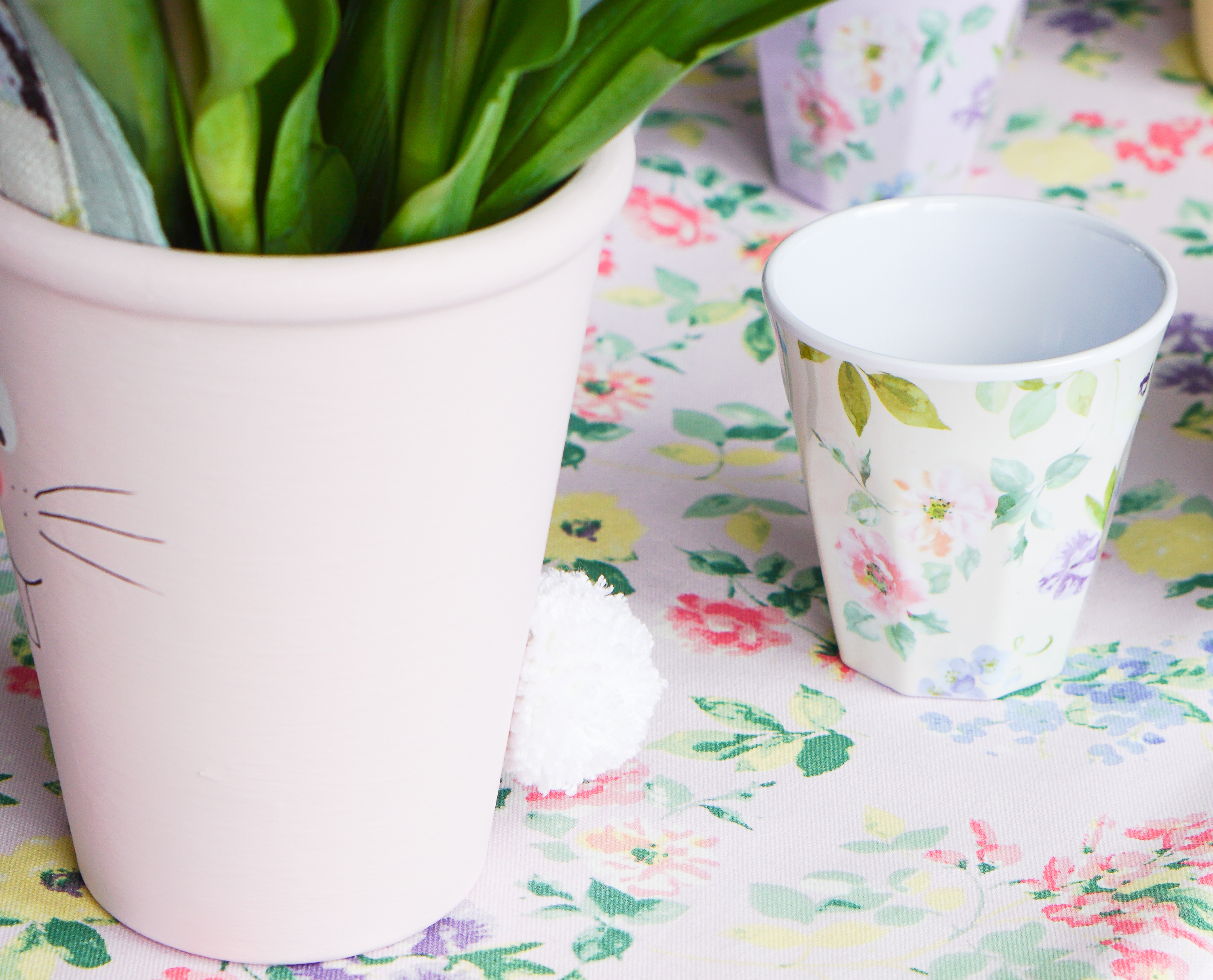 As a final flourish, I added a little pom-pom tail to the back of the pots. Not essential but extremely cute, don't you think?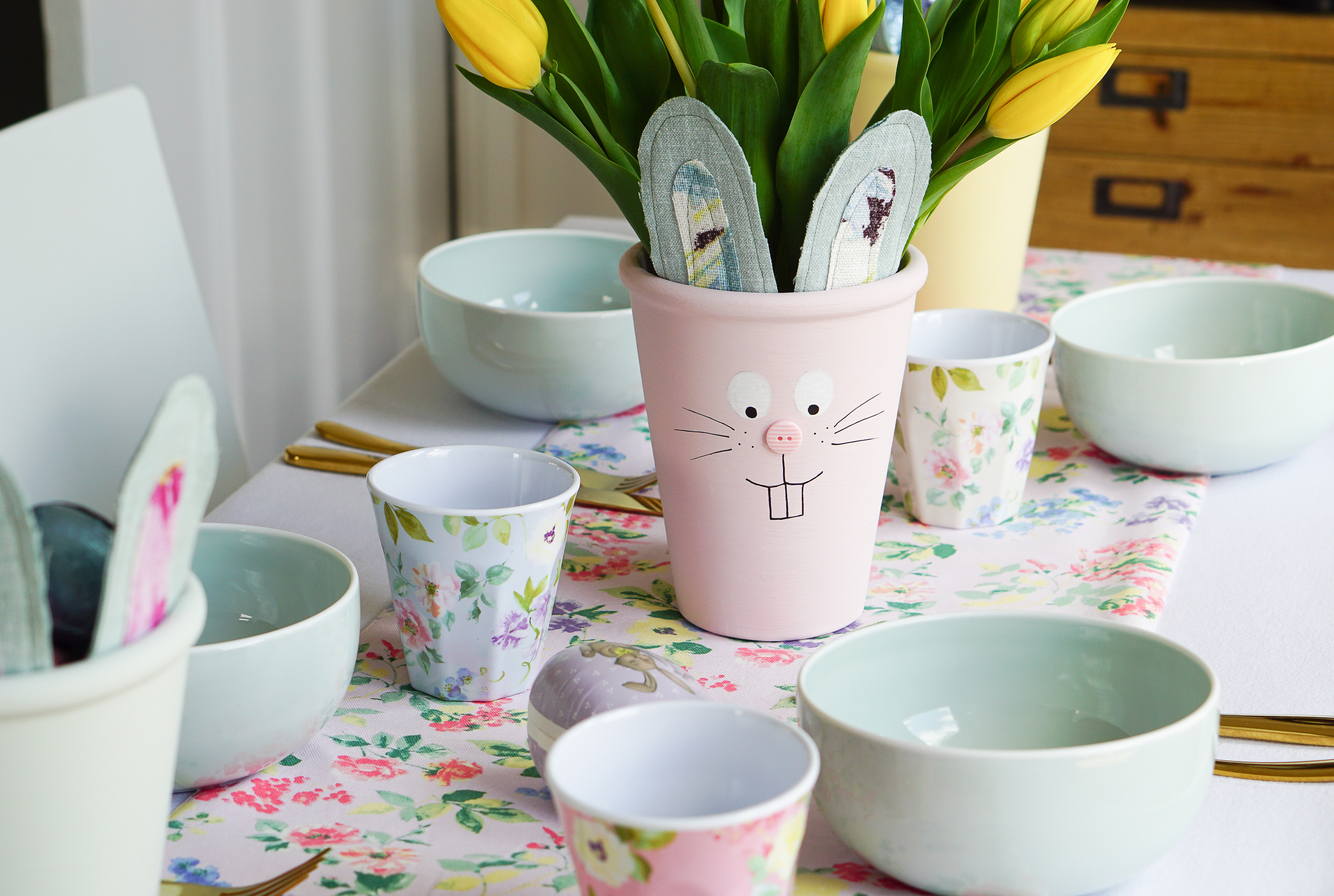 Now all that remained, was to lay the perfect Easter table. I love the spring blossom runner, it's beautiful.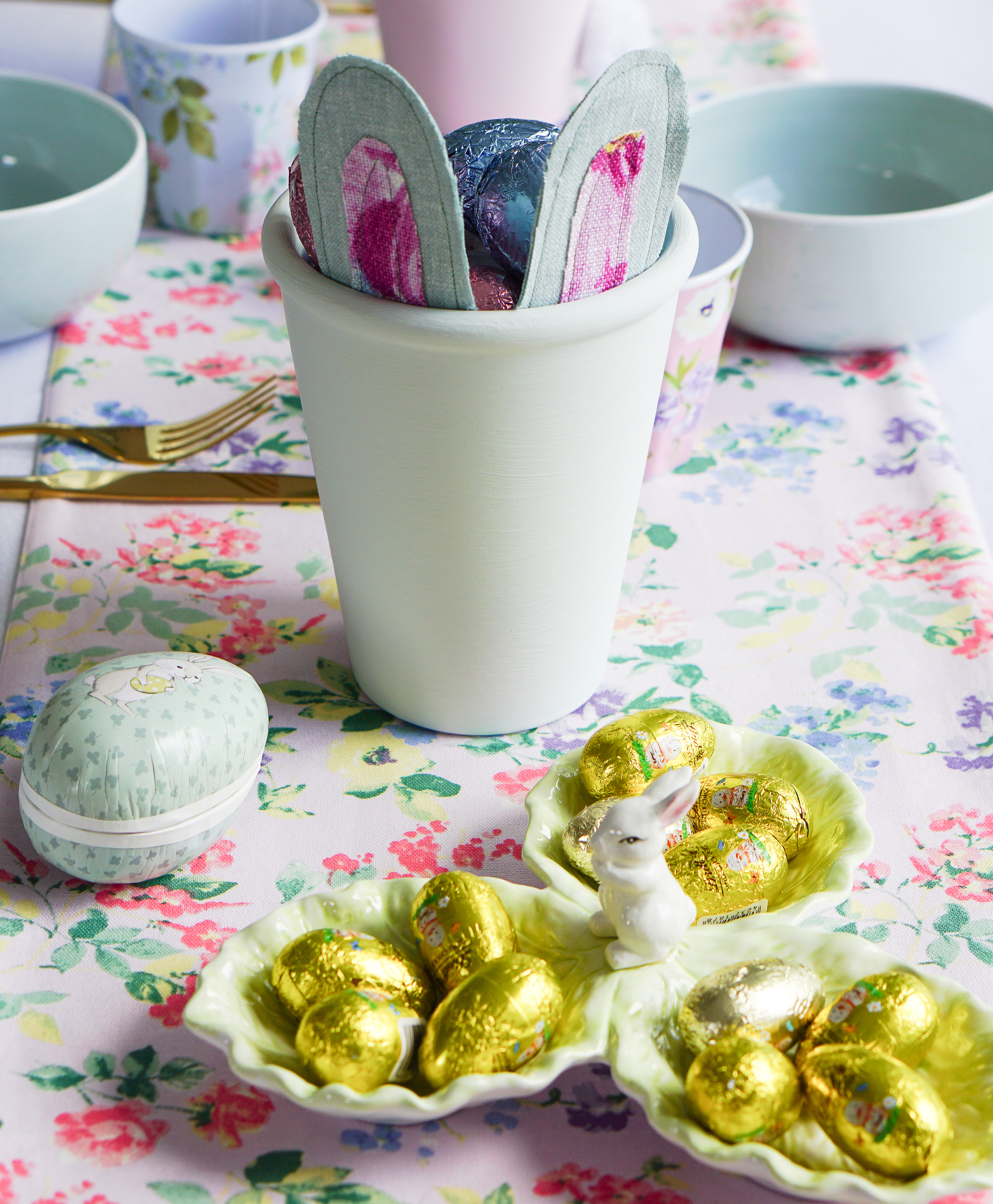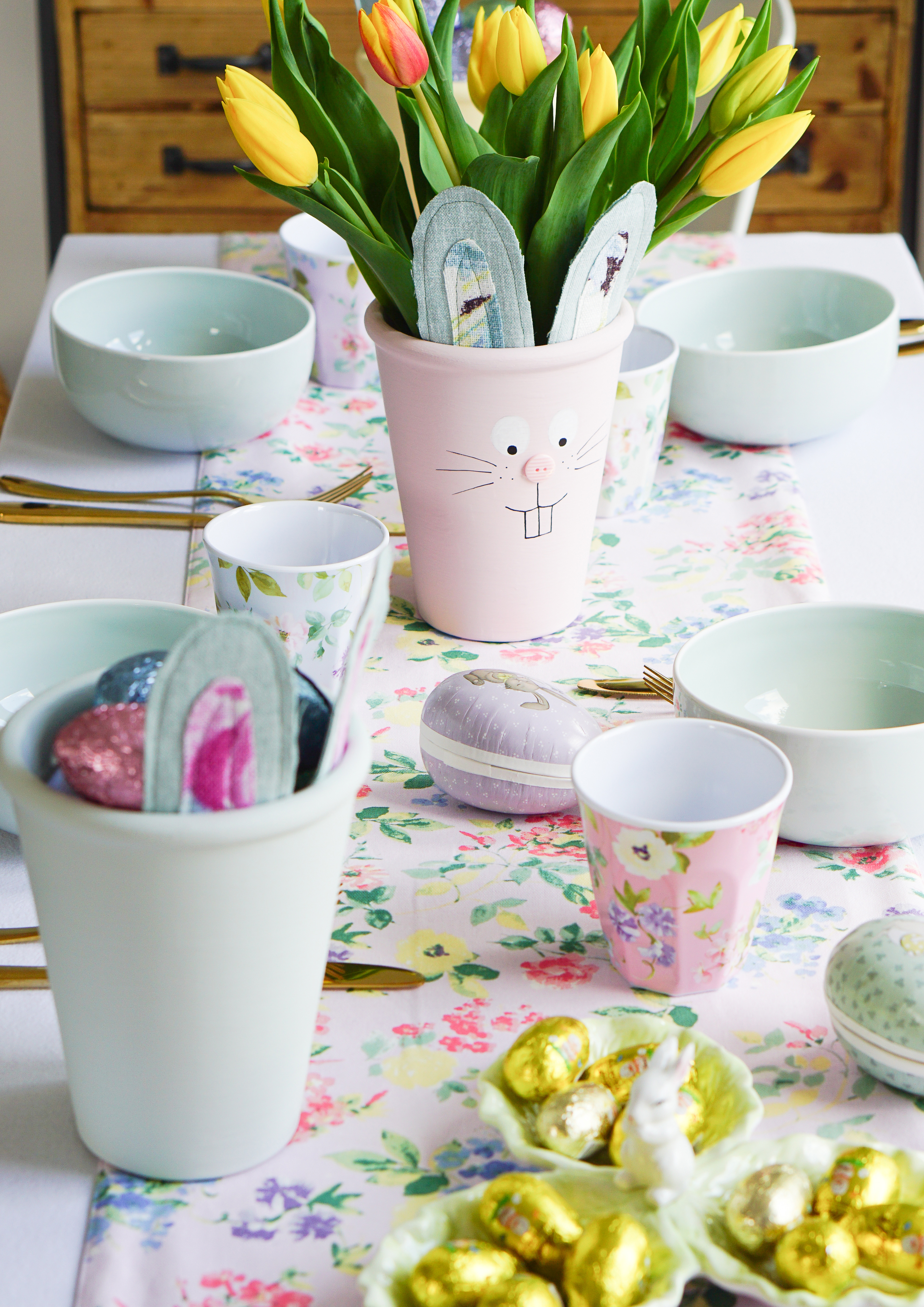 The matching melamine tumblers add a really sweet touch – you can use them outdoors too now the weather is getting warmer.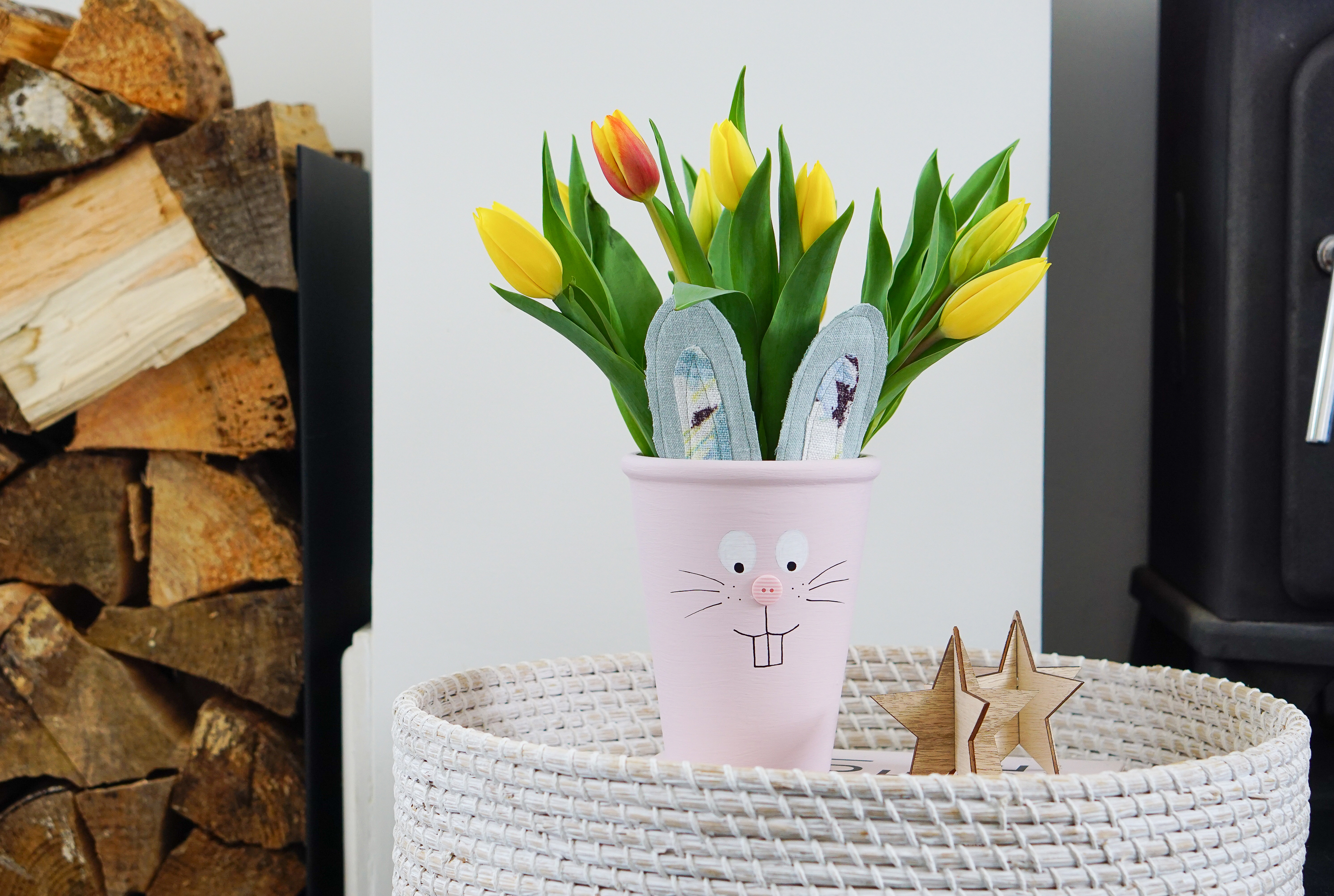 I hope you like my Easter table décor and pretty pastel bunny pots. Do let me know if you make your own versions. I'd love to see them.
Have you got any fun plans with the kids this Easter? Don't forget, all of our paint sample pots are available to order online and in store. Order yours today so you can decorate in time for Easter!