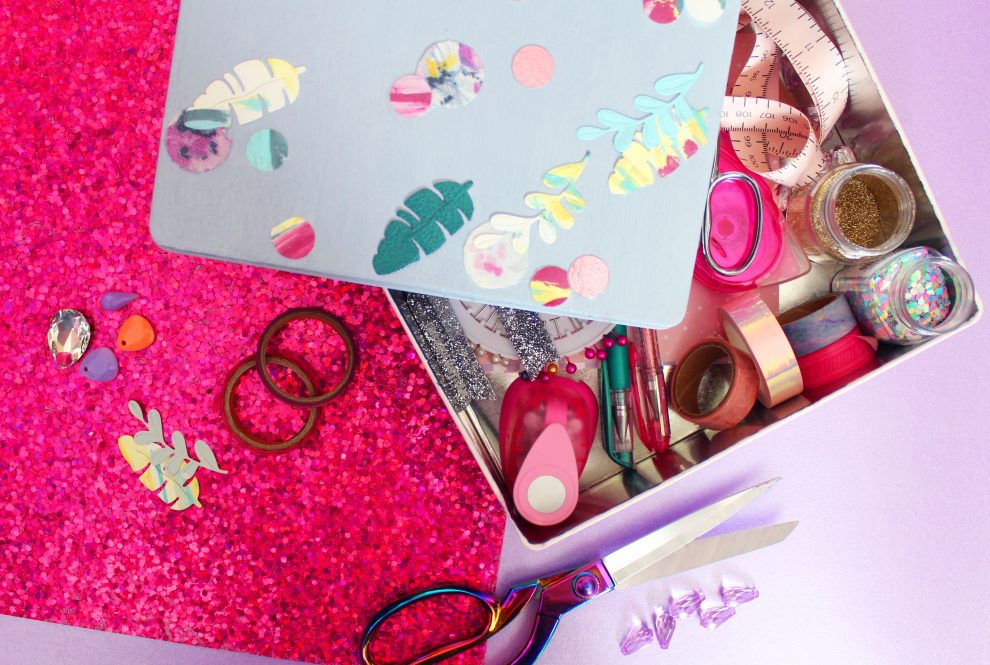 Reinvent your old biscuit tins with this easy tutorial. read more
Transform your old biscuit tins into these adorable storage solutions with the the help of Emma Jewell of Emma Jewell Crafts. This tutorial is simple for beginners and is easy to adapt to your own unique style and palette.
Laura Ashley Biscuit Tin Up-cycle
I love to spend a cosy evening crafting on the sofa in front of my favourite box set, whether it be sewing, adding to a papercraft project or learning a new craft skill. I like to have everything close to me, so that I can craft in peace with no distractions!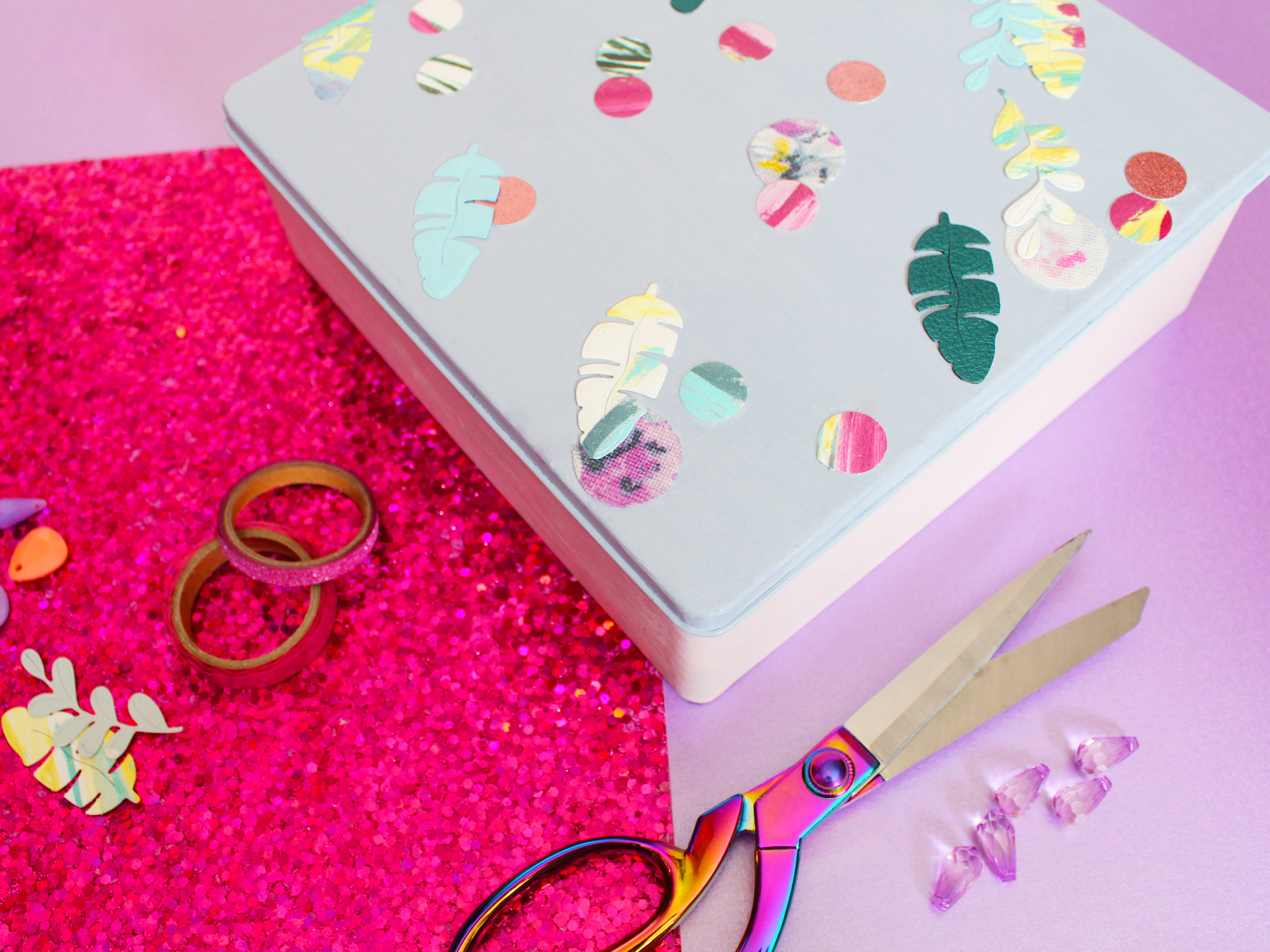 I have created a beautiful craft tin, so that I have somewhere to store my latest work in progress and keep all of the tools and supplies I need to hand with me on the sofa while I spend an evening being creative and having some me time.
This is the perfect way to up-cycle an old tin and give it a new lease of life, I used an old square biscuit tin which was large enough for me to fit all of the bits and pieces I need inside.
What you will need
– An old biscuit tin
– two different paint colours (I chose the Laura Ashley Matt Emulsion paint in Blush and Chalk Blue)
– die cutting machine
– two leaf dies
– scissors
– small paintbrush
– a piece of wallpaper; I chose the Laura Ashley Cosmos and Wild Meadow print and matching fabric
– pink glitter card
– pale blue card
– a circle paper punch
– PVA or decoupage glue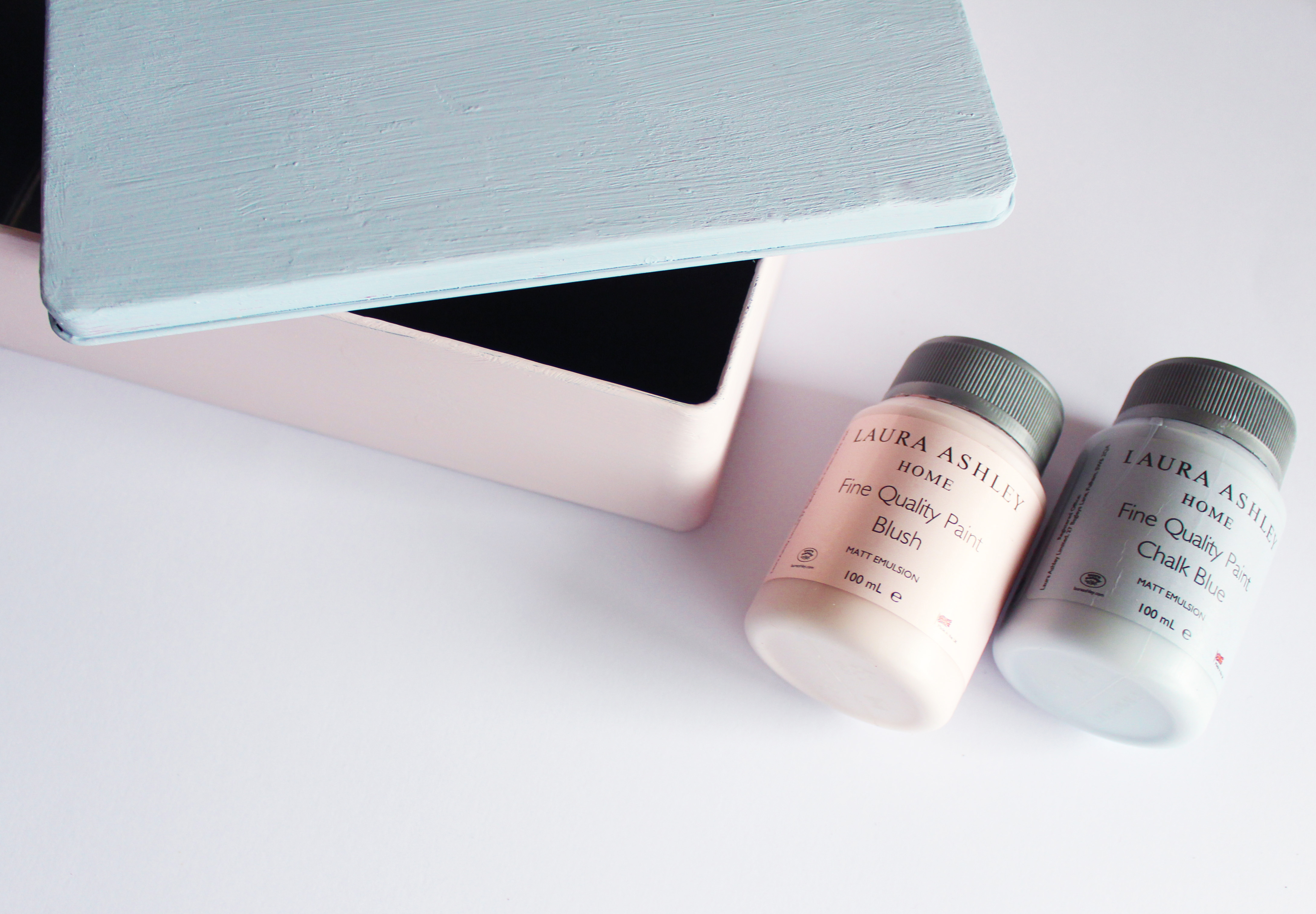 Step One:
First give your biscuit tin a good clean inside and out. You might want to lightly rub the outside of the tin with sandpaper to give a smoother surface for the paint to adhere to. Next paint on your first colour (the chalk blue on to the lid). Then leave the biscuit tin to dry overnight. Paint on a second coat if needed.
Step Two:
Next add the blush pink paint to the tin. As this is a lighter colour you may need a few coats.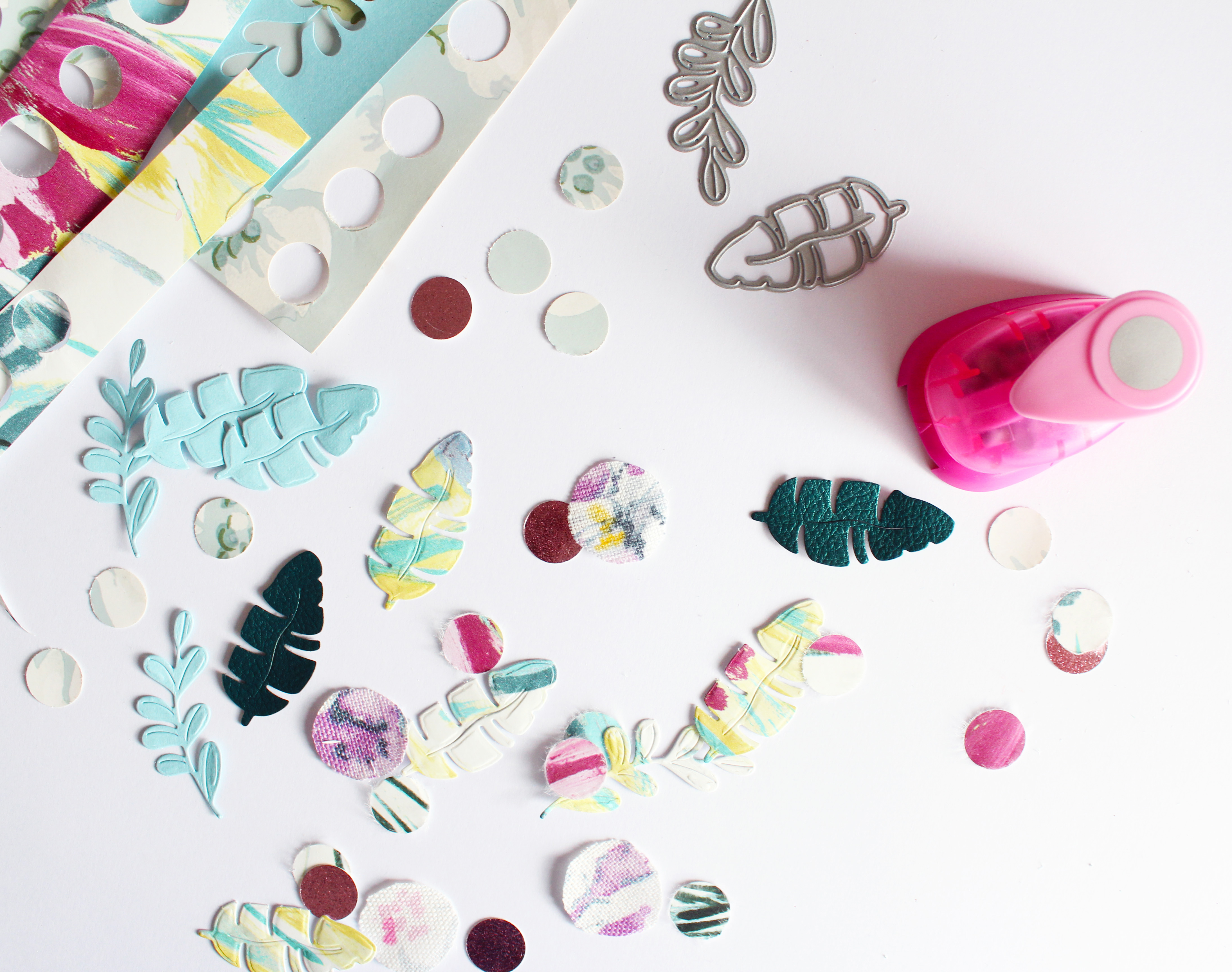 Step Three:
Take a piece of wallpaper and begin punching out circle shapes using the paper puncher. Line the puncher up over interesting parts of the wallpaper pattern to get a mix of coloured circles.
Then use the paper puncher to cut circles out of glitter card.
I hand cut a few larger circles from the matching Laura Ashley fabric, to add some more texture to my biscuit tin lid.
Step Four:
Use the die cutting machine to cut leaf shapes out of the remaining wallpaper and blue card. Lay the dies face down on top of the paper, then feed through the die cutting machine between the plates. I like to run the plates through the die cutting machine twice to get a clean cut.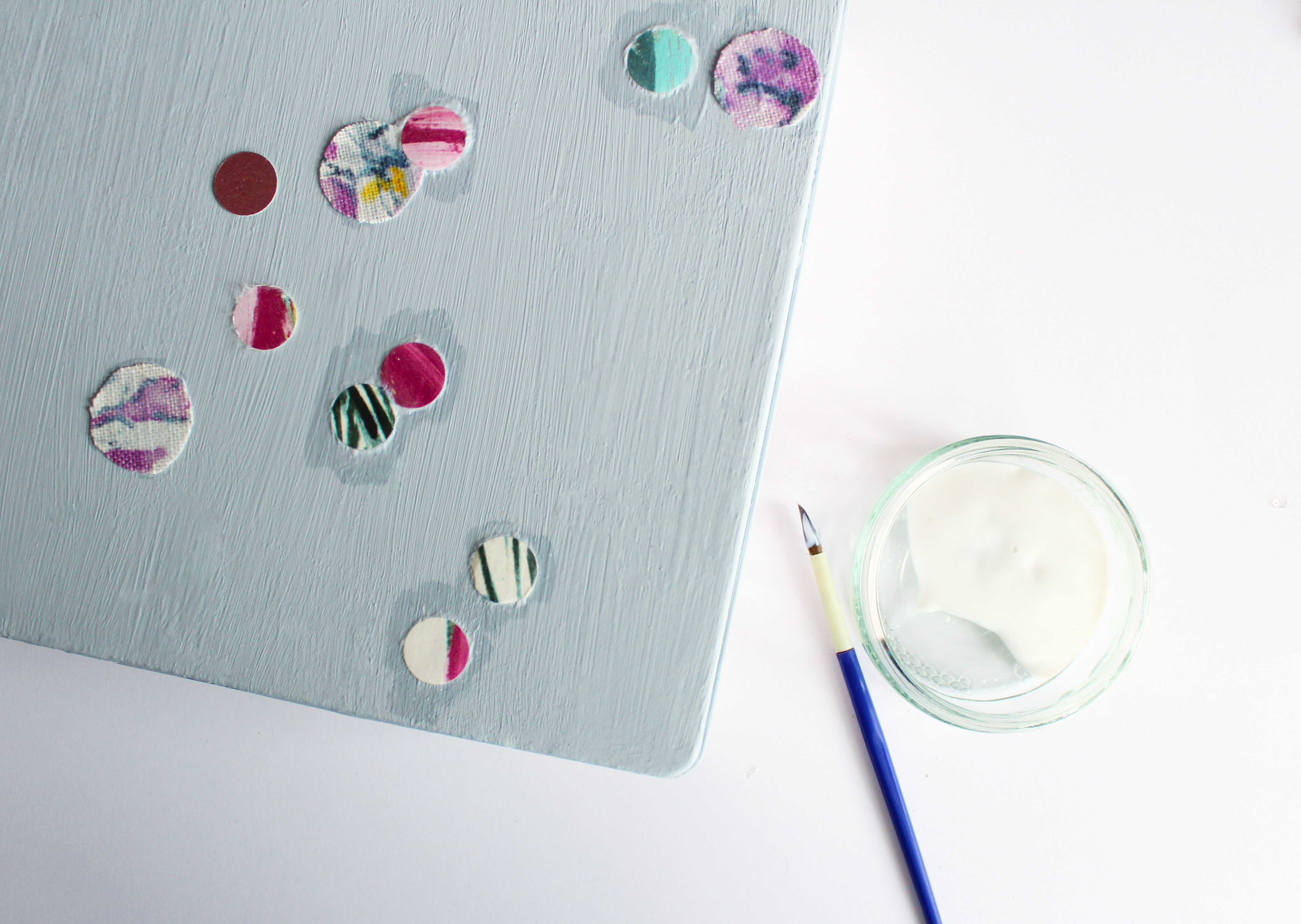 Step Five:
Using PVA or decoupage glue, paint the back of each paper shape before adding to the tin lid, spread the shapes evenly mixing up colours and patterns.
Cover the whole lid in glue to prevent the shapes from lifting.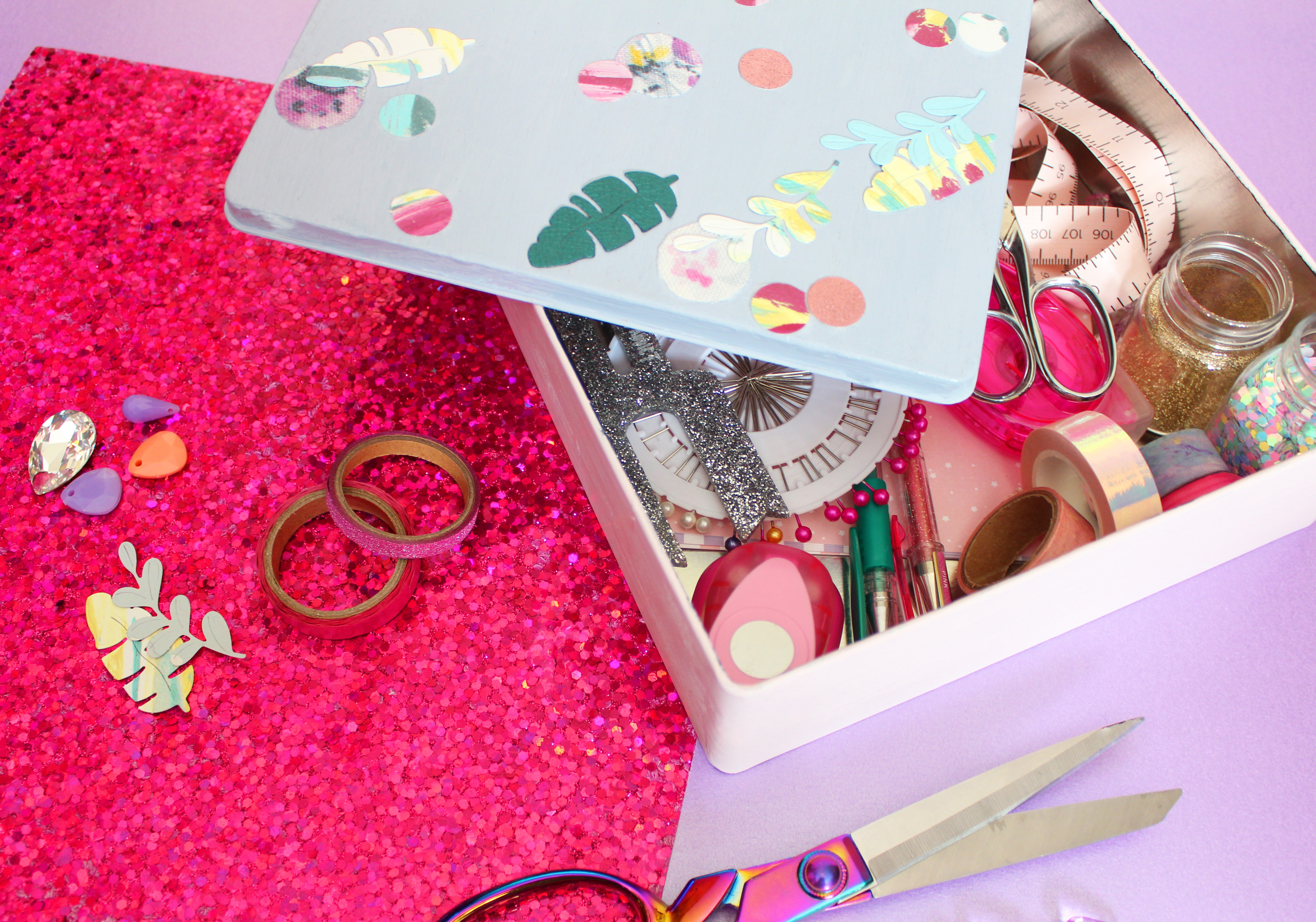 Step Six:
Fill your tin with craft supplies to make the perfect crafting storage—ready for crafting cuddled up on the sofa!
This tin is great for keeping all of your bits and bobs together when sewing or paper crafting on the go, as well as looking beautiful keeping all of your supplies in one place.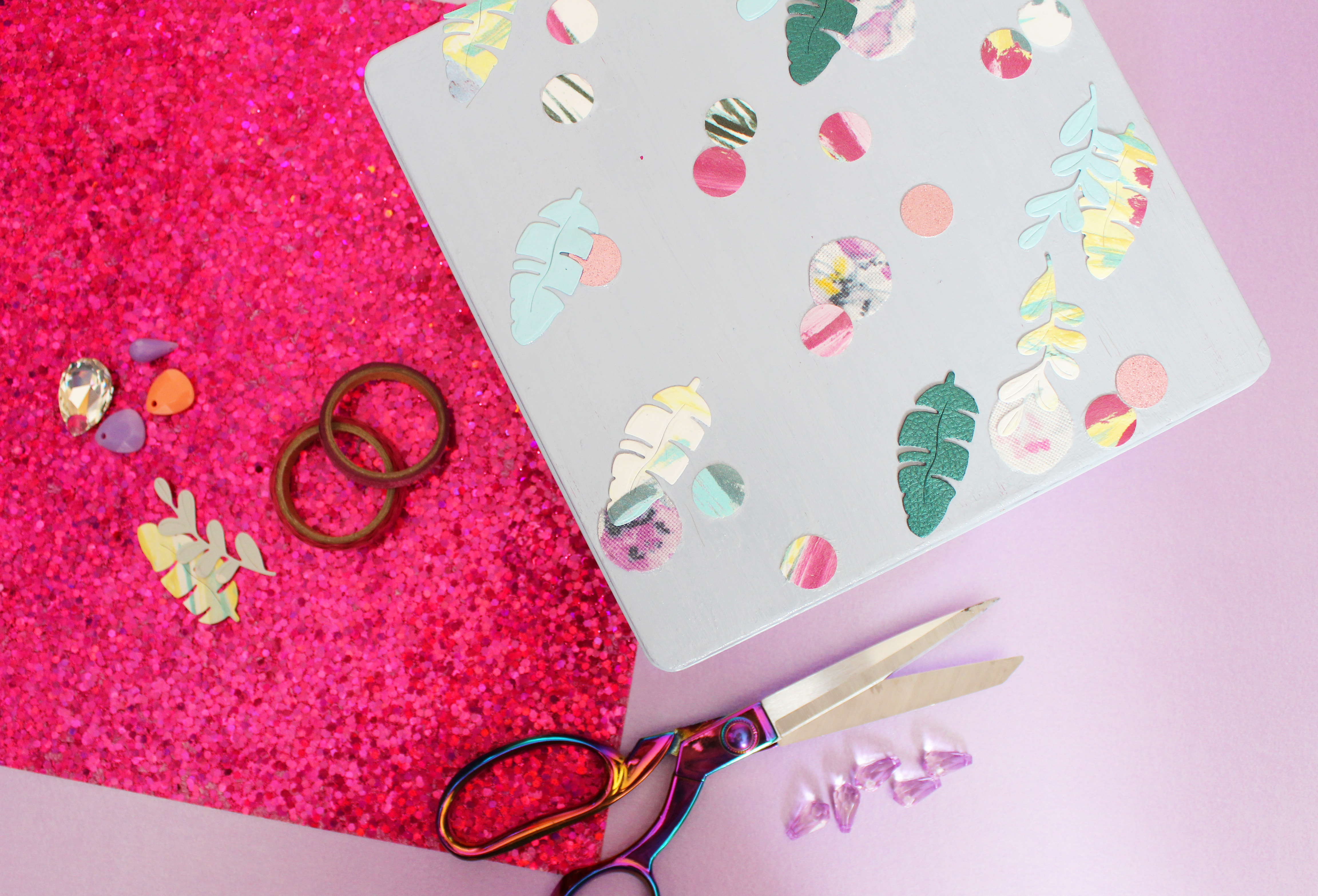 This tutorial was created in collaboration with Emma Jewell of Emma Jewell Crafts. She used our Blush Paint, Chalk Blue Paint,Cosmos Off White/Grey Green Wallpaper, Cosmos Off White/Grey Green Curtain Fabric, Wild Meadow Multi Curtain Fabric and Wild Meadow Multi Wallpaper to complete the project.
Is this something you would like to try out? Let us know in the comments below.