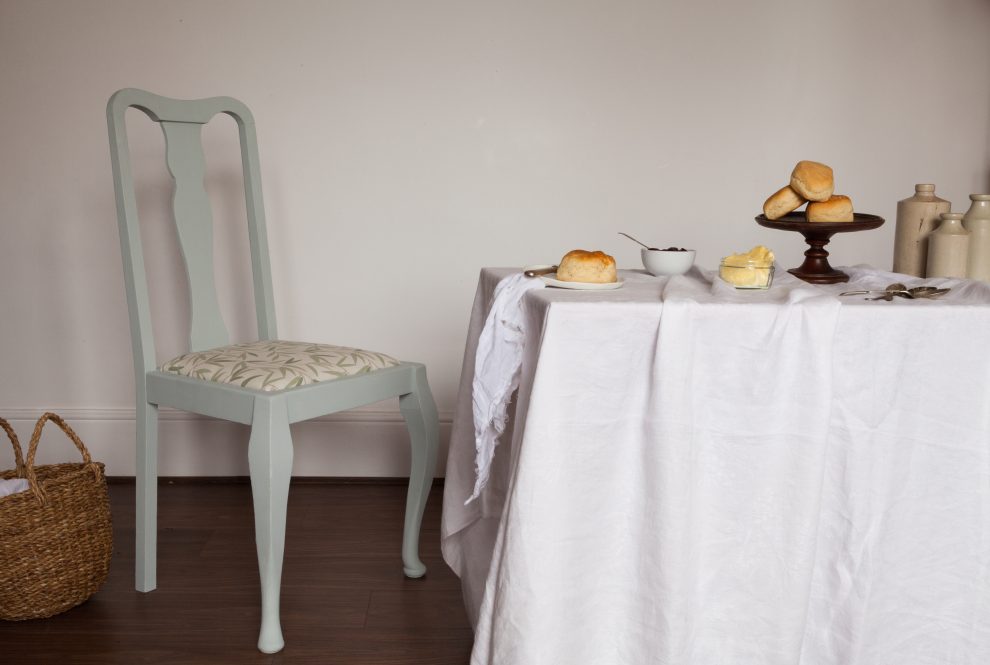 Give your chairs a revamp with this simple tutorial. read more
One of the easiest ways to give your home a new look on a tight budget, is to reinvent the items already in your home, giving them new life and giving your interior a brand new look. Getting your furniture reupholstered or giving some of your furniture pieces a lick of paint can make a dramatic difference to look and feel of your rooms—opening up new colour palette opportunities as well as bringing new prints into your interior design.
DIY blogger Amanda Russell of Amanda Russell Design used Laura Ashley paints and fabrics to give one of her tired old drop-in seat chairs a modern update.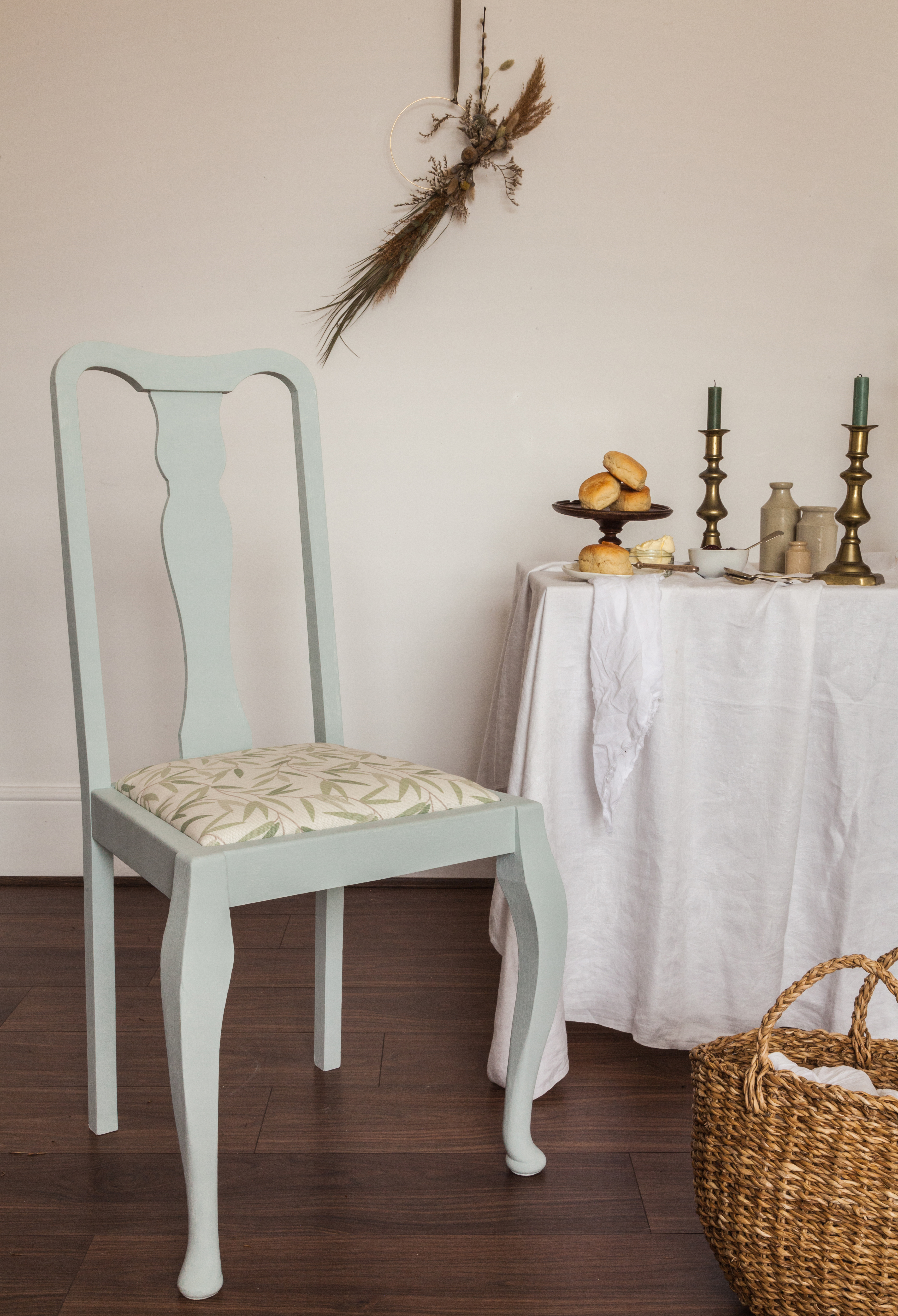 Drop-in seat chair revamp tutorial
I love the Laura Ashley Willow Leaf Hedgerow pattern fabric and when I was asked by the Laura Ashley team to design a quick, sustainable, recycling project I knew exactly which fabric I'd be calling in.
This sad, neglected old brown drop in seat chair was crying out for a makeover to save it from a journey to the charity shop. With the lyrical curvy lines of the legs and seat back the only thing separating it from revealing its potential beauty and taking centre stage was a simple makeover.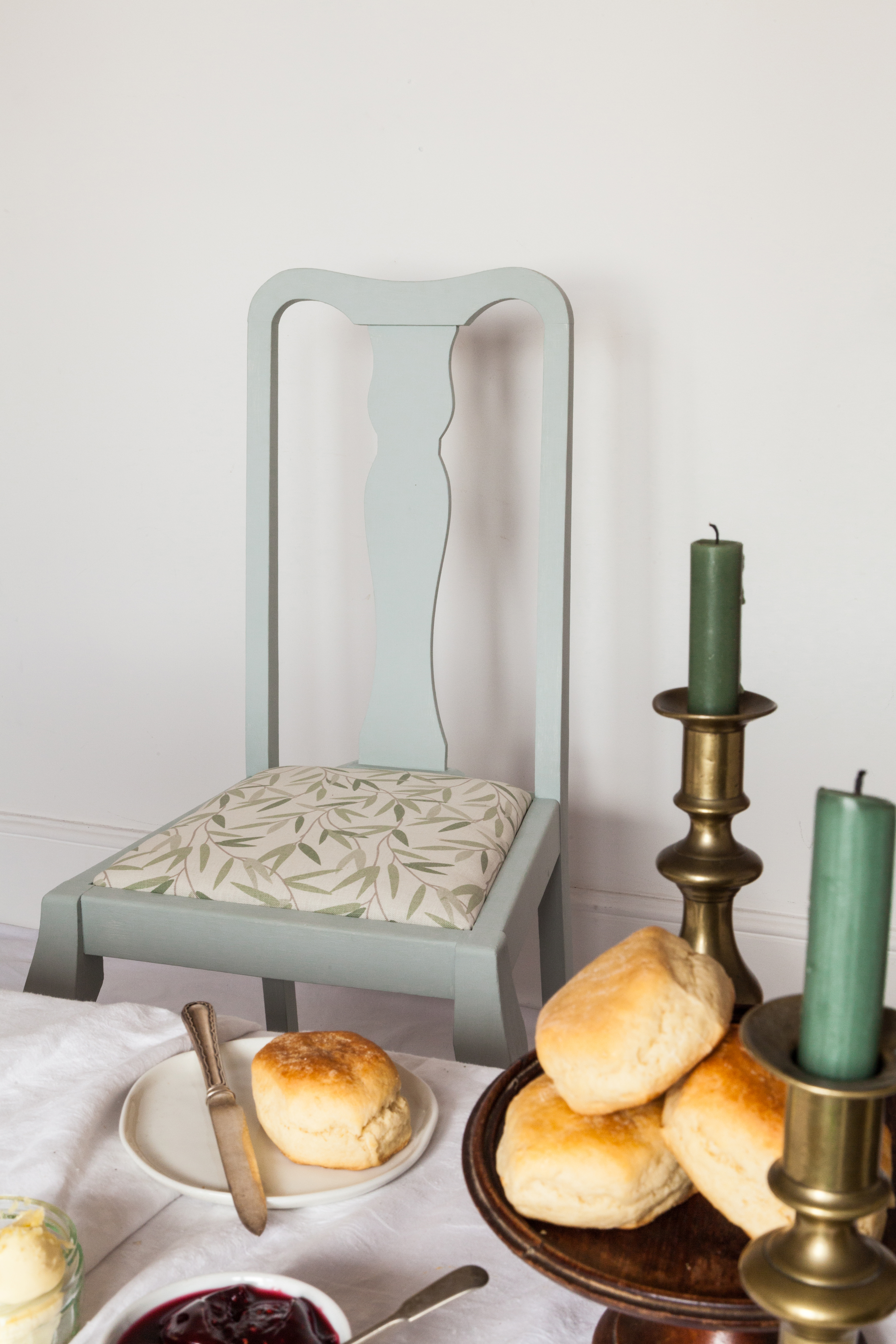 All it took was a bit of knowhow, a few simple skills, along with a lick of chalky pastel Laura Ashley Pale Grey Green Matt Emulsion paint and a new seat pad covered in a contemporary printed fabric, Willow Leaf Hedgerow. To protect the new finish from any of the of the old wood treatments seeping through a couple of coats stain stopper were applied before painting with the emulsion.
I hope you enjoy this renovation project to bring new life back to a beautiful chair as much as I did.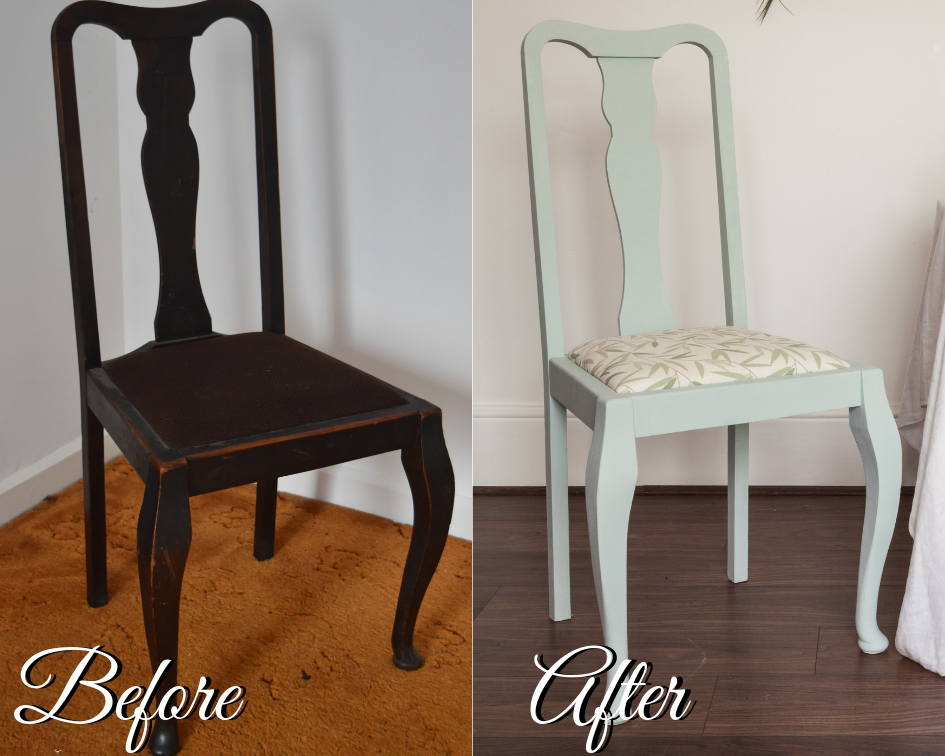 You will need:
-Laura Ashley Pale Grey Green Matt Emulsion Paint
-Laura Ashley Fabric Willow Leaf Hedgerow
-Pliers
-Screwdriver
-Hammer
-Tacks
-Scissors
-Paint brushes
-Medium Weight Polyester Wadding
-Stain stopper paint
Step by step
Step 1
Remove the seat pad from the chair frame, then wipe chair over with a weak solution of warm water and washing up liquid.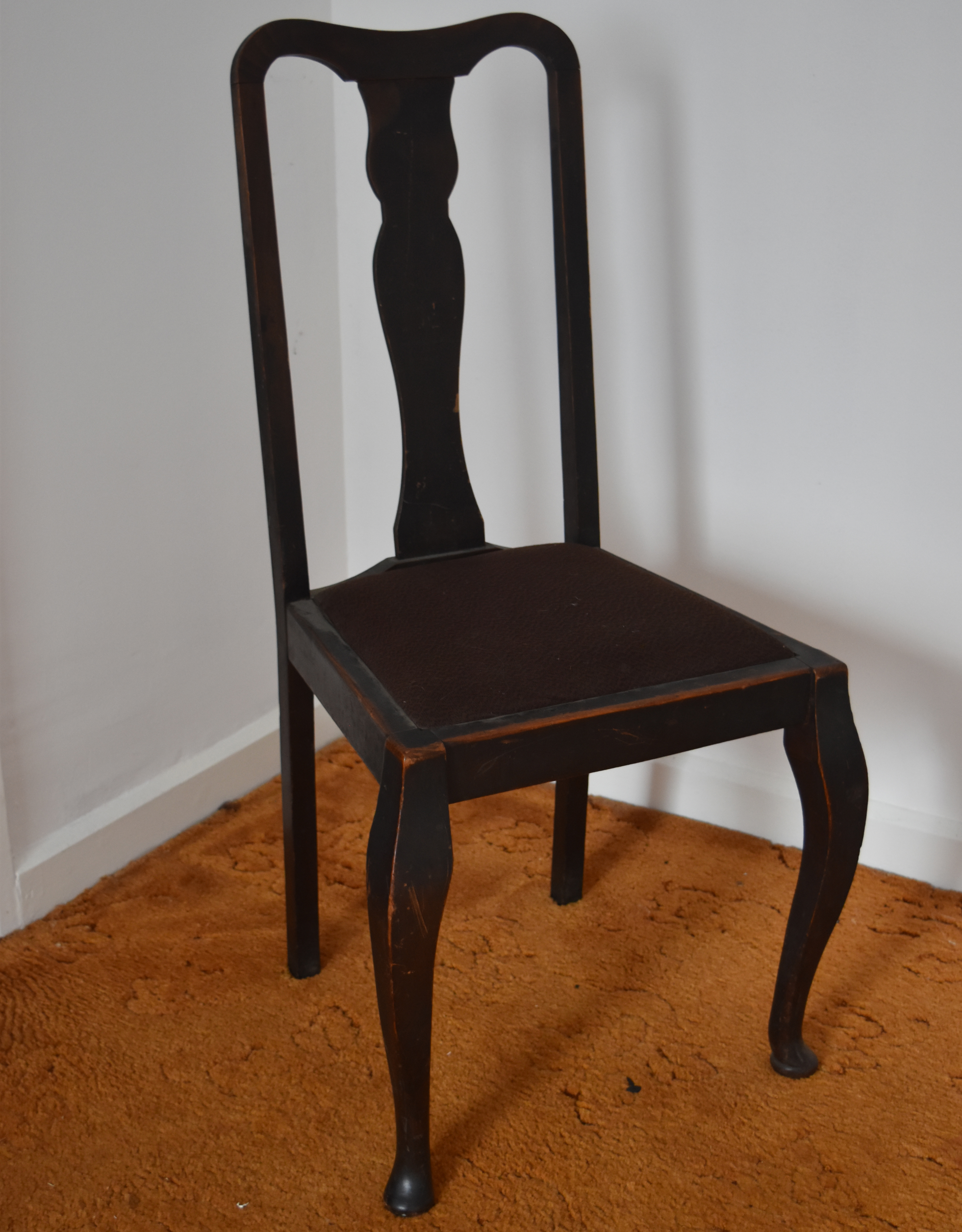 Step 2
When the chair is dry use a paint brush to apply two coats of stain stopper. This will protect the new finish from any of the of the old wood treatments seeping through and spoiling the new colour.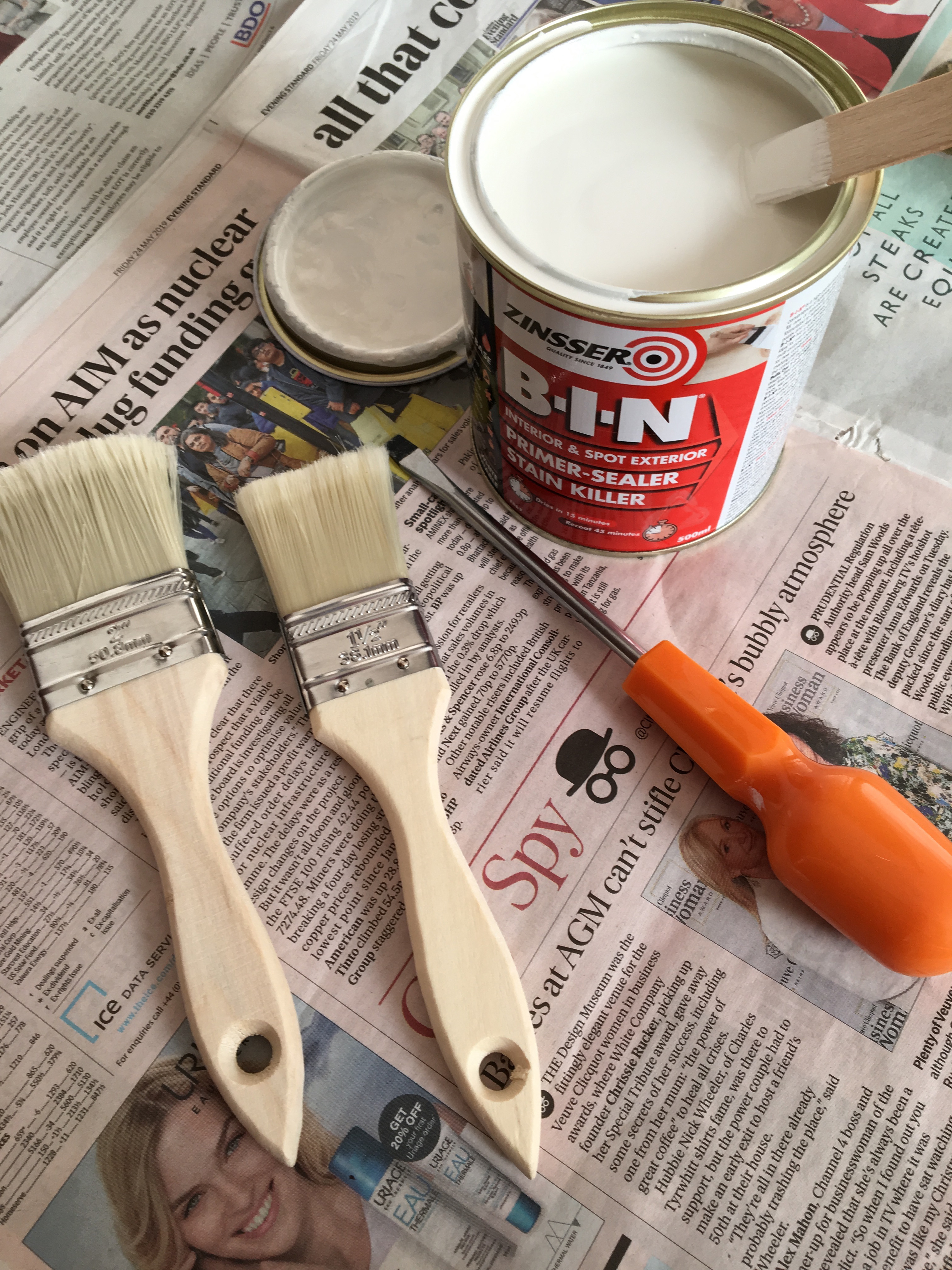 Step 3
Leave the chair to dry, then apply two thin coats of emulsion.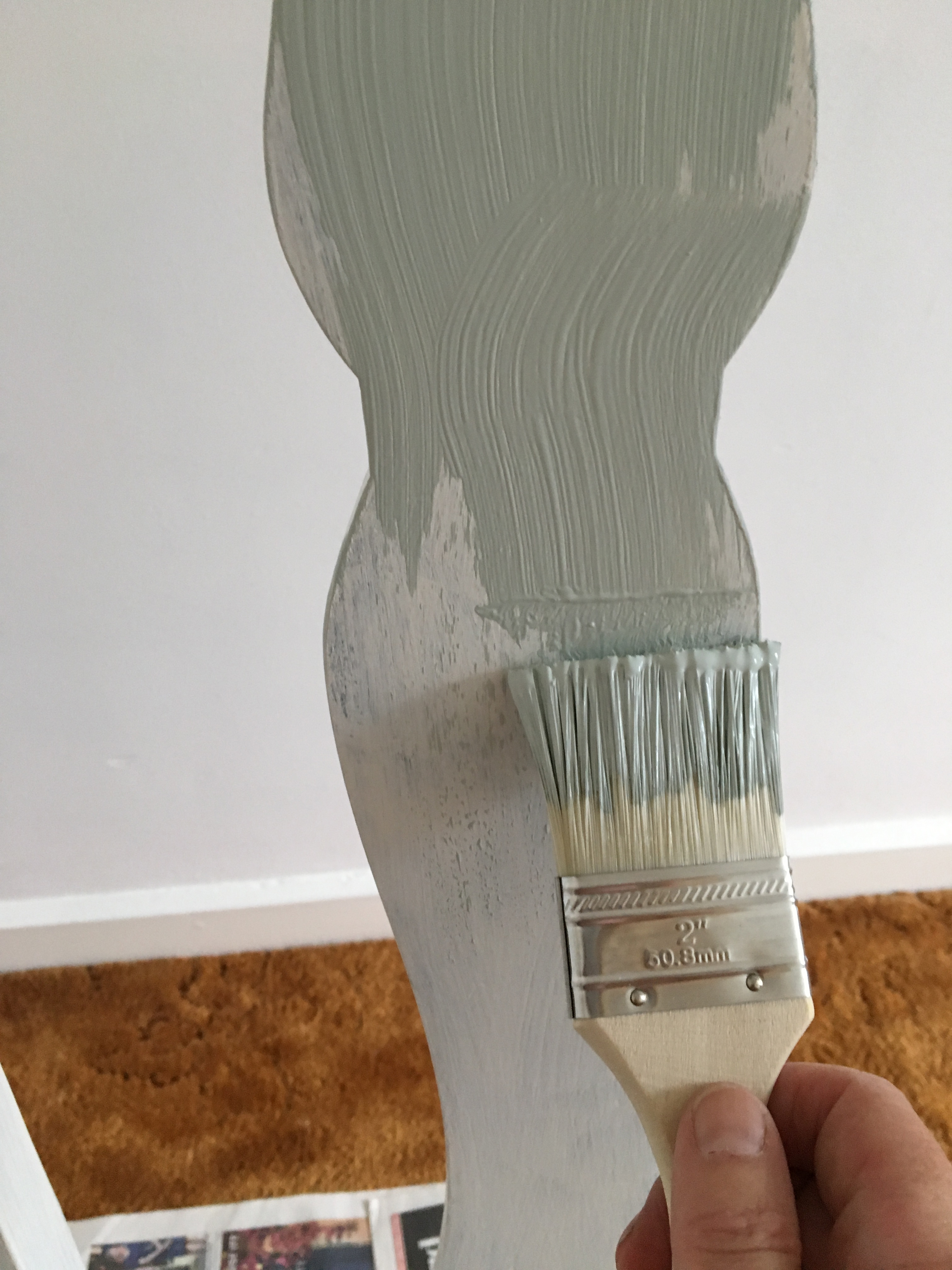 Step 4
Remove old seat cover. Use a screw driver and pliers to remove the tacks securing the old covering fabric.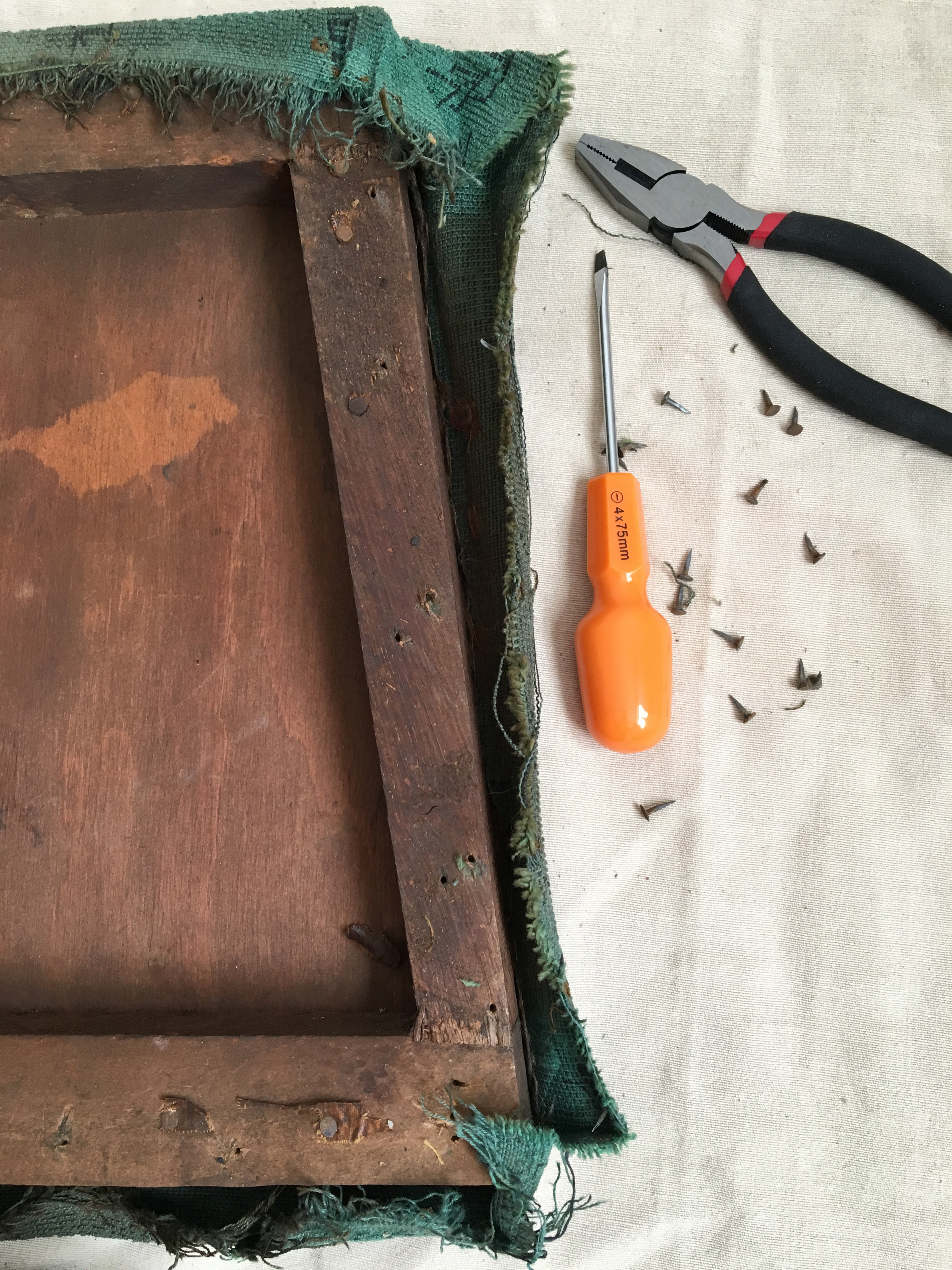 Step 5
Place seat on polyester wadding and cut to size.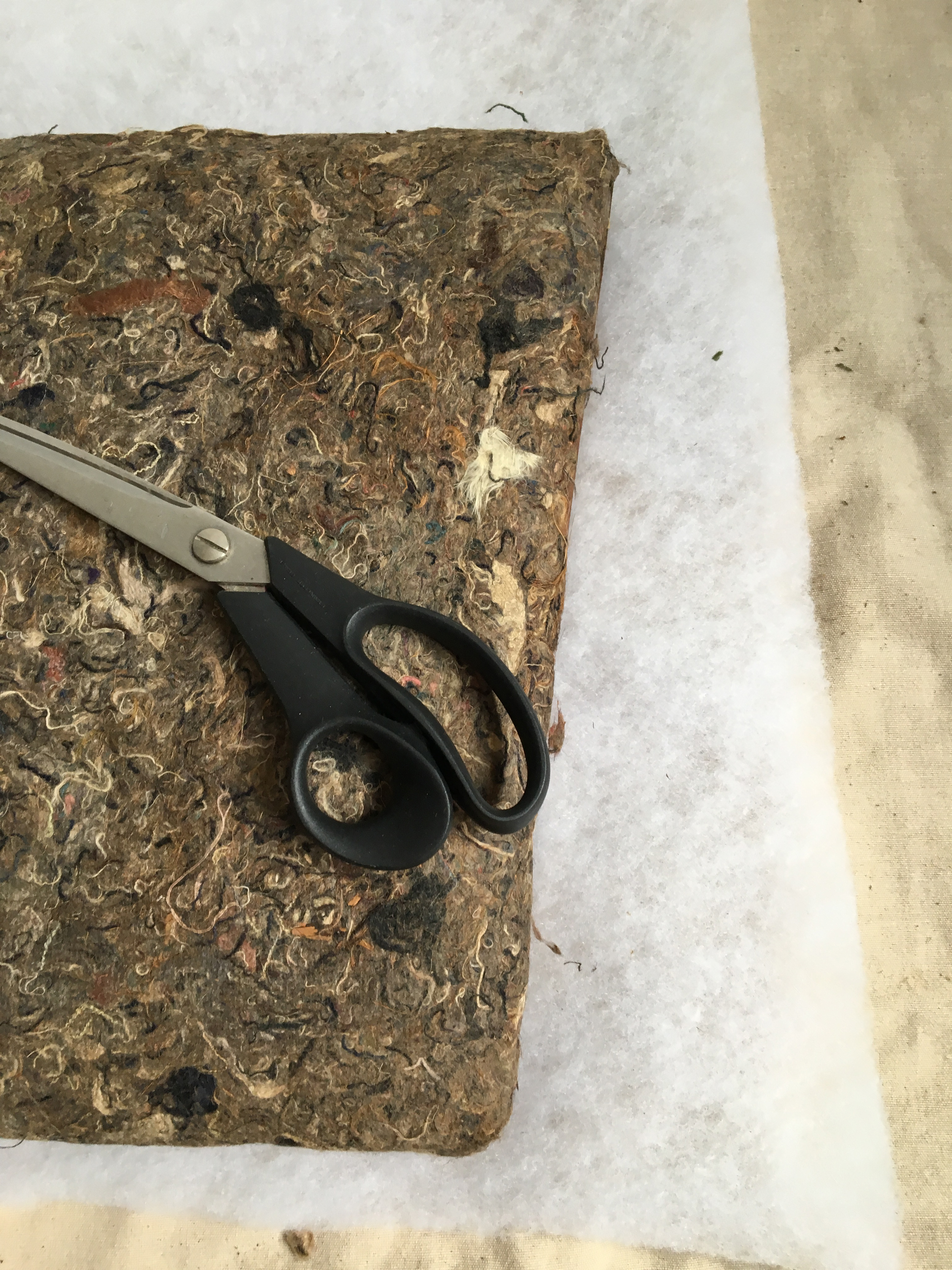 Step 6
Place seat on cover fabric, fold fabric over the edge of the seat and cut out with a 10cm overlap.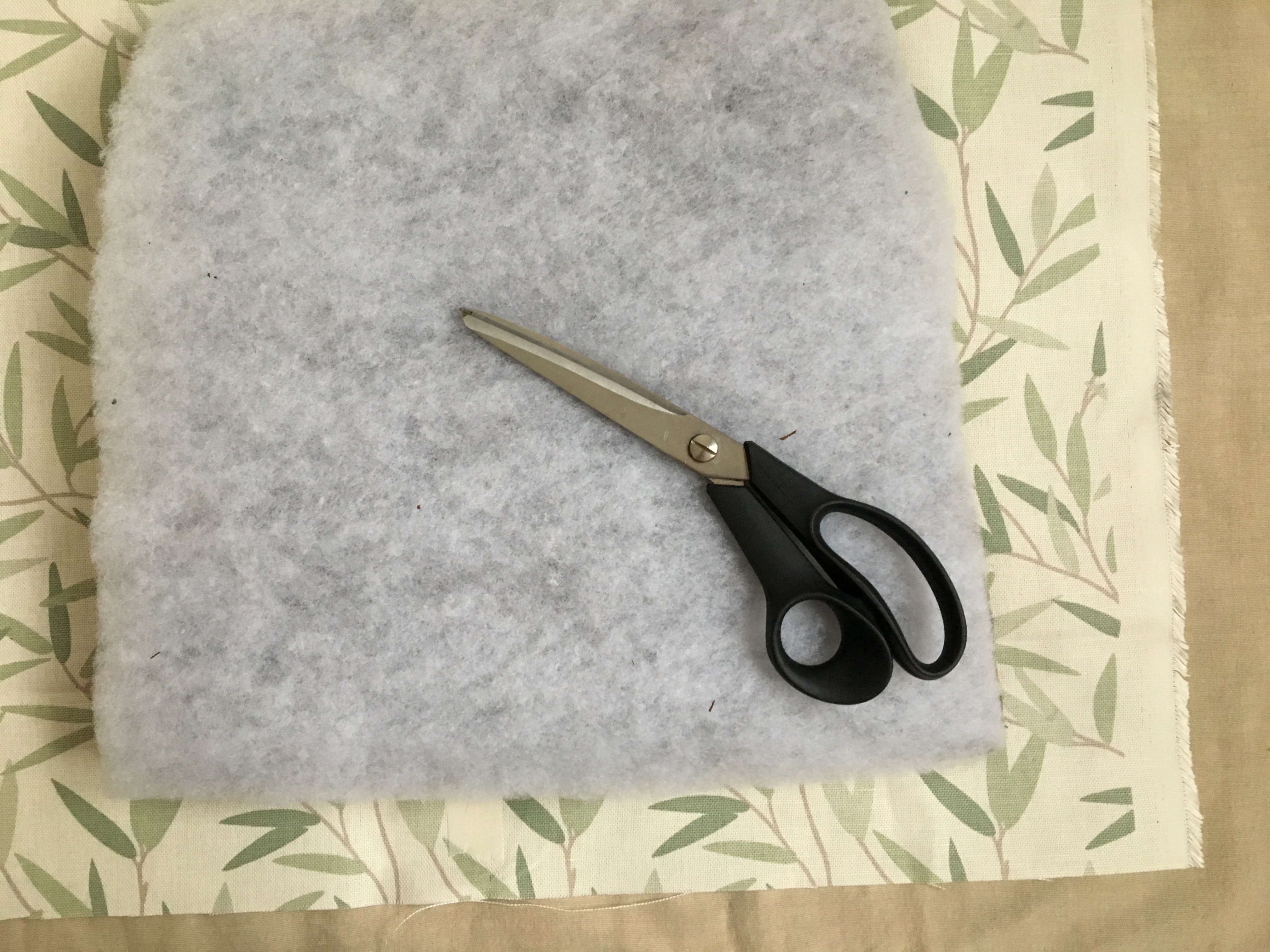 Step 7
Place seat fabric right sides down then place wadding in the centre, then face down position the seat in the centre of the layered textiles. Fold the seat fabric over seat edge, use a hammer and tacks to secure the fabric to the seat, working from the middle of the frame to the outside. Take fabric to secure along all the seat edges.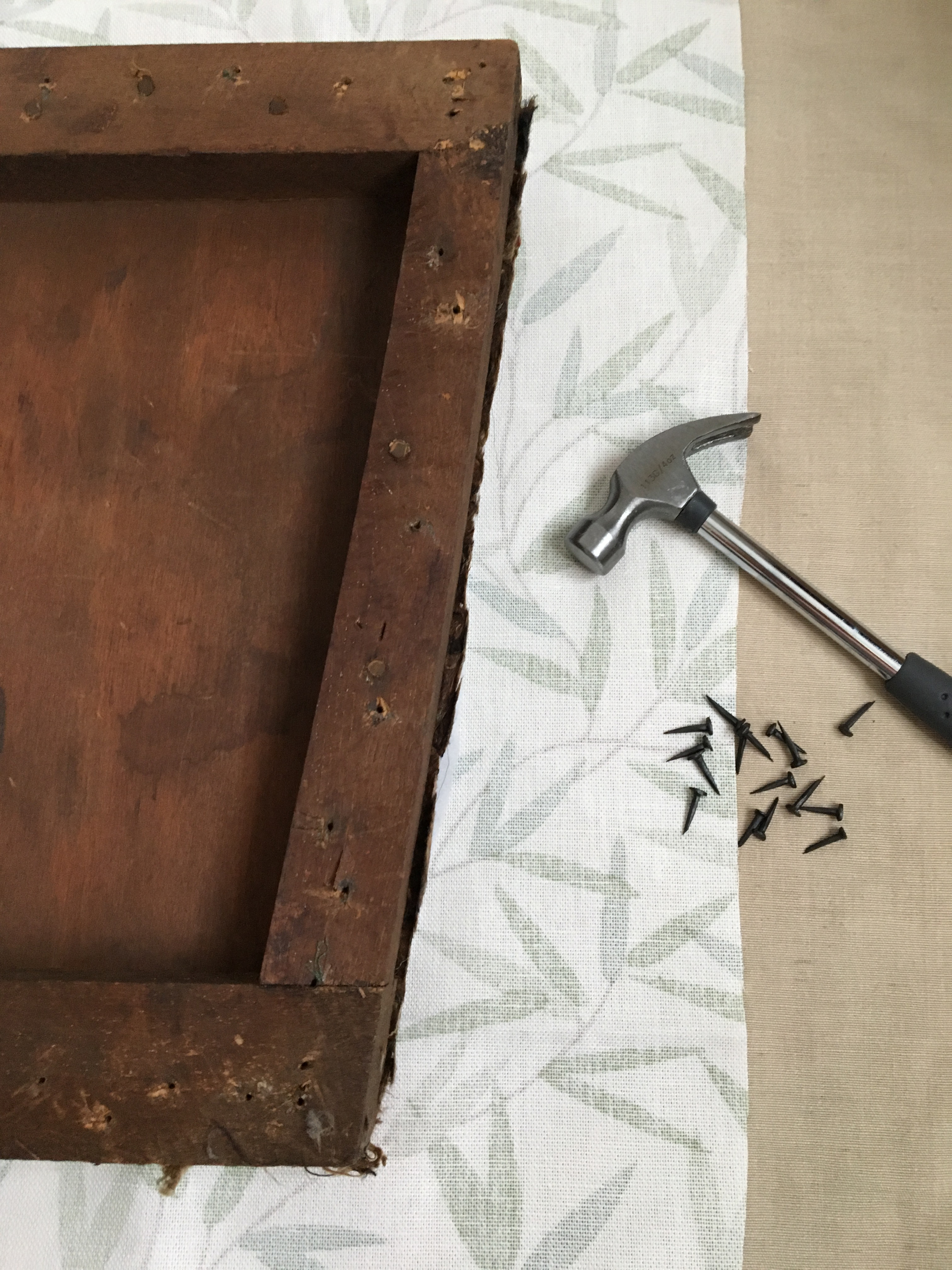 Step 8
To complete the first corner, fold the fabric into the corner of the seat then tack in place.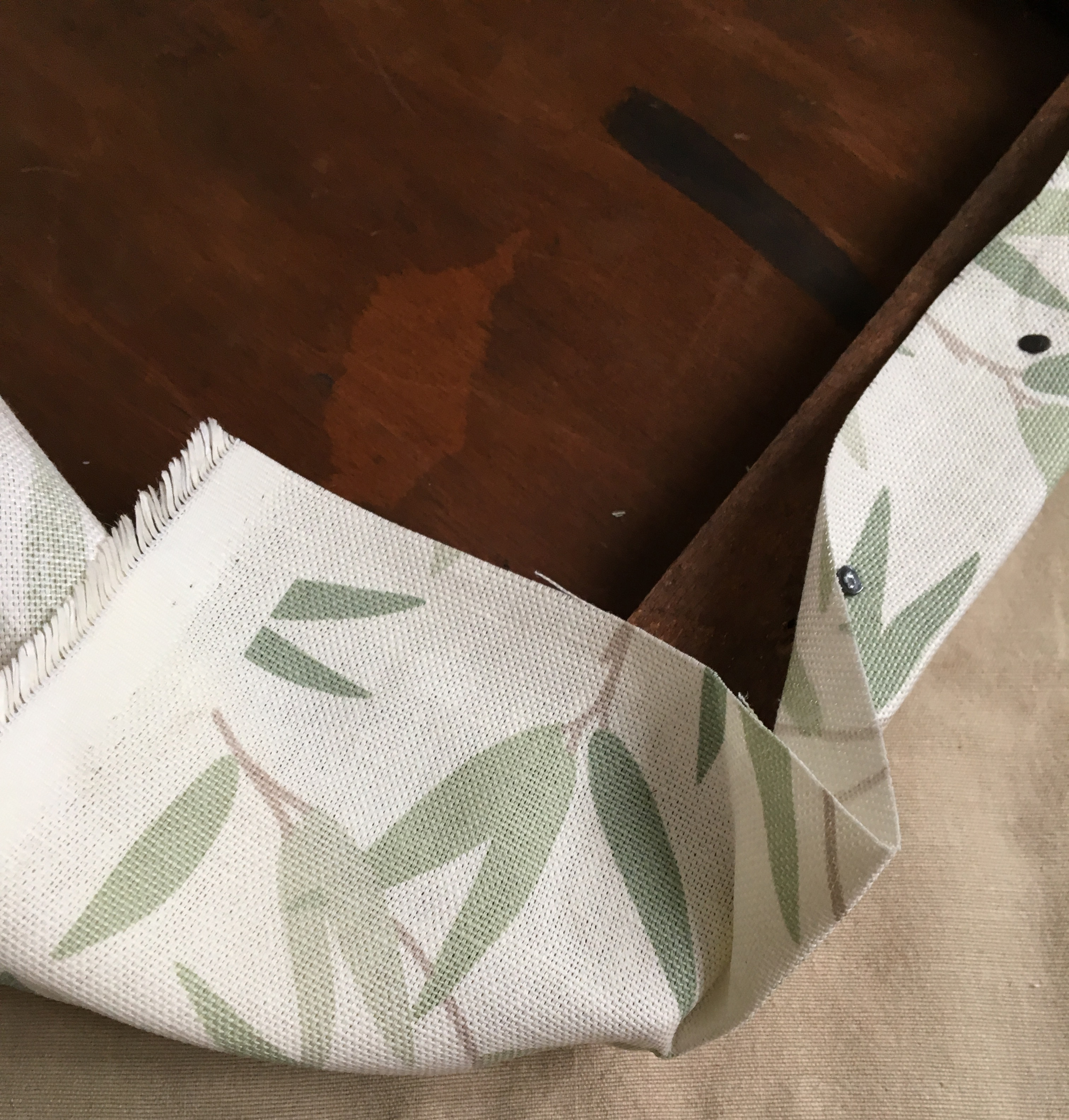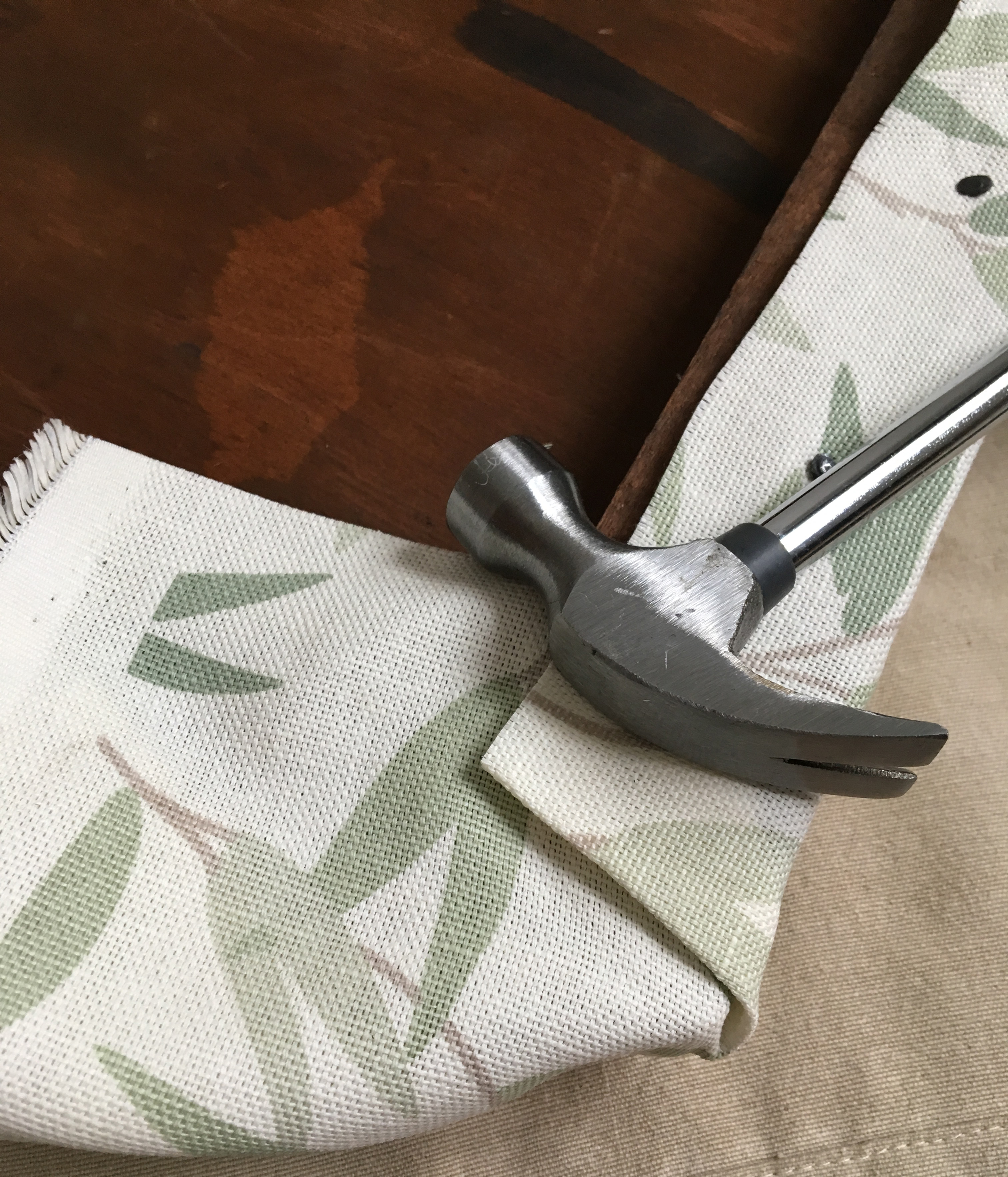 Step 9
Fold and turn the edge of the remaining fabric over the corner, then secure with a tack.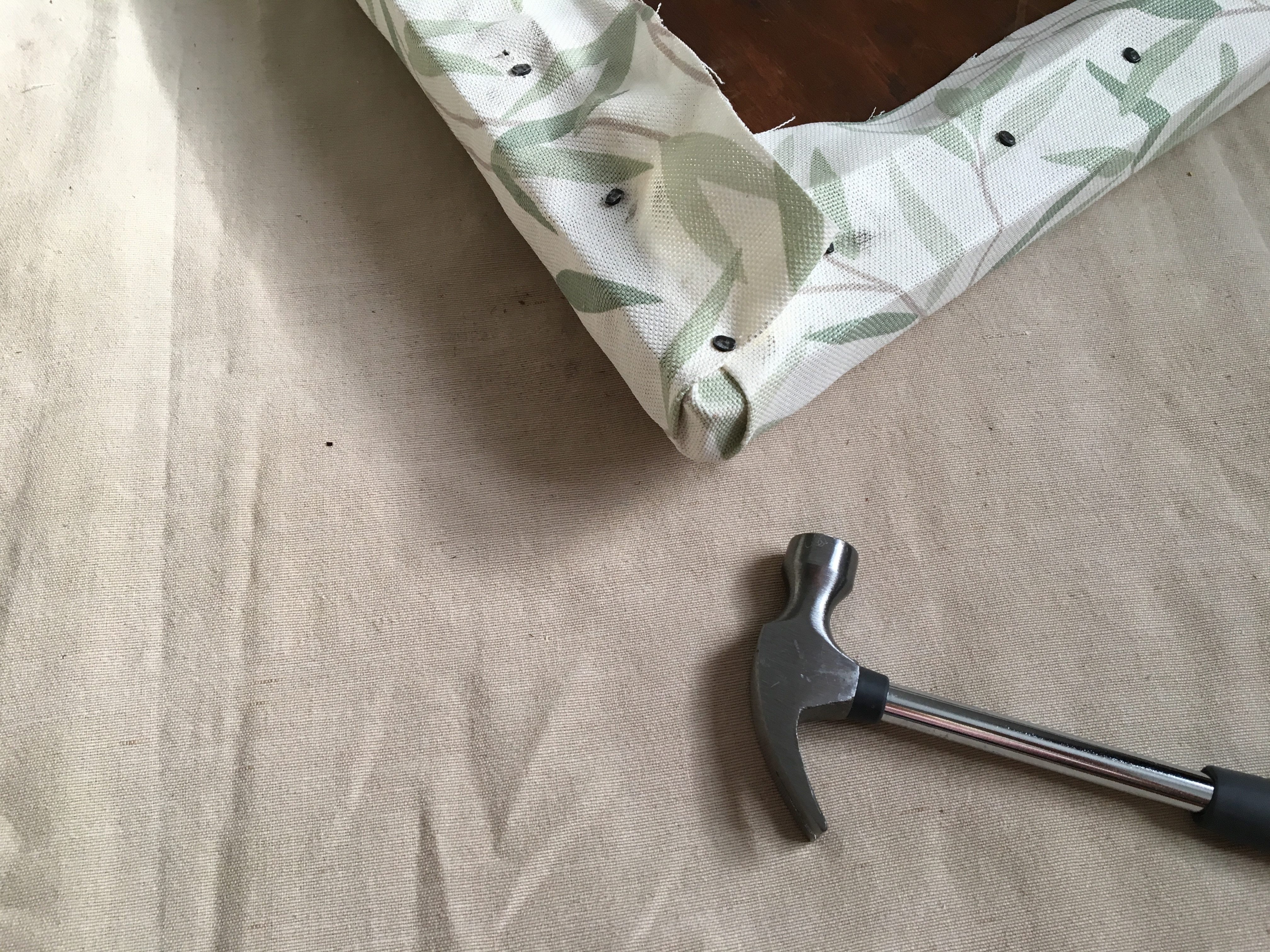 Step 10
Repeat to finish all the remaining corners. Use scissors to trim off excess fabric.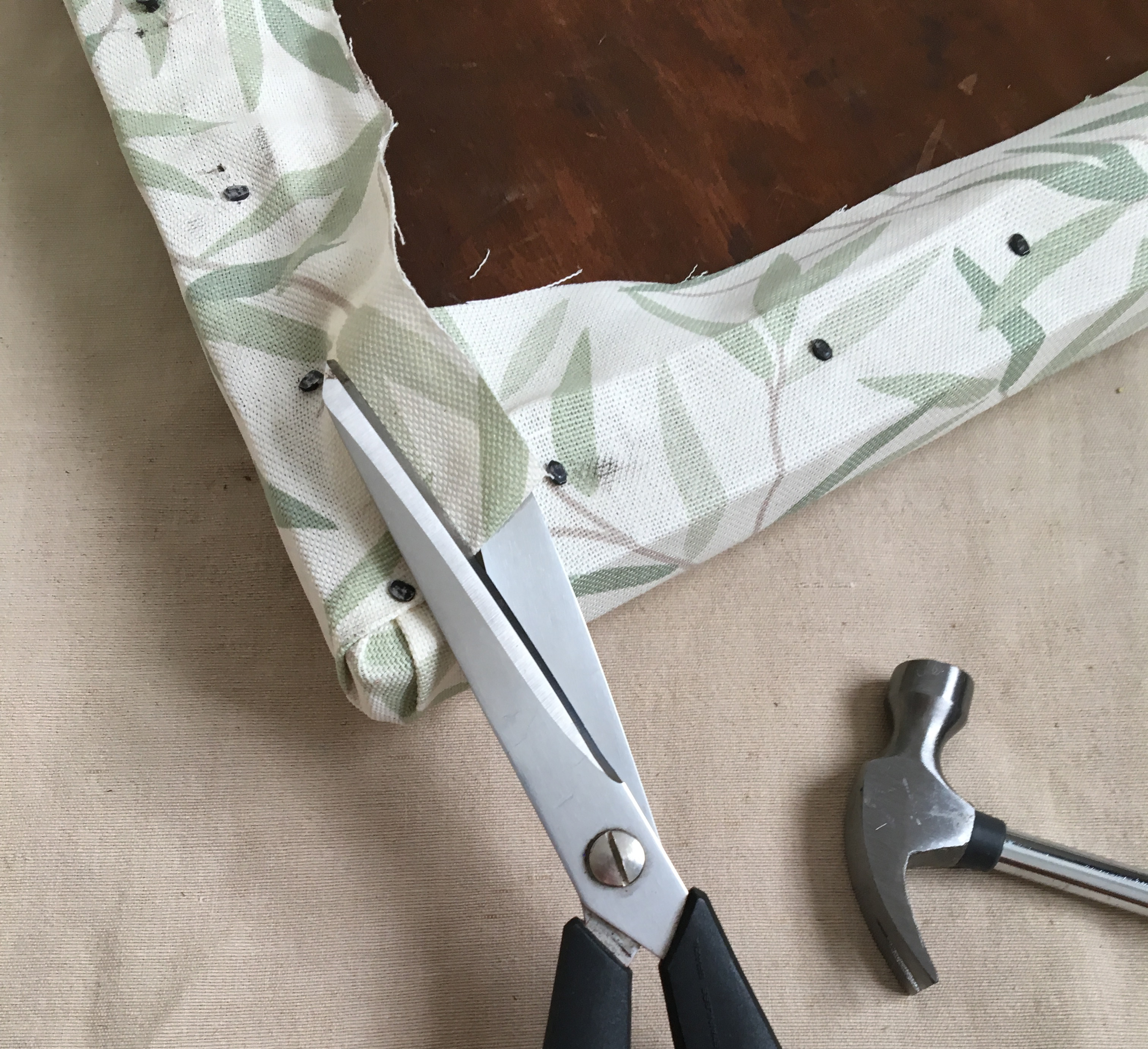 Tips
– When you've finished applying the first coat of emulsion paint wrap the paint brush in kitchen film to prevent it from drying out before you apply the following coat of paint.
– This project would be great for using up fabric off cuts left over from earlier projects.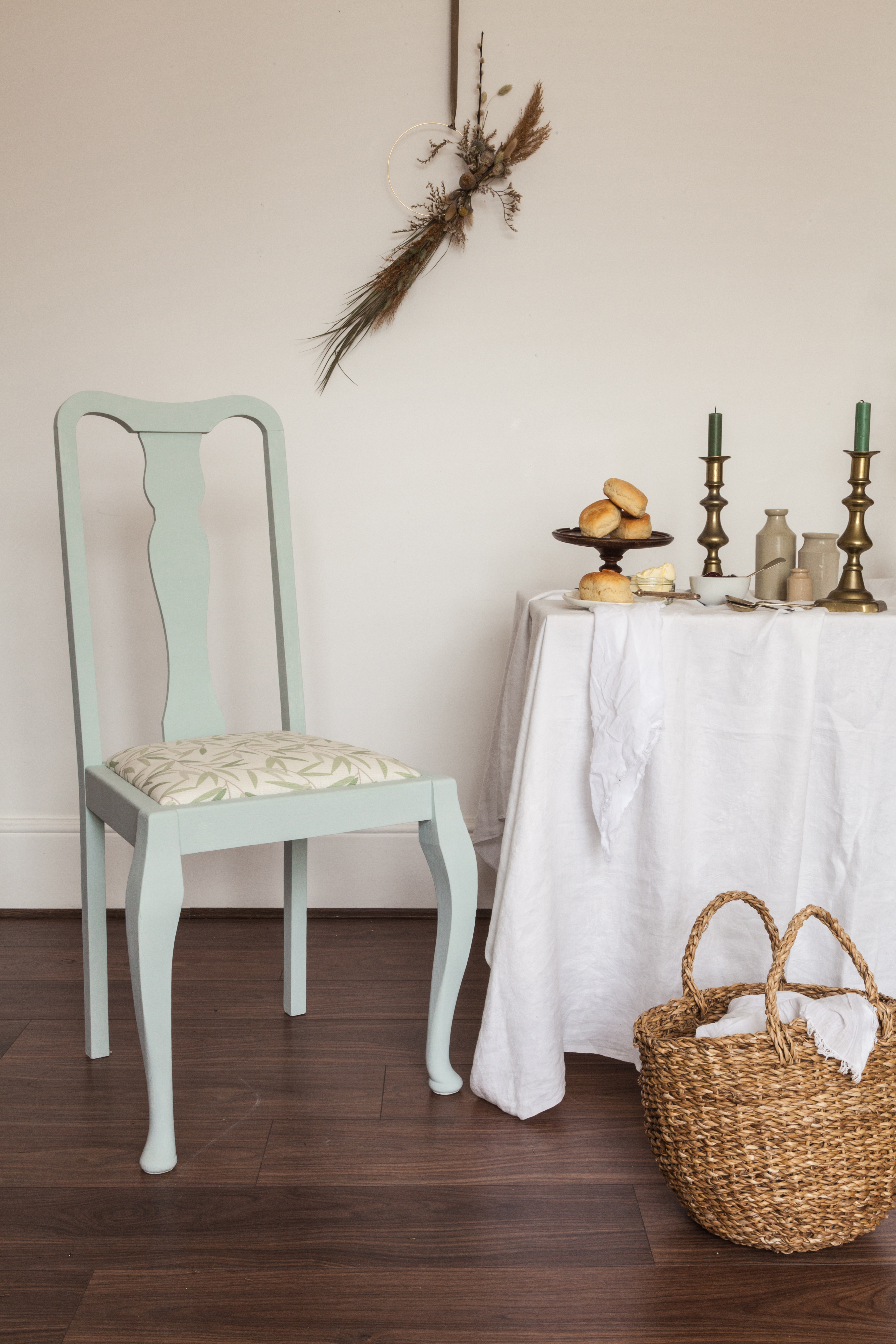 This tutorial was produced in collaboration with Amanda Russell of Amanda Russell Design using our Pale Grey Green Paint and our Willow Leaf Hedgerow Curtain Fabric.
What do you think of this chair makeover? Would you like to try this at home? Let us know in the comments below.