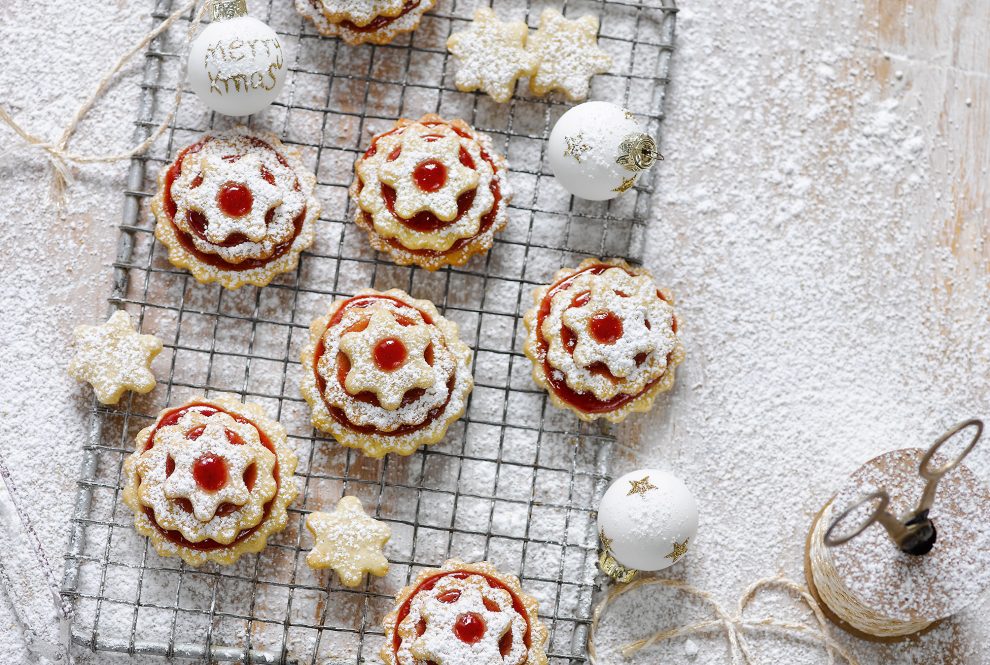 With their delicious wine filling and crumbling pastry, these mulled wine tartlets are the perfect seasonal treat read more
For the second bake of Christmas Laura Ashley gave to me… two Mulled Wine Tartlets.
Over the next 2 months we'll be bringing you a variety of festive bakes every week as part of our 12 Bakes of Christmas blog series  So keep your eyes peeled on the Laura Ashley Blog for plenty of scrumptious Christmas eats.
This delicious mulled wine tartlet recipe by author and foodie Agnes Prus, is the perfect sweet treat for the holiday season—combining the traditional Christmas warmth of a mulled wine with the sweet comfort of a delicious crumbling pastry.
Mulled Wine Tartlets
Makes about 12
Ingredients
For the jam (jelly):
– 125 ml (4 fl oz/½ cup) red wine
– 2 strips of orange peel
– 2 cloves
– 1 cinnamon stick
– 1 piece of star anise
– ¼ vanilla pod (bean)
– 125 ml (4 fl oz/½ cup) grape juice
– 75 g (2½ oz/⅓ cup) preserving sugar 3:1
For the dough:
– 200 g (7 oz) butter
– 140 g (5 oz/⅔ cup) raw cane sugar
– Seeds of 1 vanilla pod (bean)
– Pinch of salt
– 1 egg
– 300 g (10½ oz/scant 2½ cups) plain (all-purpose) flour + a little extra 100 g (3½ oz/1 cup) blanched ground almonds
For decorating:
– Icing (confectioner's) sugar
Extra equipment:
– Star-shaped cookie cutters, in three sizes
Method
1. For the jam, put the red wine with the orange peel, spices, scraped out vanilla pod and vanilla seeds into a saucepan. Bring to the boil on a medium heat. Immediately remove from the stove, cover and steep for at least 2 hours. Strain the wine mixture through a sieve and pour back into the pan. Mix in the juice and the preserving sugar. Bring to the boil and fast boil for 3 minutes. Pour into a sterilised jar and allow to set.
2. For the dough, cream the butter with the sugar, vanilla seeds and salt. Add the egg and beat in well. Add the flour and almonds, and work everything into a smooth dough. Wrap in cling film (plastic wrap) and leave in a cool place for 1 hour.
3. Roll out the dough to a thickness of 3–4 mm (⅛ in) on a floured work surface, and press out stars in three sizes. Place on baking sheets lined with baking parchment and bake for 10–12 minutes (you might need to take the small ones out of the oven earlier). Remove from the oven and allow to cool on a cooling rack.
4. Heat the jam in a saucepan and stir until smooth. Spread the jam on the large and medium-sized circles, before stacking them together with the small ones on top. Dust with icing sugar and add a final dab of jam. Store in a tin.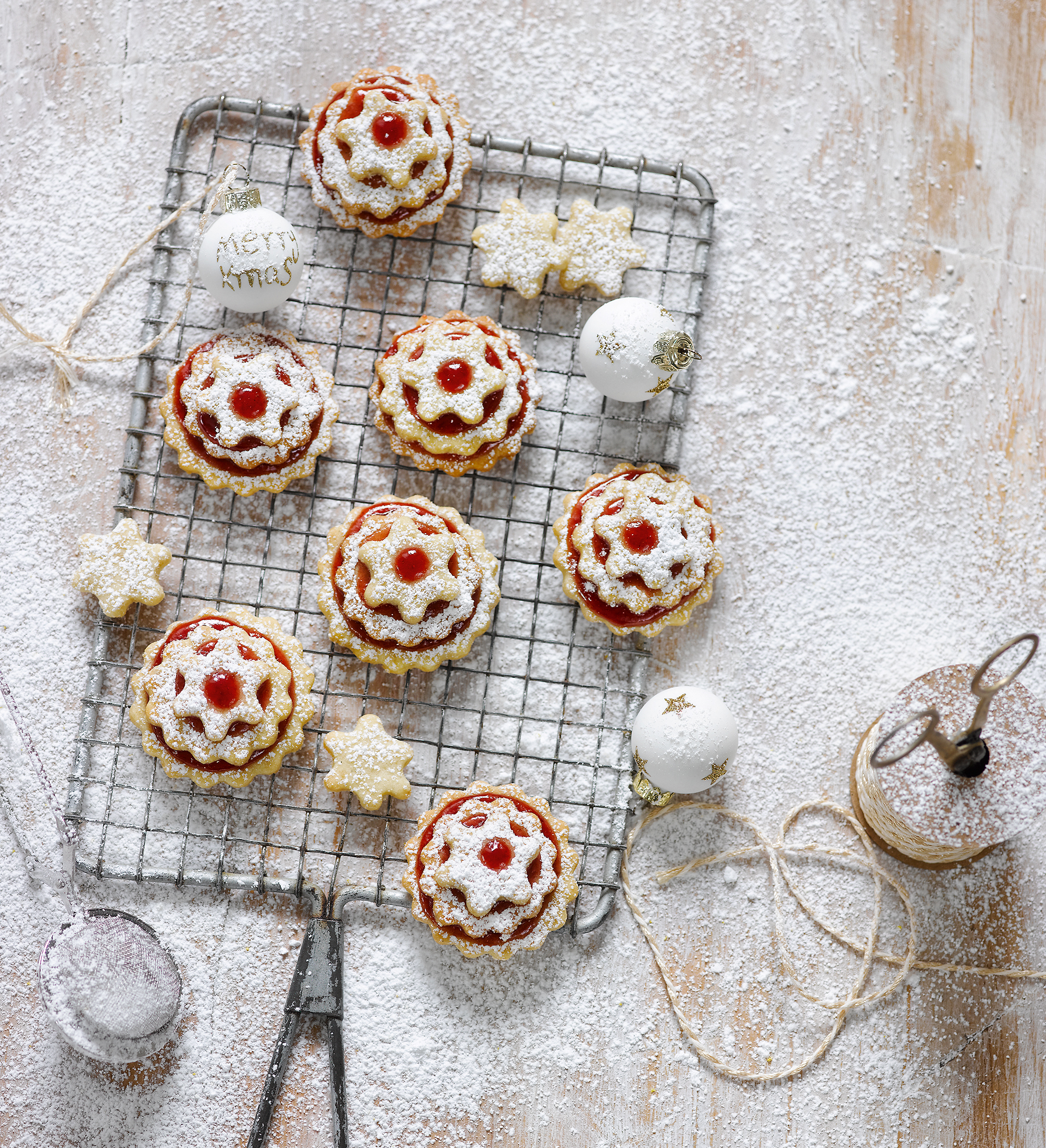 This yummy recipe is just one of many in Agnes Prus' new festive recipe book, Let it Snow. This book is full of fun recipes with a distinct festive look; perfect for adding a bit of decoration to your Christmas spread.
Let it Snow: 24 Recipes for Festive Sweet Treats, by Agnes Prus (Hardie Grant Books, £7.99)
Would you like to try this mulled wine tartlets recipe out at home? Let us know in the comments below.
To create the perfect festive table for your home, check out the dining ranges in our Christmas Shop.
Follow along with our 12 Bakes of Christmas series and share your creations on our social media channels with the hashtag #LauraAshleyChristmas.