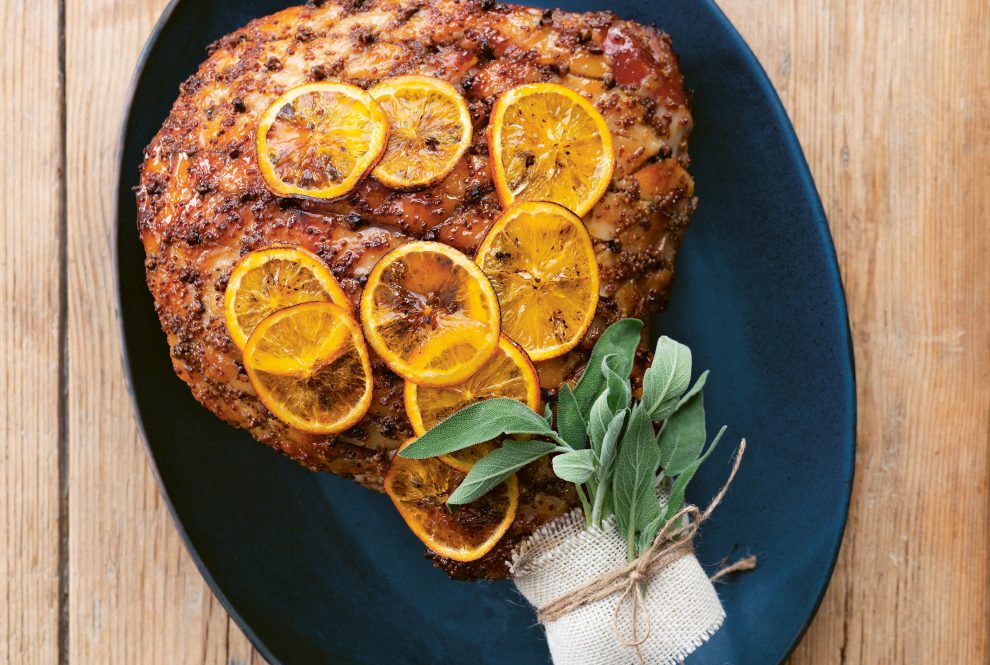 With a sticky apple cider glaze, this yummy Christmas ham recipe is a surefire winner for any Christmas dinner read more
For the 4th bake of Christmas Laura Ashley gave to me… 4 slices of Cider-glazed Christmas Ham.
Over the next 2 months we'll be bringing you a variety of festive bakes every week as part of our 12 Bakes of Christmas blog series  So keep your eyes peeled on the Laura Ashley Blog for plenty of scrumptious Christmas eats.
No Christmas feast is complete without a delicious slice of roast ham. To give us his own unique spin on a traditional roast ham is apple-vineyard owner and cookbook author James Rich, who has just released a new book detailing all the different ways you can incorporate apples into your cooking.
Festive Cider-Glazed Christmas Ham Recipe
A glazed ham is a must at Christmas time – something that can be made ahead of time and brought out to an appreciative audience. Cooking the meat in cider and then roasting with honey gives it a lovely sweet and fragrant flavour. I prefer cooking ham on the bone – it's more impressive on the table, in my opinion – however you can easily make this with boneless gammon too.
You can also use unsmoked gammon, if you prefer.
Serves 10
Prep 20 mins + standing Cook 2 hours 10 mins
Ingredients
– 2.5 kg (5 lb 10 oz) smoked gammon, on the bone
– 1 onion, quartered
– 1 carrot, chopped into large chunks
– 2 bay leaves
– 1 sprig of rosemary
– 1 teaspoon black peppercorns 1 teaspoon juniper berries 750 ml (25 fl oz/3 cups) dry cider
– 4 tablespoons runny honey 2 tablespoons wholegrain mustard
– 2 tablespoons cloves
– 1 tablespoon soft light brown sugar
– 1 orange, sliced
Method
Put the gammon joint, onion, carrot, bay leaves, rosemary, black peppercorns and juniper berries into a large ovenproof saucepan. Pour over 500 ml (17 fl oz/2 cups) of the cider, then fill the pan with water to just cover the ham. Cover with the lid and heat on the hob until boiling, then reduce to a simmer for 1 hour 30 minutes. Skim off any scum as it cooks.
Preheat a fan oven to 180°C (350°F/gas 6). While the ham is cooking, mix the honey with the mustard.
When the ham is cooked, transfer it to a roasting pan and leave to cool for 10 minutes. When the ham is cool enough to handle, remove the rind carefully, ensuring you keep as much of the soft fat underneath with the ham. Score the soft fat in a criss-cross pattern.
Stud the ham with the whole cloves and pour over the rest of the cider. Then, using a basting brush, brush the honey and mustard all over the ham, making sure you cover the entire joint. Sprinkle with the brown sugar. Finally, arrange the orange slices over the top.
Roast in the oven for 30–40 minutes, basting a couple times to keep it moist. You want the ham to be nicely browned and almost starting to blacken. Remove from the oven and let it stand for at least 20 minutes before carving.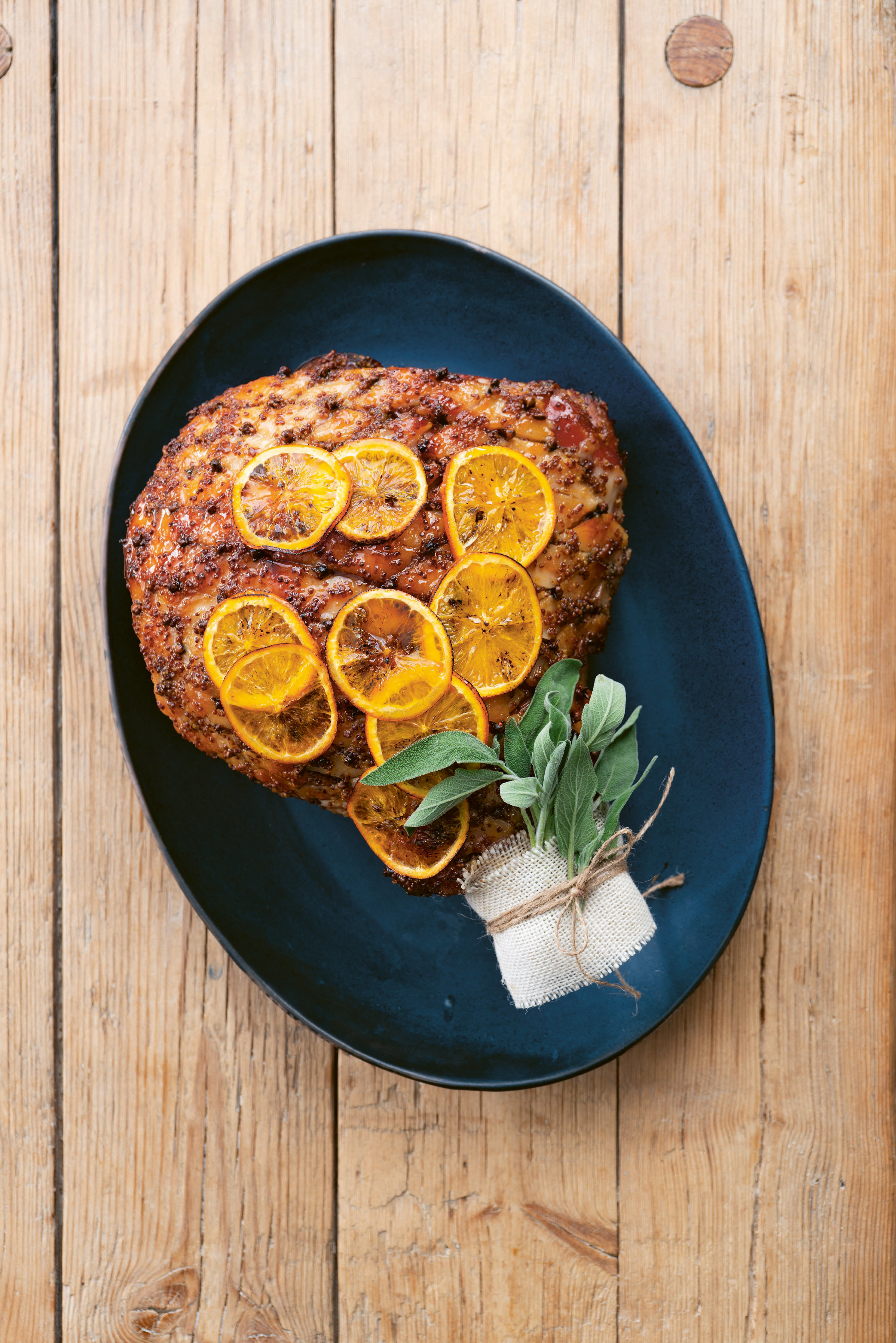 This delicious recipe is just one of many in James Rich's new recipe book, Apple: Recipes from the Orchid. This book explores how to use fresh apples to create a number of delicious dishes—from hearty slow-roasted pork belly to comforting apple crumble.
Apple: Recipes from the Orchard, by James Rich (Hardie Grant Books, £20)
Would you like to try this christmas ham recipe out at home? Let us know in the comments below.
To create the perfect festive table for your home, check out the dining ranges in our Christmas Shop.
Follow along with our 12 Bakes of Christmas series and share your creations on our social media channels with the hashtag #LauraAshleyChristmas.