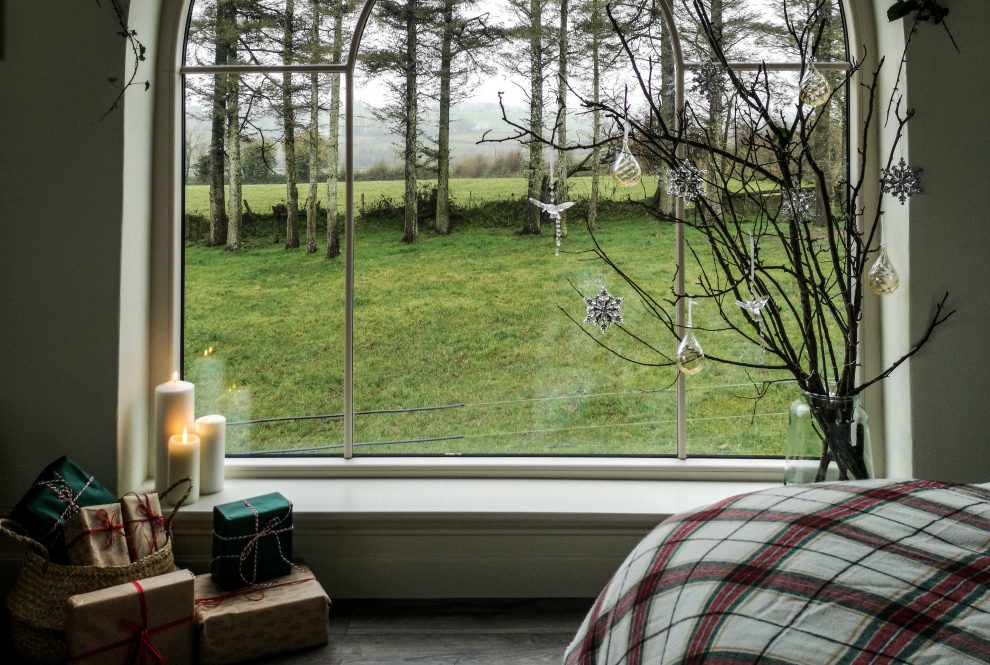 Dress your windows to impress this festive season read more
Window dressing for Christmas is an age old tradition with the themes of winter wonderland and traditional green and red continuing to endure as popular interior choices. Why not set your window aglow this year with this stunning christmas window display by Caroline Hassett of A House By The Trees. Caroline used our silver accessories range to create an understated and elegant winter wonderland window display throughout her home.
This contemporary take on the winter wonderland theme is the perfect way to add a festive touch to your interior using modern interior styling principles.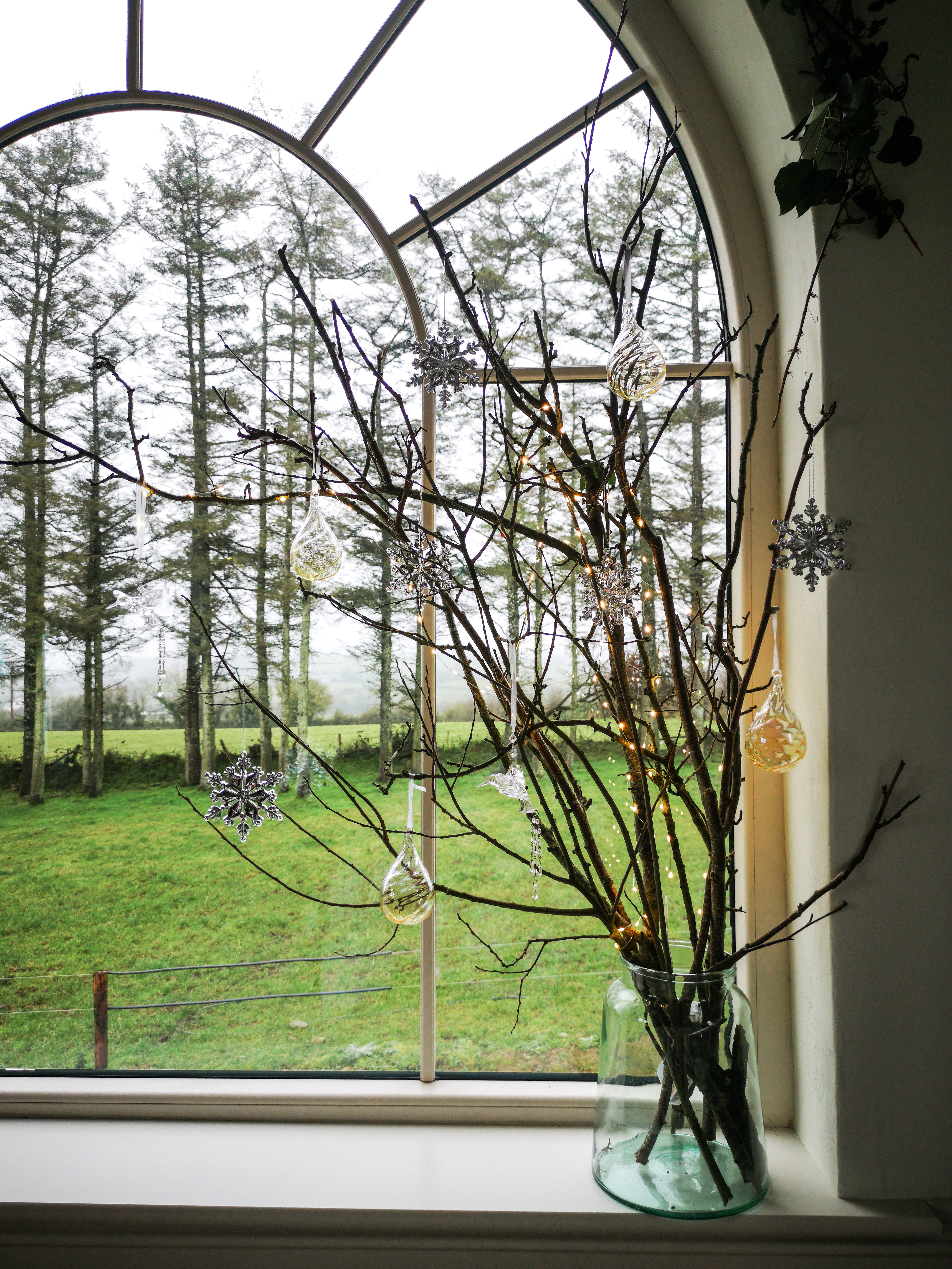 Creating a Christmas window display
Christmas decorating and styling is my thing, I just live for the 1st of December when I can drag the decorations back down from the attic. Unwrapping decorations we have collected over the years and telling my kids the stories behind each one is honestly one of my favourite parts of the festive period. So when Laura Ashley asked me to do a Christmas window styling blog post I absolutely jumped at the chance.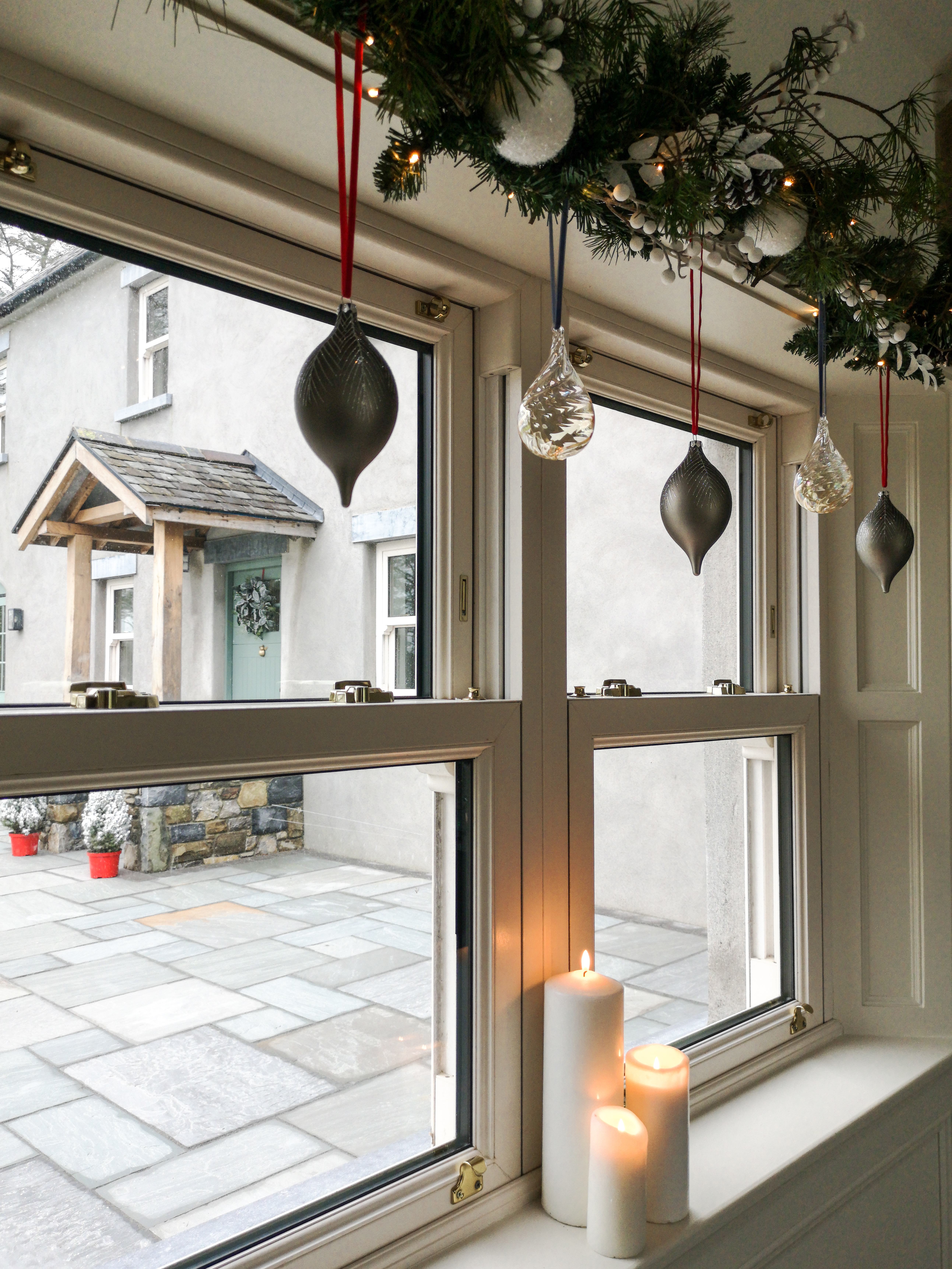 If you follow my Instagram page you will know that we are lucky enough to live in the beautiful Irish countryside with spectacular window views so I was very conscious I didn't want to go overboard or create a display which would distract from our views. I wanted to create a simple, elegant display with clear glass baubles which would catch the sunlight in the day and reflect the twinkling fairy lights at night. For my displays I chose the Gold Ombre Glass Teardrop decorations, Jewelled Snowflake Tree Decorations, Jewelled Acrylic Bird Tree Decorations and the Glass Finial Tree Decorations. I also chose the Green and White LED Garland.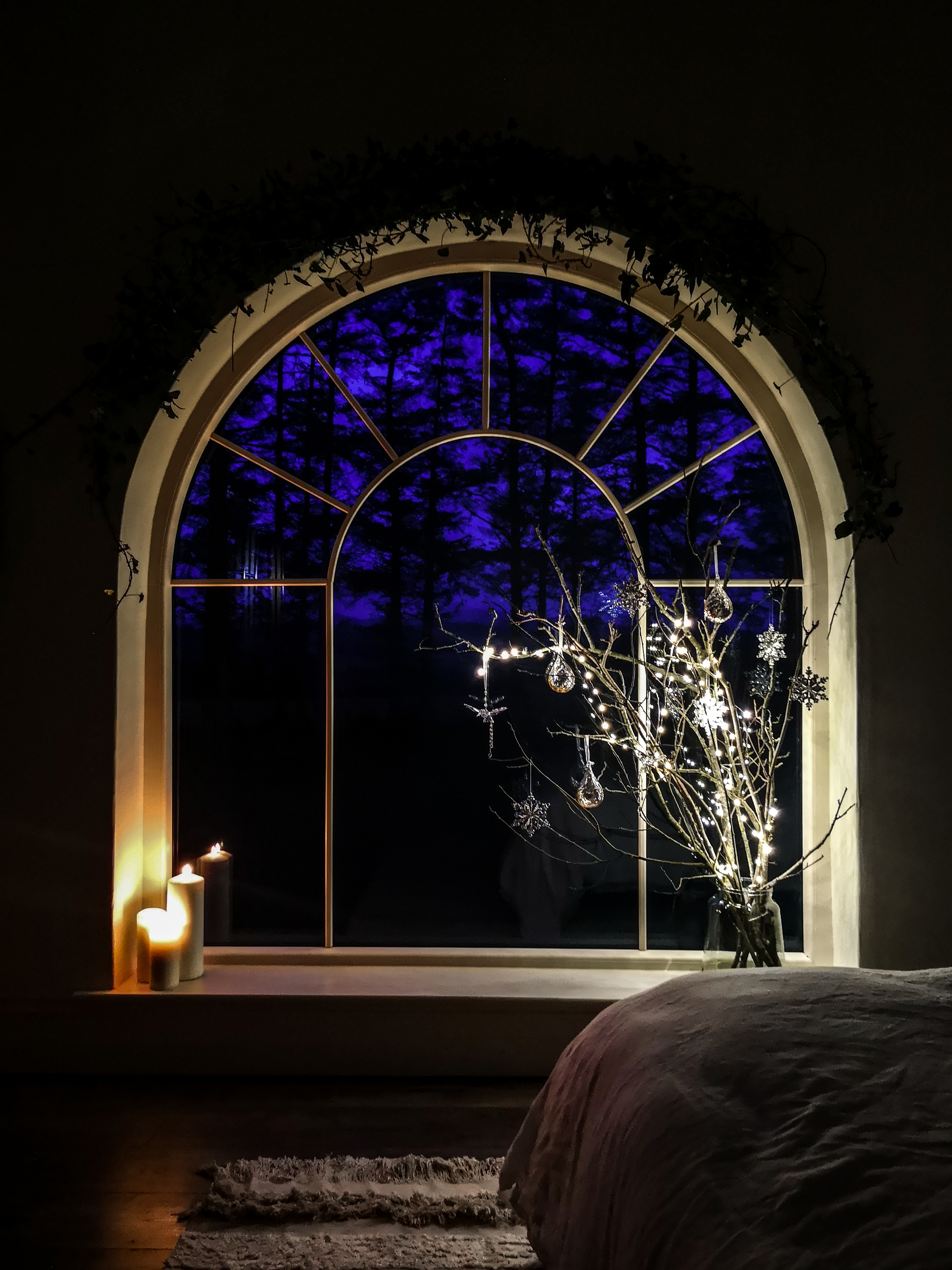 The arched window in our bedroom looks out onto our beloved tall trees. We have no curtains in our home as we love waking up to the view and at night the silhouettes of the trees are just spectacular. I wanted to create a simple display, bringing the outdoors in and nature back into our room. I achieved this by adding plenty of fresh trailing ivy over the window and then creating a simple display using freshly foraged branches and twigs which myself and my little boy, Charlie collected outside. I love getting the children involved in Christmas decorating, it just really adds to the magic of it all. I added the branches and twigs to a large clear glass vase and wrapped around a set of wired fairy lights.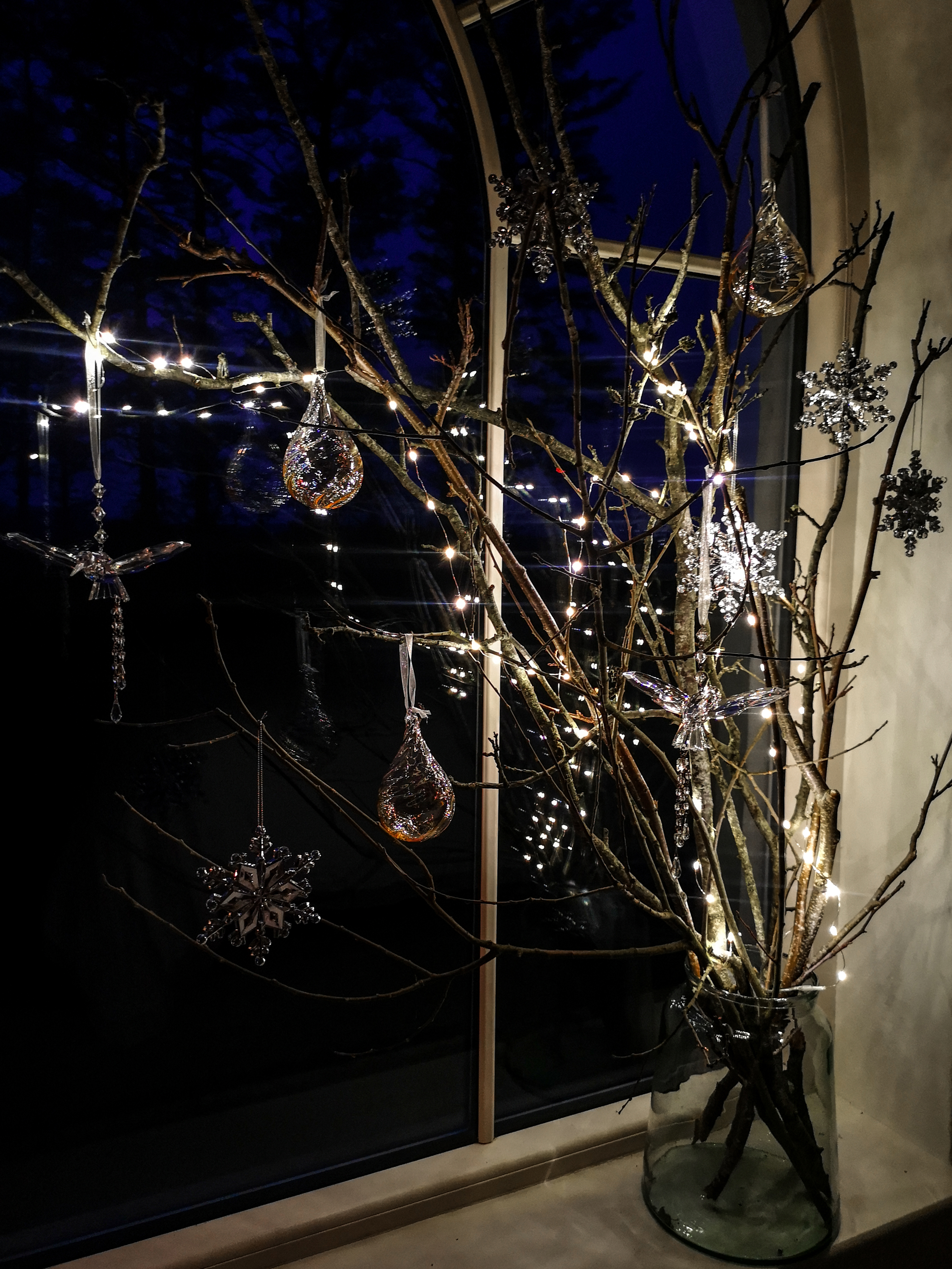 Then I added the glass teardrop ornaments, jewelled snowflakes and the jewelled bird tree decorations to the branches. These decorations work so well together, creating a simple, elegant display which looks absolutely stunning when the light catches the ornaments; especially at night with the twinkling lights shining through.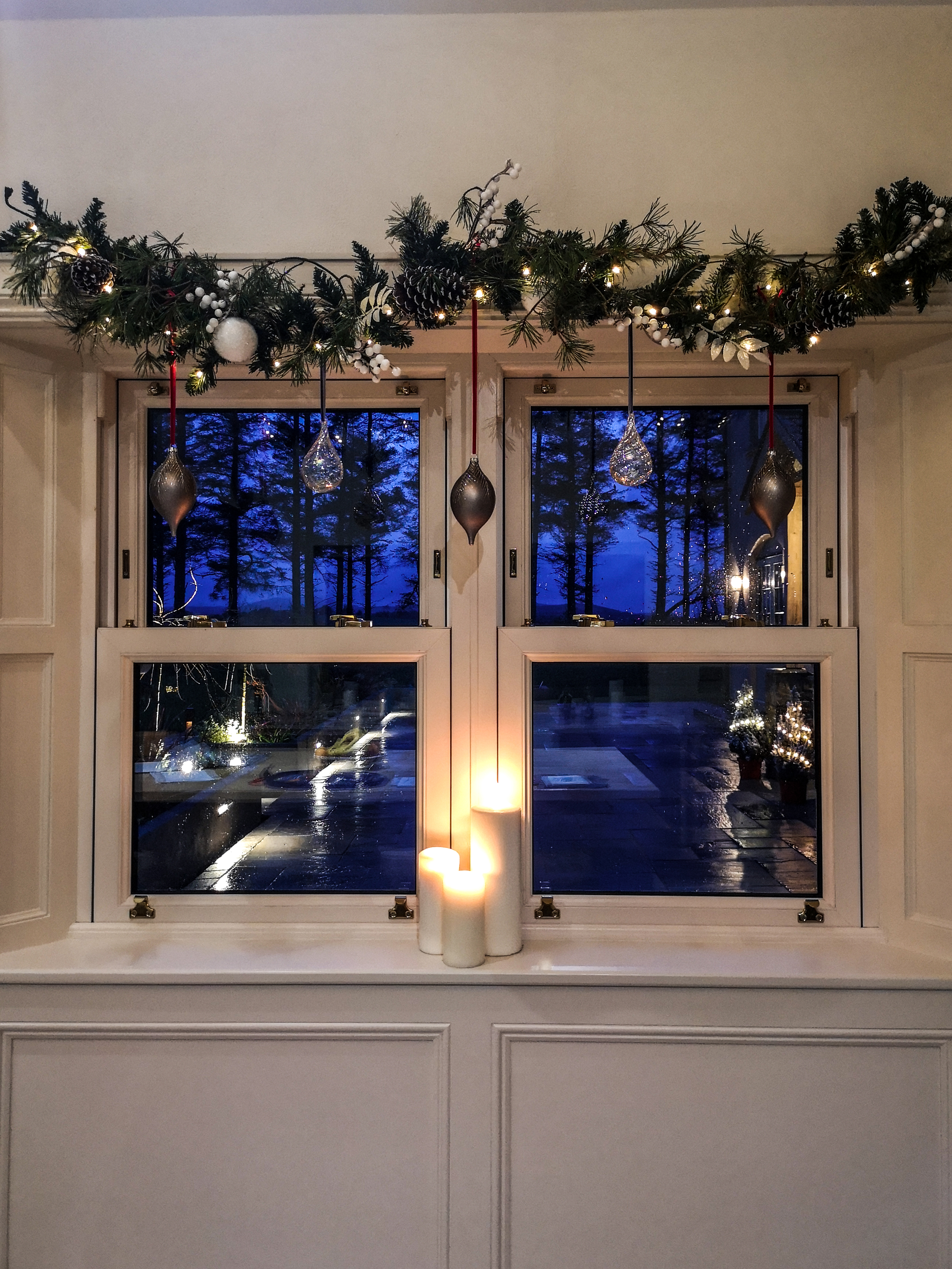 For the panelled, sash window in our kitchen I wanted to go for a more traditional look but with a twist. I added the Green and White LED Garland overhead the window. The garland then gave me a base from which to hang the ornaments. For this window I choose to use the beautiful Glass Finial Tree Decorations with the Gold Ombre Glass Teardrop ornaments mixed in between. To add some extra length and allow the baubles to drop lower I removed the original ornament ribbons and replaced with longer velvet ribbon in burgundy and navy. This really is such a simple way to add an extra element to your garlands at Christmas.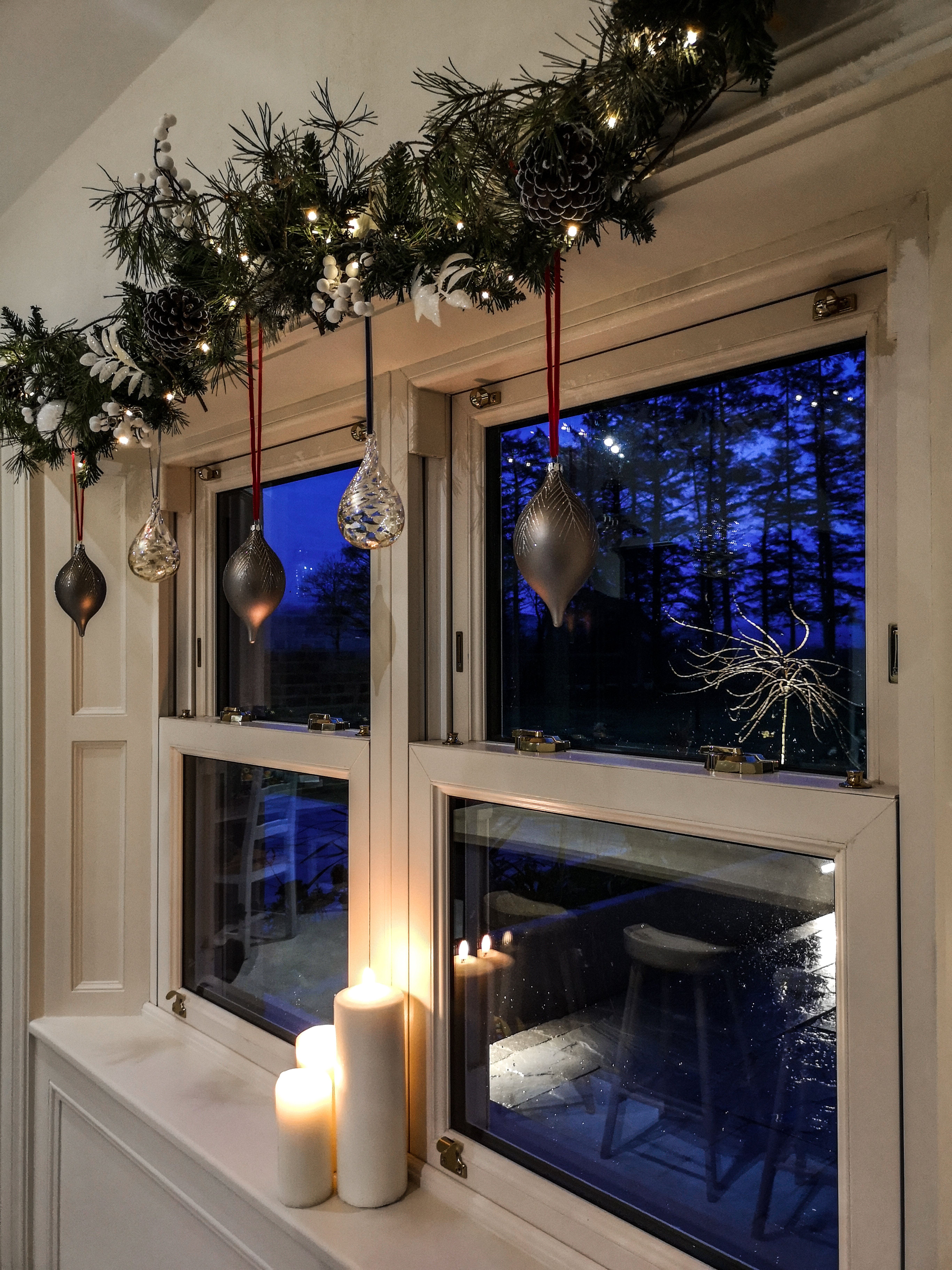 Christmas is all about creating memories for me and I look forward to unwrapping these ornaments in years to come with my children and telling them the story behind them.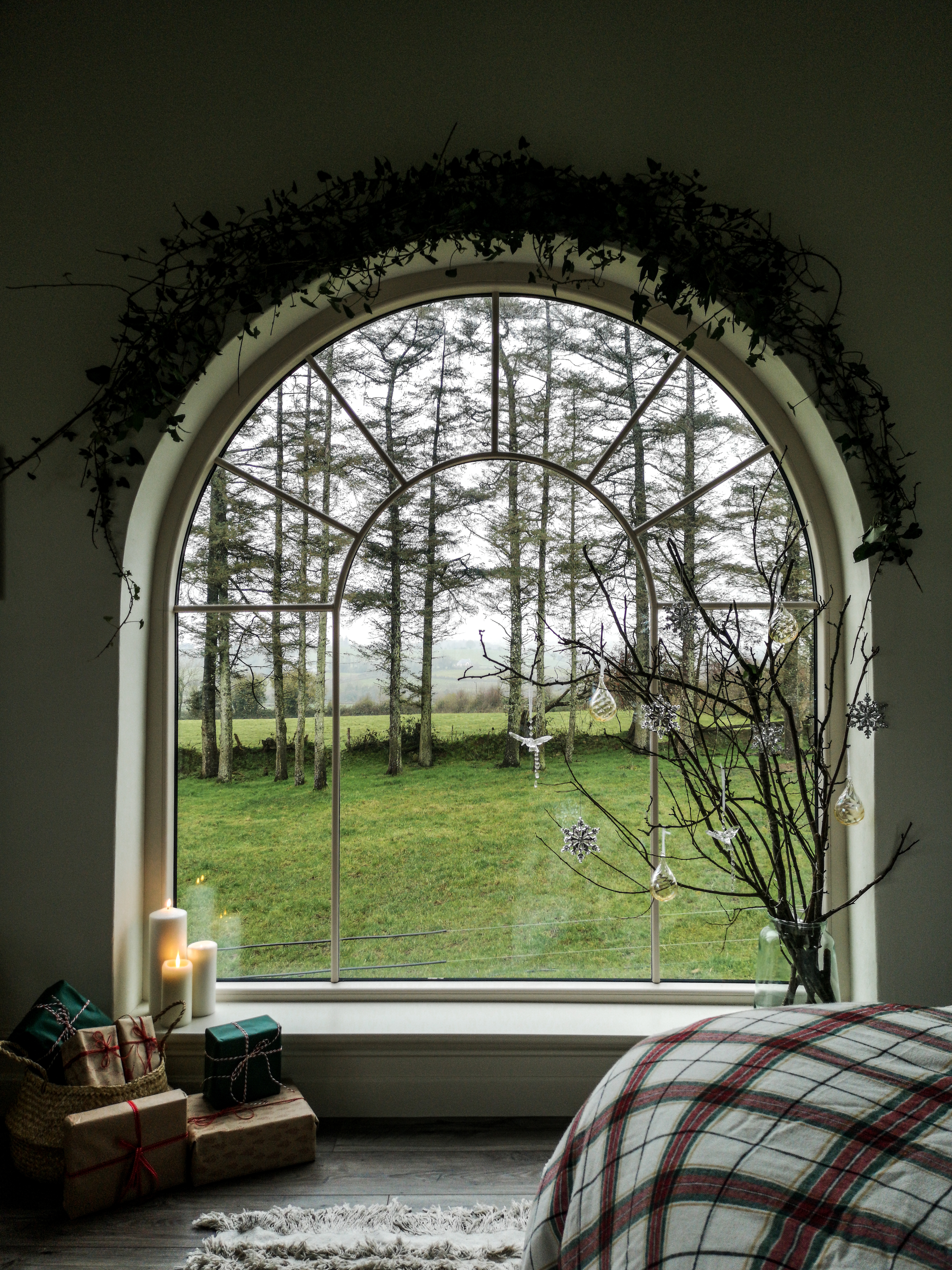 This Christmas window display was made in collaboration with Caroline Hassett of A House By The Trees using our Christmas collection.
What do you think of the beautiful Christmas window display? Let us know in the comments below.