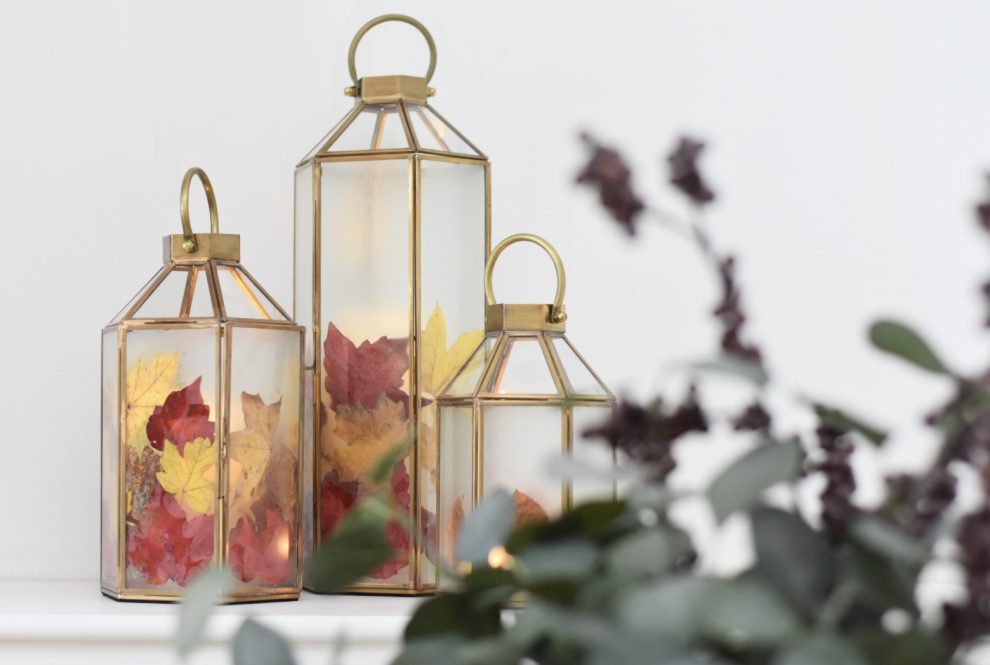 Give your home a cosy, autumn look with these beautiful autumn lanterns read more
The easiest way to give a room a cosy feel for autumn is to incorporate some candlelight. Ellie Fairman of Everything Ellie has put together a tutorial using some of our popular Ellington Brass Lanterns, creating a stunning autumn lantern using autumn leaves. Best of all, these autumn lanterns use LED candles, so you don't need to worry about your candles burning out.
Autumn leaf lantern tutorial
Autumn is my favourite season, I just love the warmth and cosiness of burnt oranges, browns and reds. I'm going to show you how you can create a pretty autumnal leaf lantern display bringing the outside into your home with a few Laura Ashley Hexagonal lanterns, a collection of dried fallen leaves and some PVA glue!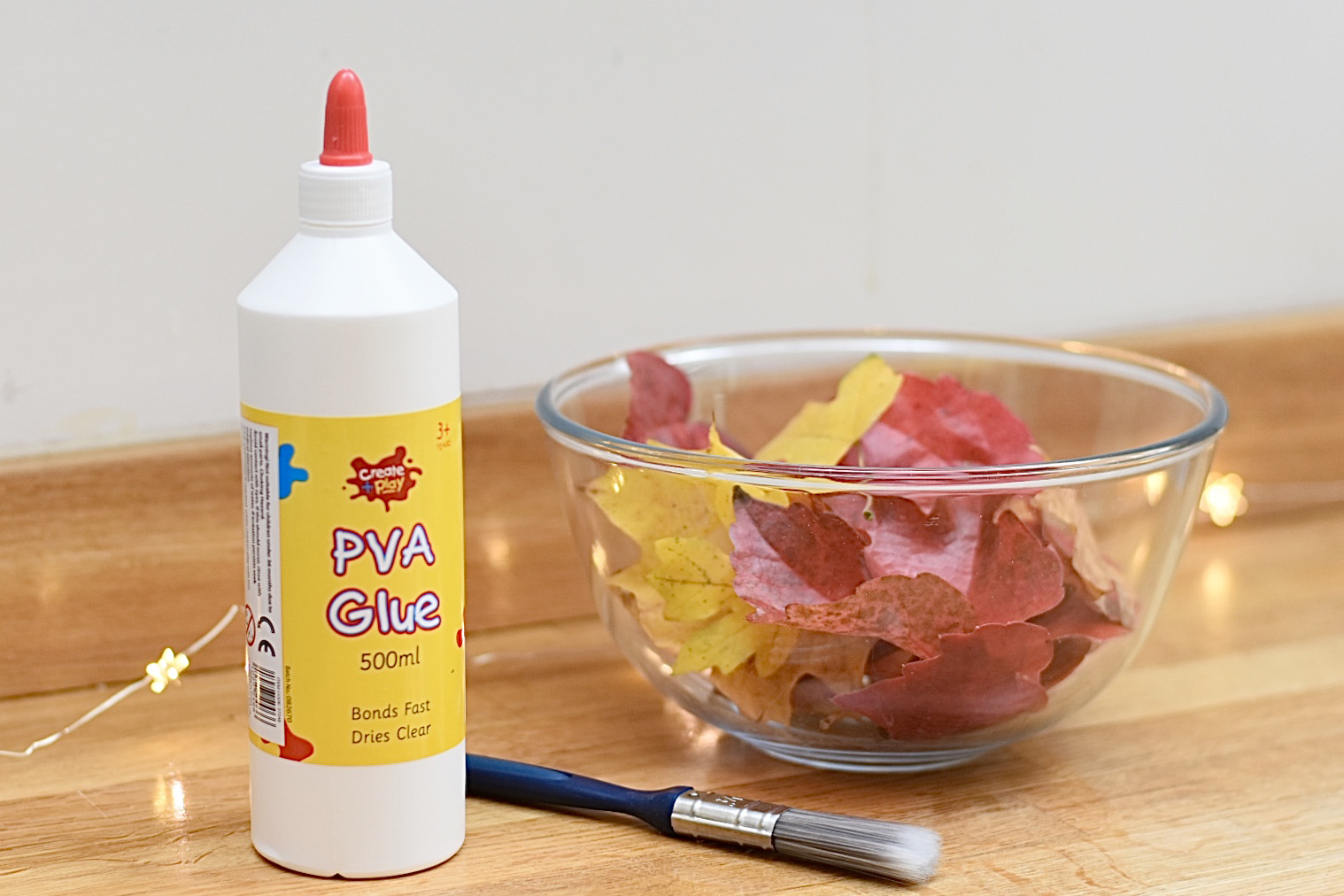 What you'll need
I love the look of the 3 different height lanterns so for this display I used the Laura Ashley Ellington Hexagonal Brass Effect Large Lantern, the Ellington Hexagonal Lantern Brass Effect and the Ellington Hexagonal Brass Effect Tealight Holder. The brass effect finish gives a real autumnal feel. You'll need two different sized pillar candles and a tea light candle. Alternatively, these battery powered LED candles work perfectly they have a wax coating so they look very realistic and I love that you can set them on a timer. To get started you'll need to collect a good selection of dried leaves. Try to pick thin and flat leaves as these are more flexible and stick better to the glass. Choose lots of different colours and sizes. To stick the leaves to the lanterns you'll need PVA glue, a small paintbrush and some scissors to trim down the stems.
The steps
Start by painting the lanterns with a thin glaze of PVA glue, PVA glue dries clear and leaves a frosted appearance to the glass so make sure you paint the whole glass pane not just where you intend to stick the leaves. Its tempting to apply a thick layer at this point but its better to apply a thin layer so that it dries quicker, you can add more glue to the leaves you are sticking down If you need to.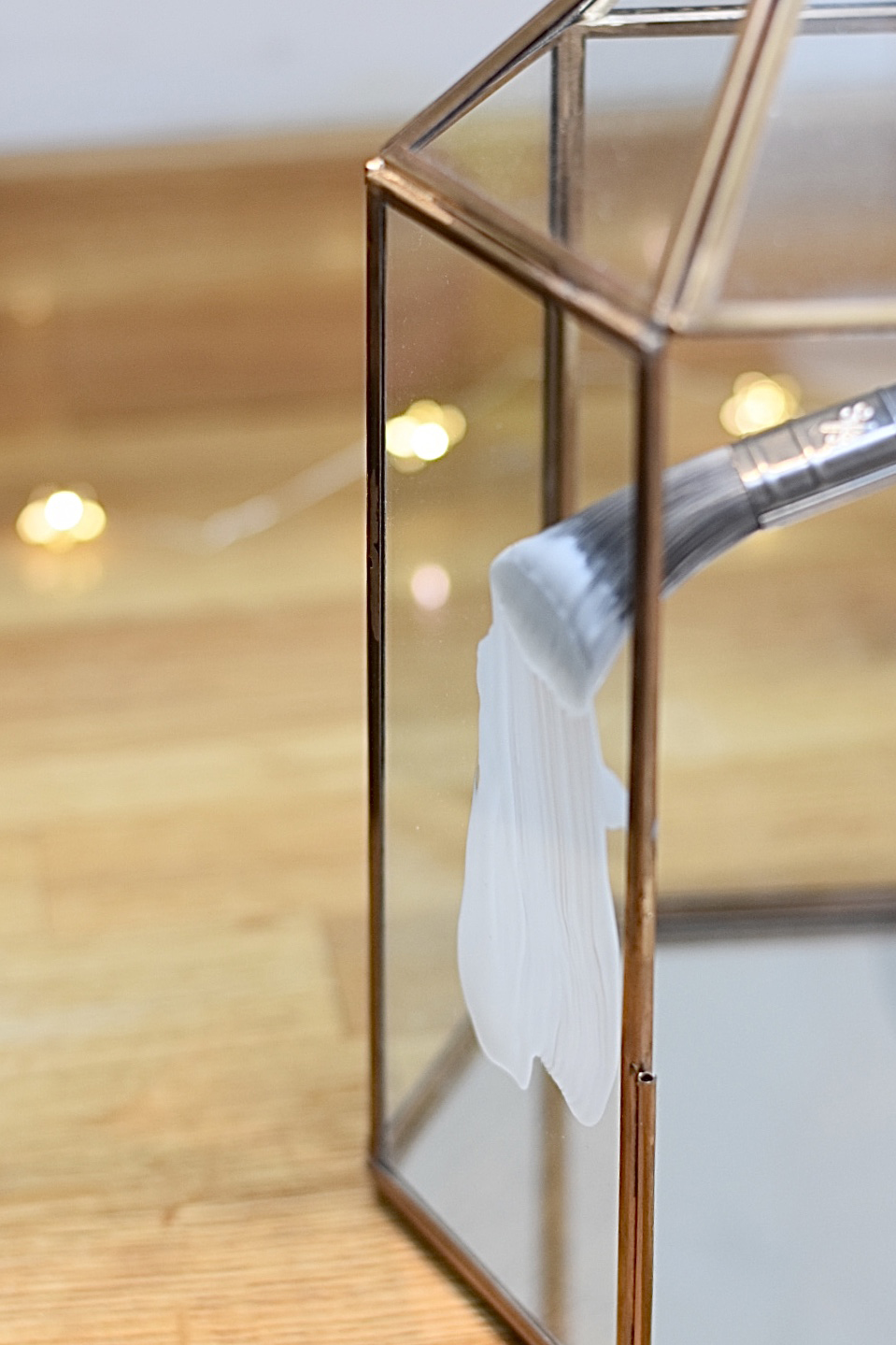 I found that less glue is better otherwise there is too much slip on the leaves and they become much more fiddly to apply. Allow the glue to dry slightly so that it becomes tacky on the glass before applying the leaves. Paper thin leaves will stick nicely to this thin layer but if you're using thicker waxier leaves that aren't as dry, apply a thin layer to the leaf and allow to become tacky before sticking to the glass. Stick the bigger leaves on first in a random order and you can fill the gaps in between with smaller leaves or layer with different coloured bigger leaves.
I think it's more effective to leave a few gaps in between the leaves so that you can see the flicker of the flame from the candles inside the lanterns. When layering the leaves make sure you have applied a thin coat of PVA to the outside of the leaf you want to stick down. Once you have applied all your leaves, use the paintbrush to brush down any corners so that they dry against the glass.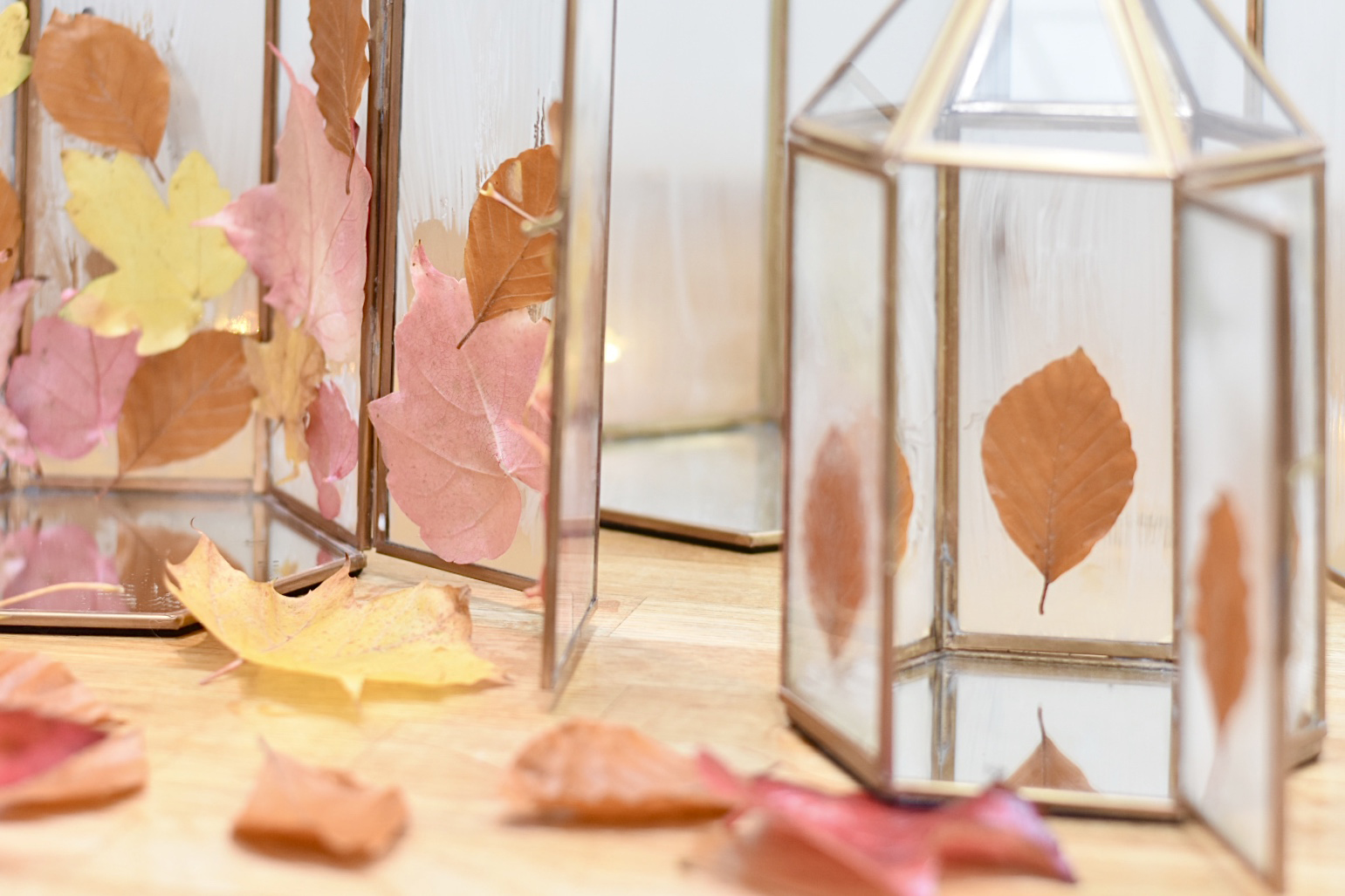 Once you have finished sticking down the leaves. Leave the lanterns to dry completely for 24 hours. After this time, apply a thin layer of glue to any leaves which have peeled away from the glass, but remember as tempting as it is to smother the leaf with glue too much glue will be too wet and will not stick properly to the glass.
Leave to dry and pop your candles inside… the leaves will glow like a pretty stained glass window and make the perfect table centrepiece for a Sunday lunch with the family. Or you could pop them outside your front door surrounded by pumpkins!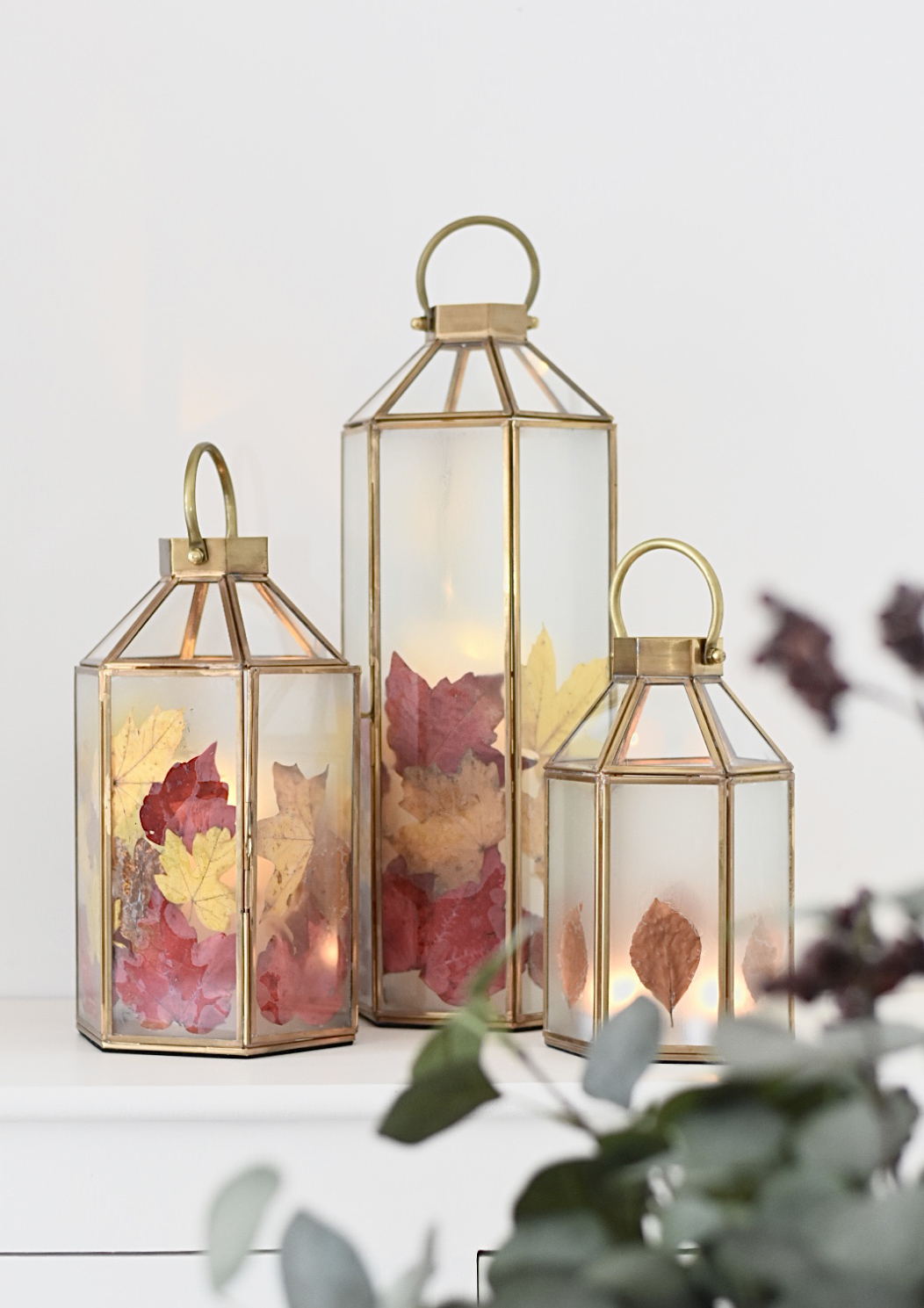 This post was created in collaboration with Ellie Fairman of Everything Ellie using our Ellington Hexagonal Lantern brass effect, Ellington Hexagonal Brass effect large lantern, Ellington Hexagonal Brass effect Tealight holder, and our Set of 3 LED Candles.
Would you like to give this easy tutorial a go? Let us know in the comments below.