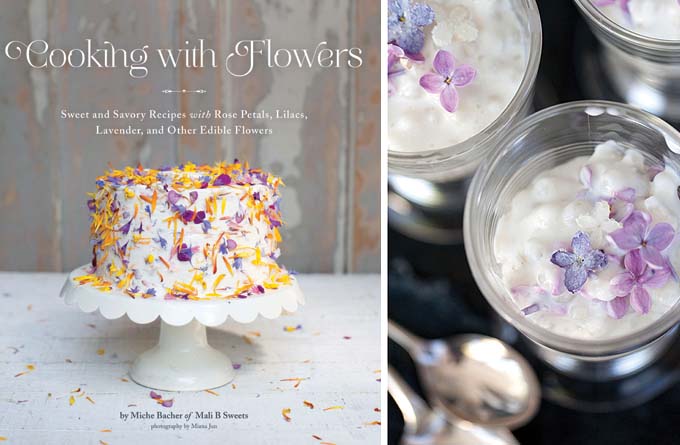 Get to grips with edible flowers with new book 'Cooking with Flowers' read more
As you may have guessed we are rather partial to beautiful blooms but when it comes to cooking with them we have a lot to learn! Thankfully new book 'Cooking with Flowers' (Recipes with Rose Petals, Lilacs, Lavender and other edible flowers) by Miche Bacher and Mali B Sweets has all the answers, along with simple flower enhanced recipes. Now our plates of food can look just as pretty as our home.
As well as easy-to-follow recipes (with jaw-dropping photos) you'll also find the history and meaning of flowers, tips and tricks to seeking them out, growing your own and preparing your edible blooms. From the savoury Daylily Petal Salad and Calendula Ravioli to the sweetly sublime Passionfruit Orchid Tartlets and Tulip Ice Cream Bowls, we can't wait to get acquainted with our delectable petals.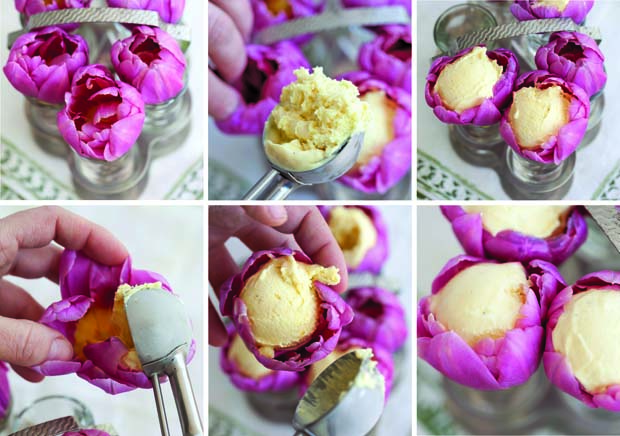 Tulip Ice Cream Bowls
To kick start your first foray into the world of edible flowers, why not give their Pansy Petal Pancake recipe a whirl?
PANSY PETAL PANCAKE RECIPE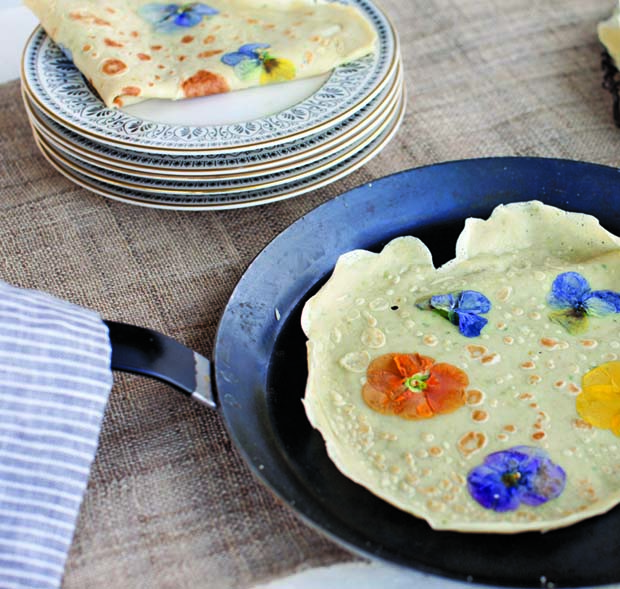 1¹/₂ cups milk
¹/₂ cup water
1 tablespoon sugar
¹/₄ teaspoon salt
3 tablespoons unsalted butter, melted,* plus more for cooking
¹/₂ cup buckwheat flour
³/₄ cup all-purpose flour
3 eggs
12 pansy flowers (about 1 cup)
Pansy simple syrup or flower syrup of any kind, for topping if desired
*You can substitute vegetable oil, if you like.
Spring, summer, and fall, pansies decorate my pancake plates. These pancakes are really crepes, so the batter can be made the night before—give it a gentle shake in the morning, and it's ready to go. It's fun to see a little flower peeking up at you from the plate. Served with a floral syrup, it is a great way to wake up in the morning. Makes 12 crepes.
1. Place all ingredients except pansy flowers in a blender. Blend until smooth. Refrigerate at least 2 hours and up to overnight.
2. Let batter come to room temperature before frying. Shake well. Heat a nonstick skillet over medium heat until a bit of butter melts quickly when added to it.
3. Lift skillet from heat and pour 1/4 cup of the batter in the middle, tilting and swirling the pan to distribute it quickly and evenly. Return to heat. After about 1 minute, sprinkle with pansies. Use a spatula to loosen the edges of the crepe from the sides of the skillet. Flip crepe and cook for another 30 seconds. Turn or slide it onto a serving plate. Repeat with remaining batter.
These get easier to make as you go. Consider the first crepe a sacrificial one—not so pretty, but tasty enough for the cook!
You won't believe the color of syrup made with dark purple or black pansies. The resulting liquid is a blueish hue so beautiful and unusual, you'll have a hard time convincing friends that you didn't use food coloring to achieve it.
Excerpted from Cooking with Flowers by Miche Bacher (Quirk Books; April 2, 2013)
Watch out for the 'pansy pop' recipe up on the blog in the next few weeks!