These adorable sweet treats are perfect for adding a festive touch to any Christmas table read more
For the 11th bake of Christmas Laura Ashley gave to me… 11 Chocolate-Orange Christmas Pudding Profiteroles.
Over the next month we'll be bringing you a variety of festive bakes every week as part of our 12 Bakes of Christmas blog series. So keep your eyes peeled on the Laura Ashley Blog for plenty of scrumptious Christmas eats.
There's nothing more traditional than a Christmas pudding, but it's safe to say pudding is a very rich dessert—especially after a big Christmas dinner. For a dessert that is a bit on the lighter side this year, why not try your hand at making these delicious Choc-orange pudding profiteroles by former Great British Bake Off contestant Martha Collison of Baking Martha. Light and fluffy, these profiteroles still have the pudding look without the rich and heavy texture. Read on to learn how to make them.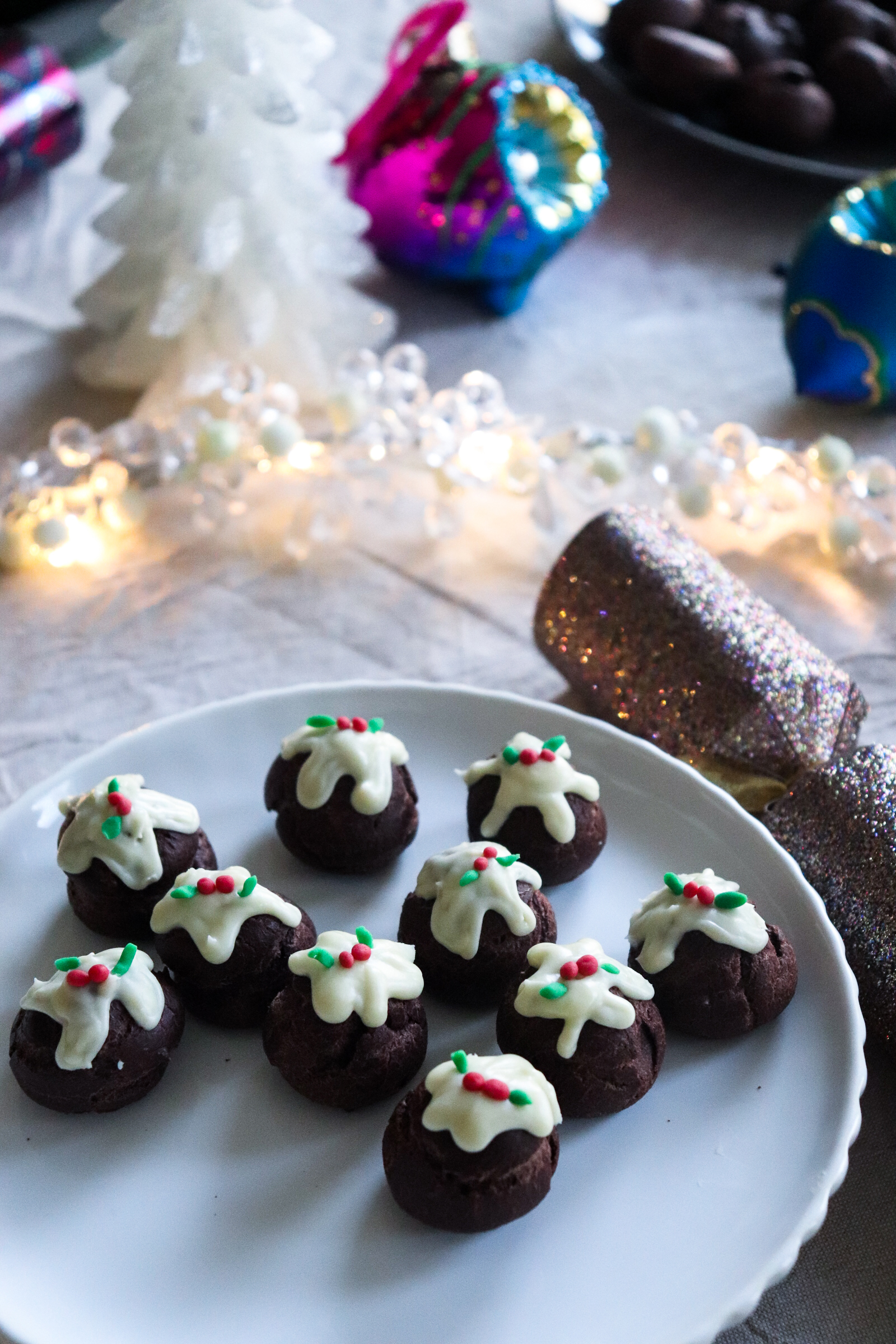 These cute little morsels are a great festive dessert or canapes at your Christmas party! No one can resist chocolate orange and the deep chocolate choux pastry is a real treat and something not many people will have seen before.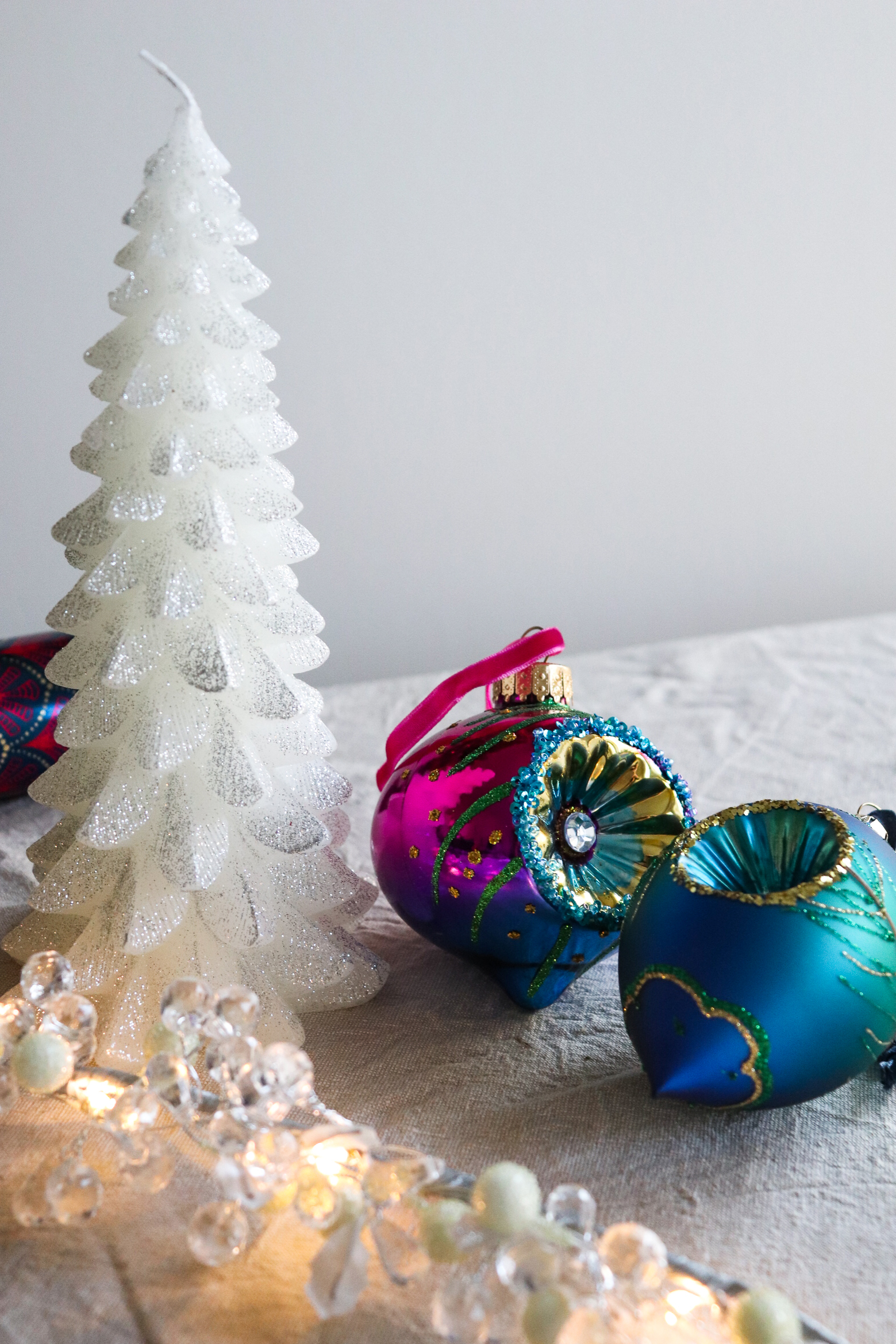 The Laura Ashley Bejewelled range adds some colourful sparkle to your Christmas table; I'm in love with the Peacock inspired baubles! Grab yourself a plate of profiteroles, grab a mug of hot chocolate and snuggle in…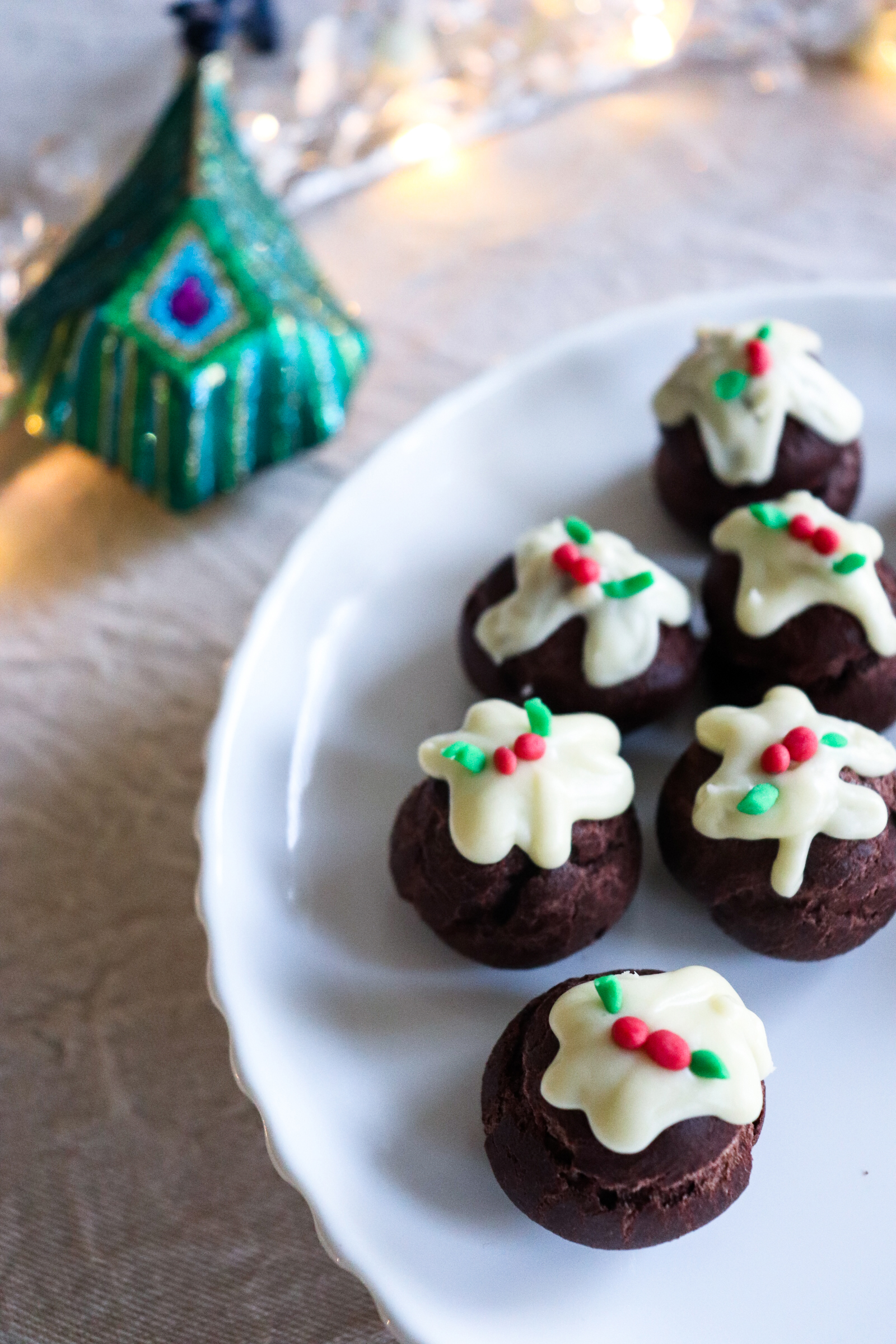 Chocolate orange Christmas Pudding profiteroles
Makes 30 profiteroles
Preparation time: 45 minutes
Cooking time: 20 -25 minutes
Ingredients
– For the choux pastry:
– 75g cold butter, cubed
– 1 tsp caster sugar
– 85g plain flour
– 1 tablespoon cocoa powder
– 3 large eggs
For the orange cream
– 150ml double cream
– Zest of ½ an orange
– 2 tablespoons orange juice
– 1 tablespoon icing sugar
For the topping
– 75g white chocolate
– 50ml double cream
– 2 tablespoons icing sugar
– Fondant icing, red and green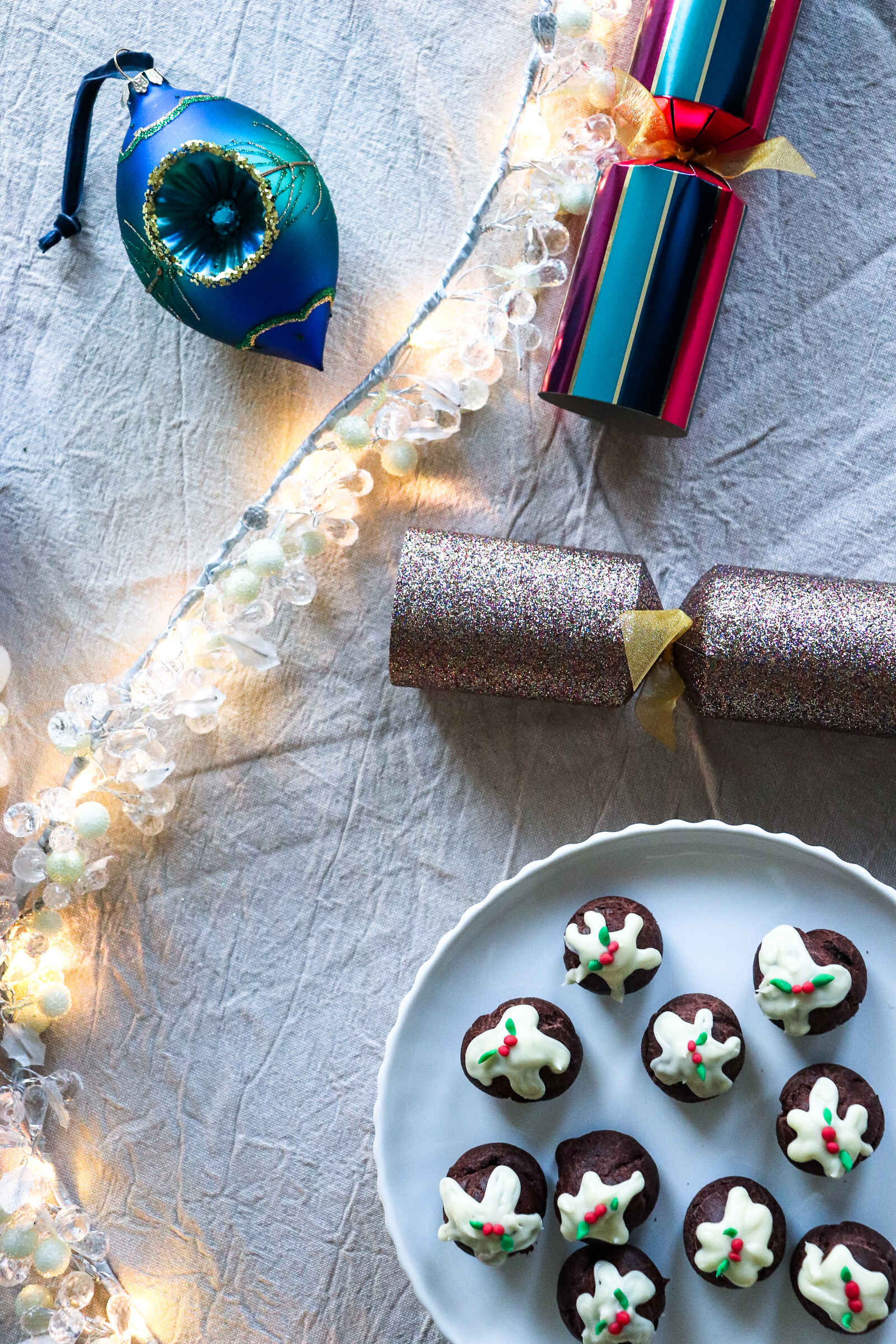 Method
1. Preheat the oven to 180oC. Line a two large baking trays with parchment.
2. Place the butter, sugar and 125ml of water into a small saucepan over a medium-high heat. Bring the mixture to a rolling boil, and when all the butter has melted, add the flour and cocoa powder and vigorously beat the mixture with a wooden spoon until a smooth ball of dough forms.
3. Keep the pan on the heat and stir rapidly for a further minute. Tip the dough into a bowl and leave it to cool until it has stopped steaming.
4. Beat the eggs together briefly in a small jug. Add the eggs into the cooled dough in 3 separate additions, beating well in between each one. It can be quite difficult to work in, but keep mixing and it will turn into a thick paste. You might not need to add all the egg – when you are adding the final amount you want to add just enough so it falls of the spoon and leaves a 'v' shape.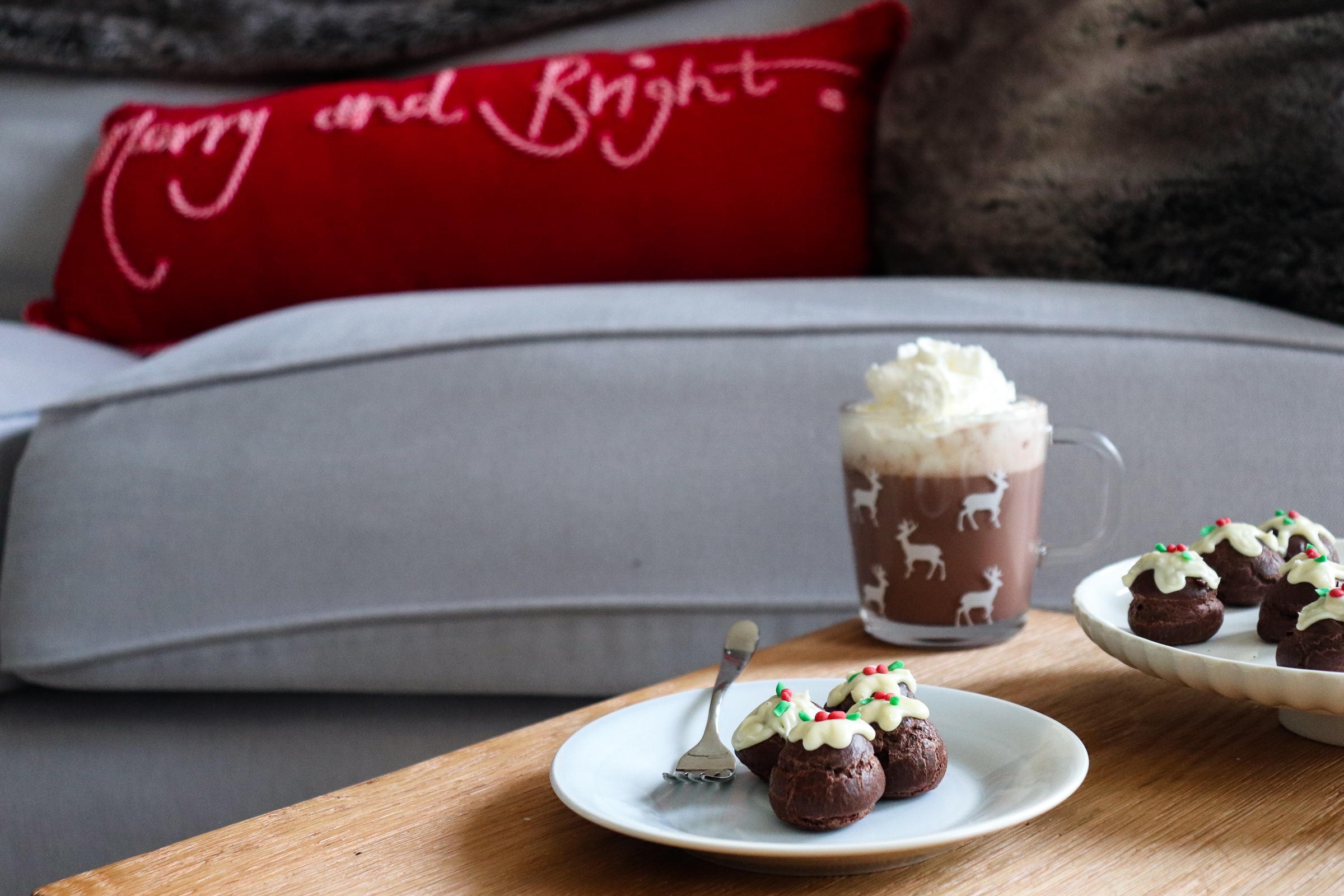 5. Spoon the pastry into a piping bag and pipe small amounts onto the tray (around the size of a 2p piece). Bake the profiteroles for 20-25 minutes until puffed and crisp to the touch, then turn the oven off and leave the profiteroles to cool completely in the oven.
6. To make the orange cream filling, place the cream, orange zest and juice and icing sugar into a mixing bowl. Whip until soft peaks form, then spoon into a piping bag. Pierce a hole in the bottom of each choux bun and pipe the cream filling inside.
7. To make the topping, melt the chocolate and cream together in a heatproof bowl set over a small saucepan of gently simmering water. Stir until completely melted, then sieve over the icing sugar. Allow to cool until it is thick enough to hold its shape, then pour into a piping bag and use to pipe the top of each Christmas pudding.
8. Use the fondant to create berries and holly leaves and arrange them on top of each profiterole. Serve with the remaining white chocolate sauce and enjoy!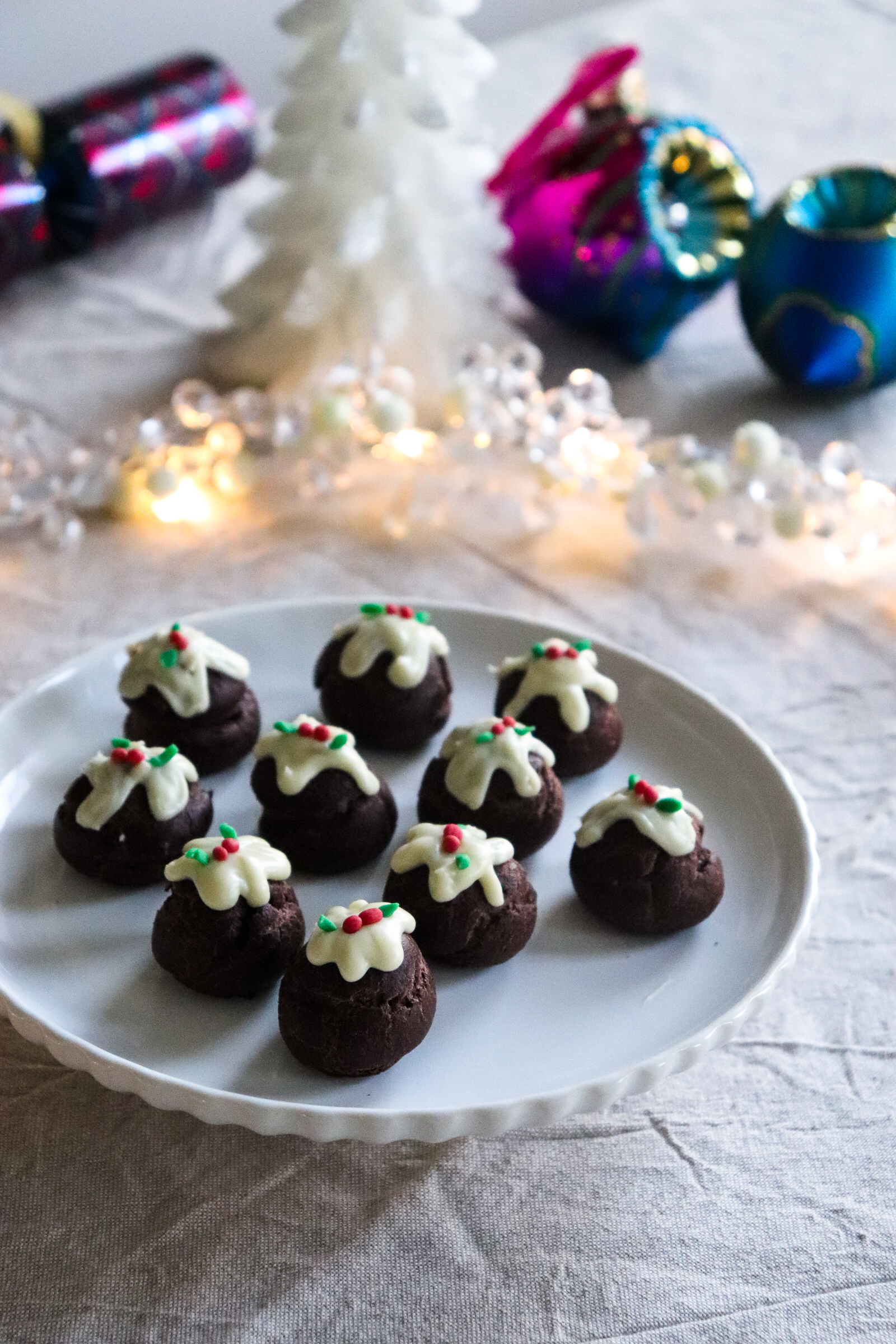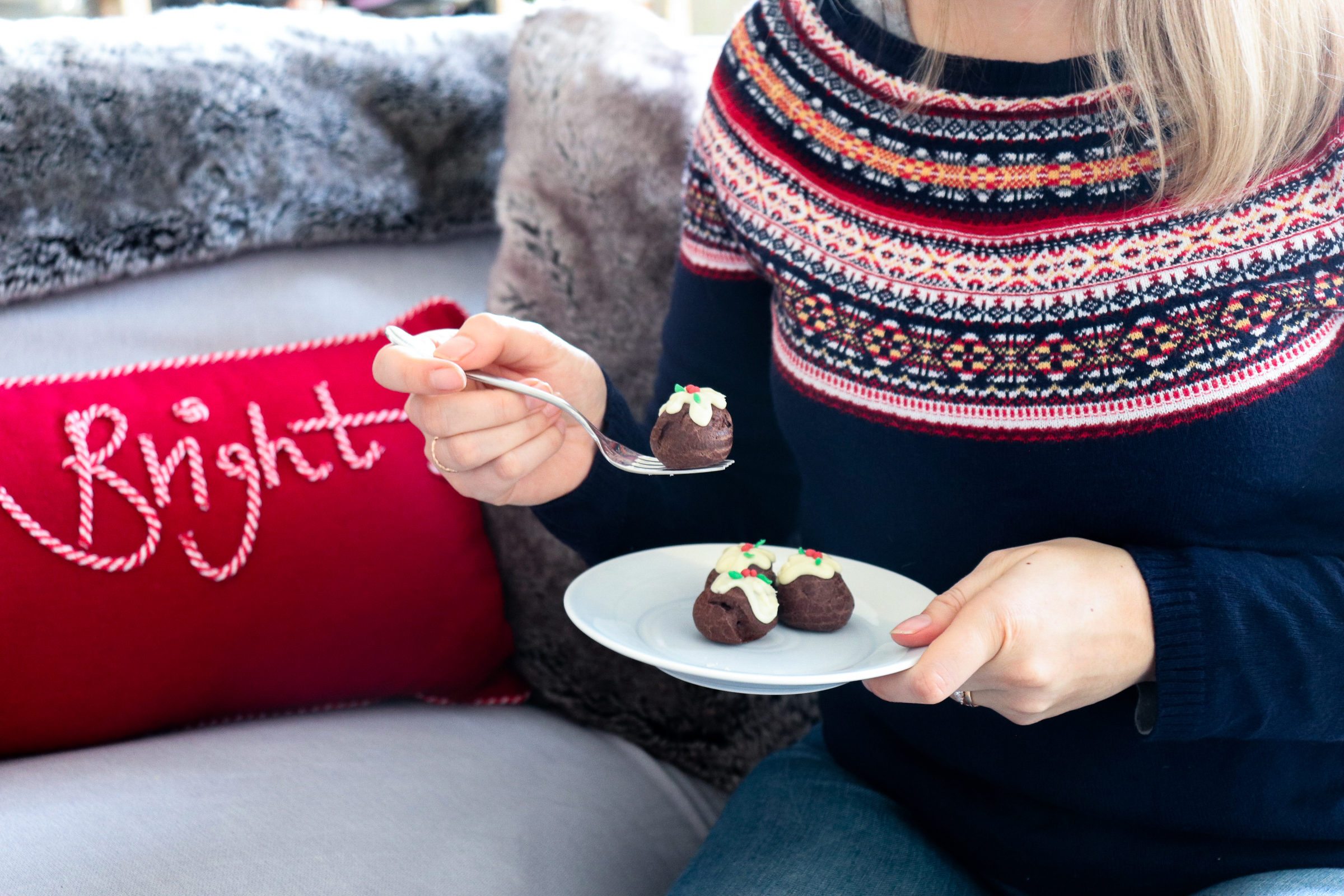 This post was made in collaboration with Martha Collison of Baking Martha who used our Bejewelled Collection for styling.
Would you like to try some of these delicious chocolate orange Christmas pudding profiteroles? Let us know in the comments below.
To create the perfect festive table for your home, check out the dining ranges in our Christmas Shop.
Follow along with our 12 Bakes of Christmas series and share your creations on our social media channels with the hashtag #LauraAshleyChristmas.