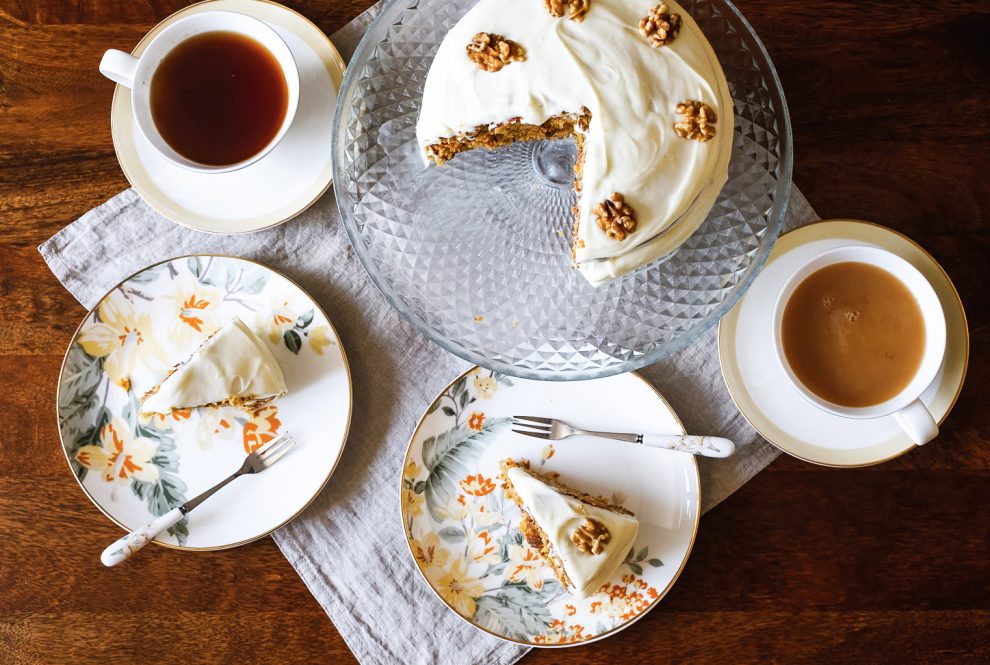 With delicious cream cheese frosting and spiced sponge this scrumptious carrot cake is the perfect dessert for entertaining. read more
As the days begin getting cooler again it's time to break out the comfort food. Foodie blogger Giulia Mulè of Mondomulia has a show-stopping carrot cake recipe that is perfect for indulging in on a cool Autumn's night. Layered with delicious cream cheese frosting and flavoured with crunchy walnuts and aromatic spices, this recipe is perfect for both entertaining or having all to yourself with a piping cup of tea.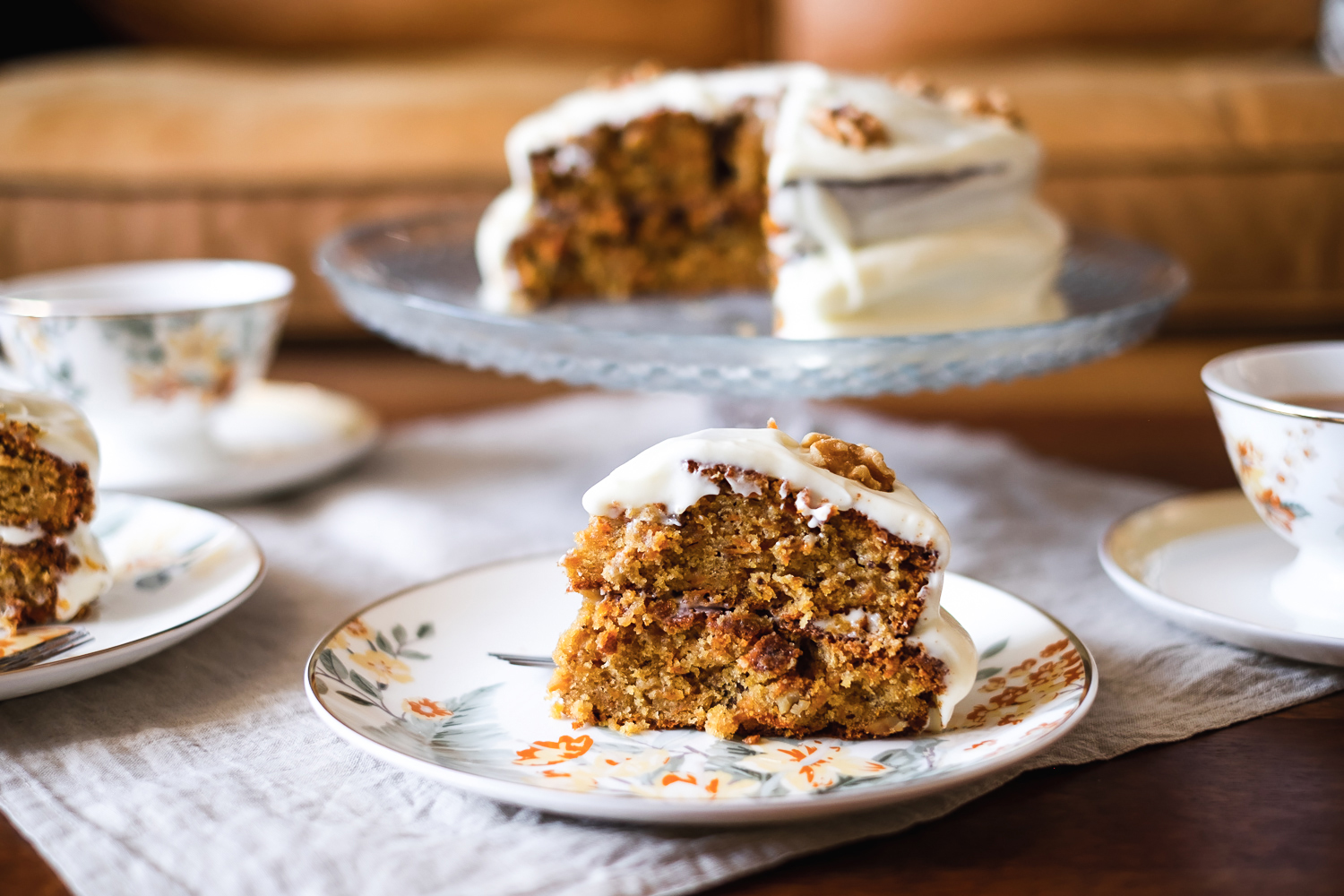 Carrot cake with cream cheese frosting
Like many of you I am sure, I too have a soft spot for carrot cake. Not any carrot cake: I am talking about the homemade, multi-layered, cream cheese frosted kind!
I have made this carrot cake so many times for parties, birthdays, or just to eat a cheeky slice at home with a steaming hot cup of tea! I'm yet to find anyone who doesn't love it.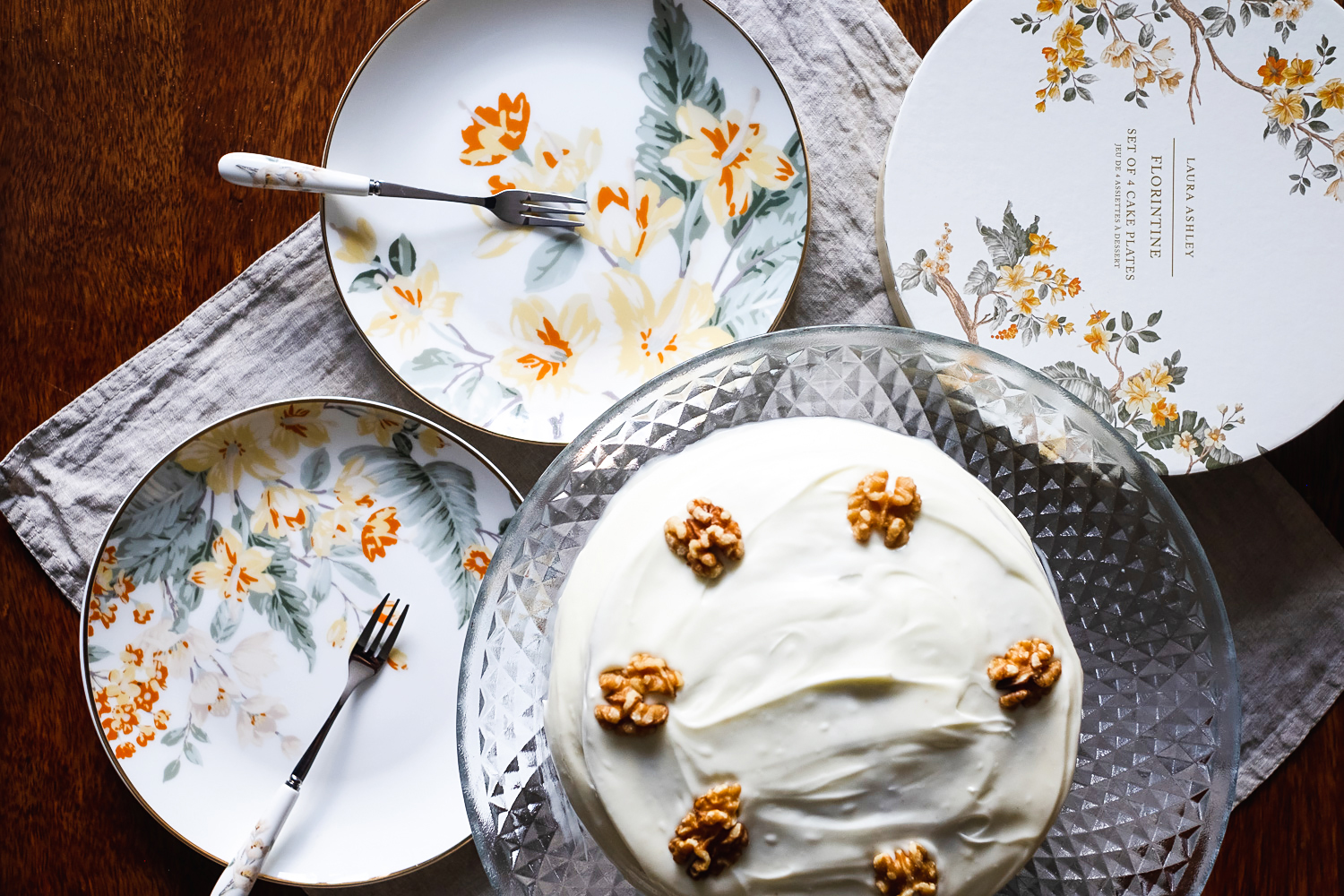 In my favourite carrot cake recipe, the sponge is flavourful, spiced with cinnamon and speckled with walnuts (or pecans) for a nice crunchy bite. As you guessed, most of the cake is made of carrots, so it is naturally sweet. You don't need to add too much sugar! I use lightly packed brown sugar (instead of refined caster sugar) as it caramelises when heated, hence promoting browning of the cake. The vegetable oil and the juice released by the carrots make the cake soft and incredibly moist.
For a quick (and healthier) afternoon tea treat, serve the carrot cake without any frosting, just a sprinkle of icing sugar on top. On the other hand, if a showstopper is what you are looking for, then a topping of homemade cream cheese frosting is the way to go!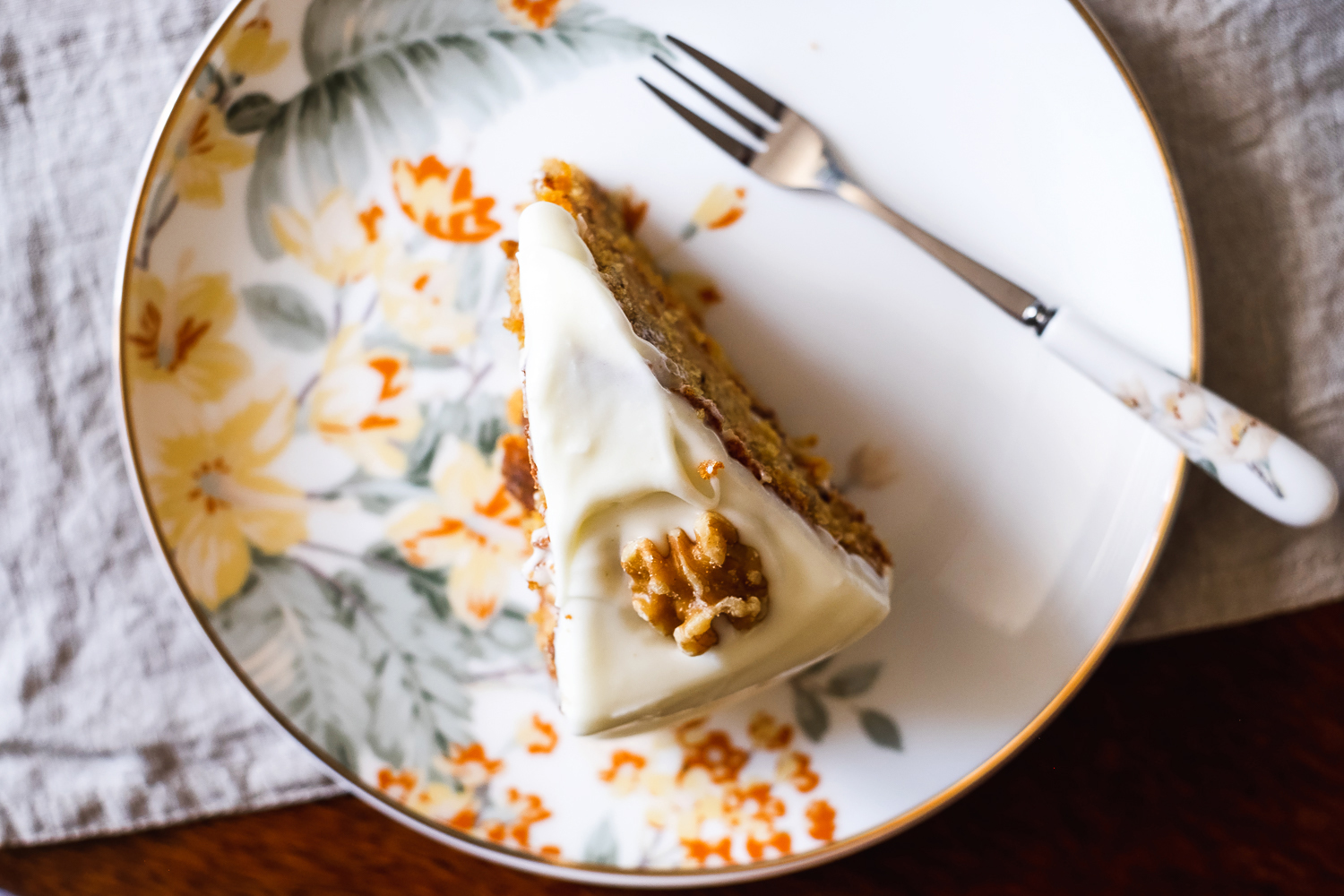 Ingredients
For the sponge
250g self-raising flour, sifted
1 tsp baking powder
1 tsp ground cinnamon
245g lightly packed brown sugar
Zest of 1 orange
100g coarsely chopped walnuts (plus 6 halves to decorate)
340g carrots, coarsely grated
3 medium free-range eggs
170ml vegetable oil
For the cream cheese frosting
400g icing sugar
200g full-fat cream cheese
50g butter, softened
Zest of 1 orange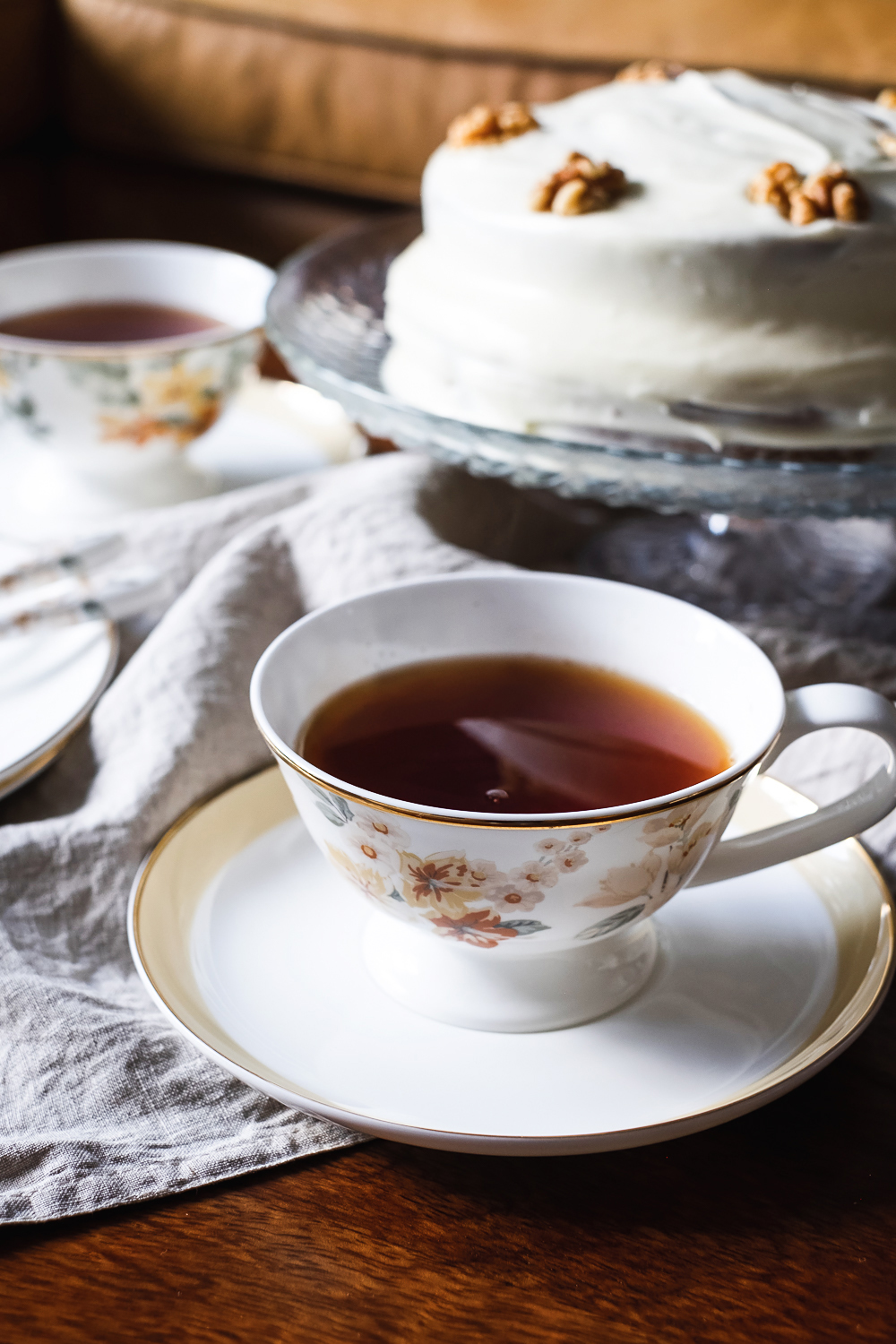 Preparation
Pre-heat the oven to 180°C / 160°C fan. Grease an 18cm loose-bottomed round cake tin and line the base with baking paper. Tip: if you have them, use two identical cake tins and spread the batter evenly between them; it is easier to make two cakes than having to slice one cake sponge in two layers.
In a large bowl, mix the flour, baking powder and cinnamon using a wooden spoon. Add the brown sugar, orange zest, and walnuts. Mix well, and then add the coarsely grated carrots, folding them into cake batter.
Finally, add the eggs, one by one, and vegetable oil. Continue to mix until all ingredients are well combined.
Pour the batter into the prepared cake tin (or tins). Lightly tap the tin on the counter to remove air bubbles in the batter (this will also smooth out the top of the cake).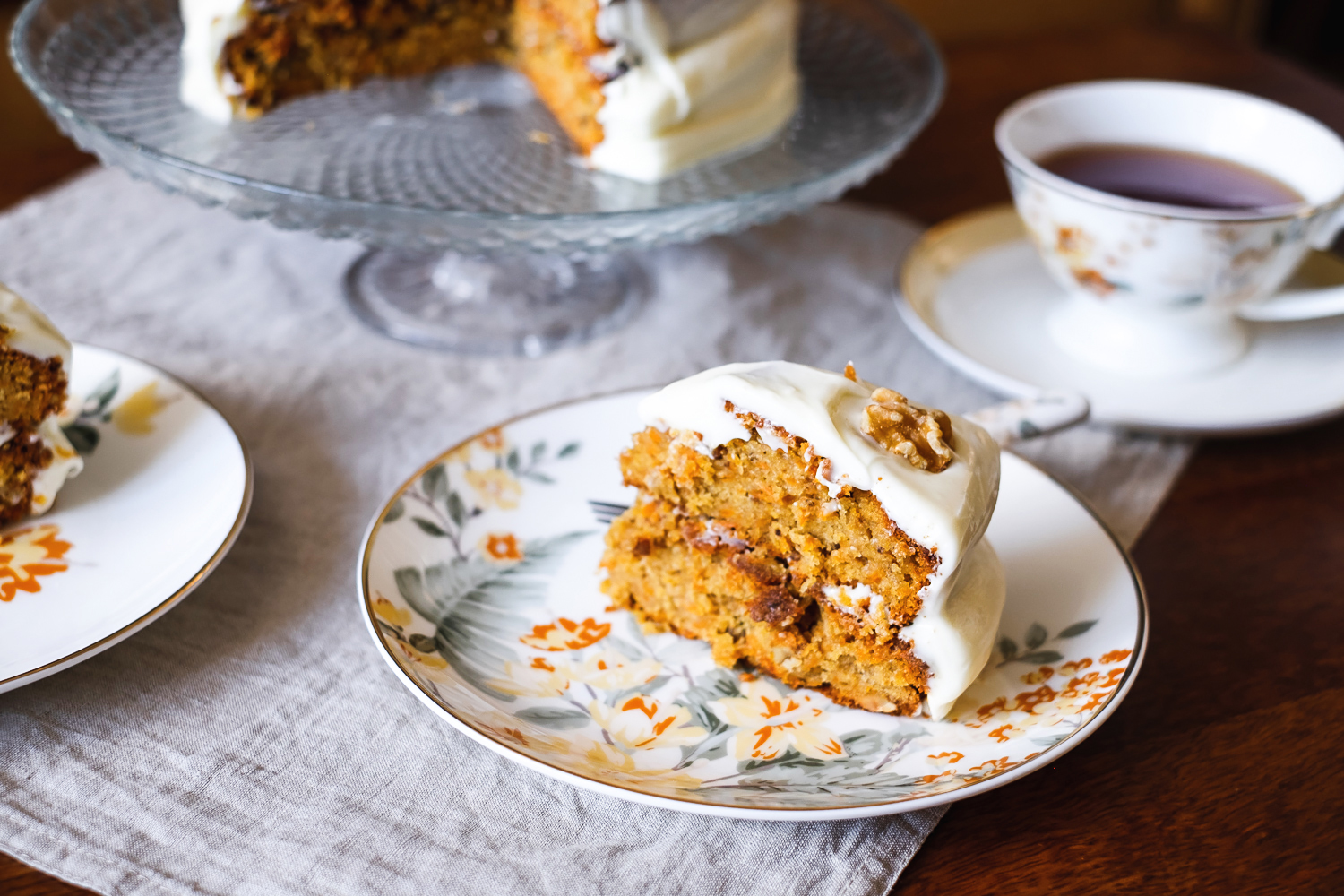 Bake in the oven for approximately 55-60 minutes, or until a skewer inserted in the centre comes out clean.
When the cake is golden and springy to the touch, remove from the oven and allow cooling for 5 minutes before removing from the tin. Transfer to a cooling rack. Wait until the cake is completely cooled down before frosting it.
Cream the butter in a large bowl with a hand mixer, until really soft. Add the cream cheese, icing sugar and orange zest. Beat until smooth. Store the frosting in the fridge until needed.
If you have baked one cake, now it's the time to carefully cut it in half horizontally using a sharp knife.
Spread half of the cream cheese frosting between the two cake layers and the other half on top. Decorate the cake with walnuts.
Store in an airtight container in the fridge for a couple of days.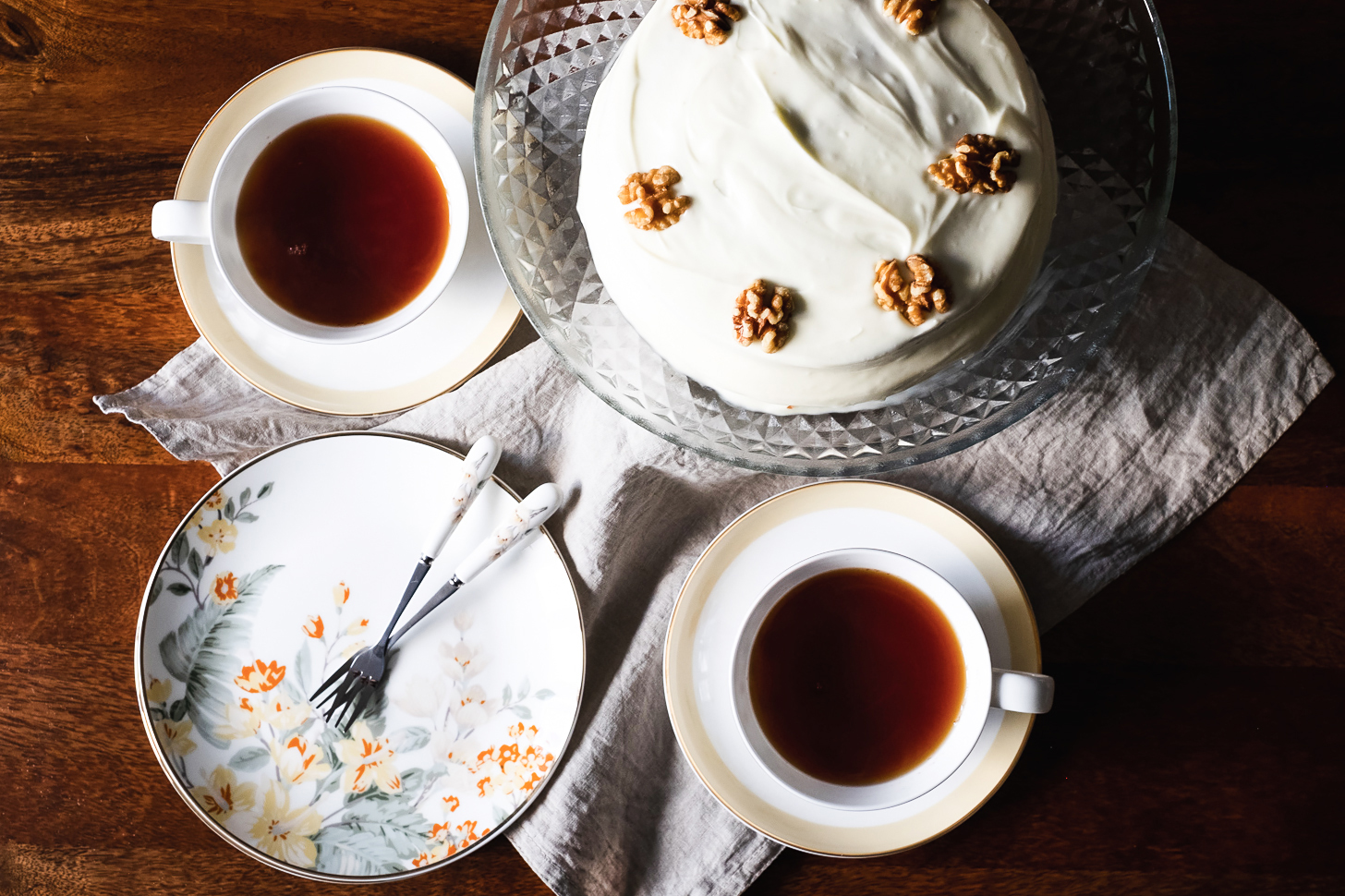 Giulia used the Laura Ashley Florentine Dining Collection to style her dessert. Check out the Florentine collection here.
Are you going to give this carrot cake recipe a go? Let us know in the comments below.