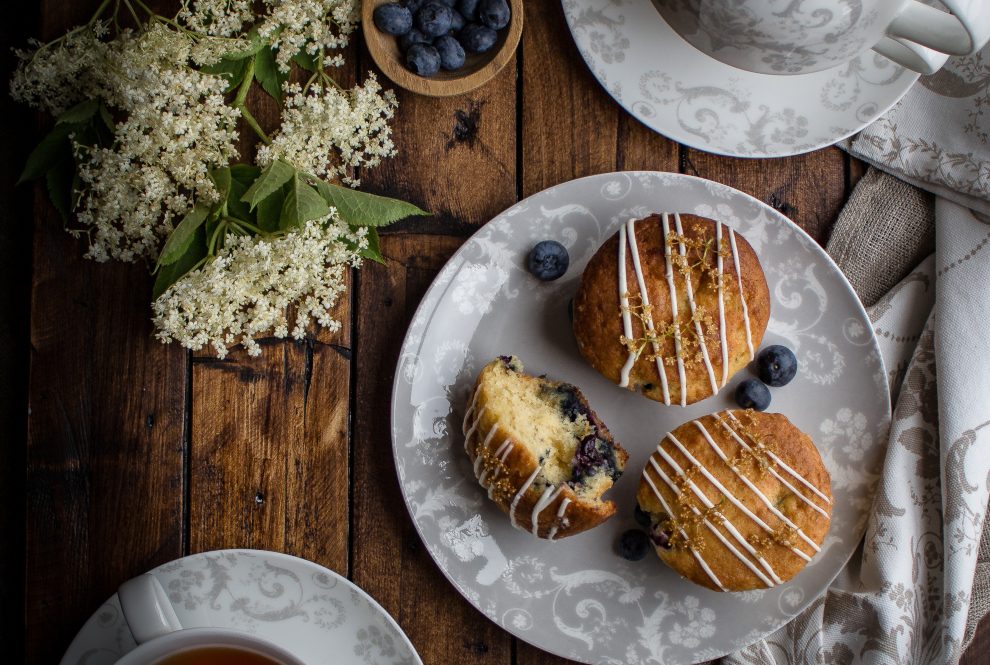 Celebrate National Blueberry Muffin Day with a bit of a Nordic twist. read more
To celebrate National Blueberry Muffin Day, foodie blogger Sofia Evemalm of Cloudberry Ramblings has created a delicious blueberry muffin recipe with a nordic twist. This recipe is worth the extra effort with its wholesome, blueberry filled mixture and delicious elderflower glaze topping.

Although the name of my blog has 'cloudberry' in it, blueberries are hands down my all-time favourite berries and I use them almost every day as a porridge topping for breakfast. This recipe is a Nordic-style tribute to these lovely berries for National Blueberry Muffin Day and uses traditional ingredients like cardamom and Skyr (Icelandic yoghurt).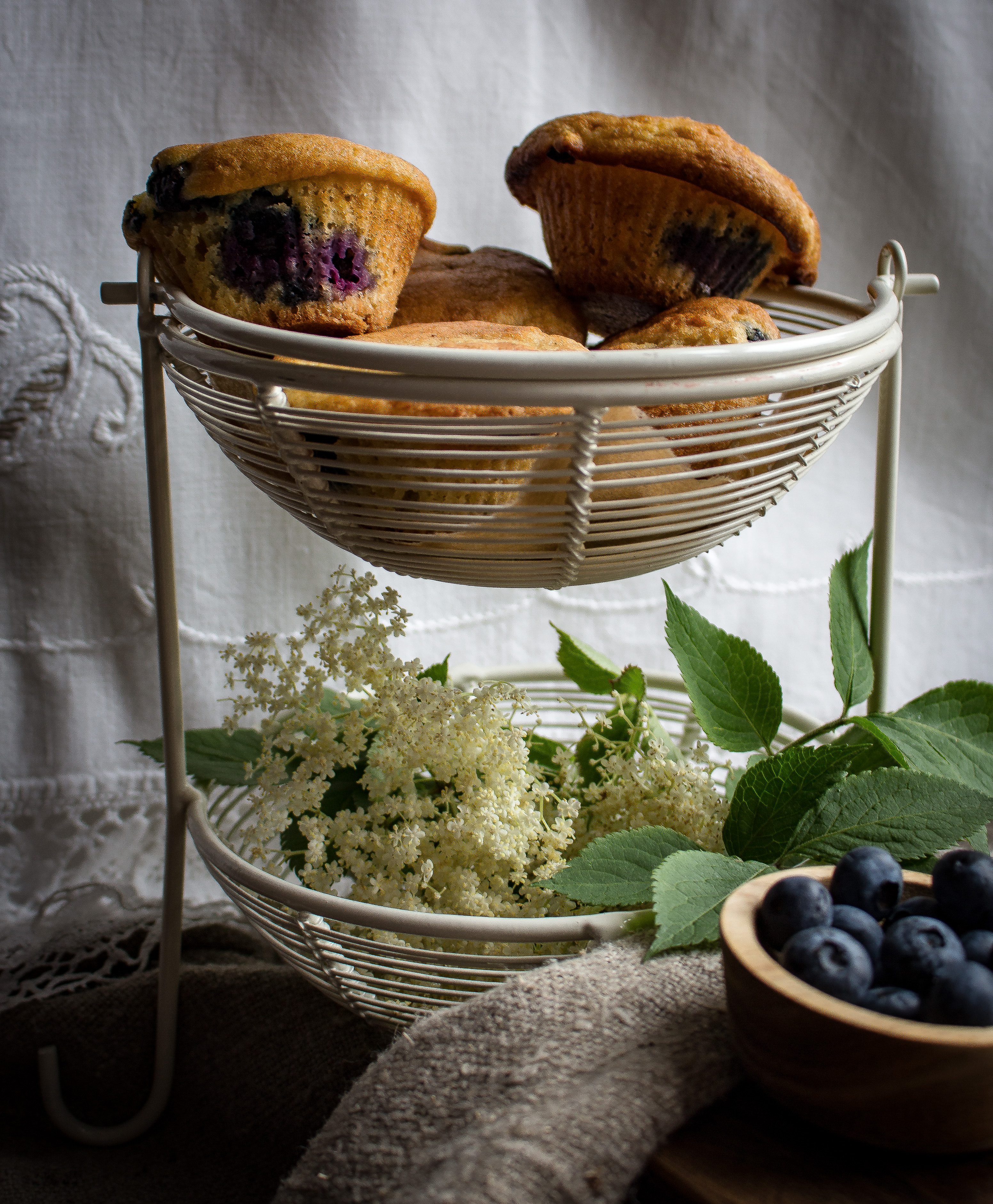 Sometimes you catch the scent of something which brings you right back to your childhood and for me that scent is elderflower cordial. Growing up, my neighbour used to make homemade elderflower cordial. As a child it seemed like a very elaborate process; to pick the flowers, leave them to steep in syrup (she left them for at least two days), and eventually strain the liquid. Today you can still make it yourself (like I did for the glaze-there are plenty of recipes out there), or you can also purchase store bought cordial. The elderflower garnish in this recipe is of course completely optional, but it adds a delicious crispy topping that is pretty as well as tasty!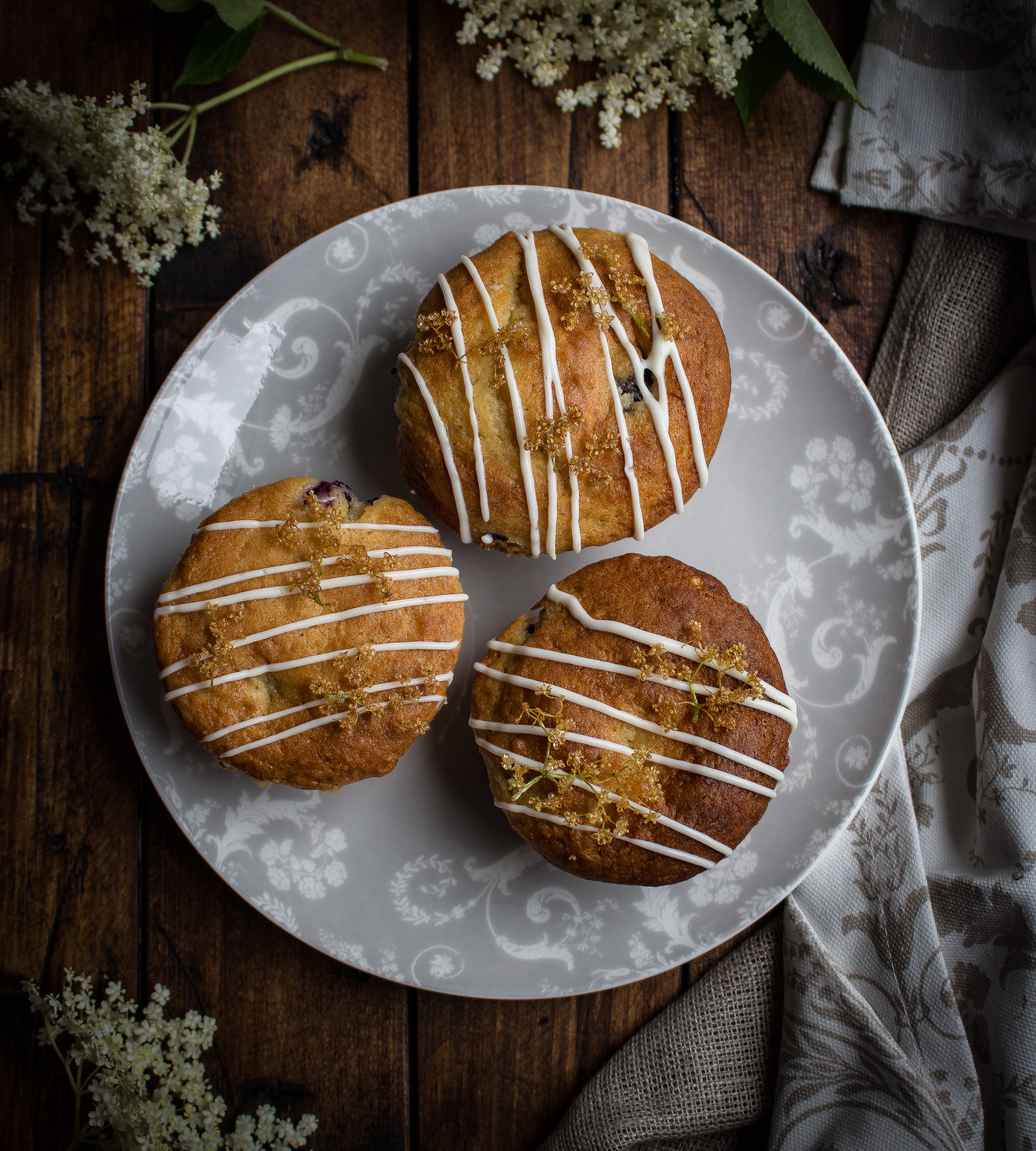 On top of incorporating Elderflower into this recipe I also decided to spice up my muffins with cardomom. For many, cardamom is a spice mainly associated with Christmas, but it's so much more versatile. As a Swede, I'm especially fond of cinnamon rolls with plenty of cardamom – making it perfect for both sweet and savoury dishes. In this recipe the cardamom works perfectly with the with blueberries to produce a perfect flavour for summer.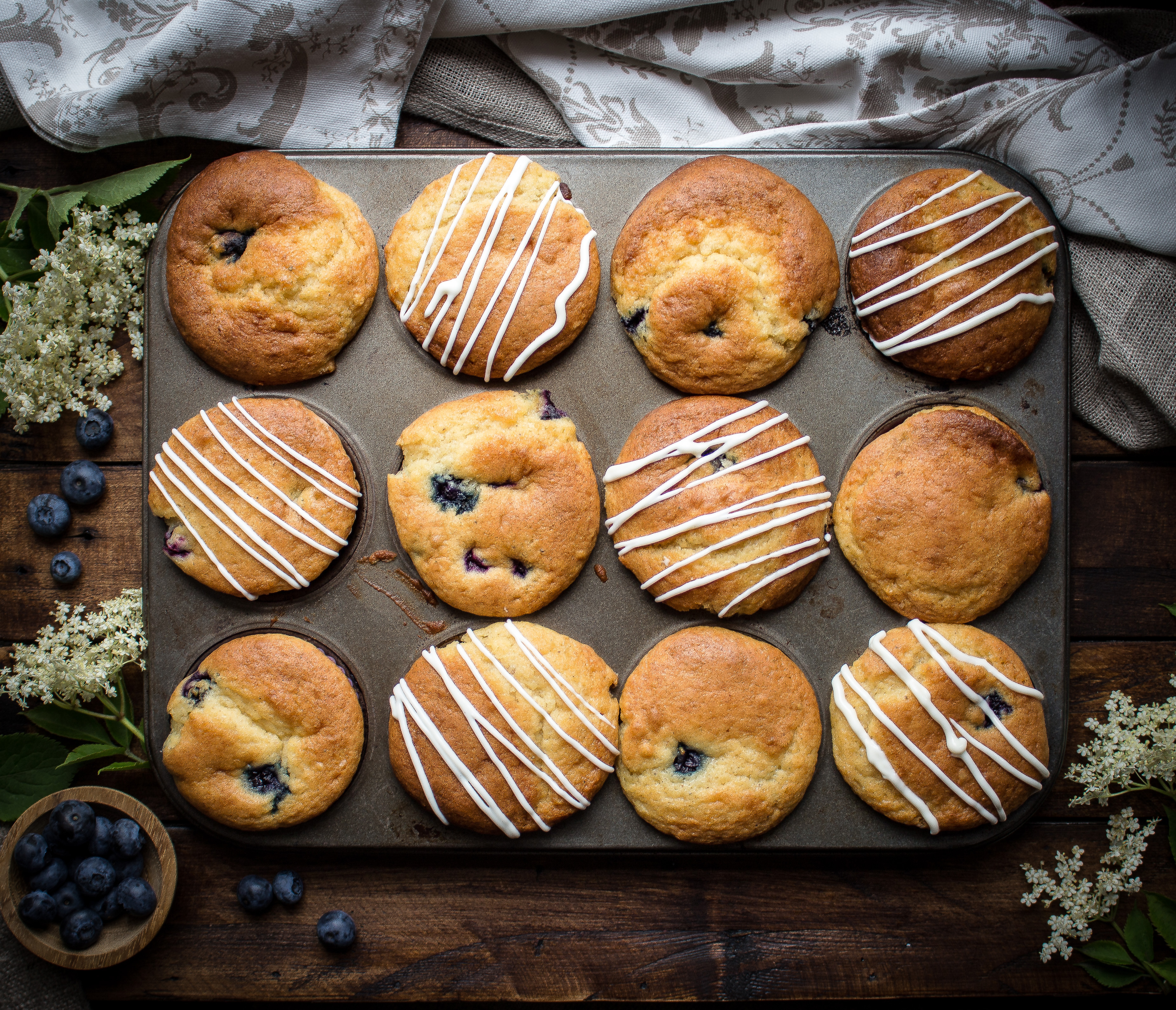 Blueberry muffins with Nordic flavours and elderflower glaze
Makes 12-16 muffins
Ingredients
Muffins
150g sugar
2 eggs
250g flour
½ tsp salt
2 tsp baking powder
1 tsp bicarbonate
1 tsp cardamom (ground)
200g skyr (Icelandic yoghurt)
50ml milk
1 tsp vanilla essence
50g honey
120g butter
100g blueberries
2 tbsp brown sugar
Elderflower glaze
100g cream cheese
50g condensed milk
1tbsp elderflower cordial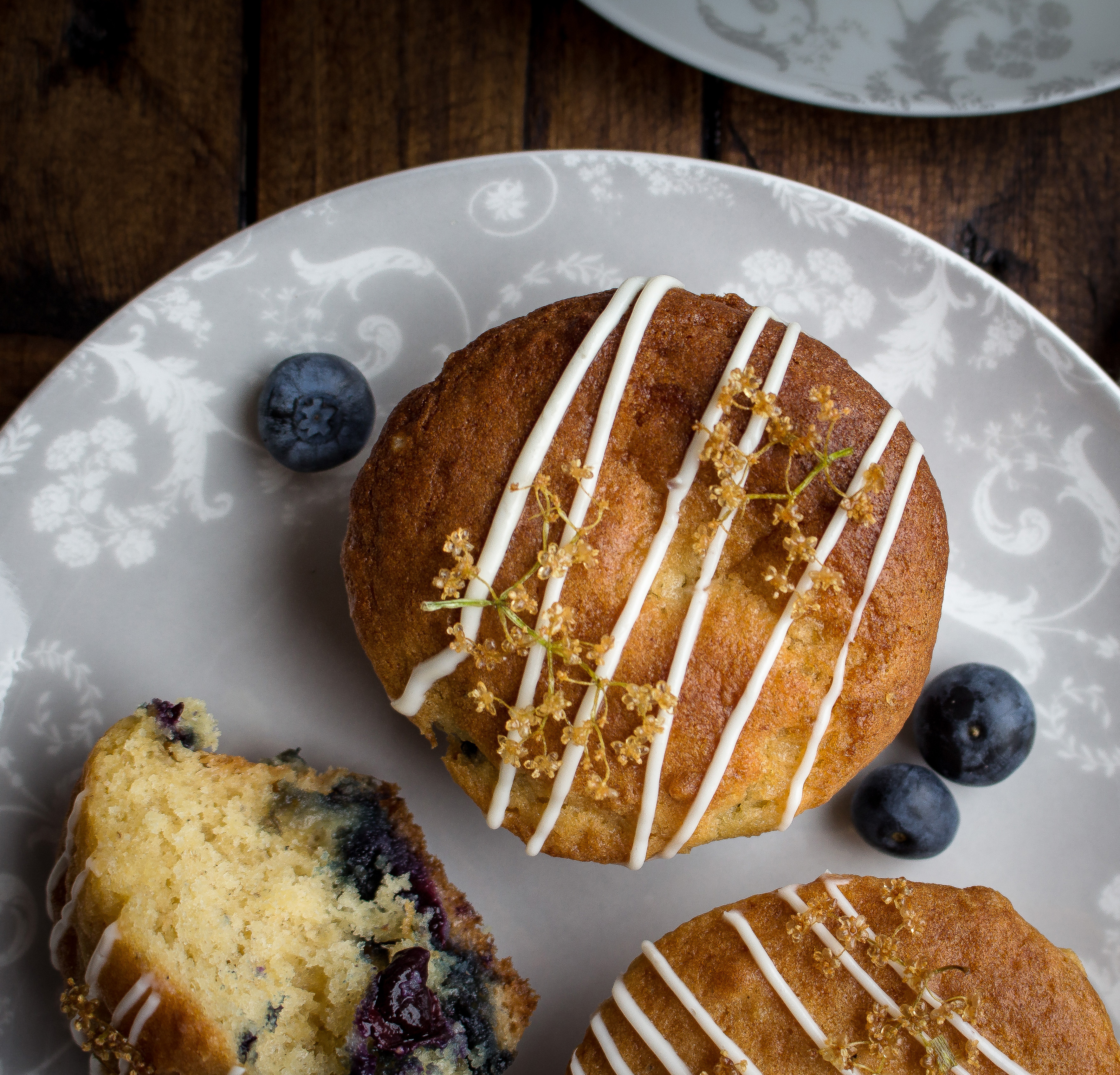 Method
Heat the oven to 180C. Beat together eggs and sugar until fluffy. Melt the butter and leave to cool for a couple of minutes.
Meanwhile, stir together all the dry ingredients (flour, salt, baking powder, bicarbonate and ground cardamom).
In a separate bowl, combine the skyr, milk, vanilla and honey, then add to the egg mixture along with the melted butter.
Add the dry ingredients to the wet mixture and stir everything together. Finally, add the blueberries to the batter.
Divide the batter between muffin cases (this recipe will make 12 large or 16 medium sized muffins) and finish with a sprinkling of brown sugar. Bake in the oven for 20 minutes and leave to cool.
For the glaze, beat the cream cheese with an electric whisk until smooth. Add condensed milk and elderflower cordial and mix everything together. Drizzle the glaze over the muffins and enjoy!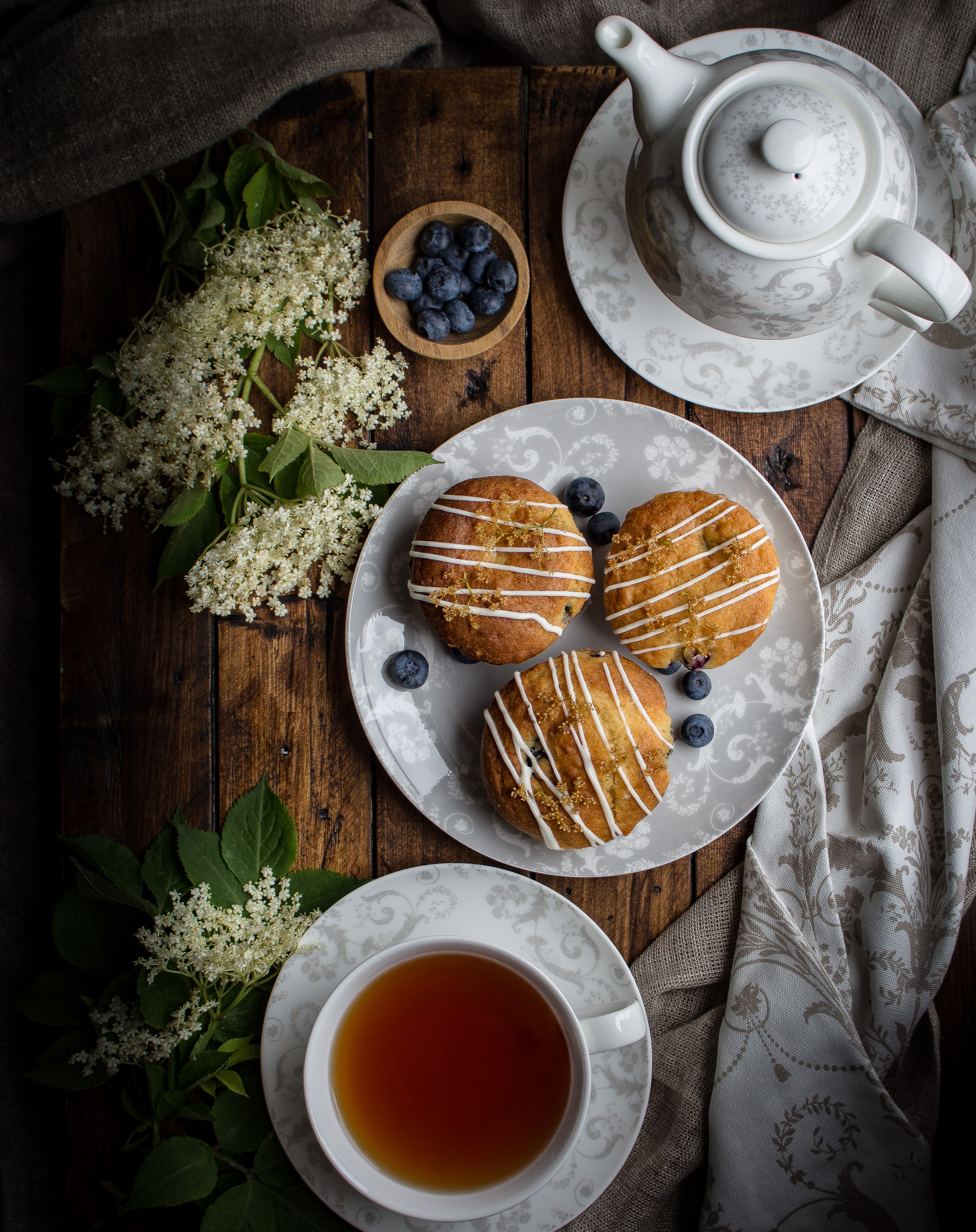 This post was styled by Cloudberry Ramblings using our Josette Dining Collection. See the full collection here.
What do you think of this blueberry muffin recipe? Is it something you would try out? Let us know in the comments below.