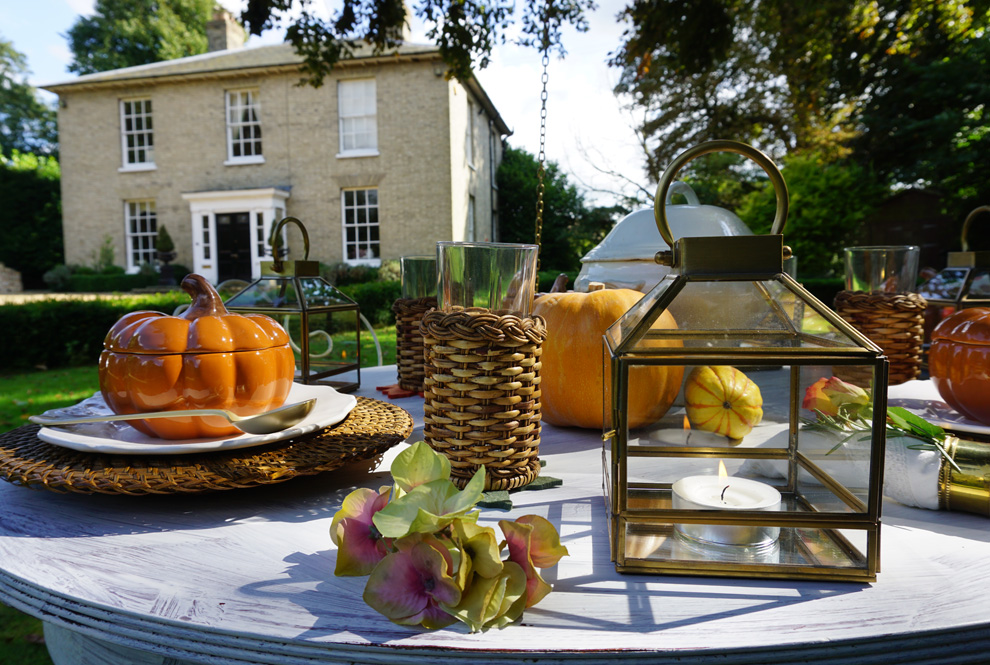 Feel extra cosy with this amazing autumn table scene... read more
Autumn is here so rather than being down in the dumps that Summer has ended it's time to embrace autumn and what better way than with a little bit of outdoor dining with the fabulous Paula from Hillhouse Diaries…
Being an Autumn lover means that I like to squeeze every possible ounce of outdoor living out of the year – regardless of the weather. Blustery winds? Throw on a gorgeous blanket and get cosy. Feeling the need for comfort food? Dine out with a warming bowl of soup. The light fading quickly? Surround yourself with lanterns and tealights and turn your garden into a magical extension of your cosy Autumn home. Summer barbeques are wonderful, but nothing beats a garden meal in the dappled Autumn sunshine with the magical Autumn leaves surrounding you, or a twilight supper as the sun sets with your hands warmed by bowls of something seasonal and hearty!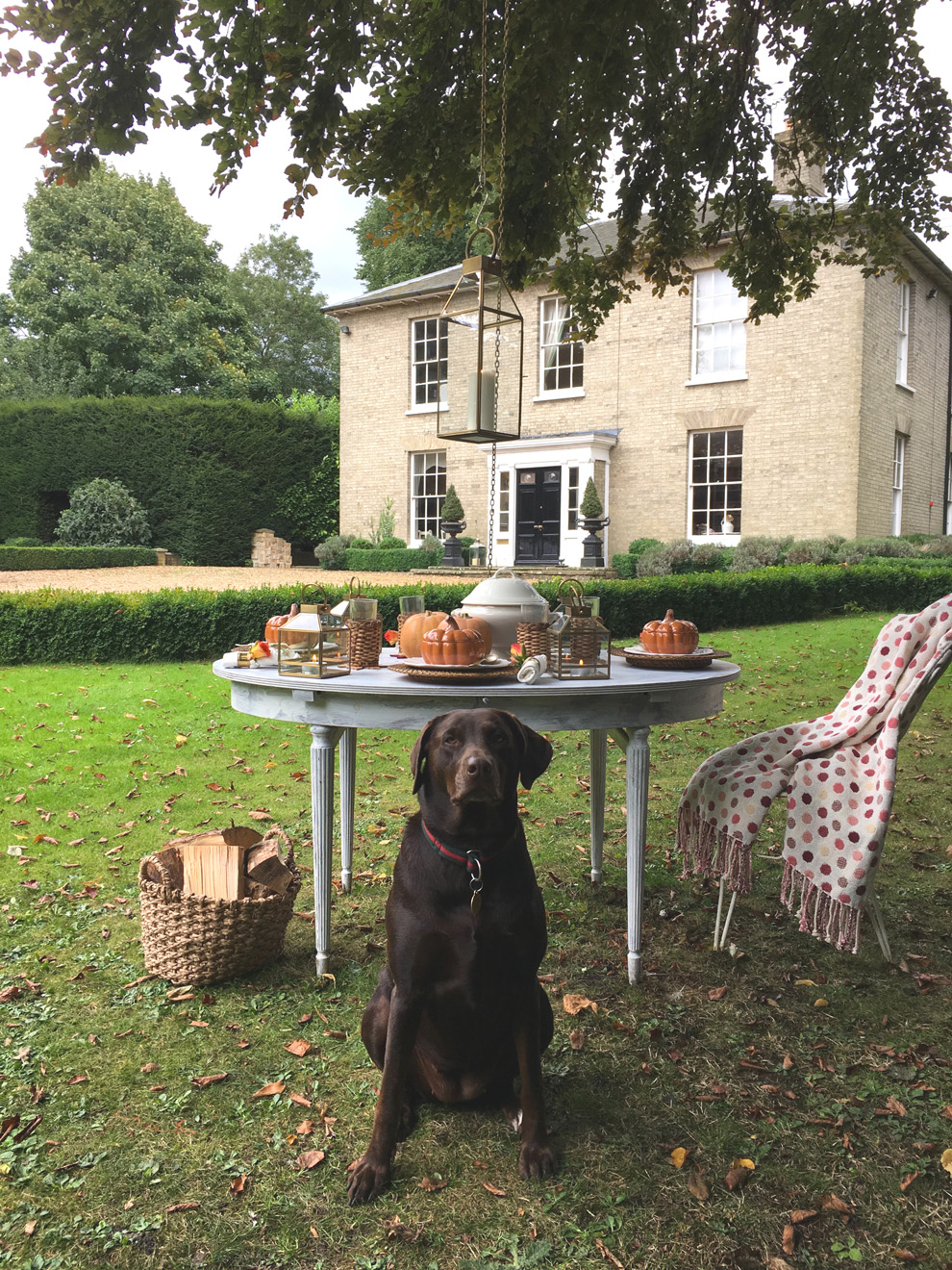 For my Autumn garden lunch at Hill House, I made a warming Butternut squash and rosemary soup, accompanied by chunks of tummy filling soughdough bread – exactly the sort of comfort food needed for an outdoor meal in cooler temperatures (recipe below)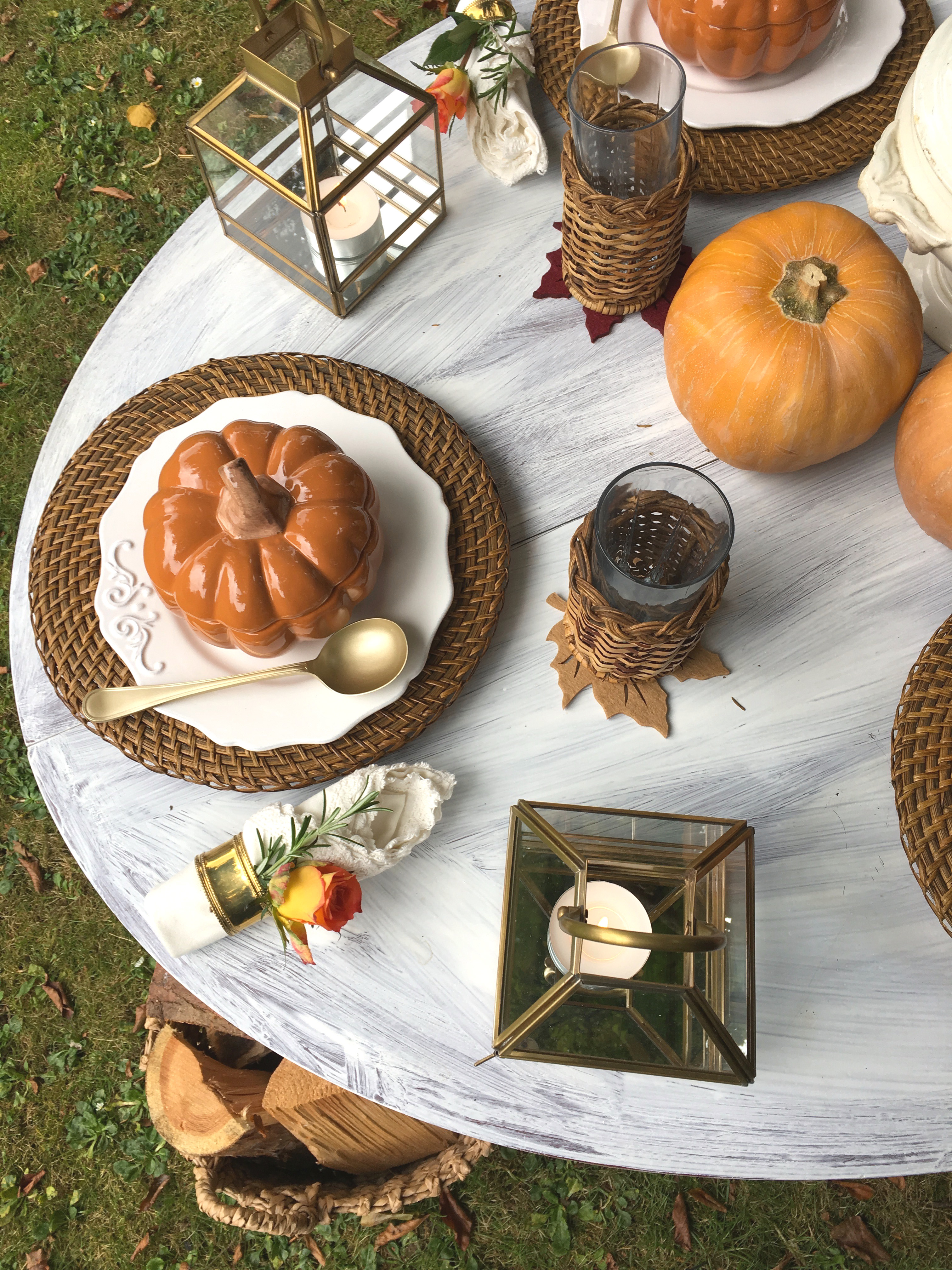 The Laura Ashley pumpkin soup bowls set the scene perfectly, and looked beautiful paired with my vintage French soup tureen, white plates and vintage soup spoons. One of the best details of these gorgeous bowls being their lids, which are not only incredibly cute, but also practical in allowing the soup to remain warm while resting.. These will definitely be on display in my house over the next few months, and will be great for Bonfire night and Halloween!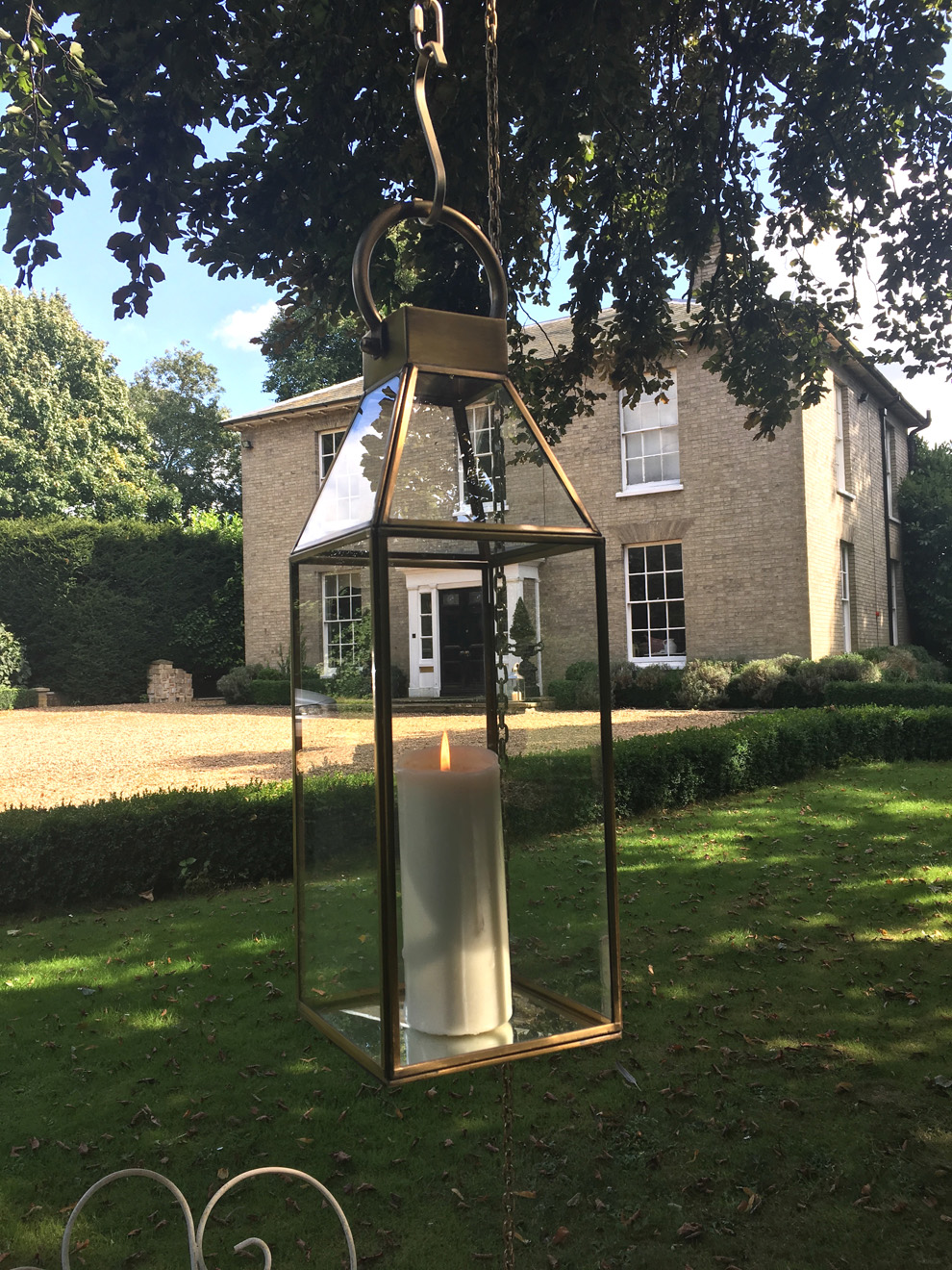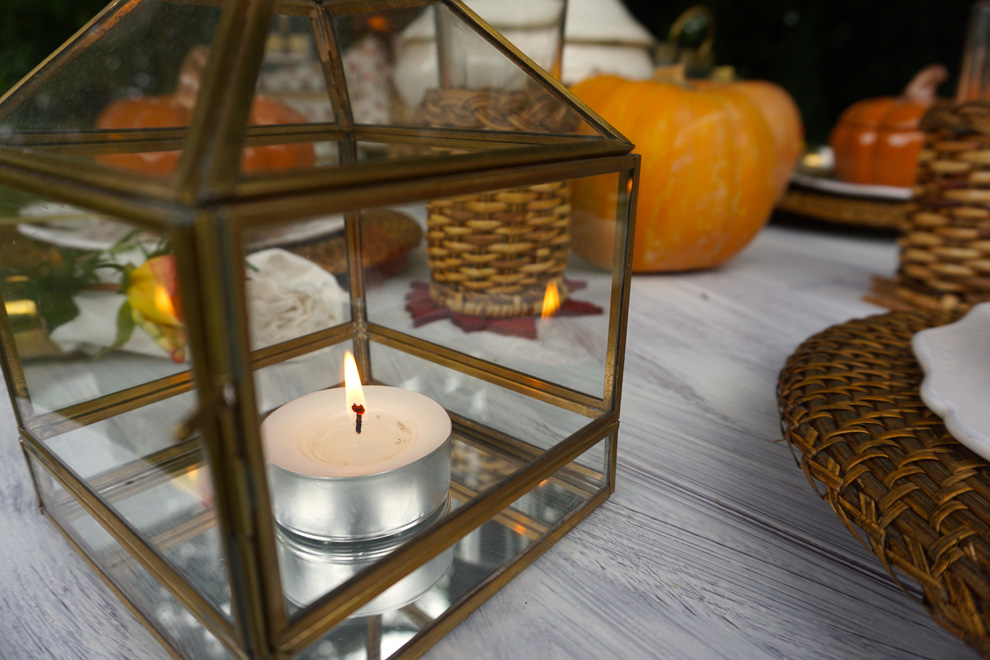 I'm a massive fan of atmospheric garden lighting, so to add a magical element to the whole meal, the Laura Ashley large Brass Effect Lantern with it's glamorously mirrored base was hung chandelier style from a large branch overhanging the rustic whitewashed table, and the smaller James Brass Finish Tealight Lanterns were placed around the table.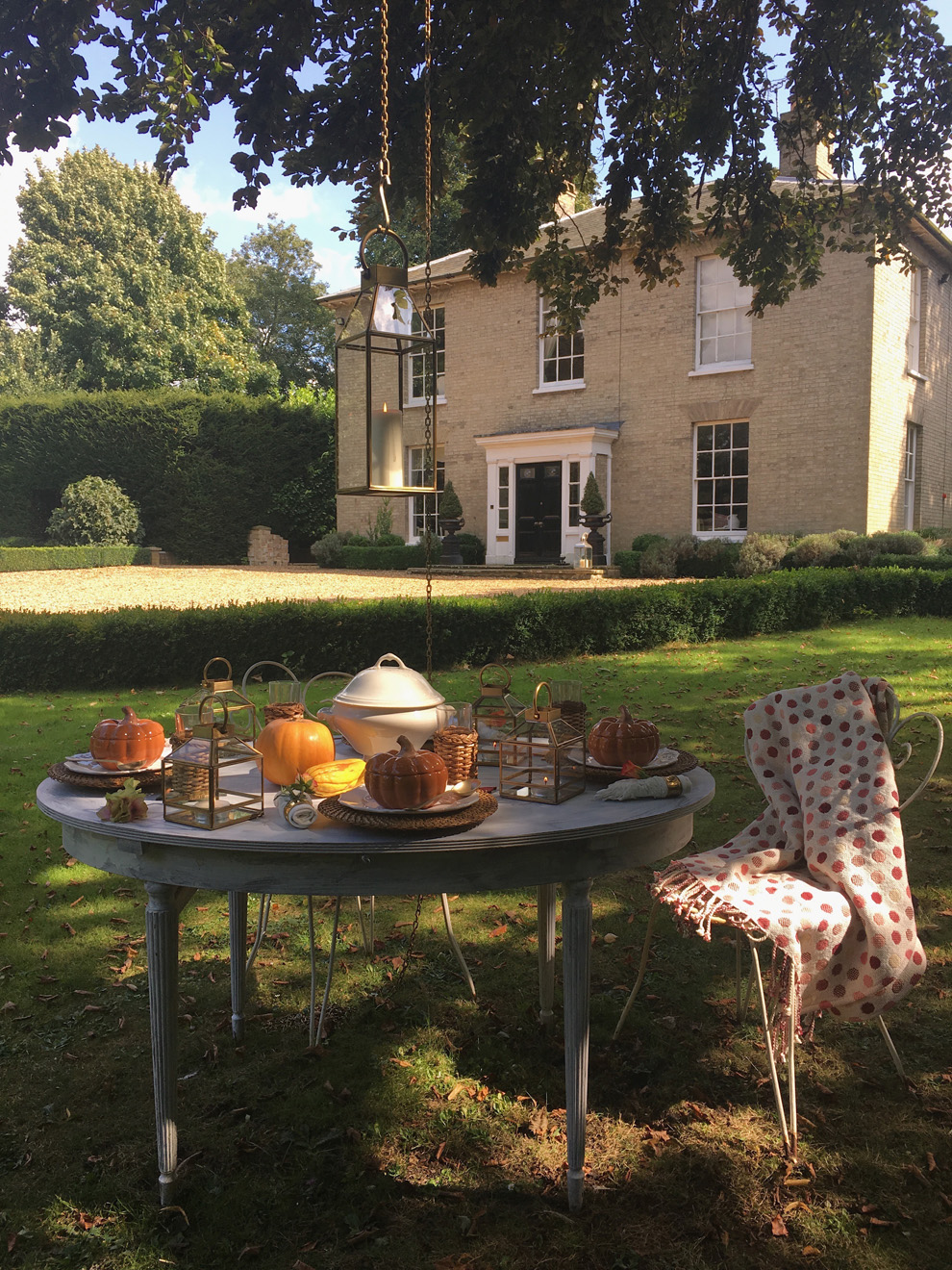 The Lemmington Cranberry Throw throw with its beautiful berry and woodland colours was on hand to wrap around anyone who needed an extra bit of cosy as the sun went down.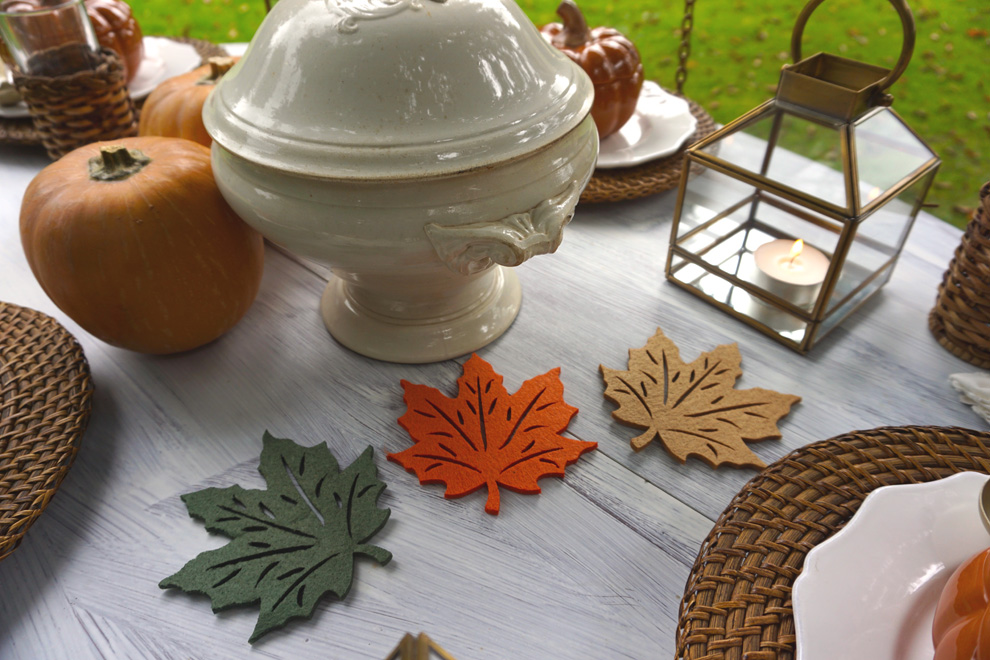 Whether inside or outdoors, I always like to set my table with a mix of vintage and new pieces to ensure a very personal look, and the gorgeous warm colours and designs from the Laura Ashley Cranberry Cottage range was the perfect accompaniment to my collection of vintage tableware – even the set of felt leaf coasters with their complimentary colours added a fabulously rustic, yet striking element to the table.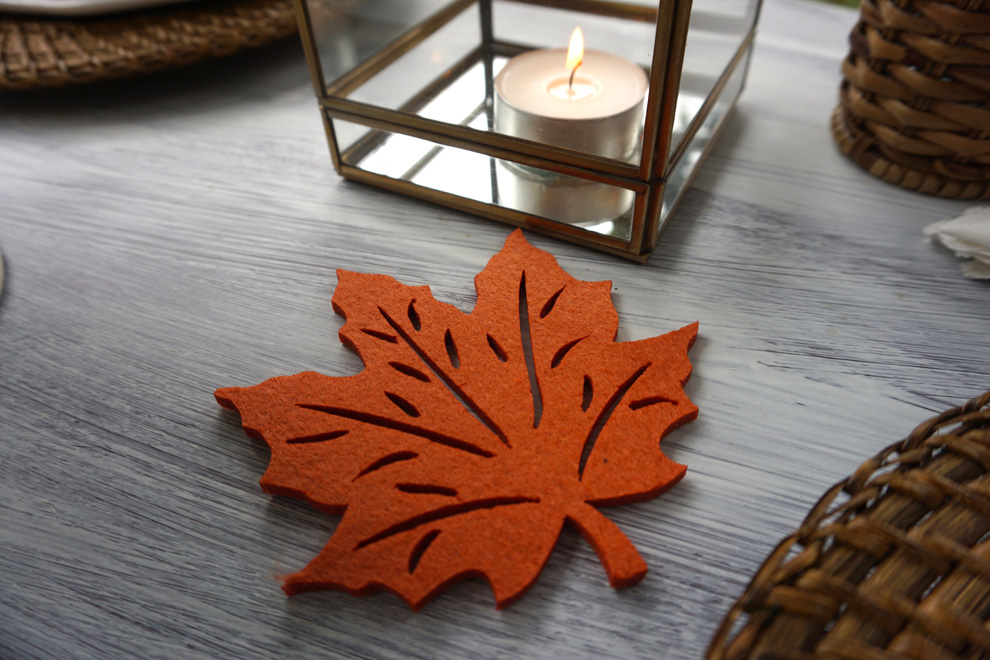 So there you have it – a very quick and simple and rustic meal, made extra special with beautiful and seasonal Laura Ashley accessories for a beautiful Autumnal table setting. It makes the thought of the evenings drawing in feel positively magical!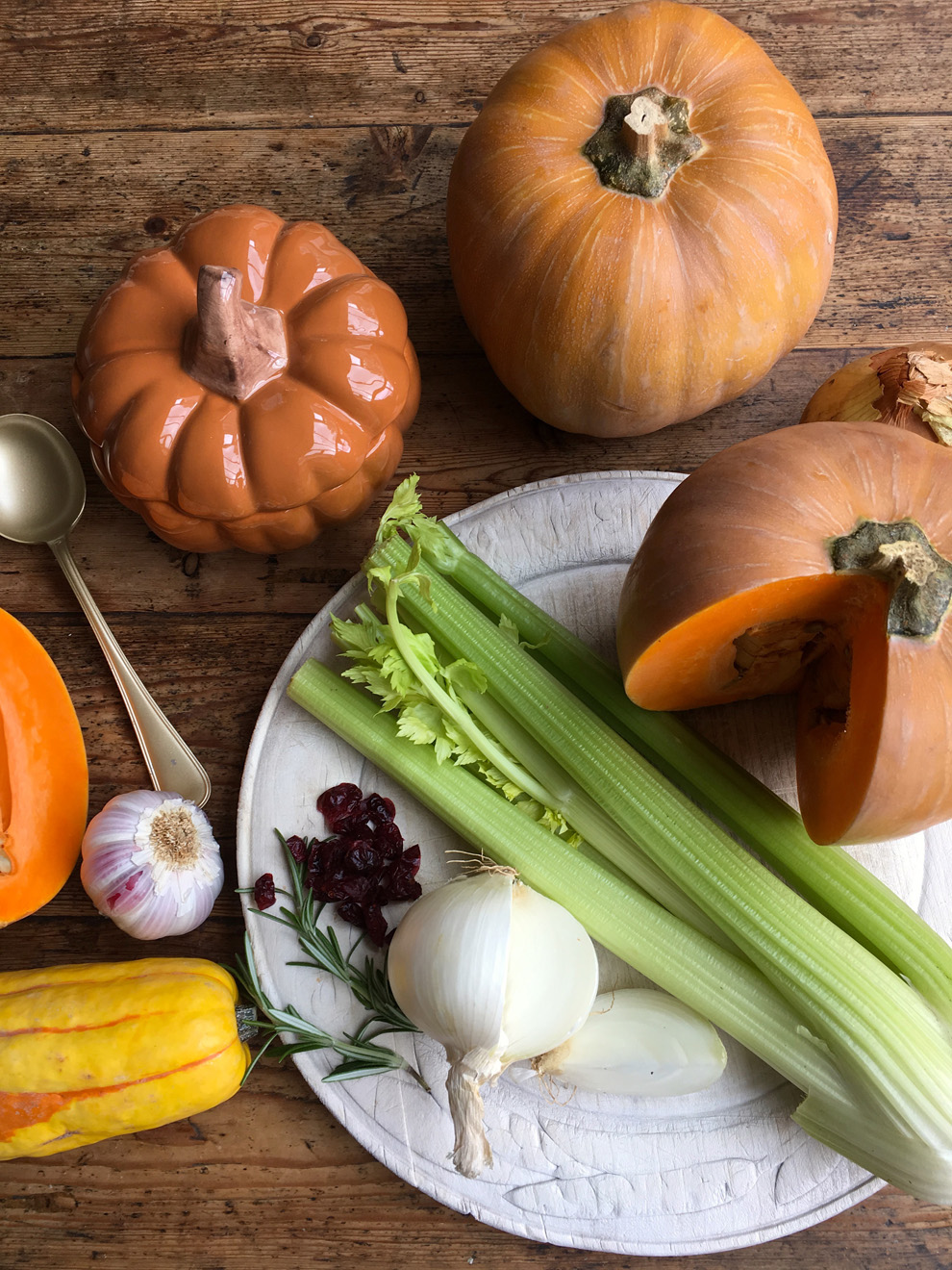 HILL HOUSE DIARIES' AUTUMN BUTTERNUT SQUASH & ROSEMARY SOUP
1 butternut squash (approx. 1 kg)
2 tbsp olive oil oil
1 onion, peeled and chopped
125g /4 oz celery chopped
2 cloves garlic, peeled and crushed
2 sprigs fresh rosemary
1 litre vegetable stock
150ml cream
Method
1. Cut the squash in half and scoop out the seeds. Carefully peel away the skin and dice the flesh.
2. Heat the oil in a large pan, then add the squash, celery, onion, garlic and rosemary and cook, stirring, for 5 minutes.
3. Pour the stock over the mixture, bring to the boil, cover and simmer for 25 minutes.
4. Blend in batches until smooth, using a blender.
5. Pass through a sieve into a clean pan, add the cream and heat through gently. Add salt and pepper to taste.
6. Garnish with a sprig of rosemary and a sprinkling of cranberries.
7. Eat with toasted soughdough bread spread with unsalted butter.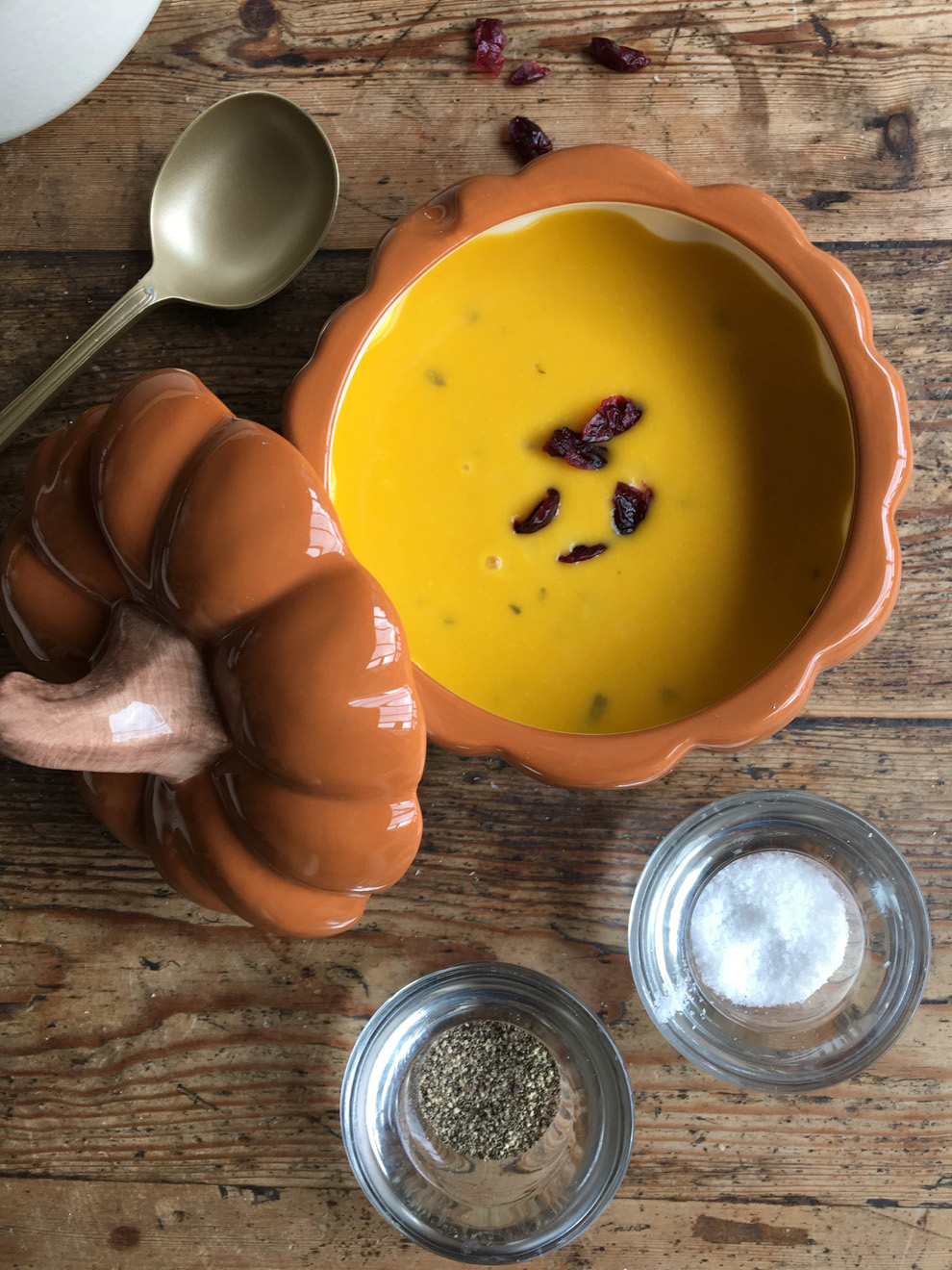 Wow how cosy does this all look? Is Autumn your favourite season too? Let us know below or on Twitter @LauraAshleyUK