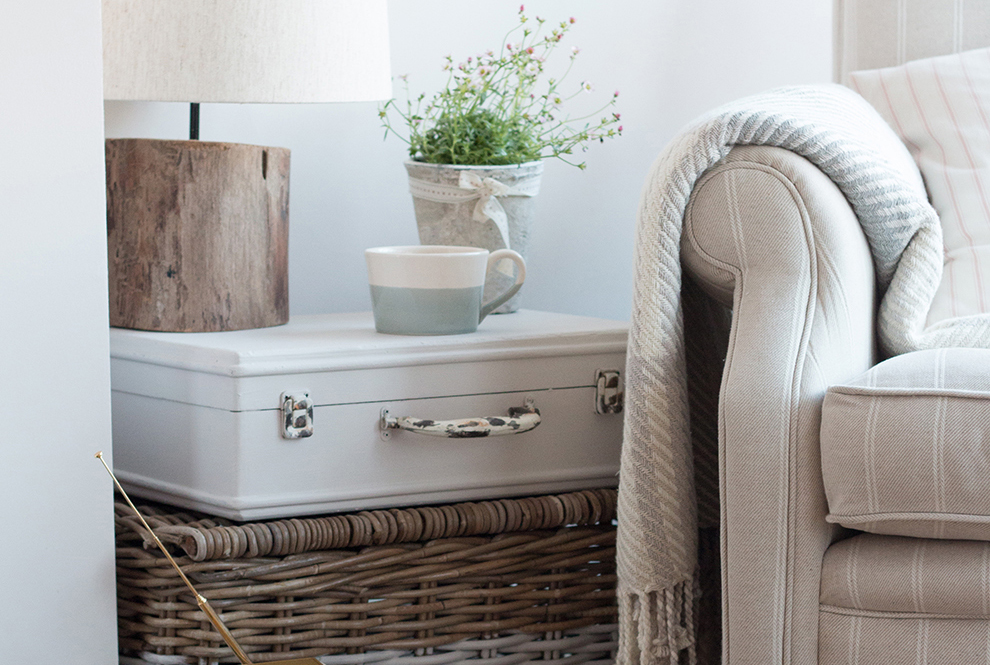 From upcycling cane baskets to giving an update to old furniture here are three easy ways to give your interior accessories a revamp. read more
In celebration of World Environment Day we have hand picked some of our favourite upcycling blog posts from years gone by. These tutorials show that you don't need to go and and buy a whole new room set to have a nice interior. Armed with a paint tin, brush, fabric samples and wallpaper you can refresh your room—Laura Ashley Style.
Upcycling a Wooden Bench
Rosie from Everything Looks Rosie uses Laura Ashley fabric and paints to give an old wooden bench a breataking update.
When I acquired this bench second hand, I thought it would look great as a window seat in a nice pale blue to lighten up the room. It's made for a perfect reading nook in our bedroom, but likewise this would work well for a garden bench – especially as many of the Laura Ashley fabrics come in more durable finishes such as PVC.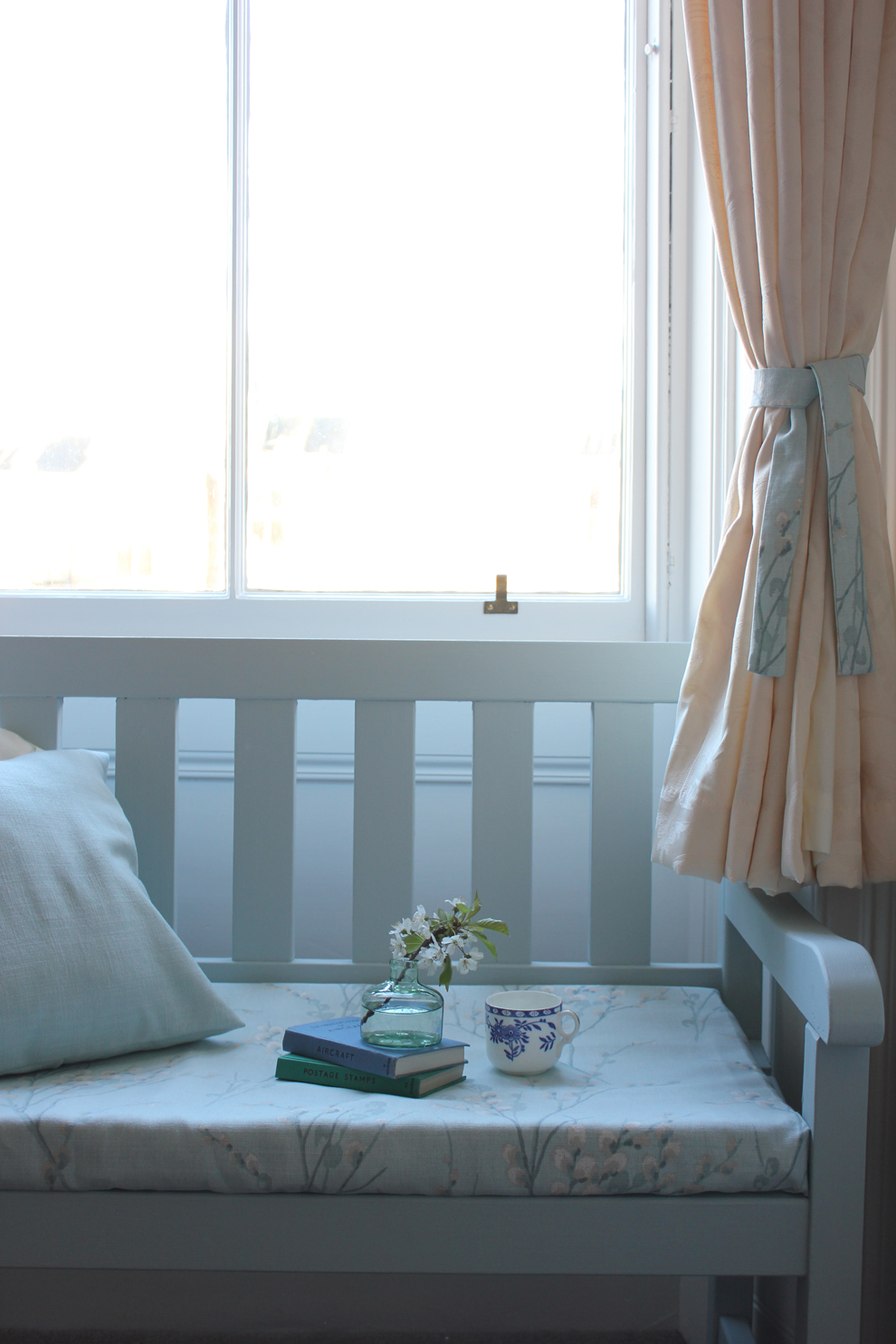 Firstly, I prepped my bench. It was already sanded, so I gave it a clean before painting a white undercoat to stop the dark wood showing through. Once this had dried, I applied my first coat of the gorgeous Laura Ashley duck egg furniture paint, which was a joy to work with – smooth and with a lovely matte finish. I left it to dry for four hours, then applied a second coat. I let this dry overnight before getting to work on my bench cover. To make the cover, you will need:
-A piece of foam to fit your bench (I got mine from an independent shop in Edinburgh)
–Fabric (measurement depends on the size of your foam pad – wrap it around the pad and leave a two centimetre seam allowance for the length)
–Fabric (I used the pussy willow duck egg curtain fabric)
-A sewing machine
-Thread to match your fabric
-Pins
-Scissors
-An iron for pressing as you go
-Measuring tape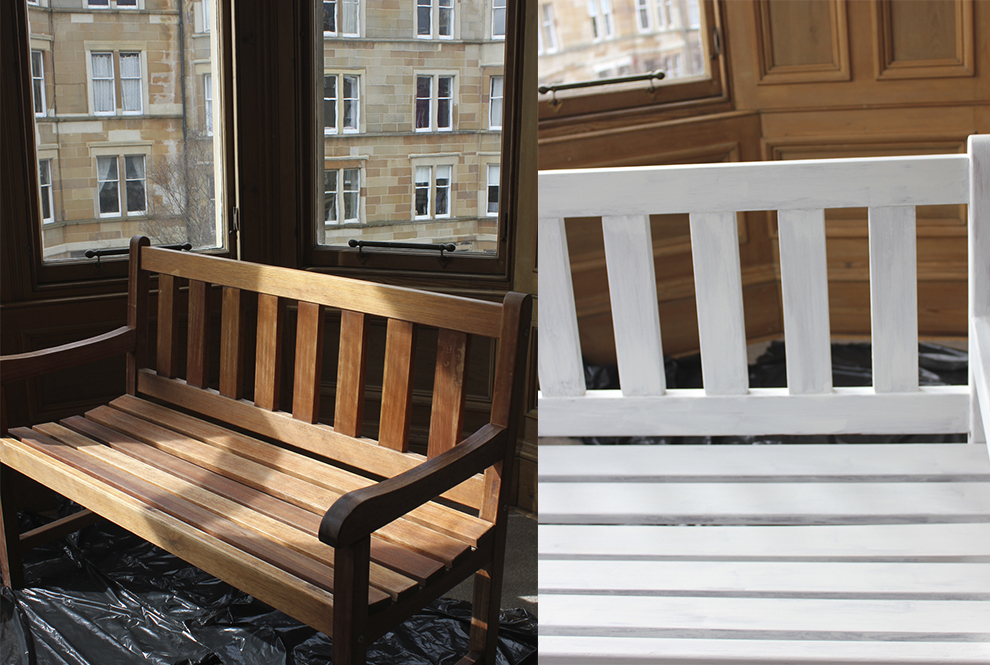 1) Turn your fabric onto the wrong side (the 'back' of the fabric, without the pattern) and wrap around the foam pad. Pin your fabric along the middle of the longest edge, right sides (the side with the pattern) together – this will form the back seam of your cushion cover.
2) Carefully remove the fabric from the foam pad and set up your sewing machine, being sure to choose a needle and set the tension appropriate for your fabric. Straight stitch along the line you've marked out with pins, back-stitching at beginning and end to finish.
3) Trim any excess fabric from this seam, leaving enough on each side to fold the fabric over and zigzag stitch along the edge to finish. Press the seams flat.
4) For each of the shorter ends of the cover, fold the edge of the fabric inwards one centimetre, then over again so the rough edge is concealed and pin along the fabric to create your hem. Straight stitch on the machine.
5) Now you want to create boxed ends so that the cover will fit the foam nicely. Measure the depth of the foam. Still working with the right sides of the fabric together, pull the corner open from both sides to make a triangle, with your old corner point at the top of the triangle and the seams in the middle of the front and back of the triangle (so that the corner seams match when you turn it right side out).
6) From the peak of the two seams, measure in the distance equal to half the depth of your foam. This is where you draw across from one edge to the other, and pin off this triangle. Your old corner seams are now a line that runs from the middle of the base of a triangle up to its peak, with the length of the base of the triangle equal to the depth of the foam. Straight stitch along where you've pinned, back-stitching to finish.
7) Repeat with the opposite corner. When you turn the cover inside out it should now look like a seat cover!
8) Insert the foam pad and then it's up to you how you finish the open end, also to create a box shape; I wrapped mine like a present and slip-stitched by hand for ease. If you'll be removing the cover often then you could sew poppers or create button holes and add buttons.
9) Place your seat cover on the bench and admire your handiwork!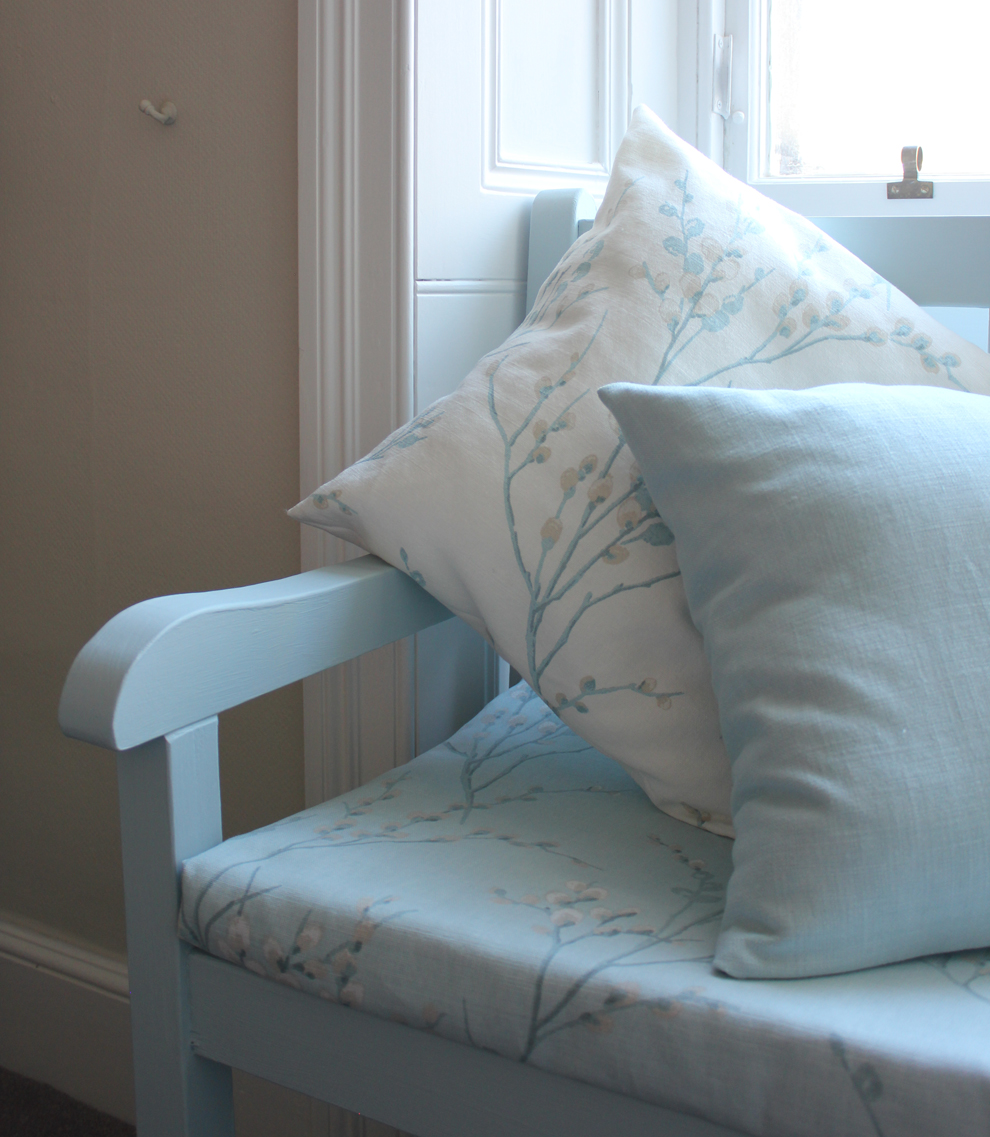 I also made cushions from Laura Ashley fabric to add a finishing touch – there's a tutorial for an easy-peasy all-in-one envelope cushion cover on my blog, or there are plenty of lovely ready made co-ordinating cushions like the Nigella cushion or the Garden Birds cushion to dress your window seat. You can never have too many cushions!
Upcycling Old Cane Baskets
Laura from We Made This Home provided us with this easy peasy tutorial on upcycling your old cane or wicker baskets. This blog post went viral when it first appeared on the Laura Ashley Blog and continues to rank as one of our most popular Make and Do's.
Wicker baskets are a stylish and practical storage solution that can add an extra layer of colour and texture to a room whilst keeping things tidy. With a little one and all his toys I have found a real need to keep things organised so that our day flows easily between play time and time to relax at the end of the day. Storage baskets are great for scooping up toys, smaller baskets for small items like building blocks, larger baskets for blankets and trunks are perfect for books and magazines.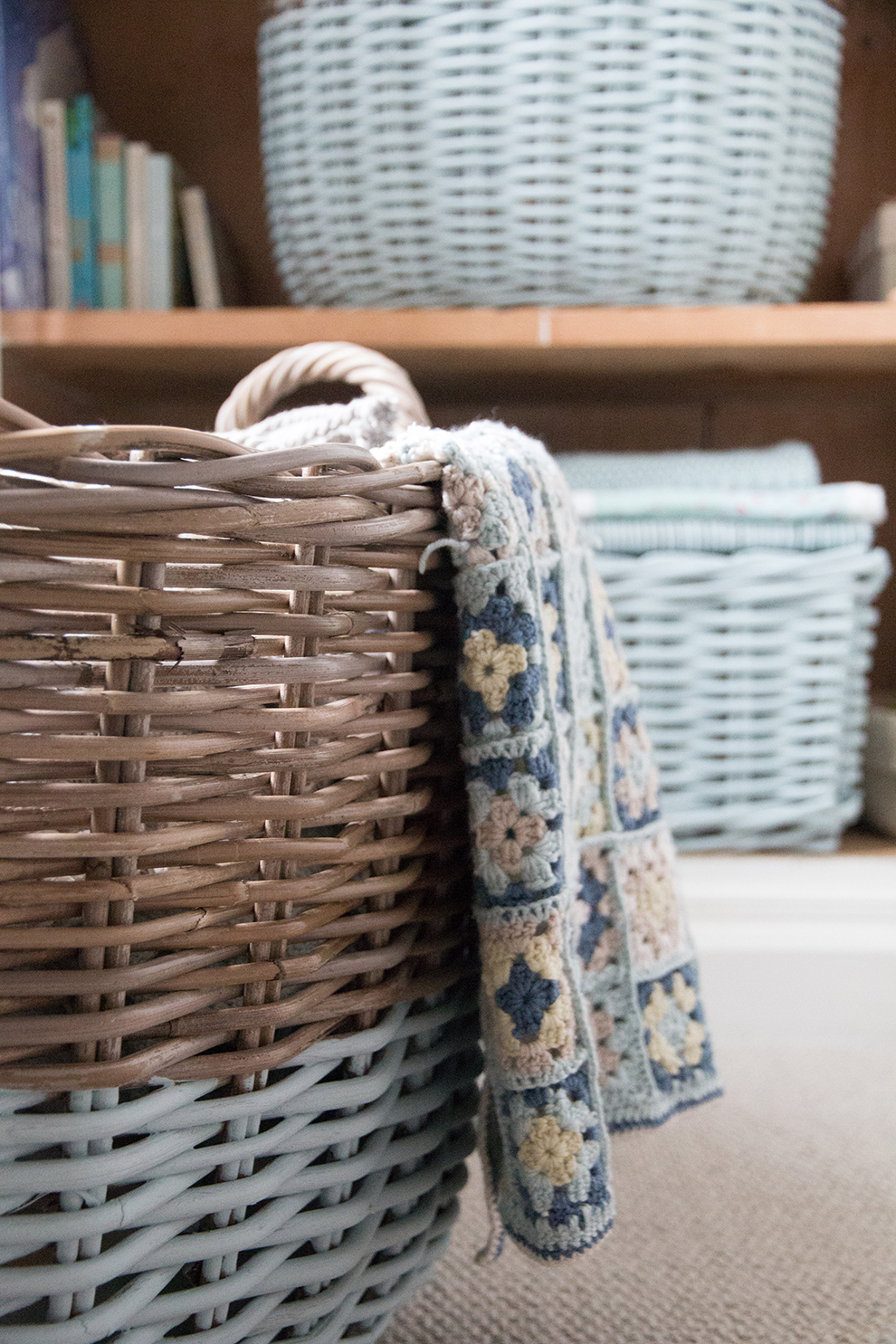 Quick and simple craft projects are my favourite kind of project, I love putting my own creative stamp on something ordinary. This week I tested out the Laura Ashley decorative furniture paint on the Kubu wicker storage baskets and I absolutely love the result.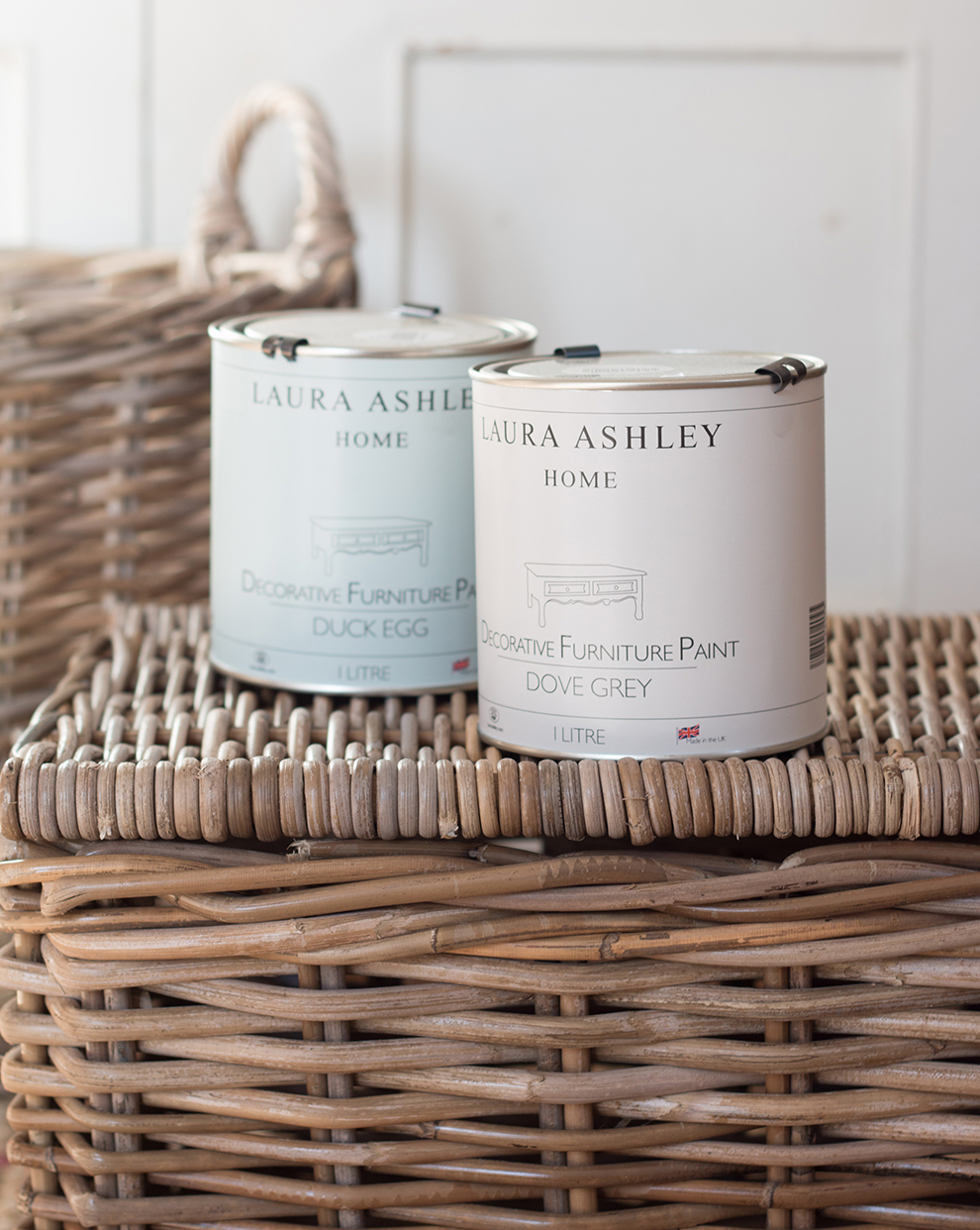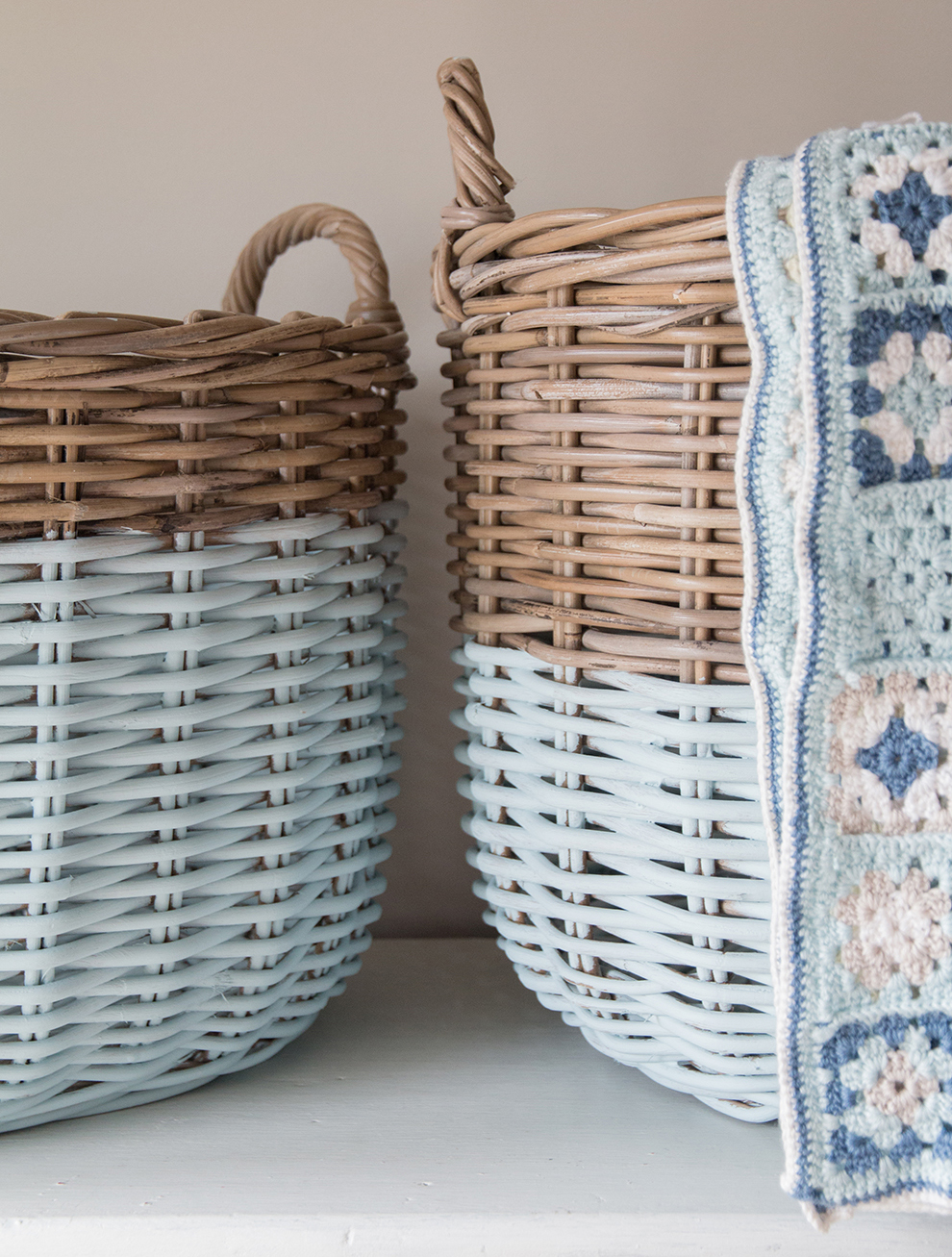 I masked off areas of the baskets with masking tape and painted them with a small paint brush, working simultaneously between the inside and outside to avoid drips collecting between the wicker. Once I had finished painting the baskets I removed the masking tape before the paint had chance to dry to avoid the paint chipping off.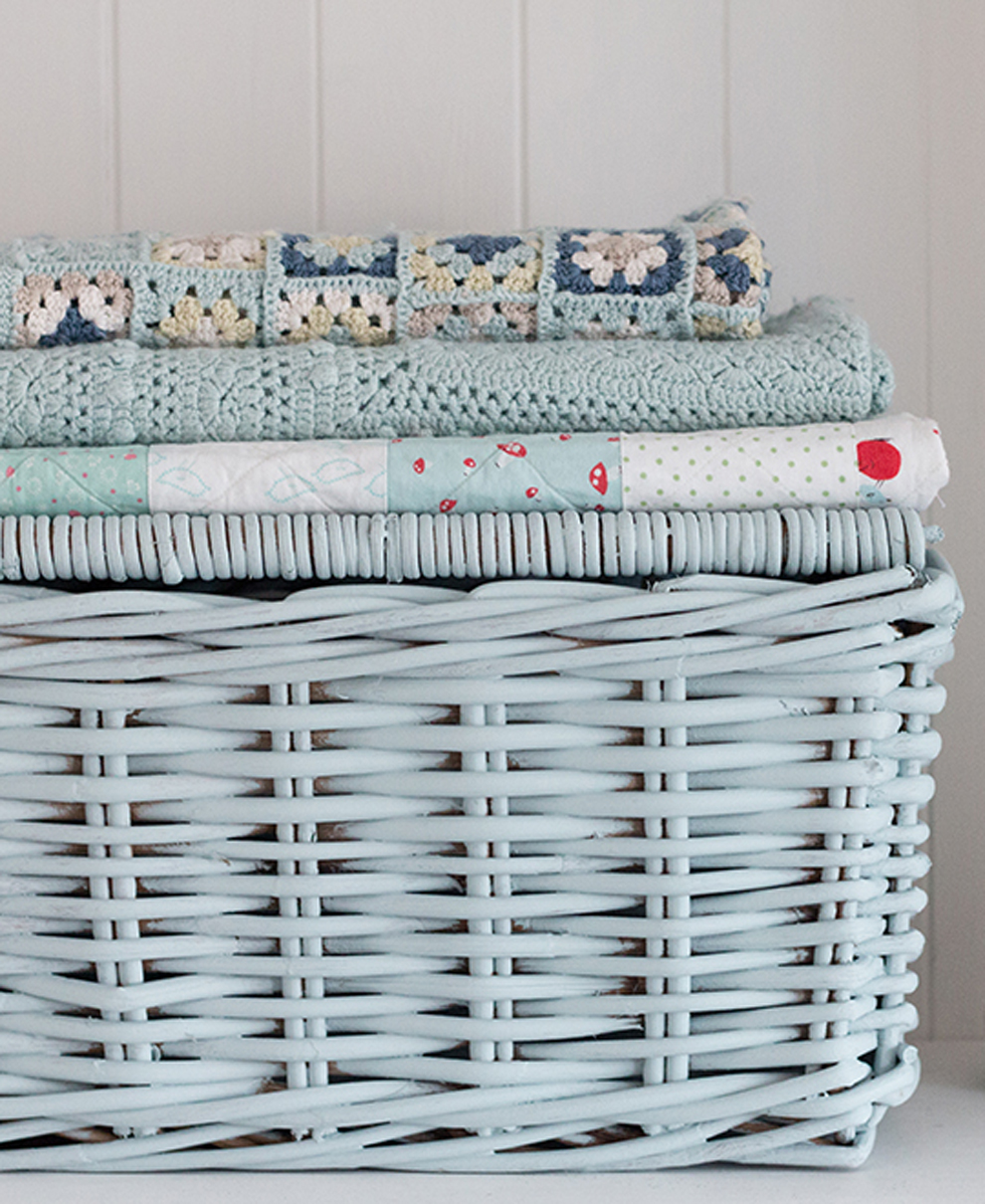 The painted storage baskets in Duck Egg work brilliantly in my son's room, keeping all this things neat and organised.
Upcycling Bird Houses
What better way to help your feathered friends out this World Environment Day than giving your birdhouse a bit of a refresh. Blogger Alina from Fairy Tale Pretty Picture provided us with this handy tutorial after she was saddened to find a old birdhouse left outdoors in the rain at a property she had just moved into. So on a mission to give it a little TLC, she decided to up-cycle it to give a little birdie a special home for the Summer months.
I moved into my new house at the end of last year so when summer came I was surprised to find this birdhouse in the garden and was slightly annoyed that the previous owners left it to rot outdoors during the winter. So, I decided to give it some TLC using Laura Ashley pastel paints and how marvelously it turned out too! Here's a step by step guide to up-cycle your very own birdhouse…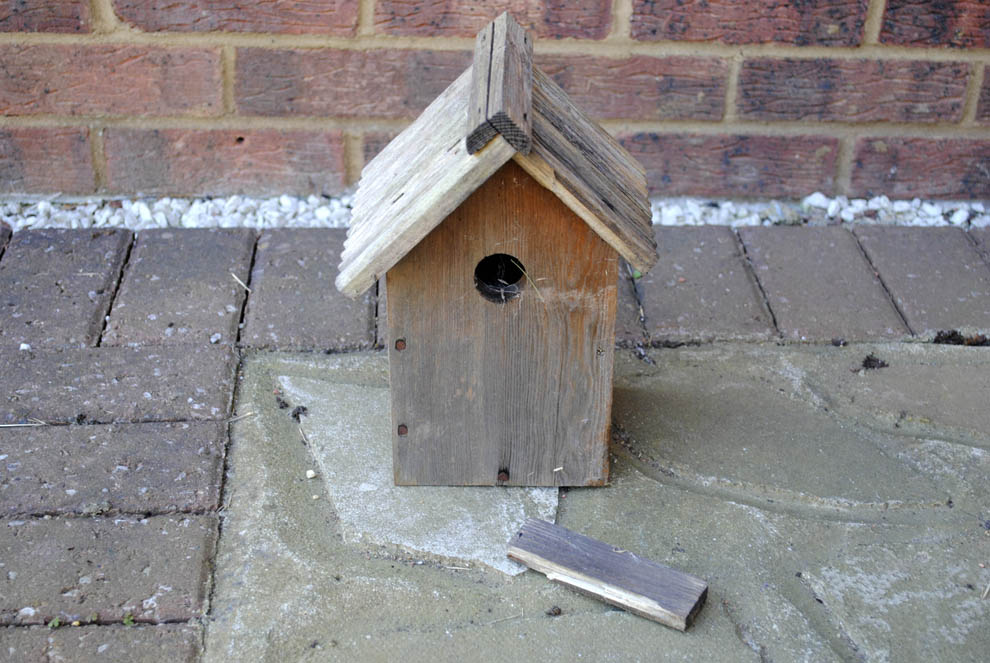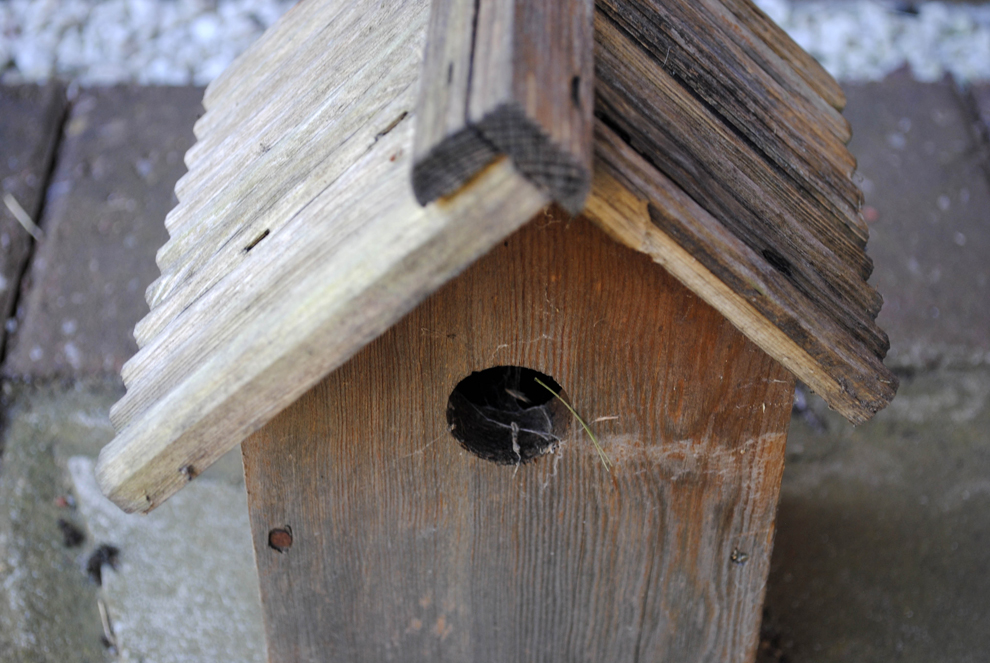 Step 1: Clean and Repair
I cleaned the birdhouse as much as I could without getting it too damp and then let it dry in the sun just in case. The inside was full of cobwebs so I had to dig deep to clean it inside out. I then repaired the front of the roof using spray adhesive and a couple of already existent nails. I was then ready to take the next step in my upcycling project.
Step 2: Paint the Base and Fill it In
I used an inexpensive base white paint to coat it with one layer. This was useful for two reasons, firstly it thickened up the wood that was initially rotting away because it was left outside throughout the wet and cold season, and secondly because I knew it would help show off Laura Ashley's paint colours better. Once the base paint was dry, I used a multi-purpose filler to cover in the gaps that appeared from rotted nails as well as the cracks in the wood.
Step 3: Use Laura Ashley's Pastel Paints
I bought two samples paint pots (sage and pale primrose), as I knew I wouldn't need much paint. In fact the base paint helped the paint go even further than expected. They came with brushes inside the pots which came in handy as I didn't notice that my old smaller brushes were rock solid. I painted the roof Sage and the house Pale Primrose, two colours that complimented each other nicely. I love how the differences in the two colours are subtle and that the birdhouse fitted into my fairytale garden scene perfectly!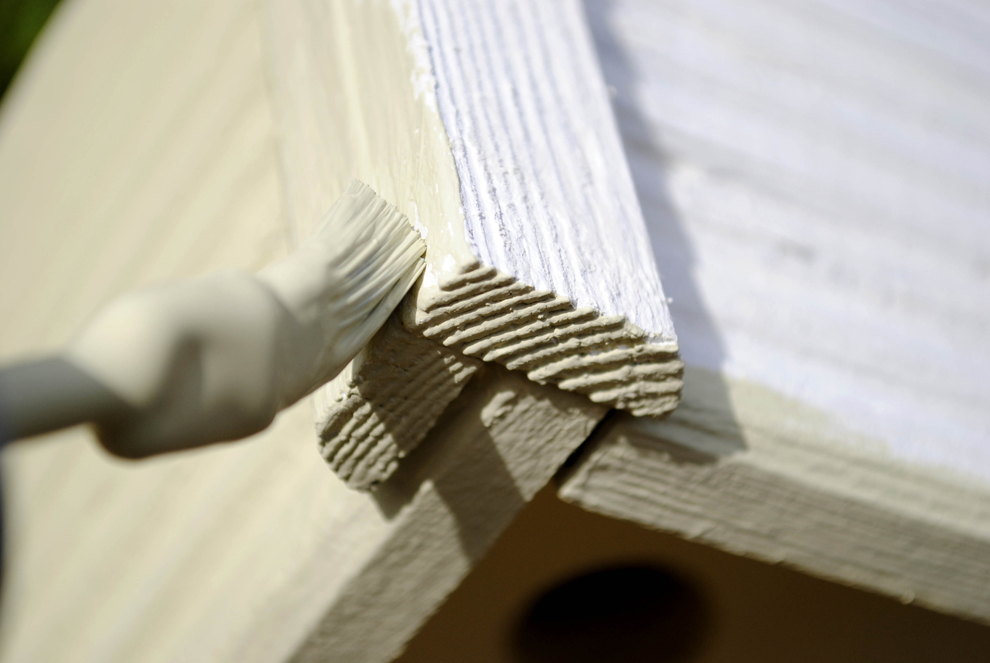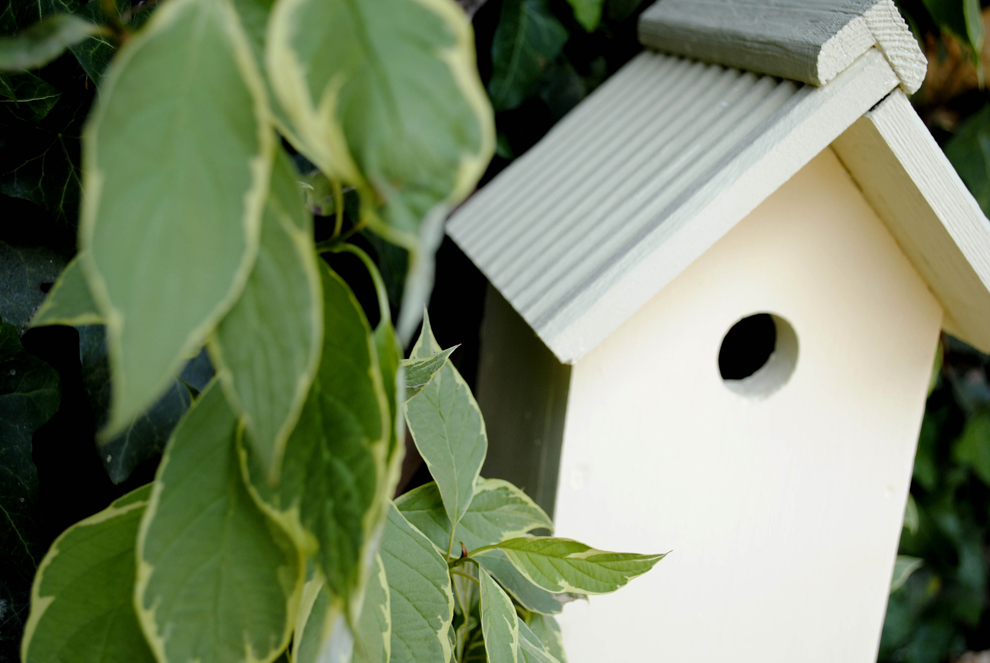 Are you ready to try out one of these upcycling tutorials? Let us know in the comments below.