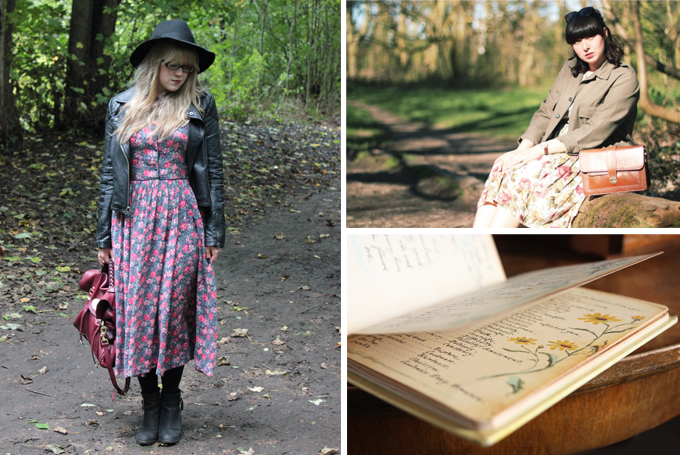 Let's hear it for our very special Vintage Blogger Medley… read more
The time is now upon us to reveal our monthly blogger crush, with a twist. Here at Laura Ashley HQ the celebrations are non-stop for our 60th Anniversary and we thought we would round up something a little extra special this month. For July, we not only have one blog to share, not two, but three!
We have handpicked our must-read bloggers that talk all things vintage, let us introduce you to the delightful Jem at A Beautiful Clutter, the lovely Amy at Vintage Reflection and last but not least, the oh so stylish Rosie at Everything Looks Rosie…
A Beautiful Clutter
The first blogger that we have set our hearts on in our vintage blogger medley is Jem, who pens the enchanting A Beautiful Clutter. True to her blogger name, Jem's blog is a clutter of beautiful thoughts, treasures and vintage finds. Each post is spoken from the heart, as we follow her on her life journey, Jem shares the little pleasures in her life. A lover of literature, Jem collects vintage books not forgetting a distinctive love of pretty teacups and crockery – she is a true vintage magpie. As a reader we feel the appreciation and passion she has, with her imaginative stories behind her vintage photograph collection captivating – we get lost in the history too…

Jem tells us…
'With a passion for writing, A Beautiful Clutter was another excuse to tap away sharing the little finds that had captured my heart on various treasure-seeking excursions! I'm a born magpie and drawn to anything that seems to have lived before coming to me.
My grandparents kick-started my love of vintage, I spent a lot of time with my Grandad who was forever visiting auctions, car boot sales and antique shops – often with me in tow! He'd bring home a rough diamond that my Nannie would then clean and polish, he had such an eye for something special. As I got older I became more interested in the stories behind the pretty things I'd find, often inventing a history behind the piece.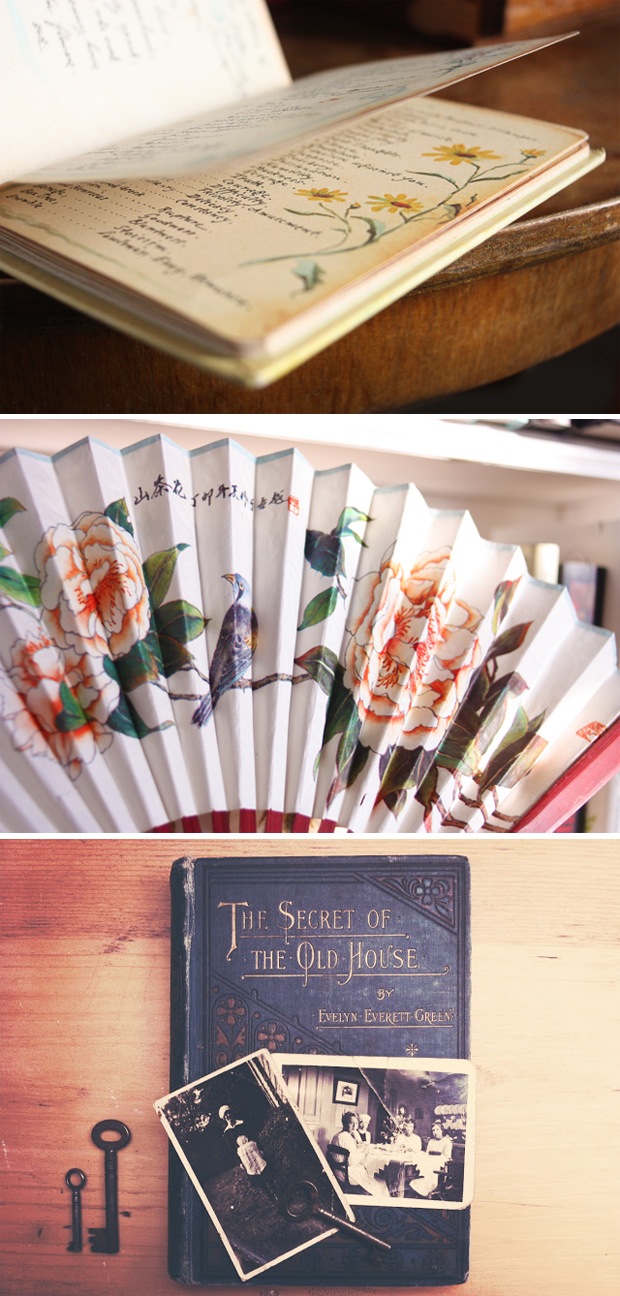 My top tip for vintage shopping is to take a good, sturdy shopper with you! You never know what you'll come across but if you have a heavy-duty bag to hand at least you do know that you'll be able to get it home in one piece! My favourite hunting grounds tend to be charity shops and car boot sales, but whenever I get the opportunity flea markets are the holy grail – I've picked up some beautiful antique books from flea markets.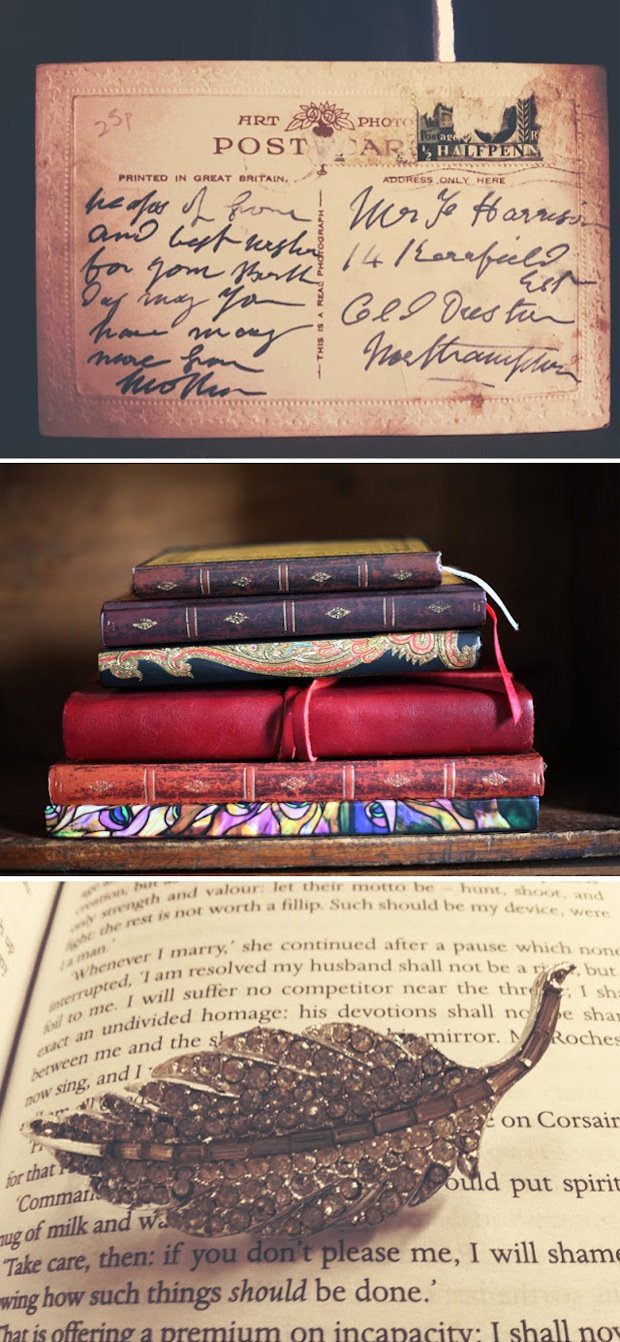 I would absolutely love to get my mitts on a vintage Laura Ashley scarf from the early days. Though for the time being the Paisley Border Print Scarf has caught my eye, I am a self confessed scarf addict!'
Vintage Relection
London based Amy of Vintage Reflection definitely takes the leader board in styling vintage finds. With her two biggest loves being fashion and vintage, this passionate blend is echoed in Vintage Reflection. A daily snapshot of her envious style, Amy shows how you can mix vintage clothing with high-street finds – a serious fashion skill if we ever did see one. Noting on her blog that 'the past inspires her more than the present' is a thought that we certainly find inspiring. Style aside, Amy's photography, shot by boyfriend-photographer-in-chief Dave, has us clicking back for more (check out her holiday snaps, we are in awe!). Of course we couldn't write about Vintage Reflection without mentioning Coco, Amy's adorable furry sidekick whose often spotted strolling alongside, taking centre stage in her stylish posts…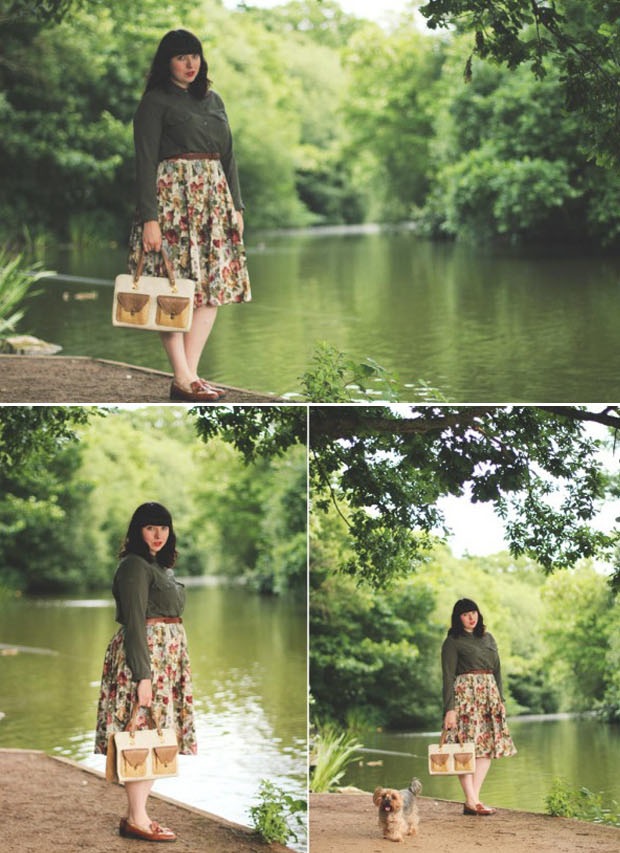 Amy tells us…
'Vintage Reflect is predominately about vintage clothing and accessories, showcasing how I piece together my outfits. Often adding an element of high street clothing into the mix but I'm at my happiest when an outfit is built up of mainly vintage or second hand items.
What I really enjoy about blogging is having that creative freedom that I can't always get through my day-to-day job. The fact I have an online diary of outfits, it pushes me to style my clothing different ways every time I wear them!
My love of vintage started as a teenager when I decided that I didn't want to dress the same as everyone else. When I discovered vintage in my late teens I was soon hooked and loved the fact it was completely unique, plus the thrill of hunting out a bargain in the local charity/vintage shops soon becomes addictive!
When shopping for vintage always keep your mind open, try things on and see beyond the state its in, you can always wash and customise the garment later to suit your tastes.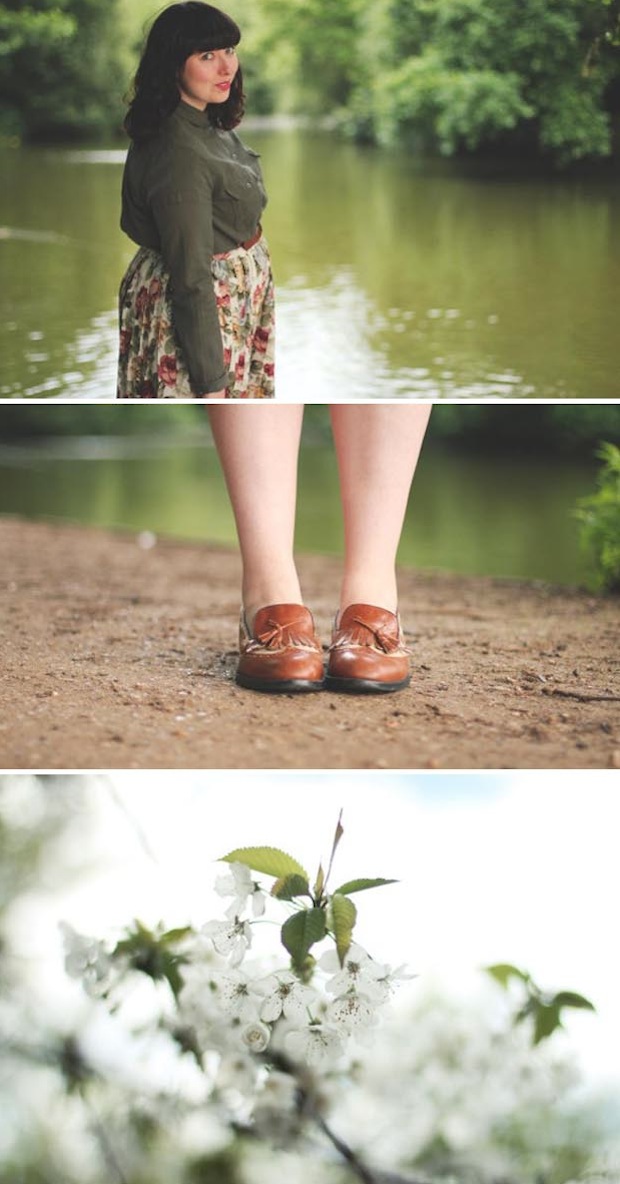 As you can probably tell, I'm rather fond of florals so I've got my eye on the Floral Print Panelled Skirt and the Rattan Turnlock Bag is very sweet for summer.'
Everything Looks Rosie
Scottish fashion lover Rosie of Everything Looks Rosie officially has us girl-crushing, with impeccable stylish taste and a love for everything fashionable – we're hooked! Rosie first appeared on our vintage blogger radar when we clapped eyes on her vintage Laura Ashley outfit post. Styling her floral dress with edgy leather jacket and seventies style fedora hat, we had serious style envy! Penning her online journal Everything Looks Rosie, her blog is a mish mash of fashion commentary, museum and gallery adventures, fashion week shenanigans and scrummy recipe posts (hello Earl Grey and Choc Cake). With her slick of red lippie and love of vintage, Rosie has fast become our go-to style inspiration!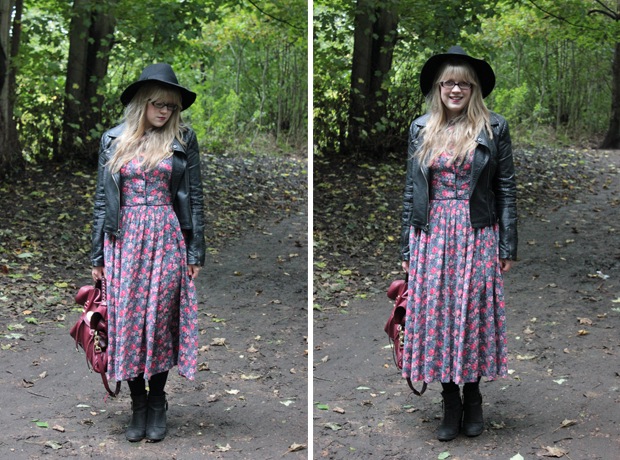 Rosie tells us…
'I started my blog, Everything Looks Rosie, three years ago when I was at University.  I was studying a very traditional English course at St Andrews, which I loved dearly, but blogging was an escape into a fantasy fashion world away from the books. Since I graduated my blog has changed a little and I guess you could say I combine the two now funnily enough – recent posts range from vintage outfits to Scottish poetry! Through my blog I've got to know fellow bloggers and several local designers – the Scottish fashion community is ever-evolving and it's really exciting to feel part of it.
My love of vintage came most strongly from my family. My Gran was a dressmaker and I think that's definitely where I inherited my love of clothes. She made everything from wedding gowns to nun's habits in her own front room, and I was always inspired by pictures of her creations, and her ladylike sense of style. My Mum's style is very feminine too, and many of her old clothes filled the dressing-up box, which I loved dearly when I was wee. For me, vintage is very much tied up with all of this – it's all about nostalgia and self-expression.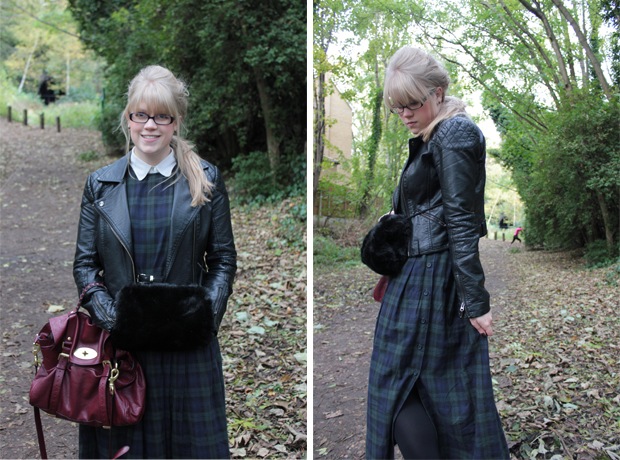 My advice for finding vintage pieces would be just to get out there and rummage. Even if you're not really in the mood for shopping (I'm not sure that's really possible), you never know when you'll stumble across a vintage treasure, and so I never miss an opportunity whenever I'm passing a charity shop or vintage boutique.
Edinburgh is filled with fantastic independent vintage shops, such as Armstrong's in the Grassmarket, Those Were the Days in Stockbridge and Cabaret Antiques and Curios in the West Port – where I found a beautiful Art Deco cameo necklace, which always catches people's attention!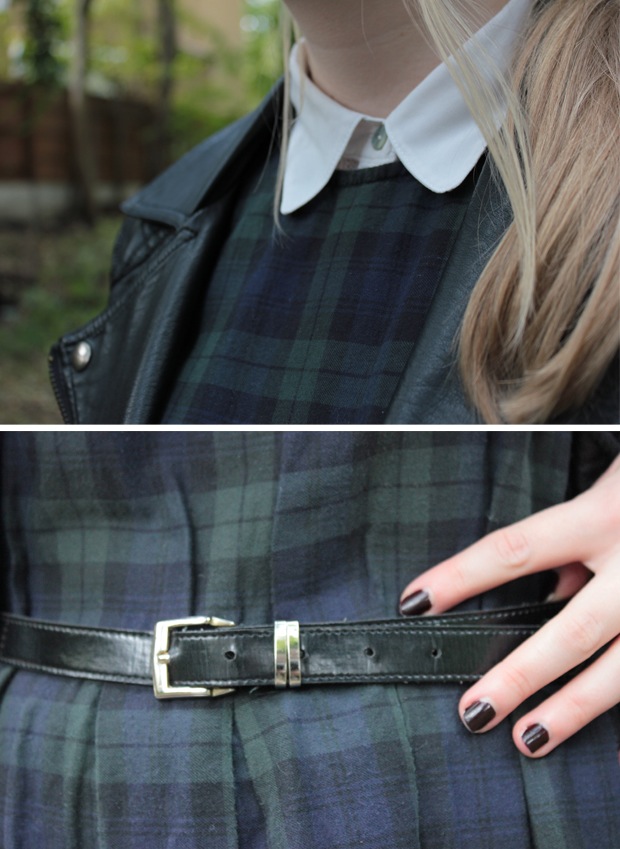 Two of my favourite ever vintage finds are by Laura Ashley – a Black Watch tartan pinafore that buttons all the way up one side (a Burns Night favourite), and a pastel floral print dress that nips in at the waist and has huge puffy sleeves. I picked both of these up at Judy's Affordable Vintage Fair (in Edinburgh and London respectively) for a mere snip, and I'm always on the look out for vintage Laura Ashley pieces – I'm obsessed.
My favourite piece from Laura Ashley this summer is the Floral Print Linen Dress– I love the cut, vibrant colour palette and feminine print. I'd wear it with my vintage denim jacket, retro sandals and sunglasses for a vintage-inspired look.'
We thoroughly hope you enjoyed our vintage blogger medley – what an inspiring bunch of ladies! Be sure to bookmark their pages and brush up on your vintage must-haves!