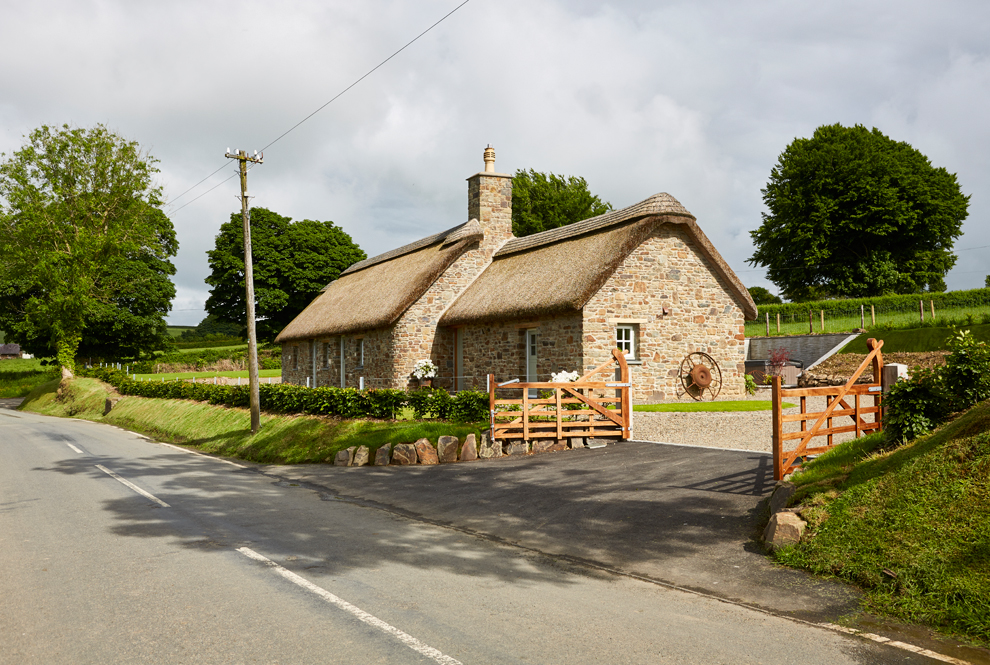 See what our Design Service team achieved with this restoration project... read more
When Design Service projects like this occur we know it's only fair to share it with our lovely readers. This stunning cottage was once a derelict space and our talented Interior Designer Kay had the pleasure of transforming this into the beautiful home you see today. Our wonderful Laura Ashley Design Service team are there to take the hassle out of redesigning your home and transform your interiors into a place that suits your needs and lifestyle. Our Design Service clients love the service so much they return again and again and with projects like this, it's easy to see why…
It was love at first sight when I happened upon Rosemary's cottage (I am sure you will all agree!) and a project I could not wait to be involved with. Nestled in the midst of the beautiful Welsh countryside of Ceredigion and close to the coast it has both far reaching coastal views and lush green countryside.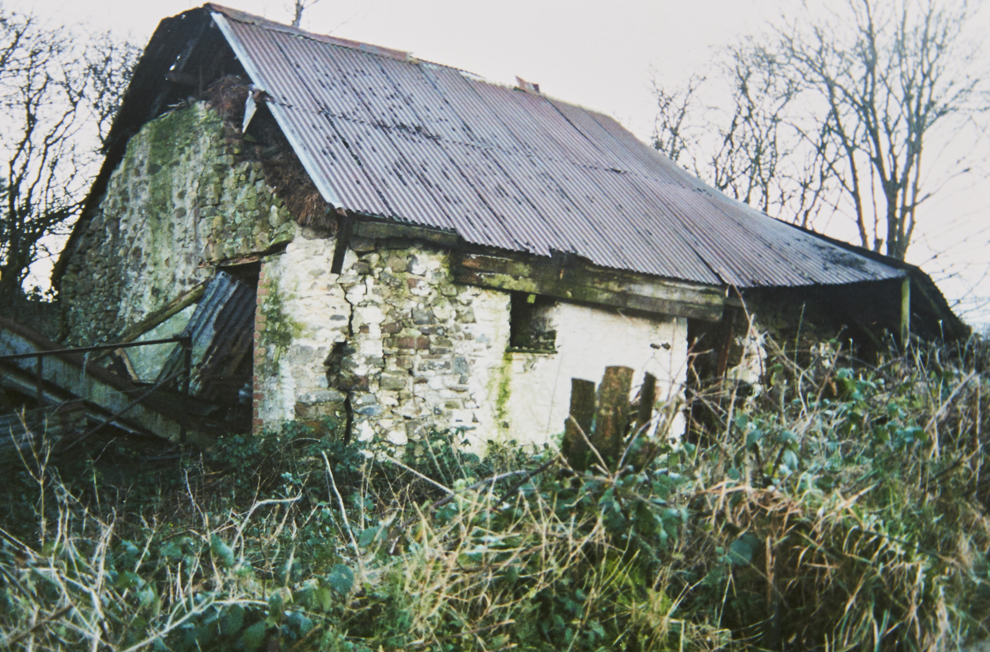 Rosemary was a past client of mine (I had worked on the interiors of her beautiful Georgian house in Aberaeron.) She was developing a new cottage from a derelict farm cottage and wanted me to be involved once the initial building stage was completed.
It was very much a shell on the inside when I first viewed the cottage, which allowed for a lot of creative input. Rosemary and I set to work on designing the layout and how the internal spaces would be used and their main function.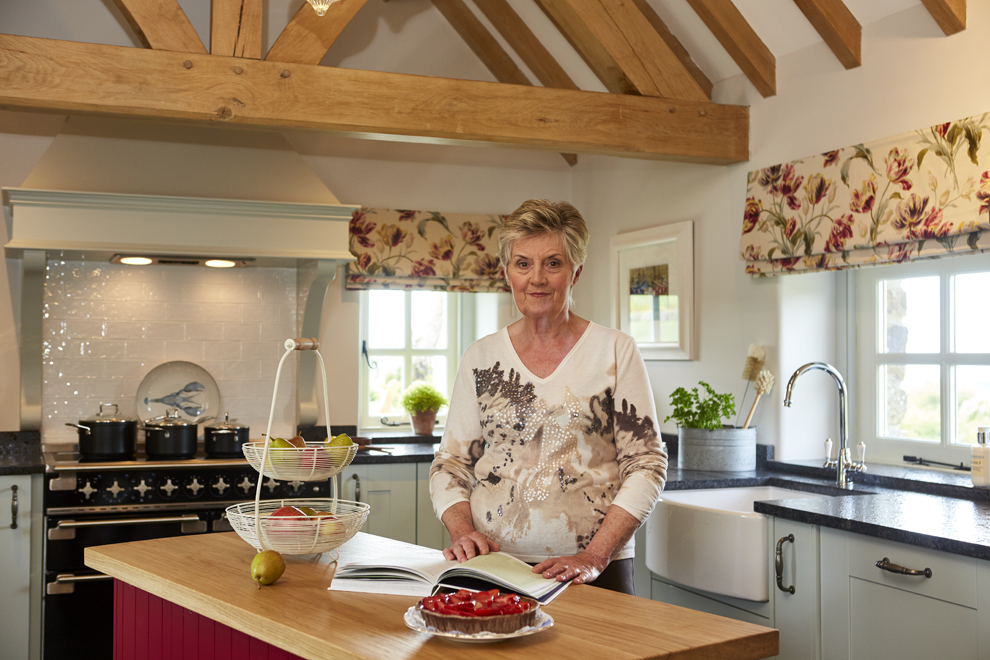 As we were at the very early stages I could assist with where the lighting would go, and all the internal finishes before we decided on the soft furnishings. These elements were crucial in how the cottage would feel and be enjoyed by Rosemary and her family.
The Brief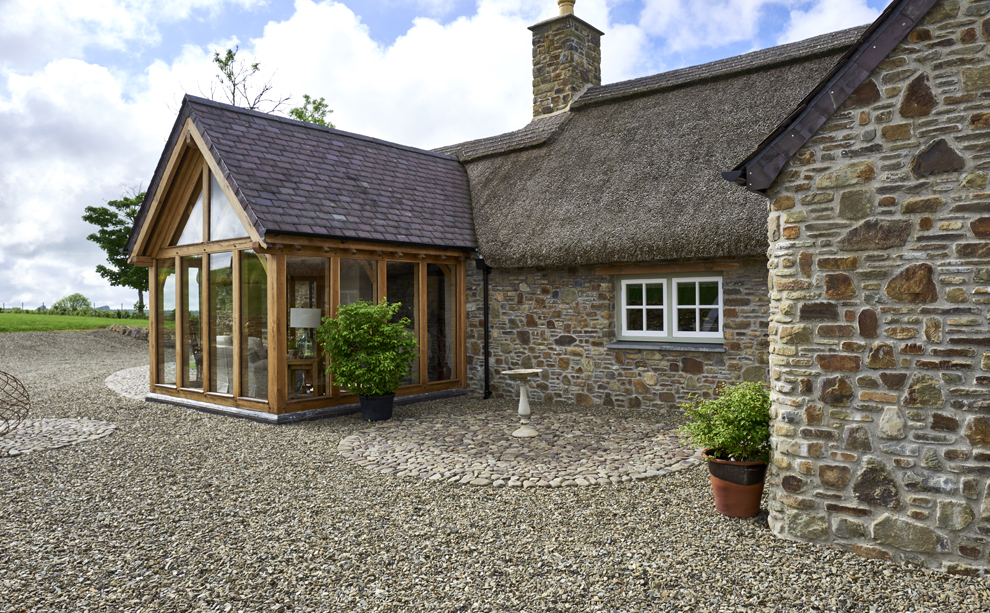 Taking the picturesque exterior and its surroundings as inspiration. (The cottage had to be rebuilt in the style it once was a traditional Welsh long house) we decided to reflect this within the interior. Country cottage with a nod towards the coastal was the plan of action. It was also important to convey a sense of home by using key finishes and some antique furnishings to add character whilst retaining a sense of modernity and originality.
The Kitchen
The country style Kitchen has been designed to emphasize the height of the oak beams. Set around a bespoke (mobile) Kitchen island. We choose soft duck egg blue and accents of Cranberry to create a pretty vintage scheme filled with warmth.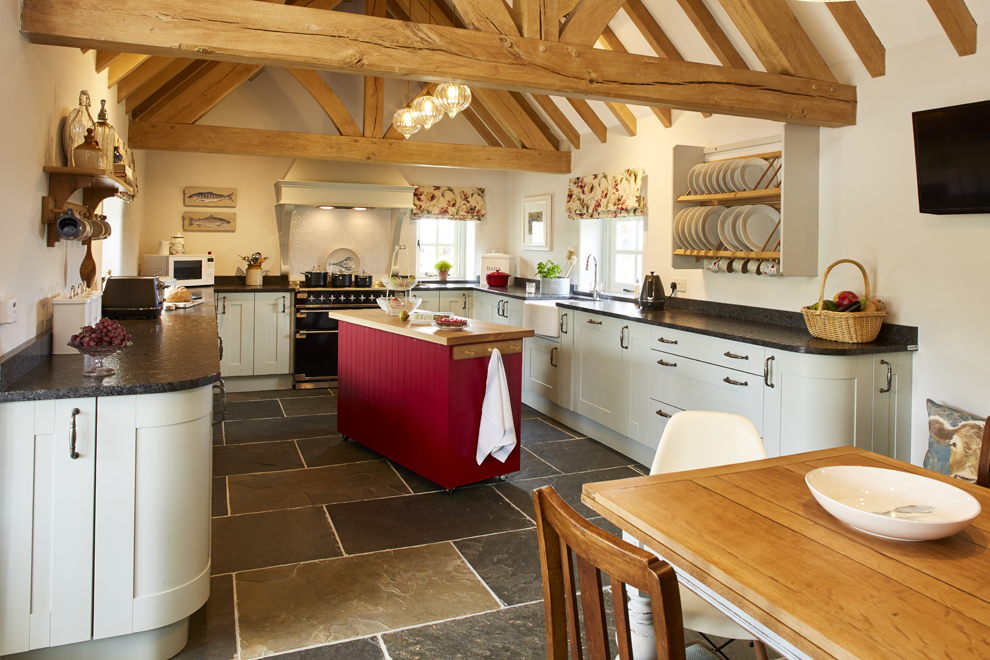 Antique pieces of furniture have been used throughout the cottage either updated or kept, as they were to add character. In the Kitchen, the old farmhouse table legs were painted in duck egg furniture paint and the chairs were covered in Dalton duck egg. The Roman blinds made in Gosford Cranberry set off the vintage accessories and furnishings beautifully.
TIP – Feature lighting creates different zones within and open plan space and draws your eyes through the full height space.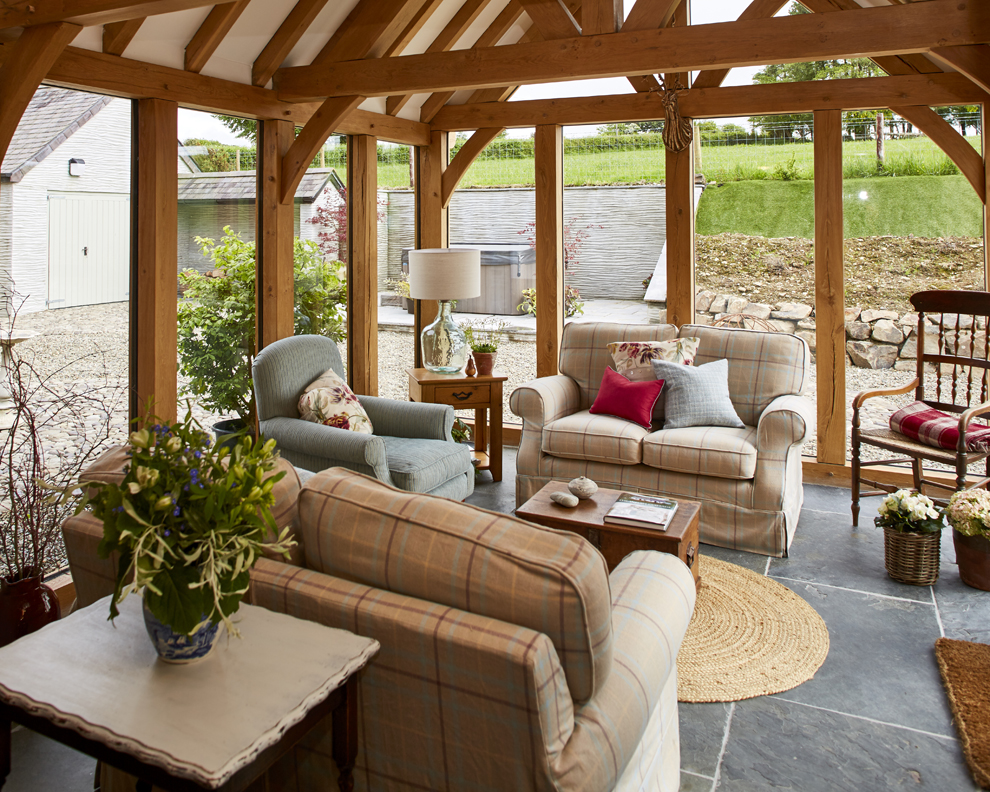 Off set to the side of the kitchen the slate tile runs throughout keeping the look timeless and practical. The flooring also links the spaces together as do the Cranberry accents in the cushions and throws. Cosy Padstow sofas have been chosen for the family to sit and enjoy the surrounding countryside.
TIP – Face sofas towards each other where possible to create a more social space this also allows you to place furnishings around and behind them giving a room more interest.
Living Room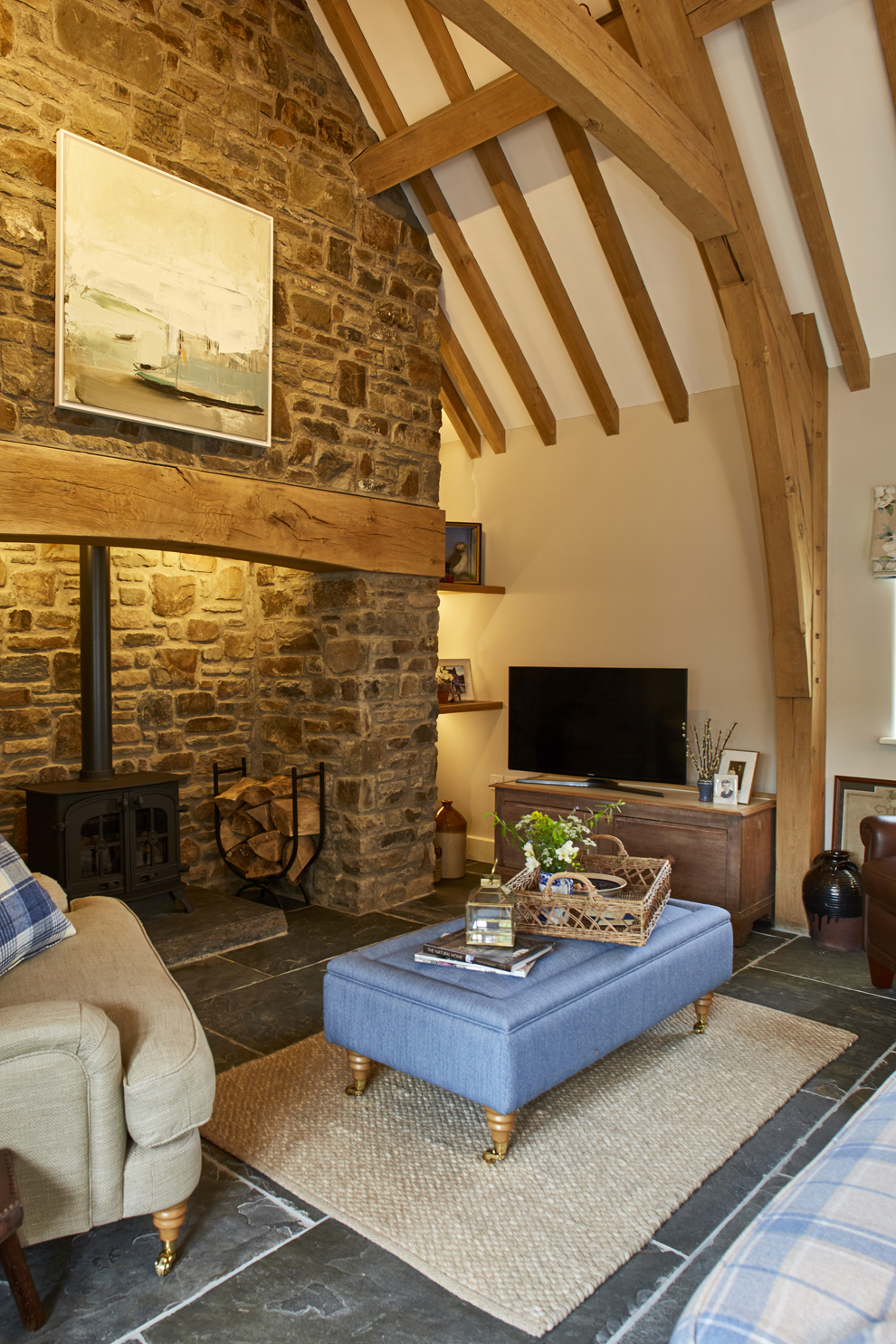 The traditional inglenook fireplace sets the scene for a cosy night in. Touches of blue have been brought into each living space to give a sense of continuity (as all the spaces are set on one level) here I off set this with accents of neutral and soft green. The Lynden sofa in highland check seaspray invites you to curl up and enjoy the warmth of this room.
TIP – Using different pieces of upholstery mixed with antique elements give the space an instant homely feel. While little jugs of fresh flowers and hurricane lamps amp up the atmosphere.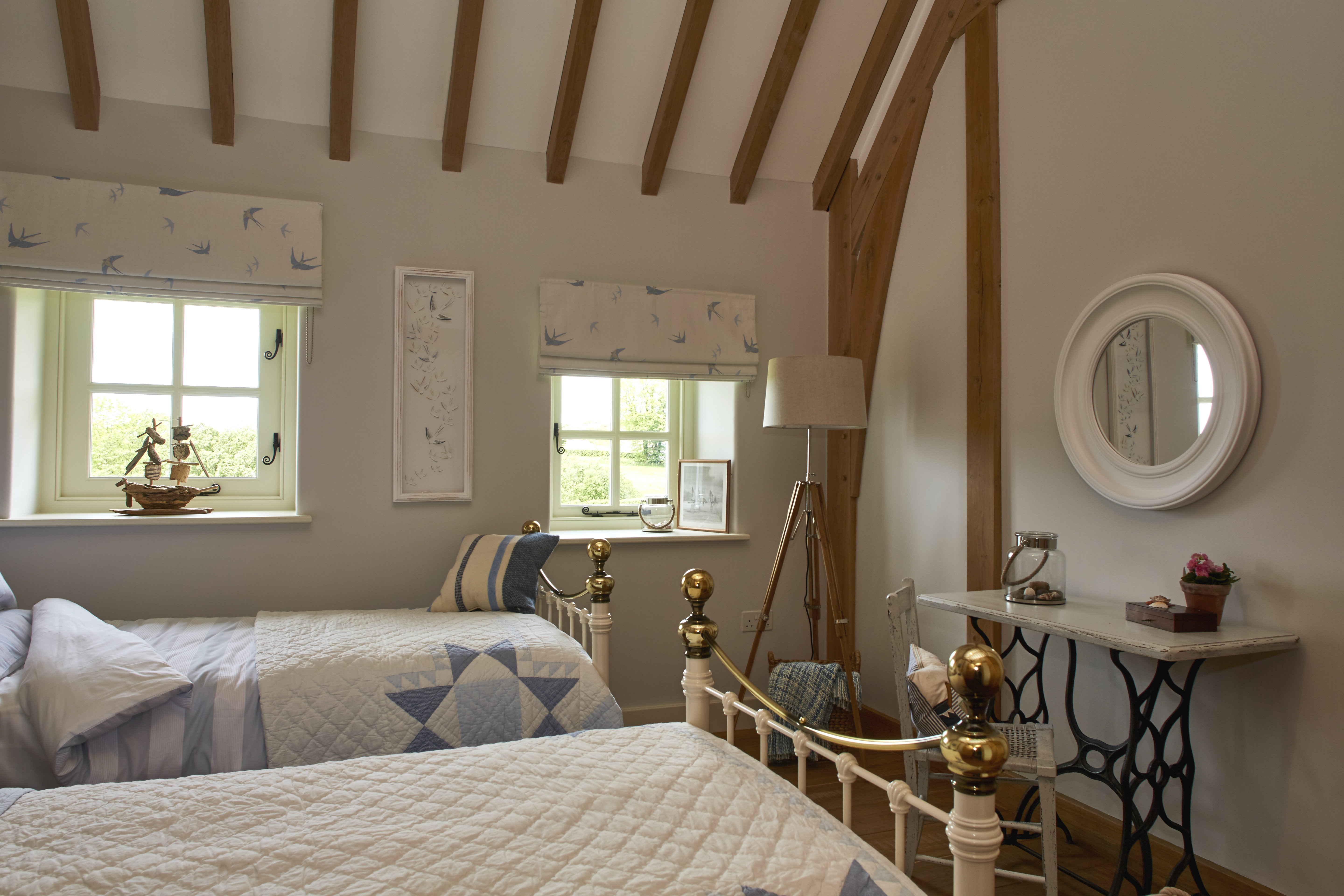 We went coastal in here for a sense of playfulness. Off whites teamed with patch work quilts and stripy blue cushions create a light fresh scheme. The beautiful Hastings bed adding a key traditional element.
TIP- To stop a coastal feel becoming too bucket and spade add some classic elements like the bedstead and tripod lamp.
Master Bedroom
I wanted to create some softness in here to stop the large expanse of stone wall overpowering the room. What better than one of our fabulous upholstered beds in a show stopping colour. The Houghton super king certainly gives the wow factor and is one of Rosemary's favourite pieces.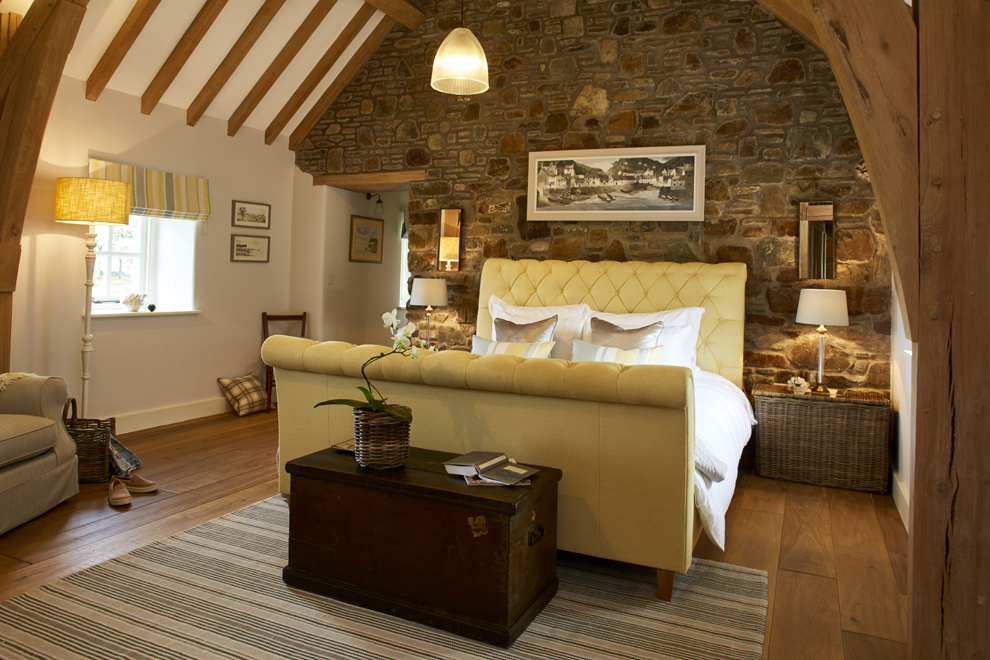 Oak floors soften the space further while tonnes of warm yellow and soft duck egg blue give the space a sense of relaxation. As there are three windows in this room I choose to use both Roman blinds and curtains so not to dominate the smaller windows. Elegant antique furniture add a period feel to what is essentially a new build cottage!
TIP – Add some "Wow" to your scheme with one show stopping piece of upholstery.
Main Bathroom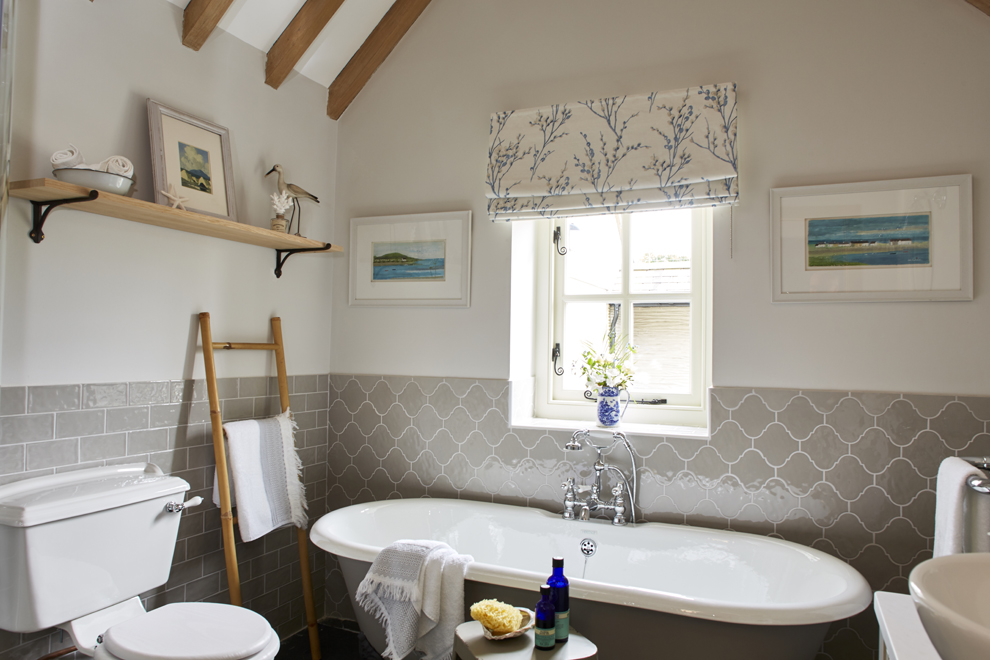 This space is designed for pure relaxation (who wouldn't want to have a soak in here!) The Metro tiles in a soft grey mixed with a Moorish shape tile add interest and set off the cast iron bath. A traditional sink with cupboard from the Laura Ashley Bathroom range adds a little bit of luxury. The Roman blind in pussy willow print in seaspray completes the look.
TIP – Give instant appeal to your bathroom by displaying your lotions and potions on a shelf or window ledge along with interesting accessories – it can be anything from a shell off the beach to a pretty read de-fusser.
En-Suite Bathroom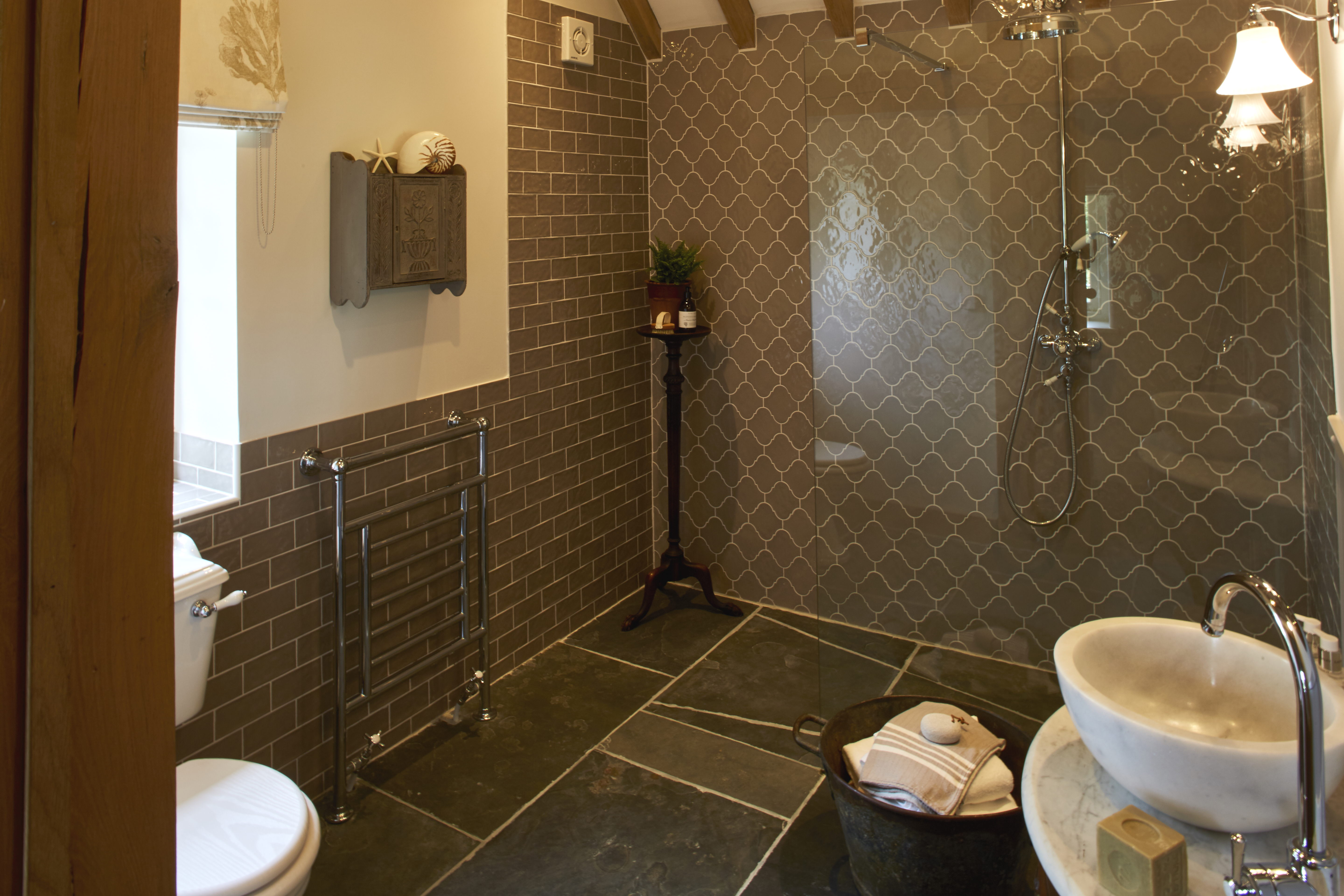 Traditional metro tiles are continued in here in a different colour way. The antique sink and mirror give the room an aged feel with all the modern convenience of a wet room.
TIP- Re-purpose an old find into something useful here I have asked the plumber to add a bowl sink to an old Victorian hall stand it adds instant character and originality.
Credit to Owen Evans Drewen Developments Ltd. and Carl Angel Stonework. Arthur Davies Carpenter. Welsh Oak Frame and photo credit for Mike Black
Doesn't this place look amazing?! To learn more about this Restoration Project check out the before and after videos here.