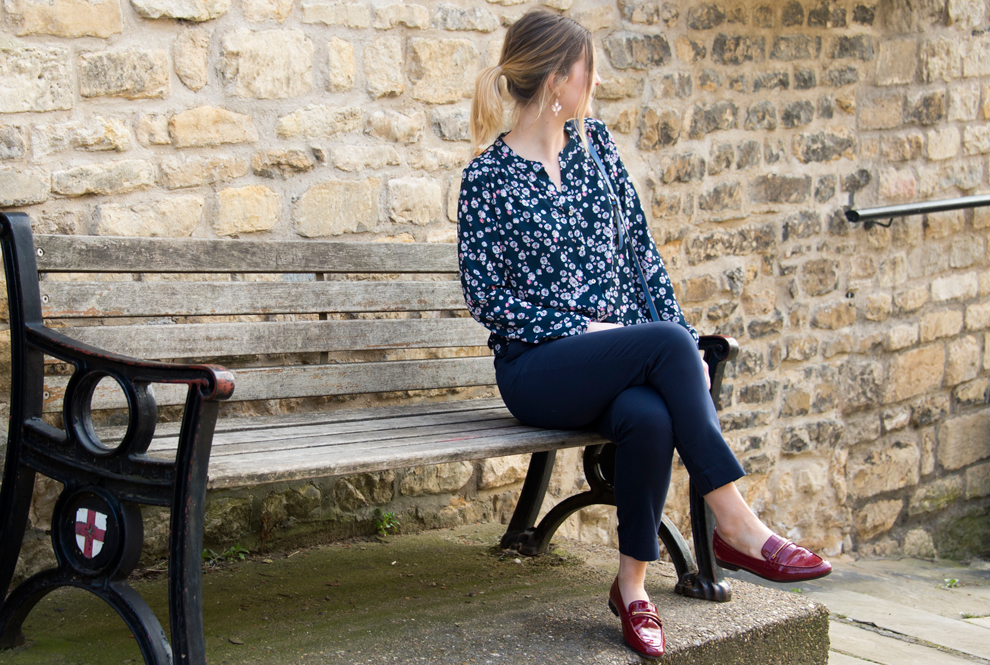 Finding a style that best suits you read more
As we get older we've noticed that our personal style and fashion preferences have changed. We finally find a style that suits us down to a tee and adapt that into our daily wardrobe. Plus we feel more comfortable in our own skin so dress for us rather than other people. Although we do like looking back at old photos of what we used to wear, laughing at some questionable fashion choices. Bunty Living talks us through how her personal style has changed over the years and how she's now ready to embrace a smarter sense of style…
I've been thinking a lot lately about the transformation my personal style has taken over the past year or so. I think one of the obvious causes of change is largely due to the fact that this is the biggest gap we've had between pregnancies and as such, I think my body has found a new 'happy place' resulting in me feeling more confident than ever in wearing what I want to wear.  It's definitely a transition that has filtered down to my wardrobe influences- something I'm amazed I did not consider sooner!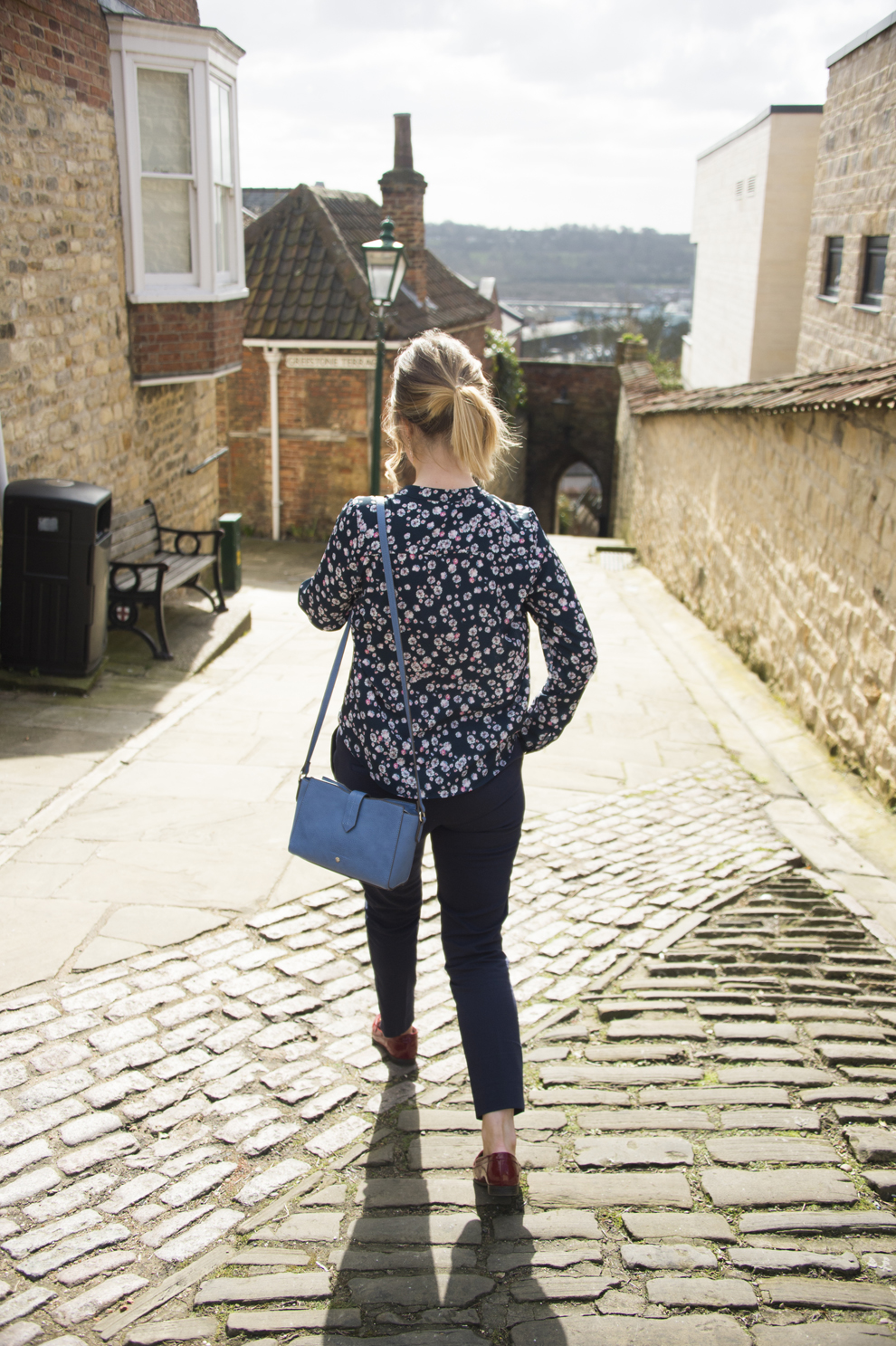 It's funny because I remember so clearly NOT wanting to invest in anything remotely 'nice' when I was pregnant or nursing for fear of things being stretched or ruined in the day to day and the inevitability of money being wasted. But now, even though our youngest is still only one, I've become far more appreciative of how paying a bit of attention to my outfit can make such a difference to the way I feel both physically and mentally. Ultimately, when I'm dressed to conquer the day I'm more likely to feel like I have it together- even (and most especially) when I don't!
While on the subject of personal discoveries, it would seem that without realising it my everyday style has taken on a more smart/casual appearance. Maybe this is a 'late twenties' thing where I'm at the point of not wanting to answer the door in my jogger-bottoms anymore (although catch me at the weekends and you'll see my entire collection!)
But I'm also sure this is partly because I'm one of those people who just LOVES the feeling of being up early, dressed and completely ready for whatever the day might throw my way- I definitely feel more confident in just knowing that I'm as poised to go out and run errands as I am to simply potter in the home.
I love how Laura Ashley makes it super easy to blend a touch of 'chic' into a practical, smart outfit. And, as the sun will (hopefully) make more of an appearance in the next few weeks, I am SO looking forward to being able to wear more blouses like this pretty one with simple trousers and flats- it's always such an easy, wearable combination and it's great for transitional weather too if you're feeling brave enough to show a little ankle!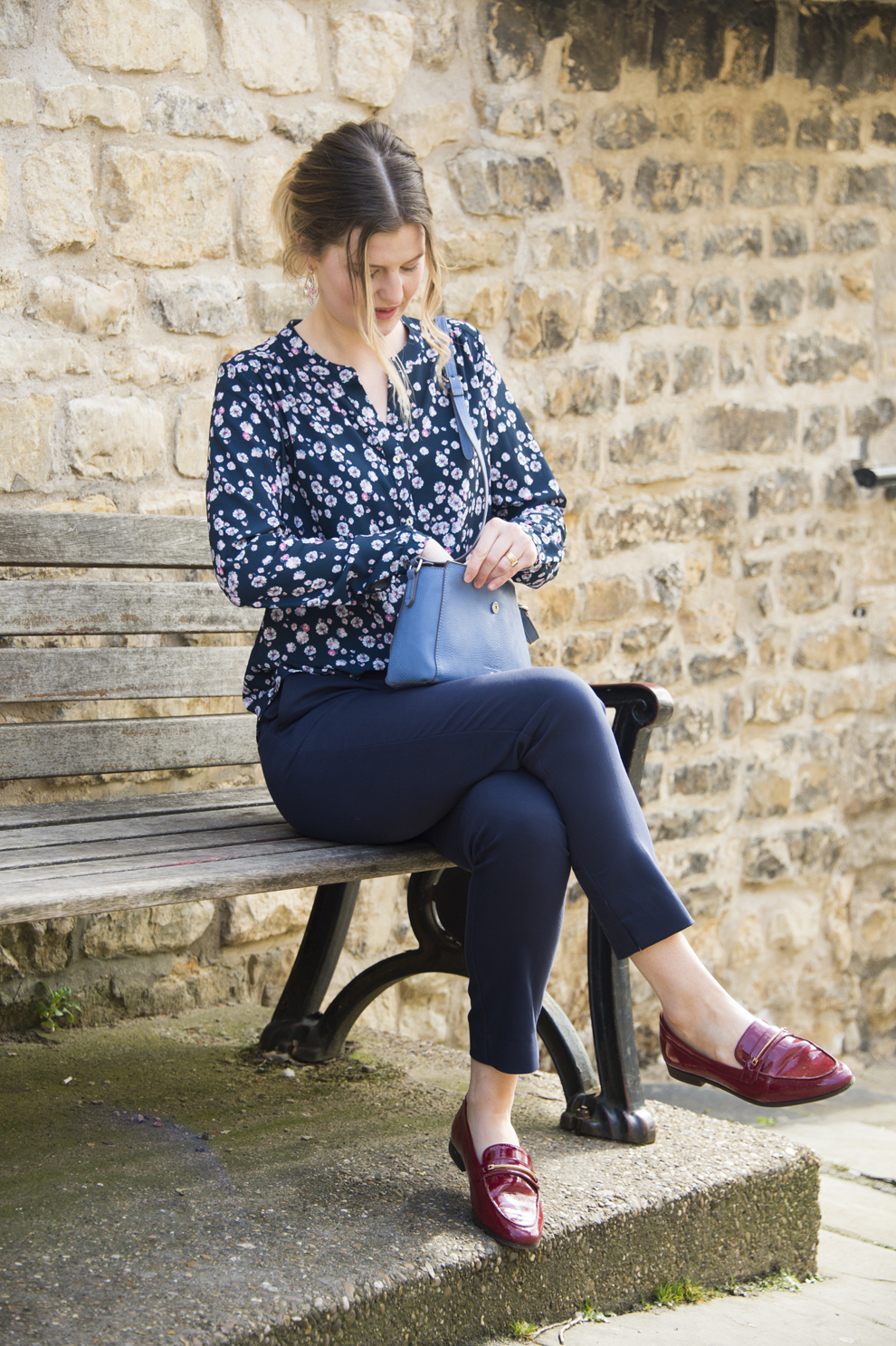 I really love this look, especially for how it gets me out of my staple jeans and into something surprisingly flattering and ten times more comfortable! I know these navy cafe trousers are going to be great this season, especially as they work with blouses, tees, Bretons and jumpers which means that they're basically going to slot right into my wardrobe without any trouble whatsoever!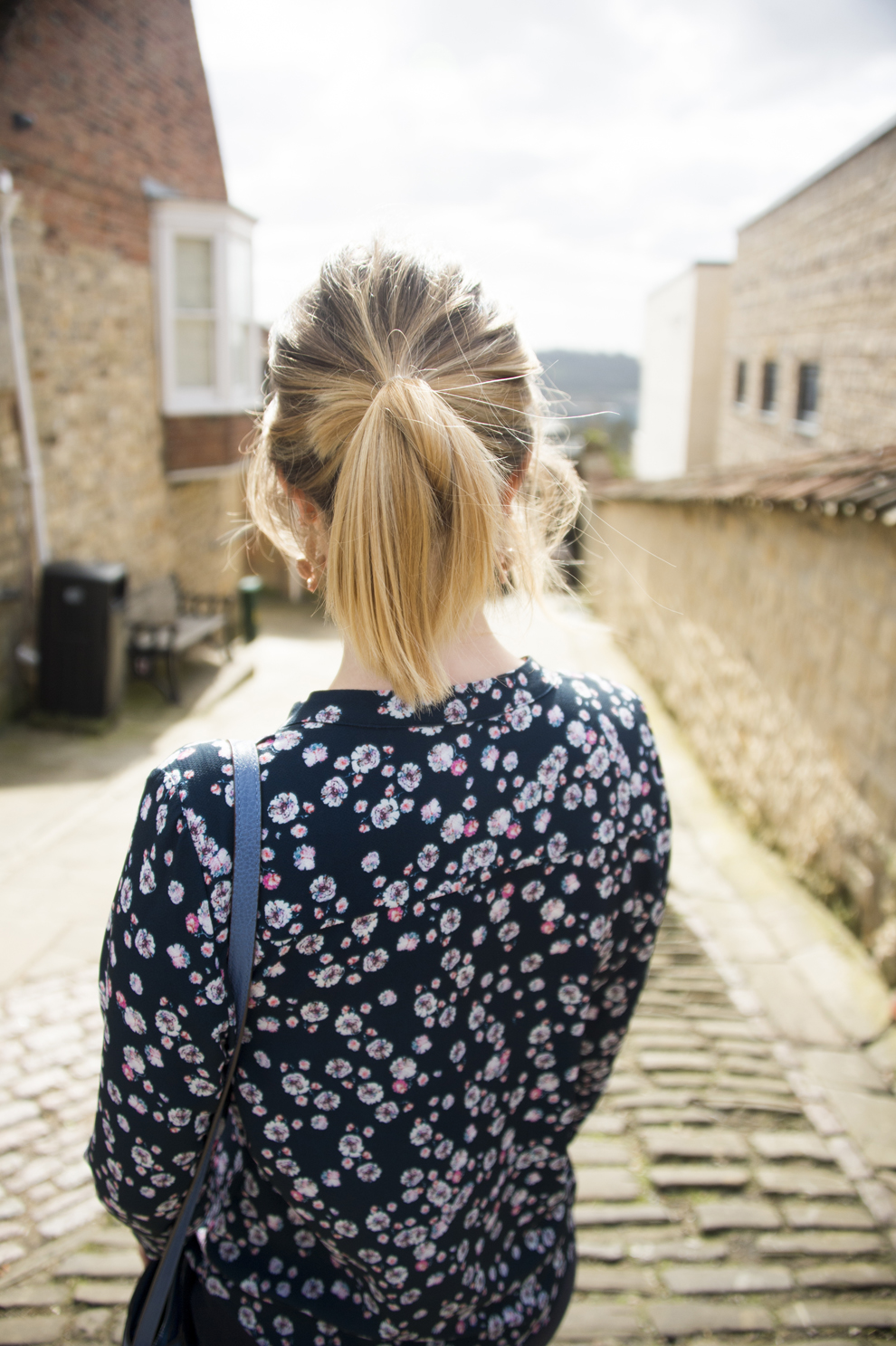 I also love this ditsy floral blouse for the subtle pink, cream & teal colourways which are also going to be so workable this season. It's gorgeous underneath jumpers with the collar coming through or equally paired with jeans or trousers like these ones. And especially at this time of year when we're all yearning for a little more colour and vibrancy anyway, I feel like this will be such a great option to really bring the wardrobe up to speed on the coming season!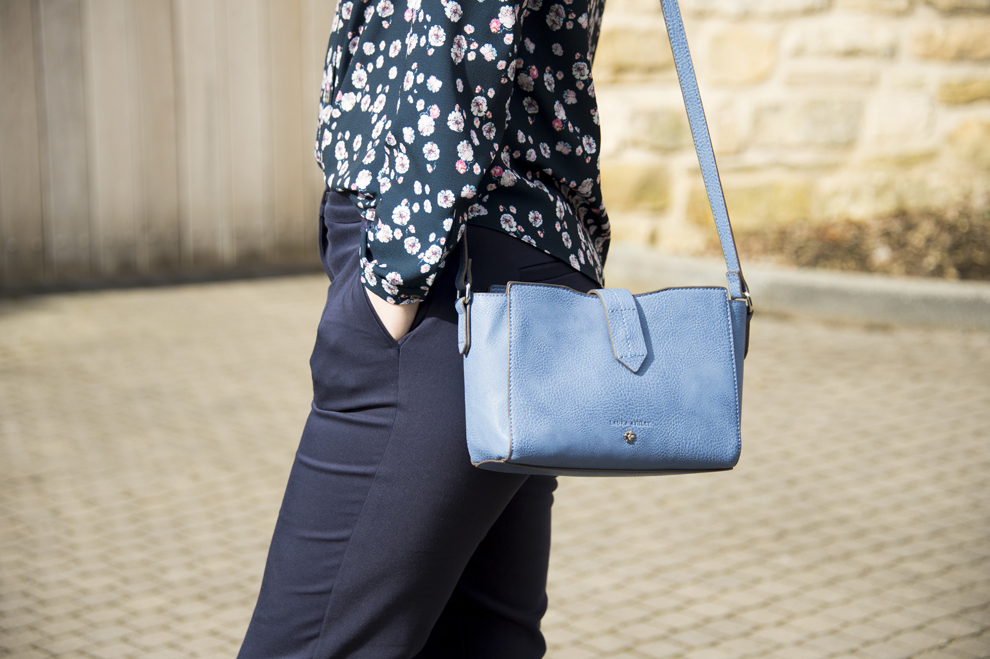 You know me; apparently no outfit is complete without a bag of some description to finish it off. Like the cherry on the cake, this gorgeous cornflower blue crossbody really does mark the transition over to spring/summer- at least from a fashion perspective! I think it just finishes off this look perfectly, tying in the pastel hues of the blouse and complementing the navy running through.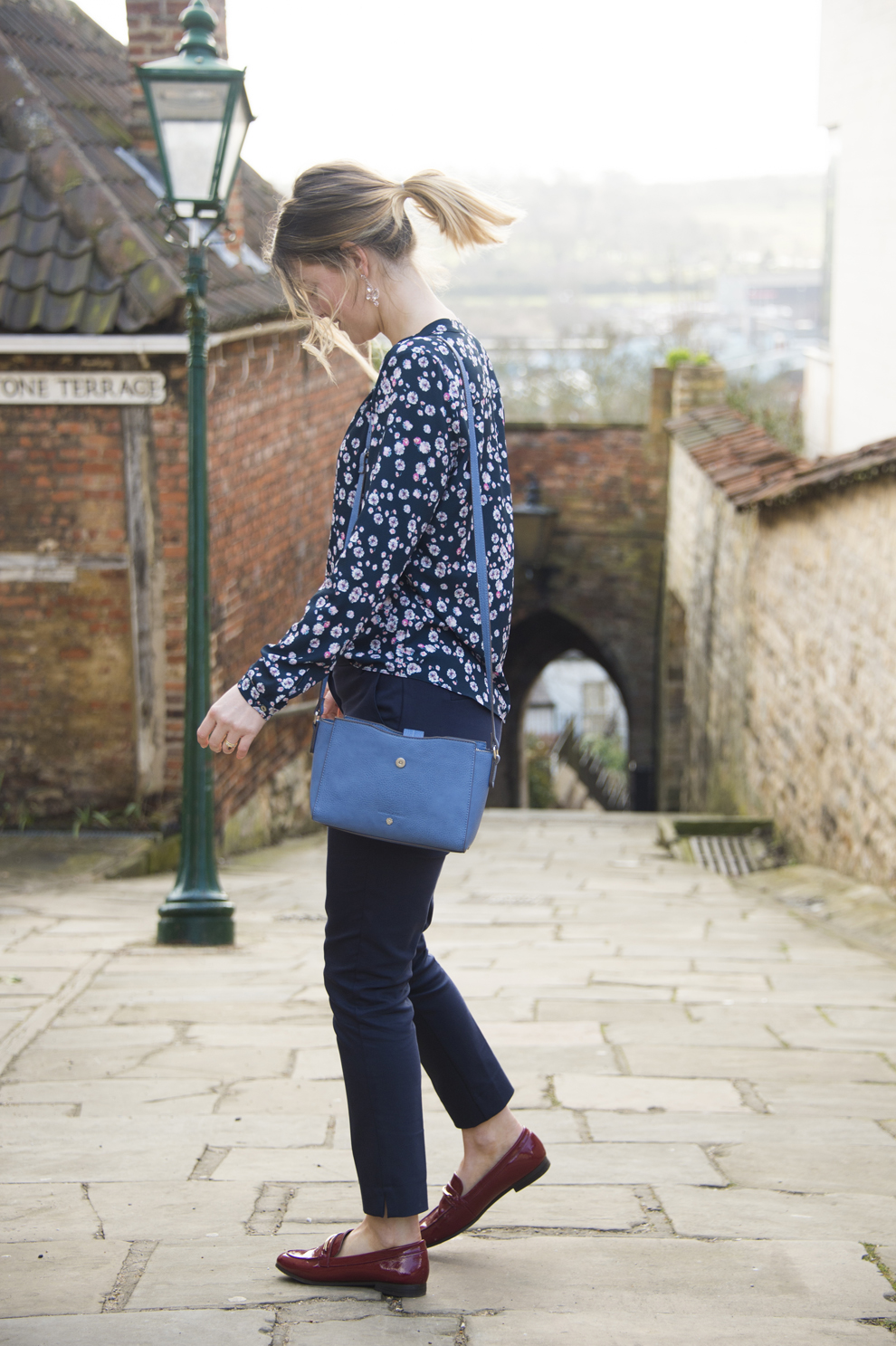 Whilst blouses, smart trousers & loafers might not have always been top of my wardrobe goals, right now I am LOVING this combination. It's such a failsafe formula especially for seamlessly blending day to evening attire with the clever use of accessories and I really looking forward to reimagining this look over and over this year!
What are you most excited to be wearing this season?
Bunty x
What's your personal style and has it changed over the years? Let us know below or on Twitter @LauraAshleyUK