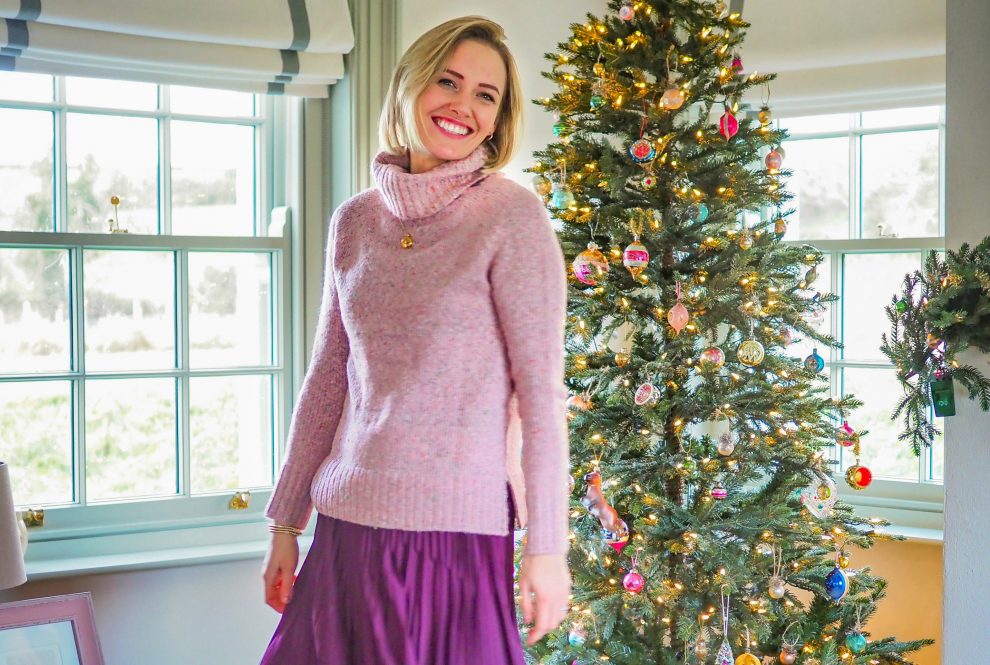 Enjoy your Christmas Day in style with a cosy outfit from our new collections read more
Finding a Christmas Day outfit can be a hard task—on one hand you want to look your best and on the other hand you don't want to overdress for the occasion. A Christmas day outfit needs to be functional for present opening, cosying up by the fire and making merry around the Christmas table with family and friends without compromising on style.
To give us her take on the perfect Christmas Day outfit, interiors and fashion blogger Laura Ann of All That's Pretty has styled an ensemble using items from our new collections. As a mother of two young boys, Laura Ann knows the importance of choosing an outfit that is both trendy and functional.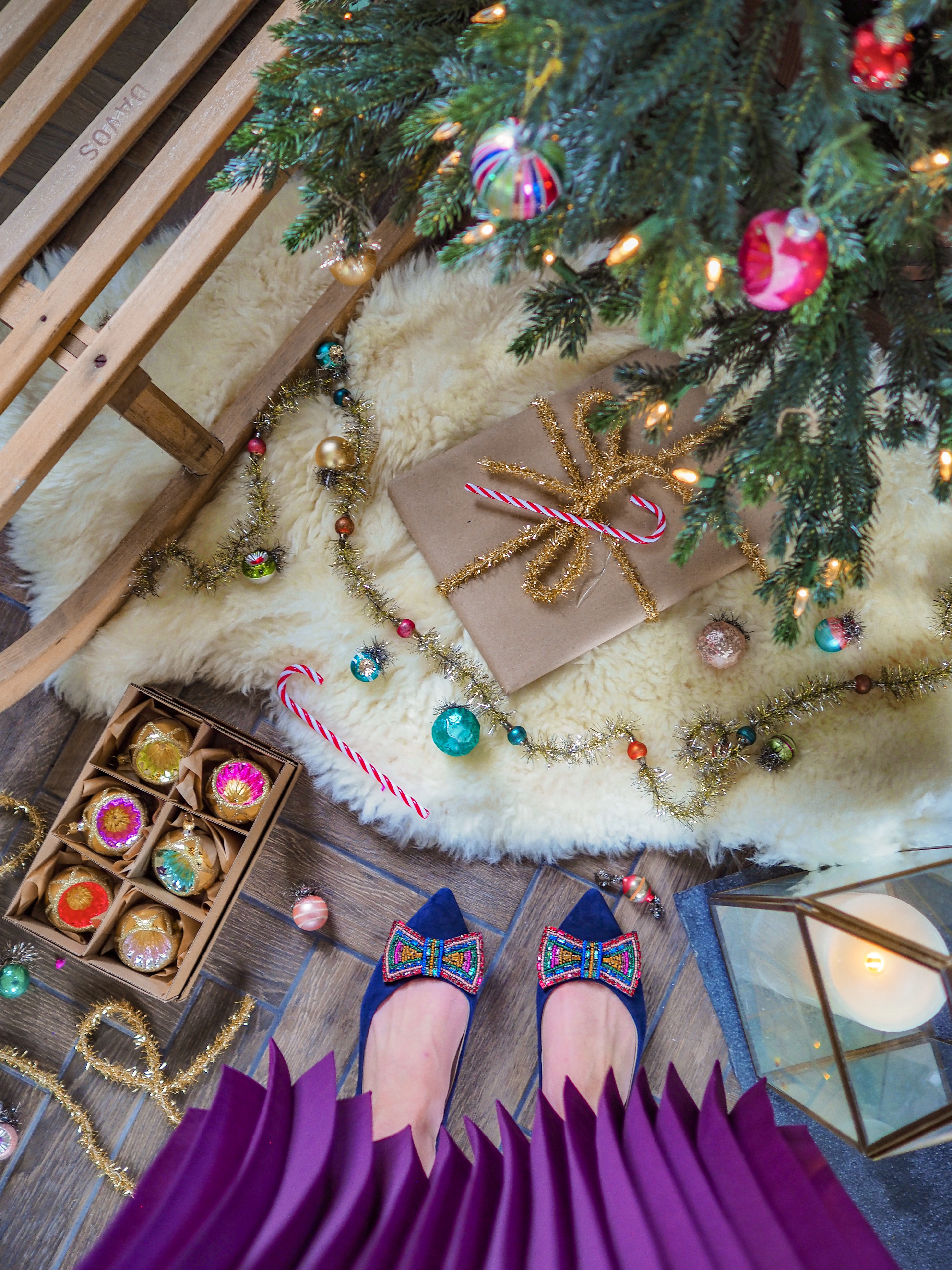 It's getting a little chillier and I love to wrap up warm at his time of year but I like to do so whilst still looking feminine. It may be chillier but that doesn't mean it's time to put away the skirts, you can still wear skirts and stay warm, just team then with ankle or knee high boots underneath and super thick socks or even tights.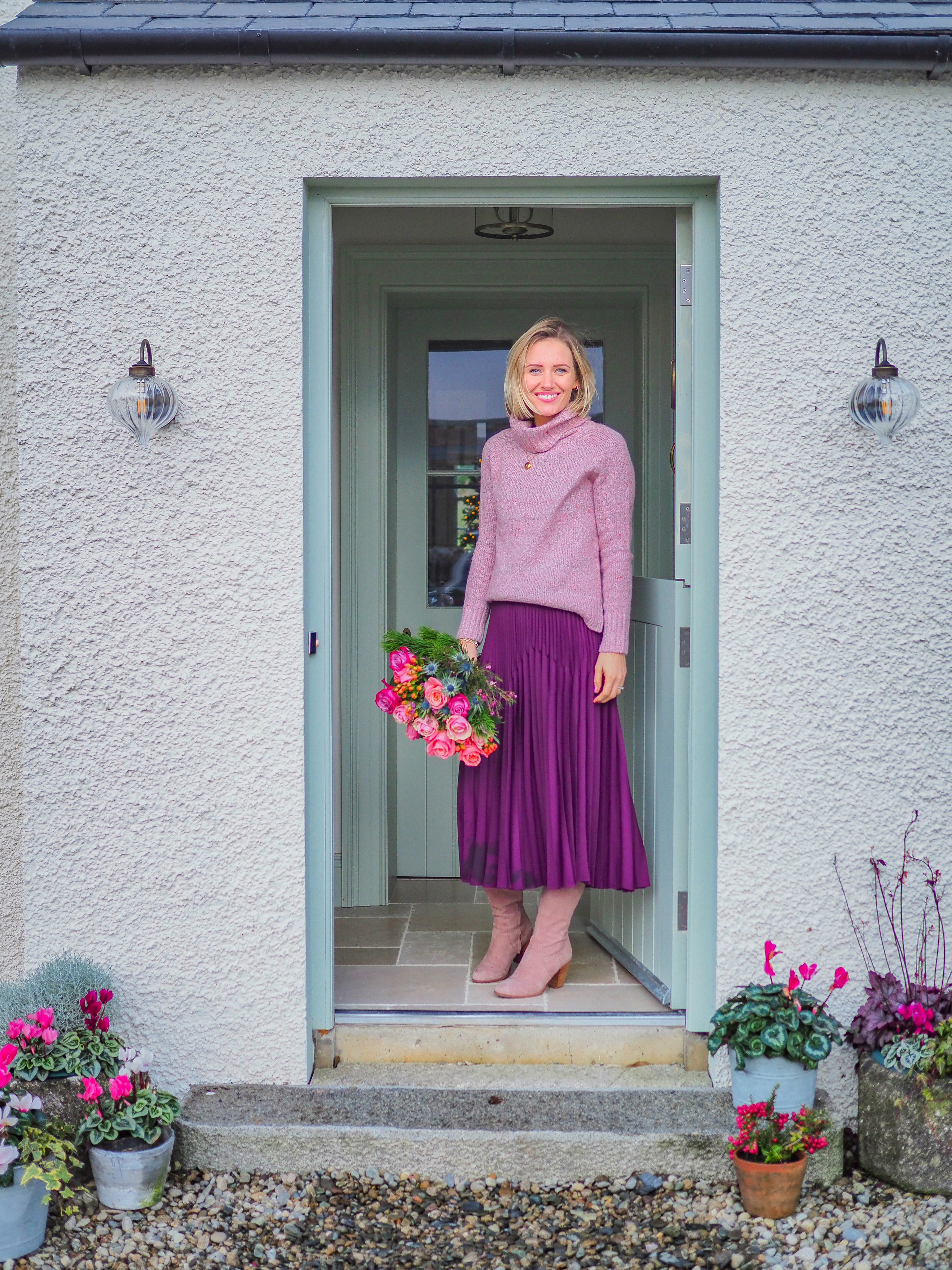 As it's such a busy time of year I also love to choose outfits which easily transition from day to night. This Morello crepe pleated skirt does just that and has a great swing to it if you were looking to have a Christmas party dance, it's floaty and the elasticated waste is perfect for indulging many a Christmas dinner over the festive period. The colour is perfect for dinner and goes with softer pinks, cream, grey and black tops making it so versatile. You can team it with sparkly flats or heels for the evening whilst wearing it with warm boots during the day.
For the top half, I love teaming it with this wonderfully chunky and delightfully warm roll neck jumper in pretty blush pink . The Ribbed detailing and flecked yarn gives the most beautifully textured look too, and the high neck keeps me super cosy.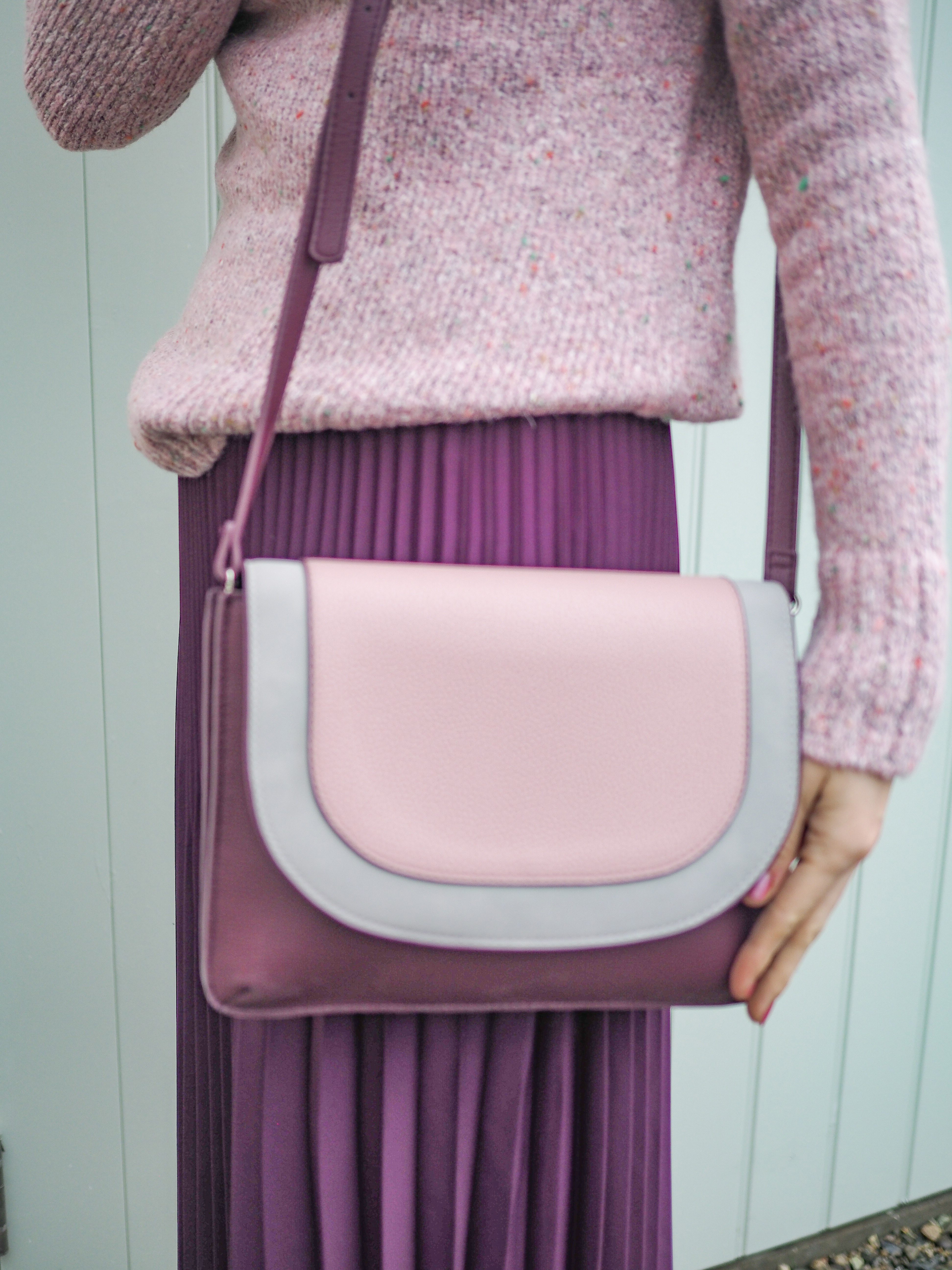 I feel a handbag really completes an outfit and the contrasting colour block flap of this Berry Cross Body Bag is a simple but stylish addition to this outfit.It matches perfectly to the shades of aubergine and pinks, but equally could tie in perfectly with a pale pink knit and jeans for a more casual day time look. It's just the perfect size to fit in your essentials while also being able to transition from day into evening.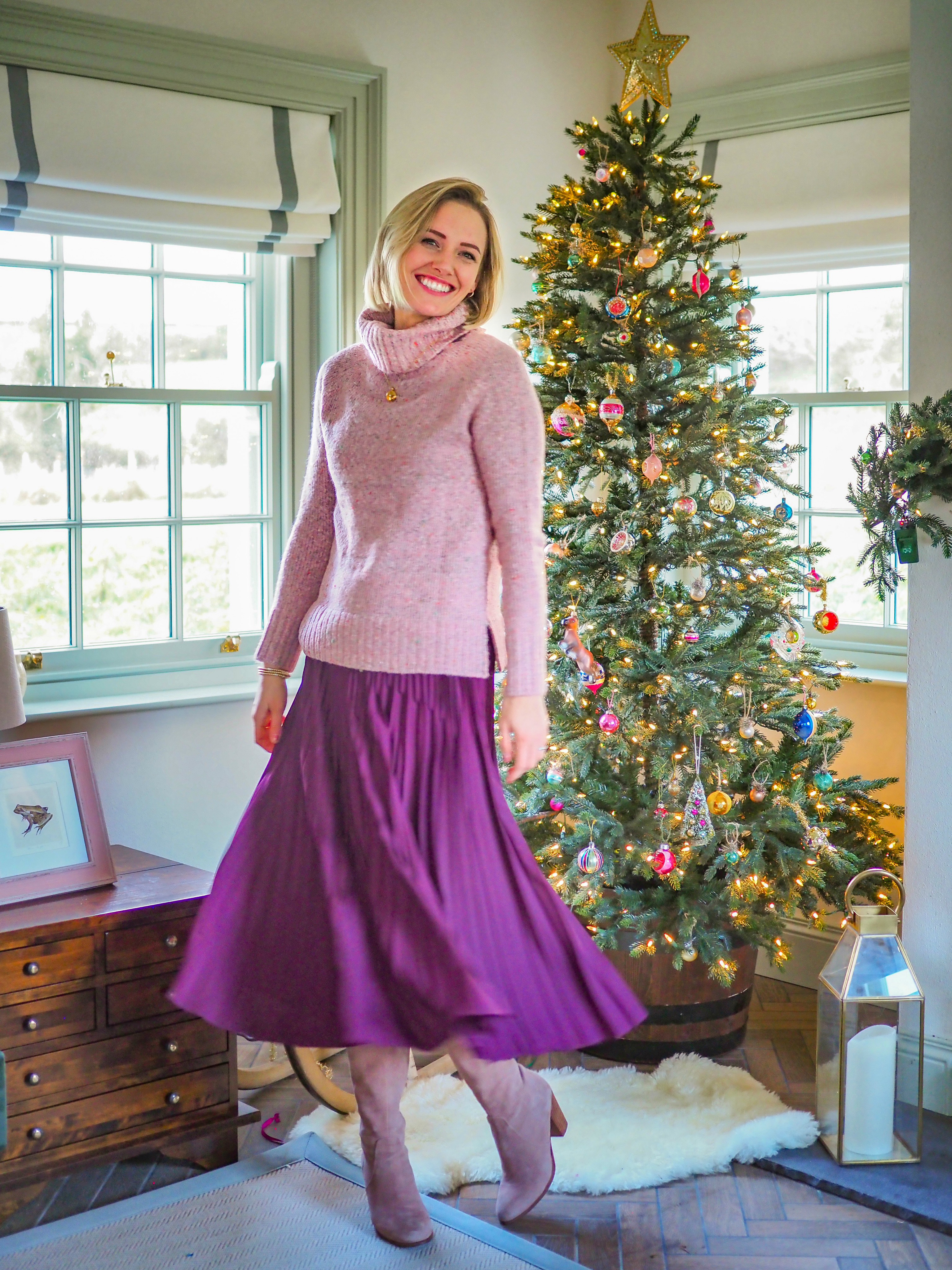 I do hope you like the outfit I have pieced together and that you have a wonderful, safe Christmas.
Laura-Ann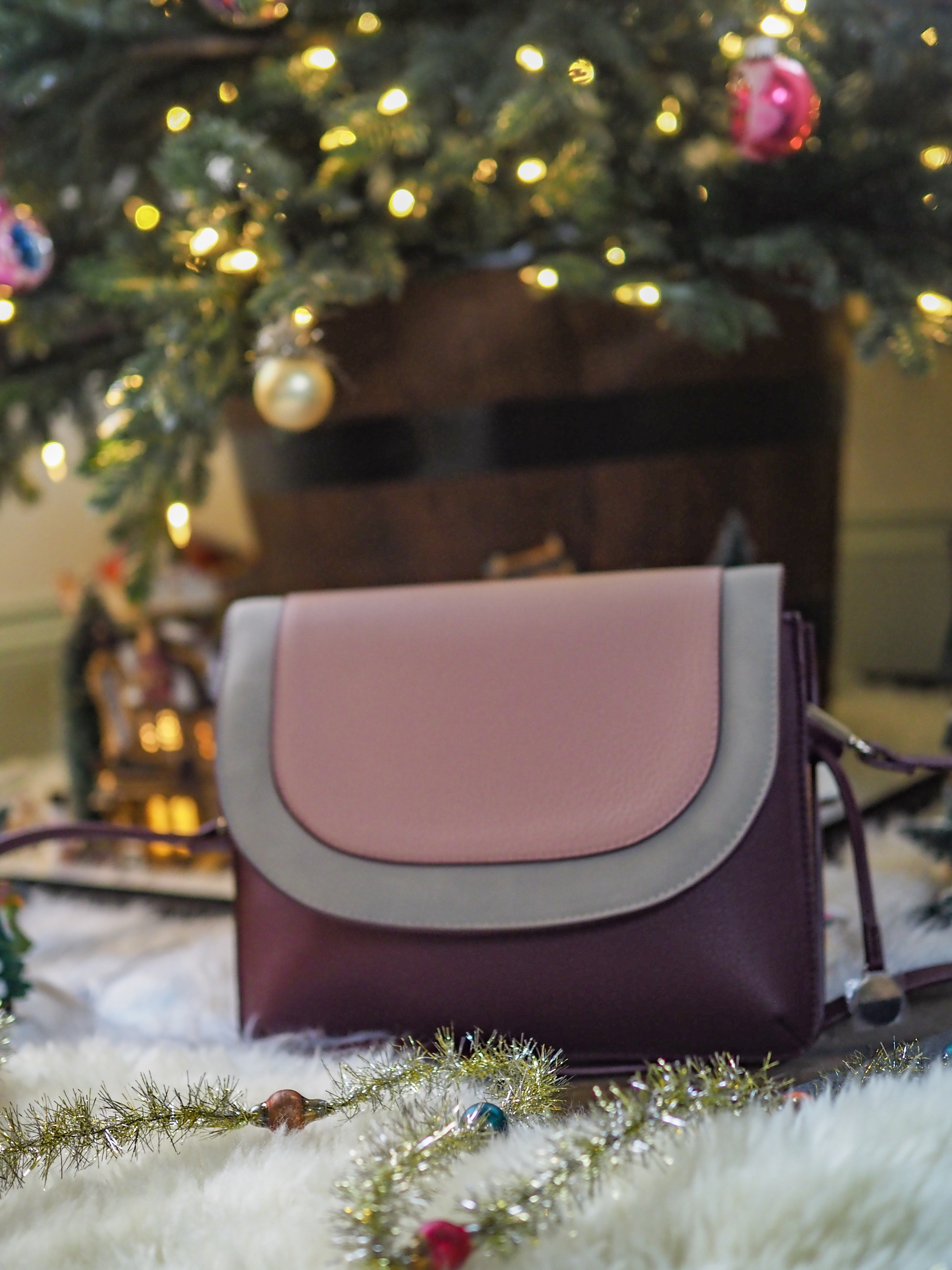 This post was made in collaboration with Laura Ann of All That's Pretty and features our Morello Crepe Pleated Midi Skirt, Blush Roll Neck Chunky Flec Jumper and Berry Colour Block Cross Body Bag.
Have you picked out your Christmas day outfit? Let us know in the comments below.