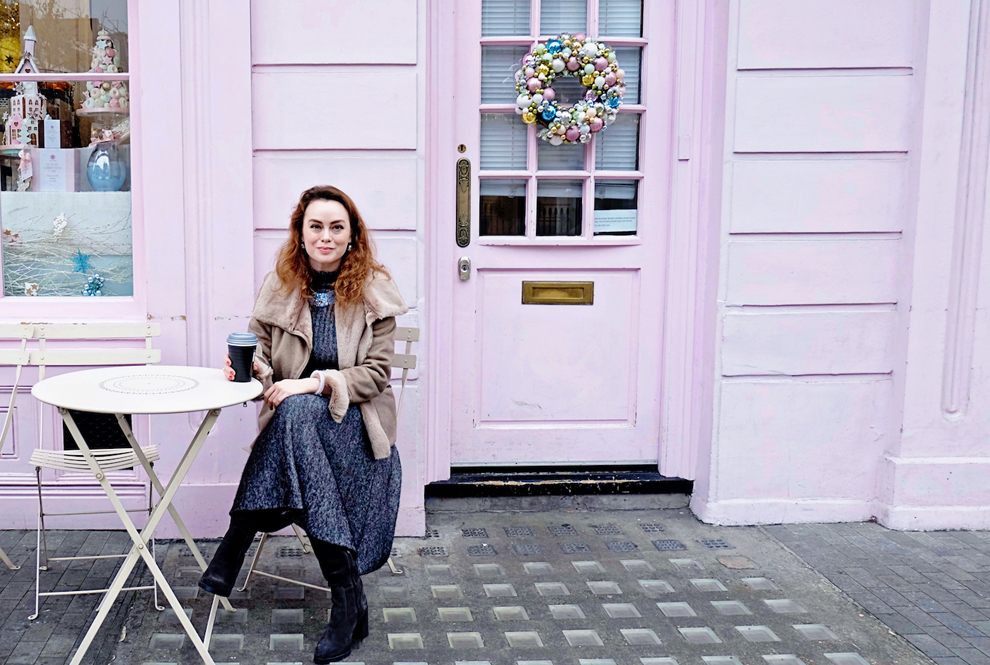 Get cosy this winter in some warm wardrobe staples from Laura Ashley... read more
Now we've learnt winter has 'officially' arrived (we always assumed that once the temperature drops it's basically winter), it's important that you choose your winter wardrobe staples that will see you through until the first glimpses of spring. The fabulous Miranda from Miranda's Notebook picks her favourite winter warmers from our AW16 collections and shows us what will be completing her wardrobe this season…
With the thrill of Christmas still in the air, it's definitely time to talk about the latest additions to my winter wardrobe: this gorgeous faux fur and suede coat and these grey suede boots. A new coat and boots are items I look for every winter, and I always demand great quality, as both pieces will be guaranteed to be amongst the hardest-worn in my closet. One reason I always love Laura Ashley clothes is I can rely on them to stand the test of time: I still own a few Laura Ashley pieces that I first bought in my early 20s, 7+ years ago! I was delighted, then, when I got to pick out a coat and boots from the Autumn-Winter collection.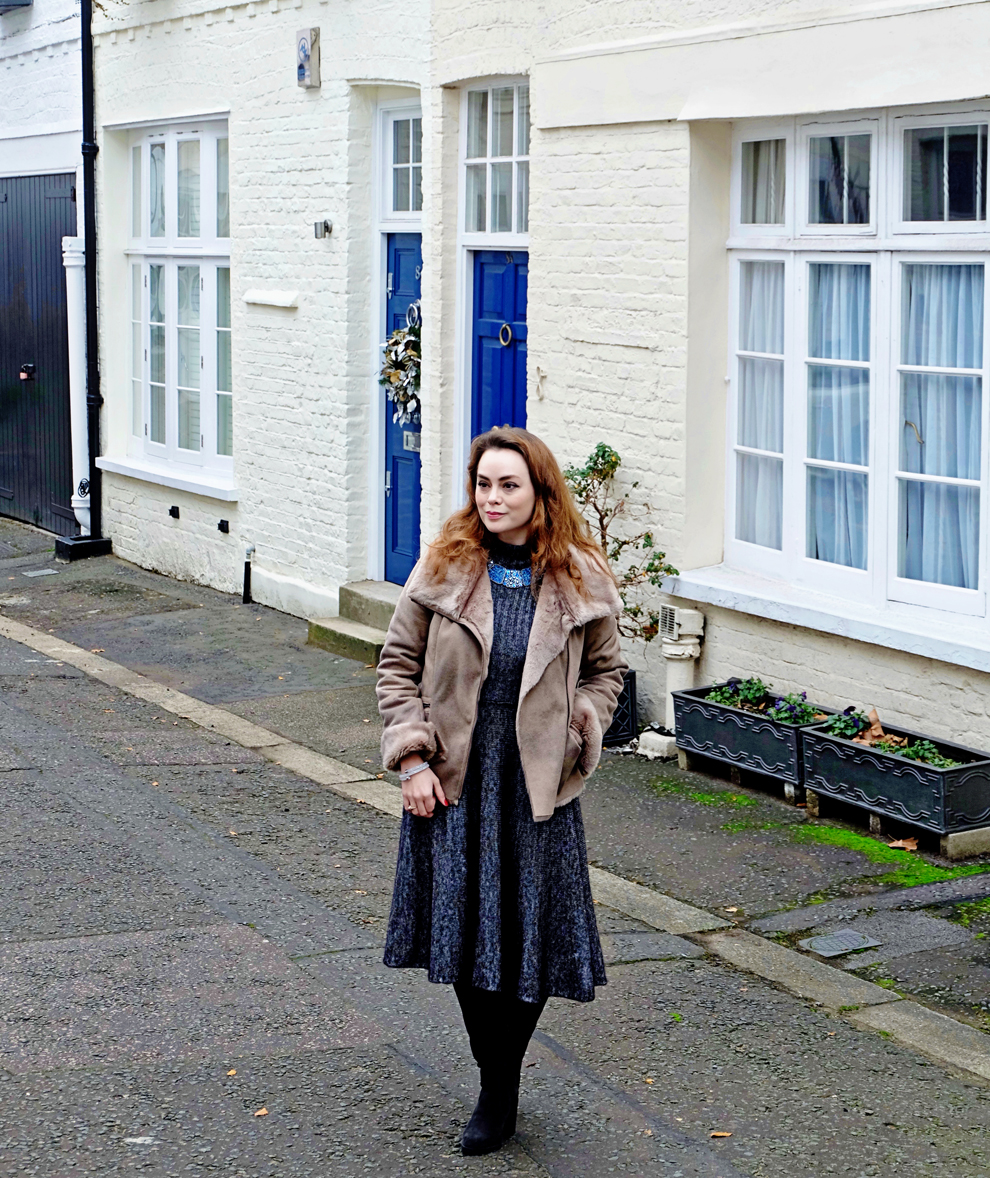 For this style shoot, I paired the coat and boots with a grey knit dress and a sparkly necklace for a festive stroll through Chelsea. It was the perfect outfit for a bit of shopping, flower choosing and Christmas decoration admiring. Of course, I had to stop off for a well deserved hot chocolate and cake at a favourite café too!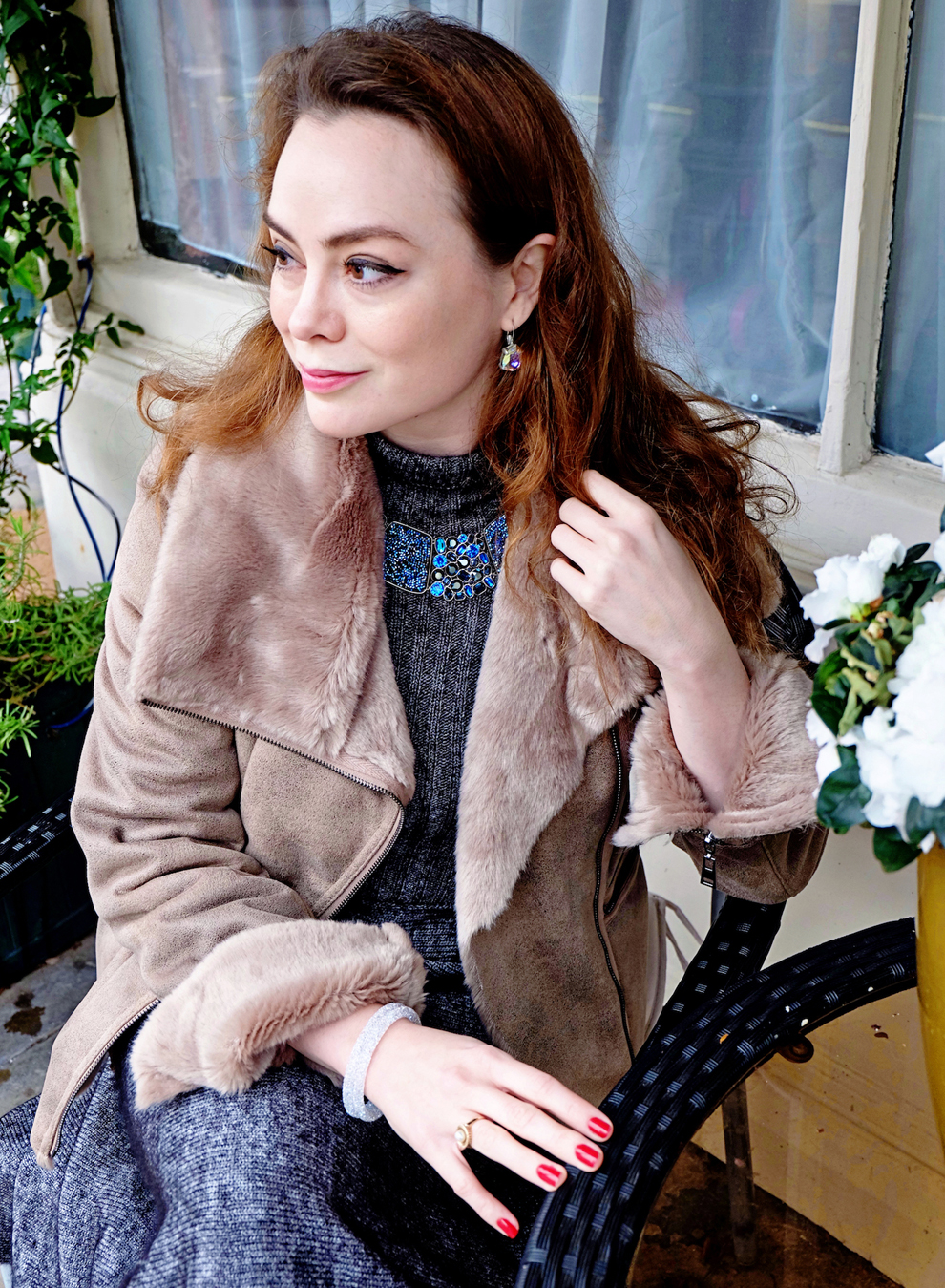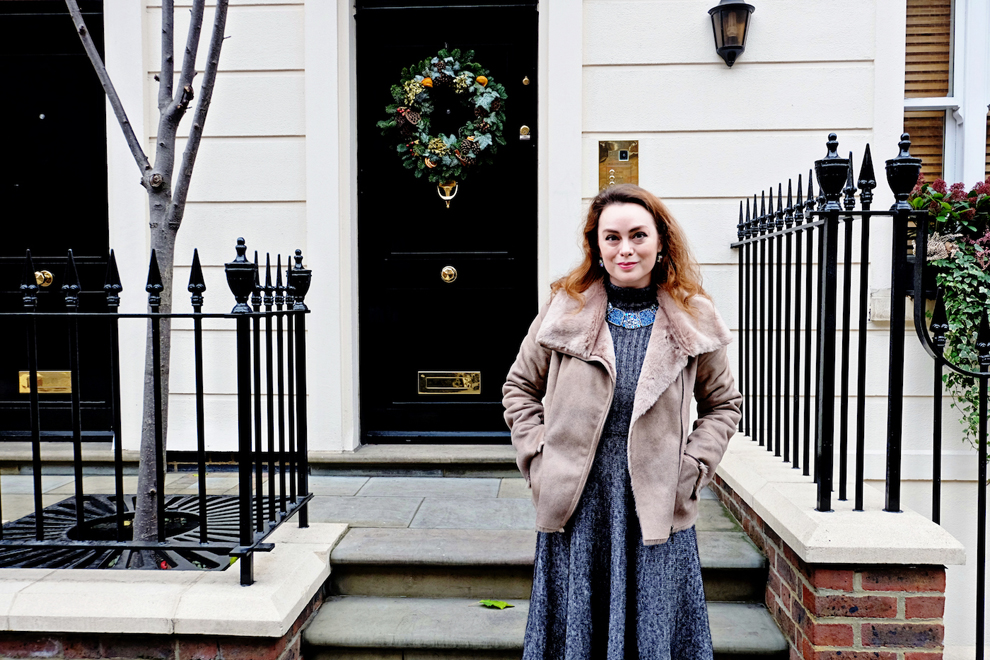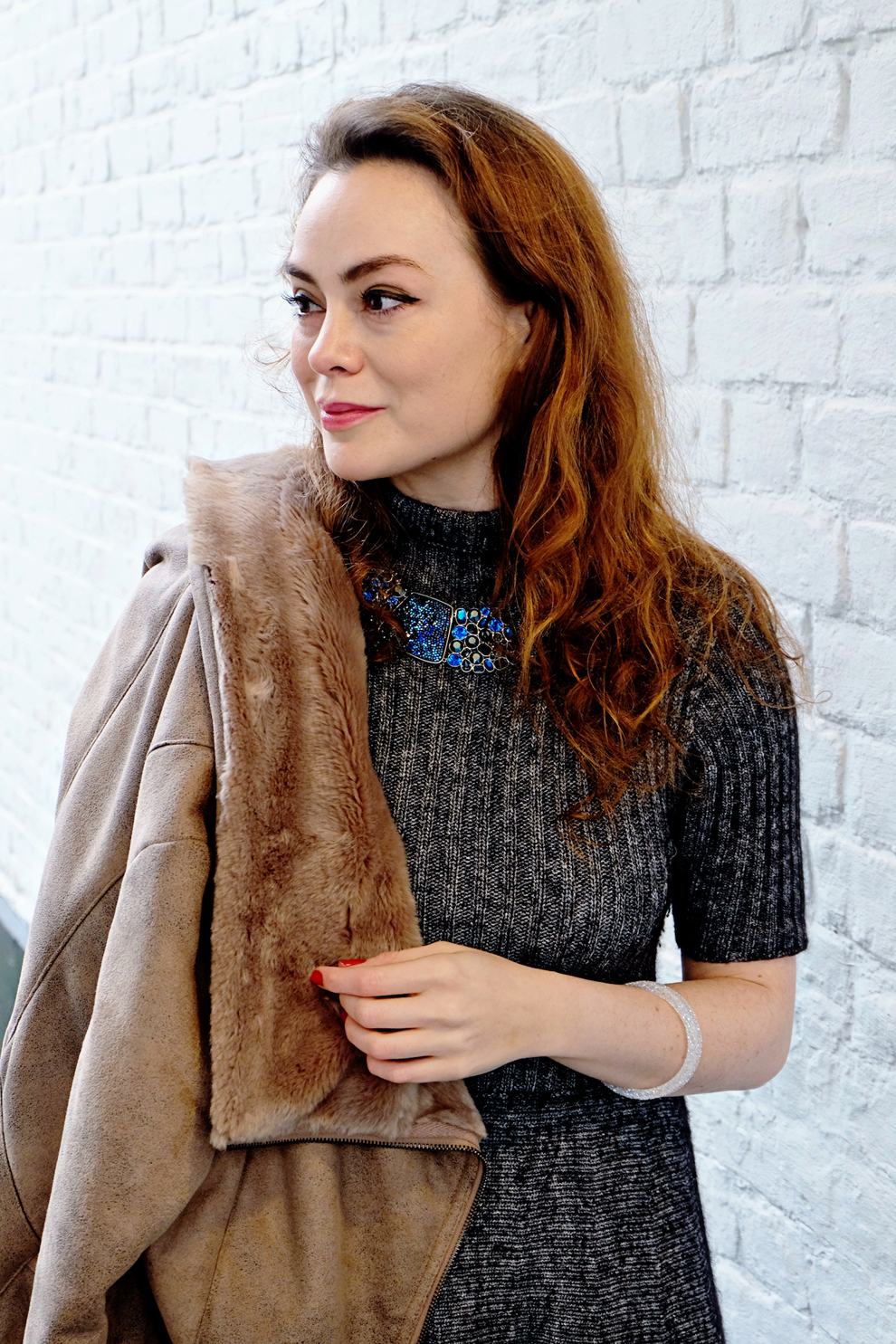 Although the coat is faux fur and faux suede, it's still incredibly warm and cosy, and I felt wonderfully snug as I bustled along the streets of London on a particularly foggy and chilly day. As always with Laura Ashley items, I really appreciate the attention to detail that is given to every garment: the zip cuffs mean you can keep the sleeves long, or turn them up to expose the faux fur lining (I like to turn them up), and the asymmetric zip and pockets add a fun modern twist to a classic shearling-style jacket. Faux fur always lends a luxurious edge to an outfit, which means that this coat can be easily dressed up, although it also looks great more casually worn with jeans and a plaid shirt. I'm going to Switzerland in January, and I'm already planning on bringing this coat along with me: it's the perfect look for a mountainside backdrop.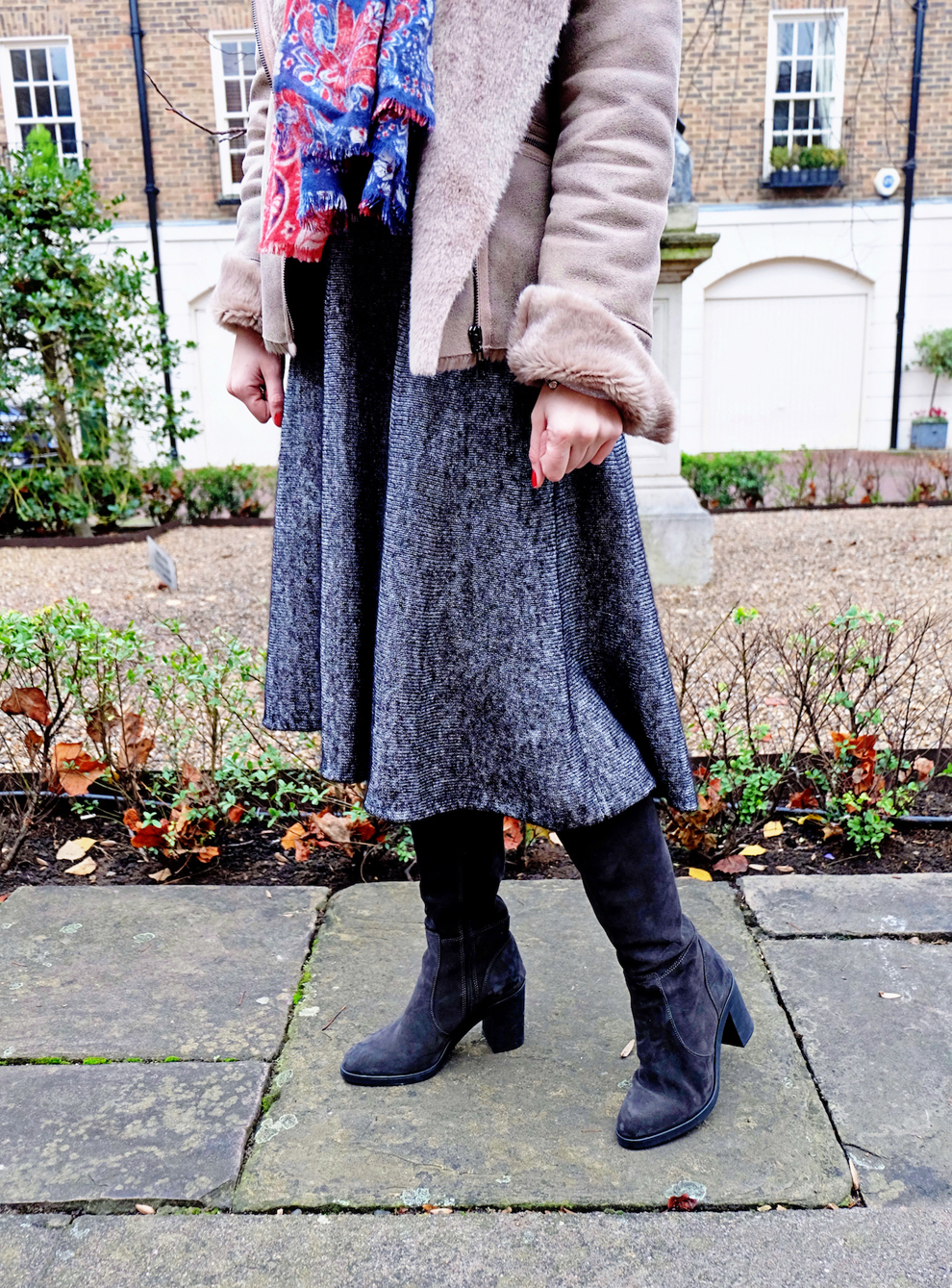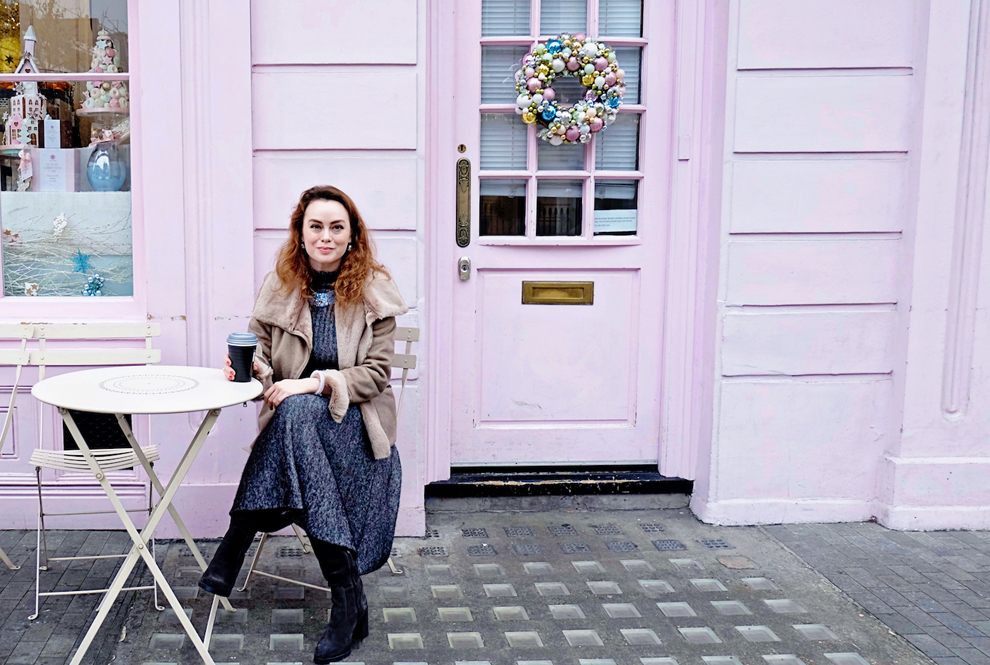 Every winter, I always seem to be in need of a new pair of boots. London cement is hard on shoes, and once I've found a good pair of boots, I'm hardly ever out of them from October to April. I'm fairly exacting when it comes to choosing a new pair: I like a pair that can be easily dressed up or down with jeans or a dress and that are comfortable, but also stylish. This year, I wanted a pair with a slight heel, but a sleek, understated design that would go with everything. I knew as soon as I saw them that I'd found the perfect pair with these Laura Ashley boots, and I'm very happy to say they have not disappointed!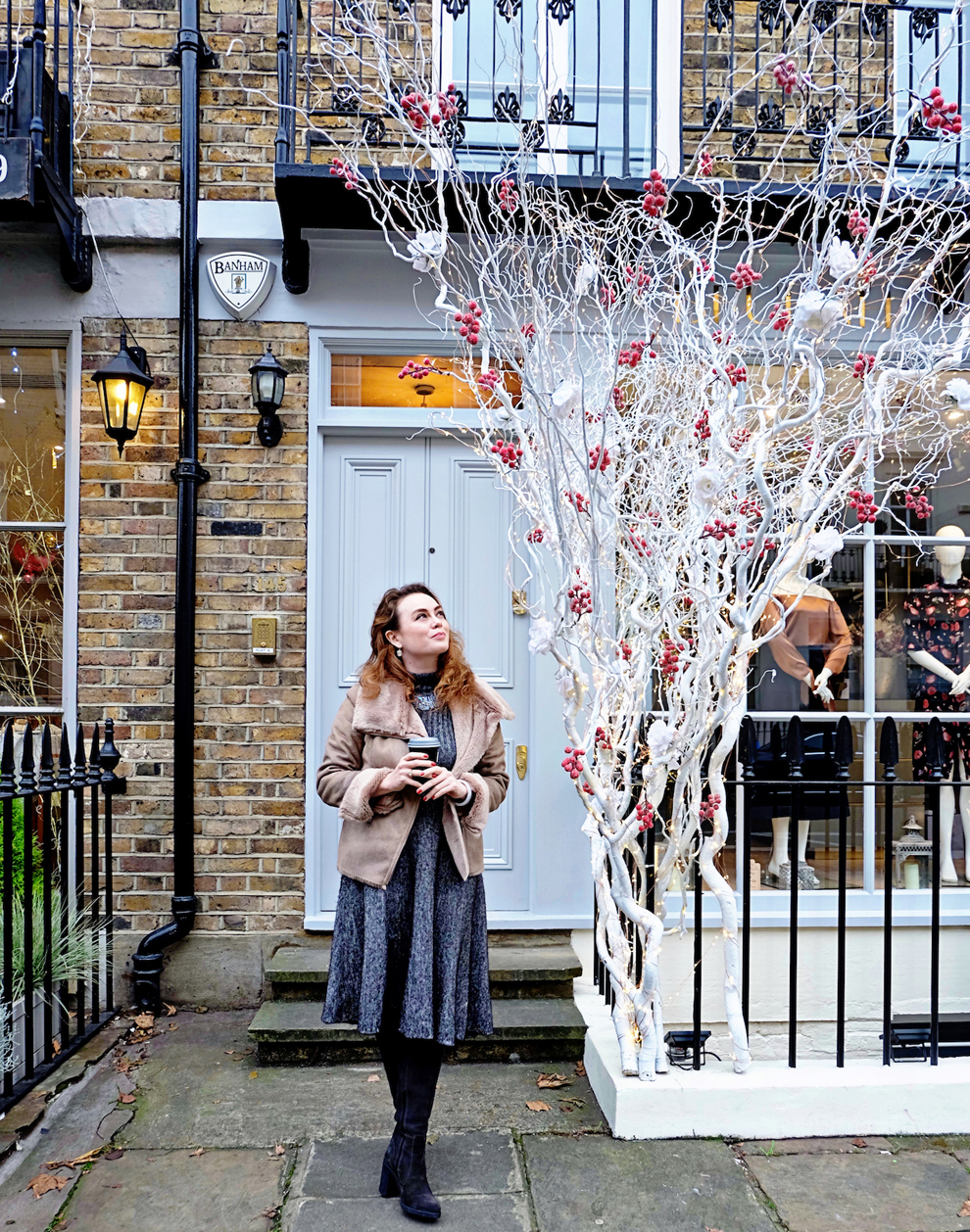 Grey is one of my favourite neutrals, and these boots really do go with everything. I've been wearing them almost everyday ever since they arrived in the post. They're blissfully comfy, which means I can walk for miles in them: perfect for a post Christmas shopping outing!
Thanks Miranda, looking gorgeous as always. We especially love all the gorgeous doorways! What items do you shop for every winter? Let us know below or on Twitter @LauraAshleyUK