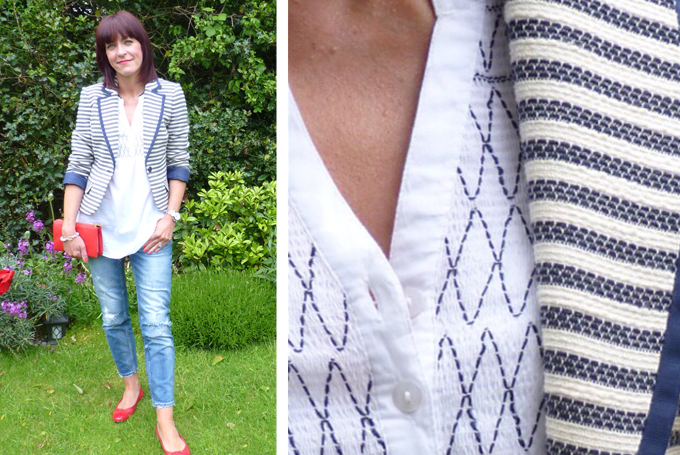 Jane from My Midlife Fashion shows us how to dress down our tailored pieces... read more
Dressing down tailored clothing can be a tricky one, especially in these warmer months when dresses and skirts are automatically your go-to pieces and structured jackets are long forgotten about in the back of your wardrobe. However, there's something oh-so sophisticated about casual tailoring which we love for all kinds of events, from alfresco dining to family occasions. With this in mind, we were keen to put the challenge to the test, so we invited Jane from My Midlife Fashion to style up some of our favourites for Spring / Summer…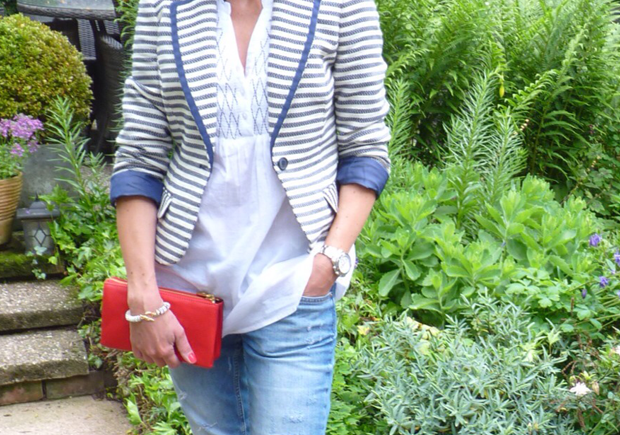 Navy Stipe Jacket / White Cotton Smock
As a lover of all things tailored and fashionable not to mention the owner of the odd jacket or two (I daren't count the true total lurking in my wardrobe!) I was simply blown away by the simple, elegant and understated pieces that were on offer at Laura Ashley. My only problem was what to choose. From simple elegant wide leg linen trousers to a classic chambray shirt in my favourite shade of blue, not to mention an elegant lace shift dress, which would look amazing, teamed with a denim jacket & pumps. I was literally spoilt for choice.
In the end, after much deliberating I decided to pick something I wear all year round come rain, sun or snow – a tailored jacket. Great for teaming with Capri pants and sandals in the summer as well as dressing down for a weekend or the school run with some distressed denim and ballet pumps. Not to mention teaming with a heavy scarf come the cooler months or layering under a trench coat when it rains.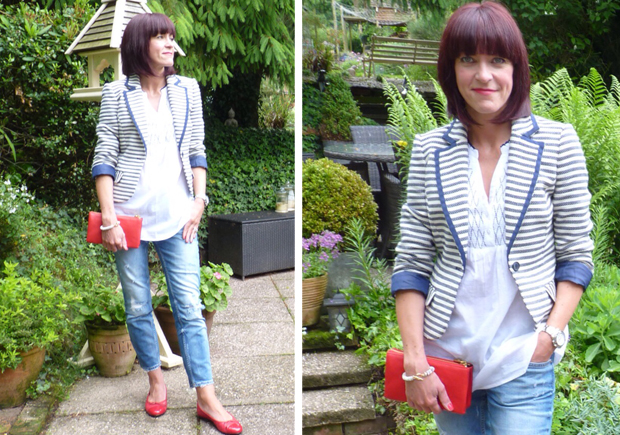 For me a jacket is the prefect way to bring together your whole outfit and this stunning striped blazer just oozes elegance with it's classic cream and navy stripes with the woven texture and fit taking it up a further notch or two.
Of course a jacket like this would look amazing teamed with a classic white shirt or camisole, not to mention worn over a simple shift dress but I wanted to show how easy it is to dress down a tailored item that you may have lurking in your wardrobe and have written off for wearing as part of your weekend/dressed down wardrobe as it just feels to 'office' based.
So to create my casual look I teamed the jacket with this stunning cotton smock top with beautiful navy stitching. A lovely simple top that looks amazing when worn on it's own and teamed with some denim shorts for a stylish beach to bar outfit for a wonderful bohemian feel but also when teamed with a fitted blazer helps to soften the formality of the jacket. To finish I added some distressed ankle length jeans for a more dressed down feel and a splash of colour from a simple cross body bag together with quilted ballet pumps to keep the outfit simple and understated.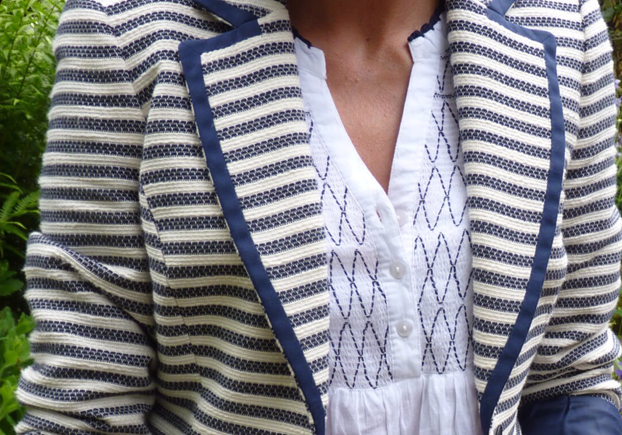 Needless to say the quality and fit of the clothes from Laura Ashley you just know are going to be of a high standard and well made.
Have you found any new ways to dress-down tailored pieces? What do you pair with a tailored jacket to keep it on trend? Do share your ideas in the comments!