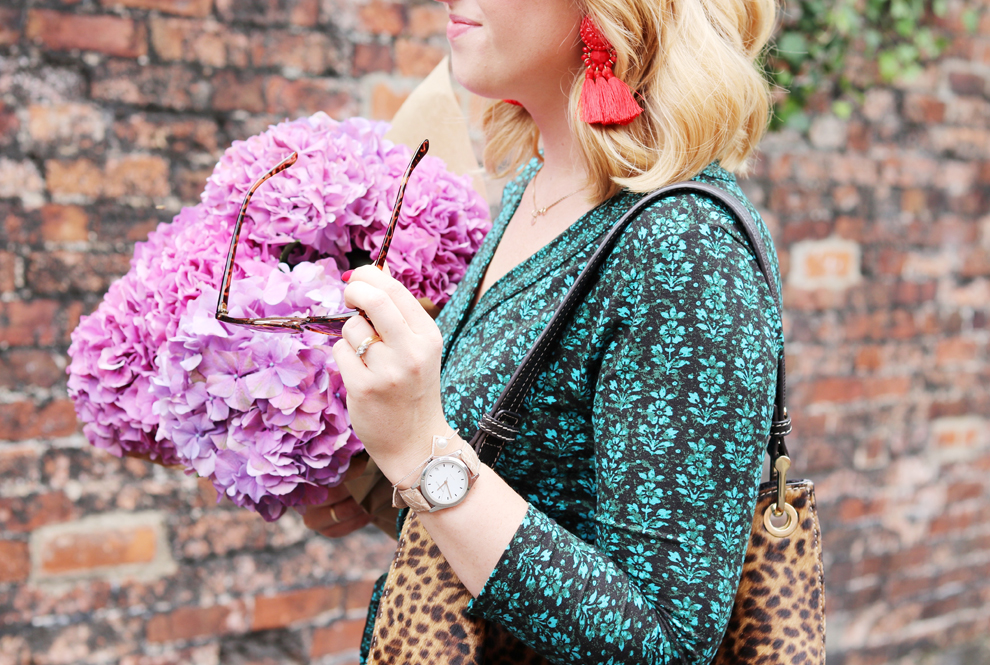 It's never too early for your autumnal wardrobe... read more
With autumn a matter of weeks away it seemed only appropriate to start preparing ourselves mentally for the colder weather and preparing our wardrobe. Knitwear and cosy coats dominate and we love nothing more than wearing dresses with boots and tights. The gorgeous Emily from Brick Dust & Glitter gets a head start on autumnal dressing and chooses these two beautiful dresses from our Woodblock floral collection, great for the warmer weather now but perfect for those colder months…
I can't help it. It happens the same way every year. Summer hits and my eyes are already on thinking about autumn dressing; it's my favourite season. It always has been and that's because it is always perfect. I mean in nature, it is truly beautiful; the colour change of the season is it's most dramatic I think and usually the weather is great. Cooling off but still plenty of sunny days. I love those bright, cold days, they are quite my favourite, and as my favourite clothing item has always been coats and boots, it gives me a chance to layer up after a summer of camis and sandals.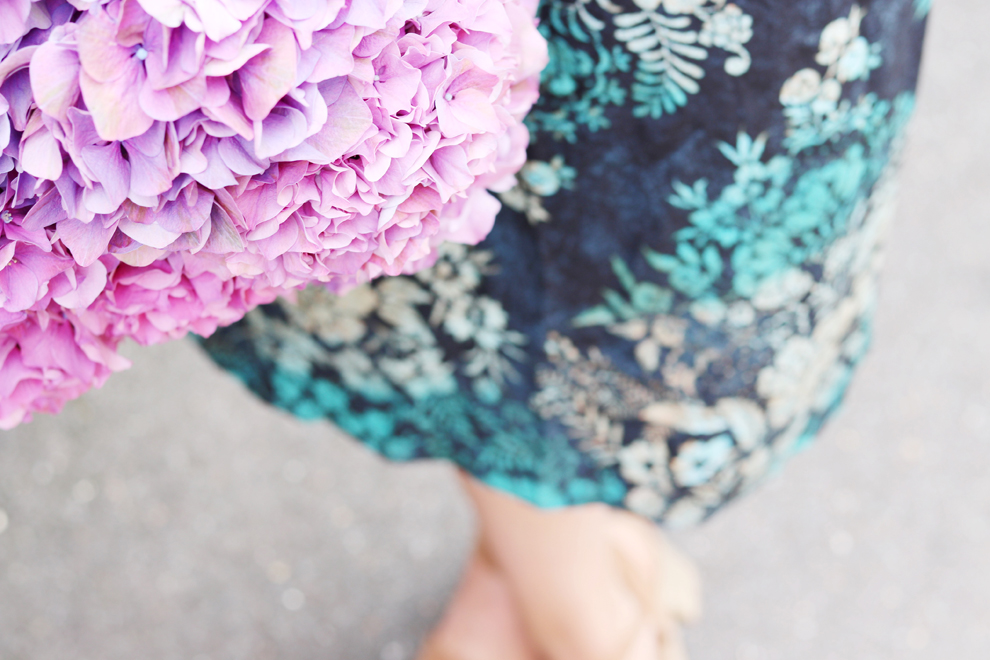 I think as I have my birthday in August I learned in my teens to ask for clothes for wintertime. I didn't get the chance to wear nice new summer clothes for long enough as I would wait until then and inevitably have a very wet August. Nowadays my birthday is the time to ask for a new coat and some boots, I mean, they are already in the shops and you can begin to see autumn trends filtering through. Some people struggle with that but I love it. I love it more being able to buy now knowing that actually this is going to see me out of the summer and well into winter.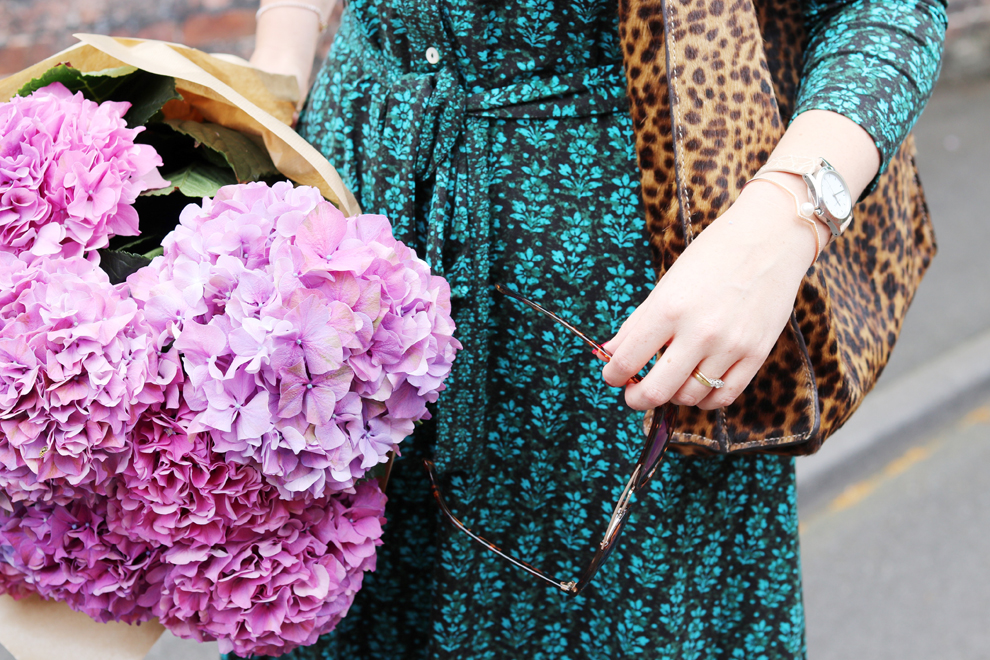 Laura Ashley have just started to drop their autumn/winter lookbook and as soon as I saw it I got excited. They feature some of my favourite colours and combinations that I know are just going to look perfect with tights and boots and a good coat.
For me, dresses are the key. I used to wear dresses every single day, before kids; loved them. But now jeans take up most of my wardrobe. That didn't stop me however when I saw what was new on the website. I mean, dresses, tights and boots are the dream really and I can see me wearing more of these as I become a bit more childfree come September. Jeans are practical; dresses bring a bit more of something special.
As I said, I was looking at what was new now in preparation for autumn really and stumbled across a couple of dresses that will see you through the warm days of summer and layer beautifully when autumn hits.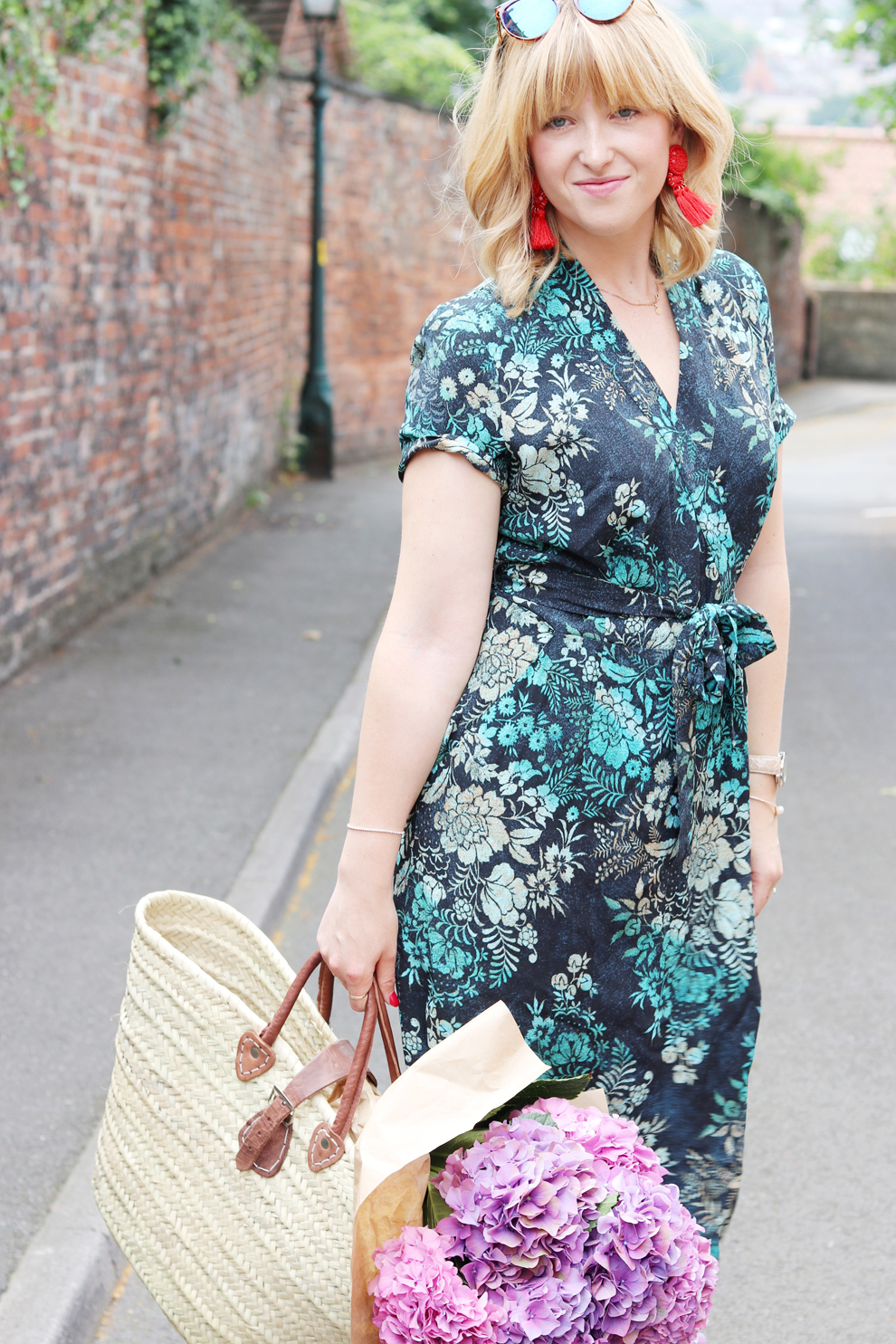 The first thing to point out is the colour. The mixture of shades of green and teal are a great colour for now. Against tanned skin they really pop and are vibrant enough to have as a summer print, but come September when you might want a pair of tights on, their dark base colour means that they will match perfectly, and I can really imagine these looking perfect with tan boots. These dresses are made to team with tan boots aren't they? They just have that look about them.
I love the v neckline and the wrap dress particularly carries such a nice feature. It's almost vintage in style and the length is perfect for daywear or for a more dressy occasion.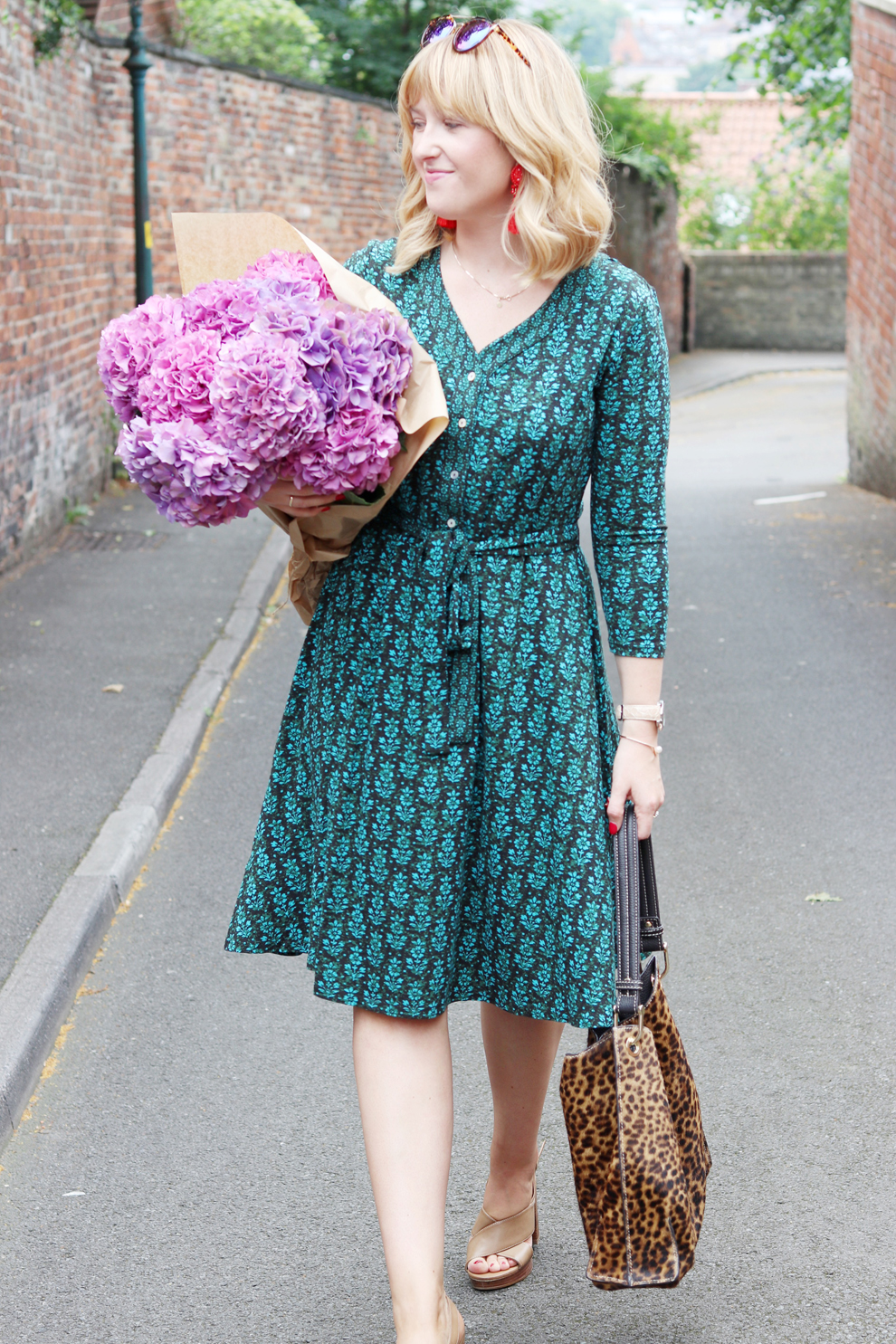 I must say, usually I hate jersey dresses like this beautiful long sleeved one, I always think they look wrong on me but the print and colour are so rich that with simple brown heels and my straw shopping basket it looks so effortlessly easy, but that's because it is, just pull it on and go.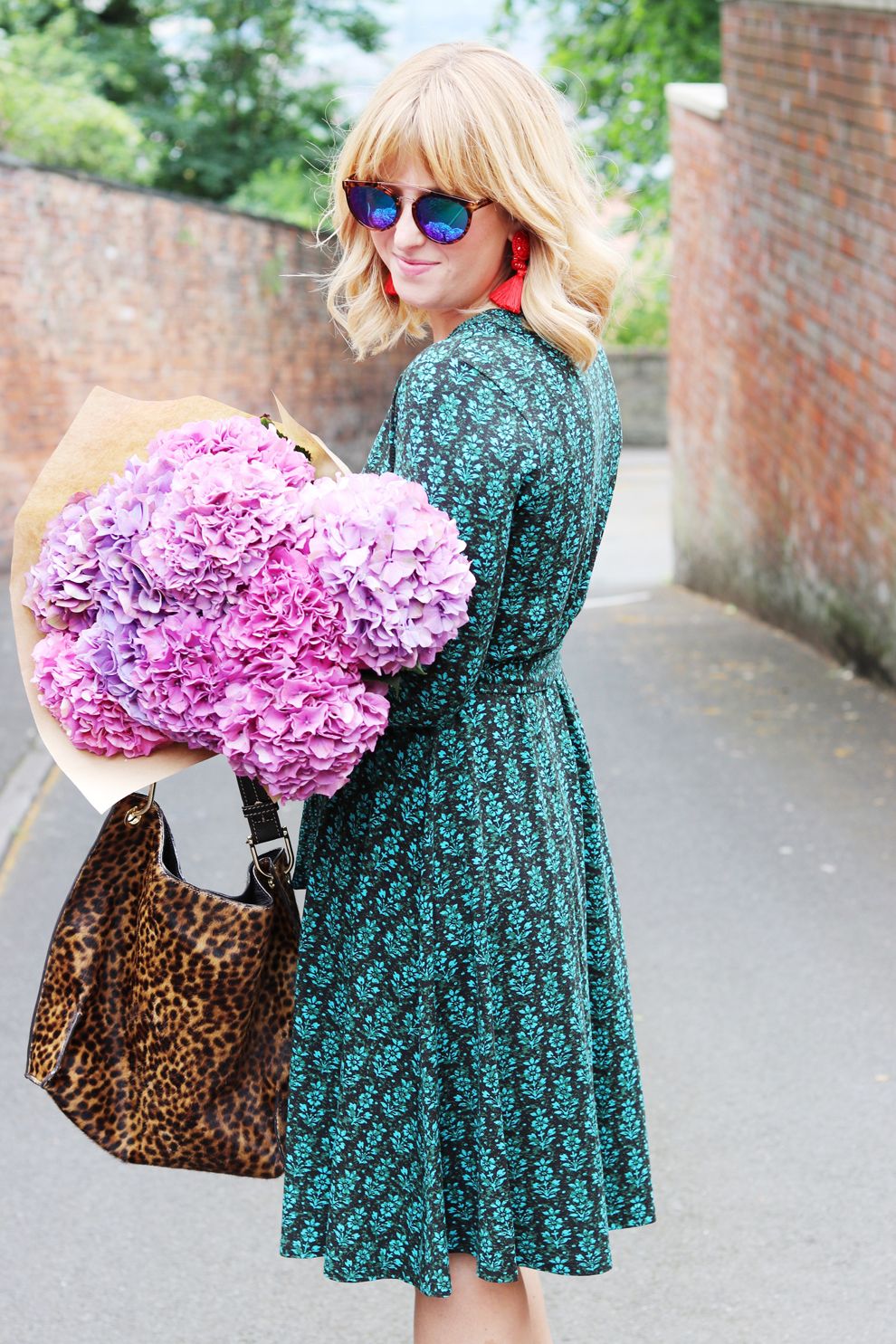 These two new dresses are perfect for now and are going to be even better in the autumn. What kinds of things do you like to buy now knowing that you are going to cross over the seasons with it?
Doesn't Emily look great?! Have you started preparing your wardrobe for autumn? Let us know below or on Twitter @LauraAshleyUK