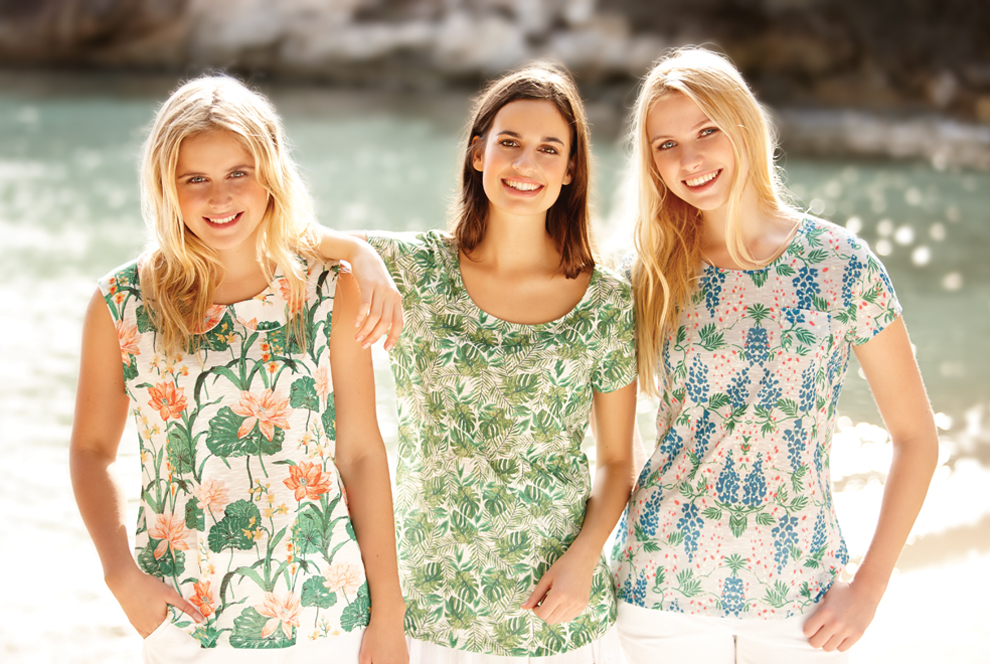 We show you how our Archive-inspired T-shirts can be super versatile… read more
With the British weather so unpredictable, the Archive-inspired Laura Ashley T-Shirts are always a safe bet; styled up or down, at home or abroad, you will love their versatility. Inspired by our Archive collection such as this artwork below, the T-shirts add a pop of colour to every outfit – you will want to wear them every day! Looking for inspiration? Here are 5 ways to wear Archive T-shirts: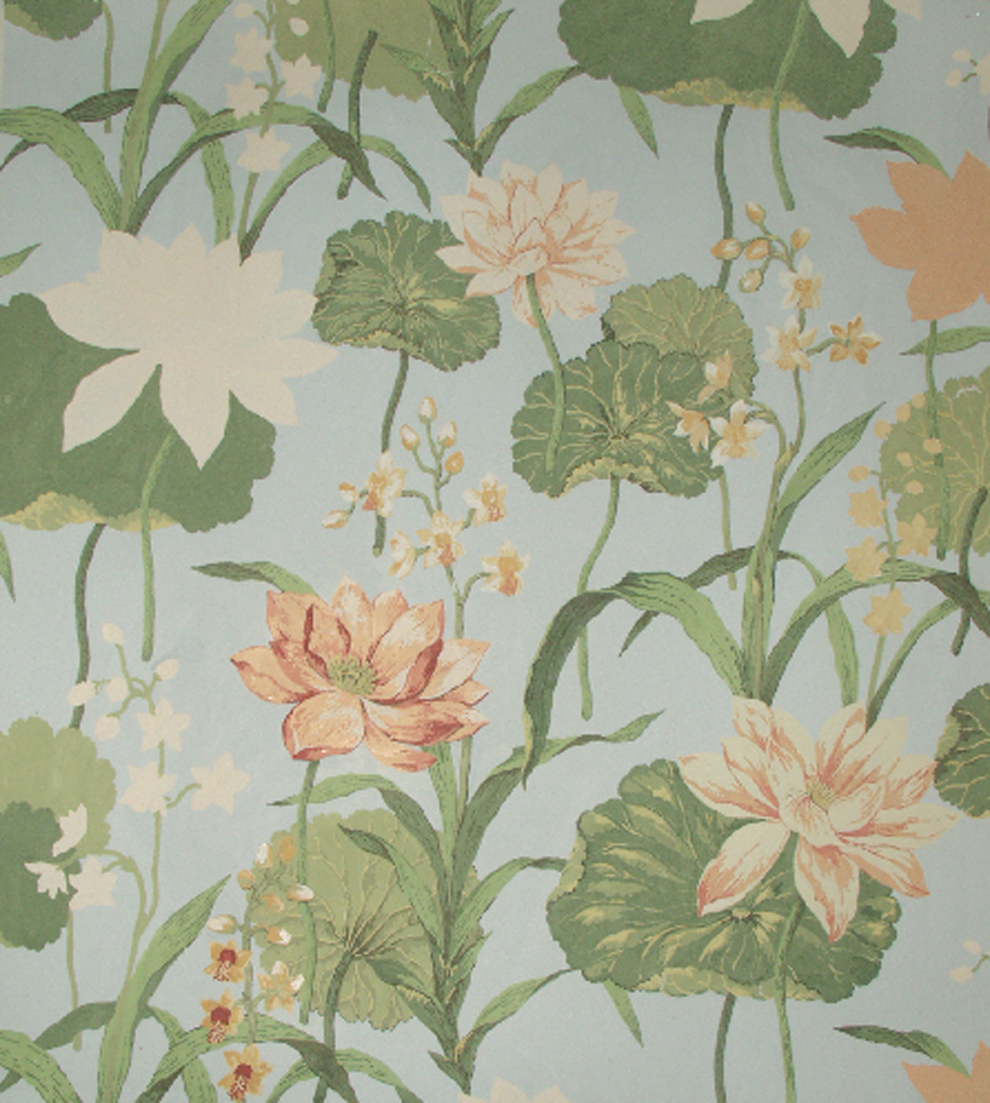 Out and About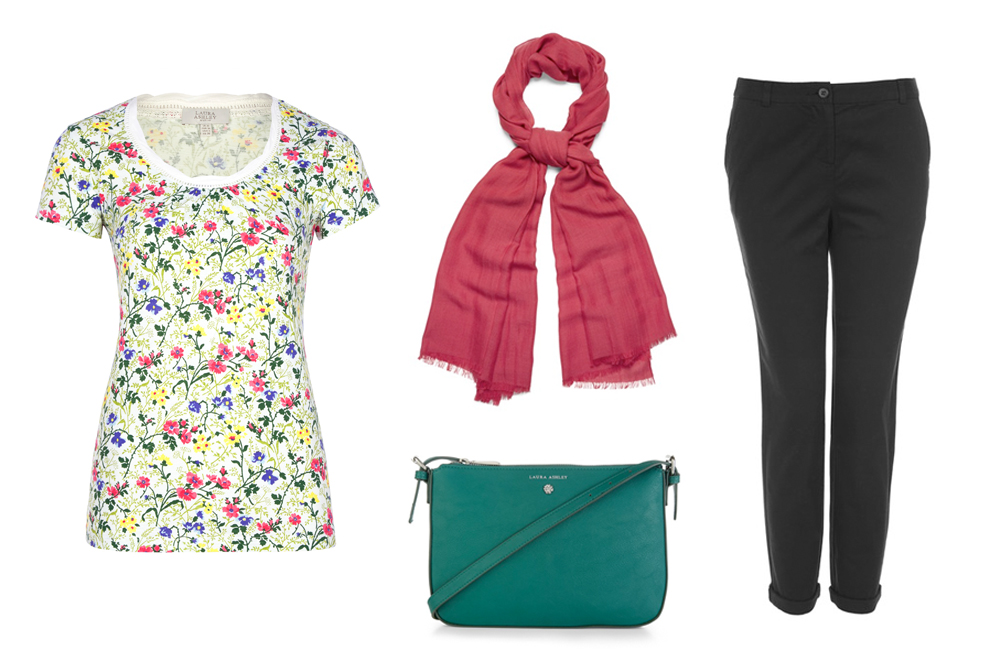 Meadow Print T-Shirt | Red Pashminetta | Green Minimal Cross Body Bag | Black Roll Up Ankle Grazer Trousers
This meadow print T-shirt is the perfect ode to the English countryside. With its intricate design, it is most definitely a 'Laura Ashley' print! How would you wear it? We think it looks great with black Roll Up Ankle Grazer Trousers, creating the ultimate relaxed look. If, however, there's a miraculous heatwave, a Laura Ashley skirt will keep you suitably cool. How to accessorise with florals? We think a bold coloured bag will bring out the gorgeous colours – this green one would look great. For breezy days, a scarf should keep you looking chic – we love this red pashminetta.
On Holiday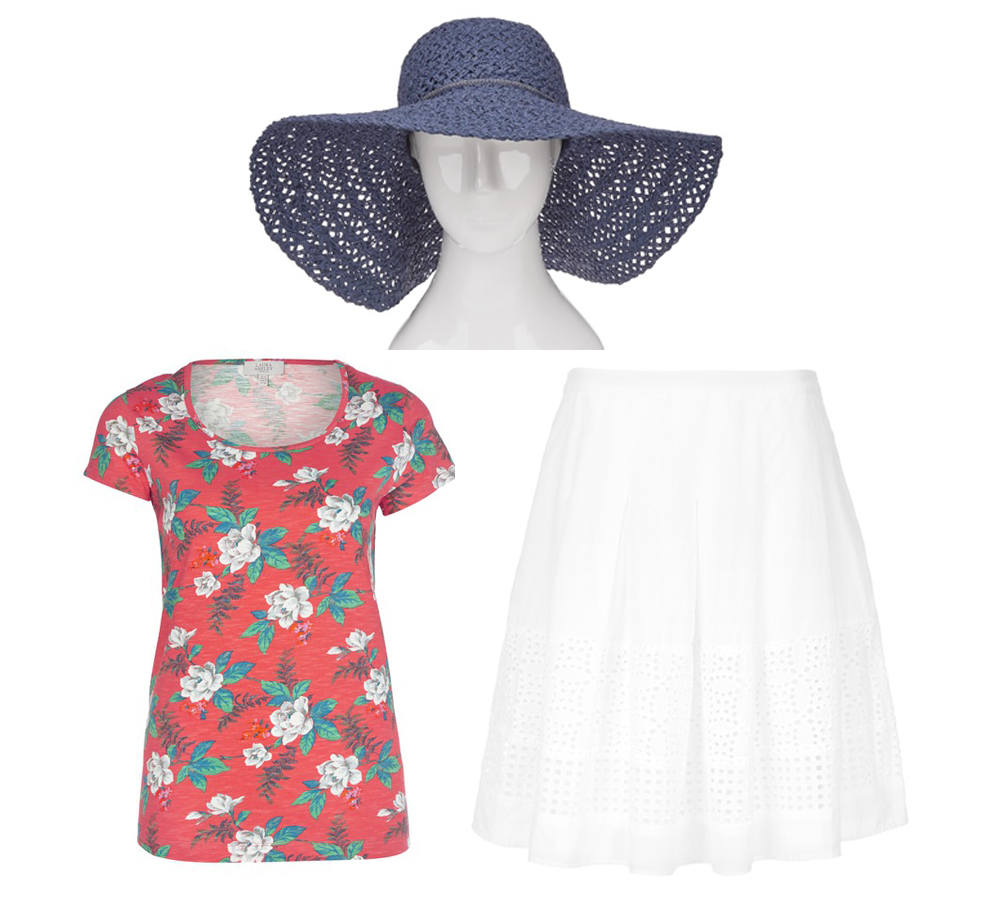 Printed Cap Sleeve T-Shirt in Calypso | Floppy Straw Hat | Broderie Panel Pleated Skirt
The great thing about our T-shirts is that they really don't take up much room in your suitcase! With hot weather, T-shirts help keep you cool and are great for excursions or trips to the beach. Simply match the Printed Cap Sleeve T-Shirt in Calypso with a lightweight skirt, like this Broderie Panel Pleated Skirt, and a floppy straw hat for holiday sophistication. Everyone around the world loves Laura Ashley florals!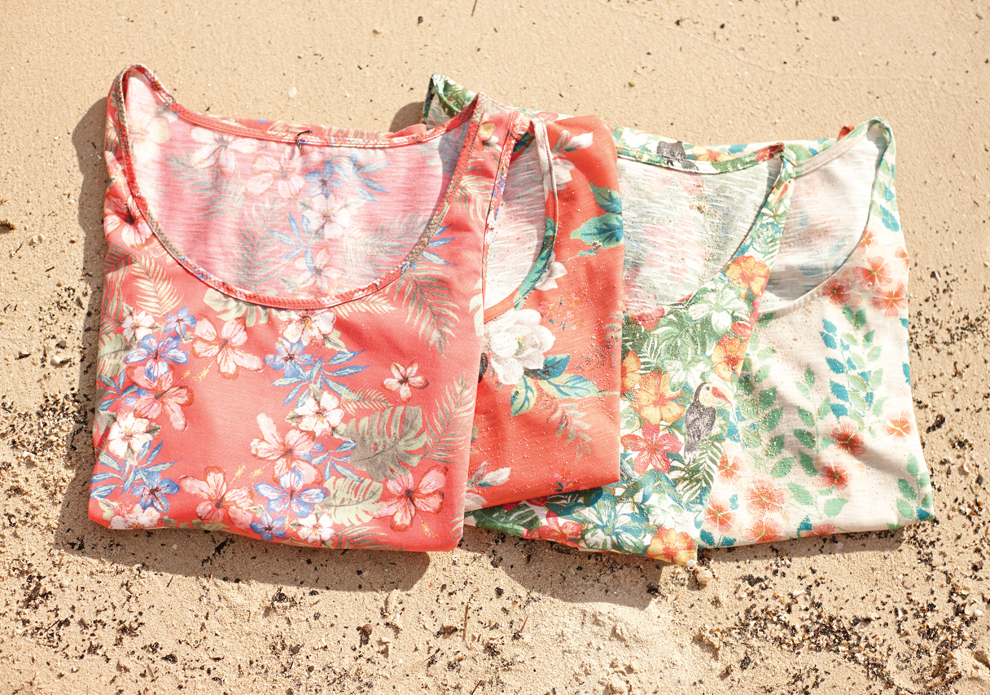 Dressed Up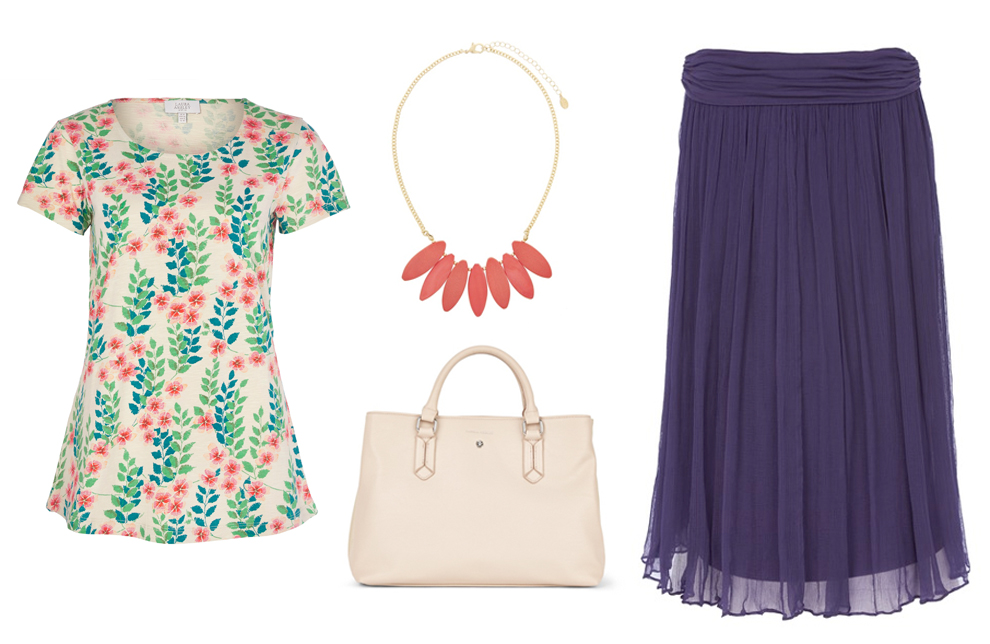 Trailing Floral Print T-Shirt | Petal Necklace | Concertina Tote Bag | Crinkle Midi Skirt
Don't just think that T-shirts are only for casual wear; they can easily be dressed up! The Trailing Floral Print T-shirt is more subtle with its colouring, making it adaptable to suit the evening. What to wear with it? Think romantic skirts just like this Crinkle Midi or even a bold Ribbed Pencil Skirt to add sophisticated glamour to your outfit. Then tuck the T-shirt into the skirt, add a necklace that complements (but not overpowers!) the florals in the T-shirt, choose your favourite neutral bag and you're ready to go! You'll be sure to attract admiring glances (and florals are oh so fashionable right now).
Weekend Away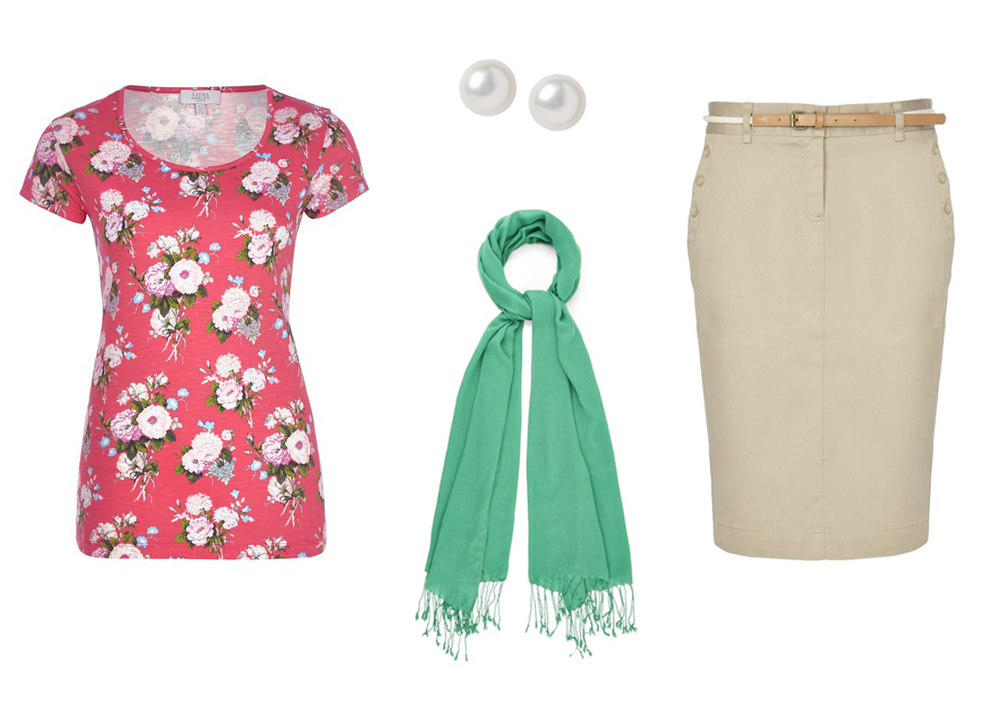 Printed Cap Sleeve T-Shirt in Geranium | Sterling Silver Freshwater Pearl Stud Earrings | Green Pashminetta | Belted Chino Skirt
Going away for a weekend? Yep, you guessed it; our Archive T-shirts will be perfect for that, too! Take this Printed Cap Sleeve T-shirt in geranium – it's so pretty and the colour is divine! Wear with a Belted Chino Skirt, your favourite Laura Ashley scarf and some gorgeous earrings – perfect weekend away attire, don't you think?
Around the House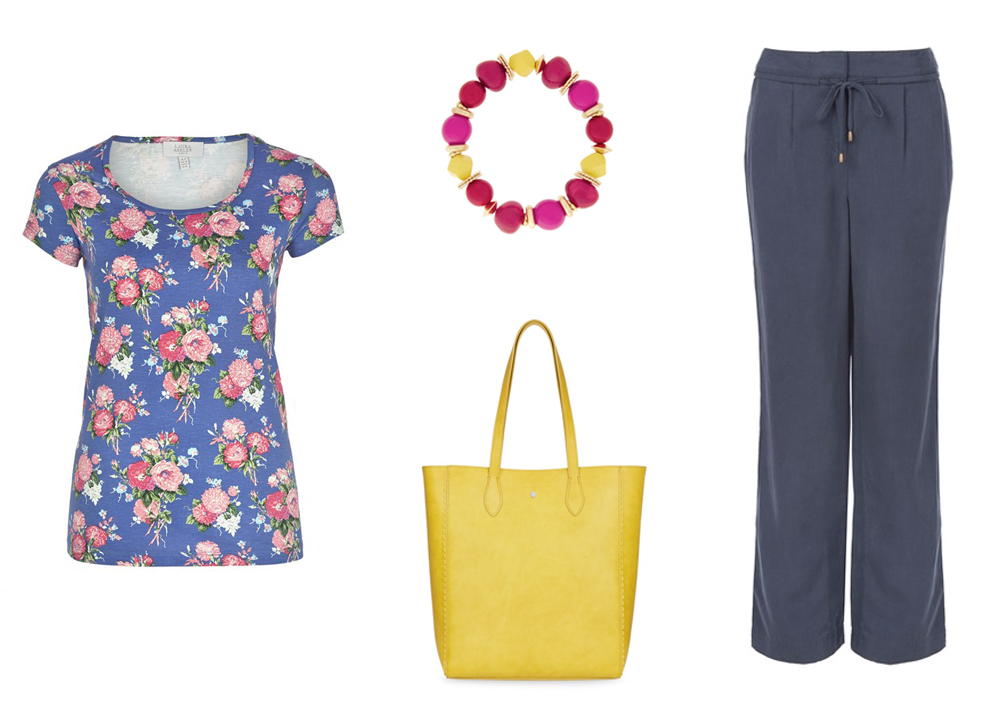 Printed Cap Sleeve T-Shirt in Bluebell | Bright Bead Stretch Bracelet | Yellow Scallop Trim Unlined Shopper Bag | Relaxed Wide Leg Trousers
Last but most definitely not least, our T-shirts are nice just for pottering around the house. That shouldn't mean you can't look fabulous! The Bluebell print is adorable and will look lovely with comfy lounge wear, such as these Relaxed Wide Leg Trousers. To take your outfit to the next level, this is where Laura Ashley accessories come in – the colours from the Boho Brights collection really bring out the florals in the T-shirt.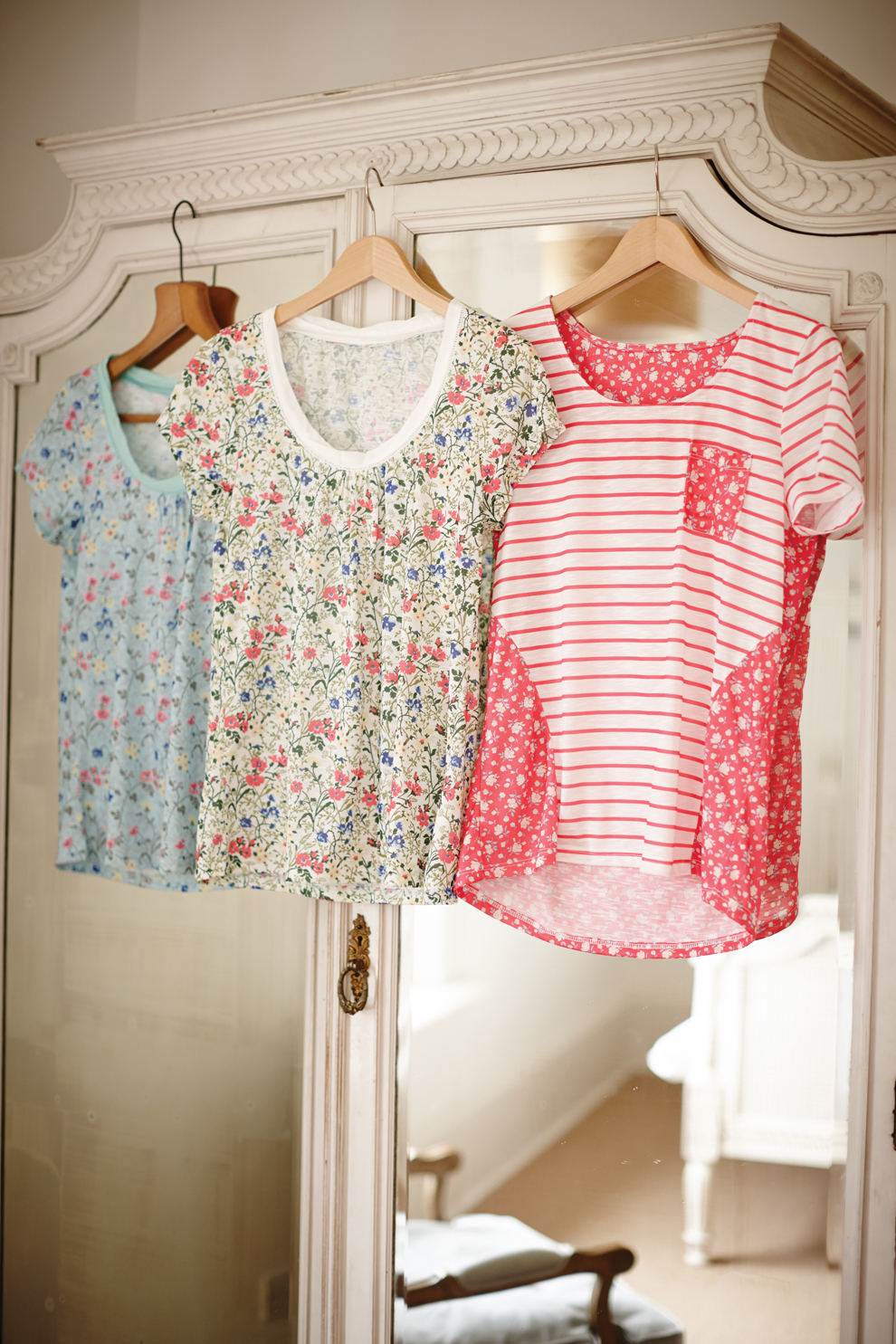 Do you love the Archive T-shirts as much as we do? You can shop all of our T-shirts here and don't forget to tell us your favourite below or on Twitter at @LauraAshleyUK