Treat your utility to a summer refresh with some new accessories read more
Refresh your utility room and treat it to some new accessories with some help from the lovely Judy from French Grey Lifestyle.
Our utility room is the first room that most people see when they come into our house. Although not intentional, it is a bit of a thoroughfare for family and friends when they pop round for a cuppa. This means that hubby and I always try and keep it looking as spotless as possible despite it being working room. It has endless loads of laundry going into the washing machine and dirty wellington boots lined up under the bench. Hugo the cat often sleeps in here too (anyone who has seen his adventures on my Instagram will know that he enjoys climbing trees, playing in hedges and running around a good muddy field) so that presents its own challenge.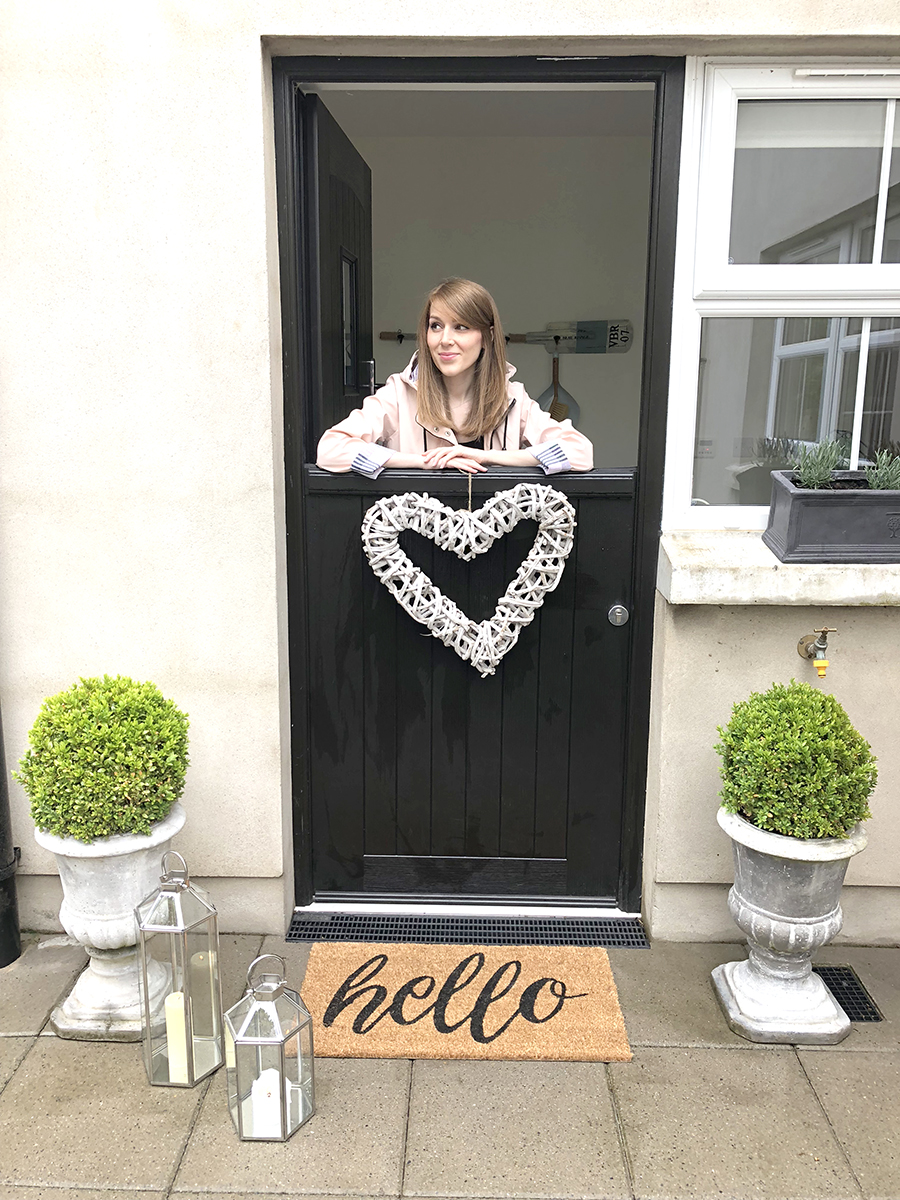 My utility room has always had a bit of a nautical theme. It accidentally stemmed from a purchase of a decorative paddle which I ended up mounting on the utility room wall. It looks great on the wall, plus its practical too…being used to hang everything from keys to coats. I still love it and didn't want to replace it. So when presented with the challenge of refreshing the utility room I decided to keep it and style around it. I selected items that complemented the flashes of blue on the paddle. Just like this Dylan Seaspray cushion, a perfect addition along with the pompom throw to style my little wooden bench. Which sits below the paddle. I know it will be envied by many who visit, I don't know anyone that doesn't love a pom pom.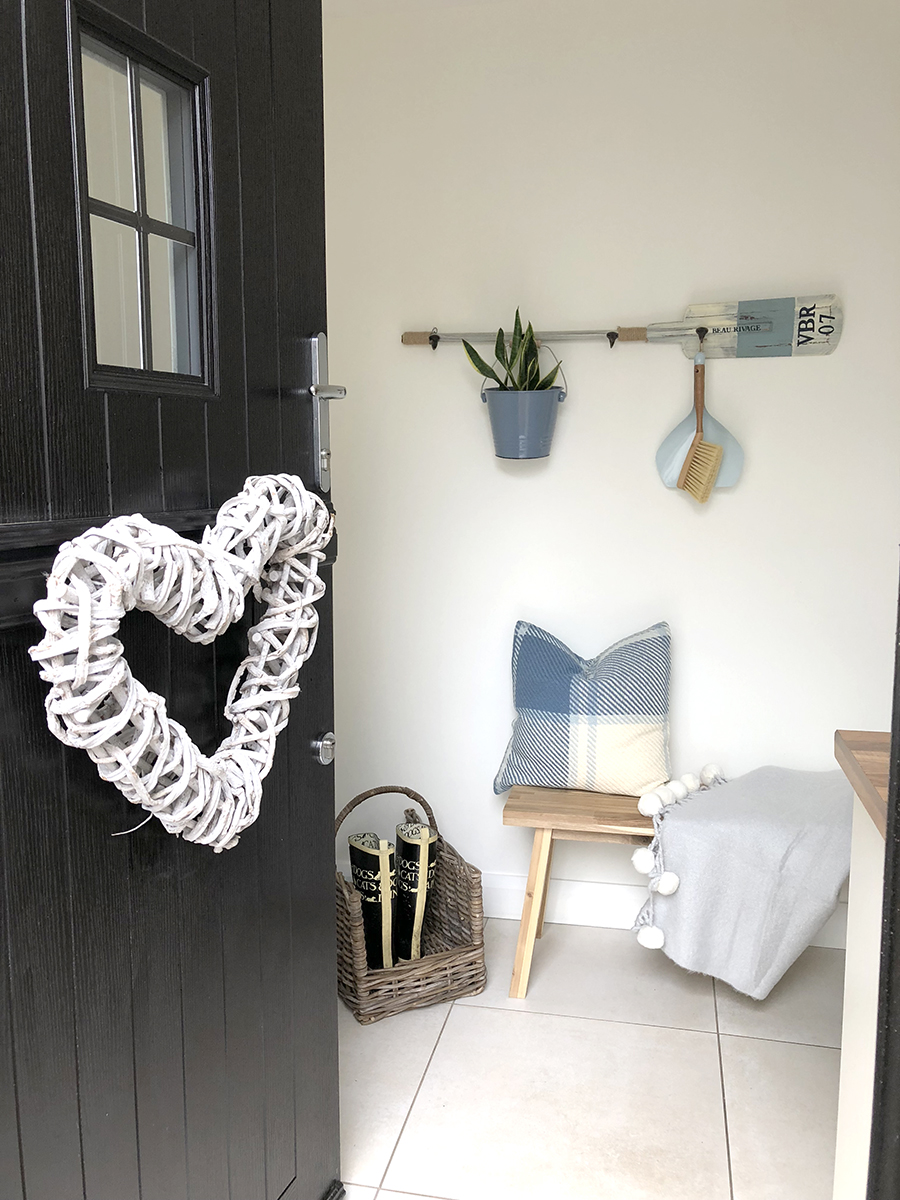 One of the favourite features of my utility room (and probably my entire house) is the stable door. I'd always wanted one and so made sure to include one when planning to build our home back in 2013 and had selected the specific one I wanted before a single brick was laid.
When it isn't raining (which let's be honest isn't very often) I love to set storm lanterns outside, just making the back door entrance to the house feel a bit more special and these Ellington Hexagonal Lanterns are just perfect for that.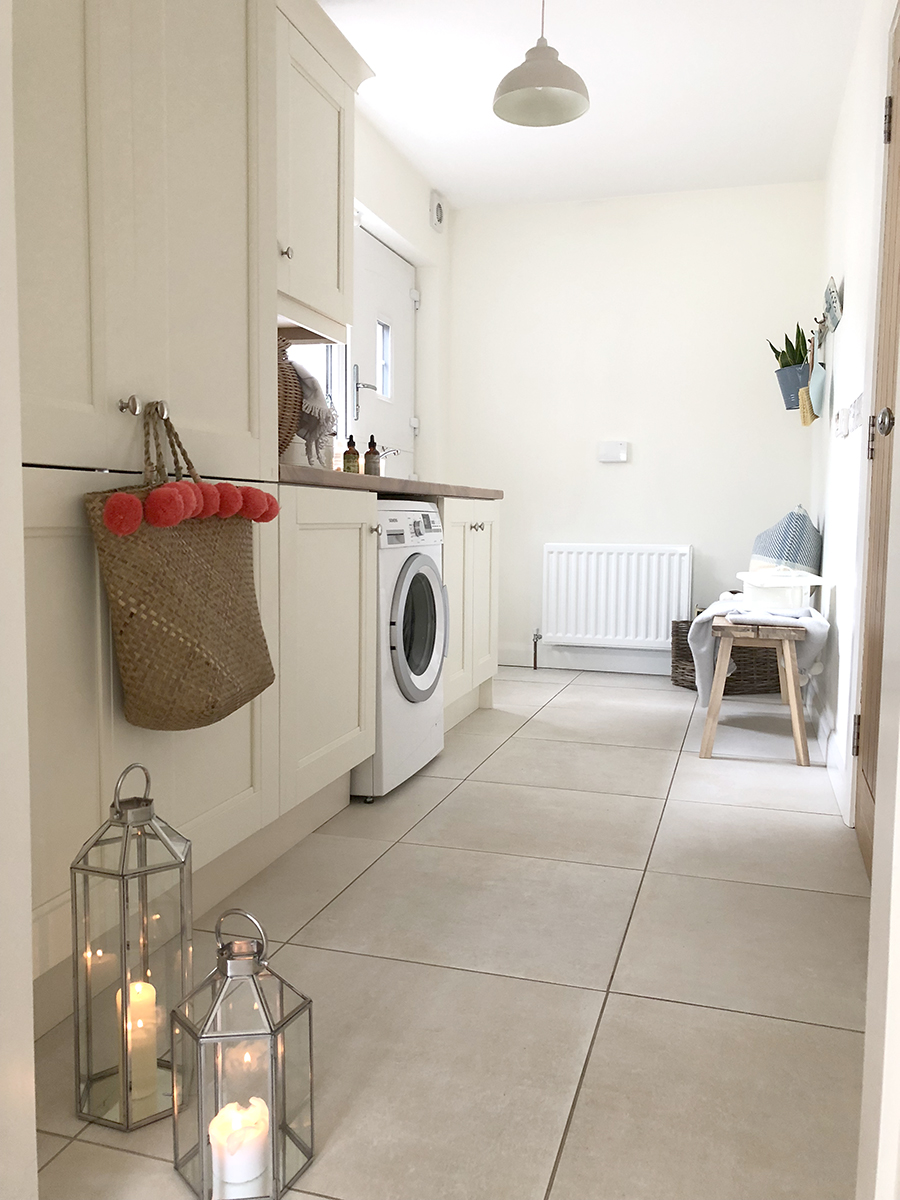 In our house, storage is really important and if you are like us, then it always seems like there is never enough. We have lots of built-in storage but I also like to use rattan and wicker storage baskets dotted throughout the house to give easy access to thing whilst also looking super stylish. I use them for firewood, blankets, toys, magazines…pretty much anything you can think of. This Apple shaped wicker storage basket is so cute, I'm using it to store sunglasses, keys and those other little trinkets that often clutter the house.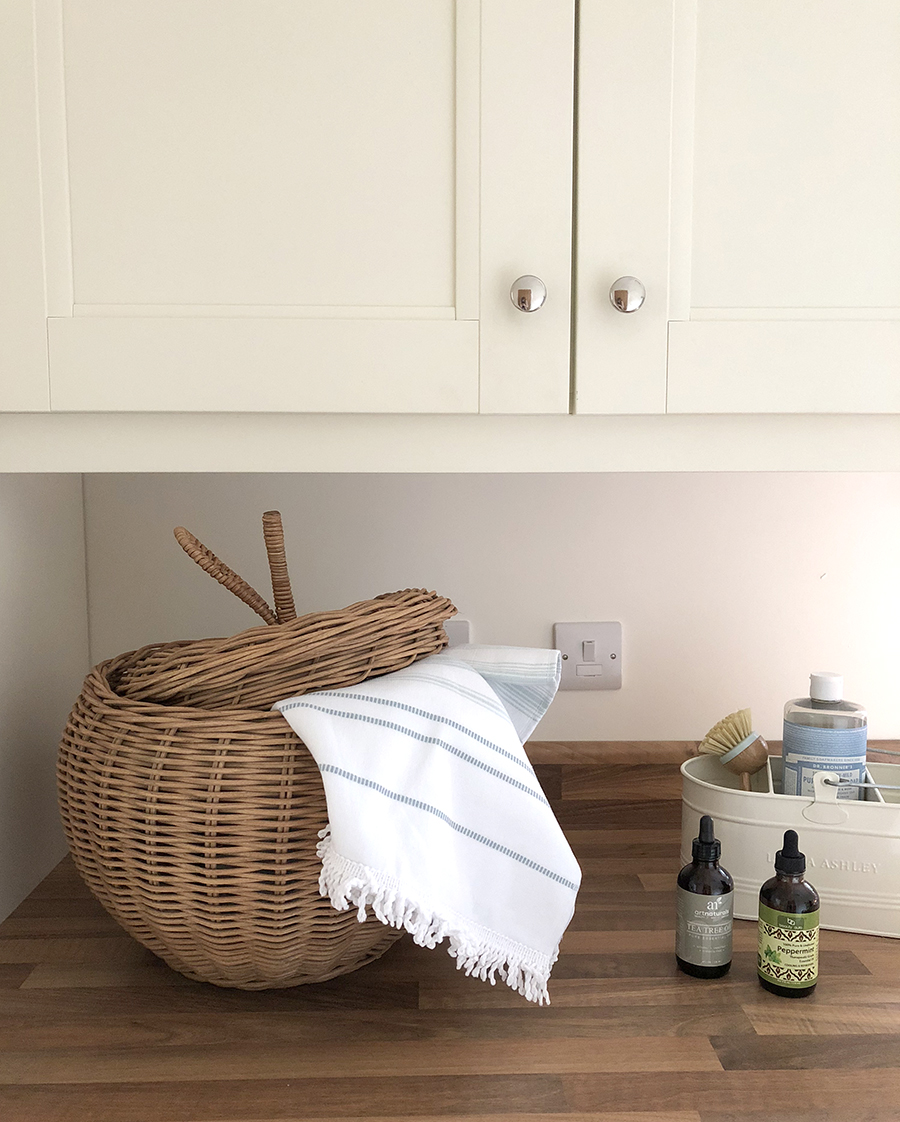 No utility room is complete without an enamel caddy and storage boxes. I love these as it helps keep my cleaning stuff organized especially in those cupboards under the sink which often get disorganized very quickly. I have one under the kitchen sink, and two under the utility room sink…keeping clothes washing materials separate from other general purpose cleaning materials.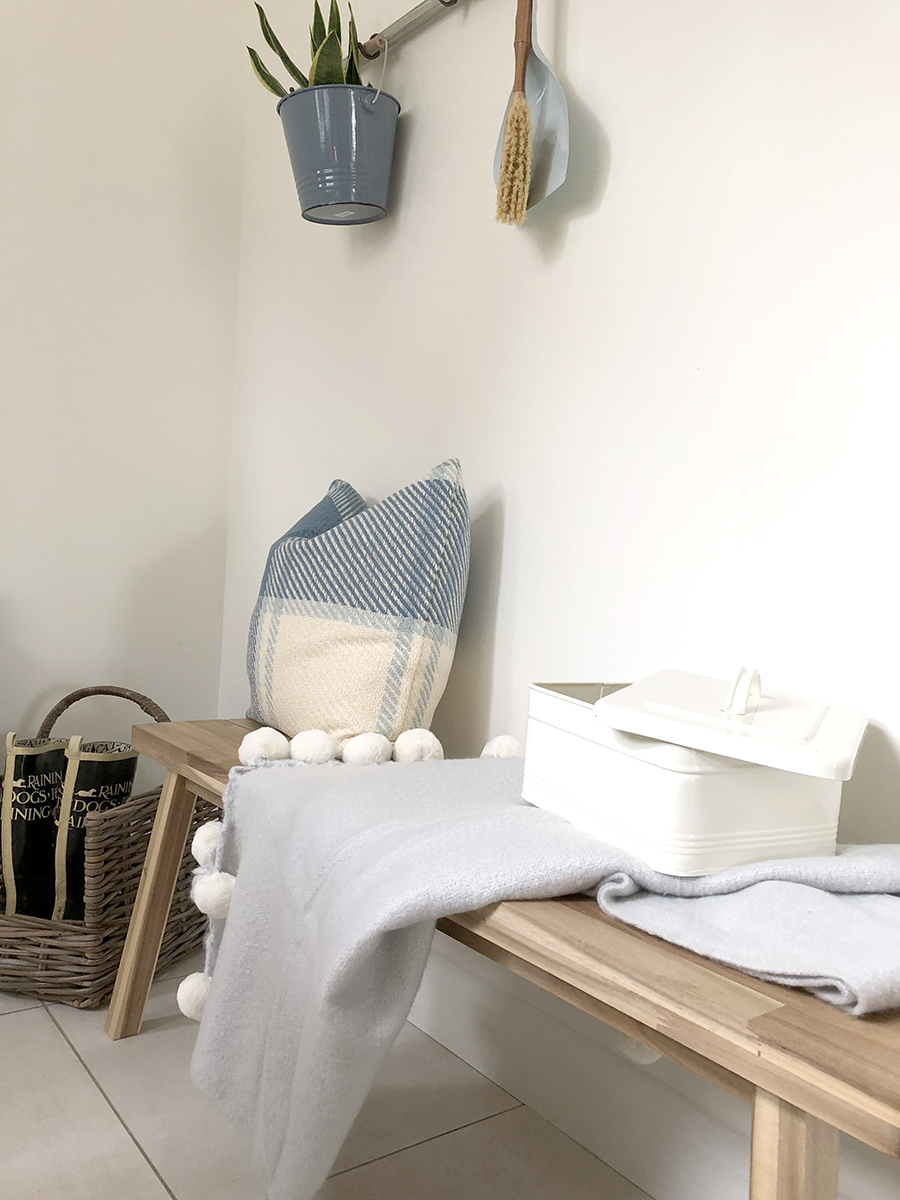 Hubby and I decided about a year ago to try and reduce the number of chemicals we use in our home. So we have started to make some of our own cleaning materials using more natural ingredients. Apparently, lots of household cleaners include dangerous chemicals are no more effective at killing germs and bacteria than soap and water. So by making your own, you are not only using less toxic ingredients but also spending less money which is a win-win. My go-to all-purpose spray cleaner is really simple. – there are loads of different recipes online but this one works for me.
What you need
A spray bottle ¾ filled with distilled water
1 tablespoon of liquid castile soap
6 – 8 drops of tea tree oil
4 – 5 drops of orange oil
 Mix the water, soap and oils together in the spray bottle and shake. Store out of direct sunlight and label it. Make sure to give it a little shake before using it each time.
 I hope you enjoyed taking a little peek at my utility room and feel inspired to show yours a little love too!
If you would like to keep up with me, you can follow me on Instagram @french_grey_lifestyle and my blog at www.frenchgreylifestyle.co.uk
Much Love,
Judy xo
How do you like to style your utility? Let us know below or @LauraashleyUK.