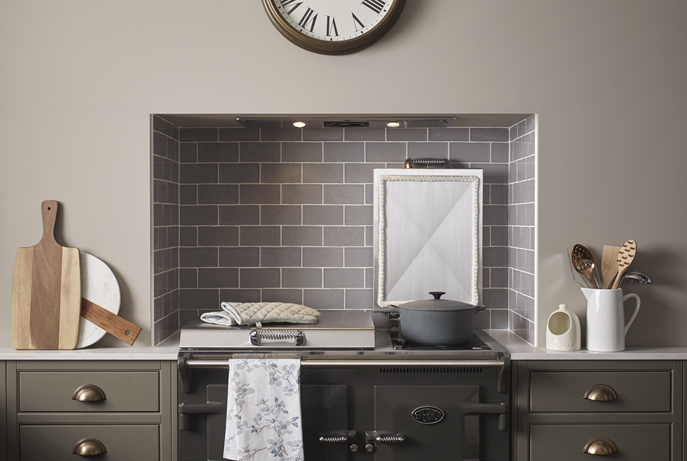 Give your kitchen the refresh it's been craving with some tips from the kitchen experts. read more
Learn how to give your kitchen a modern refresh with some tips from the Symphony's Interior Design Manager, Josie Medved and Communications and Brand Manager, Leanne Broadhead—who have worked closely with Laura Ashley on the Laura Ashley Kitchen Collection. We asked Josie and Leanne what is on trend this season and how to perform a successful kitchen renovation that will give your cooking space a modern look that will stand the test of time.
What do you think makes the most difference when renovating the kitchen area?
1. Re-planning the position of units and appliances to create an efficient working space. The Laura Ashley Kitchen Collection designers always try to find out how the customer is using the existing space, before recommending a new layout, so that what they design is practical for you and your home. This will result in an improvement to the way you cook, store things and socialise in a space.
2. If your kitchen works well on a practical level then choosing a completely new style and colour of kitchen will provide a striking difference.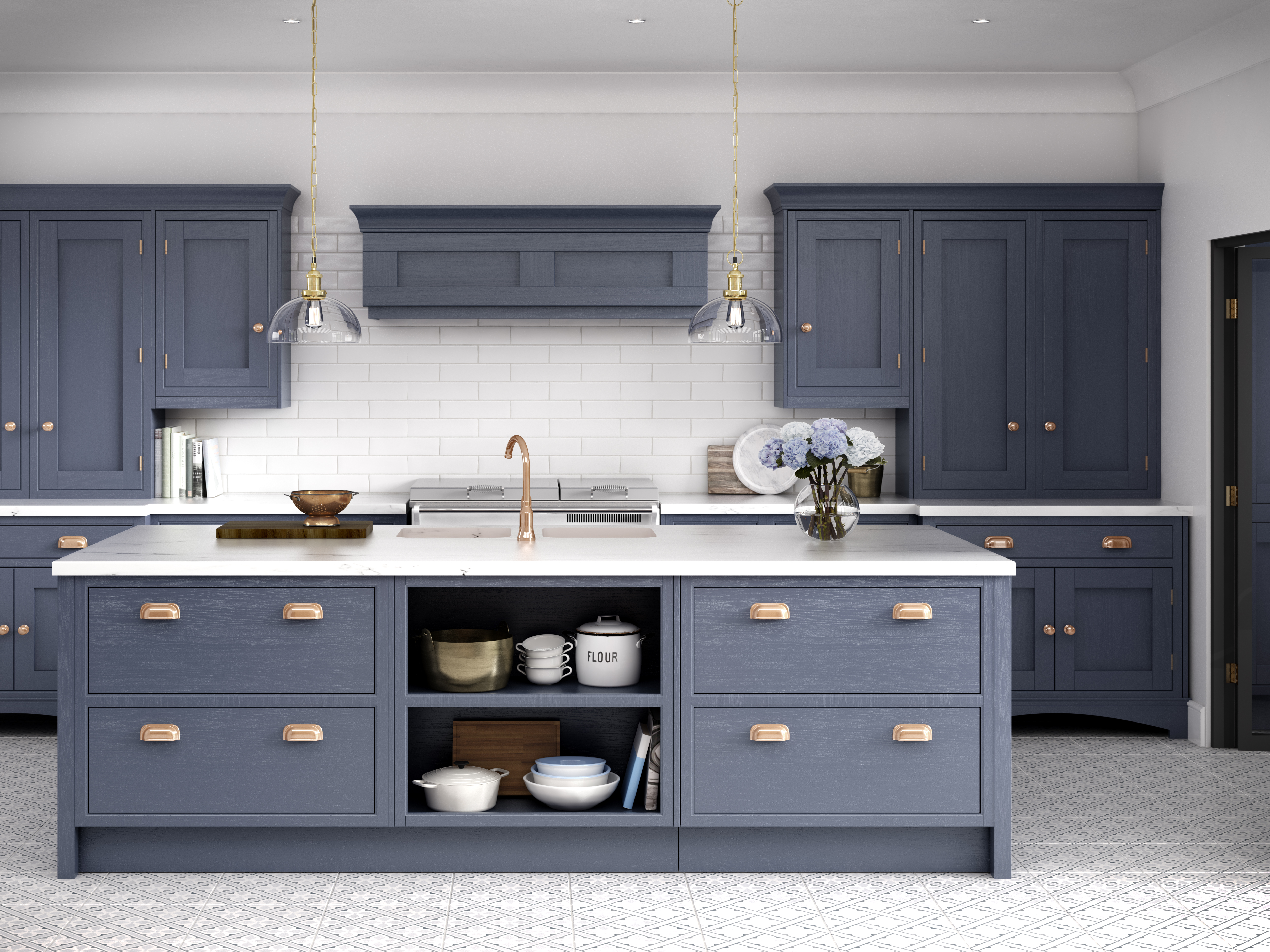 What are some of the most popular kitchen colour palettes at the moment?
Dark and dramatic colours are popular in kitchens this season, emerging alongside the trend for creating more eye-catching spaces in the home. Colours like Anthracite and Midnight Blue are great shades that fit with this trend and are best teamed with bright chrome, copper or brass handles. Blue and grey tones are popular and our Laura Ashley shades of Midnight Blue, Skylon Grey, Cobble Grey and French Grey are in demand with our customers.
For those searching for an understated and traditional muted look, earthy palettes remain fashionable with Clay and Sage the most popular paint finishes in the Laura Ashley Kitchen Collection.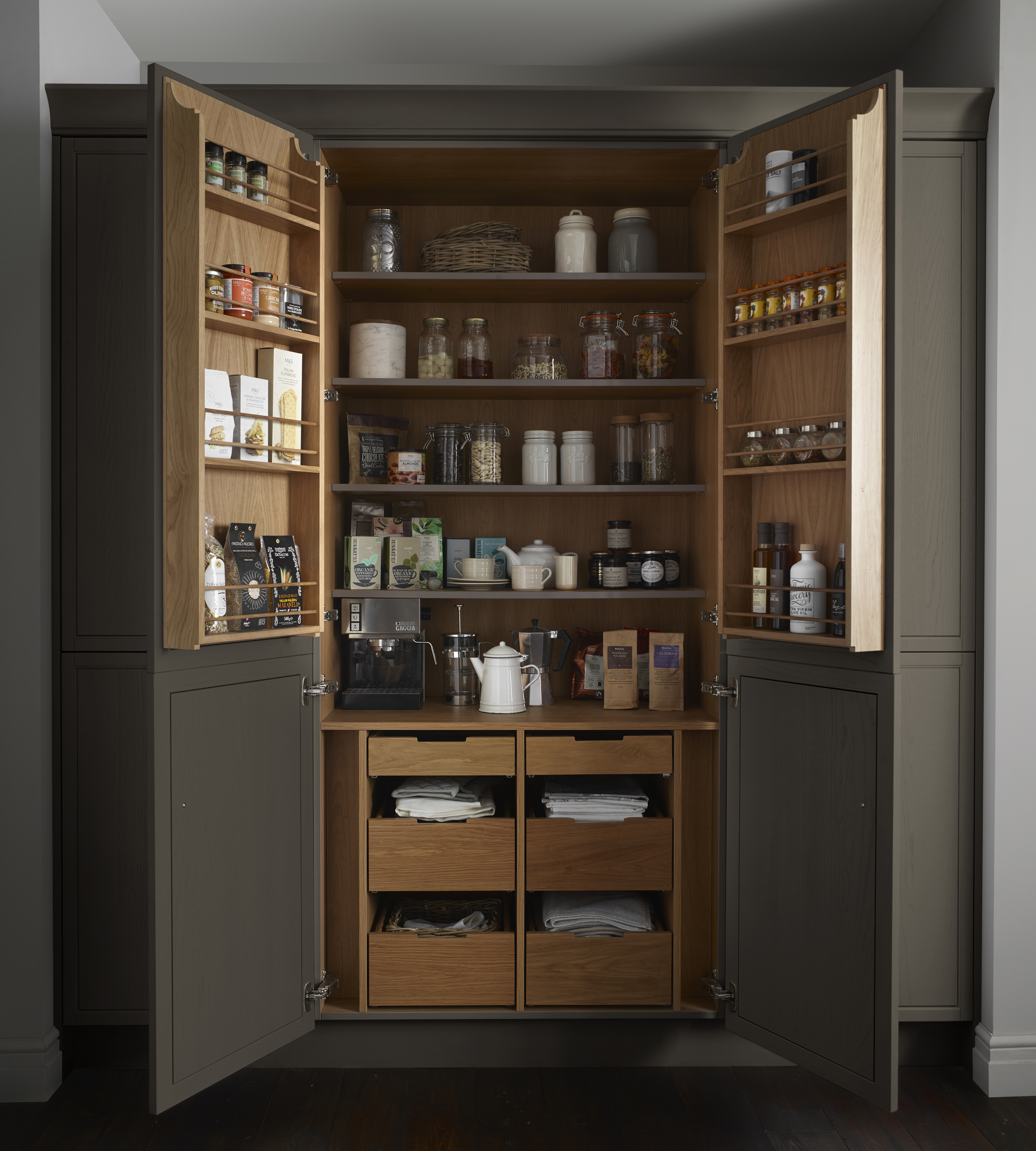 What are some of the kitchen trends you have seen emerging this season?
The trend for open plan is still going strong, although rather than being completely open plan, ground floor living spaces are often now referred to as "broken plan" – a design idea, where cooking, dining and living areas are zoned and flexibly divided from one another with different flooring, open shelving units, furniture and kitchen islands.
Butler's pantries are very popular with lots of deep shelves for jars of preserves and groceries and then shallow timber spice shelves behind the doors. A marble slab countertop half way down the unit adds to the traditional Victorian larder look.
On a similar theme tall larder units with a particular storage theme such as "breakfast" with space for cereal packets, juice bottles, jugs, bowls and mugs – everything associated with breakfast and especially useful if you have guests to stay. Another variation is a drinks larder with all types of coffee and tea, percolators and cafetières, tea pots, cups and saucers. You could use the same units to create a cocktail bar.
Bi-fold wall units are another trend. Closed with base units underneath they look like a traditional dresser but then open up fully to reveal the storage space.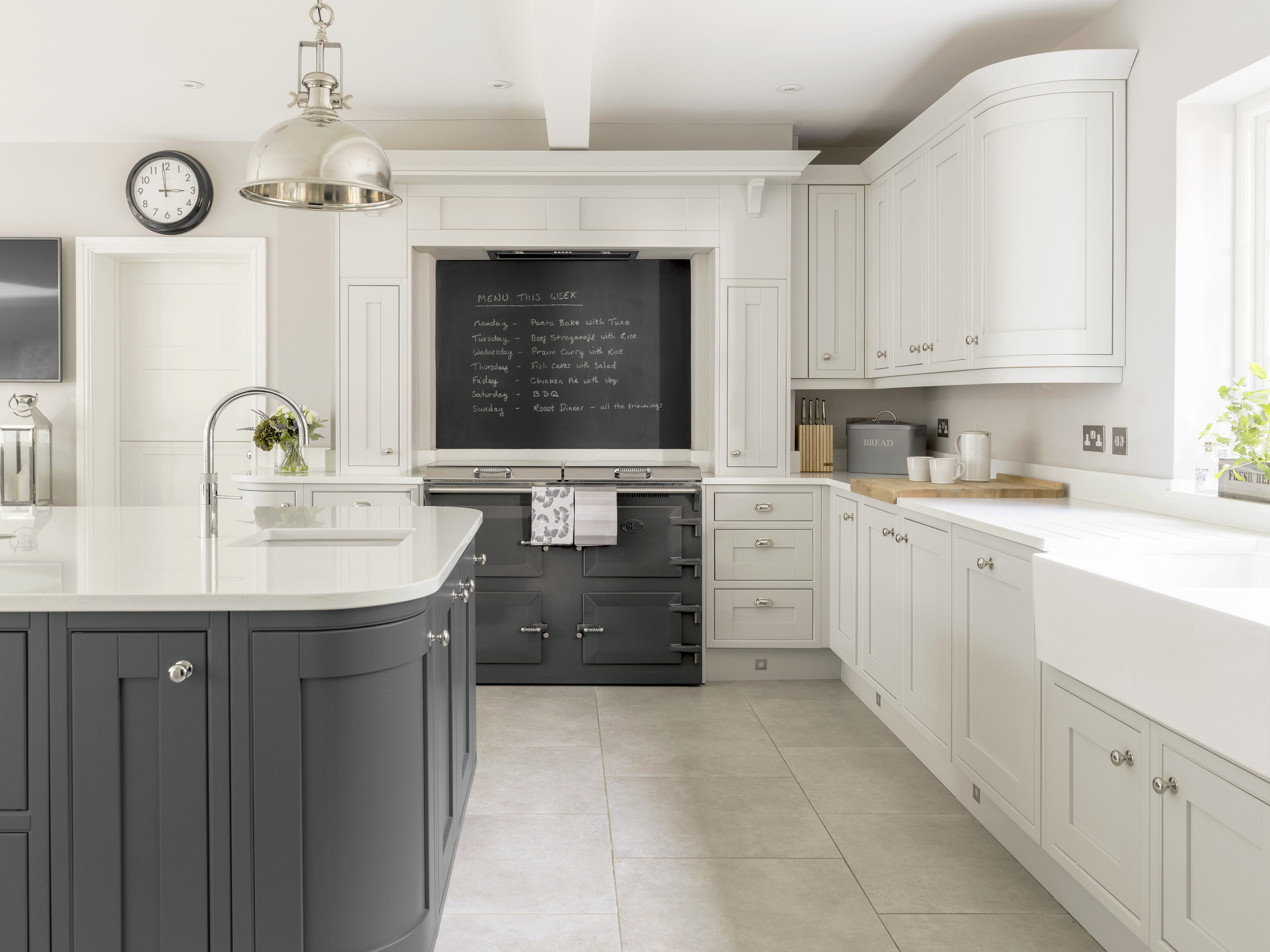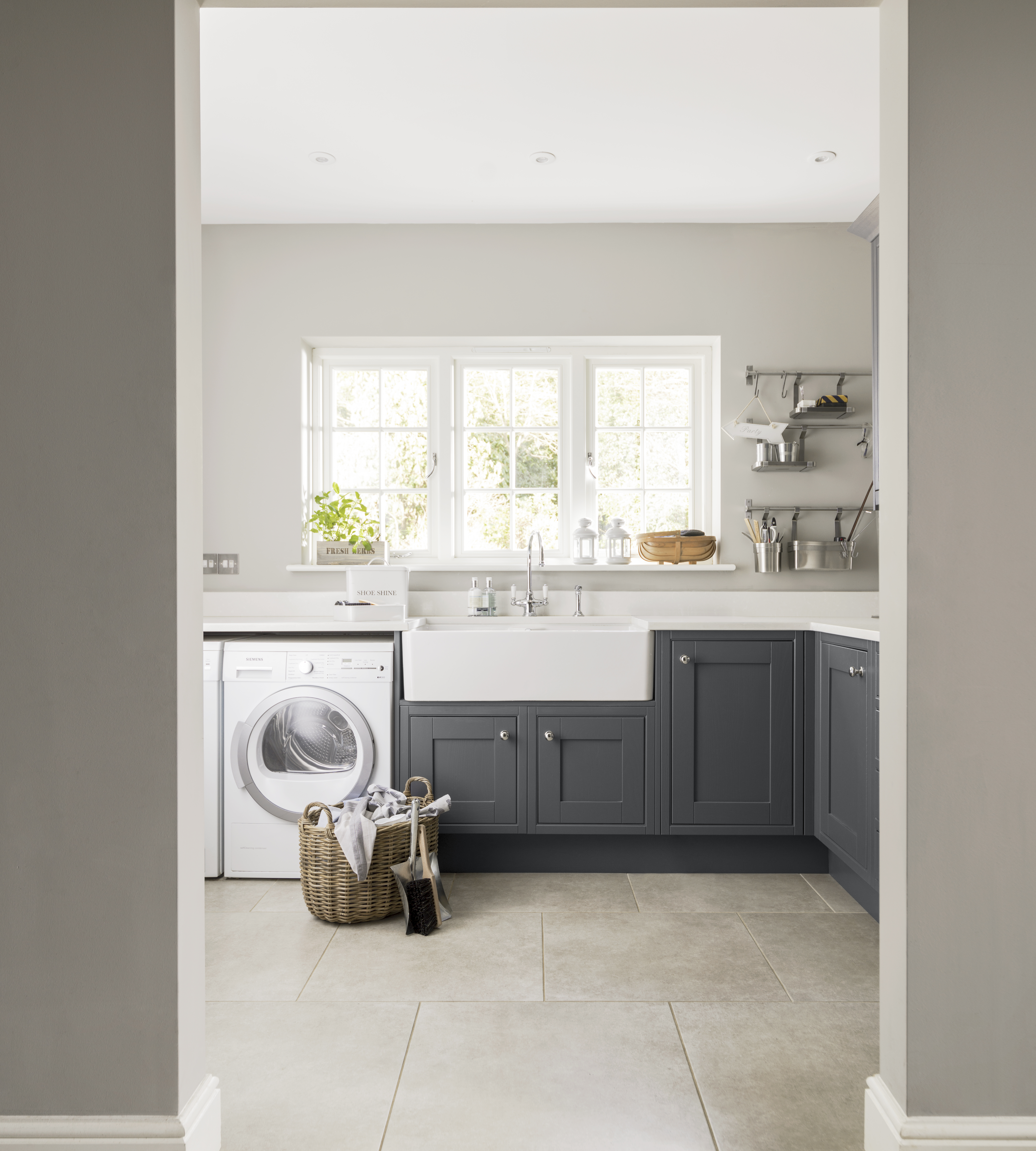 Co-ordinating utility and boot rooms in the same style of units as the kitchen are emerging trends. These are practical for cloakroom storage and laundry requirements, as well as providing extra kitchen storage. This trend has been reinforced by the ongoing popularity of cleaning and organising the home, which is prominent across social media channels. Cleanfluencers are also encouraging a demand for internal storage in kitchens, which allow for more organised spaces and areas to keep an increased amount of cleaning products.
Oak accents are making a comeback, with traditional and contemporary designs opting for oak work surfaces rather than granite or marble. Oak can also be integrated into kitchens through feature units and accessories, such as tea tray and chopping board units, slatted shelves, spice drawers and pull out oak shelves. These can add a touch of warmth and contrast to a colour scheme.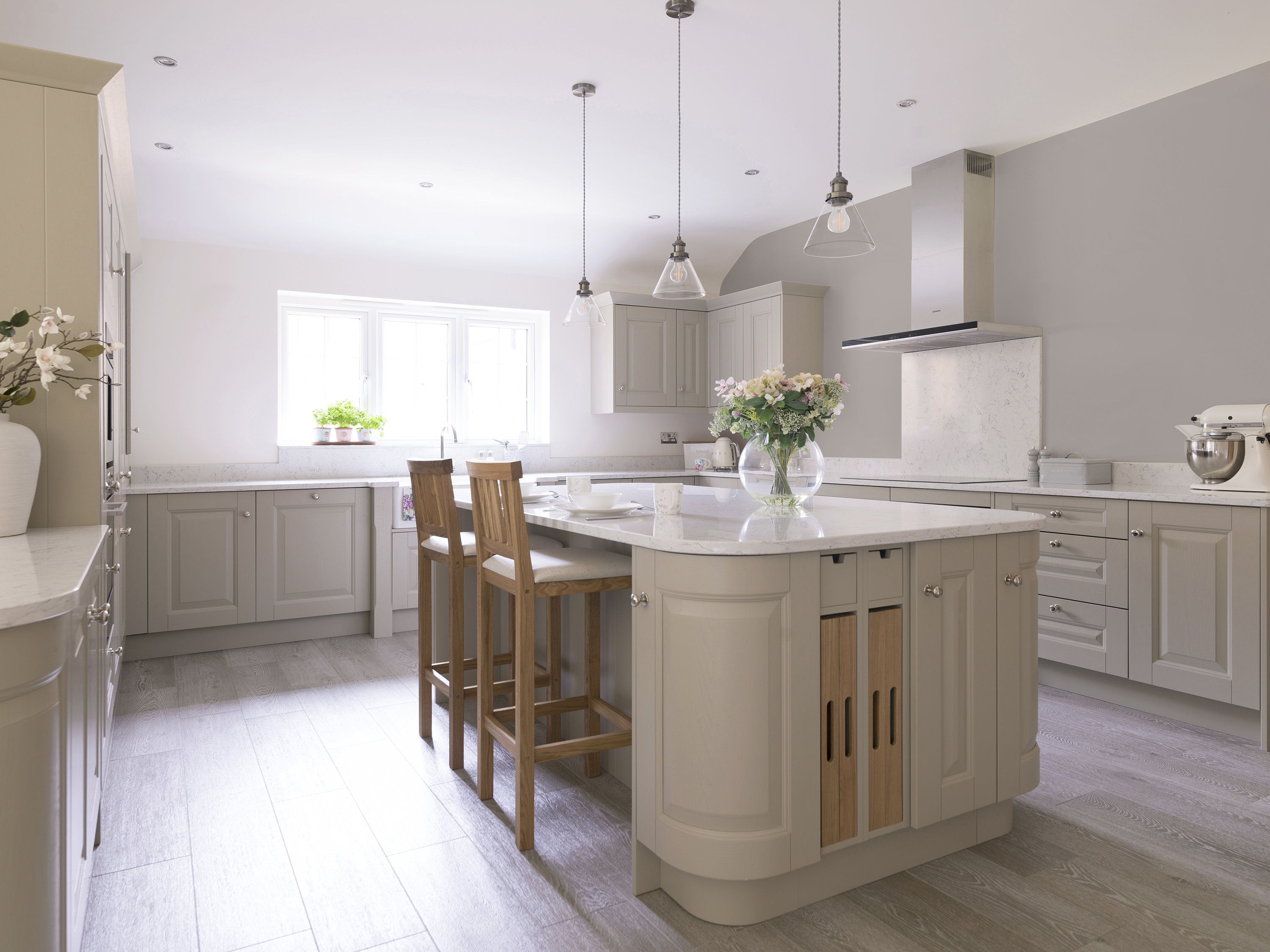 What are your tips for creating a kitchen that will never become dated?
Timeless style in the kitchen is achieved by opting for muted colour palettes with simple, good quality, understated finishes in natural materials such as real timber, granite and metal.
In our kitchen collection, we include timeless classics such as Ivory, Platinum and Chalk White, paint shades that will never age. Current trends can then be incorporated with soft furnishings, accessories and kitchenware. These finishing touches are the ideal way to bring a fresh look into the kitchen each season, without committing to statement colours and designs. Repainting or wallpapering walls is also a great way to revamp the style of the kitchen ensuring it remains on trend year after year.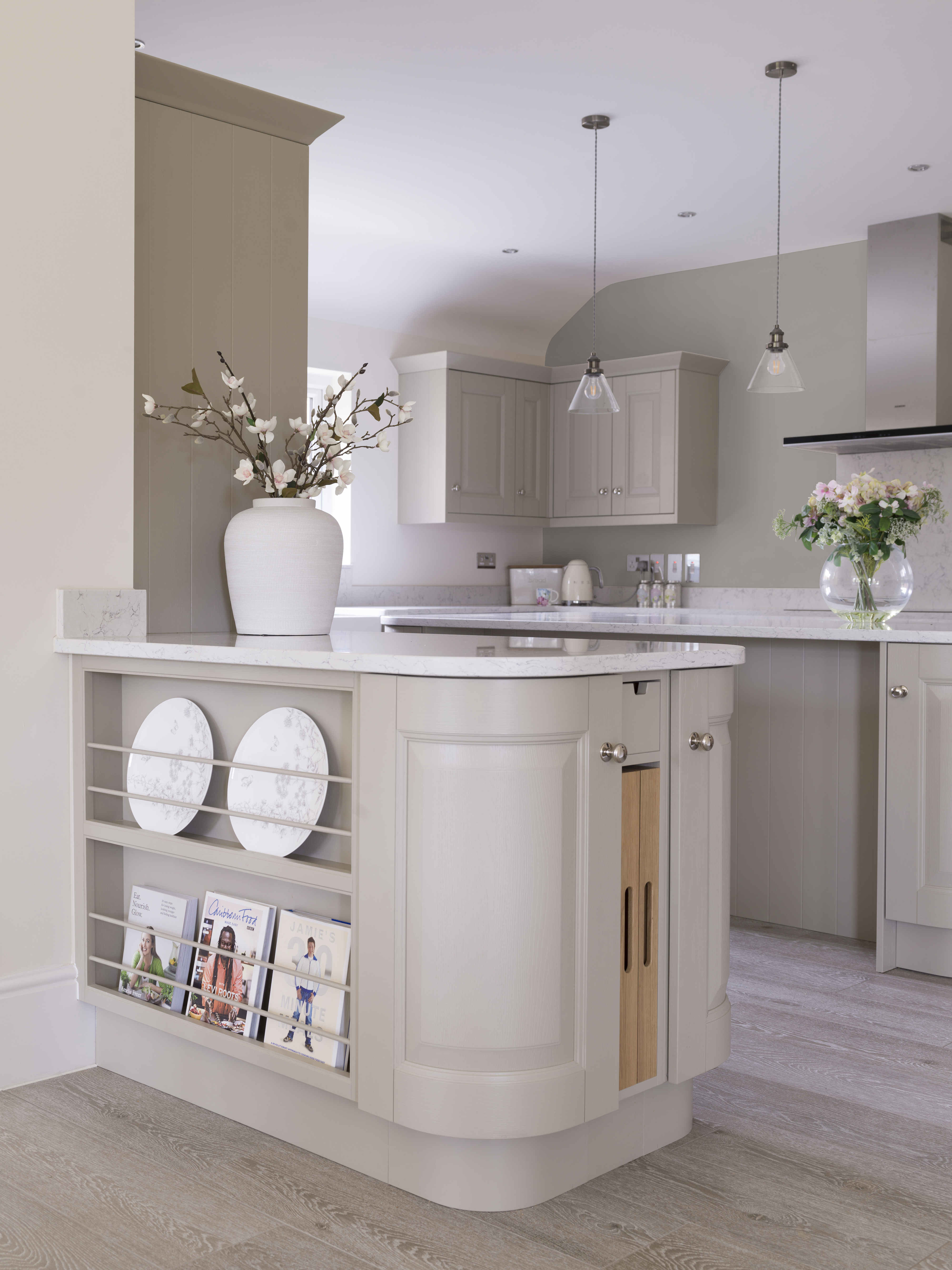 What are your tips for accessorising a kitchen to make it look stylish?
Open shelving is an easy decorative touch and allows a focal point to be created in the kitchen. Whether you are looking to show off your favourite crockery or have an array of ornaments to display, open shelving can provide a space that adds style to any room. You can easily change the appearance of the shelves by what is displayed on them.
Accessorising with lighting will add instant style to your room, as well as providing practical task lighting in required areas. Statement looks can be created by installing lighting over island areas; lantern pendants in metals such as copper, pewter or brass are the most effective way of achieving this.
What are your three favourite Laura Ashley kitchen ranges and why?
Harbury, Harwood and Rosedale are our three most popular ranges and are firm favourites with the Kitchen Collection retailers.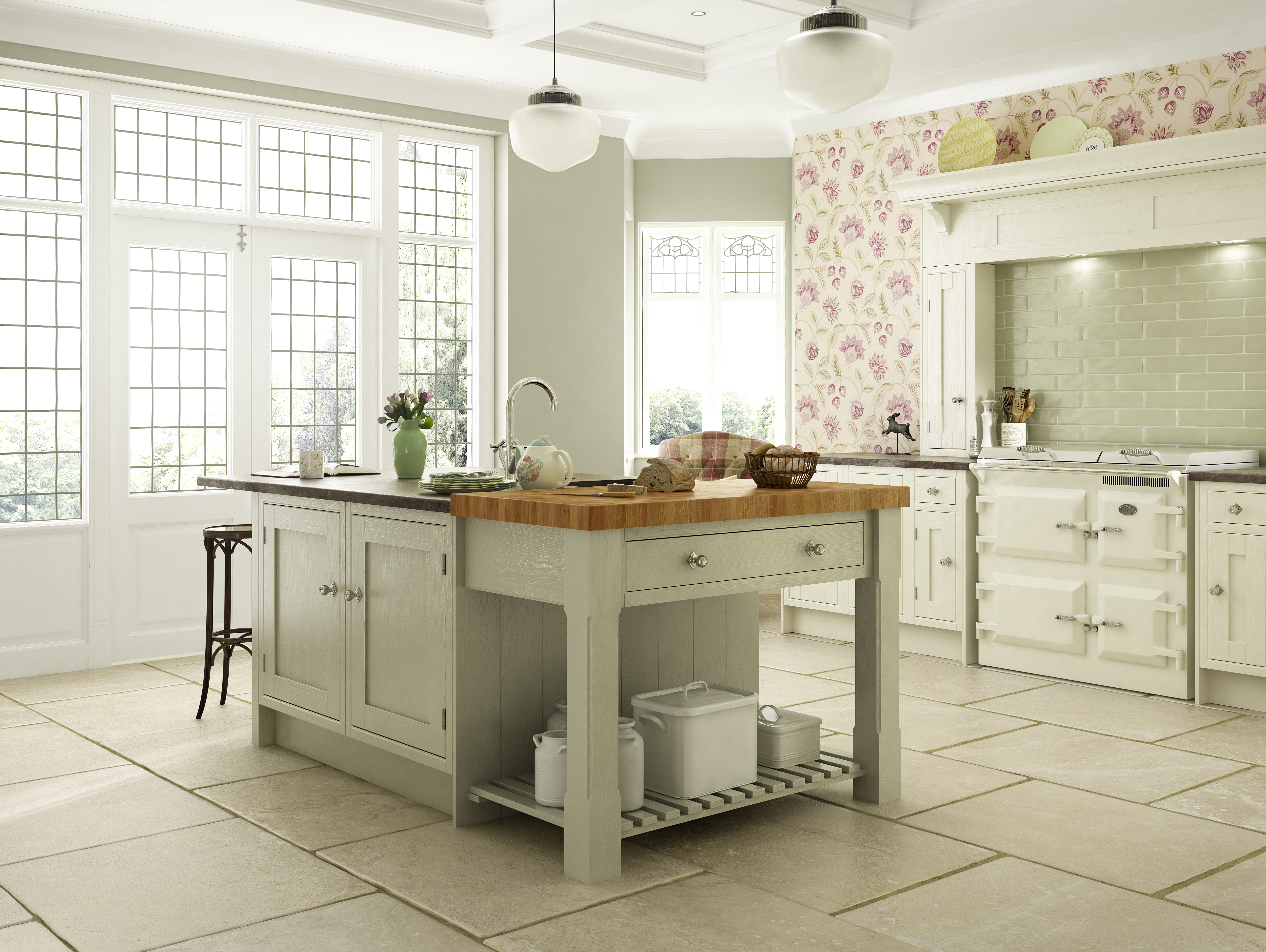 Harwood reflects the style of elegant timber country kitchens, with its in-frame Shaker design. This range offers a selection of traditional features such as tall larders, dressers and mantels to achieve a classic look.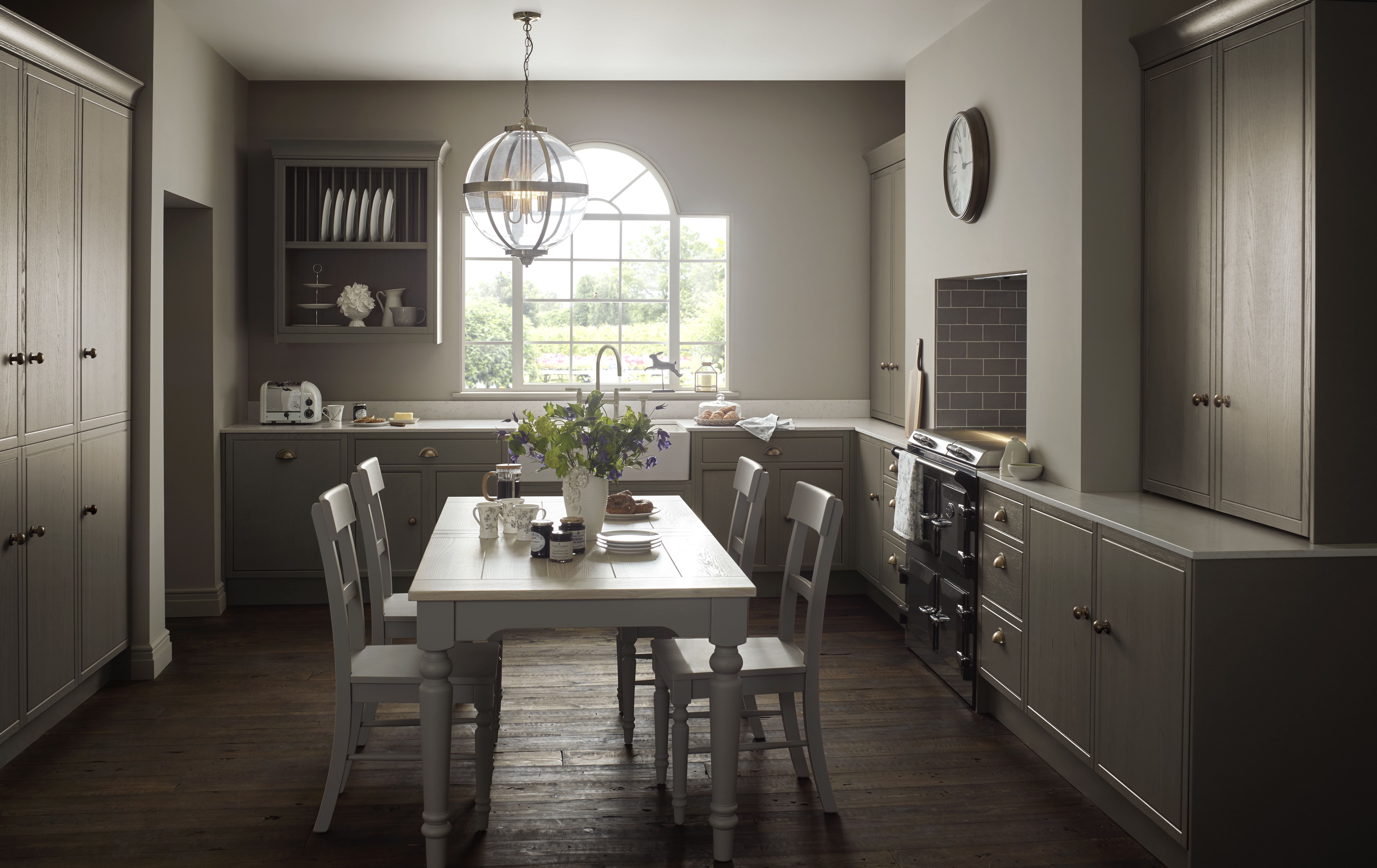 Harbury is a more contemporary version of Harwood with simple flat doors and drawers within a frame. The clean and uncomplicated minimalist details can be made to look very modern or more traditional depending on the accessories chosen to go with it.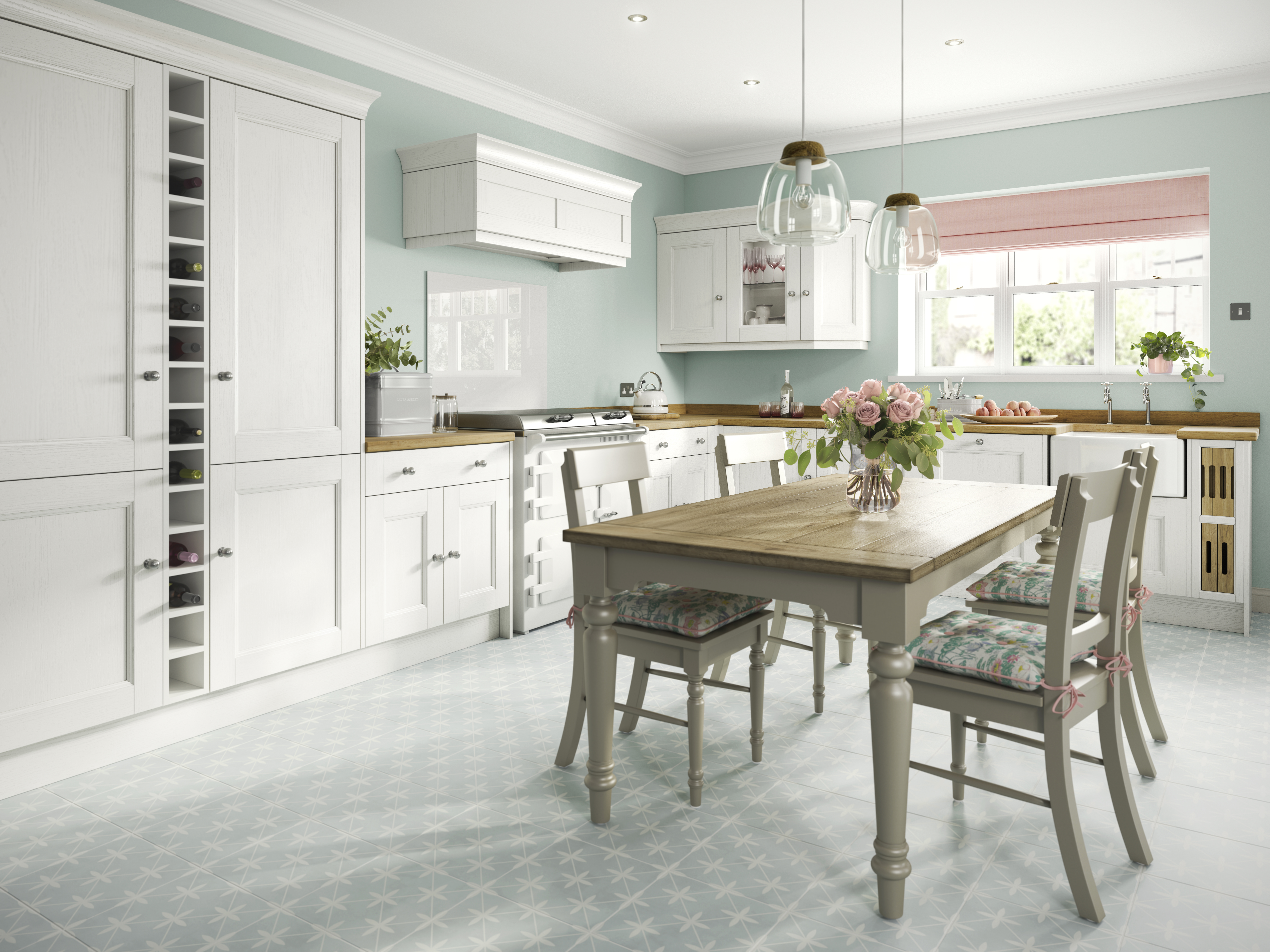 The Rosedale range is inspired by quintessential British period architecture and has a simple, elegant bead around the shaker frame which adds subtle decoration to an otherwise simple Shaker style door.
What's the one thing you would like to change about your kitchen? Let us know in the comment below.