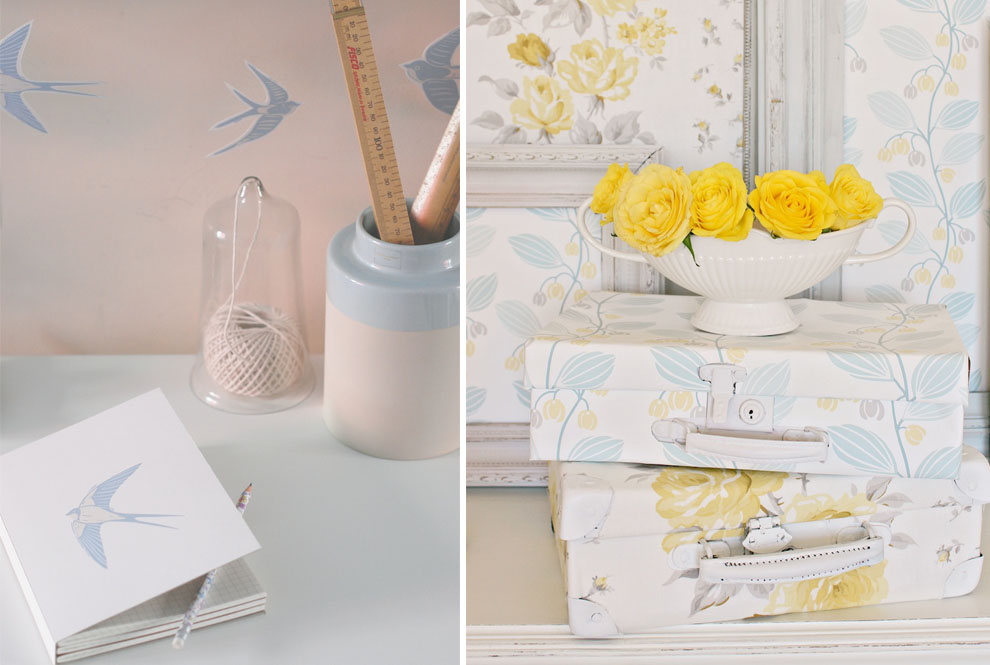 Sharing the next installment of our Styling the Season series, join us as we discover another inspiring chapter... read more
Today, we are back with our second installment of the Styling the Seasons series. Yesterday we were completely blown away by the brilliant snaps our bloggers have shared so far. After spotting the brilliant Styling the Season series on Katy and Charlotte's blogs, we were invited to join in on the action!
Calling on some of our most talented blogger pals, we asked them to share their Styling the Seasons snaps for February using some of our brand new SS15 season pieces. Don't forget to read on to the end to see how you can be in with a chance of winning a £50 Laura Ashley voucher….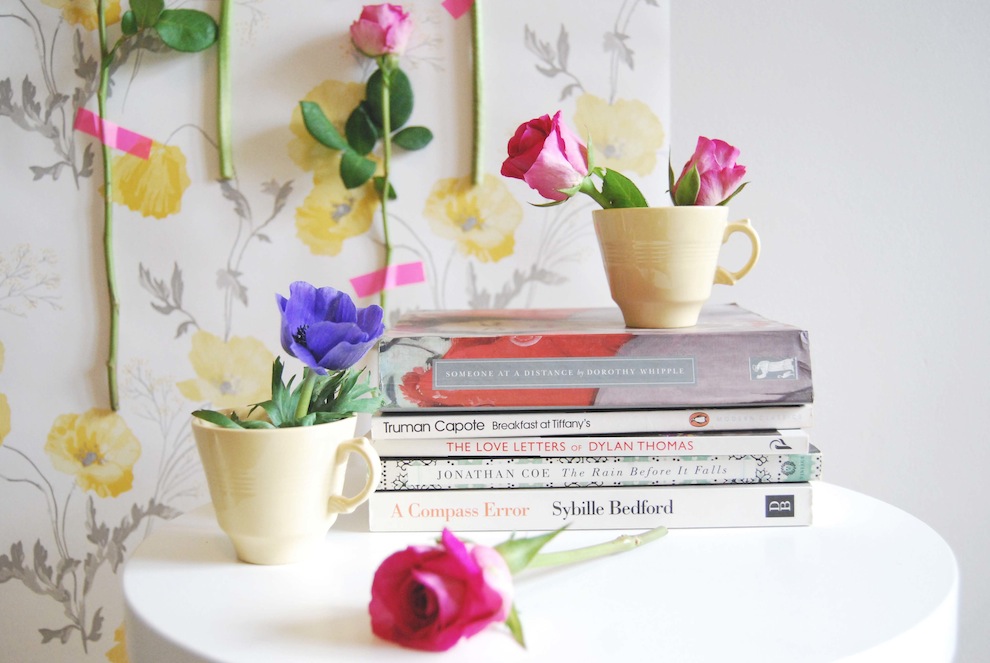 Cate at Cate St Hill
I couldn't do a Styling the Seasons post for February without somehow hinting at Valentine's Day. I didn't want to get too gooey and doe-eyed, with pink love hearts everywhere, but I wanted to style something just a little romantic. For me, growing up, Laura Ashley always reminded me, and still does, of pretty, floral patterns that are quintessentially British.
I chose the Poppy Meadow wallpaper because the soft, yellow colours give a hint of Spring, without being obviously Valentines-Day-y. I can imagine it lining the hallway of a cute, country cottage, the doorway open with sun shining in and a blossoming meadow growing outside.
I paired the wallpaper and flowers some vintage yellow espresso cups, conveniently exactly the same yellow as the wallpaper, and some romantic novels I would read with my sweetheart next to me, in this imagined meadow!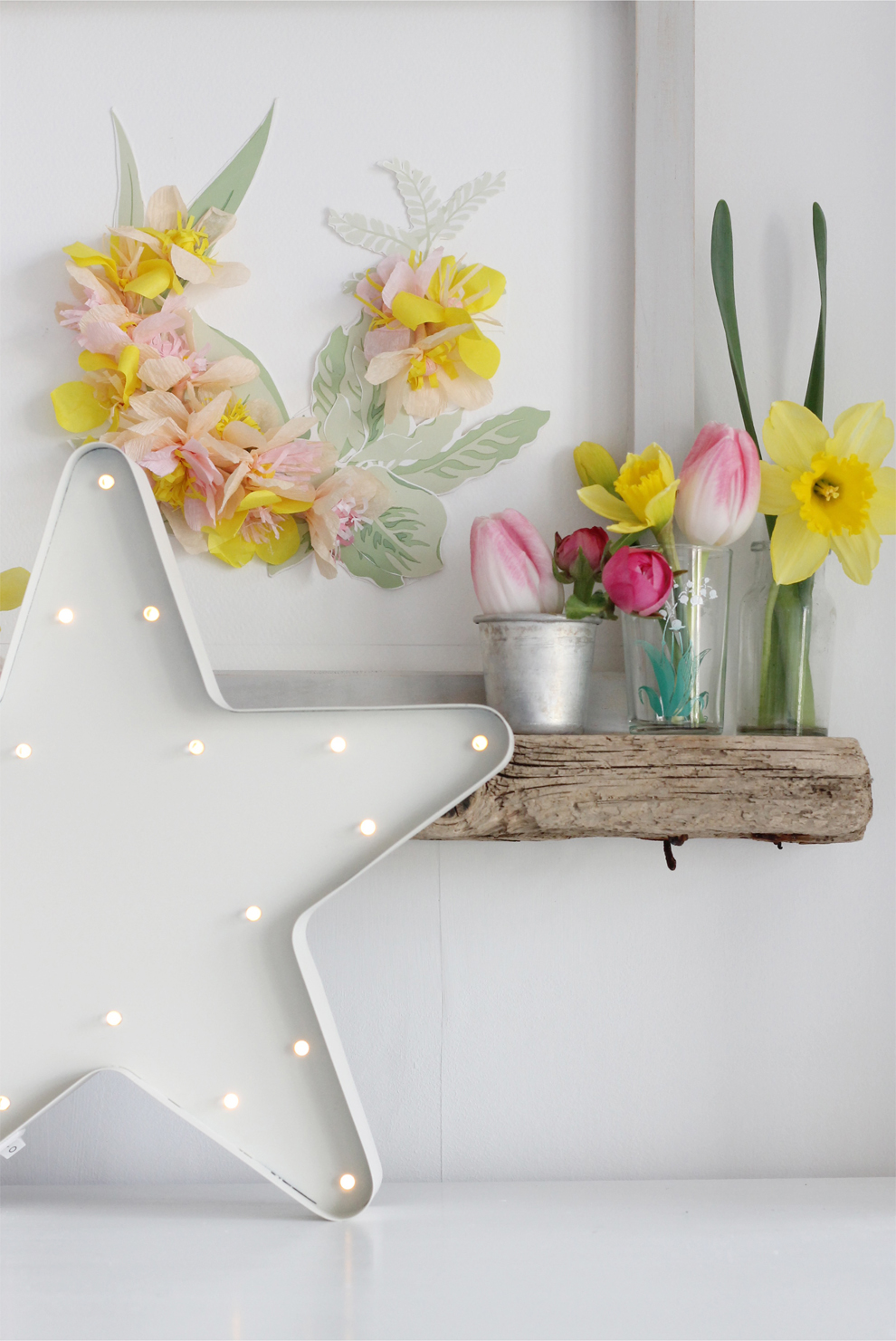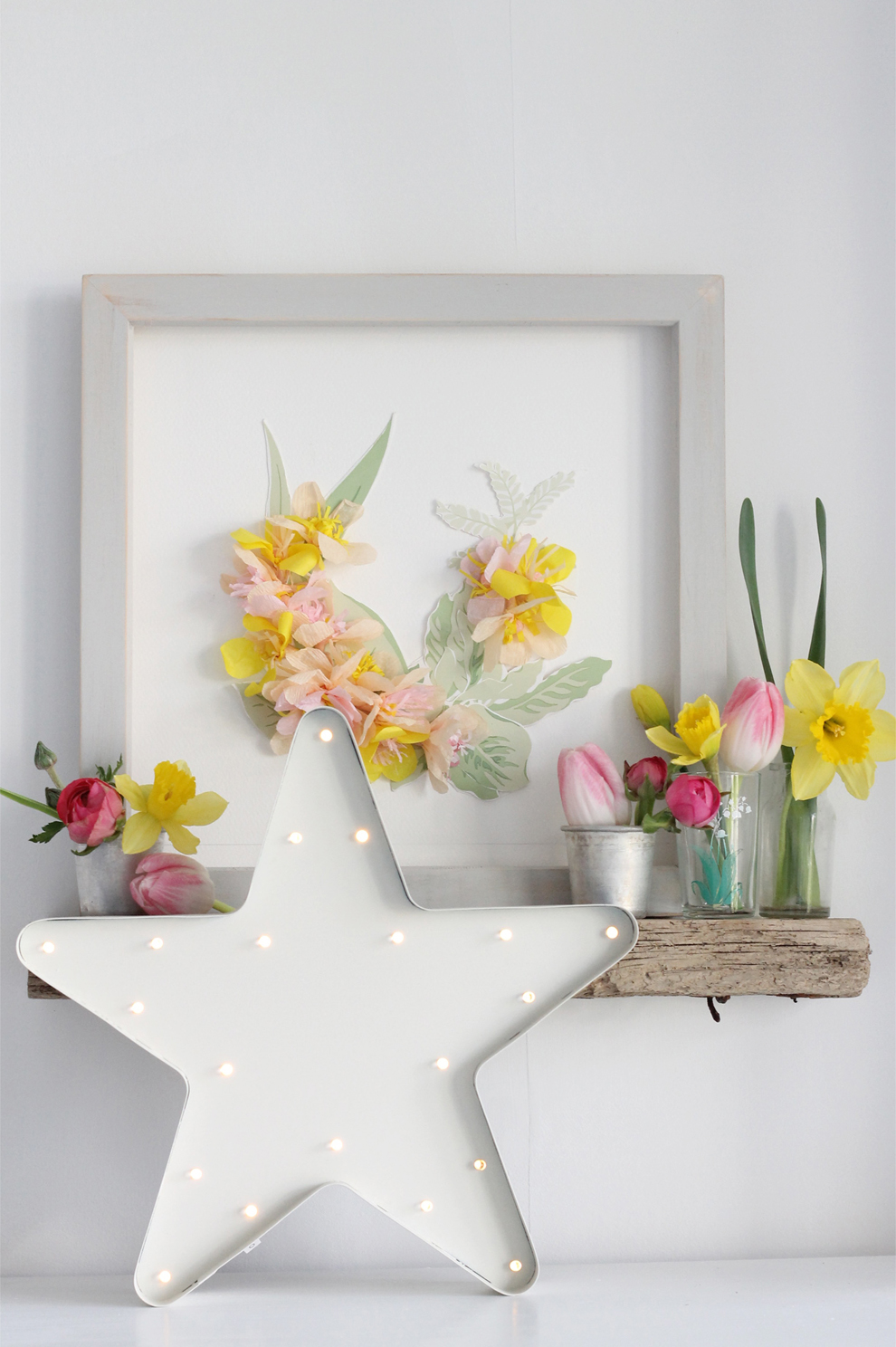 Charlotte at Lotts and Lots
My inspiration for the month is celebration, February is my birthday month plus it's the first month that glimpses of spring start to appear. I styled my star LED light with a driftwood shelf that I made myself. I love how this light is battery powered so can easily be moved from room to room and be styled differently for all sorts of events. I'm currently trying to add detail to my bedroom so made these framed paper flowers using the leaves of Orchid Apple Green Flower wallpaper as inspiration. To tie everything together, I couldn't resist added fresh spring flowers to add bursts of bright happy colours.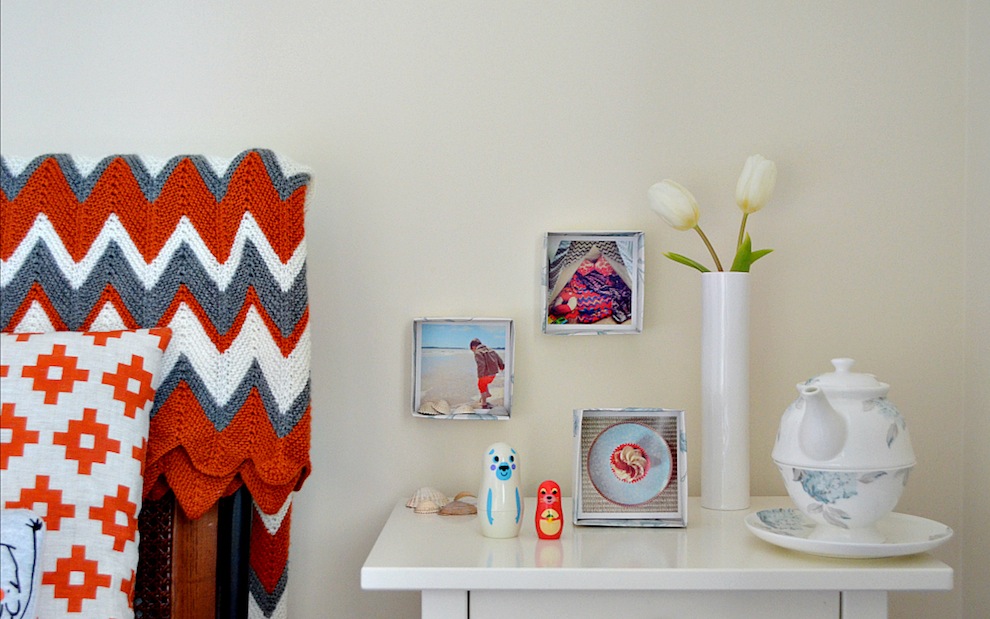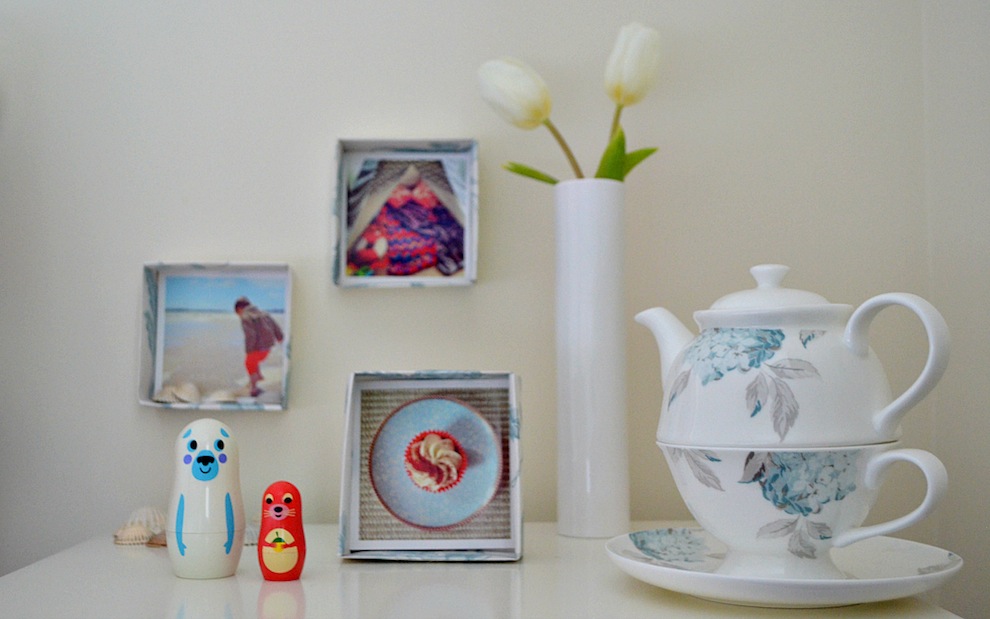 Rachel at The Lovely Ordinary
Summer Palace Wallpaper | Hydrangea Duck Egg China Two For One
For us, January passed in a dark, germ-ridden haze. It wasn't the best of 
months. Therefore, we want February to be lighter, brighter and more fun. 
And it's those three things that I've had in mind when styling my side of 
the bed and the little table that sits next to it.
I added the blanket (designed and made by my mother) and the Hydrangea 
Duck Egg Bone China Tea-For-One to signify warmth and nurturing, both
 of which we're all still in need of. I love the bright colours of the 
blanket and the lighter, more muted tones of the teapot. And drinking a 
nice cup of tea under a blanket? Heaven!
I made the little picture frames for the three Instagram photos using the
beautiful Summer Palace wallpaper. We spend a lot of time outdoors as a 
family so the birds and flowers print seemed appropriate. The photos that
 we used – cake, den-building, a trip to the beach – are of things that we
 want to eat more of/do more of this month. In fact, I think I'd like to do 
those three things every month!
That's us. Our family. And what February means to us.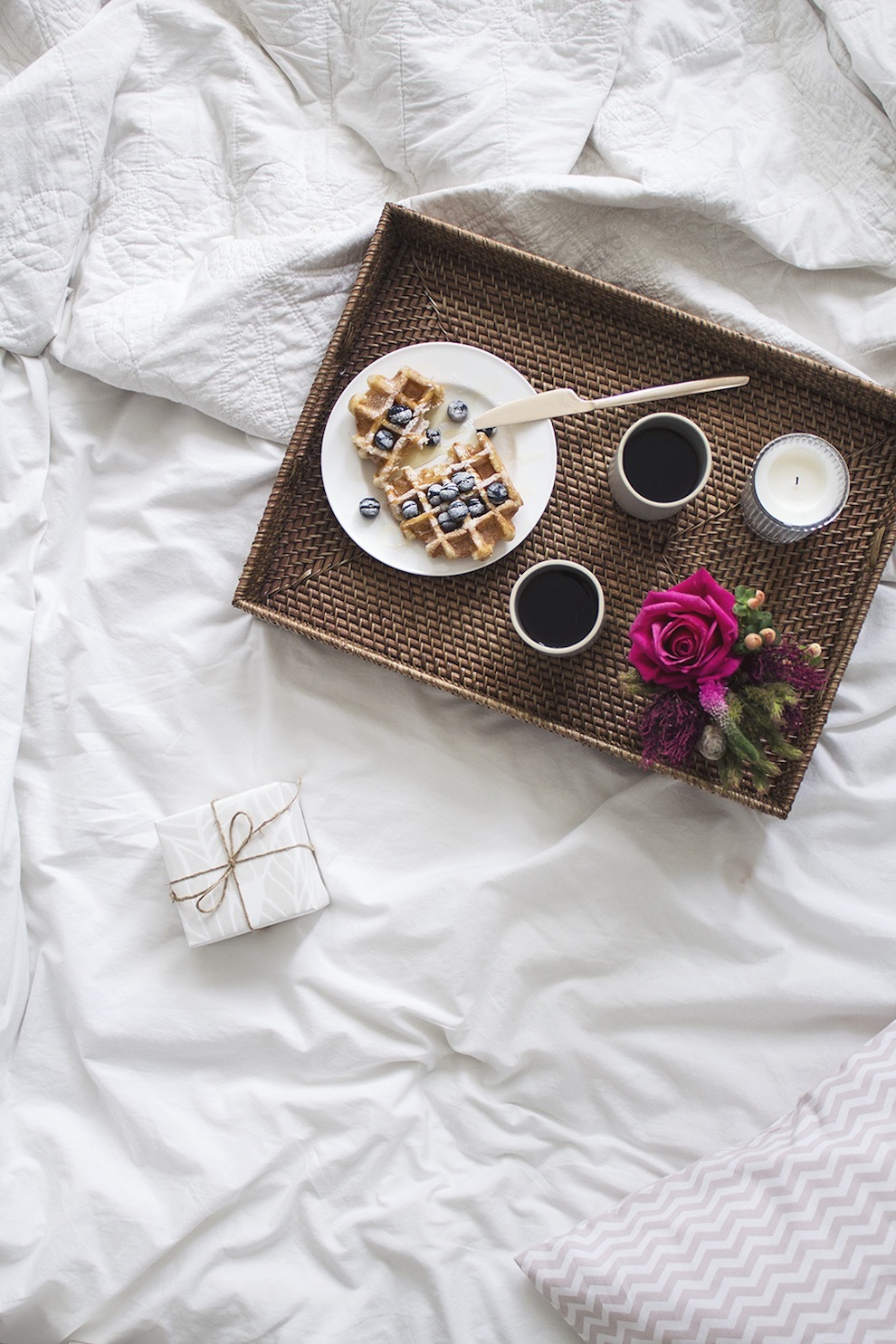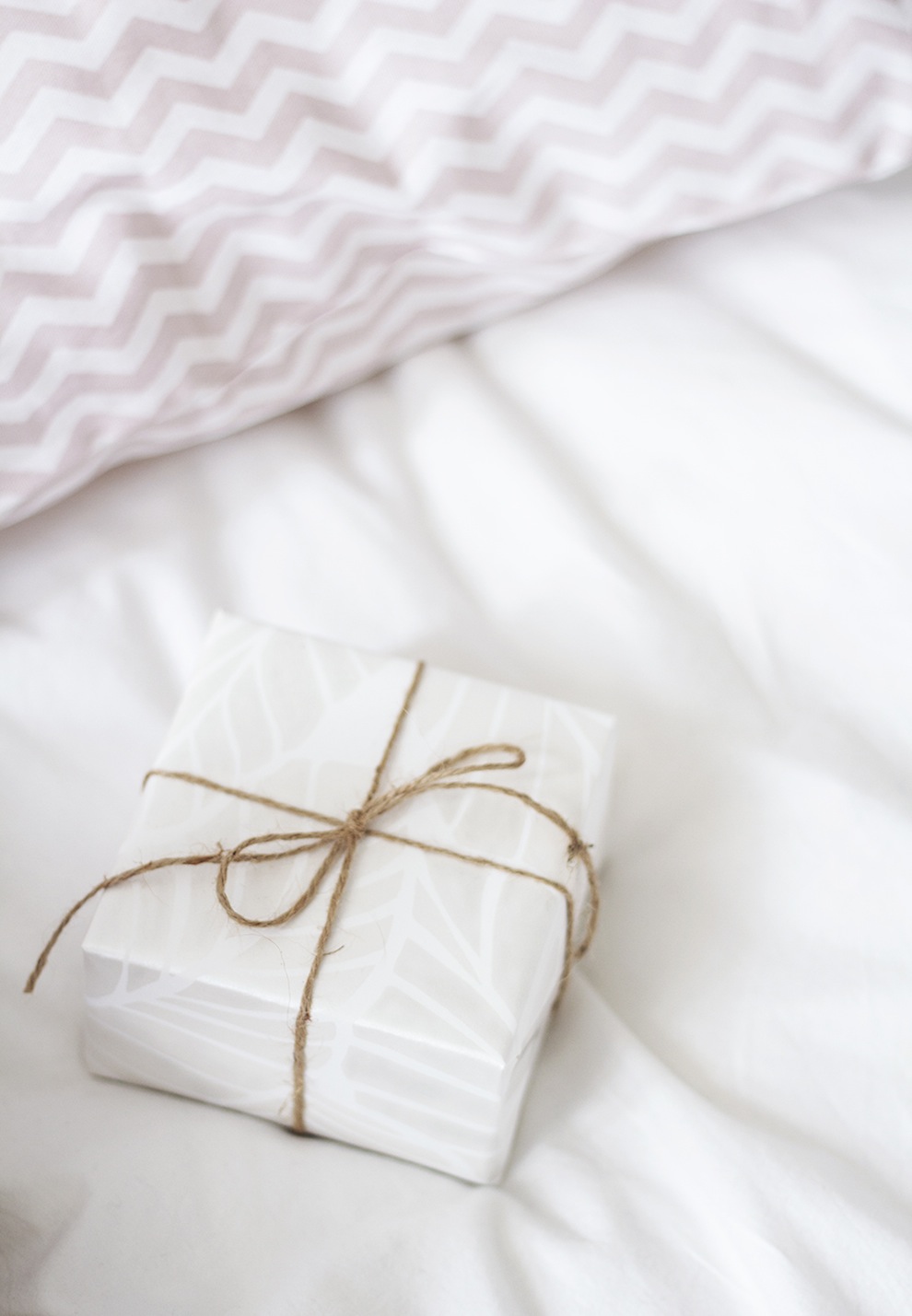 Teri at The Lovely Drawer
Palm White Wallpaper | Rattan Tray | Fresh Linen Candle
Seeing as it's February it felt appropriate to have a little love theme to my snaps but I didn't want to go all cliché with lashings of scarlet and heart shaped you-name-it. I settled on a sweet but simple breakfast in bed idea. Occasionally I wish that I had a morning where I didn't have to be somewhere by 10.30am or before.
What did I choose from Laura Ashley? Well I went for this cute woven Rattan Tray and this Fresh Linen and Jasmine Scented Candle (which smells sooo fresh). I then wrapped the little Valentine's gift in their Palm Leaf White Floral Wallpaper. It's so pretty and subtle!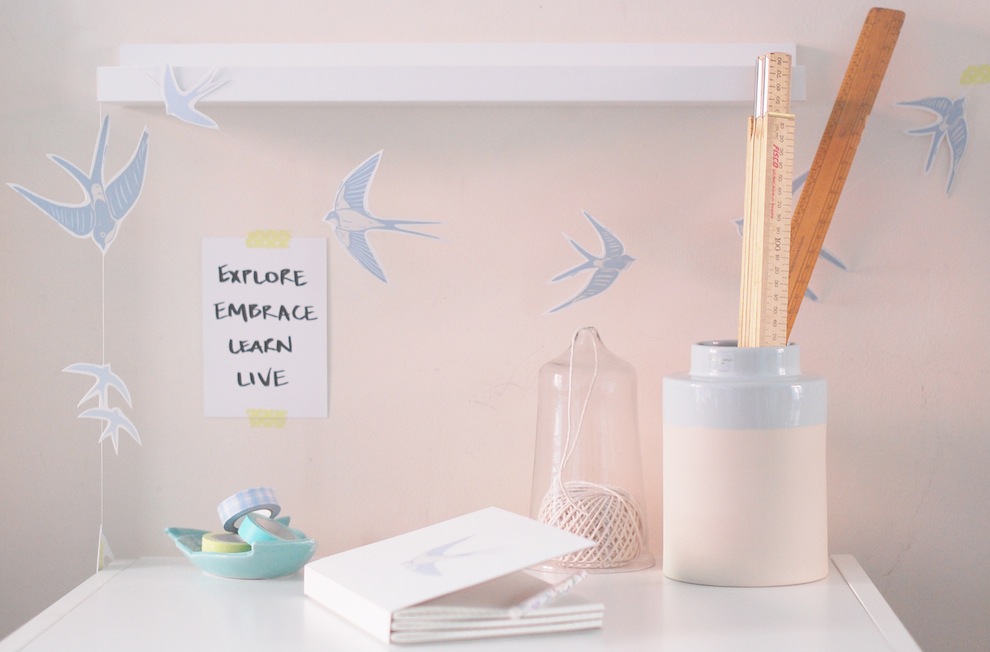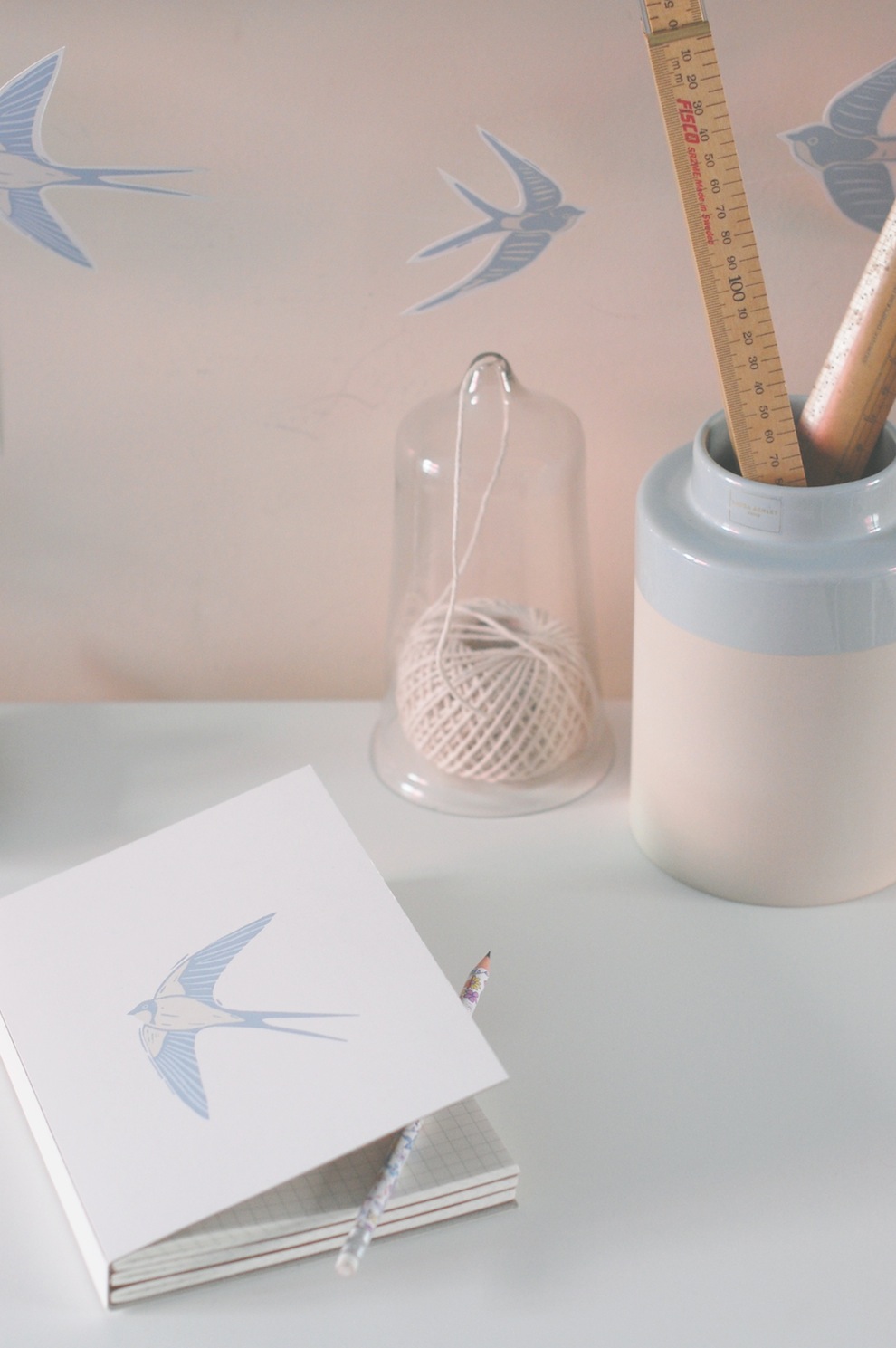 Soumya at Made By Molu
Blue Birds Wallpaper | Brooke Vase
The inspiration behind this month's styling stemmed from the concept of 'new beginnings' and 'creating adventures'. So with that in mind, I chose the lovely Blue Bird Seaspray Wallpaper and the Brooke Vase which I felt complimented the wallpaper beautifully.
Having recently switched careers, the swallows (symbolic of hope, strength and journey) on the wallpaper were a perfect representation of my new creative beginnings and the journey that lies ahead this year for me.
I'm rather big into journals and sketchbooks, where I'm constantly jotting or sketching down ideas, inspiration, dreams and goals I have…even those endless list of things to do! So, I decided I would style the little desk space we have in the bedroom to create a calm and inspiring place to sit and write at home.
I used the swallow-motived wallpaper to make two key pieces; a hardcover for a new journal, which I created from binding together three notebooks I had, and a cute little garland for the desk space out of the swallows I cut out. Being a small desk space, I kept the worktop quite minimal, using the Brooke vase to hold some of my vintage rulers.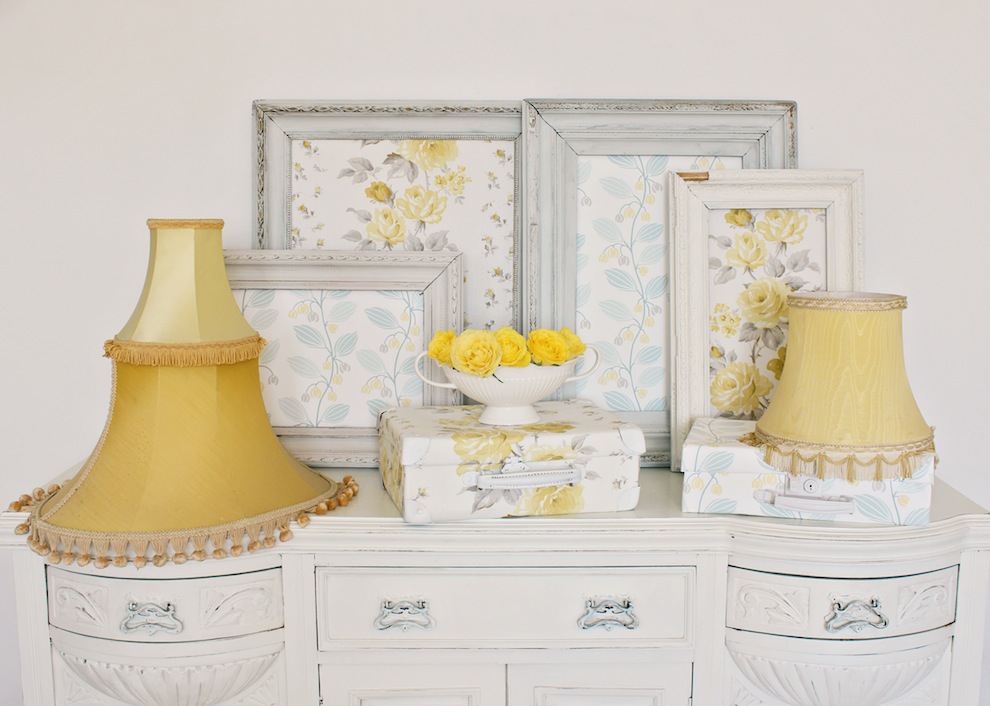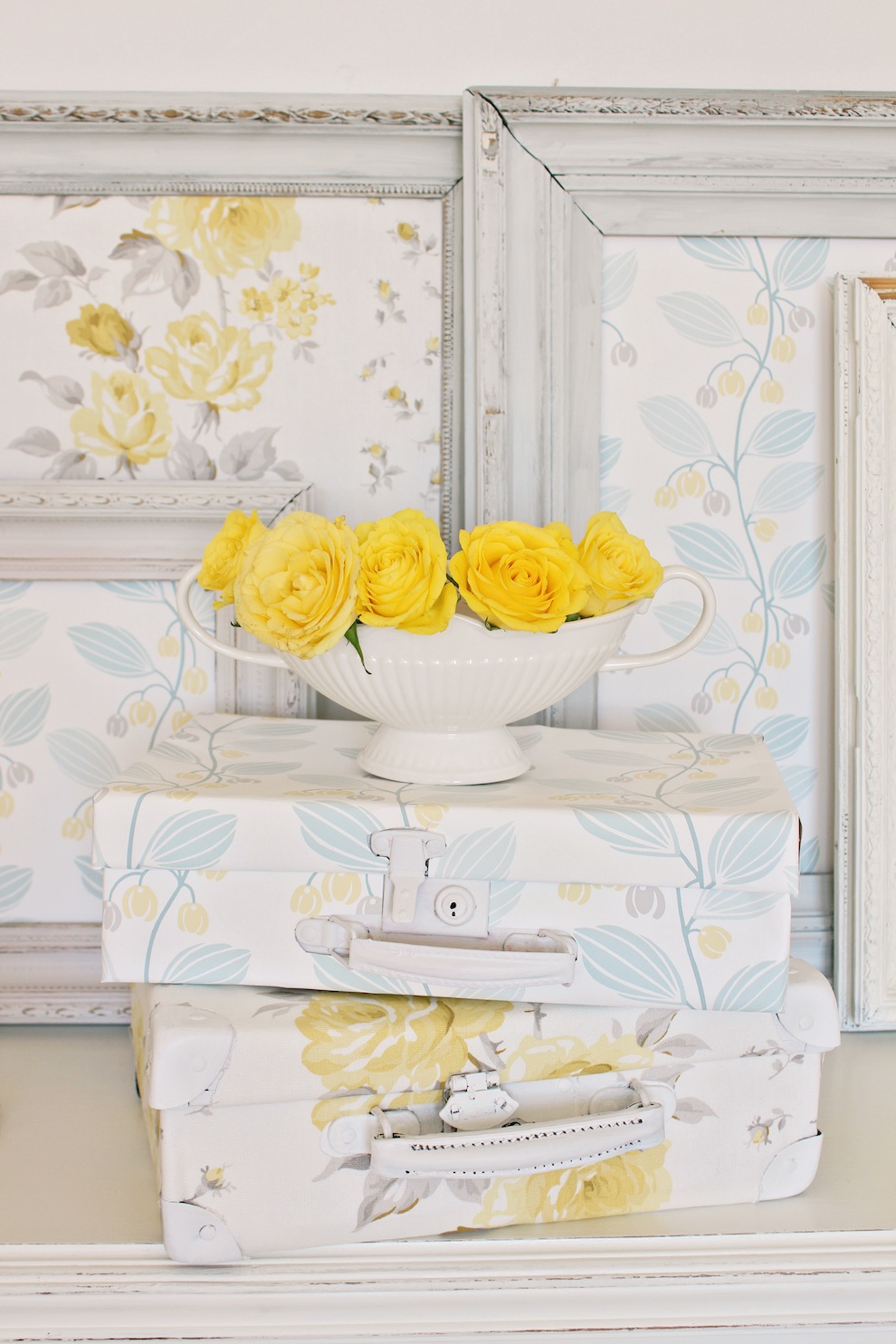 Tamsyn at The Villa On Mount Pleasant 
Spring Trail Wallpaper | Clarissa Camomile Fabric | Ceramic Urn Ornament (available in-store)
After a long winter, I wanted to bring a little bit of much needed sunshine to my February Styling The Seasons post. I loved the sunny yellow tones in the Spring Trail wallpaper and Clarissa Camomile fabric, so I framed sections in beautiful old painted frames and layered them up, to make a bold yet fresh and pretty display. I also covered some sweet vintage mini suitcases and stacked some beautiful old lampshades, before adding the final touch – yellow roses to remind me that spring really is on it's way!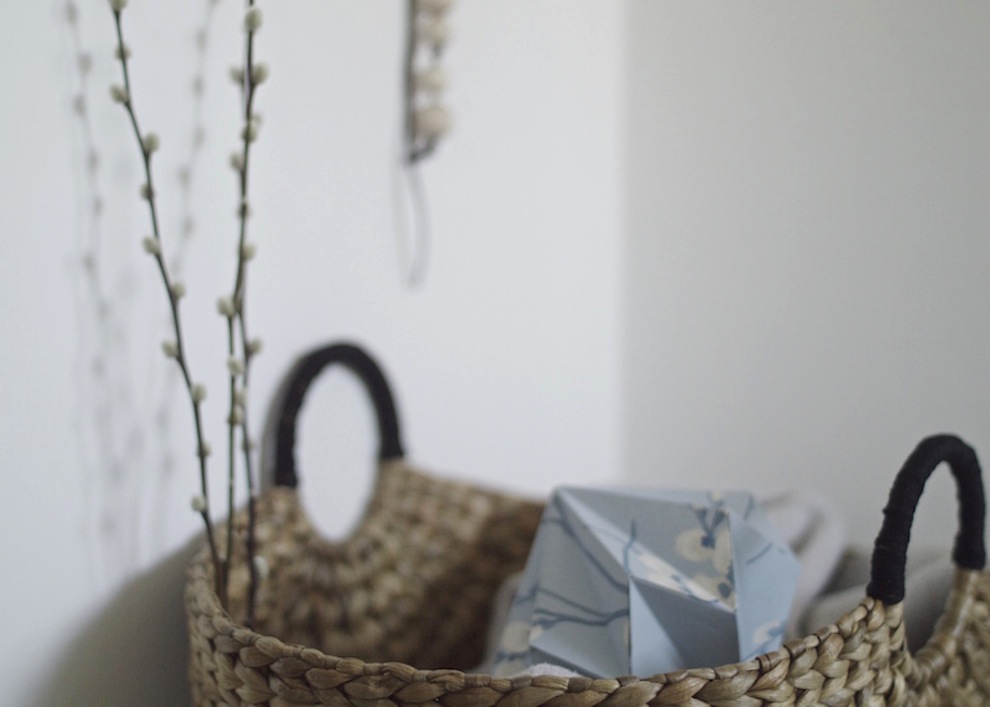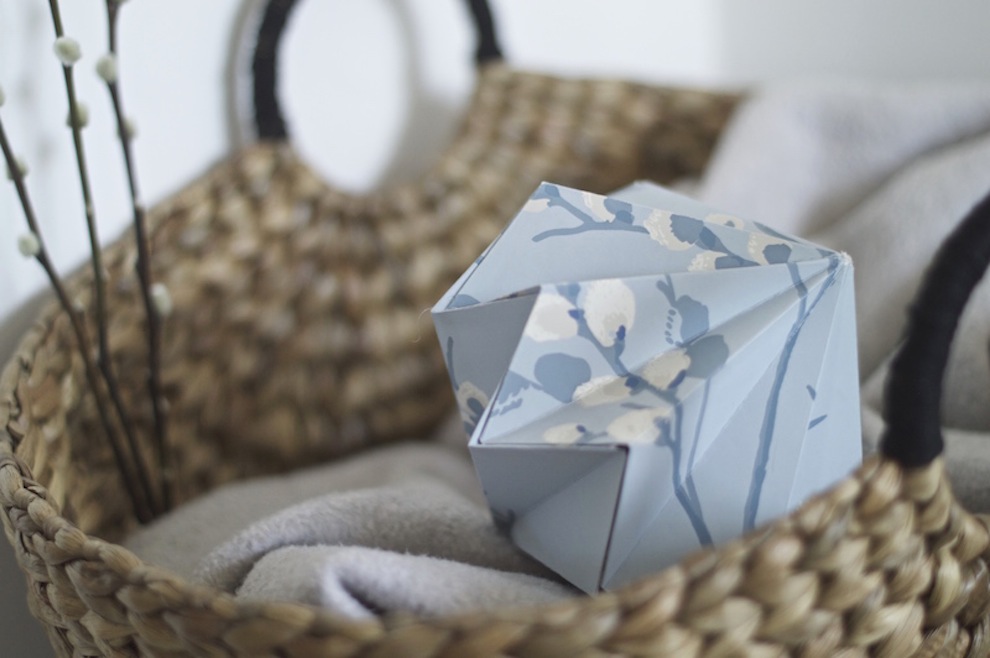 Sarah – Louise at Lapinblu
Pussy Willow Seaspray Wallpaper | Large Water Hyacinth Basket
 There's a point on our journey home from school where the trees are deep silhouettes against the softest, bright blue sky that melts into vanilla cream clouds. I've tried to reflect this through colour & texture.
The water hyacinth basket is great for stacks of cosy blankets – I wrapped the handles in jersey cotton to add contrast – and I used the seaspray blue pussy willow wallpaper to make a geometric origami diamant. It reflects the colours & season perfectly.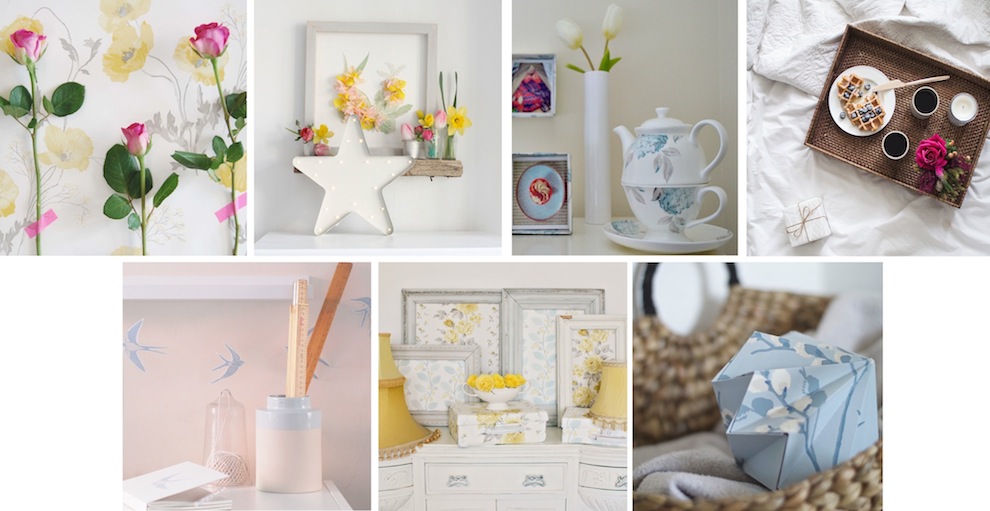 Win it!
If like us you're simply blown away by these inspiring snaps, we would love for you to choose your favourite Styling the Season's snap and you could win a £50 Laura Ashley voucher to style up an area of your own home! Simply click on the blogger below and enter your details.
Feeling inspired? Whether you're a blogger or on the social media scene, anyone is welcome to take part in the Styling the Seasons series each month. Simply upload your styled area and upload it to Instagram, Facebook or Twitter using the hashtag #StylingTheSeasons. It's a brilliant concept, bursting with inspirational ideas and a wonderful way to get your creative thinking flowing!
Terms and Conditions: All entries for the Laura Ashley Styling the Seasons giveaway will be drawn at random. There will be two Laura Ashley £50 gift cards to be won, one for the giveaway on Tuesday (Part 1) the 10th of February and the other on Wednesday 11th of February (Part 2). Entries for Part One must be received by the 15th February 2015. Entries for Part Two must be received by the 16th February 2015. A winner will then be contacted via email. No prize cash alternatives will be given. The competition is only open to UK residents and you must be 18 or over to enter. There will be one entry per household.