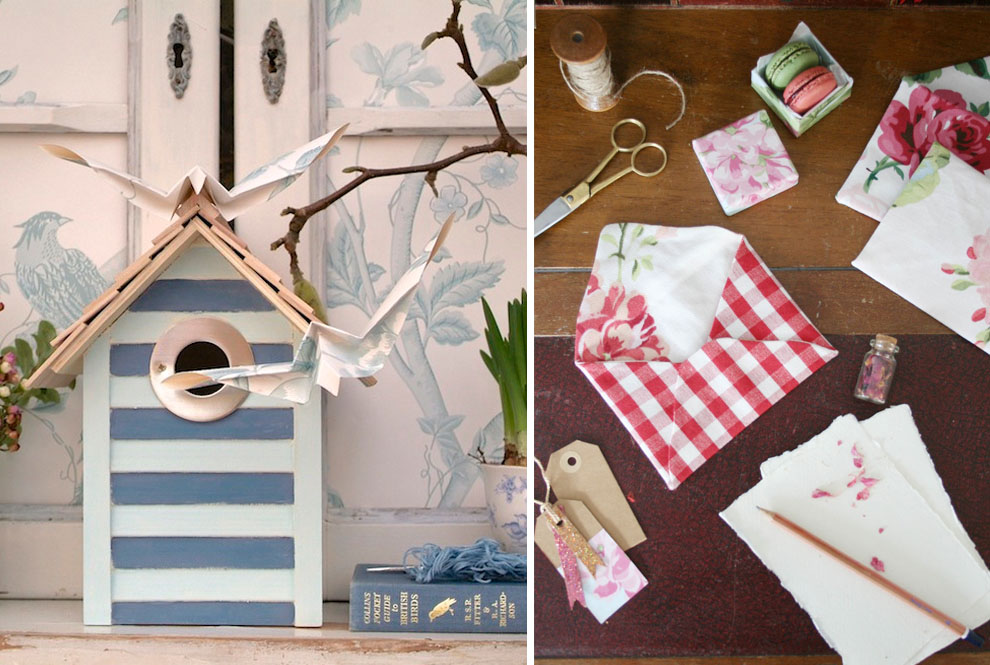 Sharing what the month of February means to them, we enlist our blogger pals to style the season... read more
(Please note: This competition is now closed and no further entries will be accepted as of Monday 16th Febuary 2015)
With the beginning of each new month brings us that little closer to spring. The evenings stay lighter for longer, the birds begin to chime their early morning song and we suddenly find ourselves admiring the newly sprung daffodils! Inspired by the wonderful Styling the Seasons series crafted by bloggers Katy and Charlotte, we were invited to join in on the action and create a styling challenge for some of our favourite blogger reads.
Inspiring us to refresh our interiors each month, Katy and Charlotte kick-started their Styling the Seasons series to encourage like-minded ladies and gents to style up an area of their home to reflect the new month ahead. With this in mind, we asked a handful of talented bloggers to share their Styling the Seasons snaps for February, using some of our brand new season pieces. Make sure to read to the end to see how you be in with a chance of winning £50 Laura Ashley voucher….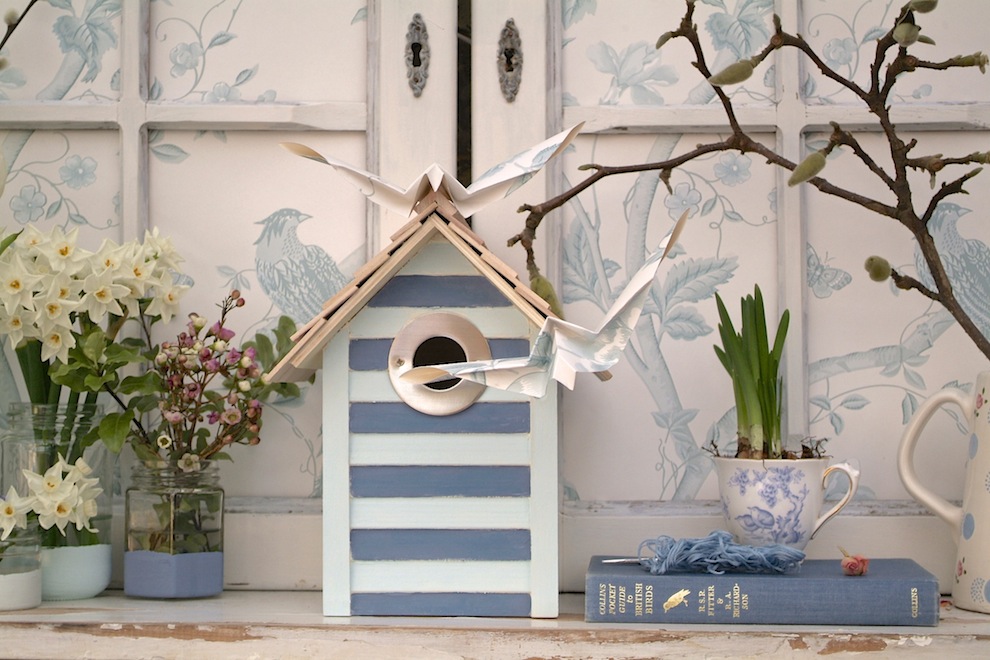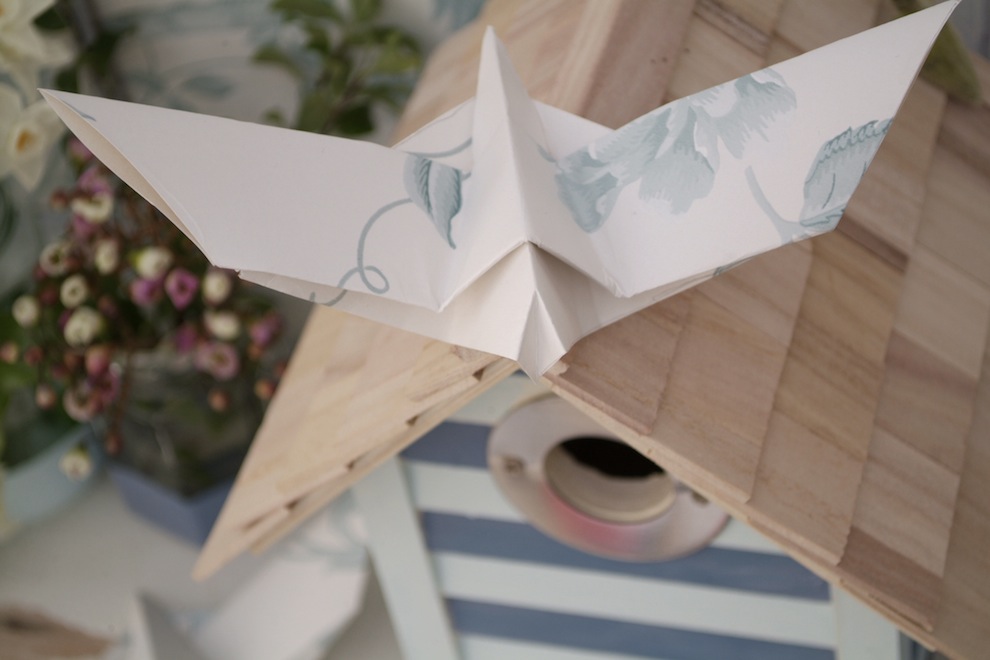 Emma from The Vintage Goodlife
Summer Palace Duck Egg Wallpaper | Sapphire Paint | Pale Topaz Paint | New England Nesting Box
Birds are singing songs of love in February. Signs that spring is on its way fills me with such joy! Inspired to bring this into my home for this months styling the season challenge, I have chosen a little shelf in my conservatory to style.
I just adore birds, and have been a little in love with the Laura Ashley Summer Palace wallpaper for so long, I was desperate to style it in my home in some way! I had these old frames from a dresser, and I thought the paper set inside them is a really nice feature.
Inspired by my bird theme I also made little origami birds from the paper to compliment the fab little New England Nesting Box, which I customised with a beach hut look using the Sapphire and Pale Topaz paints. I then continued my painted stripes onto jam jars, then filled them with seasonal blooms to complete my look. It makes me feel cheery every time I look at it!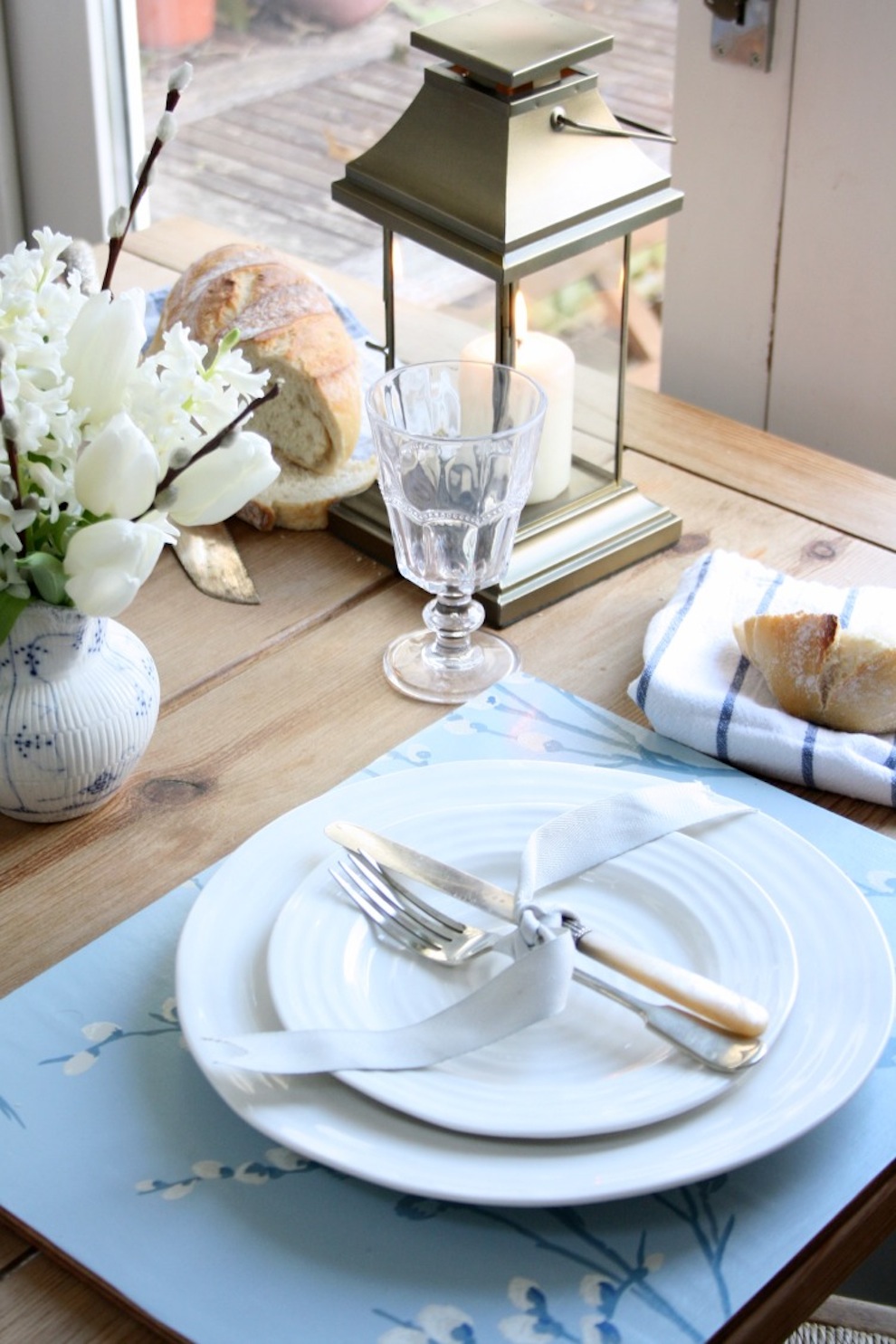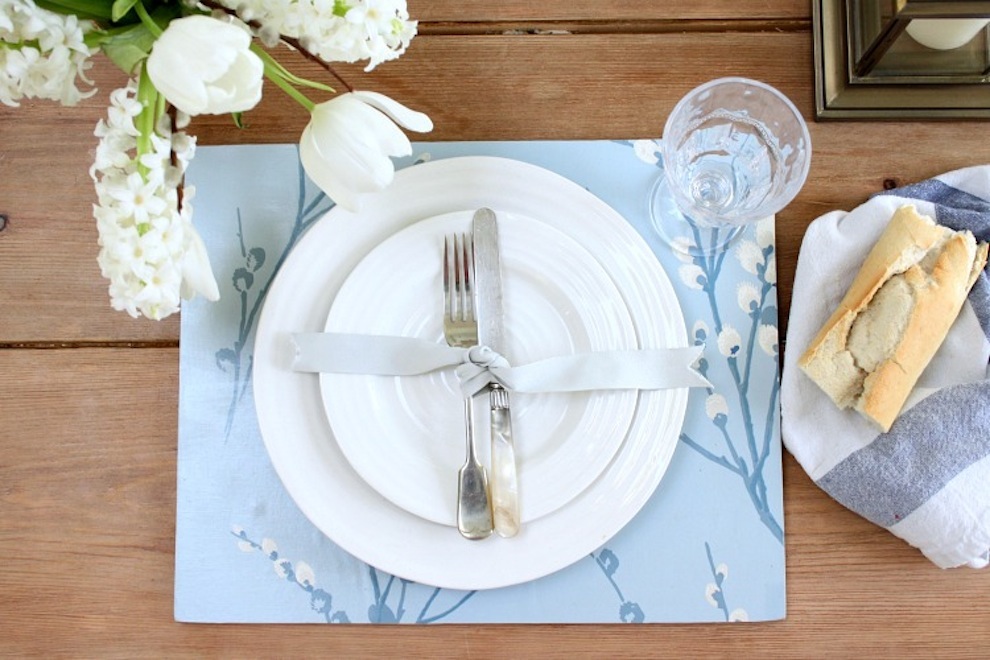 Rebecca at Really Pretty Useful
Pussy Willow Seaspray Wallpaper | Brass Effect Lantern 
We don't really celebrate Valentine's Day in our house, but as February is the month that my husband and I met 14 years ago, I wanted to hang onto a bit of romance. With this in mind, I decided to style a casual lunch for two.
I used the Pussy Willow Seaspray Blue wallpaper to make placemats by pasting the paper to some plywood and carefully varnishing over the top.
Then I added vintage cutlery, a touch of simple ribbon and some gorgeous seasonal flowers with some pussy willow to tie it together.
Even in the daylight I love candles so I chose to have a brass effect lantern on the table too which helps with the casual look.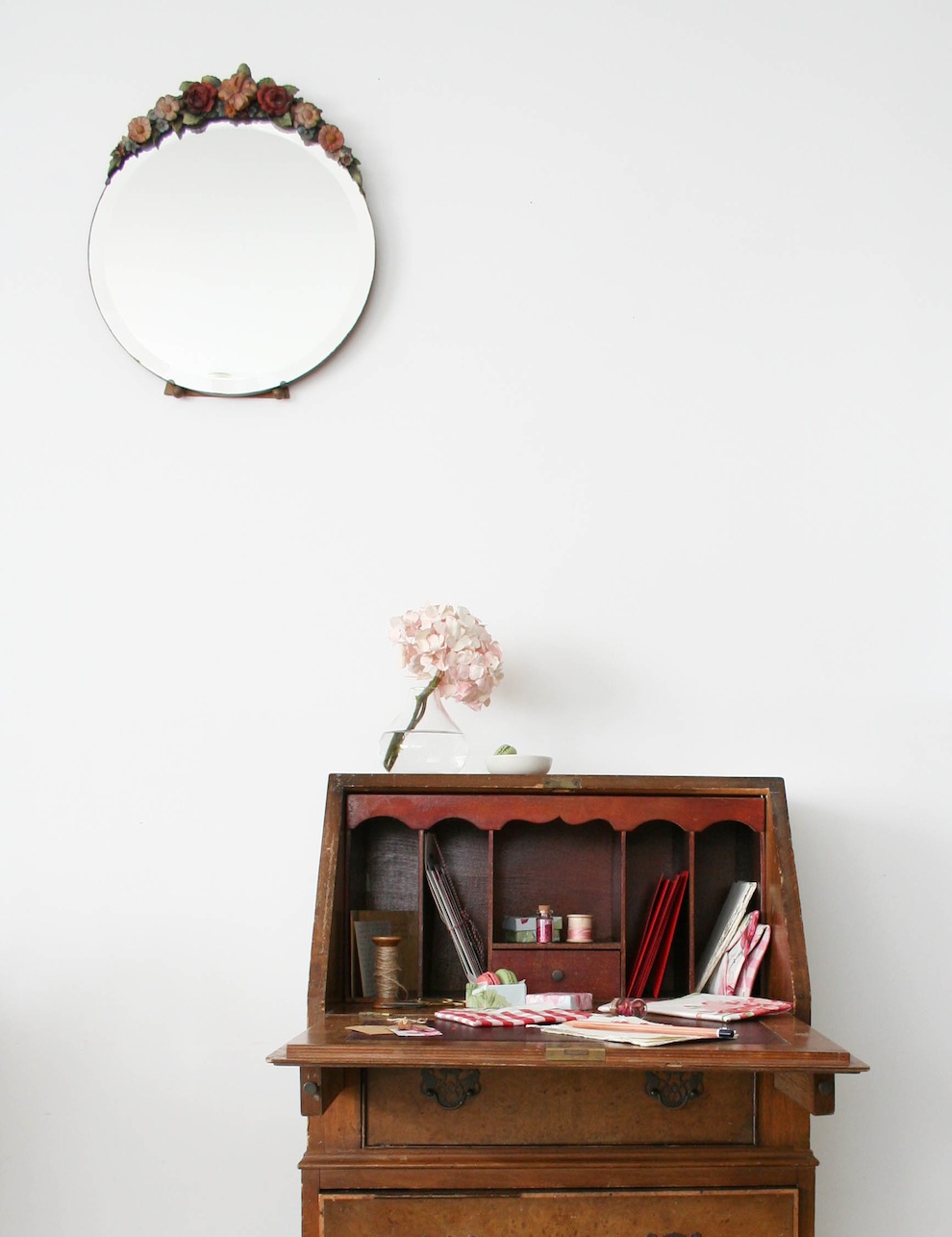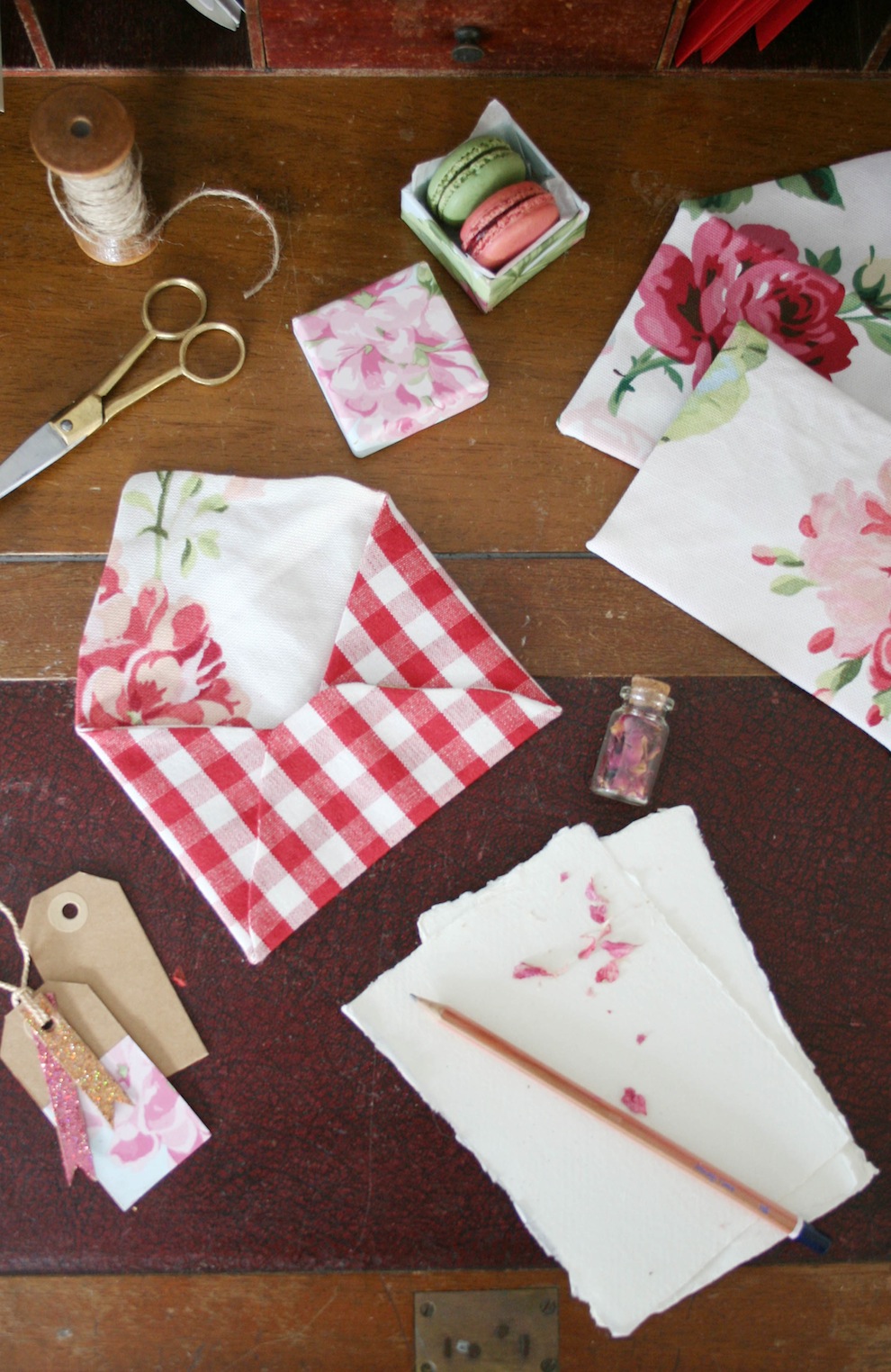 Katy from Apartment Apothecary
Geranium Pale Topaz Wallpaper  | Clarissa Wallpaper  | Geranium Pale Cranberry Fabric  | Scarlet Gingham Check Fabric
When I think about what February means to me the one thing that instantly comes to mind is love. I'm not a massive fan of Valentine's Day from a romantic point of view but since I got engaged on that day last year, it has become special to me. However, it has always been a day to show everyone around me that I love them, not just my partner. I think this stems from my mum because she would always give us a Valentines Day card and present, so I began doing the same for my friends and my sisters over the years.
Therefore, my styling had to include my Valentine DIY makes that I will be gifting this month so I chose some Laura Ashley fabric and wallpaper to get crafty with. I chose to style the antique bureau that I was given by my parents for my seventh birthday because this is where I keep all my sentimental bits and bobs; the things that my loved ones have given me like old letters, photographs and mementoes.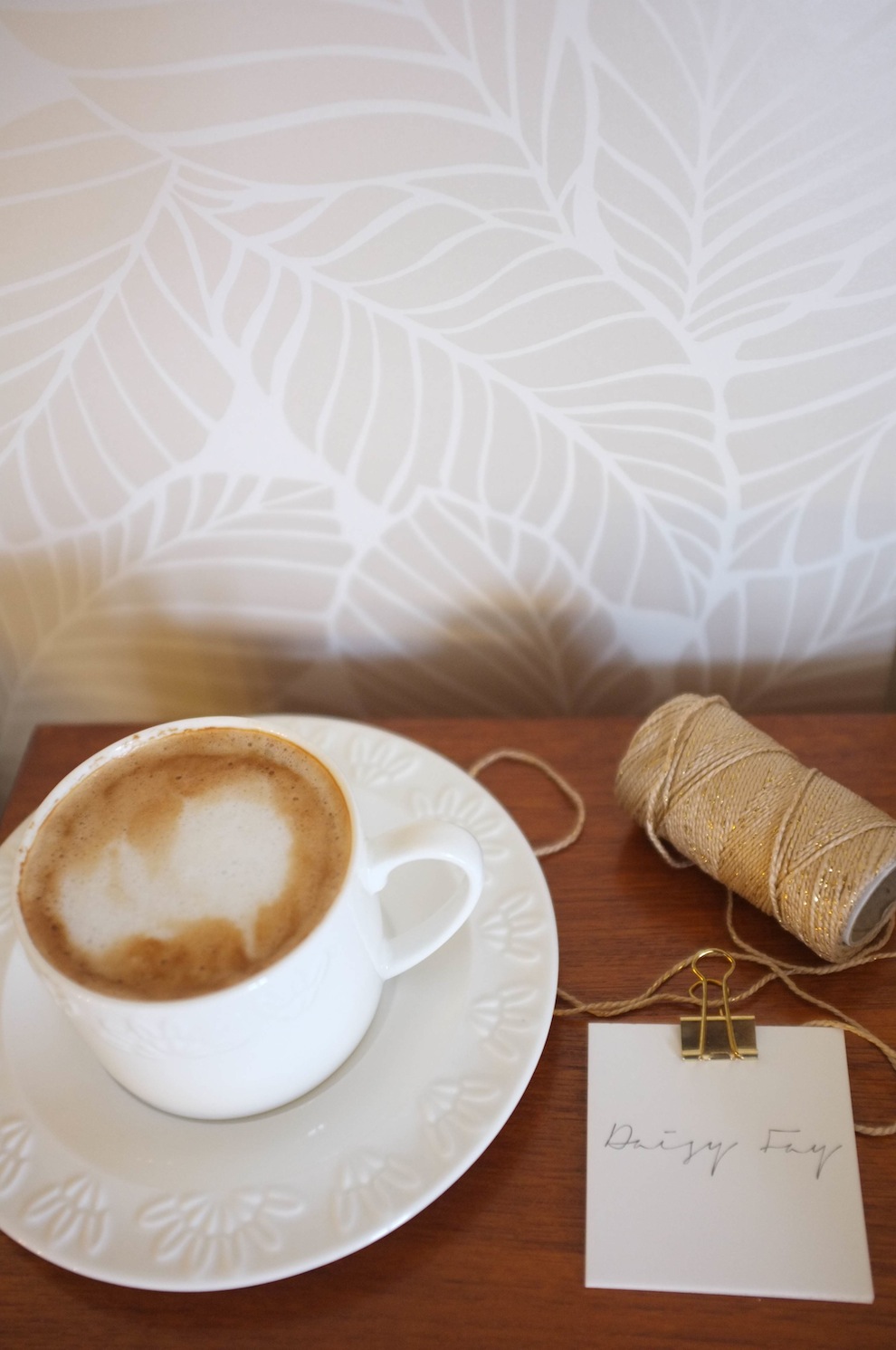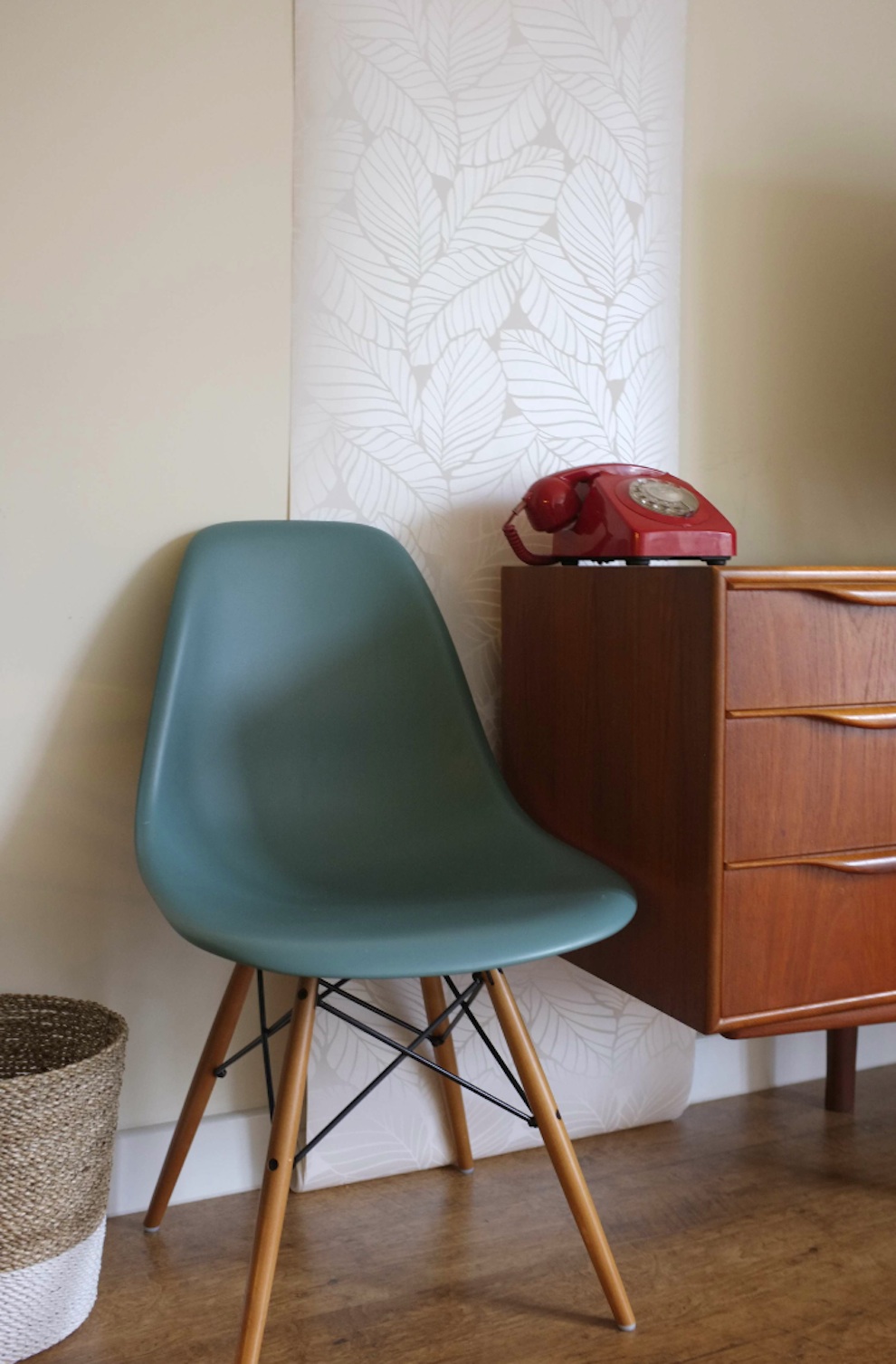 Amy from Daisy Faye Interiors
Helena Bone China Cup and Saucer | Water Hyacinth Paper Storage File (available in-store | Palm White Wallpaper
My February is all about getting organised. As we've settled into our new pad: the last of the boxes has been unpacked, my glasses have been (safely) unwrapped and our plants have found new spots in the sun. Which means it's finally time for me to find a space to claim as my own, a place to get creative and work on my blog.
So this month's Styling the Seasons blog is dedicated to setting up a (home) work space. Just for me. I chose this super subtle seventies vibe wallpaper Palm Leaf. It's just on the tame side of tropical, perfect for a bit of pre-spring inspiration. You'll also spy a Laura Ashley Teacup and Saucer (filled with coffee), Storage File (a girl's got to keep her mags nice and neat) and Seagrass Bin (almost too pretty to pack full of rubbish).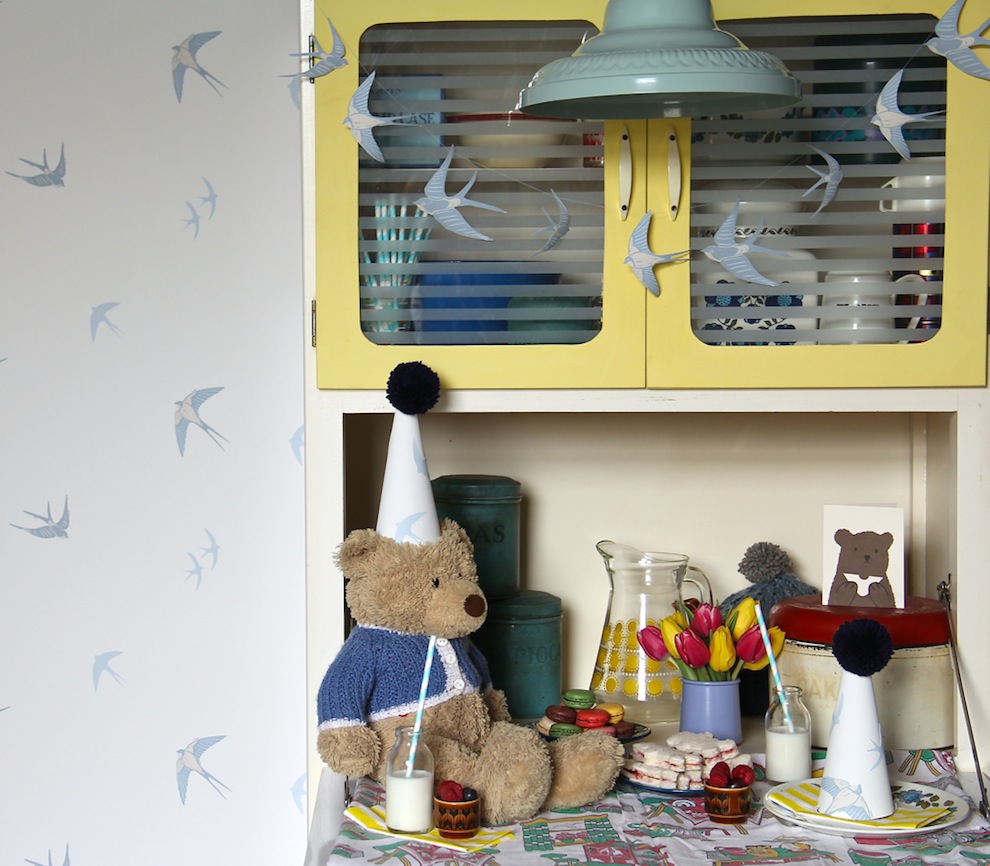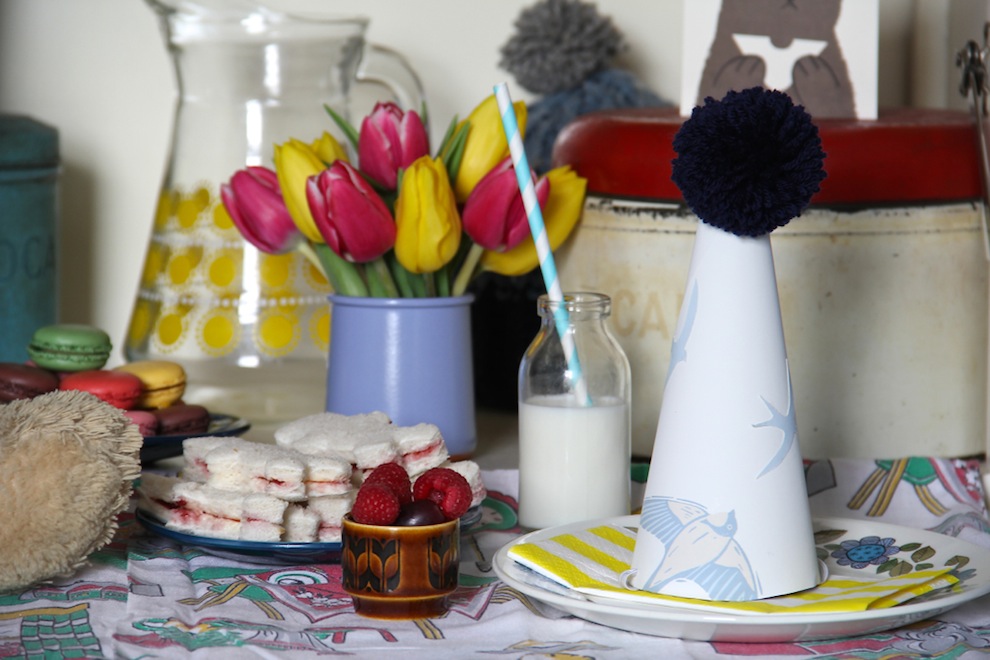 Melanie from Geoffrey and Grace 
Blue Bird Wallpaper | Clayton Pendent Light in Duck Egg
I wanted to do something a little different for this months Styling the Seasons. Since it is still bitterly cold, I wanted to come up with a fun activity that would involve my three year old, and that would fill a chilly February afternoon. I thought that since it is the month where we think of the ones we love, that that I would style a 'Tea for two' for Bailey and Bear – as there is no one Bailey loves more than her bear.
I selected the Clayton Utility Pendant light, which I instantly fell in love with, and teamed it with this really pretty Blue Bird wallpaper. To make it a real party, I also made some bunting and party hats for Bailey and her bear. We cut out bear-shaped sandwiches using a cookie cutter to serve with milk, little pots of berries (the bears favourite) and some macaroons.
Those who regularly visit the Geoffrey & Grace blog will know I love a bit of vintage. The light has a retro vibe to it, and I knew it would look great with my yellow kitchen cupboard, which I thrifted and painted a few years ago. I also have lots of vintage tins and crockery, and of course, the perfect piece of vintage fabric which completes the look.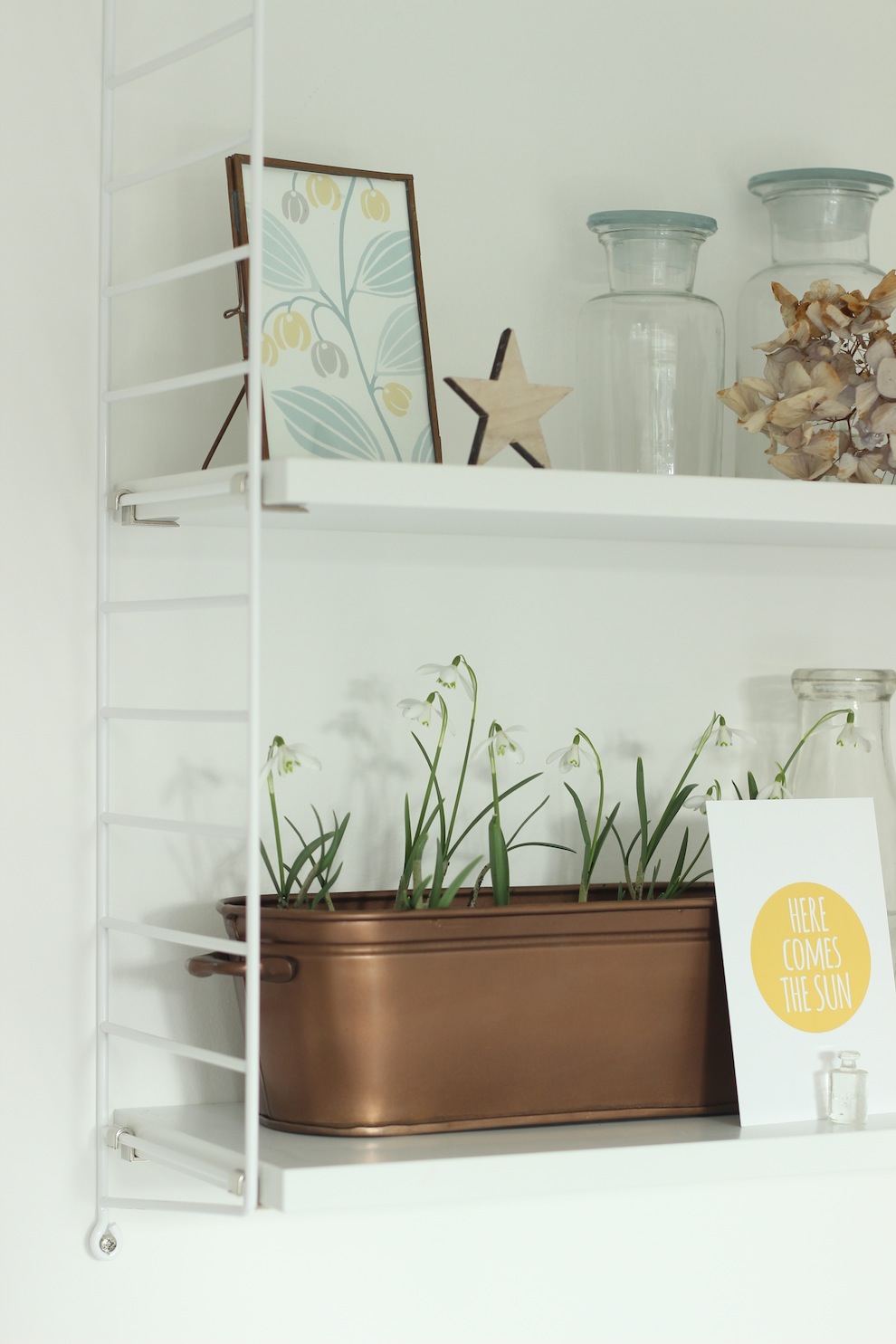 Heather from Growing Spaces
Spring Trail Wallpaper | Copper Effect Metal Planter
I love it when the snowdrops start appearing in February, heralding the first signs that spring might be on its way at last. I wanted to borrow some of their freshness for the new shelves in my home office, so I planted up the copper effect planter – the copper tones add warmth and contrast to the clean whites. To introduce some pattern I've framed a small piece of the Spring Trail wallpaper. The sunshine yellow details give a little taster of what spring has hopefully got to offer.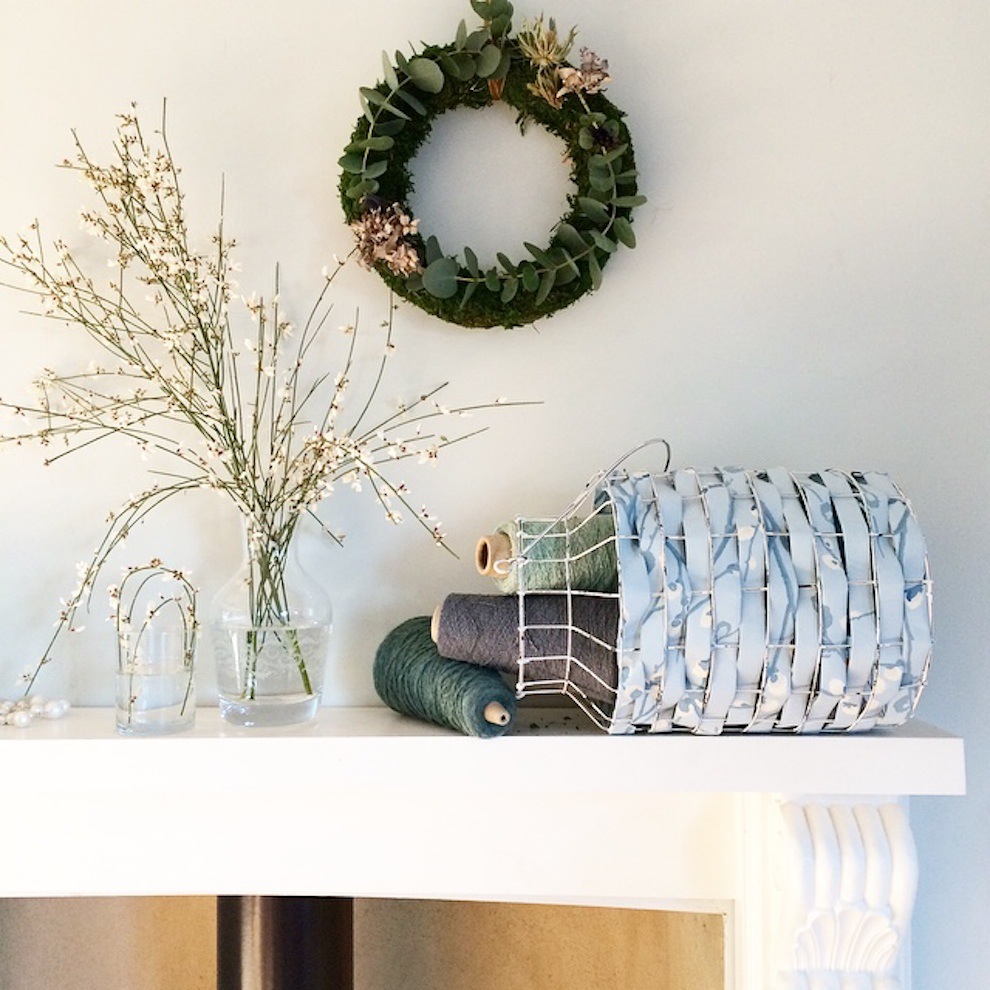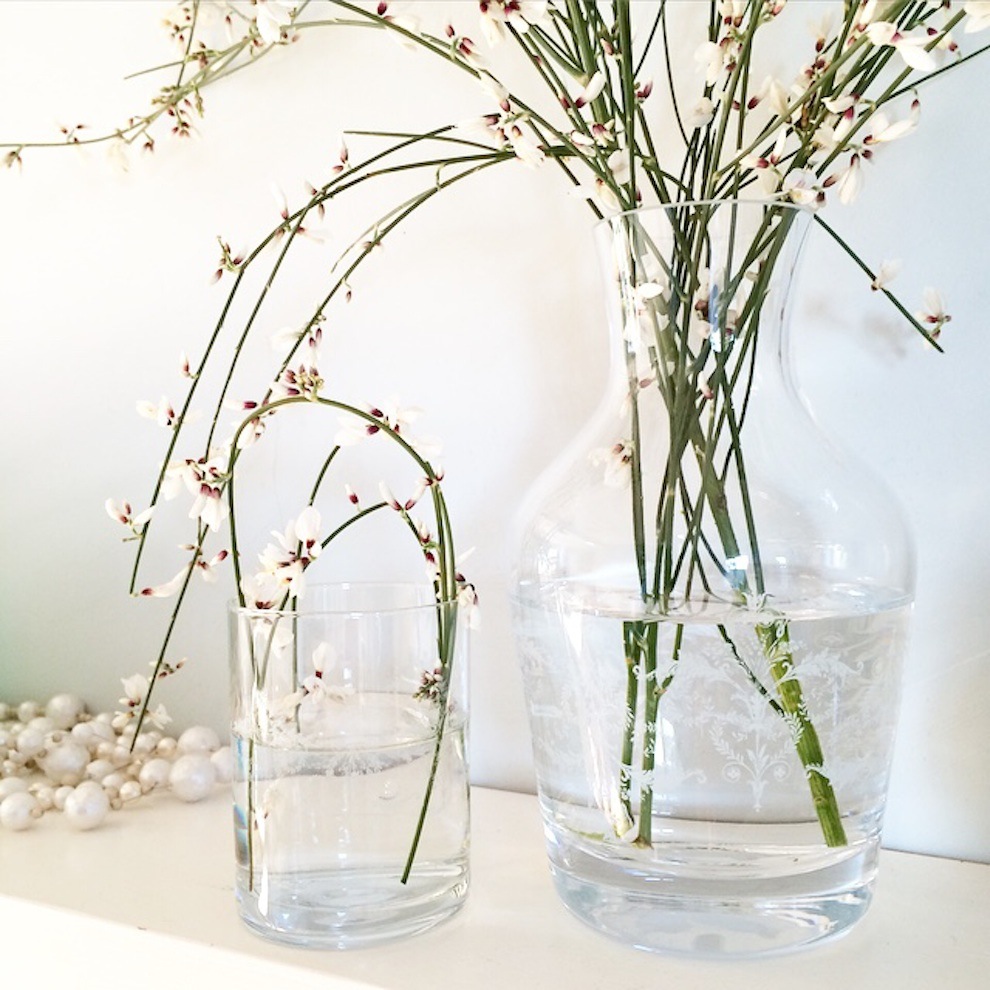 Jessica from The Cabinet Makers Lovetale
Pussy Willow Seaspray Wallpaper | Josette Glass Carafe & Tumbler Set
February, for me, is a 'doing' month. After all the hunkering and snoozing through the dark days of winter, February always seems to welcome the start of spring! Bulbs start to pop up everywhere, dashes of colour start to appear in the garden again. It's a time of motivation & rejuvenation!
We love this Pussywillow Seaspray Blue. Perfect how you can still see the design popping through on the weaves. We were asked to get creative with the paper, so I chose to weave it into a basket…Lily & I love to go out gathering & it won't be long before she needs her own little trug, so this is really a gift for her. She loved 'helping' mummy weave the strips of wallpaper onto my wire basket.
Having been encouraged by my wise French acupuncturist to drink more water, I settled on this beautiful engraved Josette glass carafe.
Obviously I wanted to style it a little more interestingly for the mantle, but as soon as these Genista blooms go over, I'll be topping the carafe with fresh water to drink throughout the day.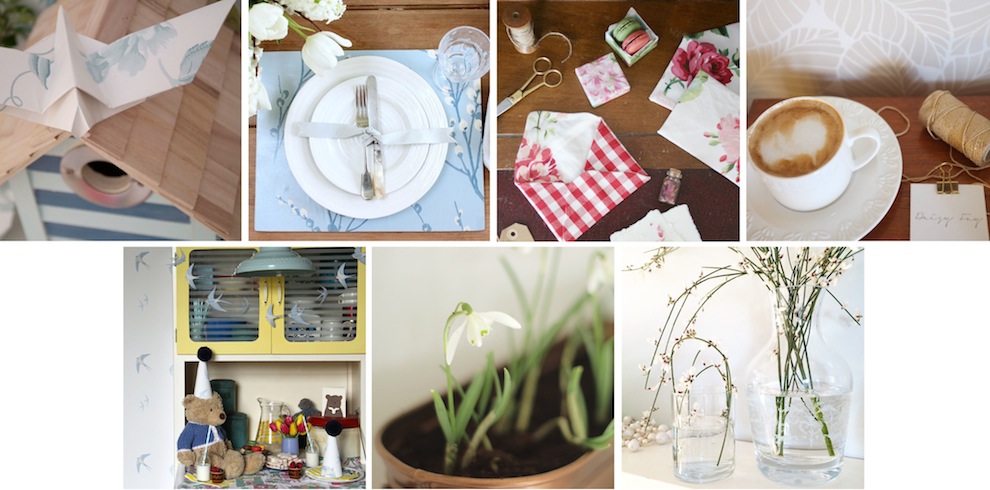 Win it!
If like us you're simply blown away by these inspiring snaps (we're feeling eager to get our craft on!) we would love for you to choose your favourite Styling the Season's snap below and you could win a £50 Laura Ashley voucher to style up an area of your own home! Simply click on the blogger below and enter your details.
Feeling inspired? Whether you're a blogger or on the social media scene, anyone is welcome to take part in the Styling the Seasons series each month. Simply upload your styled area and upload it to Instagram, Facebook or Twitter using the hashtag #StylingTheSeasons. It's a brilliant concept, bursting with inspirational ideas and a wonderful way to get your creative side flowing!
Don't forget to stay tuned for Part Two of our Styling the Seasons challenge tomorrow, with another opportunity to win a £50 Laura Ashley voucher!
Terms and Conditions: All entries for the Laura Ashley Styling the Seasons giveaway will be drawn at random. There will be two Laura Ashley £50 gift cards to be won, one for the giveaway on Tuesday (Part 1) the 10th of February and the other on Wednesday 11th of February (Part 2). Entries for Part One must be received by the 15th February 2015. Entries for Part Two must be received by the 16th February 2015. A winner will then be contacted via email. No prize cash alternatives will be given. The competition is only open to UK residents and you must be 18 or over to enter. There will be one entry per household.