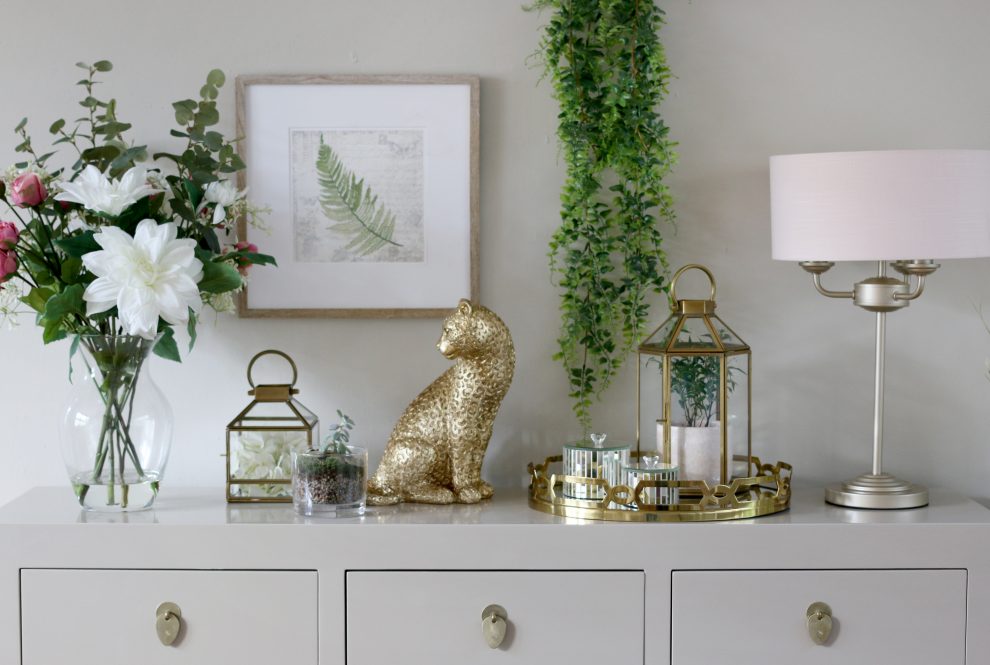 Use these simple tips to create an eye-catching console table display. read more
Create a stunning console table display with the help of interior blogger Kimberly Duran of blog: Swoonworthy. Kimberly used items from our new Gold Copper collection paired with some of our main lines to create a display that will be admired by anyone visiting the home.
How to Style a Console Table
One of my favourite pieces of furniture is the often-overlooked sideboard or console table. In a dining room, it's often over-shadowed by the main star in the room – the dining table – but it's a master of practicality as well as aesthetics. Within drawers or cabinet doors, it houses all manner of items – from the fancy plates and table linens only brought out on special occasions to the kid's craft supplies for a spot of weekend creativity.
But while you may be aware of its practical side, are you missing out on creating a little something special with the surface area this provides? While we may lavish attention on other areas, neglecting styling the top surface of this piece inevitably gives way to the clutter of our day-to-day – nature, as we know, abhors a vacuum. So, creating a beautiful display not only provides a satisfying styling opportunity you don't want to overlook, it will also enhance the room it's in and lessen the likelihood of it becoming a magnet for clutter!
You can, of course, create an arranged display to suit nearly any style you desire – whether you love a more rustic country look or crave something more minimalist. For my own style, I am naturally drawn to a touch of glamour, soft feminine details and colours as well as plenty of greenery so that's what I've used but you'll find the basic principles of styling your own sideboard or console remain the same.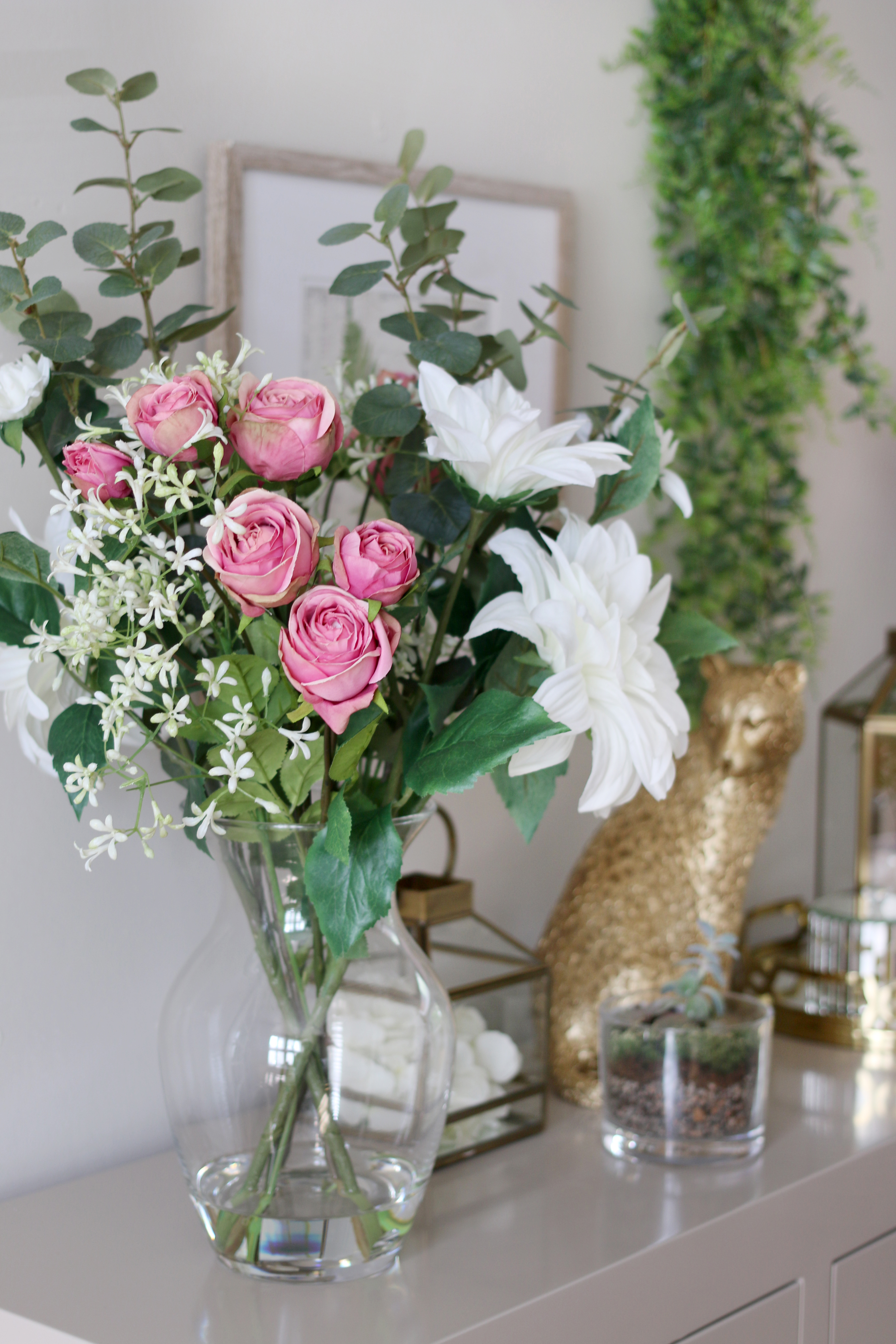 Start with Your Anchor Objects
One of the most important aspects of creating a stylish display is to play a bit with scale. Look out for items that create height and depth across the length of your sideboard as these larger items will be the first things to place in your display.
On my sideboard above, I chose two taller pieces to act as visual anchors on each side – the soft blousy Dahlia and Rose floral arrangement and on the other, the Sorrento Blush table lamp. Similar in height and size, they create a nice visual balance without being too stuffy or formulaic.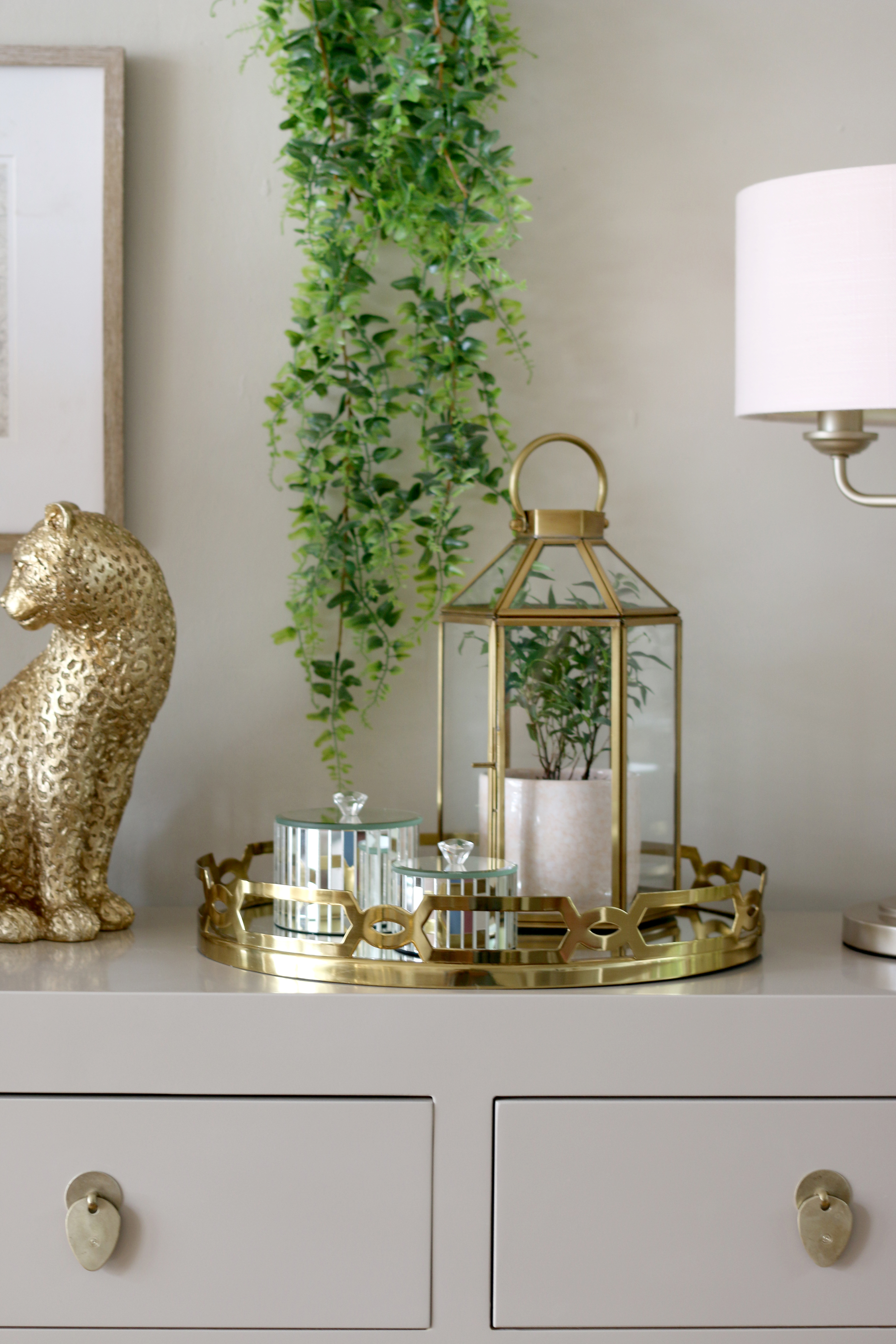 Vary Your Heights and Scale
Once these two larger pieces are in place, I then chose items that varied in height and scale to mix things up a bit and add some interest. This is where I'll normally choose some medium-sized and smaller pieces to create variation in my arrangement.
With everything of the same height, your display will be in danger of feeling a little "flat" and your eye will stagnate along the straight line created. You want your eye to have an interesting line to follow and this variation of height allows it to move across the surface, taking in every piece on display.
The two brass tealight holders are the perfect way to add a bit of both – with one taller and one shorter, the items marry well to one another but they create that variation that's the secret to successful styling.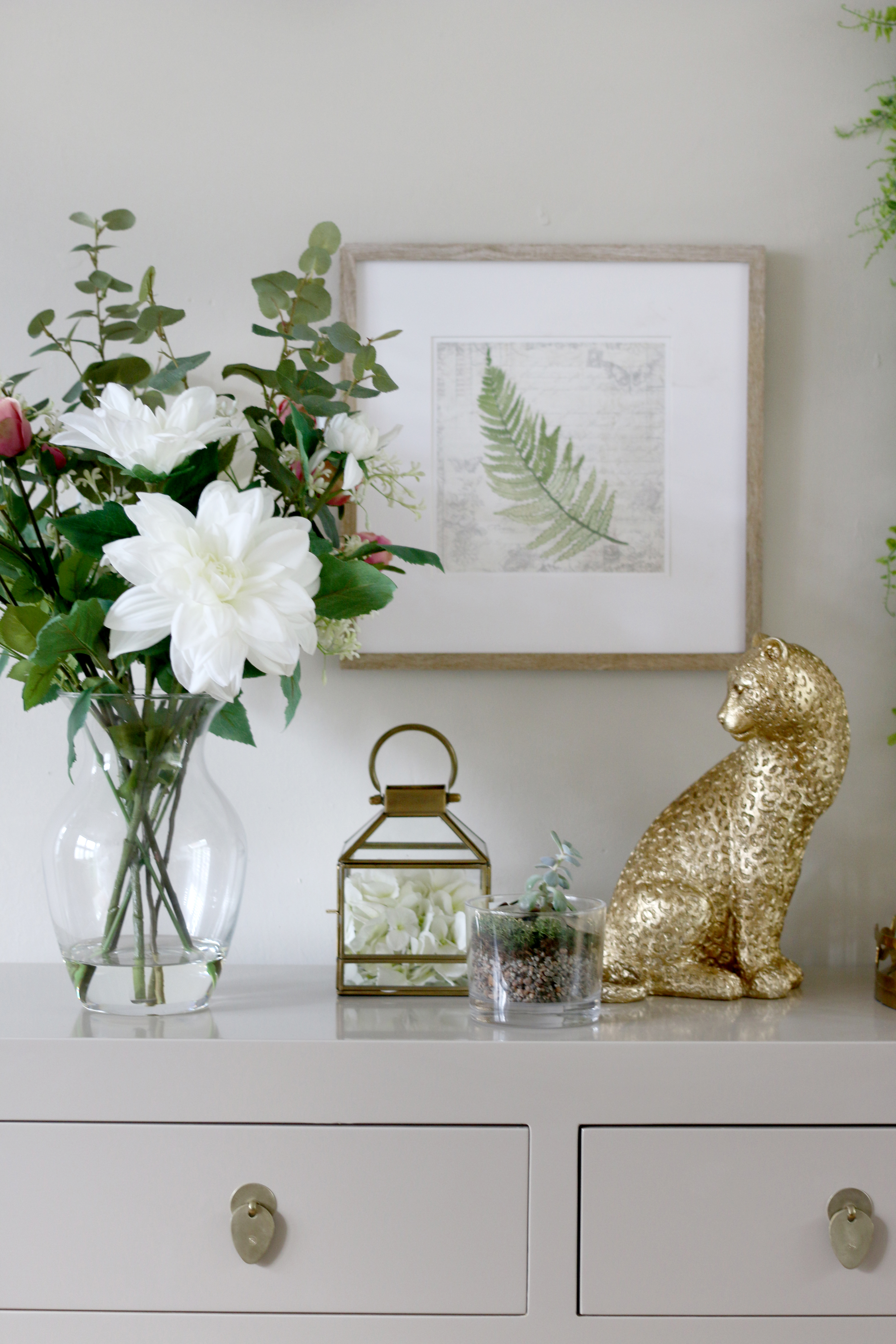 Layer Your Items
Another secret to ensuring your display doesn't look stagnant is to layer some items in front of others. One trick is to hang artwork or mirrors on the wall behind (I used the Fern Frames Print) or for a more casual display, simply lean them against the wall and layer items in front of it.
Your smaller items can either go on top or in front of larger objects creating depth to your styling. Consider adding a small candle or posy of flowers on top of a stack of books or showing a collection of vases where the tallest are at the back with shorter or smaller ones to the front of your display.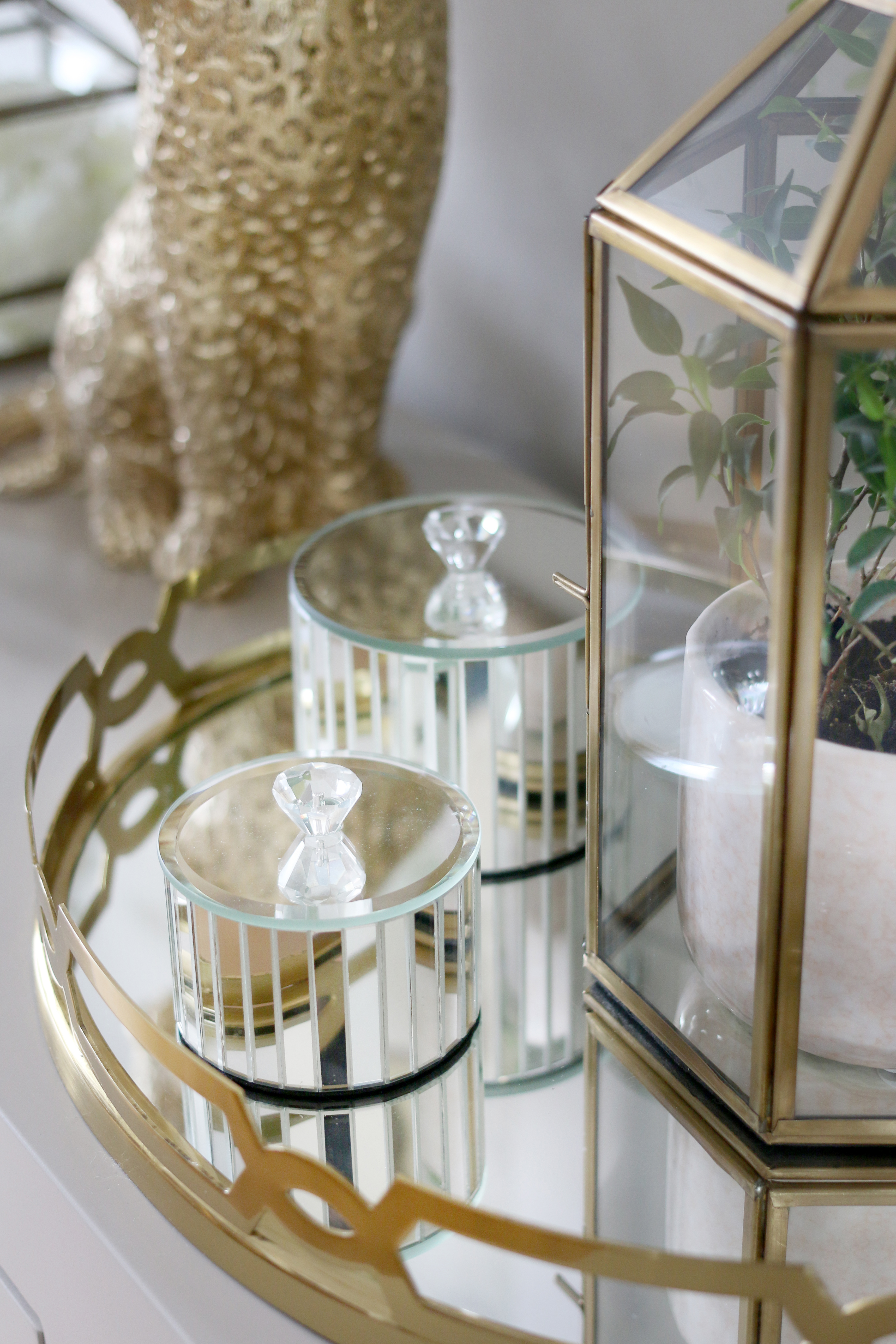 Using Trays
I find trays incredibly useful when styling and the gorgeous Fitzgerald Gold Effect Tray has become a favourite. Not only does it add a touch of glamour, it bounces the light around with its mirrored base whilst corralling and grounding smaller objects that might feel a little lost without it.
Speaking of bouncing light around, look out for items that are reflective or create texture in your display. The set of 2 round mirrored trinket boxes provide some additional detail and sparkle here and while you may think they would only suit a vanity or bathroom, most small boxes or trinket dishes can serve as decorative items throughout your home as thoughtful additions to any surface.
The Rule of Odd Numbers
One thing to bear in mind when styling your sideboard or console table is that odd numbers often look more pleasing to the eye than even ones. So, when grouping objects, keep this in mind.
In my display, the tray holds three objects and you'll also see there's a grouping of three including the gold leopard, the smaller tea light holder and the small succulent.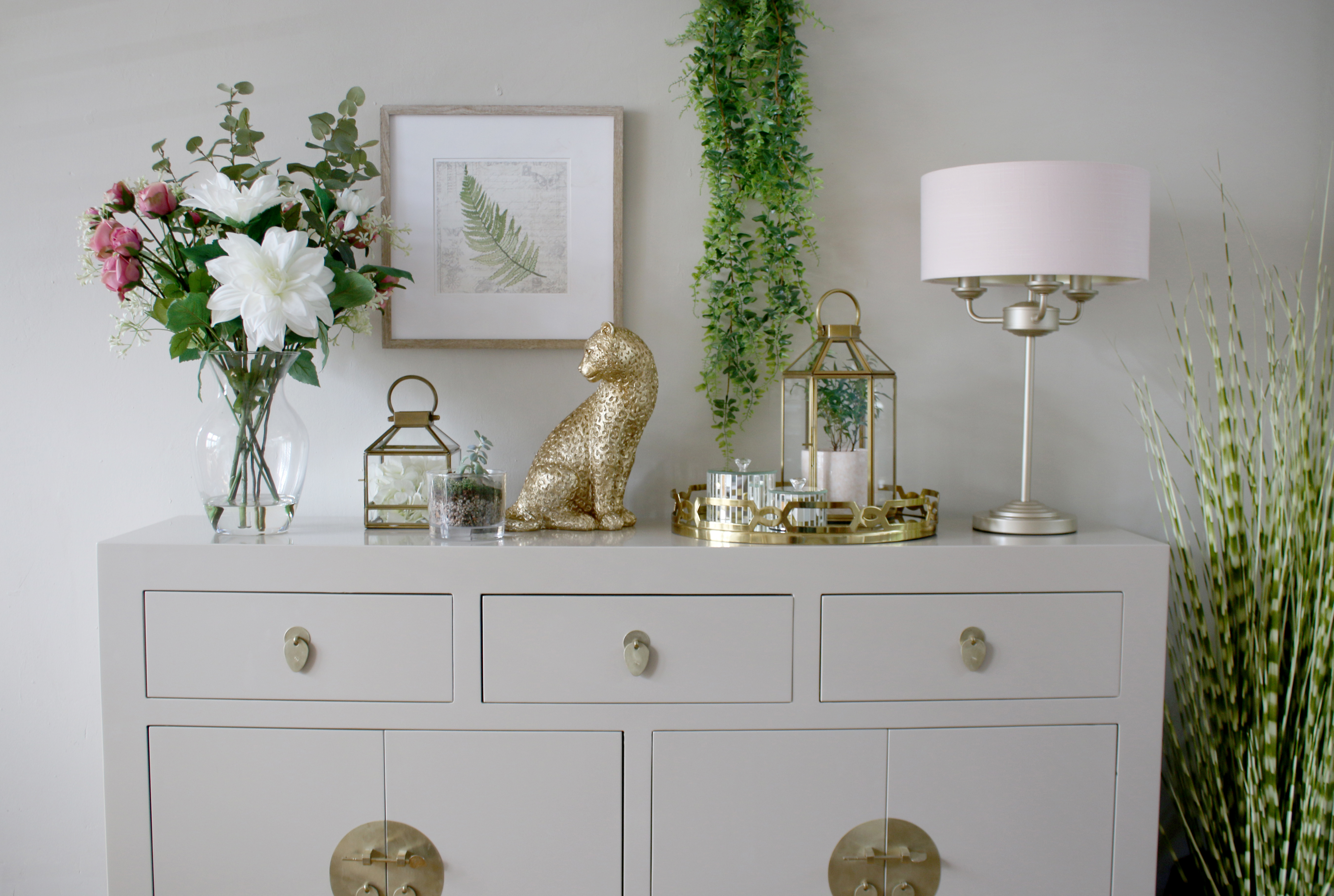 One larger item on its own, three varying-sized items grouped together or even 5 smaller objects create a more balanced display.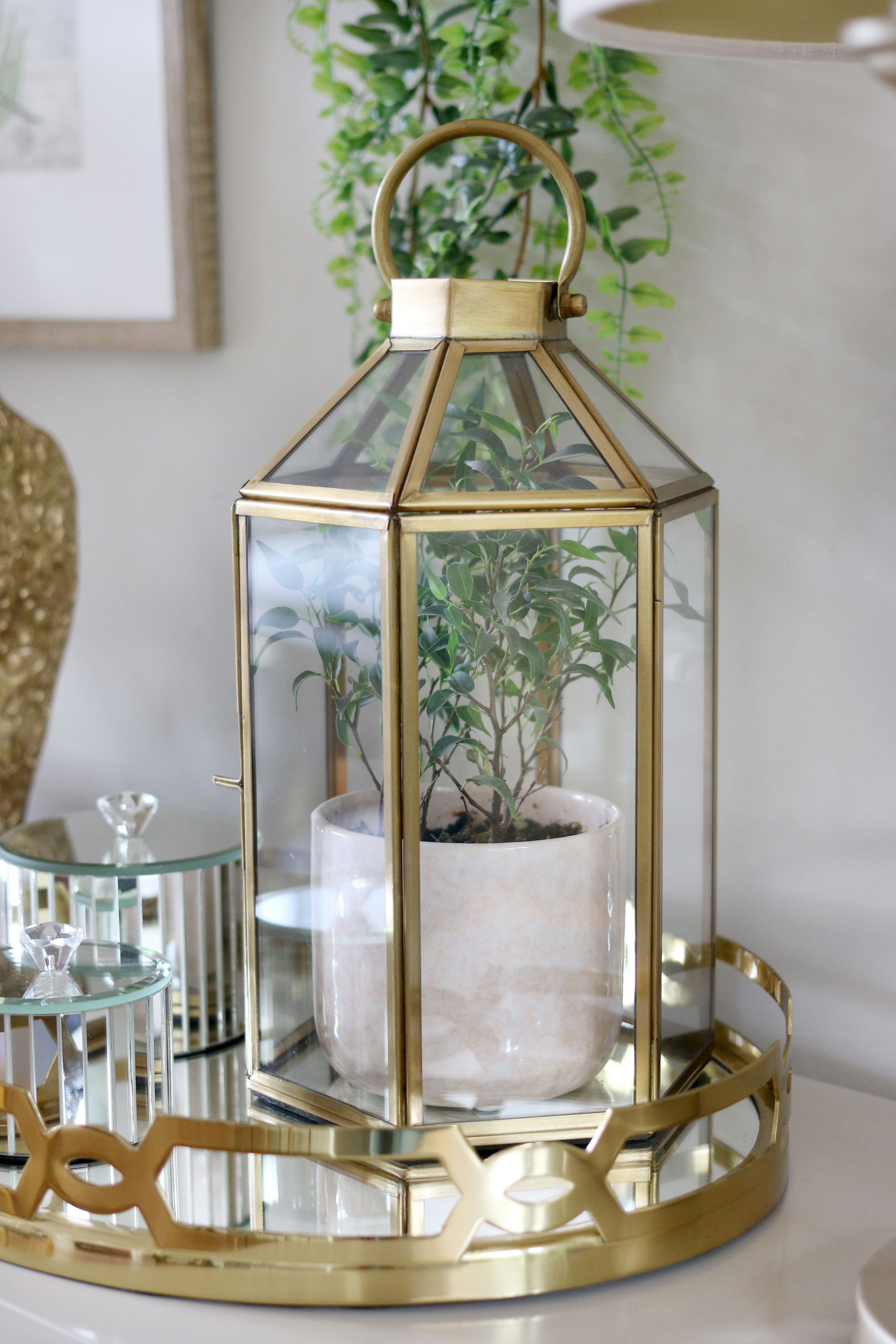 Adding Life to Your Display
Finally, consider adding some life (or faux life!) to your vignette for a natural finishing touch. Faux or real flowers and plants add texture and an organic quality to your display. Don't be afraid to add them in unexpected places. I used the tea light holders to show off a small plant as well as some faux blooms and of course, the large floral arrangement softens the scheme. Hanging a trailing plant adds punch of greenery and texture.
This post was created in collaboration with Kimberly Duran of Swoonworthy using Laura Ashley Home Accessories.
What do you think of Kimberley's console table styling? Would you like to give your console table a bit of a revamp? Let us know in the comments below.