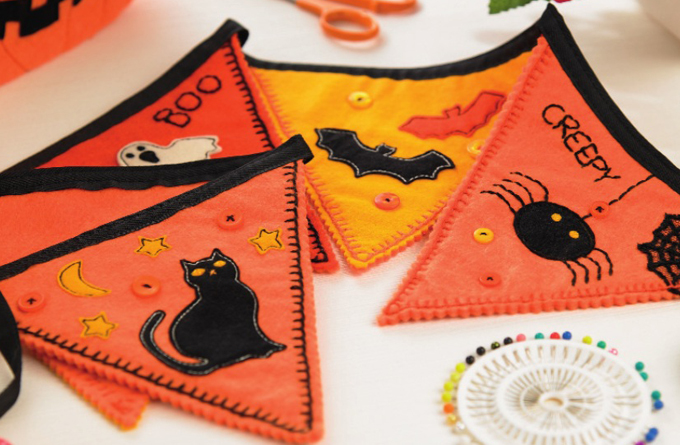 Step out in spooky style with these fun trick or treat ideas from Crafts Beautiful magazine read more
Halloween is only just around the corner, so why not have a go at these simple felt projects by Jenny Arnott? Little ones will love using the cute pumpkin bag for trick or treating – why not get into the spirit of things with some spooky-themed bunting to decorate your porch too. Focusing on simple embroidery stitches, these projects are great for those who are not overly confident with a sewing machine, and best of all, you don't need many materials to get going!
Supplies:
Felt: flame orange, 0.5metre; dark orange, 23cm square; fiesta gold, 23cm square
Fabric, spider web, black, 10cm
Twill tape, black, 25mm, 2m
Buttons, orange, yellow
Stranded embroidery thread, black, yellow, orange
Sewing kit
Sewing machine
Pinking shears
Pumpkin
1. Visit this link and download the templates. Using the motifs, draw a pumpkin shape onto orange felt. Flip the template as indicated and continue drawing to create a mirror image. Cut out and repeat. Fold both pieces in half to create front and back bag panels. Machine stitch six curved lines in orange thread on the front panel. Cut out the facial features from black felt. Attach with thread.
2. Cut a long narrow strip from orange felt, 6cm x 90cm. Fold in both ends so they meet in the middle. Pin together. With right sides facing, start at one end and carefully begin to sew the strip to the front pumpkin piece. Adjust the length of the strip if needed so the top edges match up. Attach the back piece in same way. Slip stitch the strip ends together by hand.  Trim seams. Turn right side out.
3. Blanket stitch around the top of bag in orange thread. To make the handle, trim a strip of orange felt, 6cm x 23cm. Cut the same from black spider web fabric. Pin together. Fold the edges under, 1cm and stitch in black. Secure handle to the bag with tiny hand stitches. Make a small loop from black ribbon and attach to back of bag. Sew an orange button to the front to fasten.
Bunting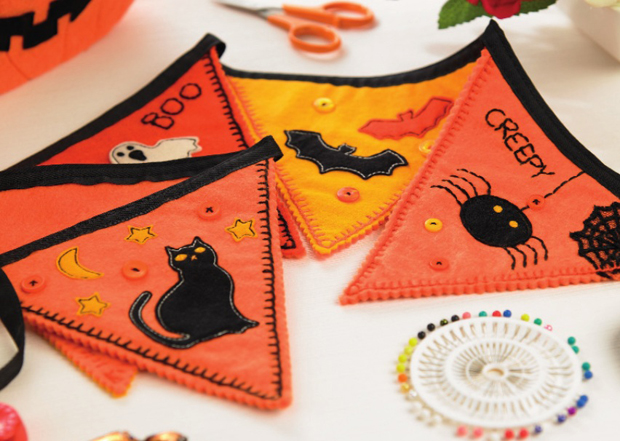 1. Cut out five felt flags: 2 x flame orange, 2 x fiesta gold, 1 x dark orange. Shape all appliqué pieces from coloured felt, including a cat, pumpkin, ghost, bats and spider. Arrange and machine stitch onto flags, alternating colours. Trim a cobweb from the spider lace fabric and stitch to the corner of the spider flag. Hand stitch the legs with black embroidery thread.
2. Embellish some flags with buttons and embroidered Halloween words. Cut five backing flags from flame orange felt. Pin and tack one to each of the front flag pieces. Trim the edges with pinking shears. Blanket stitch around each pennant in a contrasting coloured thread.
3. Fold black twill tape in half widthways. Press with an iron. Position each completed flag between the folded tape and pin in place, leaving equal gaps between each flag. Sew all the way along the tape to secure the flags, making sure to catch both sides of the tape and both the front and back pieces of each flag as you go. Fold the ends of the tape under to neaten and slip stitch.
"If you find it difficult to stitch the appliqué pieces directly to the background, try using fusible web to adhere the pieces in place first"
Jenny Arnott, Project Designer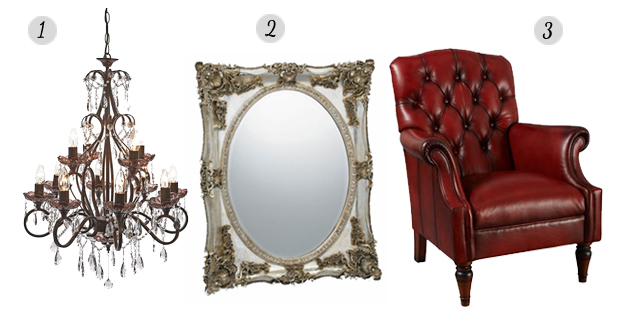 Take the gothic look further in your interiors
Team your spooky makes with these darkly decadent home accessories from Laura Ashley for true gothic grandeur…
No Halloween house is complete without a gorgeously gothic chandelier to take centre stage – this Shamley light fitting, priced £500, has just the right level of sophistication to look fabulous all year round.
Classic leather furniture adds extra gravitas to spooky surroundings, and this high-backed Lancaster chair, priced £1,100, does not disappoint. Upholstered in burgundy leather, it also features a hardwood frame.
Beth Silver Rectangular Mirror
On a smaller scale, this beautifully ornate Beth mirror is classically styled and beautifully framed within an ornately detailed mould, perfect for making a striking seasonal statement within any room, priced £350.
You can find more crafty inspiration in Crafts Beautiful magazine