See how simple it is to create a Scandinavian inspired bedroom... read more
The Scandinavian trend has continued this year with minimalistic and modern interiors being an ever-present design in people's homes. The lovely Olivia from Lust Living is a keen ambassador for all things scandi so when we found out she was updating her bedroom we were more than happy to show her that we too are embracing this style and sent her a few pieces to really complete the look. Check out her bedroom as we think you'll agree it's simply Hygge…
What do you think of when you hear Laura Ashley? Patchwork? Country house? Floral? Typically English interior design? Well yes it is all those lovely things but today I'm showing how easily you can pull together a Scandinavian inspired bedside look with Laura Ashley accessories.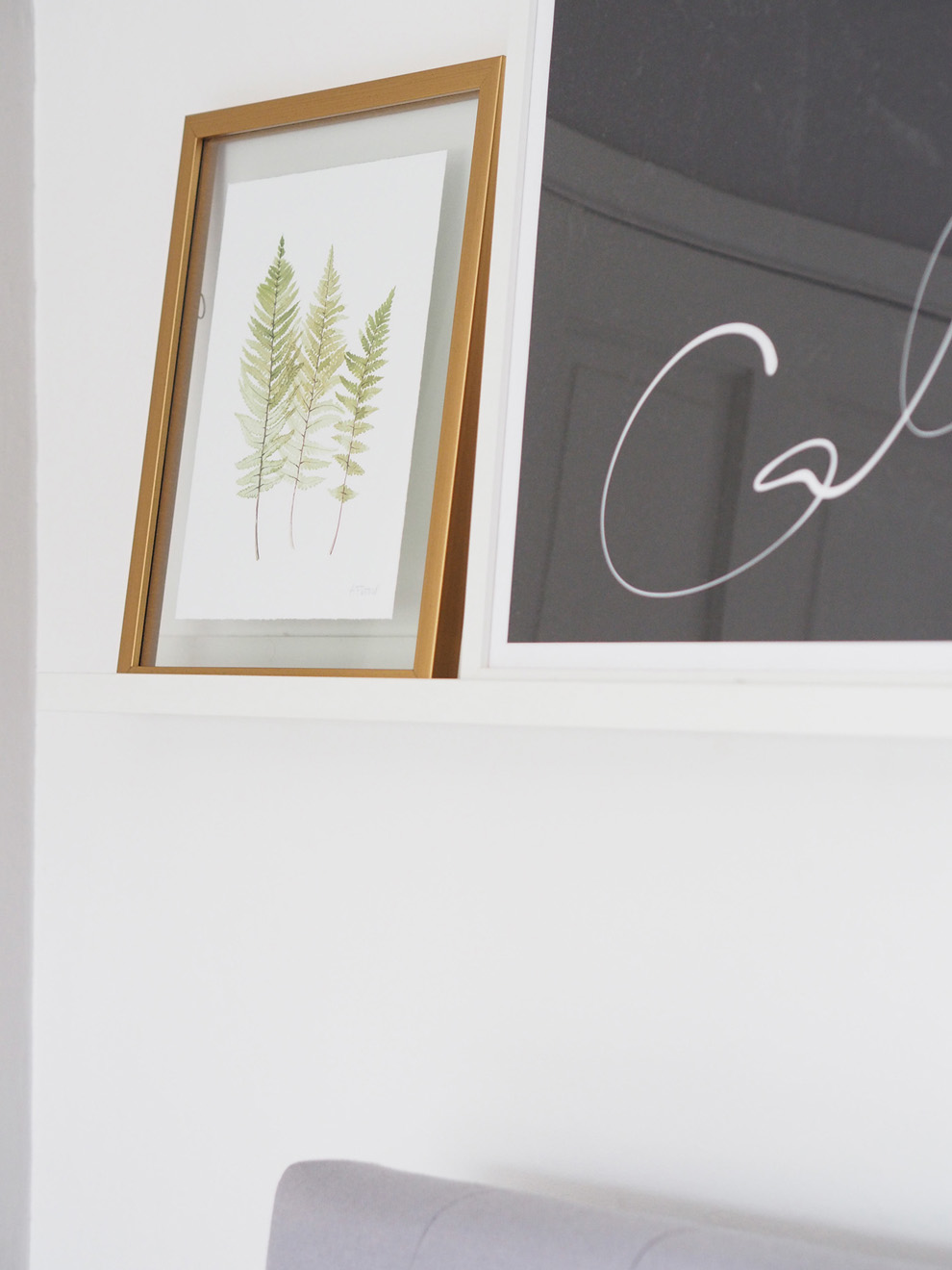 No matter what style your home is, you can find accessories to suit in any shop really, it just comes down to choosing the right pieces, the right colours and the right textures to fit. Scandinavian design is very much about minimalism – even when it comes to colours, so choosing a neutral colour palette is a good place to start. My bedroom is very neutral, all grey and white – but that makes it very easy to add pops of colour here and there if I fancy it – like my ever growing love for gold accessories – they really warm the neutral space up and give it a more homely feel. I absolutely love this Ferns Floating Framed Print – partly because it's gold but I love floating frames, I just love the way they look – luxurious and dainty – and the print is stunning.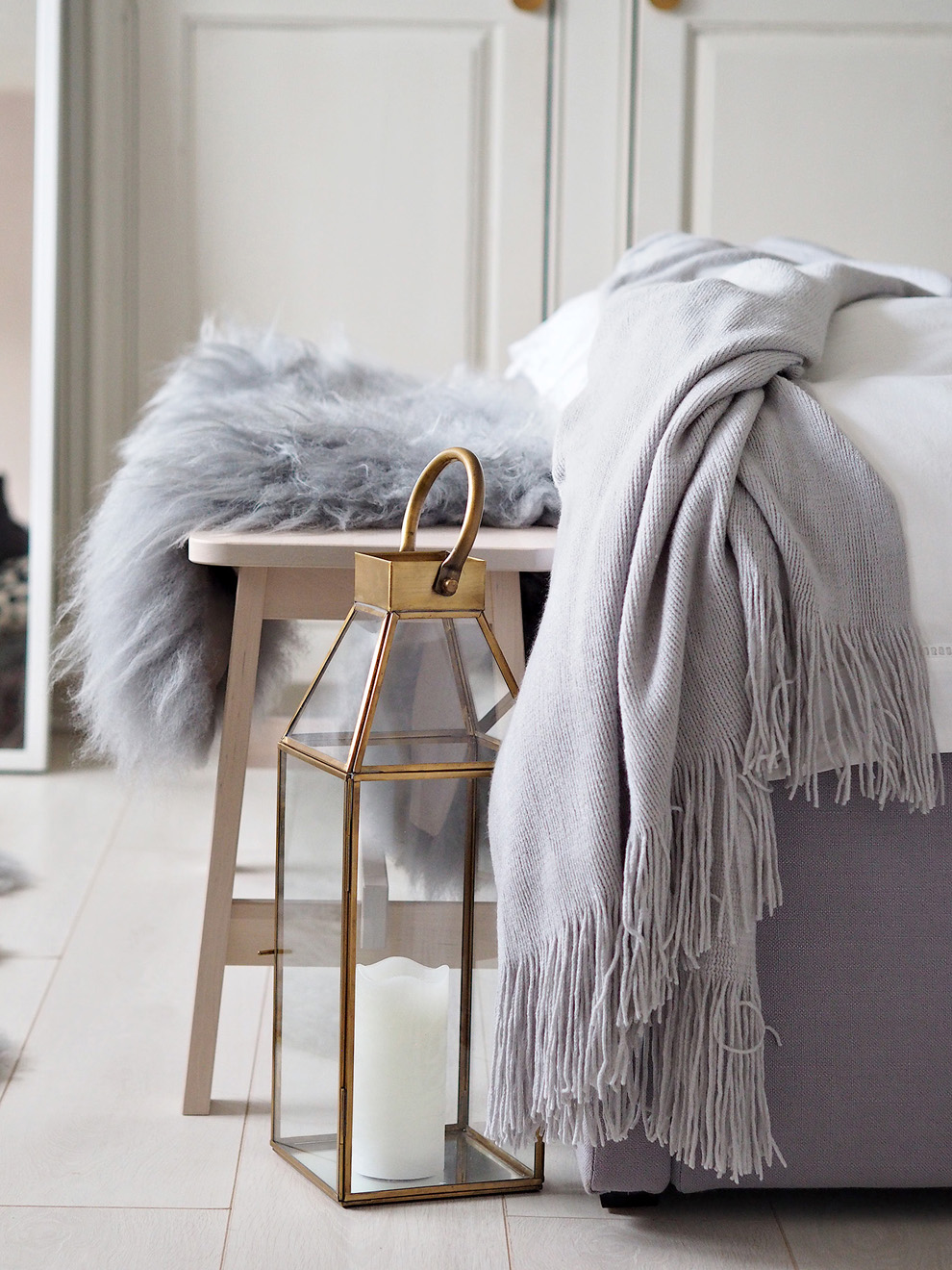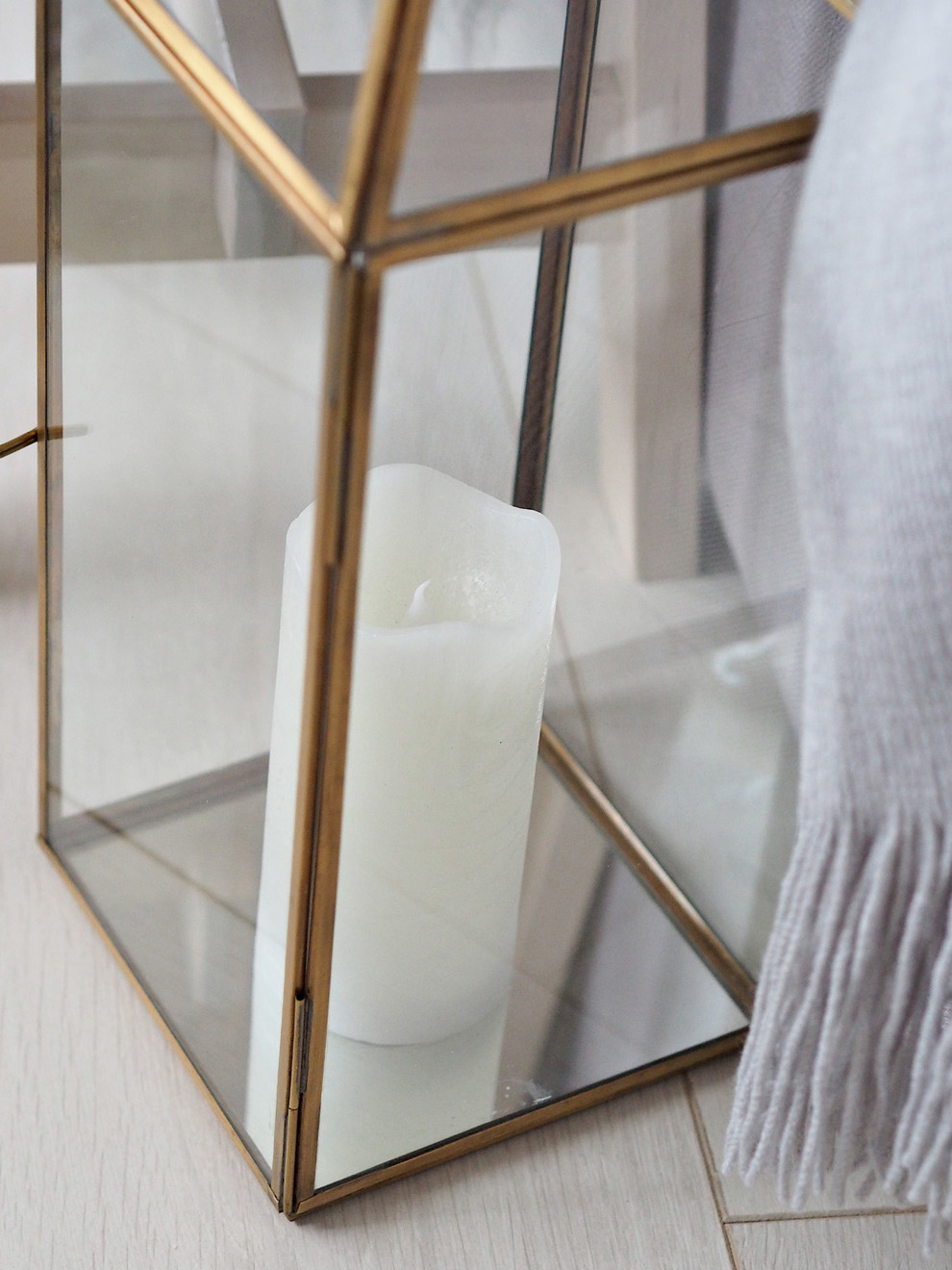 I think the Brass Lantern may be my favourite Laura Ashley addition – it would look great in the living room, kitchen, bathroom, outdoor in the summer but I thought it looked right at home here next to my bench with an LED candle inside, it finishes the end of the bed off perfectly.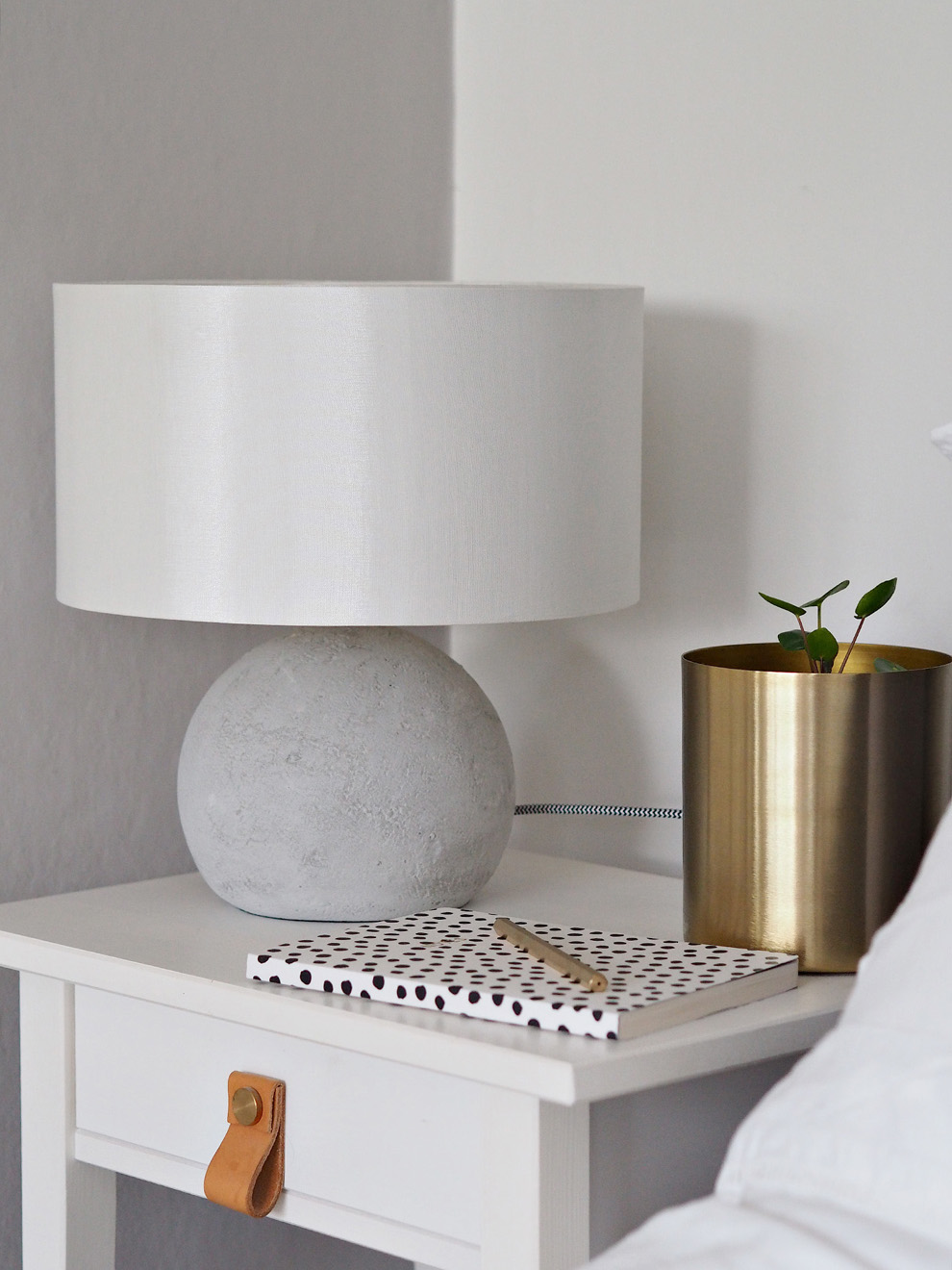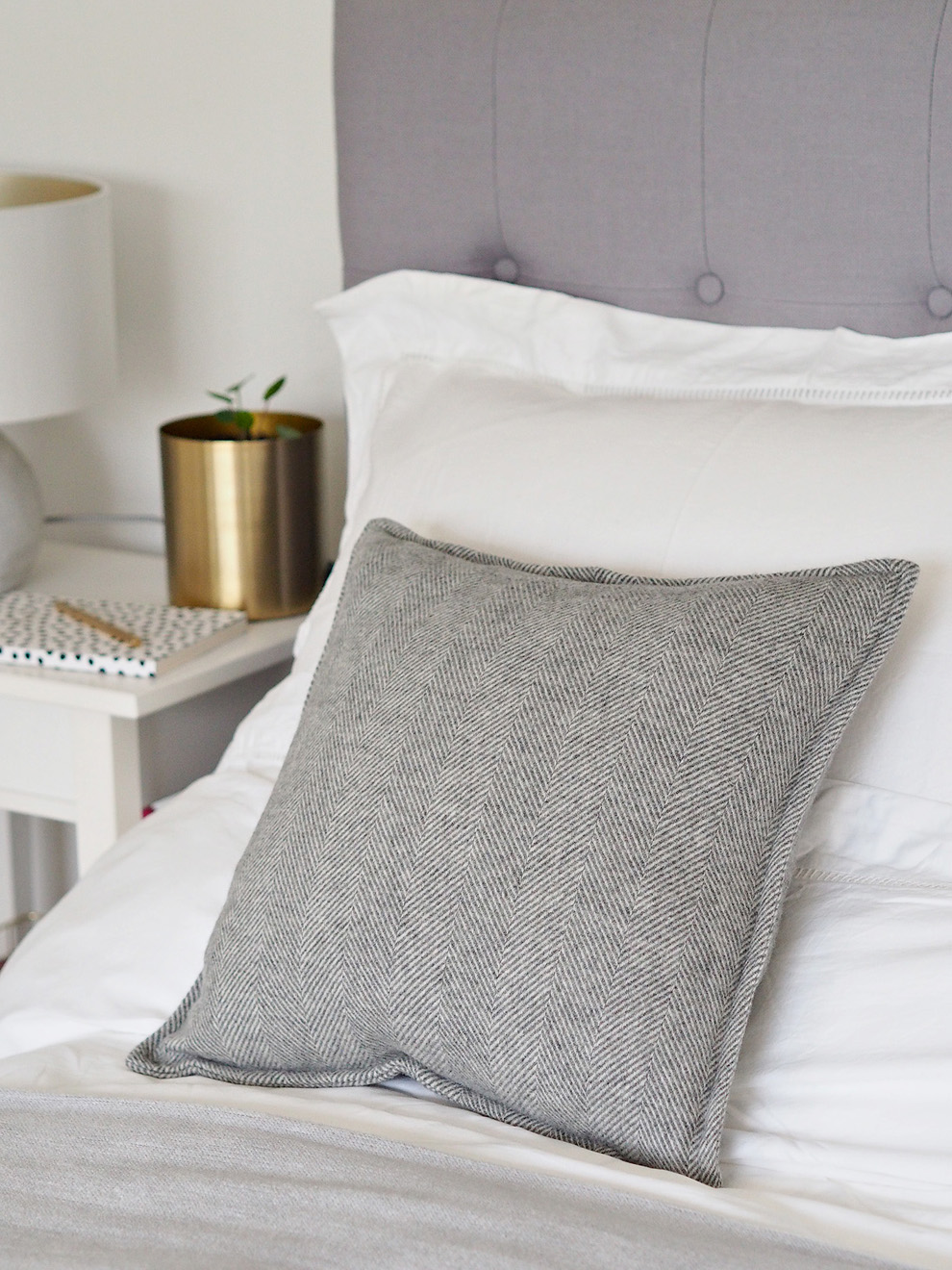 Next up – you can't have a bedside table without a lamp of some kind can you? I was pleasantly surprised to find a concrete lamp base at Laura Ashley (complete with a braided cable which looks much more sleek than a plastic cable), it adds just the right amount texture and could give you quite an industrial feel if that's what you were going for – I wanted to make it a little more feminine so I added a simple ivory lamp shade and together I'm pretty sure they were made for each other. And for the final touch, no bed is complete without cushions, and in all honesty I normally have about ten throw cushions, but since this is a really stripped back Scandinavian-inspired look, I chose the Romsey lambswool cushion because I knew it would contrast against the crisp white bedding faultlessly – and it's the softest thing ever. I adore the herringbone design too. Cosy but simplistic.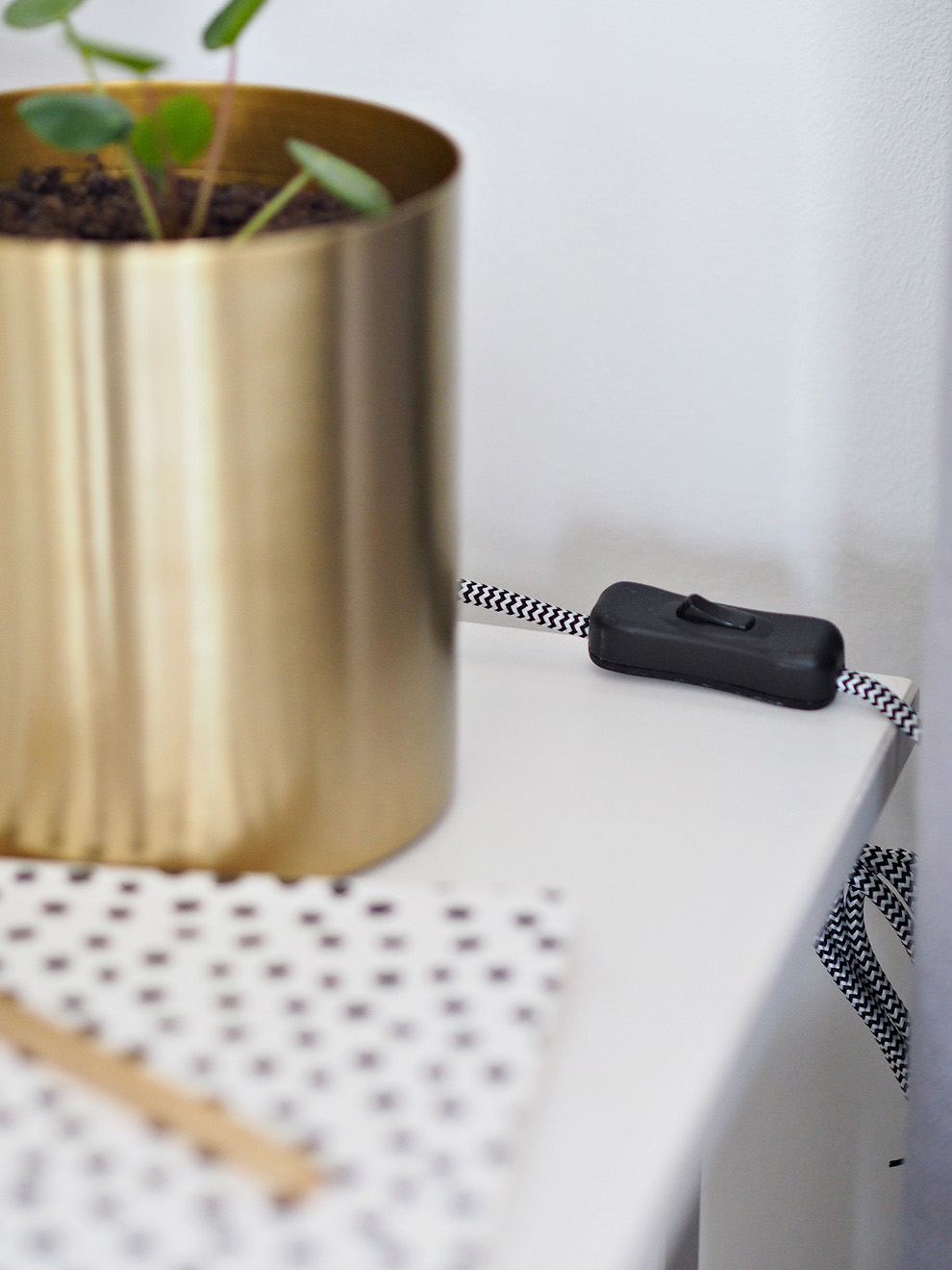 And that's the finished look – of course, if you are starting from scratch and want to complete the entire bedroom look, I've had my eye on the Amy Divan & Headboard Bed in Dove Grey, Broughton bedside tables and I would recommend teaming them with some White Percale Bedding! Don't forget you can always easily change the look of your bedside tables up by simply changing the handles.
That's it – I hope you love this look as much as much as I loved creating it. I've linked everything below for ease!
Thank you Laura Ashley for working with me on this Scandinavian Bedside look!
How fresh and modern does Olivia's bedroom look? Very Scandinavian indeed! Do you like the scandi look in your home? Let us know below or on Twitter @LauraAshleyUK