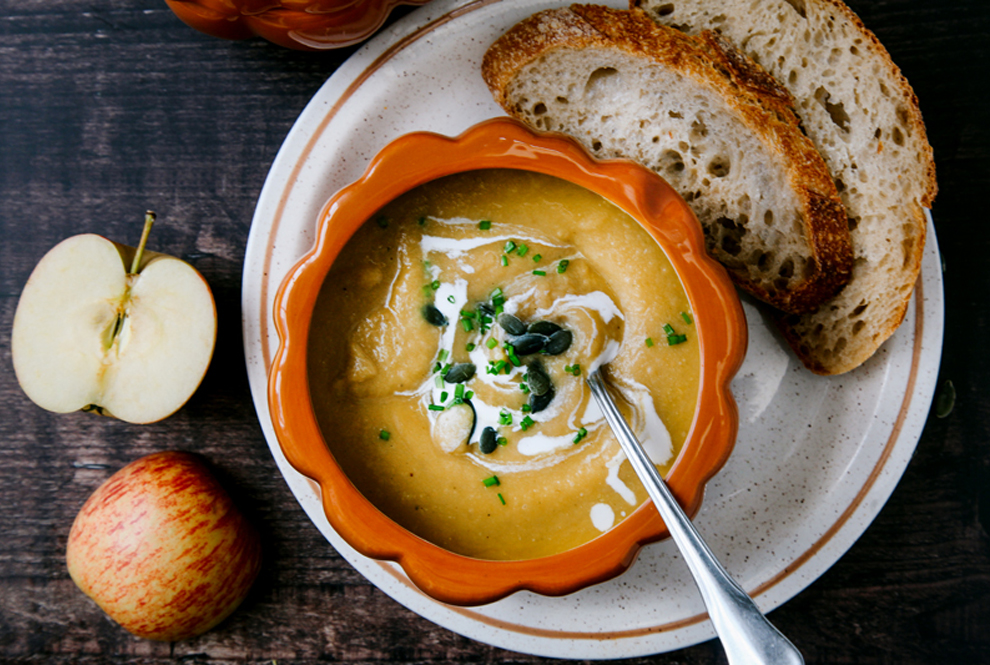 Make yourself a little autumn treat with this tasty pumpkin, apple & ginger soup recipe... read more
Our favourite vegan food blogger is back with a delicious soup Pumpkin, Apple & Ginger soup recipe that we know you'll found totally mouth watering. The lovely Aimee from Wallflower Kitchen shows us how to make this cosy autumn treat and it's easier than you think…
I can't quite believe I'm sitting here writing about pumpkins already. It feels like Summer went by in a flash (did it even happen?) but I don't mind because Autumn is my favourite season of all and I get so excited about the seasonal produce and flavours!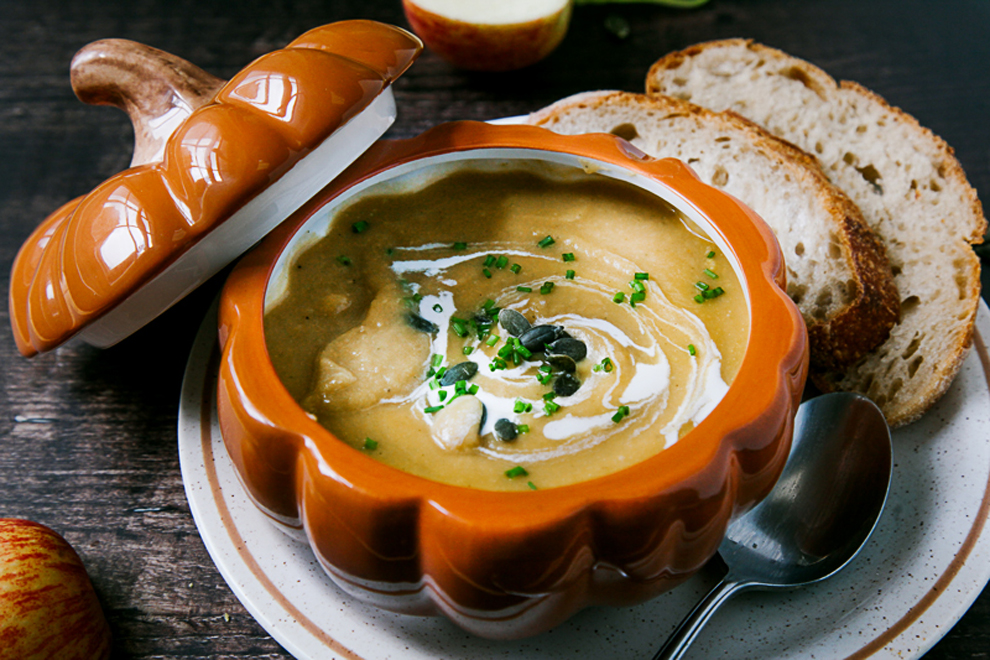 When I saw these Pumpkin Serving Bowls in the latest Laura Ashley catalogue, I instantly fell in love. Most pumpkin-shaped kitchenalia tends to be a little too kitsch or cheap-looking but these beautiful bowls would definitely not look out of place on a fancy dinner table (but they're still totally cute too.)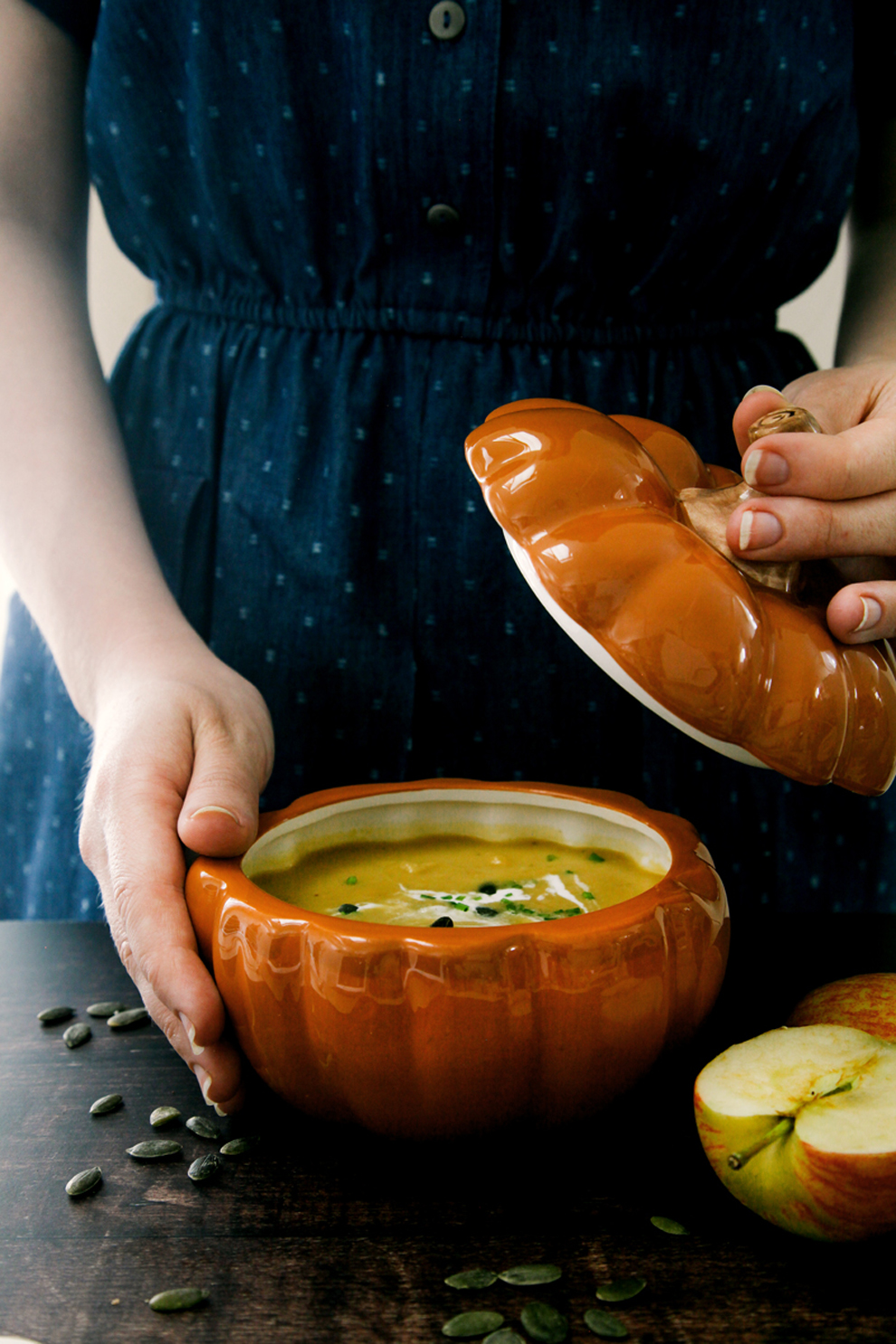 Another thing that caught my eye was this beautiful Denim Dobby Dress. A lovely lightweight denim fabric, perfect for transitioning into Autumn. You can wear it as it is with sandals or warm it up with a knitted cardi, tights and boots. And the best part? It has pockets. And I need more clothes that have pockets in my life.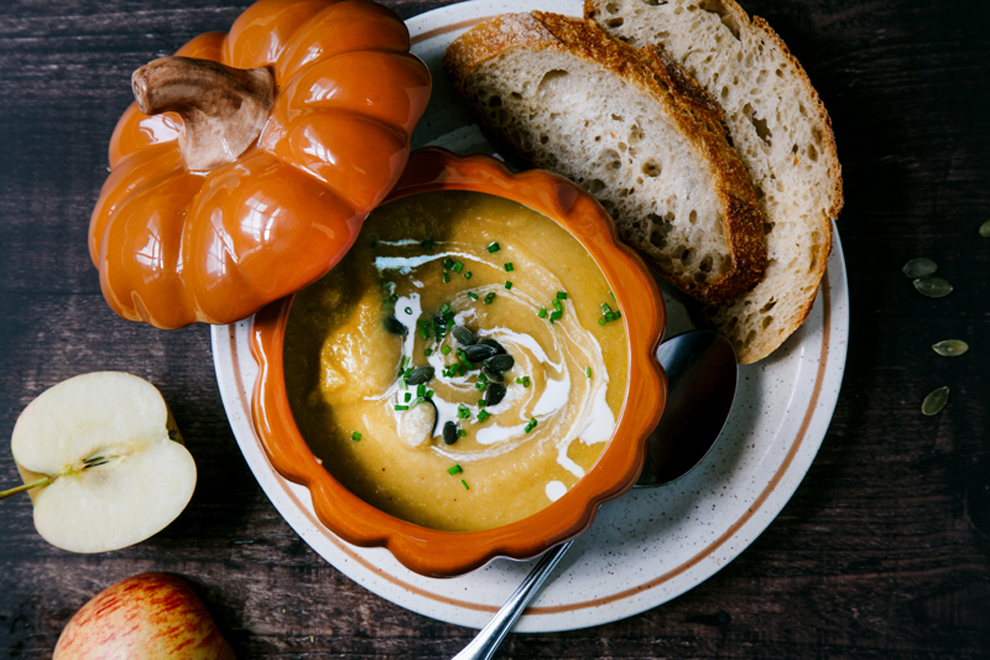 The soup combines earthy pumpkin with sweet, crisp apples and spicy ginger to create the most wonderfully comforting taste sensation. It's easy to make, filled with healthy, natural ingredients and is naturally free from dairy, eggs, gluten, nuts and soy. Serve with a slice of crusty bread and top with some crunchy pumpkin seeds or dried apple chips!
PUMPKIN, APPLE & GINGER SOUP
PREP TIME: 10 mins | COOK TIME: 35 mins | TOTAL TIME: 45 mins
A wonderfully comforting soup, bursting with Autumn flavours and a subtle sweetness.
Serves: 4
INGREDIENTS
500g butternut squash or pumpkin, chopped into small cubes
2 medium gala apples, stalk removed and cut into large wedges
1 small red onion, cut into large wedges
3 garlic cloves (unpeeled)
1 tbsp olive oil
½ tsp salt and pepper
1 thumb-sized piece of ginger
½ tsp mixed spice (or ¼ tsp nutmeg + cinammon)
500ml vegetable stock
1 tbsp apple cider vinegar (or balsamic)
Salt and pepper, to taste
To serve
A swirl of coconut milk
Chives
Pumpkin Seeds
INSTRUCTIONS
1. Preheat oven to 200C / 390F. Add the squash/pumpkin, apples, onions and garlic to a large roasting tin with the olive oil, salt and pepper. Toss to coat and roast for 30-40 minutes.
2. Once cooked, unpeel the roasted garlic gloves and add them to a blender with the rest of the ingredients. Blend everything until smooth, adding more vegetable stock, if needed. Season to taste.
3. To serve, add a swirl of coconut cream or dairy-free yoghurt. Top with chopped chives and pumpkin seeds.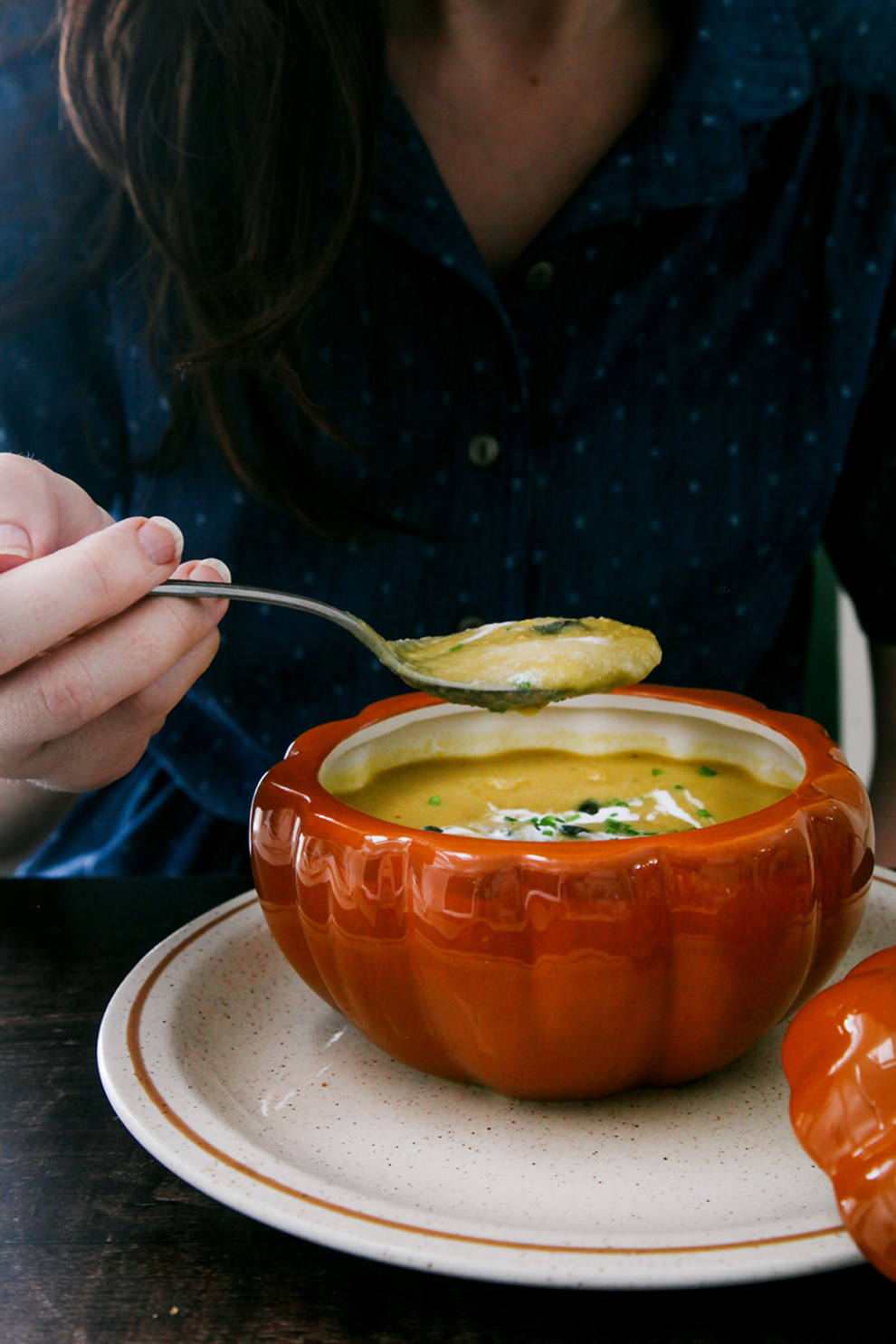 How tasty does this look!! Do you ever try your hand at making soups in Autumn? Let us know or on Twitter @LauraAshleyUK